Looking to get a Honda dirt bike or just want to know what bikes they have to offer? In this article I will show you all of the different types of dirt bikes from Honda and how to pick which one is best for you using my simple 3-step method.
Does Honda still make dirt bikes?
Yes, Honda still makes many dirt bikes for all types of riding, from trail riding, to motocross, to dual sport. Honda is one of the top brands because they are quality built (reliable & durable), high performance, and they stand behind their products.
Are Honda's good dirt bikes?
I've had many Honda dirt bikes over the years, and I can tell you that if you're serious about dirt biking, they're one of the best motorcycle brands to own and ride. So, yes, almost all of them are very good dirt bikes.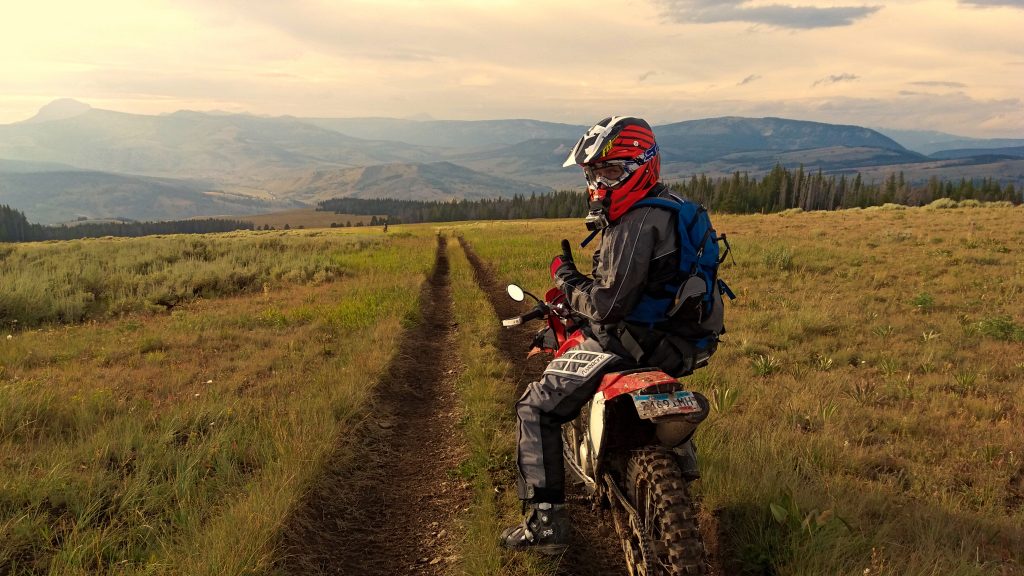 How to pick the right dirt bike for you
Whether you're looking for your first dirt bike or your just getting back into riding off-road, it's important to pick the right bike so that you don't crash and get hurt right away.
The first step is deciding the type of dirt bike you want for the riding that you'll be doing. Then you can pick the right size based on your height. Last, but certainly not least, is choosing your budget and whether you want to buy a new or used Honda dirt bike.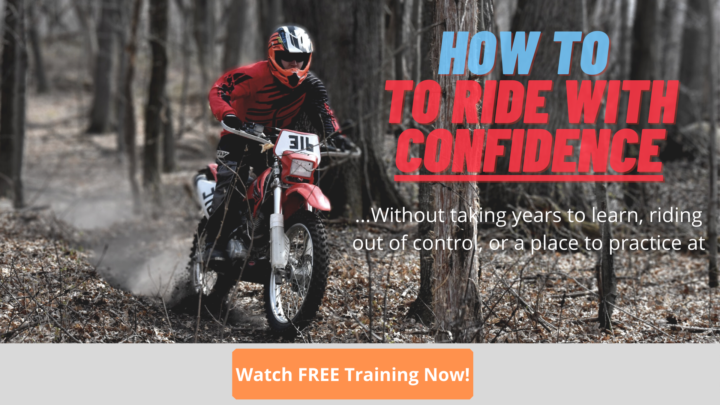 What are the different types of Honda dirt bikes?
This is the most important question because if you get it wrong, you'll be frustrated with the bike that you're riding.
Why? Because if you choose a race bike for adventure riding then it's going to be very uncomfortable and simply not practical. You also don't want a big street legal dirt bike for racing off-road on tight and technical terrain because it's going to be hard to handle.
So, the different types of Honda dirt bikes are:
If you're a beginner, then I highly recommend you pick a trail bike because it's a much safer choice to start out on. It's also the best choice if you're just a casual rider or just getting back into riding after 20+ years of not riding.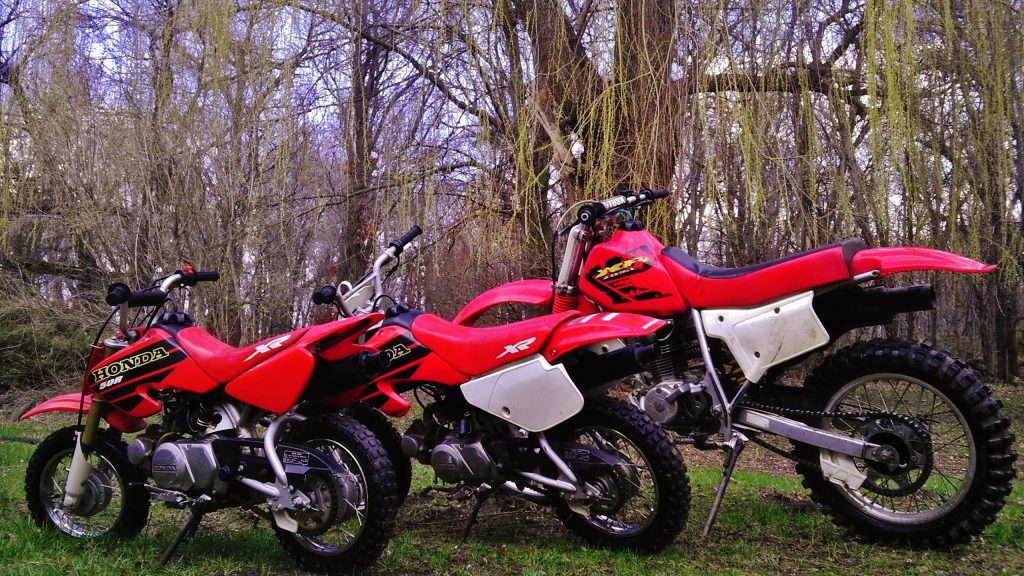 Choosing a big and powerful dirt bike right away is asking for trouble if you're riding off-road because it's hard to control if you don't have the skill and experience.
With a lightweight dirt bike, you can learn how to stay balanced more easily. This is because because the bike reacts quicker to your input, forcing you to use proper body position.
Having less power also keeps you out of trouble because you won't whiskey throttle as quickly when you're physically and mentally exhausted from riding all day.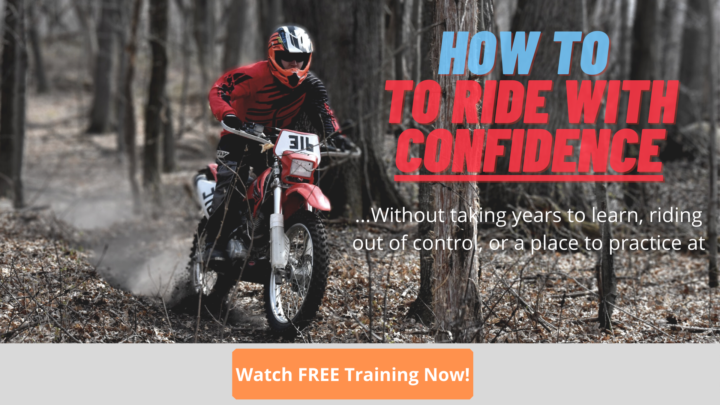 What's the right size dirt bike for your height?
Choosing a dirt bike that fits your height is more important as a beginner because it will affect your confidence. If you've ridden a dirt bike that's too tall for you to touch the ground with your feet, then you know it's a little bit intimidating.
Not only do you have to learn how to control the clutch, throttle, and brakes, but you have to figure out how to balance the bike when you come to a stop. Starting on a smaller dirt bike with a low enough seat height to touch with one foot simply gives you more confidence when you're learning to ride.
Honda Dirt Bikes 2022
With models coming and going every few years, the Honda dirt bike lineup has changed quite a few times in the past 10-20 years. So, whether you're just getting back into riding off-road or you're new to dirt biking, this is the current lineup of Honda dirt bikes 2022 and how much they cost:
| | |
| --- | --- |
| Honda CRF Lineup 2022 | How much does it cost? (MSRP from Honda) |
| CRF50F | $1649 |
| CRF110F | $2499 |
| CRF125F | $3249 |
| CRF125FB (Big Wheel) | $3649 |
| CRF150R | $5249 |
| CRF150R Expert | $5449 |
| CRF250F | $4749 |
| CRF250RX | $8499 |
| CRF250R | $8099 |
| CRF300L | $5349 |
| CRF300L RALLY | $6099 |
| CRF450X | $9799 |
| CRF450RX | $9899 |
| CRF450R-S | $8599 |
| CRF450R | $9599 |
| CRF450RWE | $12,399 |
| CRF450RL | $9999 |
| XR650L | $6999 |
These are all of the sizes and models of new dirt bikes from Honda
What does CRF stand for in Honda?
The "CRF" letters before the number (size) in Honda dirt bikes simply means that it's an off-road motorcycle that's a 4 stroke. Honda changed all of their 4 stroke dirt bikes to start with the letters CRF back in 2002-2005 (depending on the model).
Best Honda trail dirt bikes for beginners
Honda has always been known to have some of the best and most reliable trail motorcycles for beginners and casual riders. Their trail bike lineup has changed quite a few times over the years, but the quality and durability is still just about as good.
None of these dirt bikes are high performance, but that's not what they're designed for. If you want a beginner friendly bike that's going to last a long time, then you're going to like one of these bikes.
Here are the best beginner dirt bikes for trail riding from Honda:
CRF50F
CRF110F
CRF125F
CRF250F
Honda 50cc
It all begins with the CRF50 as a little kid. That's where I started (XR50), and that's where thousands of young boys and girls start their dirt biking journey.
It's a great bike to learn on because it's small, easy to handle, and the power is predictable. There's no clutch to worry about, but your son or daughter will learn how to shift gears.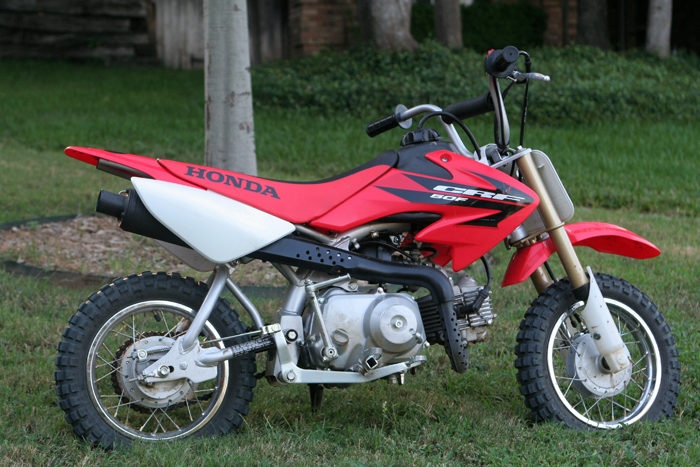 Honda 110cc
Moving up to the CRF110, it's a good transitional bike when your kid is too big for a 50cc, but they're not ready for a dirt bike with a clutch yet.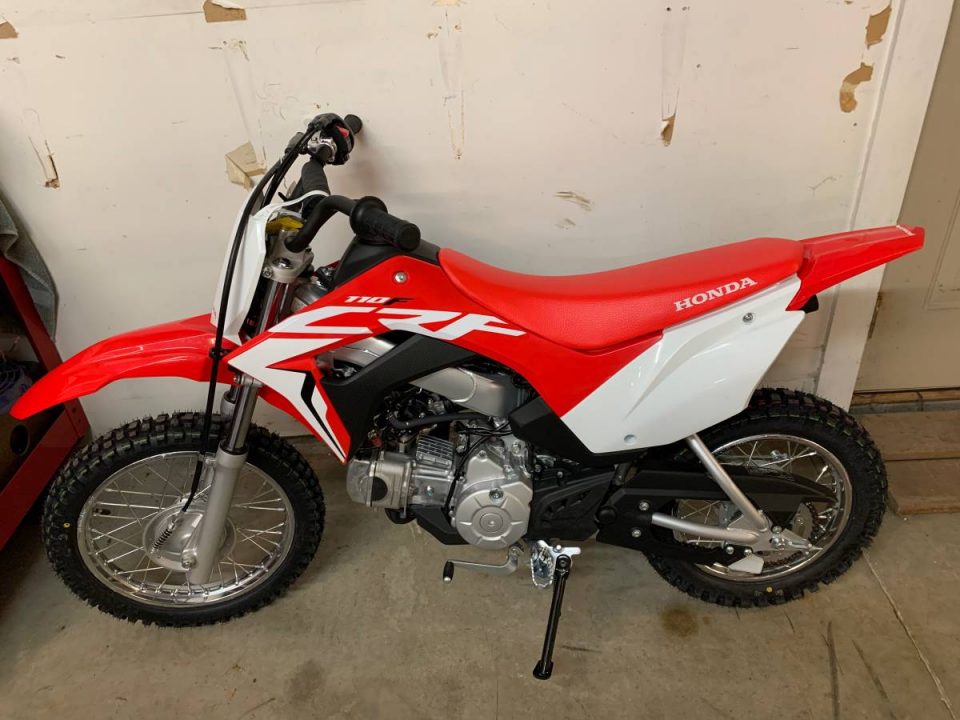 Honda 125cc
The CRF125F is where it starts for teens and short adult riders that want to ride a dirt bike. There's 2 size options – a 125cc small wheel and big wheel – based on your height.
The CRF125F small wheel is best if you're under 4'10" in height. The CRF125FB big wheel is best if you're 4'10" to 5'4″ tall.
You'll learn how to use the clutch on a bike that's super easy to ride, and you won't have to work on it all the time because it's so reliable.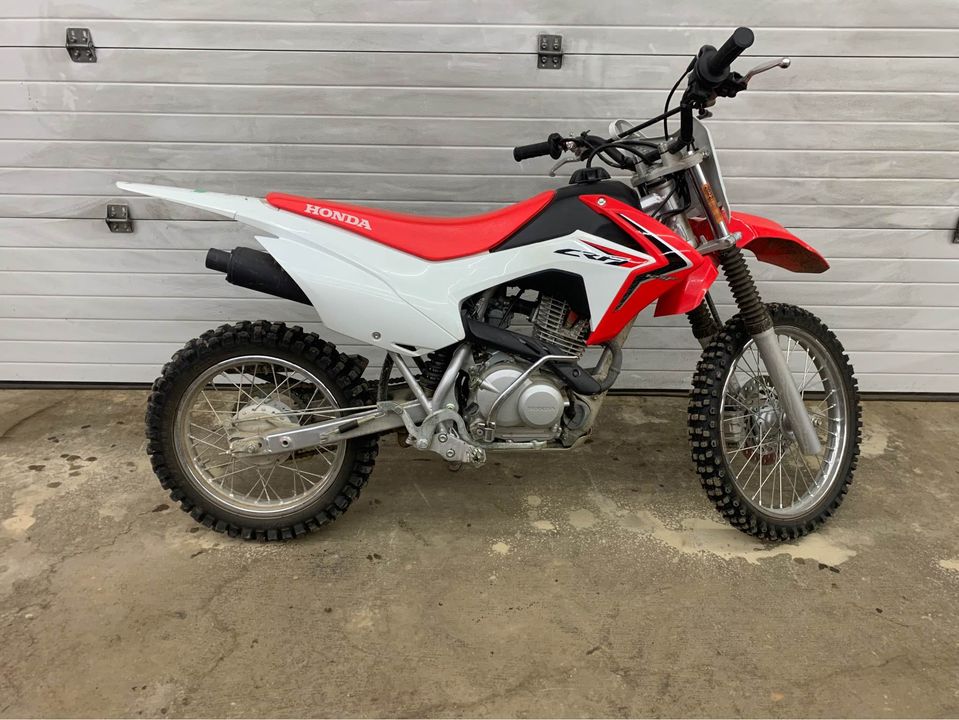 Honda 250cc
Last, but certainly not least, the CRF250F is the best beginner Honda dirt bike for adults because it can fit a wide range of rider sizes.
The 250cc 4 stroke engine has enough power to have fun and ride 99% of single track trails, but it's still tame enough if you're brand new to dirt biking. It replaced the CRF230F, but it's closer to the older XR250 because of the 4-valve 250 engine, which makes a little more top-end horsepower than the 230.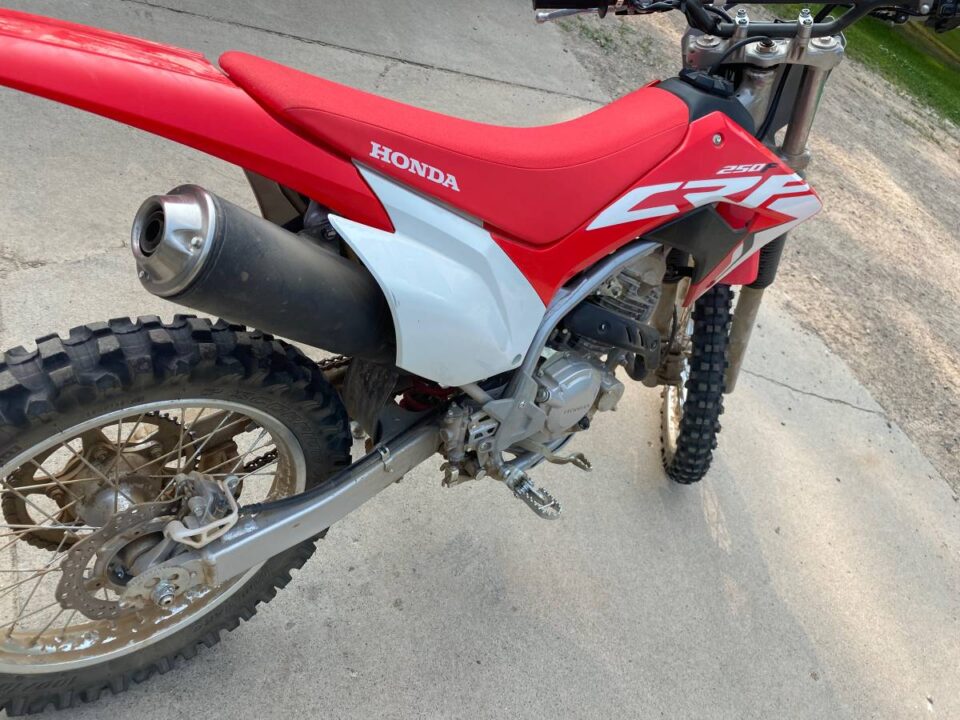 Honda enduro bikes for trail riding
Are you already a skilled rider and need to upgrade to a high performance trail bike? These are the enduro dirt bikes available from Honda:
CRF250RX
Based off of the current CRF250R MX bike, the CRF250RX is fast, but the suspension and engine are softened up a little bit for riding off-road. The 250F is a good choice if you like to rev the bike out more, ride aggressively and have fun on the trails.
CRF450X
Moving up to a 450 dirt bike, the CRF450X is the least aggressive competition model for trail riding. The gearing, suspension, engine, and handling are designed for more comfort on trails at low speeds. The wide ratio transmission and larger gas tank also allows you to ride high speeds and more miles in the desert.
CRF450RX
Just want a 450 off-road bike that's purely for racing? The CRF450RX is an aggressive version of the 450X. With less weight and snappier power, it's not for the faint-hearted.
Honda motocross bikes for racing
Unfortunately, they doesn't sell 2 stroke dirt bikes anymore, so all Honda has for motocross bikes are these 4 strokes:
CRF150R
CRF150R Expert
CRF250R
CRF450R
CRF450RWE
Honda's motocross bike for teens is the CRF150R. It's built for the supermini class for racing, but it's noticeably heavier than an 85cc 2 stroke MX bike. It's a totally different bike than the CRF150F trail bike.
The CRF150R Expert (CRF150RB) is basically the same bike but with bigger wheels and slightly stiffer suspension for a bigger rider in the supermini class.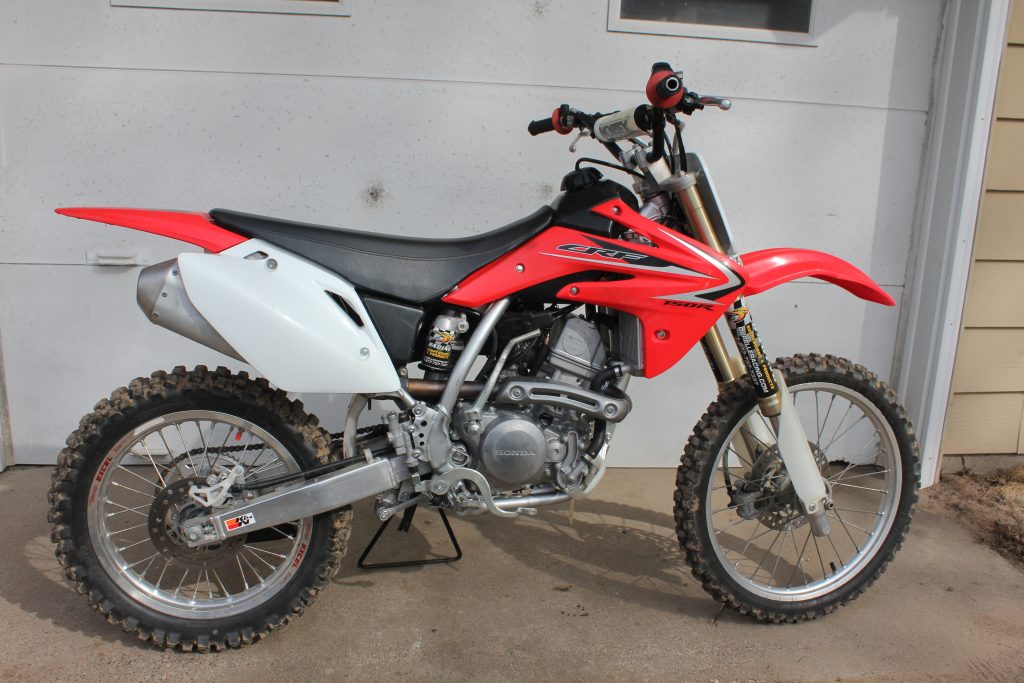 Their 250F continues to get updates over the years. The CRF250R is the 'entry level' full size motocross bike, but it's definitely not for 'beginners'. This is purely a race bike.
The CRF450R is the ultimate motocross bike for the manliest of men. It's the premier class bike for racing.
When the CRF450R just isn't enough, Honda came out with the Works Edition 450R model with a few goodies to make it look more like a factory race team bike.
Honda 2 stroke dirt bikes
Honda doesn't make any 2 stroke dirt bikes anymore, but these are the most popular ones they made for many years:
Honda dual sport bikes
Looking for a street legal dirt bike? These are Honda's dual sport motorcycles:
CRF300L
CRF300L RALLY
CRF450L
XR650L
CRF300L
The CRF300L is a good beginner dual sport bike with more torque than the older CRF250L. It can handle some trail riding as well as cruising on the road for many miles.
CRF300L Rally
Are you more into adventure or rally type riding? The CRF300L rally edition has some nice upgrades that allow you to ride longer and further with more comfort.
CRF450RL
Need more power? The CRF450L, which is now the CRF450RL is a great dual sport bike as long as you're not riding tight single track trails. It just becomes a handful in the tight trails or woods especially if you're a beginner.
XR650L
Looking for a better commuter motorcycle that can still handle some off-road riding? The longstanding XR650L is big, smooth, torquey, reliable, and is one of the best budget adventure bikes you can buy.
Best cheap used Honda dirt bikes
Want a bike but can't afford a new one? These are the best cheap Honda dirt bikes for teens and adults:
Dirt bike safety course
Are you new to dirt biking or off-road riding? If so, them I want to help you get started the right way.
Too many new riders try to tech themselves how to ride, but they usually started making bad habits because they didn't learn proper riding techniques.
These bad habits eventually cause you to ride with less confidence and get out of control more easily.
By going back to the basics, you'll quickly build your confidence so that you don't ride too fast too soon and get hurt from crashing. Want to learn more? Click or tap here.