Trying to figure out what the best trail motorcycle is for you? Is it a 2 stroke or 4 stroke, 250 or 450? I want to go into more depth so that you can understand which dirt bike is best for you to go dirt biking so that you don't buy the wrong bike with your hard-earned money.
What Is A Trail motorcycle?
I just want to quickly cover what a trail dirt bike is so that we are on the same page and I can properly communicate to you.
There are several different kinds of dirt bikes that are built for different kinds of off-road riding. A trail dirt bike is designed specifically for riding on single-track or double-track motorcycle trails.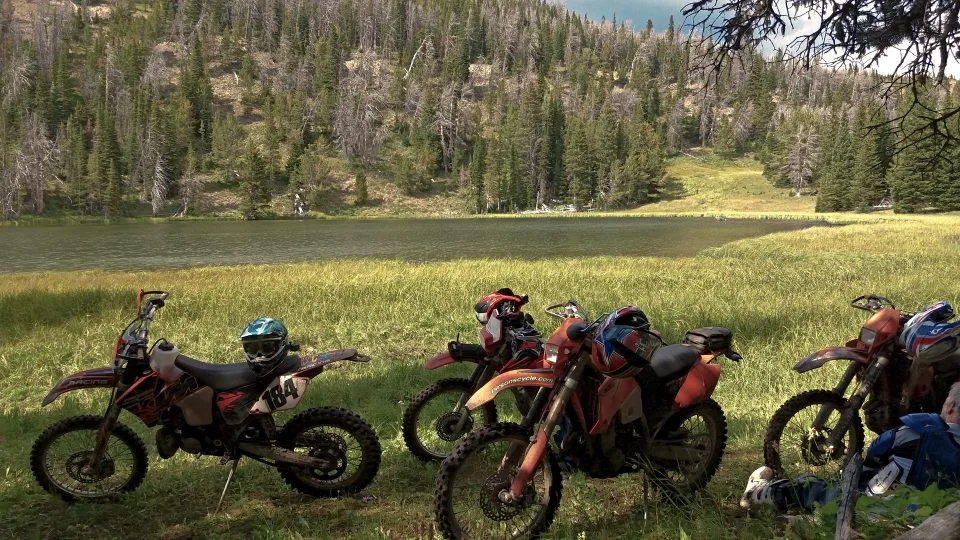 How to know if a trail motorcycle is best for you
The first question you need to ask is "what type of riding will you be doing"? There are several types of dirt bikes, while some are made for off-road only and some are built for dual-purpose riding (on-road and off-road)
If you're only going to be riding off-road, such as trail riding or casual play riding, then a trail dirt bike is the right type of bike to start on. The suspension, chassis, and power are all tuned to make you more comfortable and confident on the trails.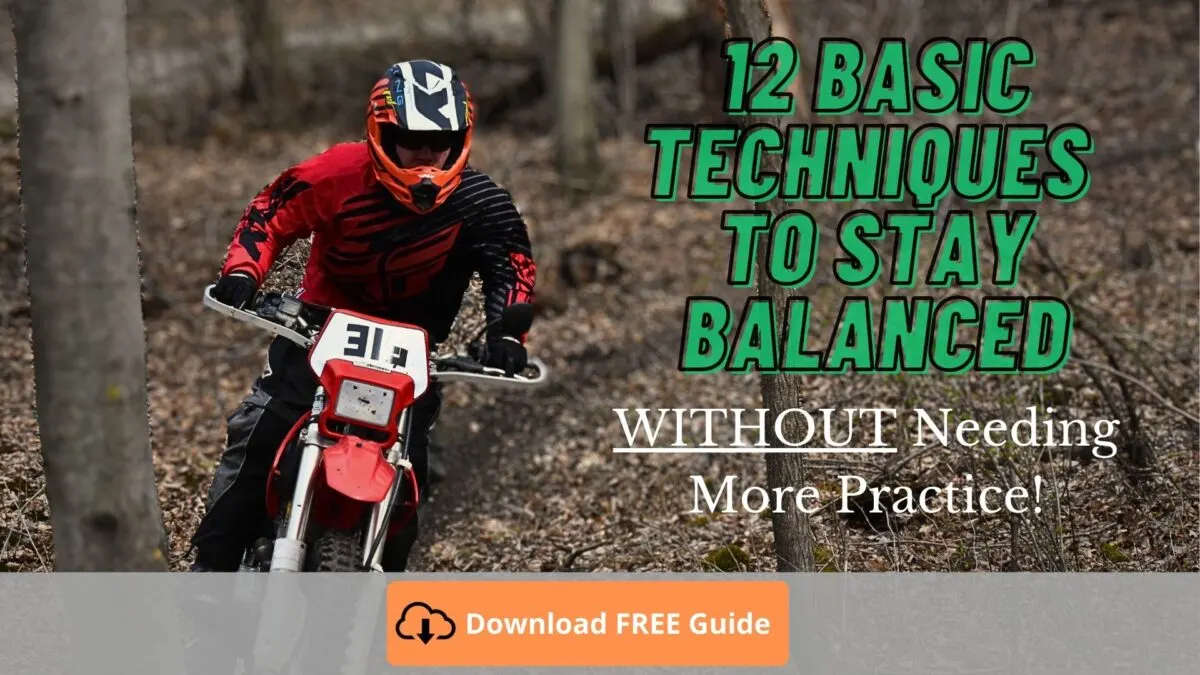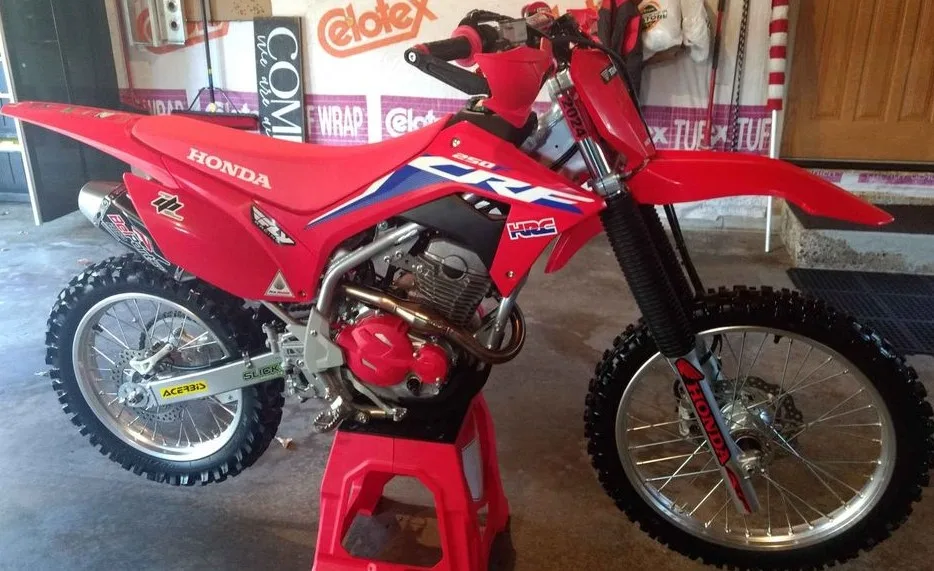 For road and trail riding, you'll need a dual sport motorcycle to be legal. Dual sport bikes are not only registered for street use, but they have the proper tires and accessories to be safe and legal on the street.
The worst type of dirt bike to start on
If you're looking for your first dirt bike or just getting back into dirt biking after a long break, I highly recommend staying away from a high-performance enduro bike or motocross race bike.
This is because a motocross bike will be harder to ride on trails because of the stiff suspension, abrupt power curve, and they lack options that give you more comfort (lights, kickstand, wide ratio transmission, etc).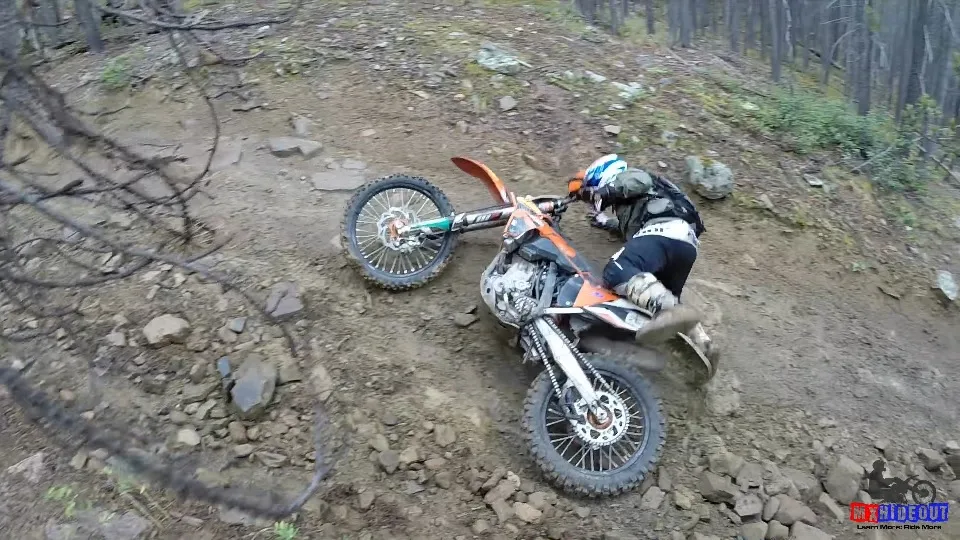 What size dirt bike is best for trail riding?
The size of the bike really depends on your height and skill level. The taller you are or the faster you are, the taller the seat height can be. A taller bike isn't automatically better in the woods, but taller dirt bikes generally have better suspension.
2 Stroke vs 4 Stroke Trail Bike
Not sure whether you want a 2 stroke or a 4 stroke trail dirt bike? Don't worry, I'll show you the top ones for each type, and then go into more detail to cover which dirt bike for each kind of riding.
Why choose a 2 stroke for trail riding?
2 stroke dirt bikes are definitely not gone, and there are more beginner-friendly bikes available these days. However, most 2 stroke trail bikes are enduro-style bikes. This means they have more aggressive power and stiffer suspension so that you can ride faster.
2 strokes are better if you:
Like the smell of pre-mix
Want a simple engine
Prefer more power for the same engine same
Don't like the heavy feeling of a 4 stroke
Why choose a 4 stroke for trail riding?
There are a lot of different 4 stroke dirt bikes for trail riding in the woods. You can buy a KLX140, which is perfect for learning how to ride on, or there's a CRF250RX, which is a high performance enduro trail bike if you're an aggressive rider.
What's The Best Trail Motorcycle For Beginners?
A good trail motorcycle for off-road riding is an air-cooled 4 stroke dirt bike. There are many models available, but I will cover the best ones based on your size.
These are the best beginner trail motorcycles: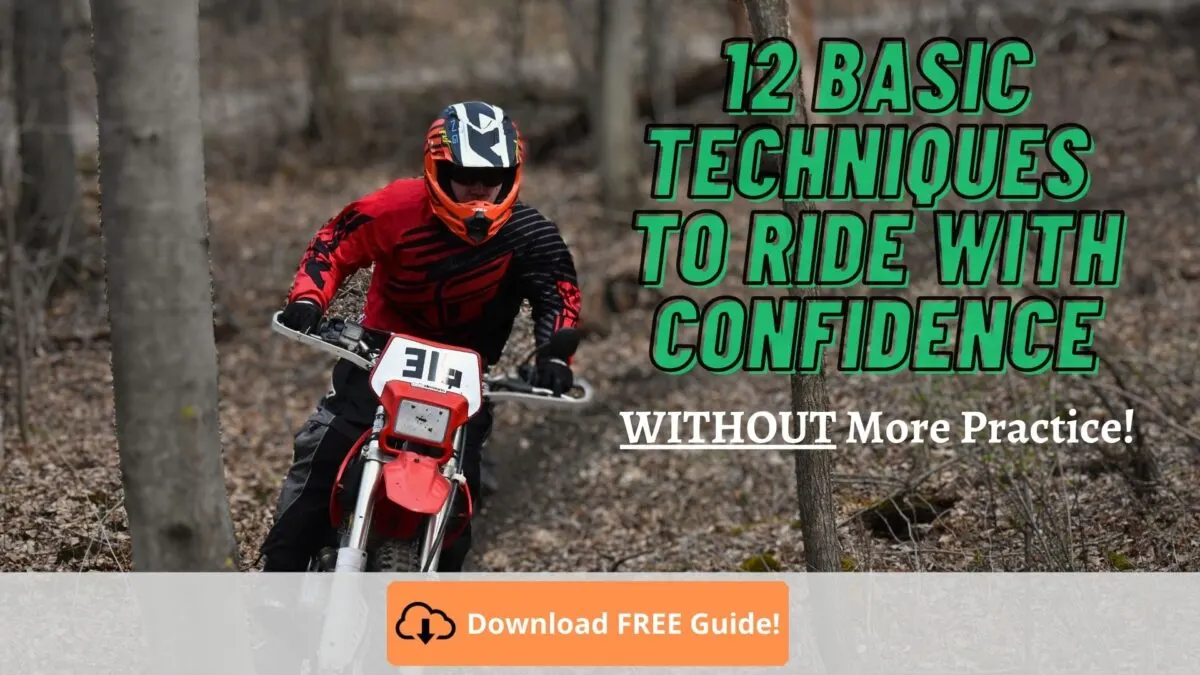 Honda CRF125F
Honda's CRF 125 is a great choice for kids, teens, and short adults because it's the smallest Honda dirt bike with a clutch. With the low seat height and smooth engine, it's super easy to ride and learn on if you're 4'8″-5'4″ tall, but you're inseam also makes a difference (long legs vs short legs).
There are two size options with a big and small wheel based on your height. The CRF125F has electric start with kick-start as a back-up, and the other advantage is that the 2019 and newer model years have fuel injection, so there's no jetting to mess with if you leave it stock.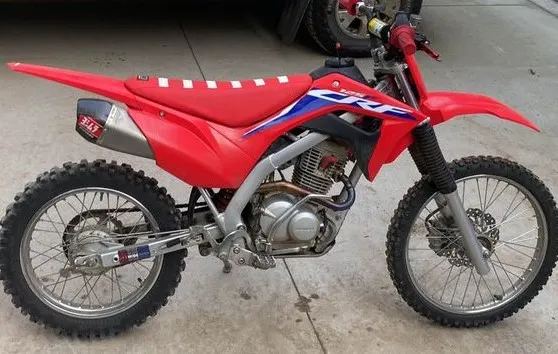 Yamaha TTR125
Prefer a blue Yamaha? The TTR 125 has been around since 2000, and it's still one of my favorite trail dirt bikes for beginners for a number of reasons.
It may not have EFI, but there are 4 different model options depending on which years you're looking at. It's about the same size and height as the Honda 125 trail bike, which a small wheel and large wheel option, so it's a good size if you're in the 4'8″-5'4″ height range.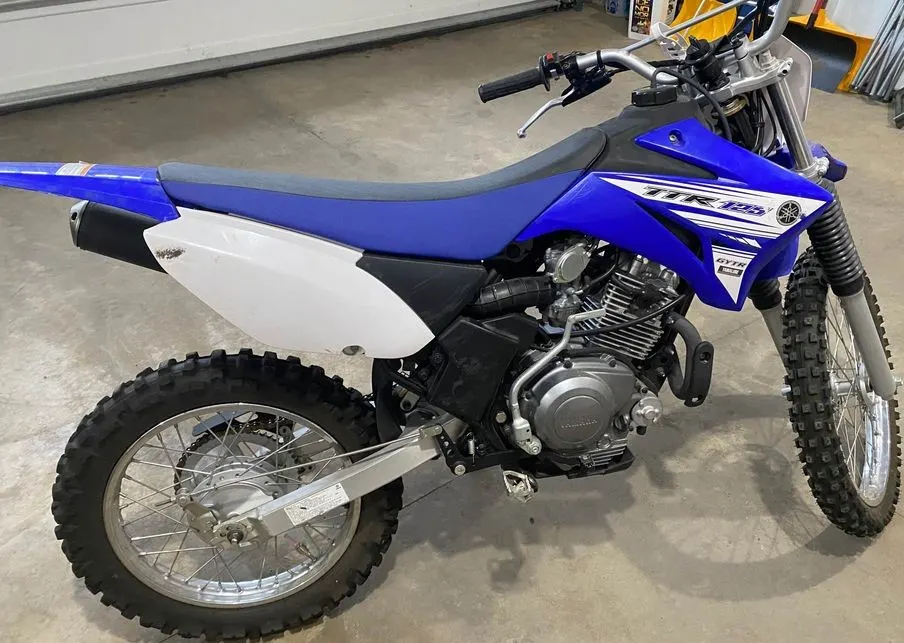 Kawasaki KLX140
For a small step up, the Kawasaki KLX 140 has also become one of my favorite dirt bikes for beginners. It has slightly more power, but the overall fit and feel is better than the TTR125.
They're a little harder to find used and generally demand a higher price, but now Kawasaki has 3 different model sizes based on your height. They all have electric start with the same engine and chassis, but the wheel sizes are different, along with the seat height.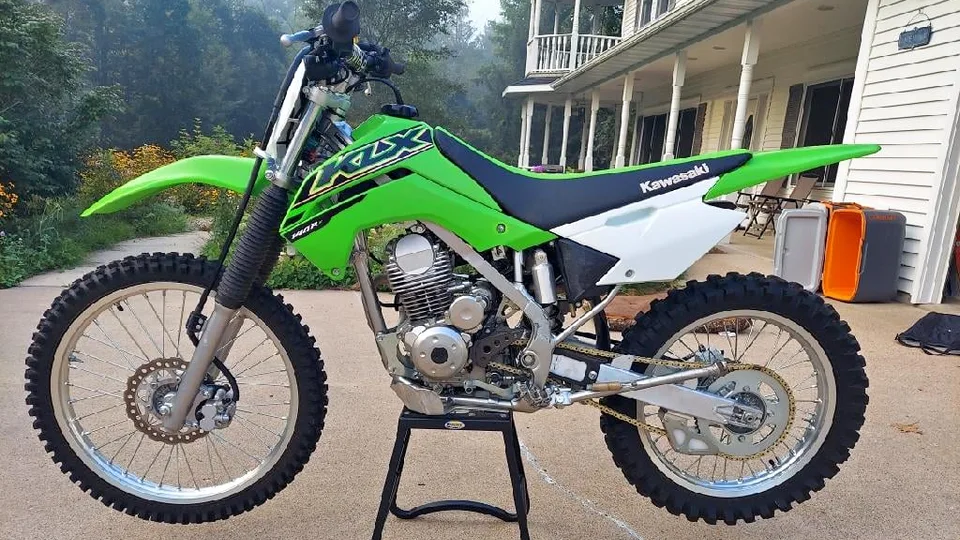 Yamaha TTR230
Looking for the best Yamaha dirt bike for trail riding if you're an adult or taller teen? The TTR230 is one of the best full-size dirt bikes for beginners because it's easy to ride.
It's about 50 lbs heavier than the TTR125, but it doesn't feel that heavy unless you fall over and have to pick it back up. The 230cc trail bike engine is buttery smooth, making it easy to master your clutch and throttle control.
The TTR 230 doesn't have fuel injection, but it's usually the cheapest and easiest beginner trail motorcycle to find on the used market – making it a great choice if you're on a tight budget!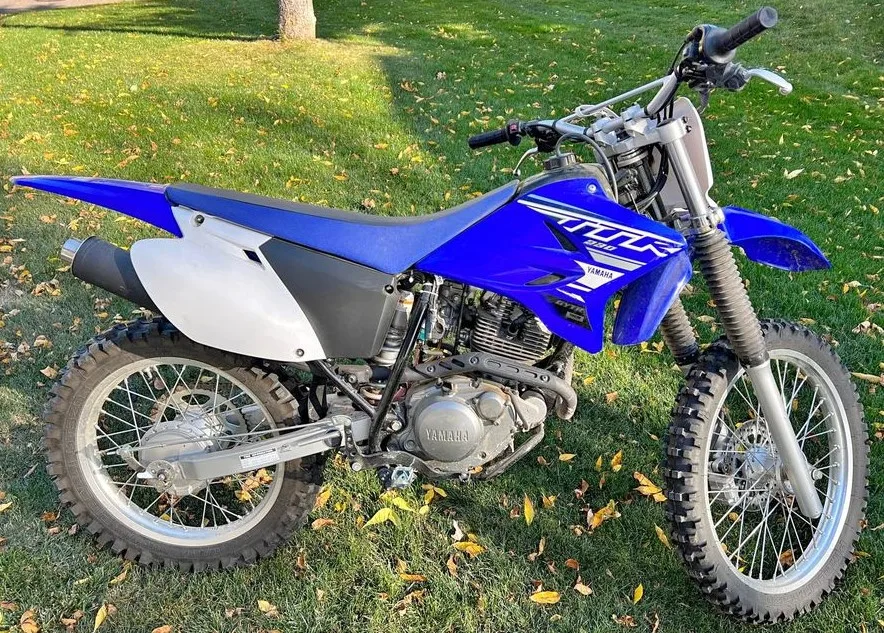 Kawasaki KLX230R
The KLX230R is relatively new and has EFI, which is a very nice upgrade if you're sick and tired of dealing with dirty carbs and jetting. The KLX 230 R has a surprisingly tall seat height of 36.2 inches, which is nearly 2 inches taller than the TTR230.
If you prefer spending a little more on a newer trail motorcycle, need EFI, and want a taller beginner bike, the KLX 230R (off-road model) is a great choice.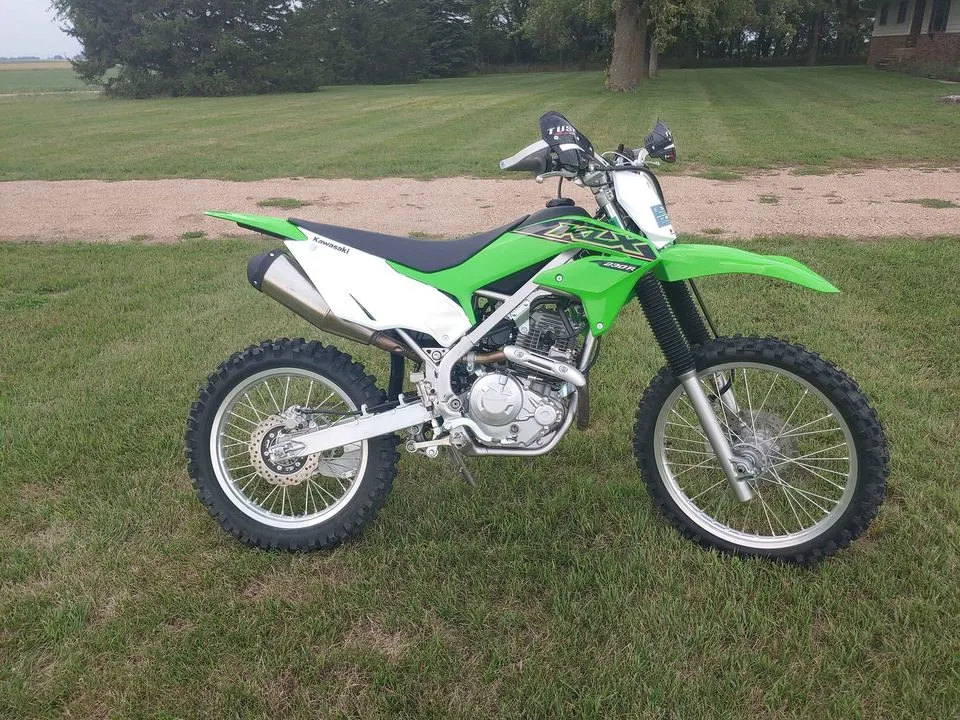 Honda CRF250F
The Honda CRF250F also gets rid of a fussy carburetor with EFI, so you get easy starting and no dealing with jets. It also has a low seat height of 34.8", which is about 3-4" lower than a typical full size dirt bike, to quickly build your confidence by using proper techniques.
It's the best Honda dirt bike for trail riding if you're an adult or tall teenager. While it's heavier than the CRF230F it replaced, it still keeps the reliability, quality, and beginner-friendly characteristics that make it so desirable to ride.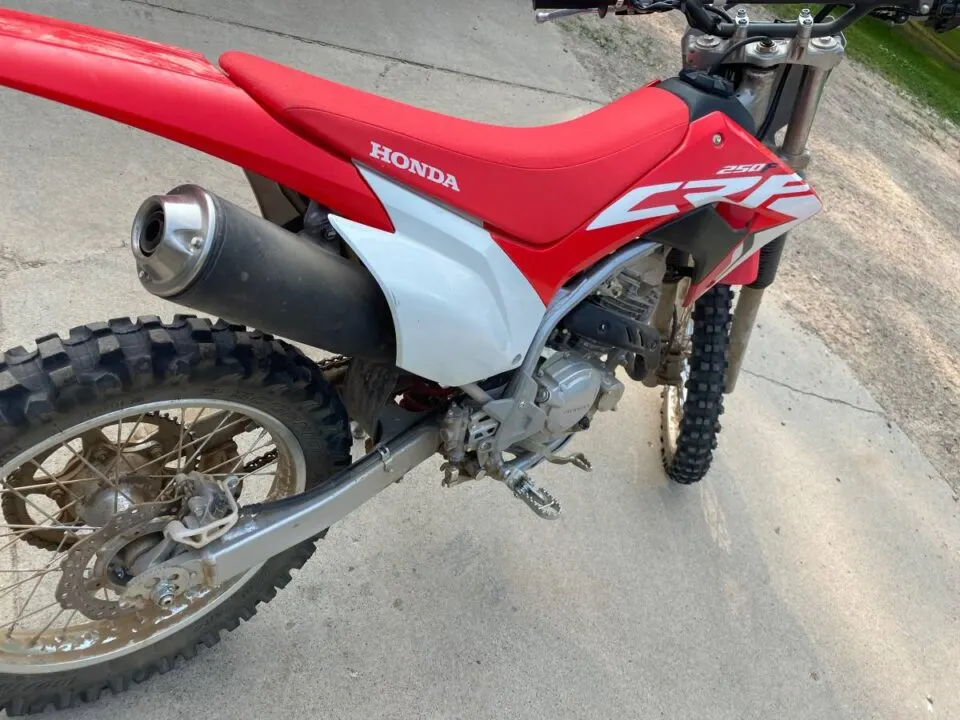 Other reasons why the Honda CRF250F is a great trail bike:
Smooth power-curve with good torque
Low seat height; Low center of gravity
Very reliable
Plenty of mods will be available
Shorter wheelbase; makes turning easier
Best Trail Dirt Bike For Kids
Starting your son or daughter off on the right dirt bike is important for many reasons. If the bike is too big or powerful, they'll either crash and get hurt, or they'll be too scared to ride again. Both are very unfortunate, but also more common than you'd think.
So, depending on their size, here are the best trail dirt bikes for kids to start riding on: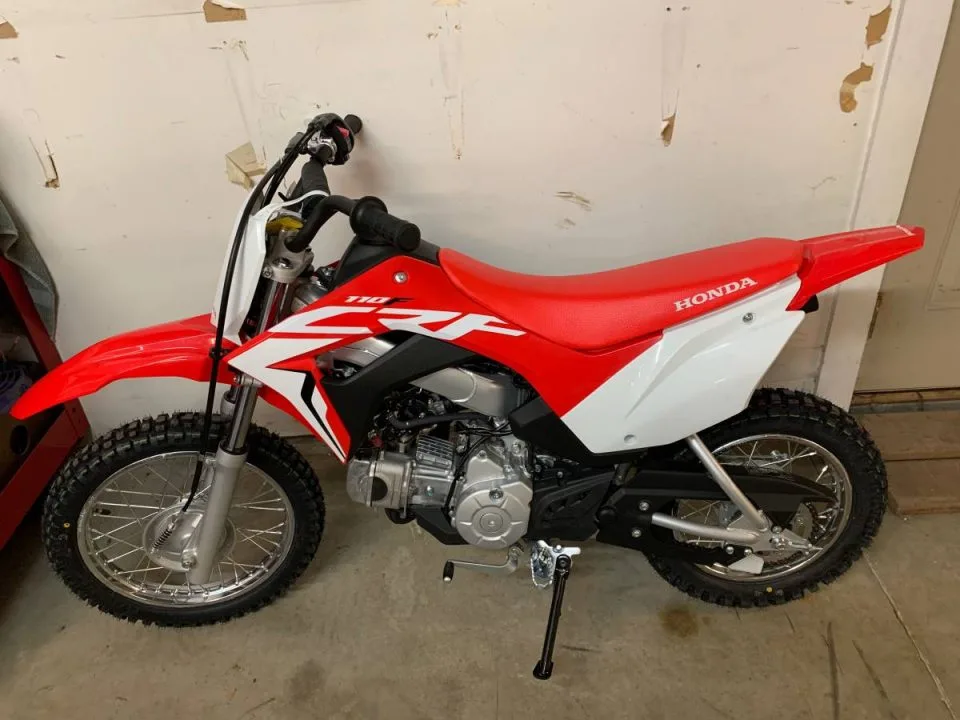 What's The Best 250 Trail Bike?
There are many choices for 250 trail bikes. Do you want a 2 stroke or 4 stroke? Are you a beginner or expert level rider?
250 4-stroke?
Want a Honda? They have the CRF250F for beginner trail riders, the CRF250X for intermediate and experienced trail riders, and the CRF250RX for enduro riders that need a race bike to ride technical terrain in the woods.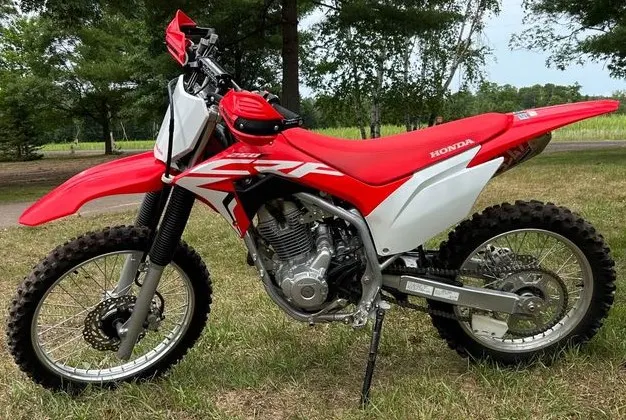 How about a Yamaha? The WR250F is for intermediate level trail riding, while the YZ250FX is their hardcore enduro trail bike.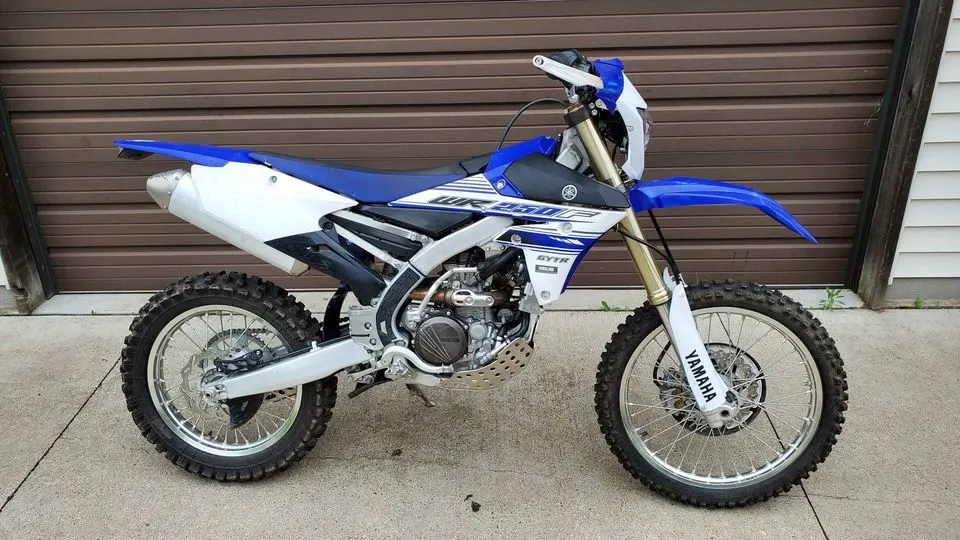 250 2 Stroke?
The KTM 250XCW is at the top for 250 Enduro trail bikes. Yamaha's YZ250X enduro bike is comparable, but there's a few minor options it lacks.
The KTM has electric start, lights, fuel injection (2018+), and a wide ratio 6-speed transmission. All of which do not come on the Yamaha 250 enduro bike.
Best 250 Enduro Bike
It's hard to go wrong with any new model 250 enduro bike because they're all so good these days. The YZ250FX is a good choice for a 4 stroke because it's been around the longest in its class, it has good bottom end torque, and it's typical Yamaha reliability.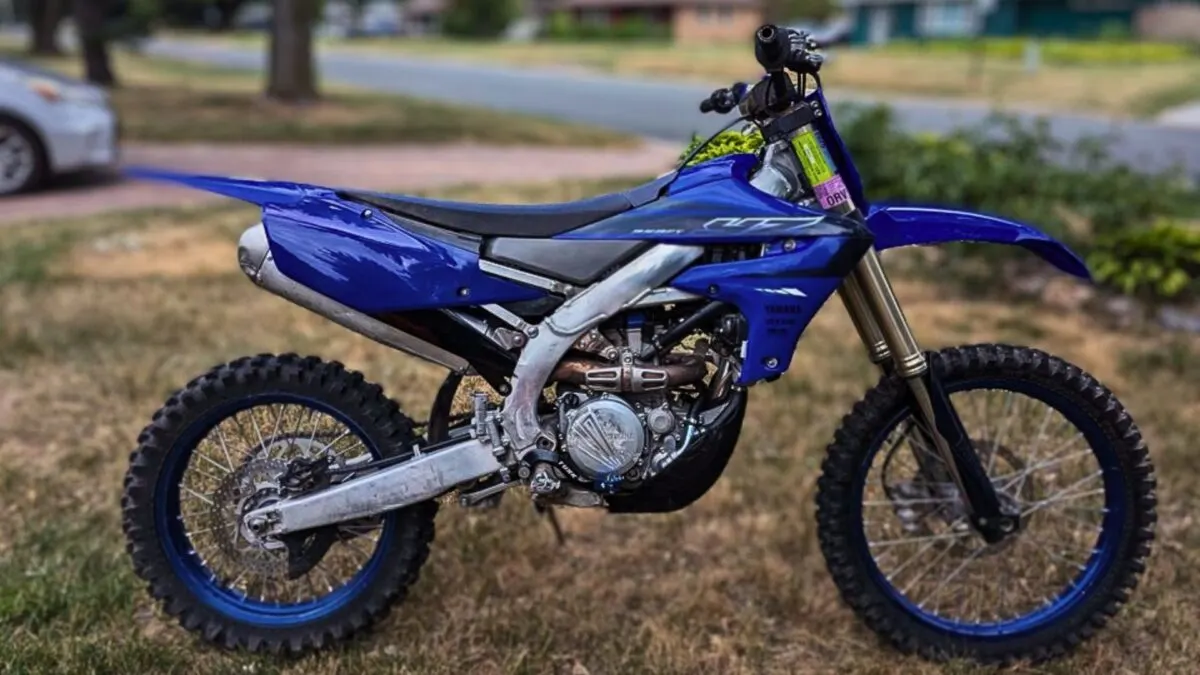 For a 2 stroke, the KTM 250 XC is hard to beat because it just keeps getting better.
With that said, the Yamaha YZ250X is better if you want a cheaper enduro bike with less options.
Best road and trail motorcycles
Maybe you can only have 1 bike, or you just want to be able to legally ride on the ride and off-road with the same bike. You need a dual sport motorcycle because it has all of the necessary tires and equipment to safely ride on the street and dirt.
These are the best dual sport motorcycles for road & trail riding:
Kawasaki KLX230S (short rider beginner)
Honda CRF300L (beginner)
Kawasaki KLX300 S (bigger rider beginner)
KTM 350 EXC-F (experienced rider)
Honda CRF450RL (experienced rider)
KTM 500 EXC-F (experienced rider)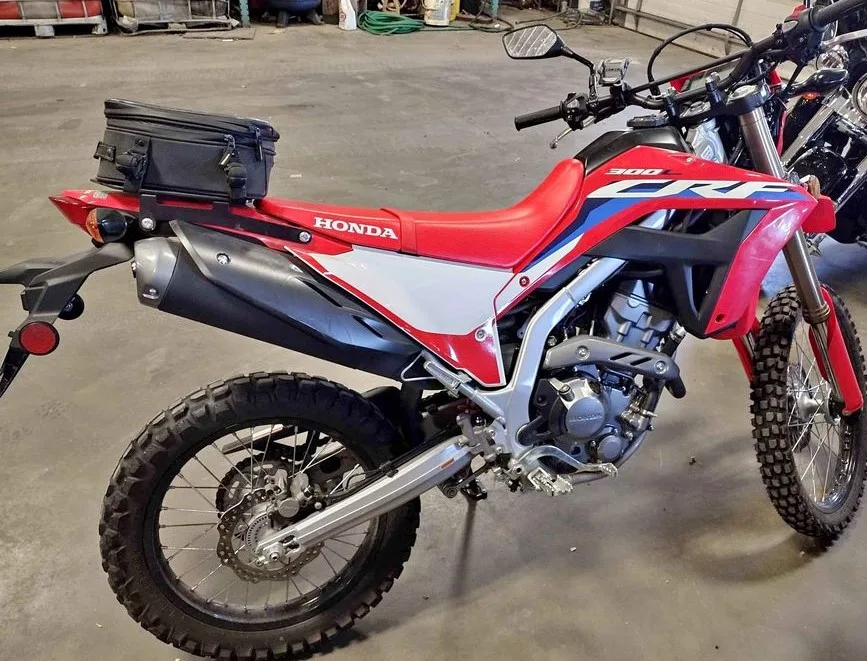 Best 2 stroke trail bike
Depending on what you want in a trail bike, these 2 stroke dirt bikes are the best bikes for it:
KTM 150XCW
Beta 200RR
Yamaha YZ250X
KTM 250XCW TPI
Husqvarna TE300
Best 4 stroke trail bike
This is my list for the best 4 stroke trail dirt bikes:
Honda CRF250RX
KTM 250XCF
KTM 500 EXC
How to be confident riding off-road
Choosing the right dirt bike is just the starting point. The next step is to learn how to properly ride it. A lot of new riders teach themselves, but this can cause you to ride without complete control or confidence.
There's a lot of techniques to learn, and you must know and understand how to use your body efficiently. Want to ride with more control and confidence? Click here to get started now.