Looking to get a Honda CRF110 but wondering if it's the right dirt bike for you? Whether you're buying your first dirt bike, getting it for your kid, or turning it into a pit bike, you're in the right place!
In this bike review, I'm going to show you what the CRF110 is, why it may or may not be right for you, and what to expect when buying and owning one so that you save time and money.
What is the Honda CRF110F?
It's a 110cc 4-stroke air-cooled trail bike. It has a 4-speed semi-automatic transmission, so you can shift gears, but it doesn't have a clutch.
It took over the CRF70-sized dirt bike for kids. It's basically the same size but with more power. It's a very simple and reliable bike built for beginners to learn how to ride. It's also the most popular size dirt bike for use as a pit bike for adults.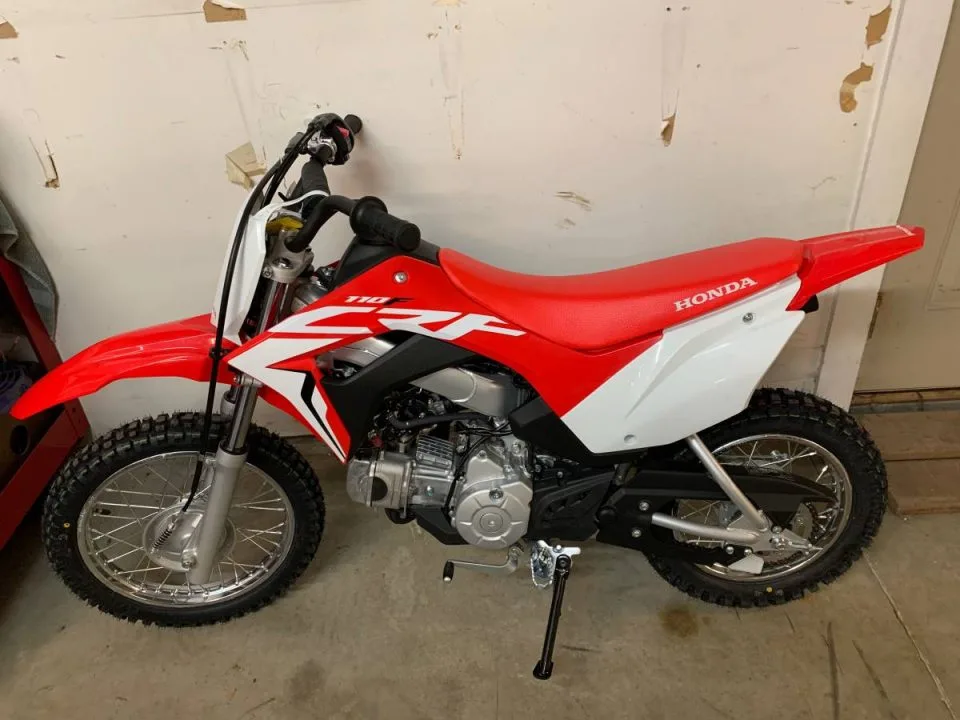 Engine
It's a 109cc air-cooled 4 stroke engine, but what does that mean? It only makes about 6 horsepower, but it's very smooth, which makes it super easy to control if you're a beginner.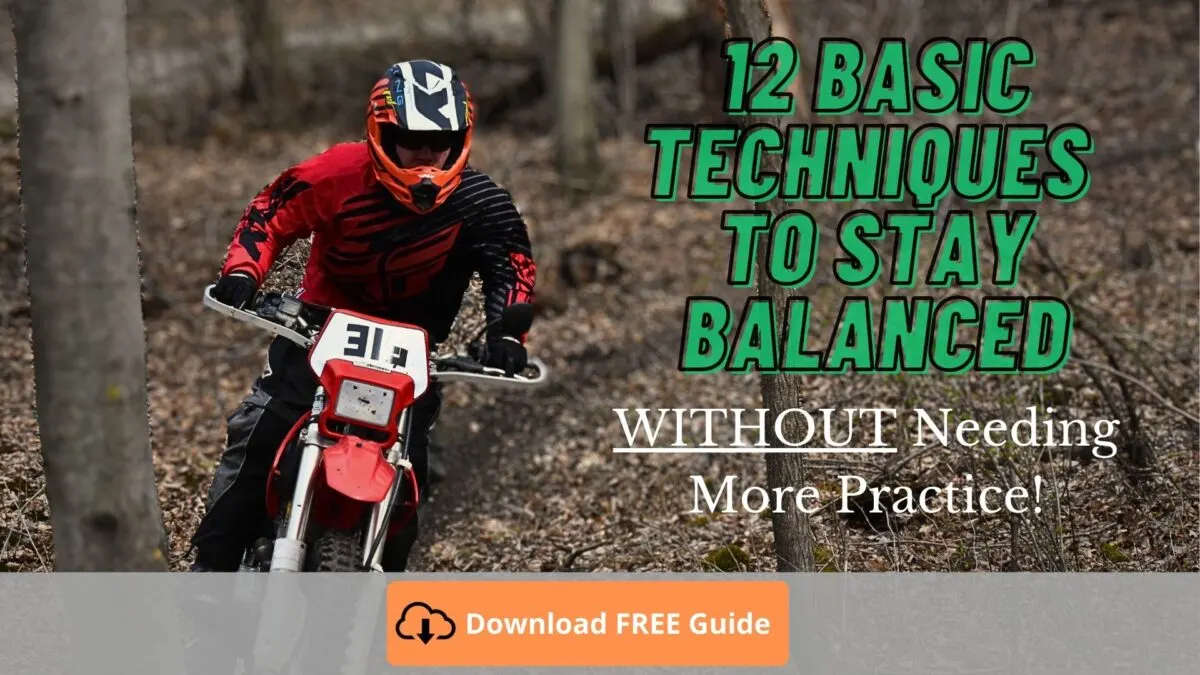 When you're learning to ride or just having fun, it's generally better to have less power because you can focus on riding, rather than trying to handle the abrupt amount of power.
Horsepower
With a whopping 6 horsepower, the CRF110F isn't going to win many drag races, but the peak power isn't what's important when it comes to riding off-road.
What makes the CRF 110 great is the smooth power from idle on up to peak HP. The low-end and midrange torque is what you'll be using most of the time, and it's very predictable, making it easy to handle.
Top speed
If you're racing on flat ground, the top speed of a Honda CRF 110 is about 40 MPH, but this number doesn't mean much if you're a beginner. For trail riding, you're only going 5-20 mph most of the time, so maxing out your speed won't matter.
If you want to accelerate faster or have a higher cruising speed, a simple gearing change is all it takes.
Is it reliable?
Being an air-cooled engine, it's not likely to overheat, and it's also very reliable. Just check the oil before each ride and it's good to go for many years!
The problem is when you forget about doing maintenance or are just too lazy. Running the engine low or out of oil will eventually cause it to seize and leave you stranded.
Safety feature for kids – throttle limiter?
Maybe you're teaching your kid or someone else's kids how to ride, but you're worried about them going to fast too soon. Fortunately, Honda added a throttle limiter that's easy to install – it's just a longer screw in the throttle housing on the handlebar.
It limits the throttle up to 50%, so it won't accelerate as quickly, and the maximum speed is considerably lower. This is a great option for learning to ride, especially if you have a small backyard.
Suspension
Being a budget entry-level trail bike, the suspension is very basic, but that's not necessarily bad. It's great for its intended purpose – smooth and comfortable for beginners.
The front forks and rear shock are soft, especially if you weigh over 120 lbs. You'll get a plush ride at low speeds on the trails, but it will start to get rough once you pick up the pace.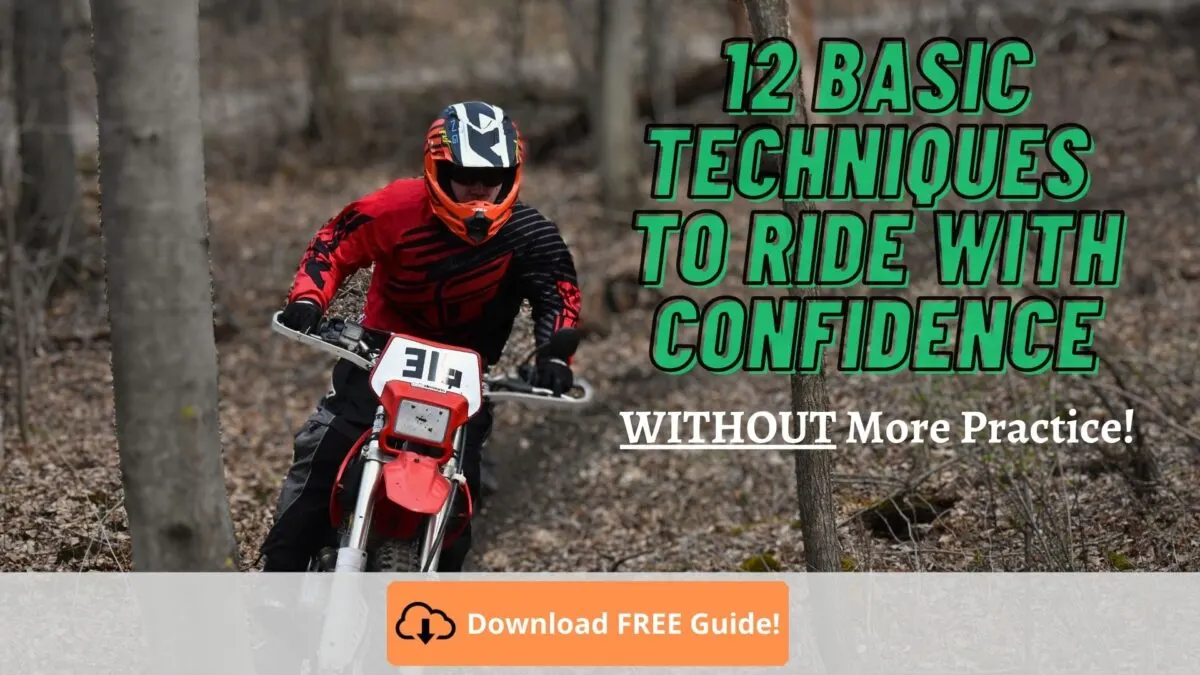 Handling
With a low seat height, the CRF 110 handles well in small areas and at low speeds because the center of gravity is well. This makes it great for learning to ride or trail riding.
The wheelbase is shorter than a midsize trail bike, so it turns more easily. You can get in and around tight spots easily.
Reliability concerns?
Overall, you don't need to worry about this bike causing you problems. It's very reliable because it's simple and low performance.
The engine will last for many years with basic maintenance, and the rest of the bike is durable as long as you aren't beating on it.
If you're jumping the CRF110, and you don't check the oil, air filter or chain tension, then you're going to have a breakdown sooner than later.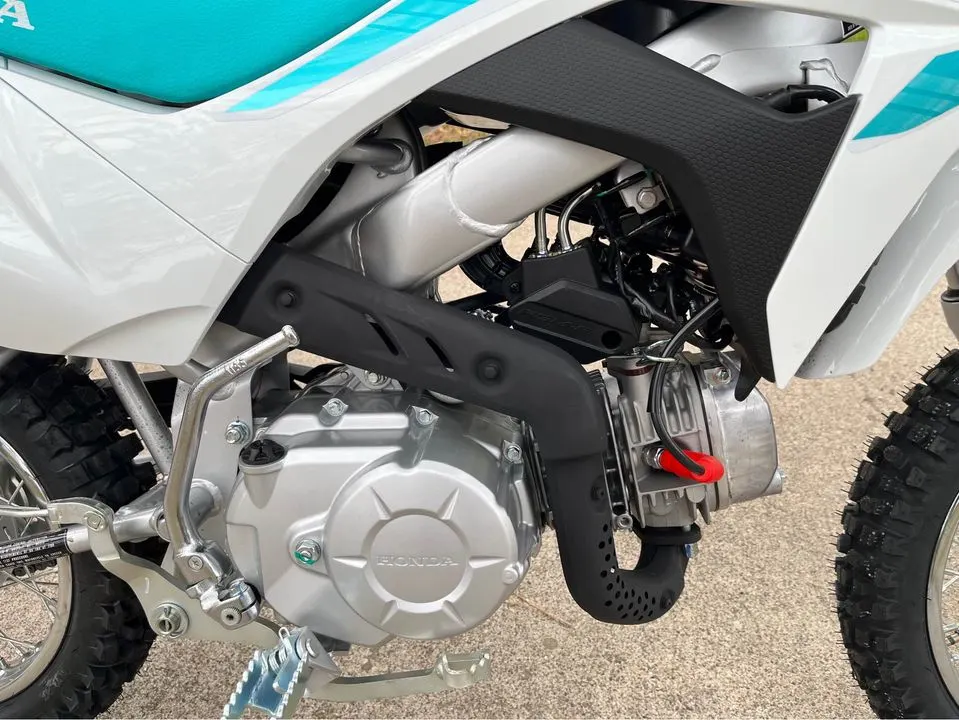 CRF110 weight limit
There's no official weight limit, but the CRF110 is built for a 60-100 pound rider. If you weigh more than that, it's going to be very soft.
For racing or riding aggressively, you're going to need some suspension upgrades. Stiffer forks and shock are necessary so you don't bottom out the travel and crash or break the bike.
Does a CRF110 have a clutch?
No, it doesn't have a clutch, which is good and bad. It's good because if you or your kid is learning how to ride a dirt bike for the first time, then it's one major thing you don't have to worry about learning.
It's bad if you do want to learn how to use the clutch and need the smallest dirt bike available. Maybe your son or daughter is ready for a manual clutch dirt bike – if that's the case then the next size up is the CRF125F small wheel.
Is the CRF110 electric start?
Yes, it has an electric start and a kick starter for backup in case your battery dies. It adds a few pounds of weight having both types of starting systems, but it's hardly noticeable if you're a newer rider.
Seat height – What age range is the CRF110 for?
It's a good size dirt bike for kids aged 7-11 years old, depending on your height. With a seat height of 25.9 inches, it's a good size dirt bike if you're between 4'0″ and -4'6″ tall.
With that said, it's the perfect size pit bike for us adults, which is why there are pit bike racing classes for 110cc dirt bikes.
Can you lower a CRF110?
Yes, there are some ways to lower your CRF110. Lowering the seat height can give you a little more confidence if you or your kid can't touch the ground at the stock height.
The easiest ways to lower a CRF110 are:
Shave the seat foam
Raising the forks in the triple clamps
Lower the rear shock
What year did the CRF110 become fuel injected?
The Honda CRF110F first came with fuel injection in 2019, replacing the very small 15mm carburetor.
Fuel injection is an advantage, in my opinion, if you've had to deal with old carburetors. With a fuel injection system, you don't have to deal with it getting dirty and having to take it apart as often or not at all.
Where is the CRF110 made?
The Honda CRF110F is made in China, according to most sources, but that doesn't mean the quality is as bad as "cheap Chinese dirt bikes" that you would find on Amazon.
They are still built with quality and durability in mind. I wouldn't hesitate to buy one if I was in the market for one.
CRF110 specs/dimensions
According to Honda's website, these are the stock specs of the CRF110F trail bike:
| | |
| --- | --- |
| | CRF110F |
| Manufacturer | Honda |
| Years Made | 2013-Current |
| Engine | 109cc air-cooled 4 stroke |
| Transmission | 4-speed semi-automatic transmission |
| Horsepower | 6 HP |
| Seat Height | 25.9″ (66cm) |
| Weight | 170 lbs (wet weight) |
| Wheelbase | 41.9″ |
| Top speed | 40 MPH |
| Price (MSRP) | $2,599 |
CRF110 price
A new price for a Honda CRF110F is $2599 MSRP. You'll probably pay a few hundred more out the door after fees, charges and taxes. Depending on your local market, they may be hard to find in stock.
Used prices may be just about as high as new, or more if there's no supply and high demand.
CRF110 vs KLX110
Depending on which Kawasaki 110 you're considering, the biggest difference is that the CRF110 has fuel injection (EFI), while the KLX110 still has a carburetor. The KLX110L (large wheel) option has bigger wheels and a manual clutch.
Honestly, both are great pit bikes, so if EFI isn't a game changer then I would go for the cheaper one that's in good condition (if used).
Is the Honda CRF110F a good dirt bike for you?
If you're still struggling to choose whether it's the best dirt bike for you, here are some simple benefits and disadvantages of choosing the Honda CRF110F.
Pros:
Low seat height
Easy to ride and control
No clutch to learn
Reliable
Electric start & backup kickstarter
Fuel injection (2019+)
Simple – easy to maintain/work on
Hold their value
Cons:
No clutch
Hard to find used for a good price
Slightly heavier than the competition
Best CRF110 Mods
Being a pit bike size dirt bike, there are quite a few aftermarket parts available to upgrade you're bike. Whether you want to go faster, make the suspension stiffer and more comfortable, or make it sound cooler, you have options.
These are some of the top mods you can do to your Honda CRF110:
Carb upgrade
Suspension
Gearing
Exhaust
Big bore kit
How to become a confident rider 5X faster