Looking for the best Honda kids dirt bike but not sure where to start? Whether you're upgrading to a bigger bike or looking for your kids' first dirt bike, you're in the right place!
In this article, I'll show you the different models of off-road Honda kids motorcycles you can buy, why it's important to pick the right size, and which one is best based on your needs.
You don't want to spend that hard-earned cash on the wrong bike or one that's too big! Starting on the right bike is the first step to riding a dirt bike safely and building confidence.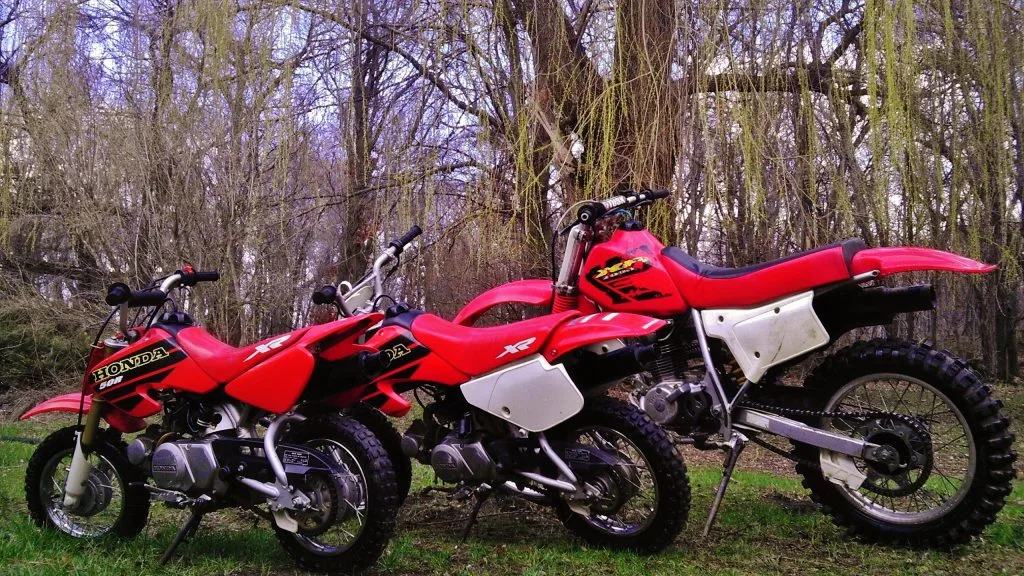 How to pick the right type of dirt bike
It's important to choose the right kind of off-road motorcycle based on the riding you're doing, especially if you're a beginner. Starting on the wrong type of dirt bike will not only be more frustrating, but also more dangerous because it will be harder to control.
When it comes to small kid sized dirt bikes, Honda only has two types of motorcycles to choose from: Trail bikes and motocross bikes.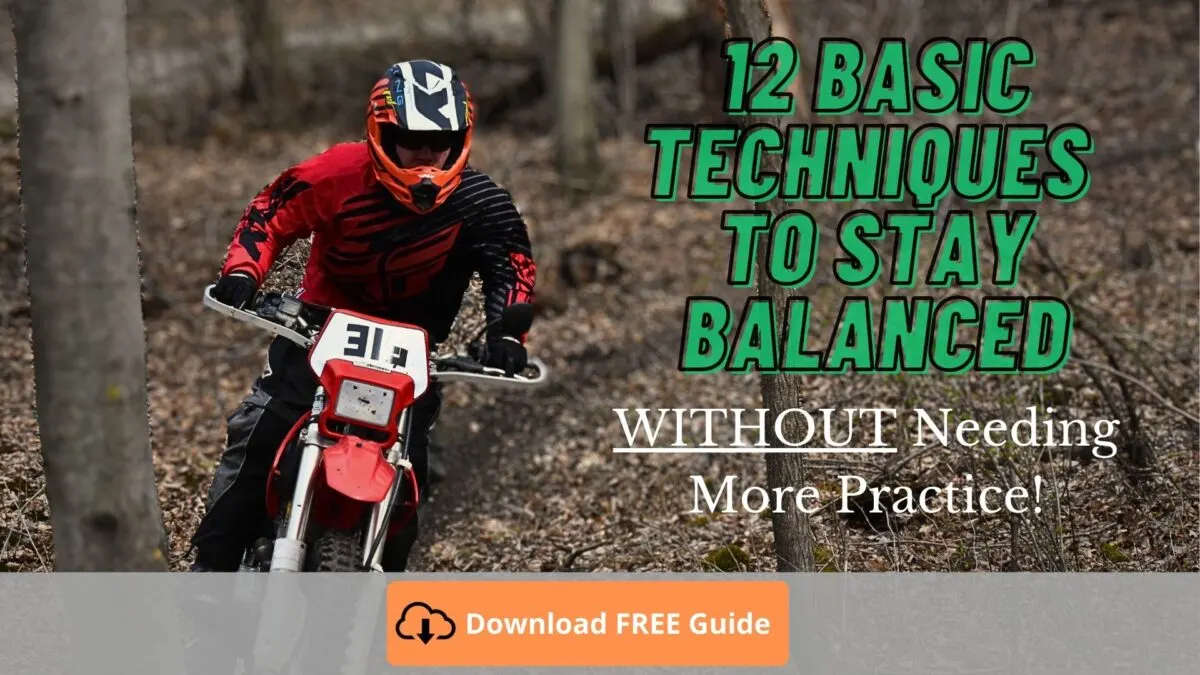 A trail motorcycle is the best choice for a first dirt bike because it's much easier to ride and control, while a motocross bike is only good if you have mastered the basic techniques and are ready to ride on a race track.
How to pick the right size dirt bike
The next step in choosing the best Honda kids dirt bike is picking the right size based on a couple factors. Your height is the most important factor if you're a beginner rider, but your experience level also plays a role.
You see, you just need to be able to touch the ground with one foot to properly fit on a dirt bike – this is why going to your local motorcycle dealer to sit on different dirt bikes can make your decision easier!
The one foot sizing rule
While being able to touch the ground is super helpful as a new rider because it gives you more confidence to prevent falling, it's easy to go too far with this if you're looking to upgrade your dirt bike. A common mistake is thinking you need to reach the ground with both feet, which requires a shorter dirt bike.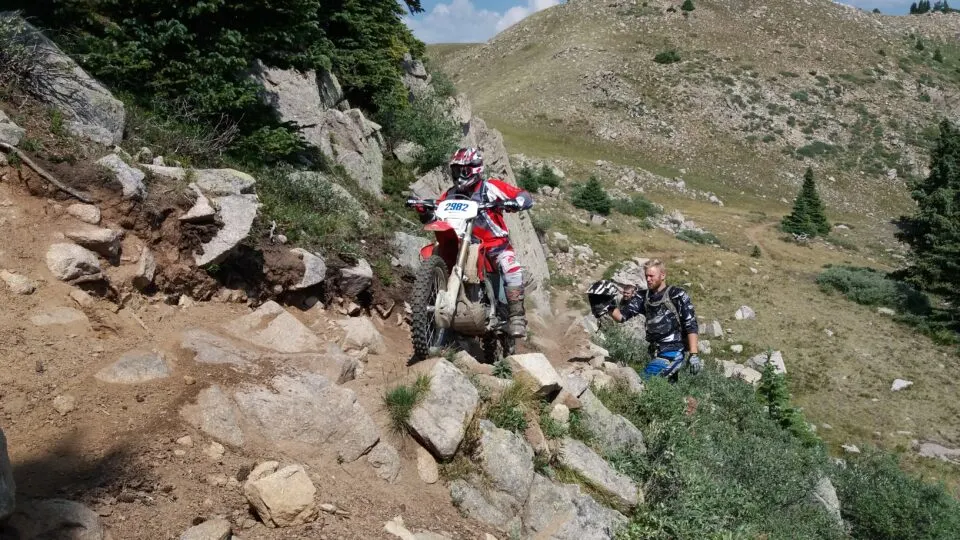 Using both feet on the ground is a bad habit to form that will limit your riding potential. Instead of keeping your feet on the pegs and improving your balance, using two feet to balance will cause you to struggle when you want to ride more challenging trails because you'll get exhausted more easily trying to handle the bike.
Honda 50cc dirt bike for small kids
The Honda CRF50 has been the number 1 first kids dirt bike for decades. It came from the XR50 and Z50, but is essentially the same dirt bike.
Kids as young as 3 years old start out dirt biking on this 50cc 4 stroke. Training wheels are a common mod.
The CRF50 is best for 3-7 year olds, based on the size of your child. However, it's often a pit bike for adults after some mods.
Compared to the PW50, it's slightly bigger and a little more durable. Plus, you don't have to worry about filling an oil tank with 2 stroke oil.
Why is gas better than an electric dirt bike?
Since Honda now sells an electric dirt bike that's very similar in size and specs to the CRF50F, it's important to compare the differences so that you can make the best choice.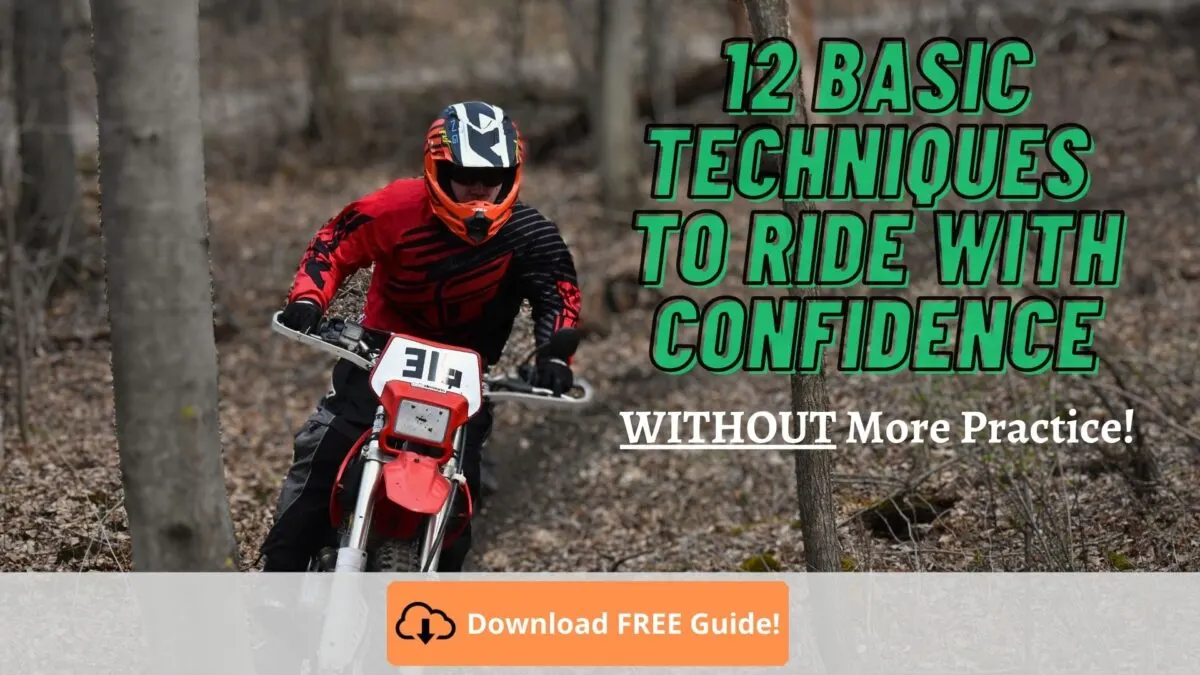 A gas dirt bike is better than an electric dirt bike for these reasons:
Unlimited ride time – a tank of gas lasts longer than a fully charged battery
No charging – it's quick and easy to fill the fuel tank and keep riding
Much Cheaper – the CRF50F is almost half the price of the CRF-E2 electric version
Honda electric dirt bike for kids
While the Honda CRF-E2 is supposed to be the quieter electric alternative to the gas-powered CRF50F, it's noticeably bigger in size. This makes it harder to touch the ground for little kids if you're just starting to ride a motorcycle.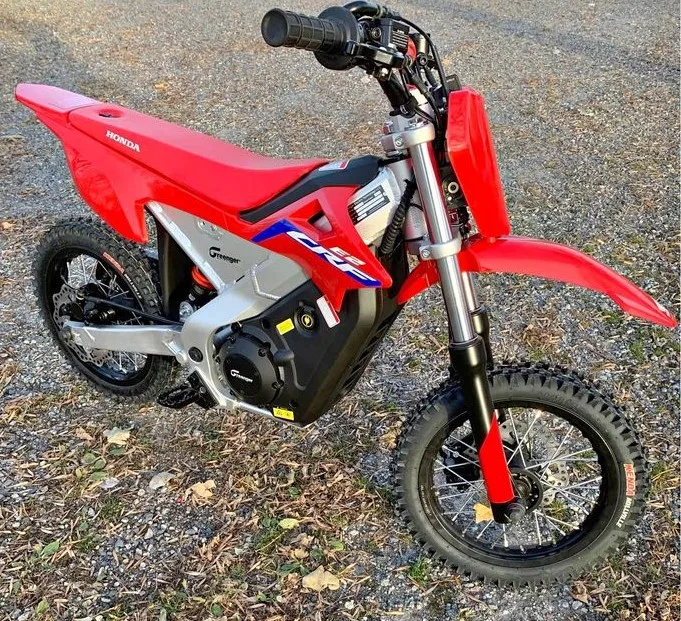 With a 3-4 inch taller seat height (you can adjust it about 3/4″), it's more comparable in size to the CRF110F, so it's a better size honda kids dirt bike for 6-11 year olds, depending on your height and inseam length.
Why is electric better than a gas dirt bike?
An electric dirt bike is better than a gas dirt bike for these reasons:
Less noise – you can ride in areas that are more noise-conscience
Less routine maintenance – no gas, oil or air filter to deal with
2 power mods – stage 1 is good for beginners & stage 2 for kids that need more power
CRF110F
Honda entered the 110 pit bike market in 2013 with their electric start CRF110F. It replaced the longtime CRF70F.
It's a great transition from a smaller trail bike or if you don't want your kid on a dirt bike with a clutch yet. It's also a great pit bike in the 110 class and can be highly modified.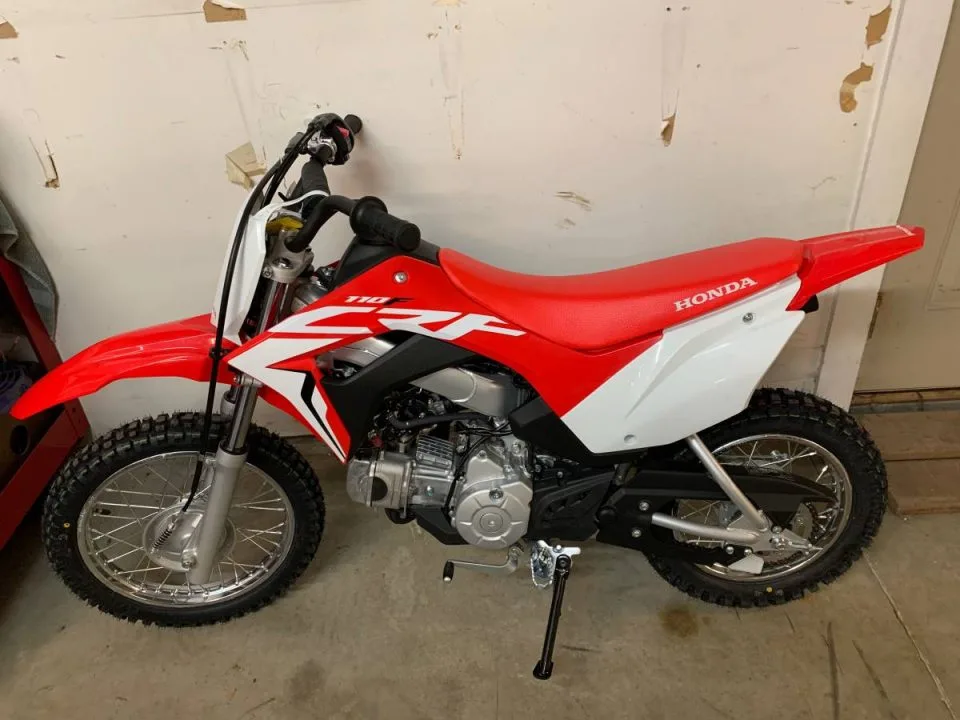 The CRF110 is sized for an 8-11 year old kid, depending on how tall he or she is.
It's had an electric start for all years, and came out with fuel injection in 2019, which is really nice if you hate dealing with dirty carbs and jetting.
CRF125F
The CRF125F is the next step up and comes from the older CRF100F (XR100). It's a great entry-level manual dirt bike for kids as young as 10 years old to a teenager, depending on their height. It's a rival of the TTR125 and is better in almost every way except for price.
Seat height is 29.1 inches, which is about 3" taller than the CRF110F.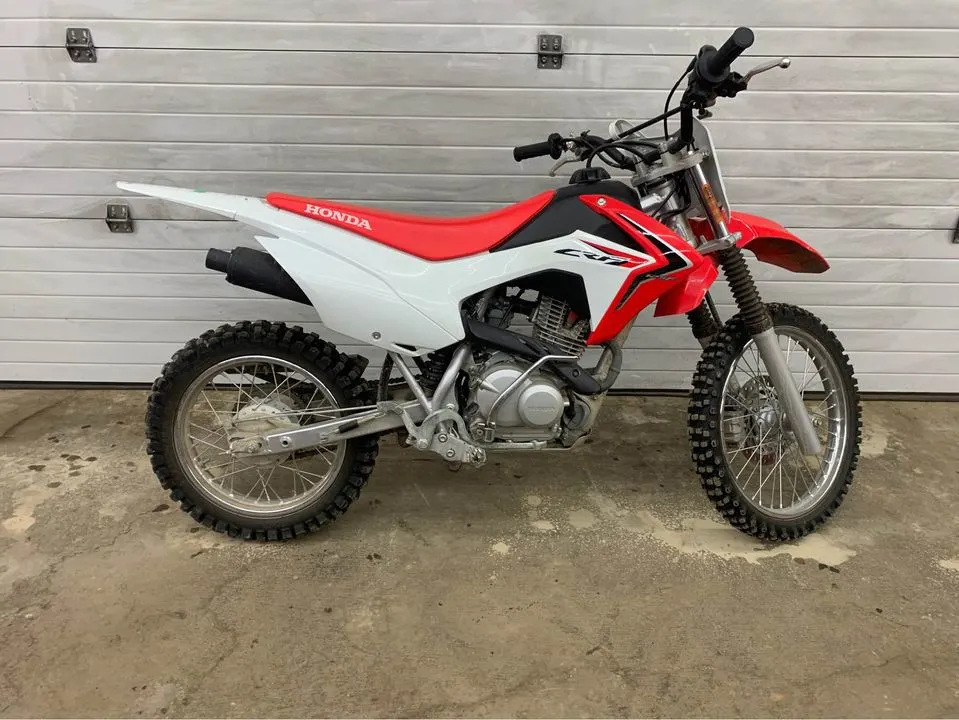 Honda went to EFI in 2019 for the CRF125 as well, so no carb or jetting to deal with. This is the smallest Honda dirt bike for kids that comes with a clutch.
So if you want your son or daughter learning how to ride with a clutch, this is a good, reliable bike to put them on.
CRF125FB
The CRF125FB (B = Big Wheel) is basically the same dirt bike as the standard CRF125F aside from the larger wheels.
Why put bigger wheels on the same dirt bike, you may ask?
Maybe your kid outgrew the small wheel CRF125 but you don't want them on a larger, more powerful bike yet. Or you just think they'll fit better on this to start out based on the 30.9" seat height and his or her inseam length.
CRF250F
As of now, Honda steps all the way up from a 125cc 4 stroke to a 250cc 4 stroke for off-road trail bikes.
The CRF250F is a great bike not only for adults, but teens that are ready for a full-size dirt bike.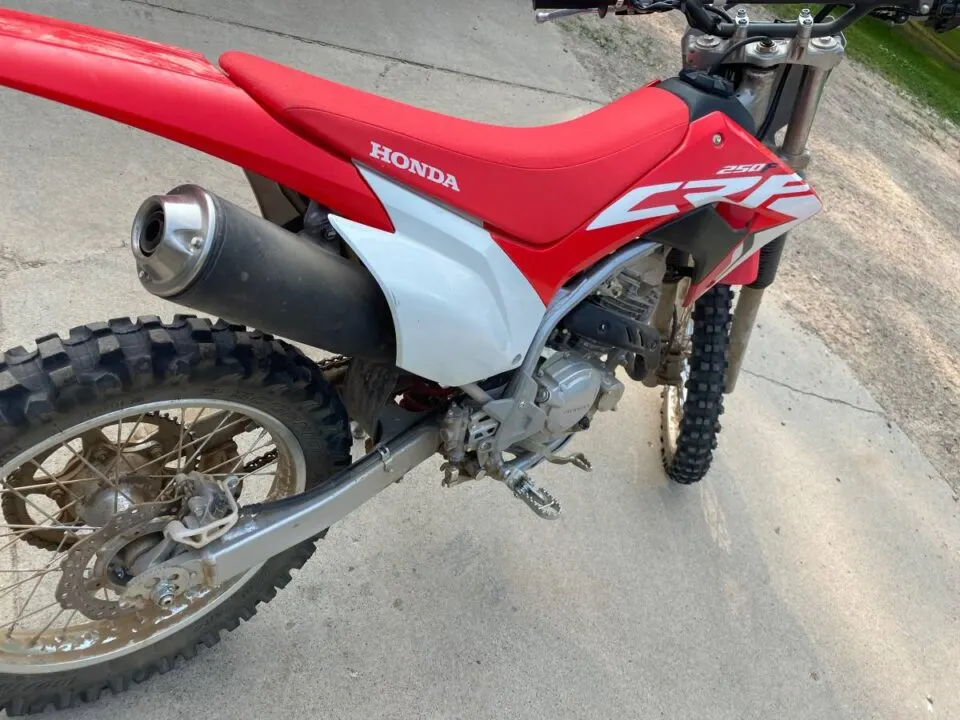 The seat height is a few inches shorter than a typical mx or enduro bike, making it easier to ride and build confidence.
The EFI air-cooled engine is super smooth and predictable, also making it easy to ride for a beginning teenaged rider.
Motocross Bikes For Kids From Honda
Honda still has two motocross bike models for kids, but they're one in the same. They used to have a CR85, but Honda stopped making that in 2007.
CRF150R
The CRF150R is a 4 stroke mx bike that is run in the Supermini class at a motocross race. It races against 112cc 2 stroke mx bikes.
The 150R is a high-strung race bike that is not friendly for a kid just starting out. The power is very snappy compared to the above trail bikes, and it's much easier to stall, as well as start. It can be modded to make it easier to ride, but it will take some cash and time.
CRF150RB
The CRF150RB is the same thing as the CRF150R but with bigger wheels (19/17").
Many adults and even females use the 150RB for trail riding because it has good power, is fairly reliable, and has good suspension after some tuning.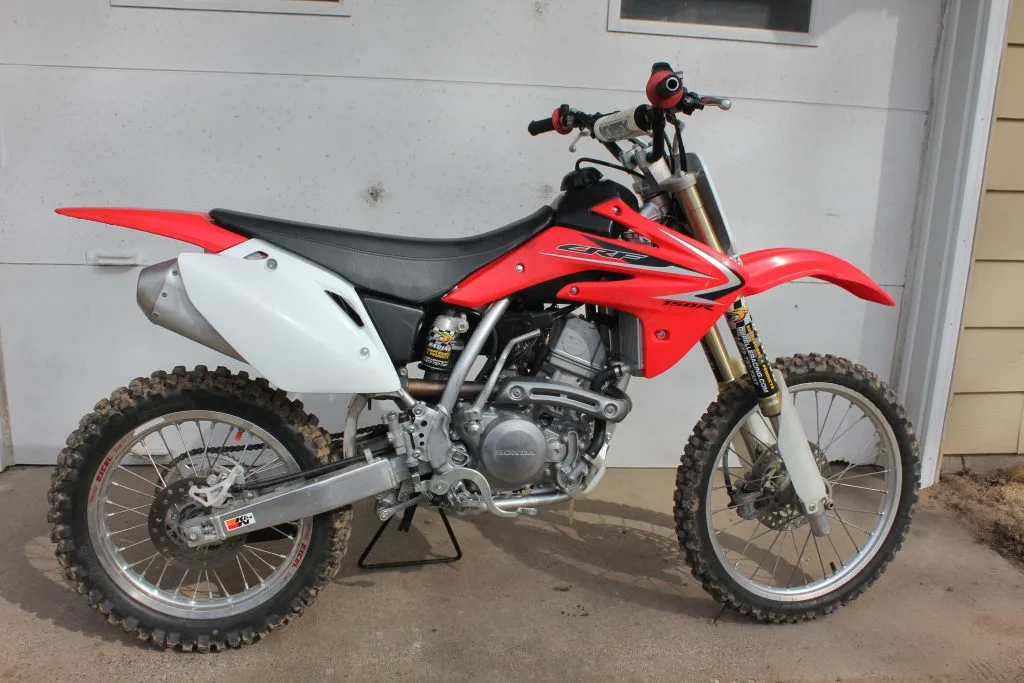 There are some mods to make it a kick-butt bike for woods riding because it's so light and nimble.
Honda dirt bike with training wheels
There aren't any Honda kids dirt bikes with training wheels, but you can add them for a very reasonable price. The CRF50 is the best small Honda dirt bike to install a training wheel kit (Amazon).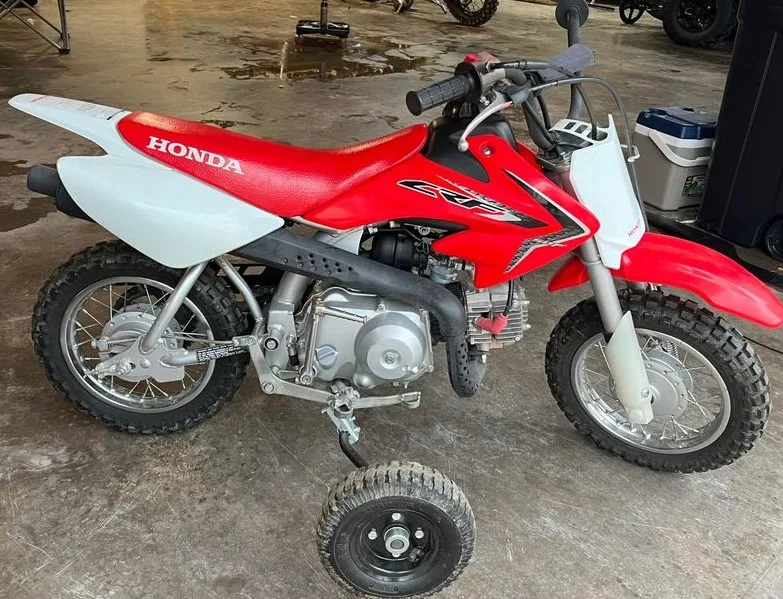 Are training wheels actually safer?
For kids that can't balance a small motorcycle (kids dirt bike), adding training wheels will eliminate that need, essentially making them safer… However, if you want to make riding a dirt bike a longterm hobby, it can actually harm you.
When you learn how to ride with 4 wheels, then you don't learn any balance skills, which is absolutely necessary for properly (and safely) riding a dirt bike. You do get to learn some throttle control with training wheels, but once you take them off, it's basically like starting all over again because you need to balance on two wheels.
So, my recommendation is to not get training wheels, or just start on a lightweight balance bike which is easier to handle than a dirt bike for kids.
Honda's dirt bike lineup for kids
The new lineup and pricing for Honda kids dirt bikes available:
CRF50F
CRF-E2
CRF110F
CRF125F
CRF125FB
CRF150R
CRF150RB
CRF250F
Best used kids dirt bike from Honda for cheap
Not everyone can afford a brand new dirt bike, but that doesn't mean you can't have just as much fun. Starting your kid out on a used bike may be the best choice in the long run.
Why?
They're going to tip over and make that shiny bike dirty and scratched up. He or she may also be ready to upgrade to the next bike sooner than you think.
Yep, that means another dirt bike could be in your near future!
With that said, here's a list of the cheaper used Honda kids dirt bikes for boys and girls:
Does Honda still make a Mini Bike?
That depends on what you classify as a "mini bike". A classic mini bike is basically a motorcycle with a solid frame with a simple pull-start engine, but Honda doesn't make anything that cheap and simple.
With that said, there are several small Honda motorcycles that are very similar to what an original mini bike looks and feels like – they just have more technology, cost quite a bit more, and are street legal for riding on the road if you're an adult.
These are Honda mini bikes and what they're best for:
Grom – small street motorcycle for adults
Monkey – retro dual sport street bike for adults
Super Cub C125 – Easiest motorcycle to ride around town with no clutch
Trail125 – A slightly more off-road version of the Super Cub
Navi – The cheapest street legal mini bike with a single-speed transmission makes it the most beginner-friendly
Ruckus – the smallest and most practical scooter/mini bike
Is your kid learning to ride using the clutch?
Awesome, but it may be difficult at first, and if you don't ride yourself then you may be nervous about your son or daughters safety. Choosing one of the beginner-friendly bikes that I mentioned is the right first step, but the next step is even more important.
It all starts with learning to ride with proper riding technique so that you stay in control of the bike, rather than the bike controlling you, and I want to help you or your kid out with some free training. Click here to get started with proper riding techniques that will make you a more controlled and safer rider.