Wondering if the Honda CR85 is a good dirt bike for you? Maybe you're looking for your first dirt bike or just want to upgrade – either way, you've found the right article!
In this review I'll show you who it's good for, why it may or may not be the right bike for you, and then what to do next so that you save time and money.
What is the Honda CR85R?
It's an 2 stroke motocross bike with an 85cc liquid-cooled engine, but what does that mean? A 2 stroke dirt bike is fairly simply, lightweight, and the power is different than a 4 stroke when you give it gas to accelerate, which I'll go into more detail shortly.
It has long travel suspension that's built for performance compared to a trail bike for beginners. It's kick-start only, but it's one of the easiest dirt bikes to start because it's such a small engine that doesn't have a lot of compression.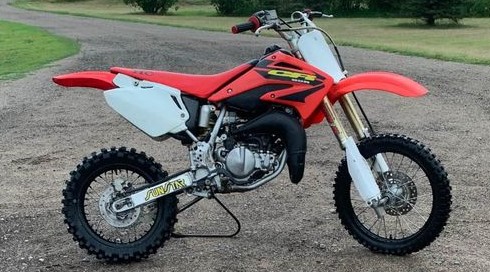 When was it made?
Honda made the CR85R from 2003-2007 – it came from the CR80. Honda updated the engine and plastics for the 85cc model, but then they stopped making all 2 stroke dirt bikes after 2007, unfortunately.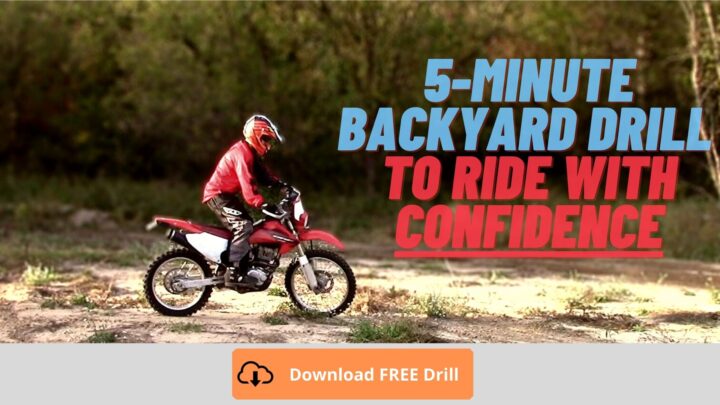 Who is the Honda CR85 for?
The Honda CR85 is a 2 stroke motocross bike for teens that primarily want to race. It's a high-strung race bike that is not for beginners.
It has a hard-hitting powerband, making it hard to control as a new rider. Since it has very little bottom-end torque, it's really hard to learn how to use the clutch – I know because it was my second dirt bike with a clutch.
CR85R small wheel vs CR85RB big wheel/expert
The biggest difference between the CR85 vs CR85 big wheel (expert) is the wheel and tire size, as well as the seat height. The swingarm is slightly different to fit the larger rear wheel, and the suspension valving is stiffer for a larger rider.
CR85 Seat height differences
The CR85R has a 32.4" seat height, and the CR85RB has a 34.0" seat height, so if you or your kid is too tall for the small wheel model, go for the big wheel version.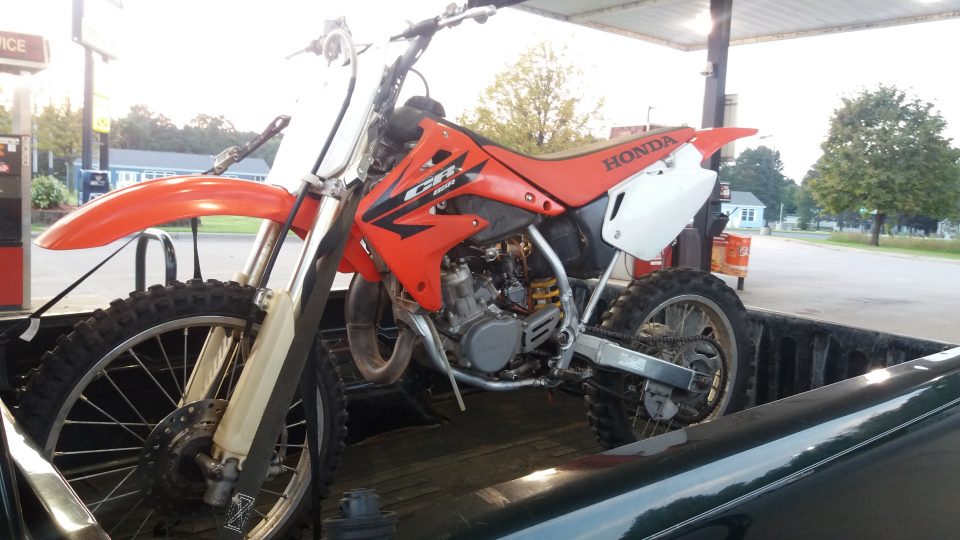 85cc Engine of 2 stroke power
It has an 85cc liquid-cooled 2 stroke engine without a power valve. What does that mean? It means that the power curve is like a light switch.
It's built for racing, so the engine is tuned for top-end horsepower with very little power down low. There is no power valve in the cylinder, so this makes the powerband even more "snappy" – giving it that "on/off" power characteristic.
This is the main reason why I don't recommend the CR85 or any 85cc 2 stroke if you or your kid is a beginner rider. For a similar-sized "starter dirt bike", look at the CRF125FB or CRF250F depending on your height.
Horsepower
If you put a stock CR85 on a dyno, it will make about 20 HP, which is a lot for such a small engine, but that's just one number. When I say "one number", that's just the peak horsepower number – the maximum power it makes at one RPM – about 11,000. If you go below or above that, the horsepower drops significantly.
That's fine for racing at a high level, but if you can't keep the engine at that high RPM, then you're not using all of the available power. In fact, if you're below 8000 RPM, you're using significantly less power. It's fun to ride when you "hit the powerband", but it requires skill to do it on a track or on the trails.
CR85 Suspension
Since it's made for riding on motocross tracks with jumps, the CR85 has stiffer suspension springs and valving for it.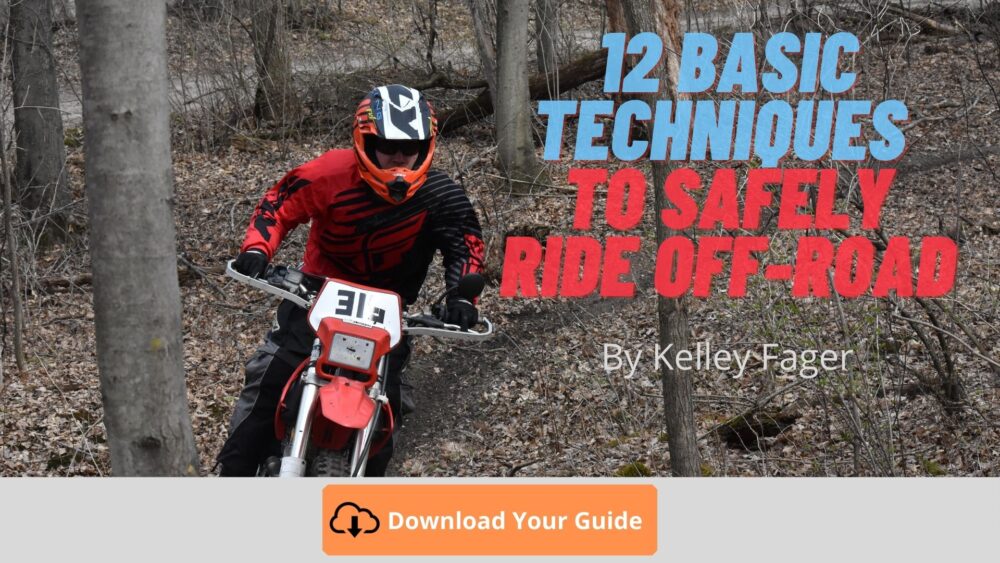 With that said, it's built for a kid that weighs 70-100lbs. If you weigh much more than that, it may be okay to just cruise around or ride on trails.
The shock and forks are both fully adjustable with compression and rebound damping clickers. The first thing you need to get set up, though, is the spring rate if it's too stiff or soft.
The next step is getting the rear shock sag set for you so that the front and rear suspension is balanced for the best handling
How does it handle?
As I just mentioned, setting up the suspension is very important if you want your CR85 (or any dirt bike) to handle well.
It handles very well because it's very light and it's built to be able to turn well while being stable. The geometry makes it more stable at higher speeds than a trail bike, but it won't be able to turn as easily at low speeds – if you're going to ride tight trails.
With that said, since the CR85 (small wheel or big wheel/expert) has a smaller chassis and wheels than an adult size dirt bike, it's never going to be as stable.
This is fine as long as you're not riding super rough terrain at high speeds. The short wheelbase makes it feel lighter and turn quicker than a full-size dirt bike.
Is it the right size for you?
The Honda CR 85 is a mid-size dirtbike, so it's a good size for teens and short adults – but that's only if you can handle the aggressive power.
At 32.4" seat height, the small wheel model is good if you're around 5'0" tall.
Weight
Coming in at about 154lbs, the CR85 small wheel is very light compared to an adult-size dirt bike. It's so light because the engine is small (which is very easy to work on), the chassis and suspension are smaller, and the gas tank is smaller.
For its size, there's not many dirt bikes lighter, and that's why it makes such a good race bike – power-to-weight ratio is very good.
CR 85 Specs & Dimensions
| | |
| --- | --- |
| Engine | 84.7cc liquid-cooled 2-stroke |
| Transmission | 6-speed |
| Seat Height | 32.4"(CR85R)/34.0"(CR85RB) |
| Suspension Travel | 10.8″/10.7″ |
| Wheelbase | 49.1″/50.7″ |
| Weight | 154lbs (CR85R)/159lbs (CR85B) |
| Horsepower | 20 HP |
| Top Speed | 65 MPH |
Model Year History
The CR85 was made by Honda from 2003 until 2007. Honda discontinued it in 2007, along with the rest of their two-stroke dirt bikes.
It's unfortunate that Honda and most of the other Japanese dirt bike brands aren't making two-stroke dirt bikes anymore, but Yamaha, KTM, Husqvarna, and gas gas or some of the top companies are still making and improving them.
VIN Decoder to identify which year CR85
To determine what model year dirt bike you have, just look at the 10th digit on the VIN, which should be stamped or on a permanent frame sticker. If the number is a "3", then you have a 2003 CR85R.
Common problems?
There aren't any common issues with the CR85. You just have to be aware that their race bikes can break if they're ridden hard or not maintained well.
If you're going to look at a used CR85 for sale, there are some things you should check for to know if it's in good shape or not.
Checking the oil there's enough in there, as well as the air filter to see if it's clean. These two things to check along with how well it starts and runs can give you a good idea of it's overall condition.
Bottom Line: Is the CR85 a good dirt bike?
Yes, it's a good dirt bike for the right person. Again, if you're a beginner then this is not the bike for you. This is a race bike for teens or short adults that want a lightweight and aggressive dirt bike to ride.
Here are some pros and cons of why you should or shouldn't buy the CR85:
Pros:
Fast for its size
Lightweight
Easy to kick start
Reliable if well maintained
To size options with big and small wheels
Good for teens and short adults and want a 2 stroke race bike
Cons:
Abrupt power
Not forgiving – hard to learn how to ride on
No electric start
Getting harder to find used
These bikes were often poorly maintained by kids or racers
CR85 vs CRF150R
Honda came out with the CRF150R 4 stroke MX bike in 2007 to replace the 2 stroke CR85. The main differences are the engine and weight – the CRF150R has more torque and horsepower, but it's also heavier.
CR85 vs CR80
The big changes are that the CR85 got an updated engine with a little more power and the plastics/cosmetics are totally new. If you're looking for the best performance, the newer 85cc Honda is the obvious choice, but the older CR80 is still competitive if you have the riding skill.
Learn to ride with confidence
Whether you're going to buy a Honda CR 85 or not, I want to help you become a safe and confident rider. A lot of beginners try to learn how to ride on their own, but they end up making bad habits that cause you to ride out of control.
I want to give you a free gift that shows you the proper techniques to ride safely with confidence and control. Click here to get started.