Looking to get a Honda CR80 but wondering if it's worth buying? If you're looking to buy your first dirt bike or want to upgrade, you've found the right article.
In this review, I'll show you what the CR80R is, why it may or may not be right for you, and what to expect when buying and owning one to save you time and money.
What is the Honda CR80?
It's an 80cc 2 stroke motocross bike that Honda used to make until 2002. It has a liquid-cooled engine with a 6-speed transmission and suspension that's built for doing jumps and obstacles on an MX track, but that doesn't mean you can't ride it anywhere else.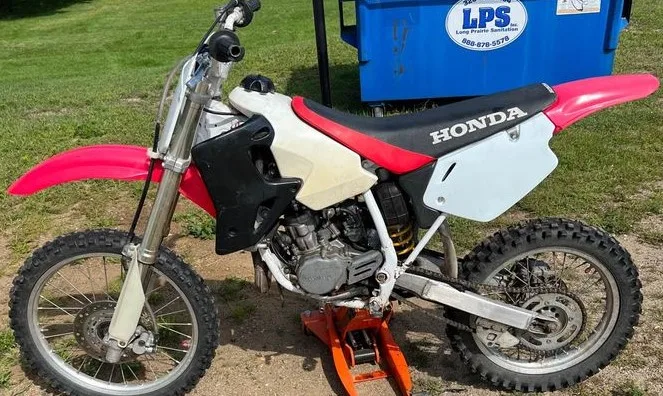 Who's it for?
It's primarily made for kids ages 10-15 years old that are ready for a race bike. It's one of the worst bikes you can choose if you are a beginner, which I'll explain in detail as we go through this review.
Basically, the CR80 has a very abrupt powerband that makes it difficult to control if you're still learning how to safely ride a dirt bike. This slows down your confidence because you're forced to focus on just trying to control the bike, rather than working on your technique and having fun.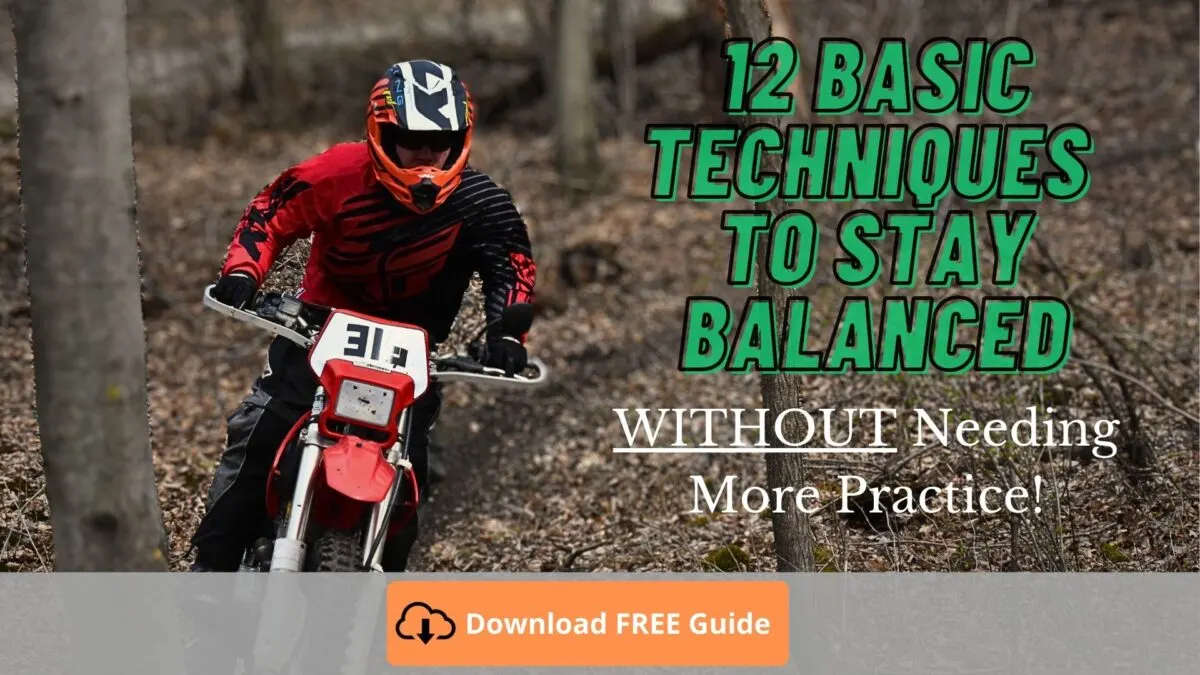 CR80 (small wheel) vs CR80 Expert (big wheel)
They're virtually the same bike, but the main difference is that the CR80RB Expert model has bigger wheels and tires, along with a taller seat height and slightly stiffer suspension. Honda offered this option if you're a little too big for the small wheel CR 80 or if you are racing the supermini class that has the larger 19/16" wheels and bigger engines up to 112cc.
Seat height – what size rider is the CR80 for?
The CR 80 small wheel model has a seat height of 32.4 inches, which makes it a good size dirt bike if you're about 4'10"-5'2″.
The CR 80 Expert big wheel model has a 34.0-inch seat height, so it's better if you're in the 5'1″-5'5″ tall range.
With that said, your inseam makes a big difference, as well as your age, strength, and skill when choosing the right size bike. A bigger engine number size doesn't always mean it's a bigger, taller, and faster off-road motorcycle, and vice-versa.
Engine – what to expect
The Honda CR80 has an 80cc liquid-cooled 2 stroke engine, but what does that mean? For such a small engine, it has a lot of horsepower, which means it has a lot of potential to be ridden fast.
But, basically, all of that power is at a high RPM, because that's how smaller 2 stroke race engines are tuned. This means that it has very little torque and low RPM, making it a terrible bike to just "casually" ride – it's not going to accelerate unless you're giving it a lot of gas.
So, this makes it feel like it has an on/off switch for power (mainly due to the engine not having a power valve like some other 2 stroke engines do). That's not good for building your confidence if you're a beginner because it's going to be hard to control the power. Learning how to use the clutch is also harder because you have to slip the clutch more to get moving or else it will stall.
Is the CR80 engine still good?
It sounds like I'm telling you how bad the engine is, but in reality, it's a great engine – for what it's designed to do, and that's racing. Whether it's racing motocross, hare scrambles, or swapping the engine into a go-kart, it's a pretty reliable and fast engine.
Suspension – is it outdated?
Since Honda hasn't made the CR80 since 2002, is the suspension any good still? In 1996 they made a big update by changing to upside-down (USD) front forks, which improved the performance by quite a bit over the conventional style forks (normally on trail bikes now).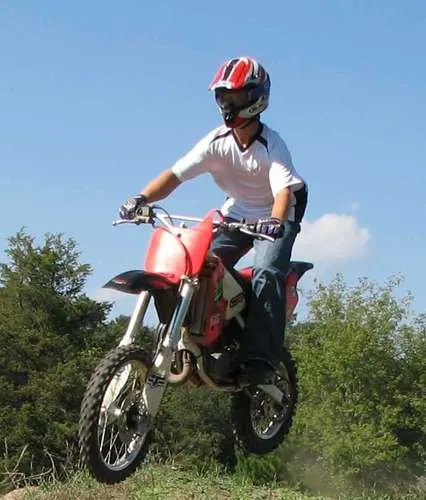 Front forks
The newer style USD forks on the 96-02 CR80R are fully adjustable, giving you a bigger range of comfort capabilities. Simply put, you can more easily adjust them to your weight and riding style without doing internal valving changes.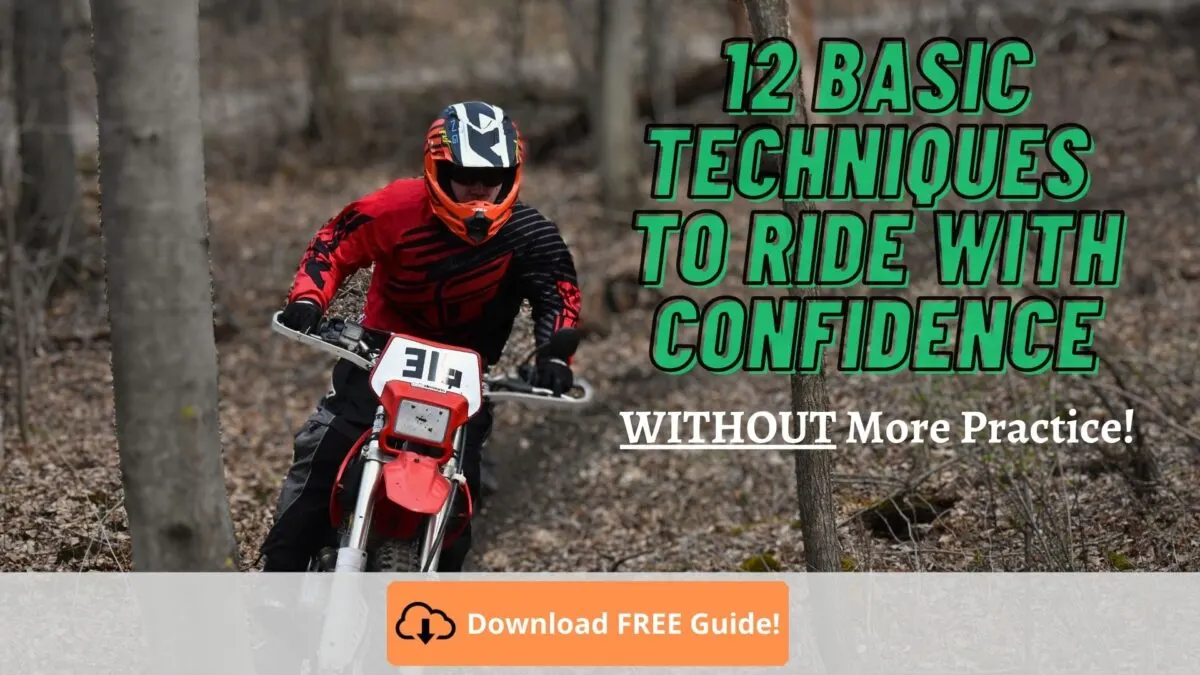 They aren't much different than modern 85cc mini forks as far as overall performance goes, so if you don't need the absolute best suspension, the stock front forks will work great for motocross.
You can adjust the compression and rebound clickers to make it stiffer or softer. This helps if you're a little bit lighter or heavier of a rider, or if you're riding different track conditions that require a slightly different setup to be the most comfortable.
Rear shock
On the 1996 and newer models, you get a fully adjustable rear shock. Setting the sag is the first thing you need to do (assuming you have the right size spring rates).
After that, you can adjust the compression and rebound damping clickers on the shock as well. Getting your front and rear suspension balanced will make a huge difference in the handling of your dirt bike, which will give you more confidence and allow you to ride faster with more control.
Handling
With the geometry of a motocross bike, the CR80 will handle very well and be stable for its size. This means that riding at high speeds and over obstacles, it won't kick around as much as a trail bike.
CR80 weight
It's a very lightweight dirt bike, weighing just 144 pounds dry (about 155 lbs wet with fluids), which makes it handle even better. This is especially true when you're constantly changing directions and turning.
What's the weight limit?
There's no actual weight "limit" for a Honda CR80, but it's made for kids in the 60-110 lbs range, so if you weigh 120+, the suspension will be very soft.
If you weigh over 200 lbs and are riding it aggressively, you're much more likely to break something – consistently bottoming out the suspension is a good sign that you're past the current weight limit
Model year changes
Honda didn't make a lot of changes to this 80cc 2 stroke mini race bike, but there was a big change that made a big difference in overall performance. This also increased the demand for this model, so you'll probably have to spend a little more for one.
These are the biggest changes of the Honda CR80:
1980: First year of the CR80
1996: Updated to USD forks, big wheel Expert model added
2002: Last year of the CR80R and CR80R Expert
Reliability – how long will it last?
For a small-bore race bike, the Honda CR80 is about as reliable as it gets, but what do I mean by that? Well, a smaller 2 stroke motocross bike typically won't last as long as. 250 or 450 4 stroke before needing a rebuild, but that doesn't mean it's unreliable.
Since you need to rev a CR 80 higher to get it in the meat or the power, it's going to put more wear on the engine in less time. This just means that you're probably going to need to replace the piston and rings more often.
As far as actual reliability goes, you shouldn't have any major problems if you're doing regular maintenance, such as oil, and air filter, and using fresh gas with a proper 2 stroke oil mixture ratio.
Any common issues?
There aren't any major common issues with the Honda CR80R. Most of the problems will happen because of user error – poor maintenance or bad installation of a part.
Specs & dimensions
These are the specifications of the Honda CR80R and CR80R Expert models:
| Dirt Bike Model | Honda CR80R/CR80R Expert |
| --- | --- |
| Engine | 82cc liquid-cooled 2 stroke |
| Transmission | 6-speed manual clutch |
| Seat Height | 32.4"/34.0" (82cm/86cm) |
| Weight (dry; no fluids) | 144 lbs/145 lbs |
| Horsepower | 20 HP |
| Top Speed | 60 MPH |
Is the CR80 the right dirt bike for you?
So, you're still interested but not sure if it's exactly the right dirt bike for you. Here are some practical pros and cons of the CR80 2 stroke dirt bike:
Pros
It's fast for its size
Lightweight and handles well
1996 & newer years have pretty good suspension
Still competitive compared to the newer 85cc models if you're new to racing
Relatively easy and cheap to find
Reliable and easy to maintain
Cons
It's a terrible "first dirt bike" for beginners
Virtually zero bottom-end power makes it hard to learn how to ride with a clutch
They're getting hard to find in good condition on the used market
Require more frequent maintenance and rebuilds than a trail bike for casual riding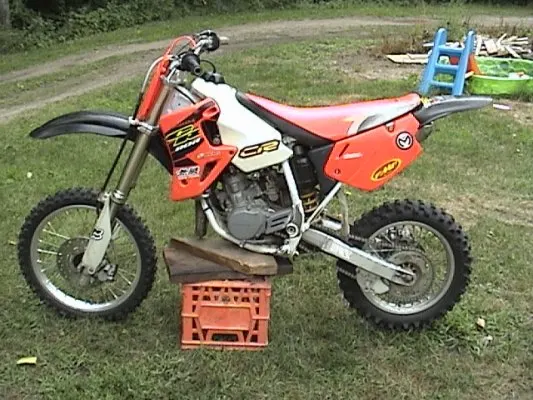 Is the CR80 good for trail riding?
No, the Honda CR80 is a terrible dirt bike for trail riding, and let me explain why… Can it be ridden on trails? Absolutely, because I rode one on single-track trails for a year or so when I started getting serious about riding.
It was "fun", but it also made riding harder because it was so hard to control on tight trails. It also didn't help that I had poor clutch control and balance. So, yes, it can be trail ridden if you want a challenge, but I wouldn't recommend this 80cc honda 2 stroke dirt bike for your first choice.
How to improve low-end power on a CR80
One of the reasons why the CR80 is hard to ride on trails and at low speeds is because it lacks bottom-end power, but is there a way to improve it? Yes, but it will require investing your time and money into it that could be easily spent on another dirt bike that would be better for trail riding.
With that said, you can improve the low-end power and acceleration on your CR80 with these mods/upgrades:
Gearing change
Exhaust pipe torque spacer – (Bonz sells them)
Aftermarket exhaust
Big bore kit
Cylinder porting for low-end torque
Higher compression
How much does the CR80 cost?
Since you can't buy one new anymore, you'll be looking at the used market, whether it's on craigslist, FB marketplace, or elsewhere. The price of a used CR80 will generally be in the 800-2000 dollar range, depending on your local market value, the condition, and model year.
CR80 vs CR85
The biggest differences are that the newer CR85 has an updated engine with a full 85cc and the plastics/cosmetics are new. The CR 80 has slightly more power, but it's not a significant amount.
CR80 vs CRF150R
While they're both motocross bikes, the main difference is that the CR80 is a 2 stroke and the CRF150R is a 4 stroke that has considerably more low-end and midrange torque, but it's also heavier.
How to buy a used CR80 with confidence
Buying a used dirt bike can turn into a horror story if you don't know what you're doing or what to look for. You might find a nice-looking CR80, but it turns out to need a complete engine rebuild that costs over $1000, but I want to help you prevent that.
I put together a quick and practical guide that shows you the top mistakes people make when buying a dirt bike so that you know what to do so you get a good deal on a nice bike. Click here to download.