Are you struggling to stay in control of your dirt bike, or just want to learn all the techniques to ride with confidence so that you don't crash and get injured? Lacking confidence or being afraid of crashing and getting hurt is a common issue with new riders, so it's nothing to stress about, at least not anymore.
While having fun is about as important as it gets when I'm riding in the woods, staying safe is even more important. I have a family to provide for and enjoy, so if I crash all the time and get hurt from riding my dirt bike, that's not very loving of me.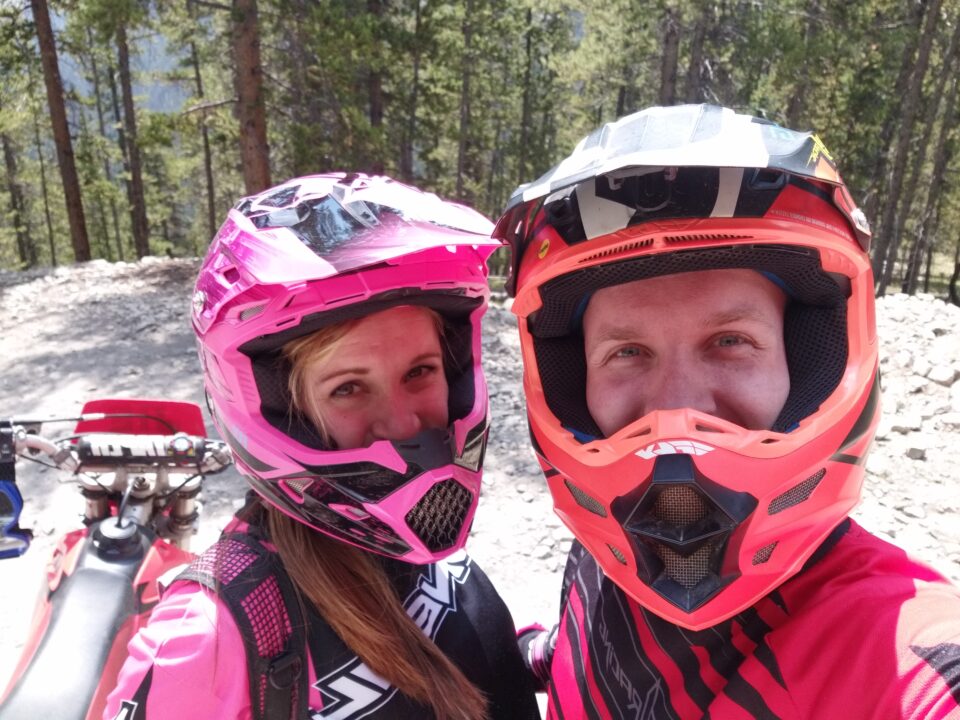 That's why I want to help you learn how to ride safer by teaching you the basic techniques that I've learned over the years and still practice today.
I've taught many new riders how to confidently ride a dirt bike with a clutch, and the way I teach is very simple and easy to understand, even if you've never ridden before. What's so unique is that I understand what new riders tend to struggle the most with and how to get you to understand and fix the problem quickly.
Maybe it's trying to stay balanced on a tall bike when you don't have much strength, riding rutted or flat corners with traction and control, or maybe you don't even know what you need to ride off-road because you're a street bike rider.
Whatever it is, my goal is to help you become a confident off-road road rider so that you can enjoy riding with your family and friends or keeping up with your riding group doing more challenging trails without the fear of getting hurt and compromising your quality of life or ability to provide for your family.
Don't just take my word for it: Here's what my students have to say…
---
"My main concern with buying The Virtual Dirt Bike School was learning basic dirt riding skills, and I found it to be very straightforward dirt riding explanations. I specifically liked the trail riding videos. The benefits were confidence building and exercises to practice on my own. I would recommend VDB School because of its easy to understand and follow tutorials."

– Thomas Briscoe
"I wanted to improve my technique for riding corners, steep hills, boulders & logs, streams, and tight areas. The short video of Kelley knowing how to show the fundamental techniques convinced me to enroll. It helped me the most with my cornering on flat ground, as well as better balance and body control. This has been very helpful in so many ways that I now need to put it all into practice."

-Paul Scrivener Paihia (Bay of Islands), New Zealand
"Your video on riding rutted corners was very helpful and helped me improve my technique. Thanx."

– Achilles Frantzen, Netherlands (Europe)
"Thanks for your great informative videos, learn a lot from them."

– John Dwyer, Adelaide (South Australia).
"Hey Kelley, I found all your information very helpful, your choice of content was on point. Thanks"

John, Virginia (USA)
"Hey Kelley! Thanks for all the great emails and the awesome information. I've learned a lot of different things. Thanks so much!"

– Benny, Texas (USA)
"Kelley was a professional from start to finish. He showed me the basic ins and outs of a dirt bike and how to operate it before riding! He was patient in his instruction, knowledgeable and diligent in asking me how I was doing throughout my experience! I highly recommend anyone looking to give dirt biking a try to call Kelley to learn, he's a great teacher!!"

-Derek E. (Age 29)
"Getting on a dirt bike was not on my bucket list. After watching Kelley instruct my 18 year old daughter it looked fun and safe. Safety was very important to Kelley. He made sure I had a helmet on, protective pants and boots. He was very thorough in his explanation of how to start it and let out the clutch and, in general, how things worked.

I killed it the first time but he was super patient and encouraged me to try again. It worked and off I went. I was able to drive around the yard a couple times and with proper instruction was able to come to a stop. I would highly recommend Kelley as an instructor."

Karen E. (Age 60)
"I was having trouble with my clutch control and kept stalling, but then Kelley showed me some drills and it started improving! He has helped me grow on my dirt biking journey already, with his easy-to-follow instructions. I'm excited to keep getting more comfortable on the bike!"

Cecily F. (Age 15)
"He taught me how not to die!"

-Lydia E. (Age 18)
Want to learn how to safely ride with confidence?
Click Here To Learn The Basics Techniques To Ride With Confidence & Control Off-Road.
Disclaimer: Results may vary depending on your effort. The closer you follow my steps, the safer you'll likely be on a dirt bike.