Zoe was afraid to just ride with her kids when she came to me, so I was excited to help her turn things around!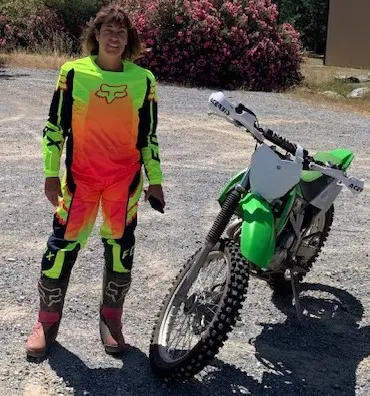 Here's what she said after the FIRST DAY of practicing what she learned:
I went riding yesterday and I was way more confident! I practiced the clutch drills and that really helped. That was way less scary and felt more in control.

-Zoe Najim
---
Laura wasn't advancing after 15+ years with her husband…
"I'm 52 and I started riding when I was about 35. I wasn't advancing at all and I didn't know what to do to get better, so I decided I wanted to take your class. If you just get on YouTube and watch people ride, then you don't get that "Do this to practice for this", and I like your step-by-step approach to it. It's not a package class where you send it out and then the person's on their own; they can talk to you. I can control the clutch and gas better and learn where to sit on the seat better. My big fear was rolling backward and fall off on a big hill, but I feel like I have a plan now. Your writing is clear and the video just added to what I was learning."

–Laura Thayer (52) – Washington State
---
Are you falling over every 5 minutes or keep riding off course and hitting trees every time you go on a trail rider? Whether you're trying to ride more or not sure what to do to get better, it's a common problem to struggle with confidence on new or challenging trails with hills and obstacles – especially if you're a beginner or just getting back into it after 20+ years!
Don't worry, because there's a way to safely enjoy dirt biking, even if you think you're too old to improve, don't have the time to ride more, or don't have a trail nearby to practice at!
While having fun is about as important as it gets when I'm riding in the woods, staying safe is even more critical. If you're like me and have a family, then you know how important it is to stay safe so that you can provide for them financially and physically.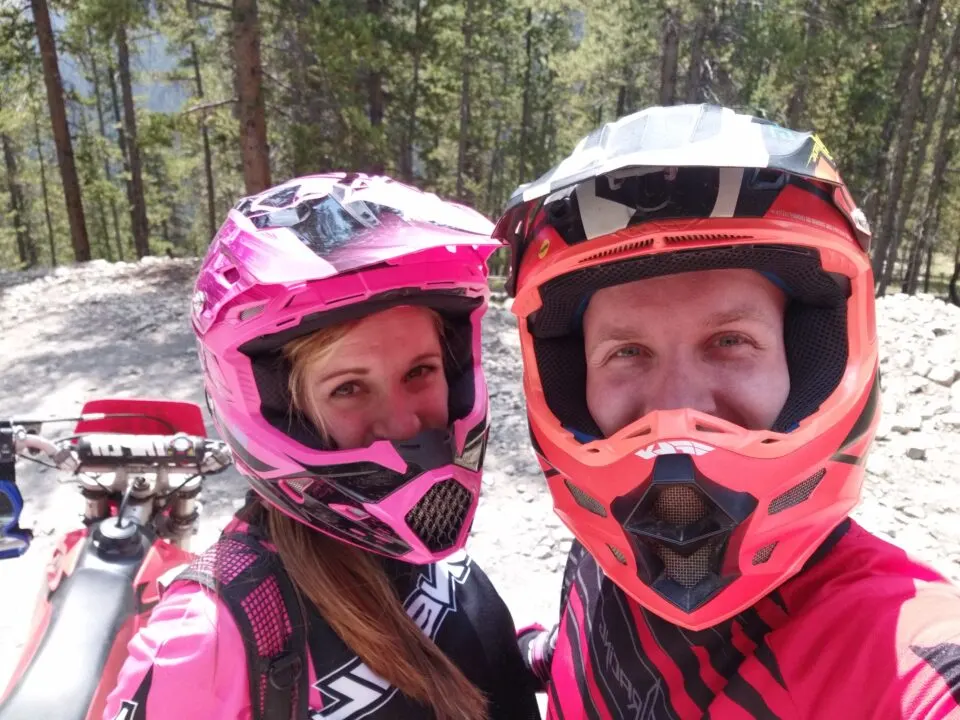 That's why I want to help you learn how to ride safer and in less time with the positive riding habits that I've learned over the years and still practice today.
I've taught many new riders how to confidently ride a dirt bike with a clutch, and the way I teach is very simple and easy to understand, even if you've never ridden before.
What's so unique is that I understand what new riders tend to struggle the most with and how to get you to understand and fix the problem quickly.
---
Paul became an intermediate trail rider much faster
"It made an instant difference in my cornering. I'm not expecting to be a professional motocross rider. Just enough to get myself to a better level. I feel now that I could do the intermediate grade. It's all about technique and getting around your track quite safely. I believe that the information you've given me has helped me improve myself quite a bit. I'm very happy with what you've taught me. I would recommend it to beginners because it gives you a heads up and good safety techniques. I think it helps people get up to an intermediate stage much faster and quicker. I know more about my bike now than when I was in my teens and 20s. It's just a matter of reading what you got and looking at your video clips and going back out to the field and practicing, and then putting it to use on the trails."

-Paul Scrivener Paihia (Bay of Islands), New Zealand
---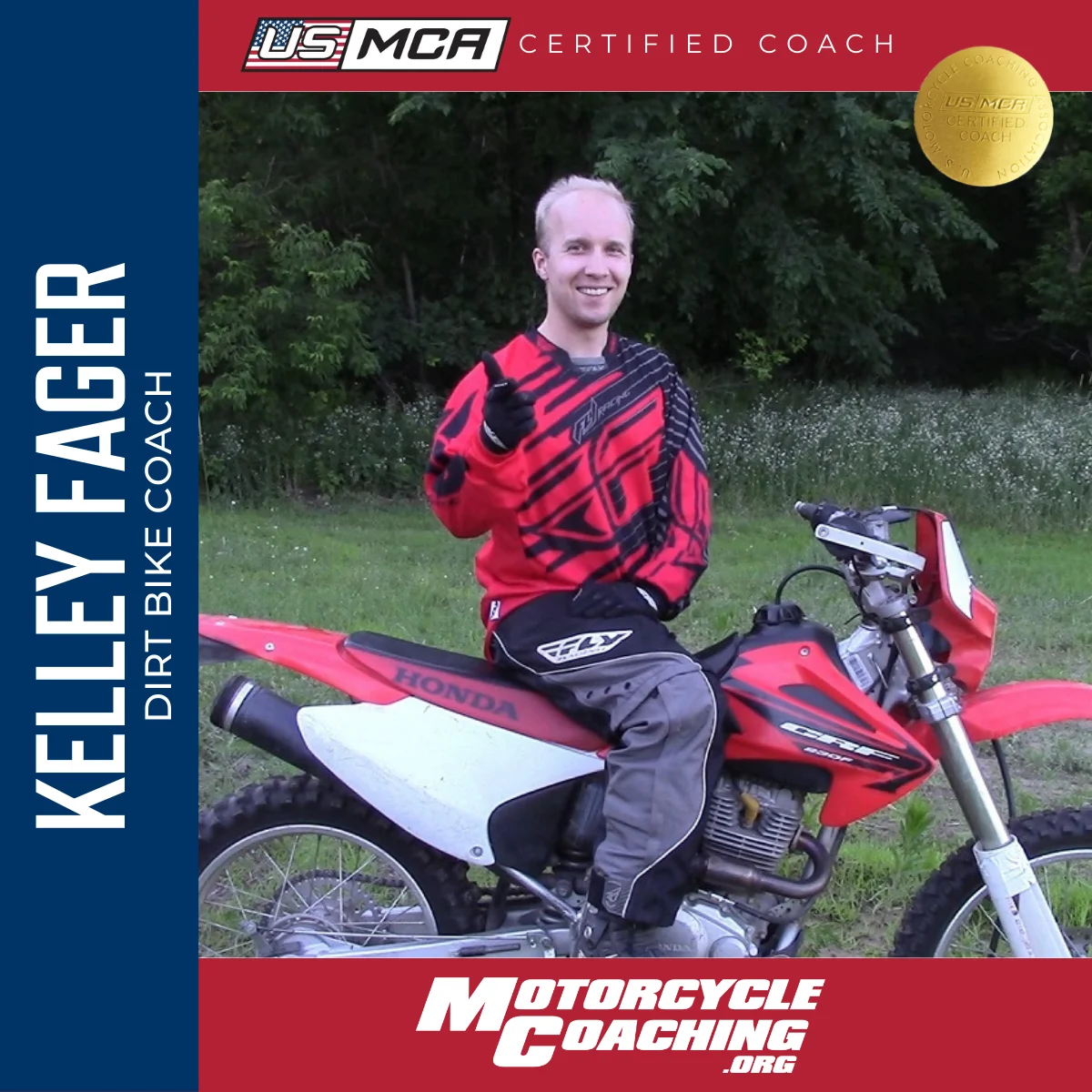 Kelley Fager
Hi, I'm Kelley Fager – I help casual trail riders learn to safely ride with confidence so that you have more fun riding with family & friends. I created MXHideout back in 2009 and have been riding off-road & on the street for over 20 years.
---
Chris is stalling less and less each time he rides and noticed a big difference in his riding right away!

---
"My main concern with buying The Virtual Dirt Bike School was learning basic dirt riding skills, and I found it to be very straightforward dirt riding explanations. I specifically liked the trail riding videos. The benefits were confidence building and exercises to practice on my own. I would recommend VDB School because of its easy to understand and follow tutorials."

– Thomas Briscoe
"Your video on riding rutted corners was very helpful and helped me improve my technique. Thanx."

– Achilles Frantzen, Netherlands (Europe)
"Thanks for your great informative videos, learn a lot from them."

– John Dwyer, Adelaide (South Australia).
"Hey Kelley, I found all your information very helpful, your choice of content was on point. Thanks"

John, Virginia (USA)
"Hey Kelley! Thanks for all the great emails and the awesome information. I've learned a lot of different things. Thanks so much!"

– Benny, Texas (USA)
"Kelley was a professional from start to finish. He showed me the basic ins and outs of a dirt bike and how to operate it before riding! He was patient in his instruction, knowledgeable and diligent in asking me how I was doing throughout my experience! I highly recommend anyone looking to give dirt biking a try to call Kelley to learn, he's a great teacher!!"

-Derek E. (Age 29)
"Getting on a dirt bike was not on my bucket list. After watching Kelley instruct my 18 year old daughter it looked fun and safe. Safety was very important to Kelley. He made sure I had a helmet on, protective pants and boots. He was very thorough in his explanation of how to start it and let out the clutch and, in general, how things worked.

I killed it the first time but he was super patient and encouraged me to try again. It worked and off I went. I was able to drive around the yard a couple times and with proper instruction was able to come to a stop. I would highly recommend Kelley as an instructor."

Karen E. (Age 60)
"I was having trouble with my clutch control and kept stalling, but then Kelley showed me some drills and it started improving! He has helped me grow on my dirt biking journey already, with his easy-to-follow instructions. I'm excited to keep getting more comfortable on the bike!"

Cecily F. (Age 15)
"He taught me how not to die!"

-Lydia E. (Age 18)
Want to learn how to safely ride with confidence?
Click Here To Learn The Basics Techniques To Ride With Confidence & Control Off-Road.
Disclaimer: Results may vary depending on your effort. The closer you follow my steps, the safer you'll likely be on a dirt bike.