Looking to get a Yamaha TTR 125? Whether you're looking for your first dirt bike or your next one, you're in the right place!
In this review article I will show you what kind of dirt bike the TTR125 is, the differences between the model options, why it may or may not be good for you, and what you need to know about buying and owning one so that you save time and money.
What Is The TTR125?
The Yamaha TTR125 is a 125cc air-cooled 4 stroke trail dirt bike with a 5 speed transmission and clutch. It was first made in 2000 and was built to rival the Honda XR100 as a midsize beginner dirt bike. Although now it rivals the updated CRF125F.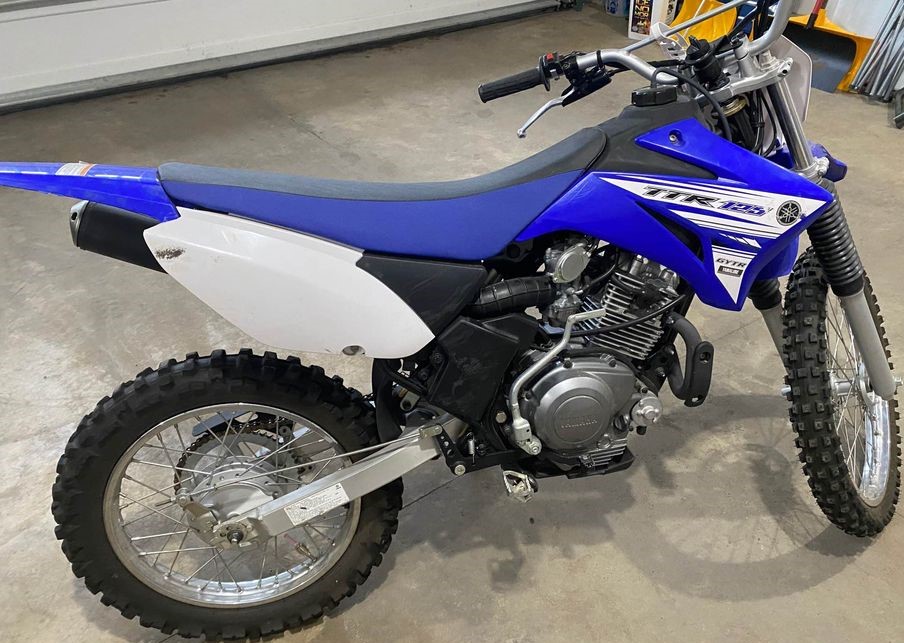 Who's the TTR 125 for – what age range?
It's mainly designed for teens around the age of 12-13, but it's great for any adult or teenager new to riding that's under 5'6″ in height.
What makes a great beginner bike? The Yamaha TTR125 has long been known as a stepping stone dirt bike for kids and adults alike that are looking for a simple, easy to ride and maintain off-road motorcycle with a lower seat height.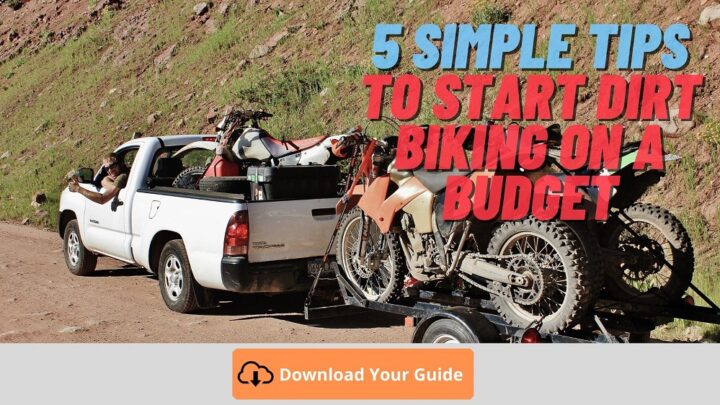 If you're brand new to dirt biking then I'd like to show you how to confidently ride a dirt bike with safe and proper riding techniques. Click here to get started with my Free training guide.
Is there a weight limit?
There's not technical weight limit, but the TTR 125 is designed for riders in the 80-120 pounds range of weight. If you weigh over 150lbs, then you'll probably want stiffer suspension.
It's not good for jumping, especially if you're an adult. The stock forks and shock will easily bottom out and can eventually break the frame if you jump it too much without proper mods.
Difference Between TTR & YZ 125
A TTR 125 is a 4 stroke beginner trail bike with a short seat height, soft suspension, and a low performance engine. A YZ 125 is 2 stroke motocross bike with a tall seat height, stiffer suspension, and a high performance engine. They're two totally different types of dirt bikes.
So, a TTR 125 is better if you're a new rider under 5'6″ tall and want to learn how to ride a dirt bike or just casually ride off-road. A YZ 125 is better if you are a more experienced rider and want a full size 2 stroke motocross bike to race on ride on tracks.
Seat Height/Wheel Size
The size of a dirt bike is one of the biggest factors to choosing the right dirt bike for you. Buy one too big and tall, and you'll get frustrated that you can barely touch the ground when sitting on the bike, resulting in more falls and accidents when learning to ride.
Buy one too small and you'll be cramped and uncomfortable while riding the bike.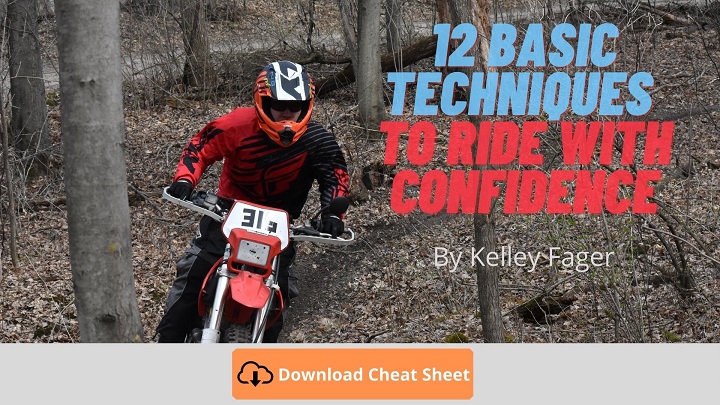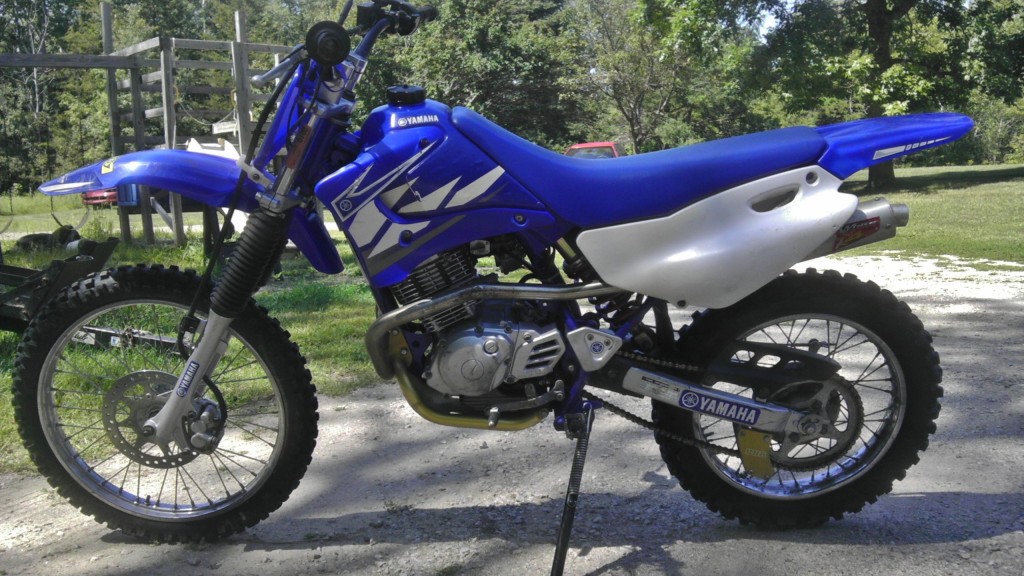 TTR125L vs. TTR125 – What's the difference?
The TTR125 comes in two different sizes that can fit a variety of riders in height.
The standard TTR125 comes with a 17″ front wheel and a 14″ rear wheel with a seat height of 30.5″.The TTR125L/125LE have a 19″ front wheel and 16″ rear wheel and have a seat height of 31.7″.
TTR125
The standard TTR125, while being shorter in height and wheelbase, makes a great transition from smaller semi-automatic dirt bikes for kids.
They get to learn how to use a clutch, but the seat height isn't that much taller than a TTR90 or 110. The standard model comes with drum brakes on the front and rear.
TTR125L/E
The TTR125L and 125LE have an upgraded disc front brake over the standard version and the seat height is a little over an inch higher and a slightly longer wheelbase.
These make for a dirt bike that is great for a quickly growing kid or teen, or even a small adult that want a mid-size bike for learning to ride on and won't outgrew it right away.
Engine/Power
One of the biggest mistakes you can make when choosing the right dirt bike for a beginner is starting out on one that has too much power. You will either be scared of it you'll be on the ground sooner or later and wondering what just happened.
It takes time to learn throttle and clutch control, and started out on a docile bike that has a smooth and manageable power output is ideal for a first motorcycle.
The TTR125LE fits this description perfectly because it's a simple, air-cooled 125cc engine with less than 10hp. It has enough power to have fun, but it's not going to kill you.
Are all TTR 125 engines the same?
They're virtually all the same – the only difference is that the electric start models have an electric start motor system on them. Aside from that, you can interchange parts from all year TTR125's.
Handling
The TTR125LE has good handling characteristics because of its low center of gravity and seat height, its short wheelbase and tight turning radius. The Yamaha may not be a standout in it's class for handling, but it doesn't lack anything worth noting.
The suspension and control layout are important to getting the handling as good as it can be for the right rider.
I personally don't care for the stock handlebars and extra long clutch and brake levers, so swapping those out to get the right ergonomics is one of the first things I do.
TTR125 Suspension
The forks and shocks on a TTR125 are nothing to right home about. In fact, unless you're a beginner rider or weight less than 100lbs, the suspension is less than adequate. We'll cover this more later in this post.
The spring rate and valving is very basic and soft on the TTR125 and 125LE. If you are a new rider that isn't aggressive, it will work just fine and you will enjoy not getting abused from stiff suspension.
Brakes
As you might have noticed, I mentioned that the 125 and 125L/E models have a slightly different brake setup. The standard model has drum brakes front and back. These are adequate for beginner riders if they are dry, properly adjusted and not worn.
The 125L/E models have an upgraded front disc brake that gives a noticeable improvement in braking power. However, if it's not properly adjusted, if the pads are worn or they are dirty with a foreign substance, such as oil, on them, the braking power greatly decreases.
Jetting
Getting the TTR125 to run well is not too difficult, but the stock carburetor is one of its weak points. Depending on your climate, it may come a little lean from the factory and you may have to go richer/bigger a size or two on the pilot and main jets.
A lean running TTR125 will cause headaches. Here are a few symptoms of a lean condition:
Hard starts when cold
Bogging when big throttle transitions
Popping on deceleration
Engine runs hotter; causes more wear
Electric Start
Having the 'magic button', that is, electric start, is becoming the norm for dirt bikes. While kick-starting may not be difficult on the TTR125 if the jetting is tuned correctly, just touching a button with your thumb to start the bike is the highlight for a new rider that might get easily frustrated if they constantly have to kickstart the engine.
The standard TTR125 does not have electric start, nor does the TTR125L. Only the TTR125LE model has electric start, hence the 'E' designation on the model name.
Granny Gear Transmission
First gear is so low that it's almost unusable on this bike. This is actually a good thing if you're a new rider. Having a really low/short first gear makes it easy to learn the clutch because you don't have to slip it very much to get going.
Once you're comfortable with using the clutch and don't have issues stalling it when starting out or at low speeds, going one tooth larger on the front sprocket is a nice and easy mod to make the first few gears more spread out and usable.
Model Differences
We've already gone through some of the differences, but now we'll just do a quick list of how the three models differ in options.
TTR125
17/14″ wheel and tire size
Drum brakes front and rear
30.5″ seat height
Kick-start only
TTR125E
17/14″ wheel and tire size
Drum brakes front and rear
30.5″ seat height
Electric start with battery (Kick-start for back-up)
TTR125L
19/16″ wheel and tire size
Front disc brake, drum rear
31.7″ seat height
Kick-start only
TTR125LE
19/16″ wheel and tire size
Front disc brake, rear drum
31.7″ seat height
Electric start with battery (Kick-start for back-up)
Model Year Changes/Updates
The TTR125 hasn't changed much from it's original platform, plain and simple. Why? Because it works, it's cheap, and why change something that works well for its intended use.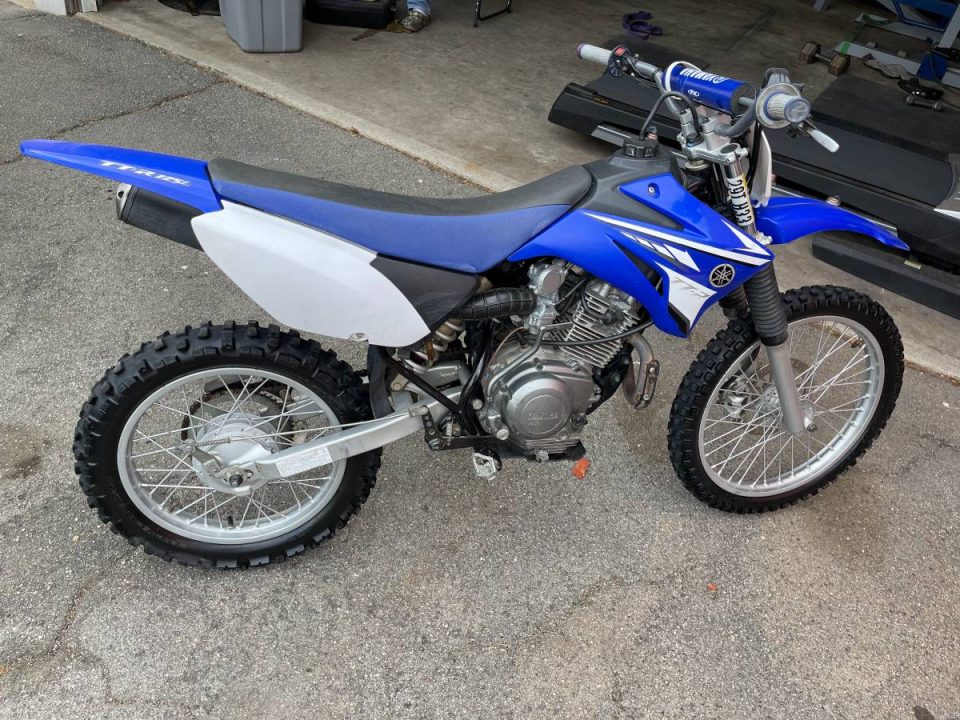 With that said, there have been some minor changes since its inception. We'll go through the progression of this bike each year that something was updated or changed.
2000: First year; only 125 and 125L models available
2002: Updated rear hub
2003: added electric start model
2008: Updated plastics/tank
TTR 125 Specs
Here's a list of all the basic specs of the TTR125 models:
Engine: 124cc air-cooled 4-stroke
Transmission: 5-speed
Clutch: Wet clutch, Manual
Fuel system: 20mm Mikuni carburetor
Seat Height: 30.5″ (125 small-wheel)/31.7″ (125L/LE large-wheel)
Weight: 172 (dry)
Wheelbase: 50″
Front wheel: 17″ (125)/19″ (125L/LE)
Rear wheel: 14″ (125)/16″ (125L/LE)
Ground Clearance: 10.4″ (125)/11.6″ (125L/LE)
Fuel Capacity: 1.74 gallons (6.58 liters)
Top Speed: ~ 45-50mph
New Price – $3,349 MSRP
Common problems for the TTR 125?
There's both good news and bad news, and the good news is that there weren't any major issues with this Yamaha TTR. The bad news is that because it's so reliable, many owners took advantage of that and never did any maintenance.
This leads to a lot of rundown and worn out used bikes on the market. So, whether you're looking to buy a used one or just need help with a common issue, I'm here to help.
These are the most common TTR 125 problems:
Won't start
Won't idle
Battery/starter
Engine knocking
Clutch/transmission/shifting
Most of them are simply due to lack of maintenance or from a crash that bent or broke something on the bike.
New vs used price – how much is a TTR 125 worth?
While a brand new TTR125LE is $3,349 retail price, a used one can be had for considerably less. This is why it's on my list of best cheap used dirt bikes.
A common used price for a TTR 125 is around $1000-2000. What it's worth mainly depends on your location (supply/demand), the condition it's in, and what year it is.
TTR125 vs KLX140
While the KLX140 has slightly more power, the TTR125 is usually cheaper to buy used. The TTR125E & 125LE models have electric start to match the KLX.
There's also more parts and mods available for the Yamaha. If you're on a budget and want to have cheap used parts available, go with the TTR 125. If money and availability is not a problem, then I'd pick the KLX 140.
TTR125 vs XR100
The TTR125 has more power than the XR100, but they both have a lot of potential with plenty of mods available. The XR100 ergonomics are slightly better on the 2001 and newer models, but none of them have electric start.
TTR125 vs CRF150F
The CRF150F has a noticeably more power, but it's also a little bigger and heavier than the TTR125. The Yamaha can usually be found a little bit cheaper. It comes down to how big you are, which bike you find a better deal on, and what color you prefer to ride.
How to make a TTR125 taller
There are many things you can do to make your dirt bike taller, but most of them cost money. The best free ways to make your TTR 125 taller are:
Increasing shock pre-load
Raising forks in the clamps
TTR125 Mods
These bikes are fun for both kids as well as adults because they're smaller, easy to ride, and are lightweight and nimble compared to a full-size dirt bike. If you're an adult and already own one, then you know how much fun it is to rip around on it.
But let's face it, the TTR is lacking performance in almost every category, from suspension to power output. Even a simple carb swap makes a difference in power with proper jetting.
The best cheap and free mods for a TTR125 include, uncorking, jetting, and suspension upgrading.
5 simple steps for owning a TTR125
Owning a dirt bike can be intimidating and potentially expensive, but that's only if you don't know how to properly take care of it.
I want to show you the simple steps to maintain your TTR125 so it lasts as long as possible without breaking down on you in the middle of nowhere – without having to do a lot of maintenance. Click here to download the 5 step checklist!