Trying to find the best Kawasaki dirt bike but not sure where to start? Whether you're looking to buy your first bike or upgrade to your next, you're in the right spot!
In this article, I'll show you what Kawasaki dirt bikes are available, why it's important to choose the right one based on a few factors, and how to pick the best bike based on your specific needs.
Is Kawasaki a good dirt bike brand?
Kawasaki is one of the best dirt bike manufacturers and has been for decades for a number of reasons. Even though they may not always have the best dirt bike overall, they're good quality and are excellent as far as performance goes.
With that said, you really have to look at and consider each specific model of dirt bike and each year because there are some many changes and differences between bikes throughout the years.
Does Kawasaki still make 2 strokes?
Kawasaki stopped making their full-size 2-stroke dirt bikes in 2007, along with most of the other Japanese dirt bike brands. However, they still sell 2 stroke mini motocross bikes: the KX65, KX85 and KX112.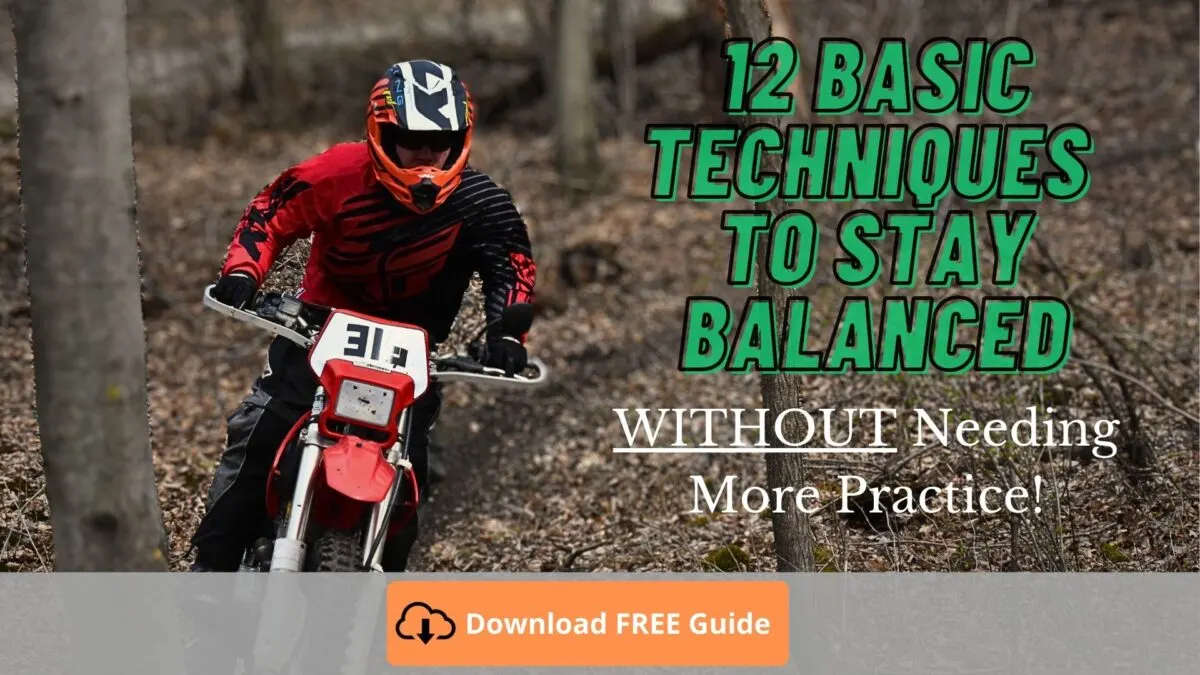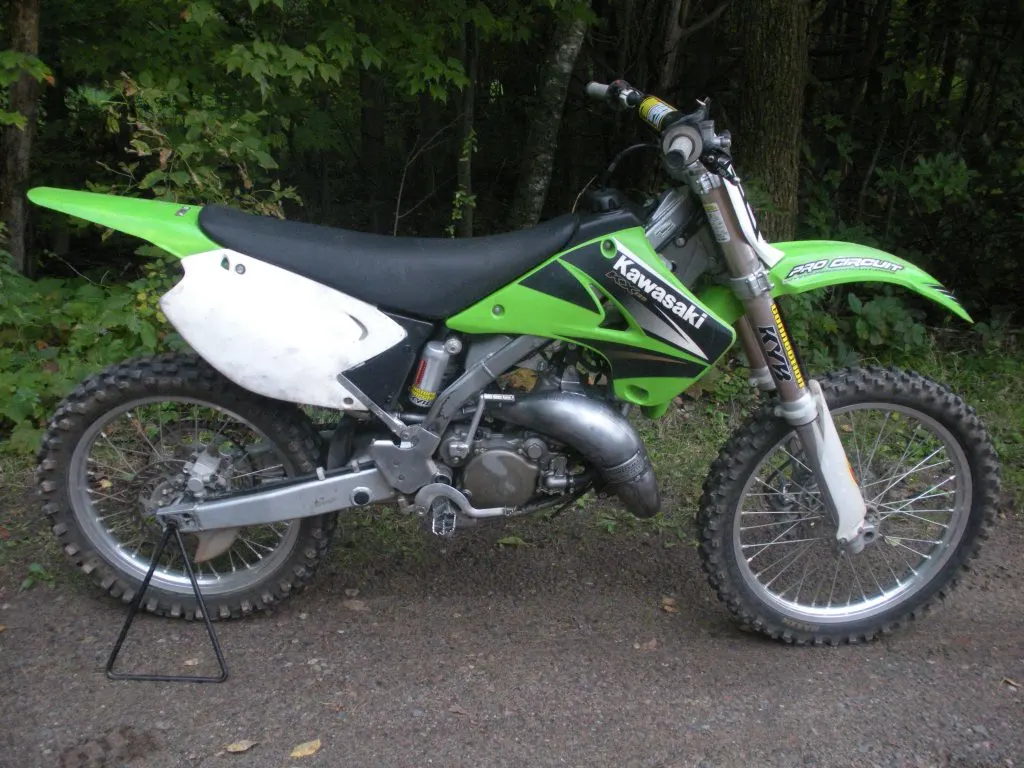 How to pick the right dirt bike for you
Choosing the right dirt bike based on your needs can be the difference between having fun and staying safe compared to getting frustrated and riding out of control. That's why you need to take some simple steps to eliminate the bikes you don't want and include the bikes you may want to buy.
The first step to picking the right dirt bike is figuring out what kind of riding you'll do the most. For example, the most common types of dirt bike riding include:
Trail riding/casual riding
Motocross
Enduro/hard enduro
Dual sport/adventure riding
If you're a beginner, it's best to start with casual and trail riding for a couple of reasons. You don't want to start on a motocross track because you don't know how to properly control an offroad motorcycle riding over obstacles, especially with other riders on the track.
Starting on the easiest dirt bike to ride in the easiest location, which is an open field or wide and easy trails will help you build your confidence because you can focus on using proper techniques, rather than trying to ride technical terrain.
Kawasaki trail bike vs enduro bike – which one for you?
Before moving to the next step, we need to clarify the difference between different types of dirt bikes. A trail bike is typically an air-cooled 4 stroke that is the perfect starter dirt bike or for casual riding – it's easy to ride, cheap to maintain, and very reliable.
On the other hand, an enduro dirt bike is a high-performance trail bike, which I don't recommend unless you're an already experienced trail rider. Enduro bikes have much mower power, and stiffer suspension, and are simply built to be ridden faster or more aggressively off-road.
What's the right size dirt bike for your height?
Once you choose which type of Kawasaki dirt bike you want to ride, it's time to figure out which size you should pick. A bigger engine size generally means that the bike is bigger and taller, but that's not always the case.
As a beginner, it's better to start on too small of a dirt bike than one that's too big. This goes for seat height and engine size.
What size if you're an experienced rider?
But if you're an experienced rider, then upgrading to the next size up dirt bike is generally the best decision. When I say "experienced", I actually mean that you have off-road riding experience on a dirt bike and know how to handle a bike with a fair amount of confidence.
This means that if you've been riding on the street, I don't consider you an "experienced" dirt bike rider – they're too different and you'll find out why if you're coming from riding a motorcycle on the road.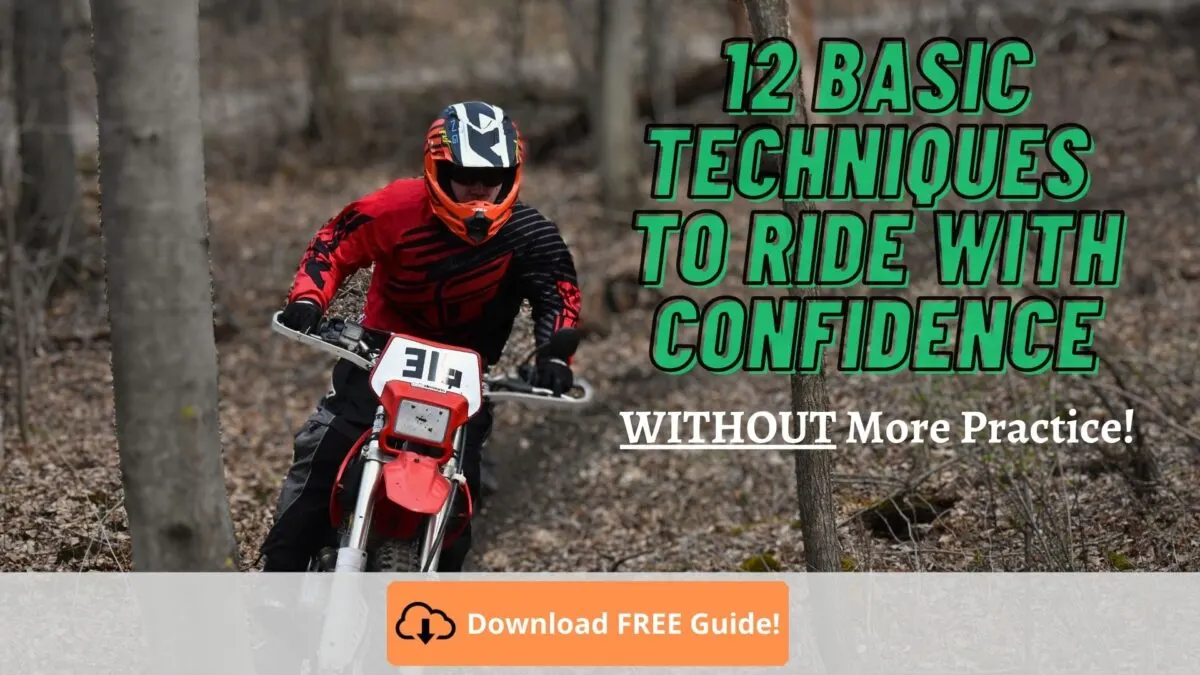 The last thing you want (and yet happens all too often, unfortunately) is to buy the biggest and fastest dirt bike, thinking you'll "grow into it".
Then after riding it a couple of times you realize that it just has too much power to safely control – and hopefully you don't find this out by crashing and getting hurt! I want to help keep you as safe as possible so that you have fun riding dirt bikes for many years to come…
Best Kawasaki dirt bike for beginners
Kawasaki has changed their trail bike lineup over the years, as well as their model naming system (which is confusing and honestly annoying), but I want to make it as simple as possible for you. Right now, they only have 4 main dirtbike models in this category, so choose the one that fits your height best if you're a beginner or casual rider.
These are the best Kawasaki dirt bikes for beginners:
KLX110R
KLX140R
KLX230R
KLX300R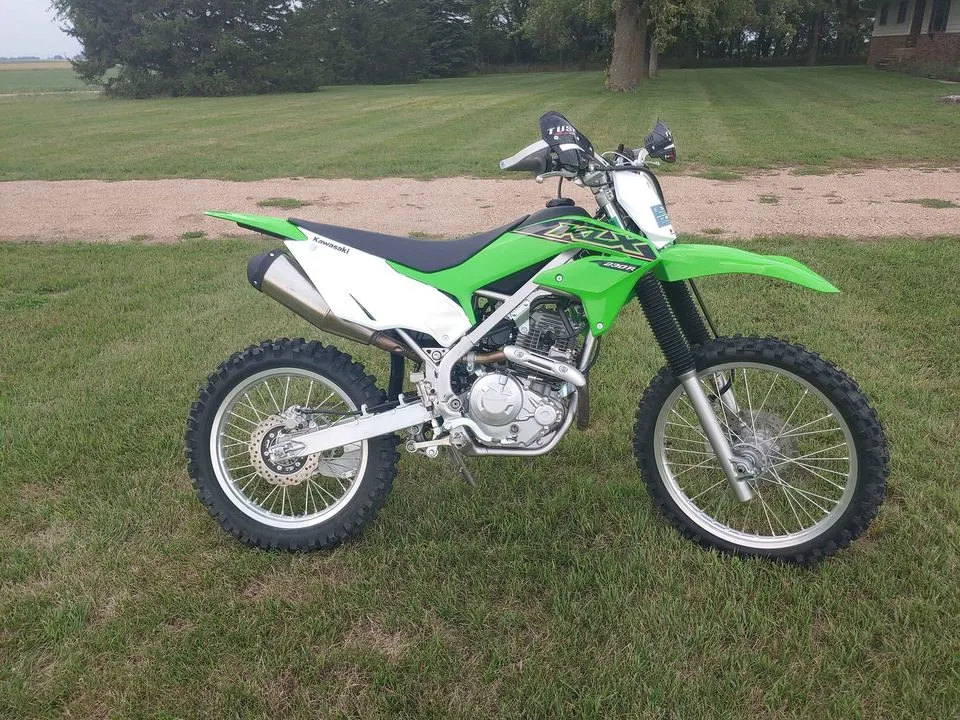 Best Kawasaki dirt bike for trail riding/enduro
Transitioning to a similar but slightly different category of motorcycles, it's their trail bikes and enduro bikes. Some are good for beginners, while some are better for expert riders. So, you need to decide if you're doing casual to moderate trail riding or faster and harder enduro type trails.
These are the best Kawasaki dirt bikes for trail riding & enduro riding:
KLX140R – Trail bike
KLX230R – Trail bike
KX250X – Enduro bike
KLX300R – Trail/enduro bike
KX450X – Enduro bike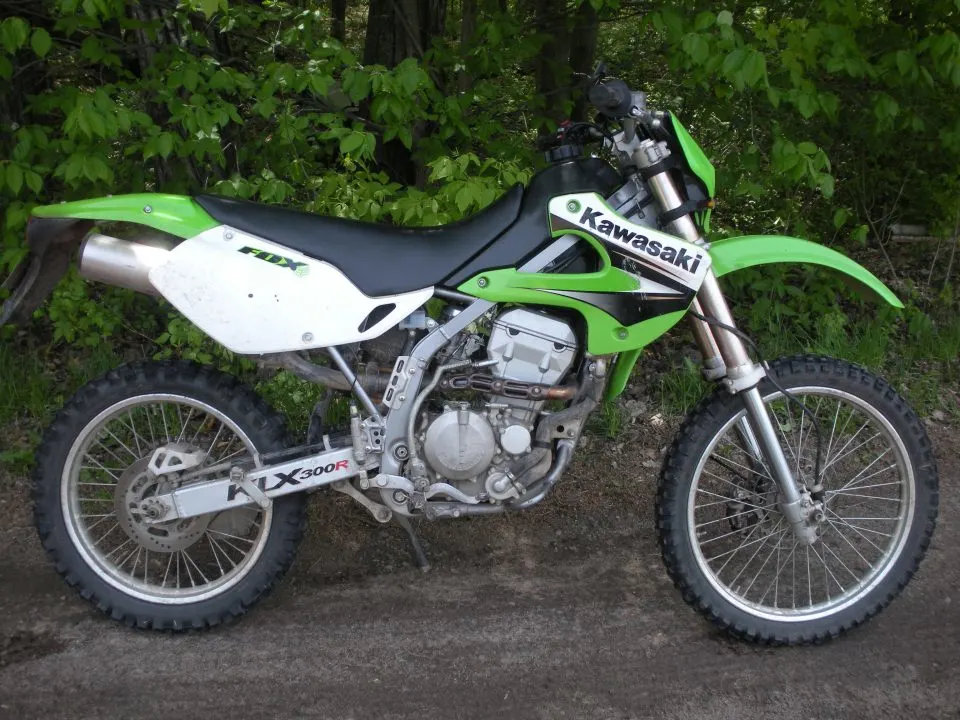 Best Kawasaki motocross bikes for racing
Maybe you want to race and ride motocross, so if you already have off-road riding experience and are ready to go ride some tracks with jumps, this class of dirt bikes is for you. Kawasaki has a pretty simple lineup with their KX bikes – basically one option for every size.
These are the best Kawasaki dirt bikes for motocross racing:
KX65
KX85
KX112
KX250
KX450
KX450SR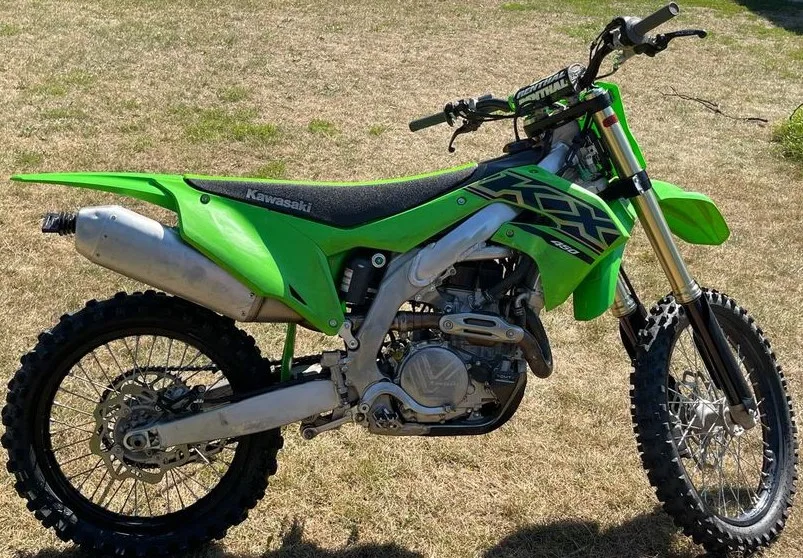 Best Kawasaki dual sport motorcycle
Need a dirt bike that's street legal so that you can ride on the road and off road? Maybe you can only have one motorcycle due to storage or finances – a dual sport bike is your best option because it's built for riding in the dirt and on pavement.
These are the best Kawasaki dirt bikes for dual sport/adventure riding:
KLX 230 S
KLX 300 S
KLX300SM
What's the full Kawasaki dirt bike lineup?
This is the current lineup of Kawasaki dirt bikes and their new prices:
KX65
KX85
KX112
KLX 110R
KLX 140R
KLX 230R
KLX 230 (Street legal)
KX 250
KX 250XC (Enduro)
KLX 300R
KLX 300 (Street legal)
KLX 300SM
KX 450
KX 450SR (Special Edition MX)
KX 450XC (Enduro)
KLR 650
KLX vs KX
The main difference is that a KLX model is a trail bike that's built for beginners and casual trail riders, while the KX dirt bike models are the motocross race bikes with more power, suspension and overall performance.
If you're new to dirt biking, the KLX is a much better choice because it's easier to ride, more affordable, and easier to maintain.
KLX vs KLR
Any Kawasaki KLR motorcycle is a street legal dual sport that's more built for street and adventure riding, while the KLX dirt bike models are lighter and built for more off-road riding.
Top cheap used Kawasaki dirt bikes
Can't afford a new dirt bike but still want a reliable bike to ride? Since Kawasaki has had their model lineups over the years, there are still plenty of discontinued used models that you can find fairly easily that are still good dirt bikes.
These are the top cheap used dirt bikes from Kawasaki:
What is Kawasaki's fastest dirt bike?
Currently, the fastest dirt bike from Kawasaki is the KX450 when it comes to power and acceleration, but the KLR650 has the highest top speed for an off-road capable motorcycle.
Is dirt biking dangerous?
Dirt biking can be very dangerous, especially if you make all of the common mistakes that beginners make. But I want to show you how to dirt biking safer so that you can enjoy it for many years to come. It starts with learning the basic techniques to give you confidence and control – click here to download my free basic technique guide.