Looking to get a Kawasaki KLX 125 but don't want to spend hours trying to figure out if it's the right bike for you? Whether you want to buy your first dirt bike or add to your current fleet, you're in the right place!
In this article, I'll show you what kind of bike the KLX125 is, why it may or may not be the best dirt bike for you, and what to expect when buying and owning one so that you can ride more and work on it less.
What is the KLX125?
It's a 125cc 4 stroke trail bike made for beginners that want to learn how to ride a dirt bike with a clutch. It's air-cooled, simple, reliable, and easy to ride.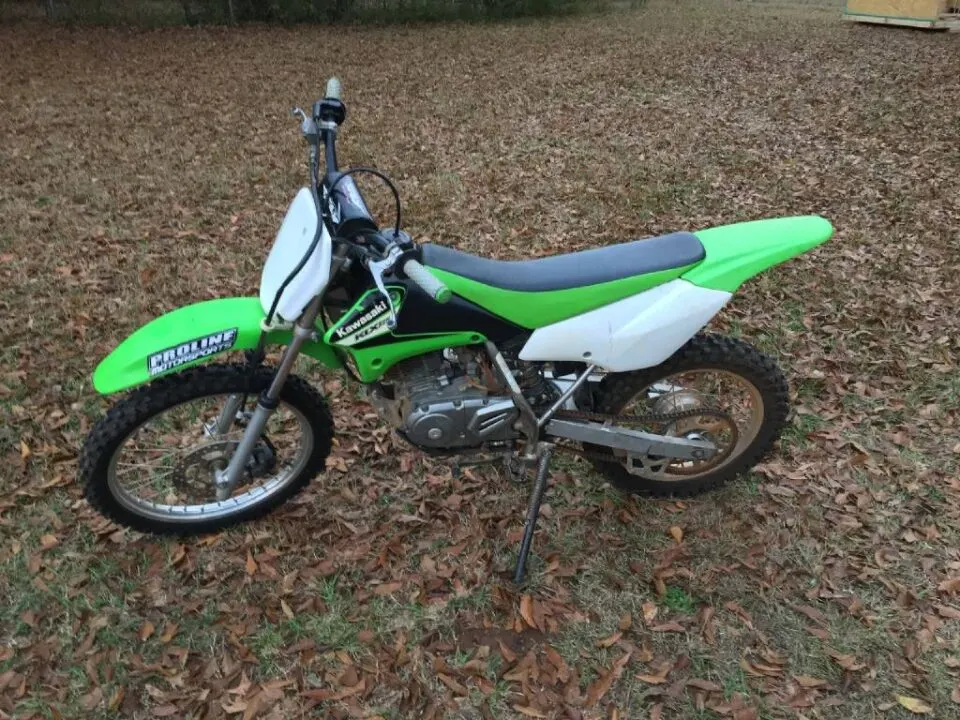 Is it the same as DRZ125?
It's the same dirt bike as Suzuki's DRZ125, just with different colored plastics – this means you can technically buy a brand new KLX125 with yellow plastics if you buy a DRZ125L from a Suzuki dealer 🙂
Who's it for?
The KLX125 is a great first dirt bike for adults, teens, and girls for a several reasons. For one, the seat height is nice and low – making it easy to touch the ground with your foot and quickly build your confidence.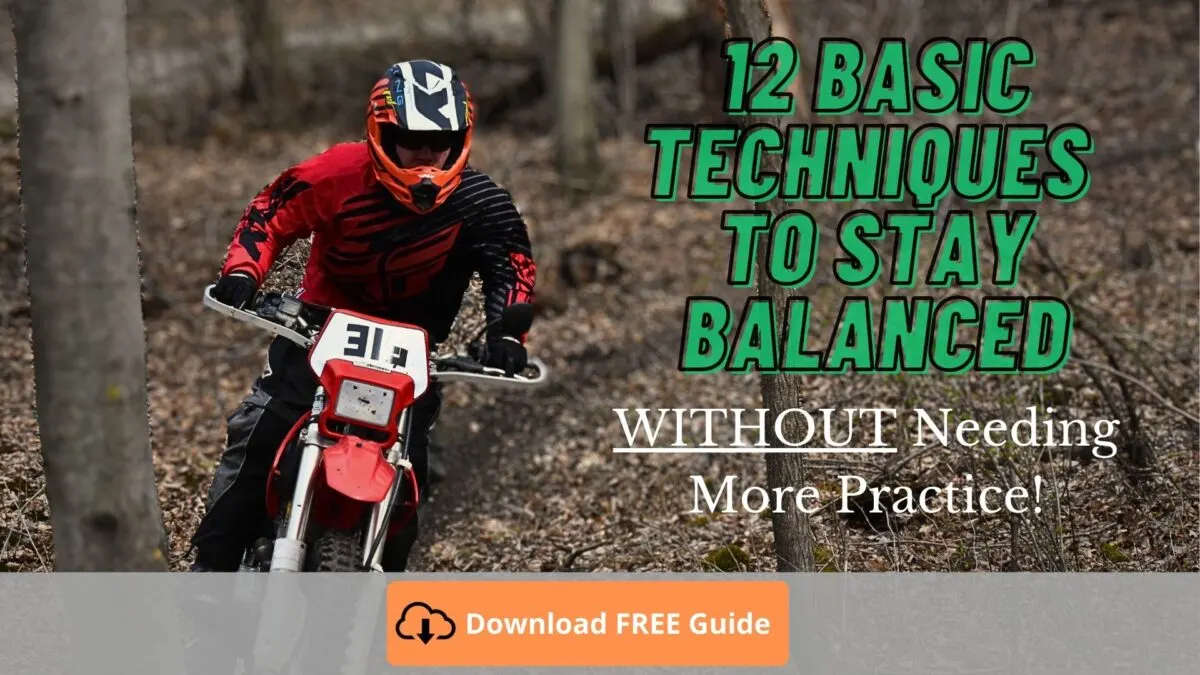 If you're new to riding and want the quickest path to becoming a skilled trail rider, then a beginner trail bike like the KLX 125 combined with proper riding techniques is the way to go.
Who's it NOT for?
Looking for a dirt bike to jump and/or race? Then the KLX125 is NOT for you – a 125cc 2-stroke would be a better choice.
If you're an experienced rider, then the performance – most notably the suspension – will be underwhelming and downright dangerous in stock form.
ground unless you come to a stop.
Engine – what to expect
It's a 125cc air-cooled, 4 stroke engine with a 5-speed manual clutch transmission, but what does that mean for you? A 125cc air-cooled 4-stroke engine is pretty simple, low-performance and reliable – perfect if you're just starting out and want a low-maintenance bike.
The power is very smooth and predictable. This is also nice for learning how to ride with the clutch because it won't get out of control very quickly compared to a high-performance enduro bike.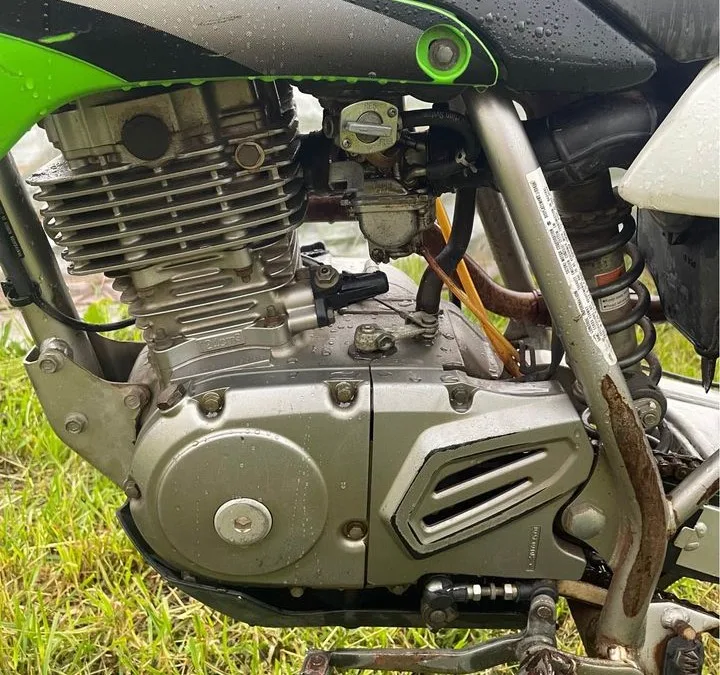 Horsepower
The KLX 125 only has about 7 HP in stock form. That may sound pretty low, but it makes decent torque right off of idle, so you don't have to rev it up high to get it moving.
I actually enjoy riding small and "slow" bikes because they're fun to ride "fast" and generally safer because you're not as likely to ride out of your comfort zone if you accidentally twist the throttle too far. There are some simple mods to get it up to 10+ HP if you want to make it faster, which I'll go over later in this review.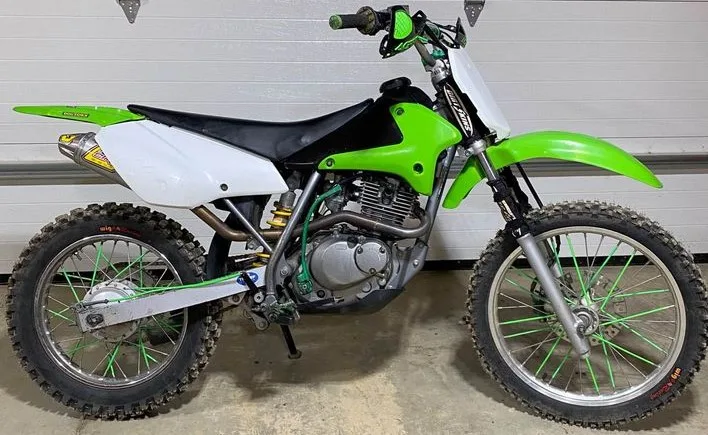 Top speed
You can reach a max speed of about 45 MPH on a stock KLX 125 if you're on flat ground, but that number is very important. If you're serious about dirt biking, then you're probably not going to be riding a trail at that top speed.
Want to go faster or accelerate quicker? Just change the gearing (Amazon). Less teeth on the rear gives you a higher top speed, and more teeth on the rear sprocket gives you quicker acceleration.
Suspension
The stock suspension is simple and soft – good if you're a beginner because it's comfortable riding trails at low speeds to absorb the bumps. Once you start riding faster or if you weigh over 140 lbs, it will start bottoming out easily.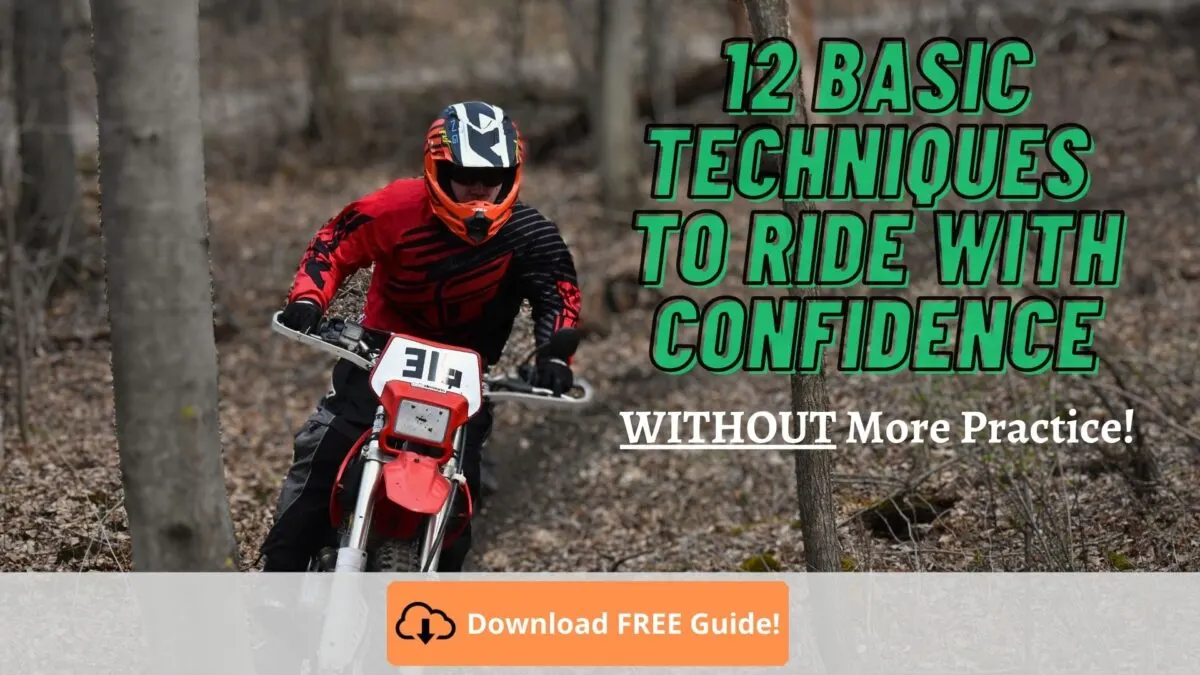 When the forks and shock bottom out, you'll feel and hear a "clunk". This can eventually lead to damage, but it can also cause you to get out of control because the bike will bounce from compression too much.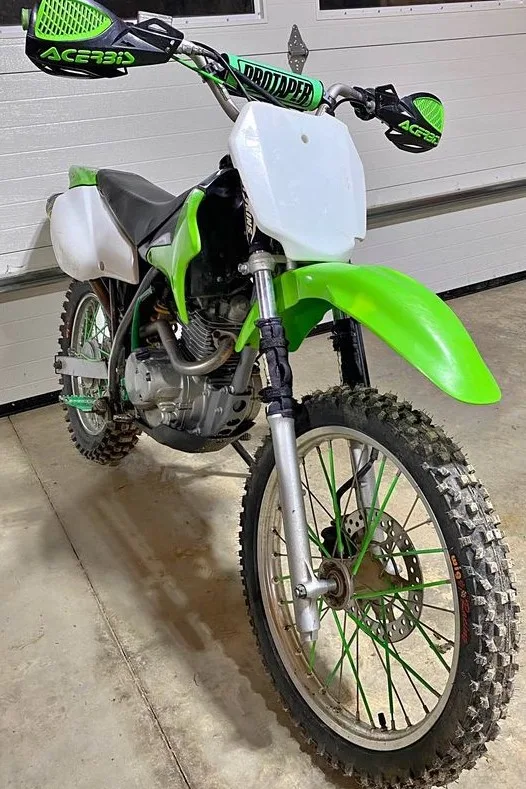 Can you do jumps?
The KLX 125 is not good for jumping unless you make the suspension stiffer. The frame should also be strengthened if you're a heavier rider or else the frame welds can crack.
Front forks
With conventional RSU (right-side-up) forks, you get simplicity and reliability. Unfortunately, there's no external adjustability other than moving the front forks up or down in the clamps – this would raise the front-end and change the geometry to get a better-balanced feel with the front and rear.
The most important thing is having the right fork springs for your weight. A stock KLX125 is made for 80-120 lb riders for casual trail riding. If you're lighter or heavier, then you want a different spring rate (Amazon).
Rear shock
The stock shock is just as soft and can only be adjusted with the preload, which is actually very important if you want the proper ride height. When the rear is too low or high, your dirt bike will be out of balance and won't handle as well.
A properly balanced suspension setup will give you the most traction, which leads to better comfort and confidence while riding. If you want to upgrade the rear shock, a heavy duty spring is affordable and fairly simple to replace.
Handling – what to expect
The KLX 125 has a low seat height and a short wheelbase compared to adult-size dirt bikes. This makes it handle well at low speeds and in tight areas – a perfect recipe for learning to ride or starting out trail riding.
The lower center of gravity makes it feel lighter, especially once you get moving, and it takes less effort to lean and turn even compared to the KLX230.
Seat height – what size rider is the KLX 125 for?
The KLX 125 small wheel model has a 30.5 inch seat height, making it a good size dirt bike if you're 4'8"-5'2" tall. The KLX 125L big wheel model has a 31.7 inch seat height – it's better if you're 5'0"-5'4" tall.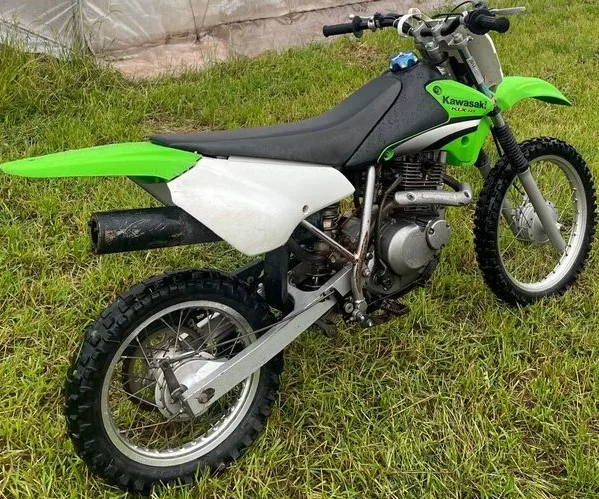 It also depends on your inseam length. Being able to touch the ground with your foot can help give you more confidence if this is your first dirt bike. However, you don't need to touch with both feet. What you really need is to learn the proper techniques to balance so that you won't need to touch the
Weight – how does it compare?
The KLX 125 weighs 194 pounds, but what does that mean in comparison to other dirt bikes? Well, it's about 50 pounds lighter than an average full size bike, which means it's easier to handle because you can lean and turn it with less effort.
It's also easier to pick up if you happen to fall over. It's a few pounds lighter than a TTR 125, but not noticeable enough to make a difference.
Model year history & changes
Kawasaki hasn't made any major changes to the KLX 125. There was a big wheel and small wheel model option, but other than that it hasn't been updated. They discontinued the KLX 125cc trail bike and started making the KLX140 in 2008.
However, Suzuki still makes the DRZ125L, which is virtually identical to the KLX125L other than the plastics and Suzuki brand name – the DRZ and KLX 125 are the same bike.
Reliability – how long will it last?
If you want a reliable engine that's going to last for many years, the KLX 125 is a good choice. Everything is built with durability in mind, and the air-cooled engine is low-performance, which means that you'll be able to ride it much longer without needing a rebuild.
If you do simple maintenance, such as oil changes and keeping the air filter clean, it will last hundreds of hours easily – possibly thousands if you pay attention when there's a problem arising.
Any common issues?
The KLX125 does not have any major common problems that you need to be concerned about. Most issues are just common to all dirt bikes, such as not starting after sitting for months or years.
Also, since the KLX 125 is such a durable dirt bike, many owners do not maintain them very well. So, when you're going to look at one to potentially buy, you want to be careful to look for signs that it's been abused or not.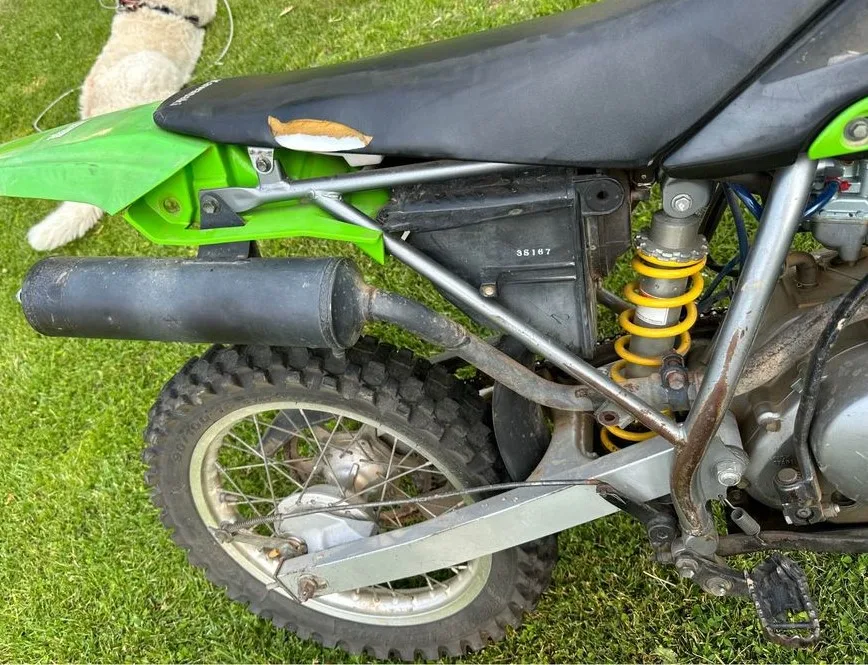 Kawasaki KLX 125 Specs & Dimensions
These are all of the essential specifications and dimensions:
| | |
| --- | --- |
| | KLX125 / KLX125L |
| Manufacturer | Kawasaki |
| Engine | 124cc air-cooled 4 stroke |
| Transmission | 5-speed manual clutch |
| Seat Height | 30.5" (77.5cm)/31.7" (80.5cm) |
| Suspension Travel | 6.9"/7.1" |
| Weight | 194 lbs |
| Horsepower | 7 HP |
| Top Speed | 45 MPH |
KLX125 vs KLX125L – what's the difference?
The standard KLX125 has 14/16" wheels with a 30.5" seat height, while the KLX125L has 16/19" wheels with a 31.7" seat height, but that's not the only thing you'll notice.
Obviously, the large wheel model is better for a slightly taller rider, but the larger tires make it handle better off-road and on the trails. The bigger circumference makes it easier to roll over obstacles.
More stability?
Not only that, but the slightly longer wheelbase will make the Kawasaki 125 big wheel more stable at higher speeds and riding over obstacles because the bike won't rock forward and backward as much – a shorter wheelbase is more likely to wheelie or endo.
How much does a KLX 125 cost?
It really depends on your local used market, especially in this day and age. I've seen used KLX125's for sale as cheap as $700, but some people are asking $2000 or more if they're in good shape. I'd say a good average price is around 1200-1800 dollars.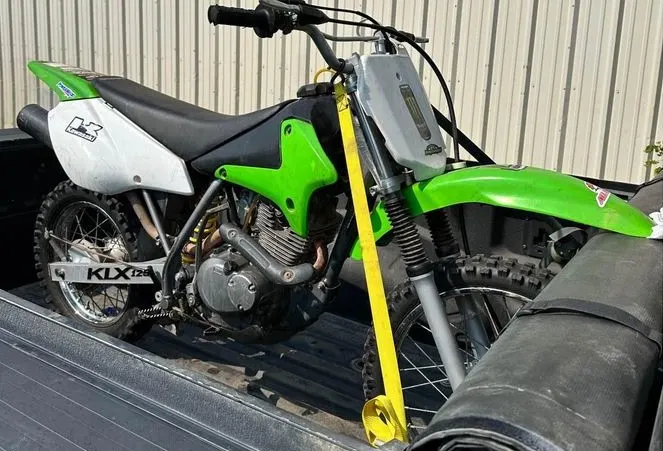 Is the Kawasaki KLX 125 a good dirt bike for you?
If you haven't figured out whether or not this dirt bike is for you, the lists below should make it pretty clear.
You should get a KLX125 if you:
Are a new rider
Under 5'6″
Prefer reliability over performance
Just want to casually trail ride
Need a spare dirt bike for your girlfriend, wife or teen
Need a low maintenance dirt bike
You should NOT get a KLX125 if you:
Want a high performance race bike
Just want to go fast
Want the latest technology
Don't like green
KLX125 vs KLX140
The KLX140 is the updated version of the KLX125, in my opinion. It's a totally different dirt bike, but it rides and handles just about the same. The biggest differences are the power an starting.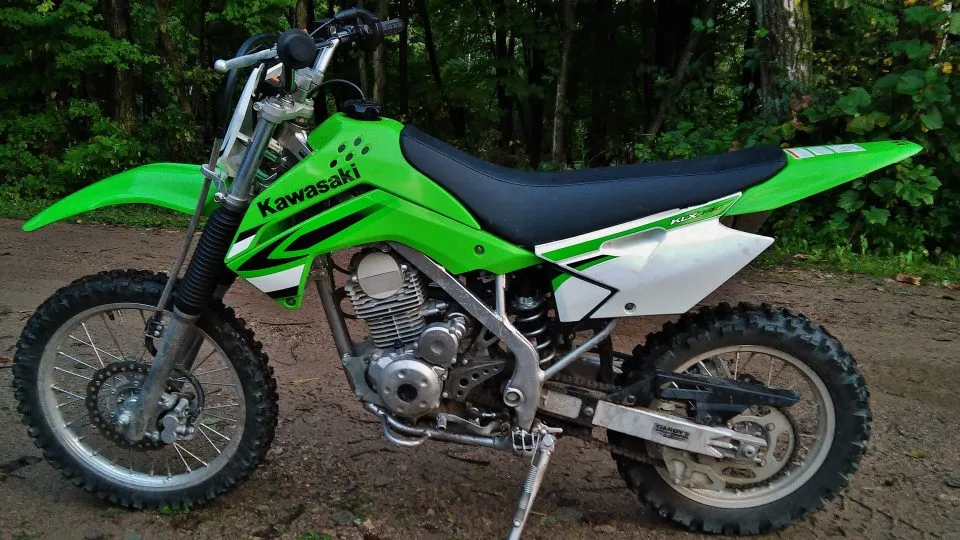 The KLX140 is better than the KLX125 because the bigger engine gives you more torque and horsepower. It also has electric start, whereas the 125 only had kickstart.
The KLX125 weighs less and will be cheaper to buy on the used market.
KLX125 vs TTR125
These 125's are very similar in all aspects. The Yamaha TTR125 has more model options, including an electric start, so I give the edge to the TTR. With that said, if you don't mind a kickstart dirt bike and find a good deal on a KLX125, it's going to be just as reliable and good for learning to ride on.
Best KLX125 mods
There are some performance mods you can do to make your KLX 125 quite a bit faster, but it still won't compete with an MX or enduro bike.
Upgrades, such as an aftermarket exhaust system and big bore kit will give you more torque, horsepower, and throttle response.
Cheap KLX 125 mods include:
Uncorking
Rejetting the carburetor to make it run well and reliably
Stiffer fork and shock springs
Will the KLX125 make you a better rider?
If you're just starting out riding off-road, the KLX 125 is a great bike to learn on because it's easy to ride, but there's something that will truly turn you into a better rider faster.
Learning to ride with proper technique will not only make you ride with more confidence, but you'll be much safer, and I want to help you get started. Tap here for a practical guide to become a better rider.