Looking to get a Suzuki DRZ 125 but not sure it's the right dirt bike for you? Whether you're just getting into riding off-road or want to get a good bike, you're in the right place!
In this review, I'll show you what kind of dirt bike the DRZ125 is, why it may or may not be the best bike for you, and how to find a good deal on a used one.
What is the DRZ125?
It's a 125cc 4 stroke trail bike for teens and short adult riders. It's a low-tech, easy to ride dirt bike that's affordable and reliable if you're just starting out.
The DRZ125 is still being made today, but it hasn't seen any significant changes over the years.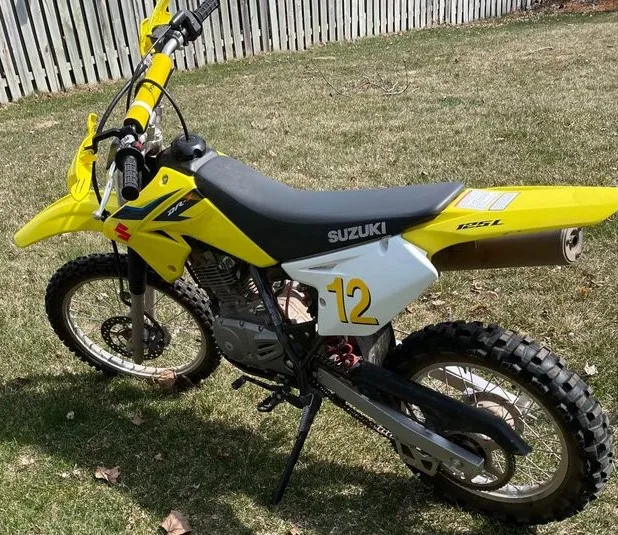 Who's it NOT for?
If you're an experienced rider that needs a high performance enduro or motocross bike, then the DRZ125 is not for you. Or if you're an inexperienced rider that doesn't care about the safety or you and others and just 'need' the fastest and baddest dirt bike out there… Then this is not for you.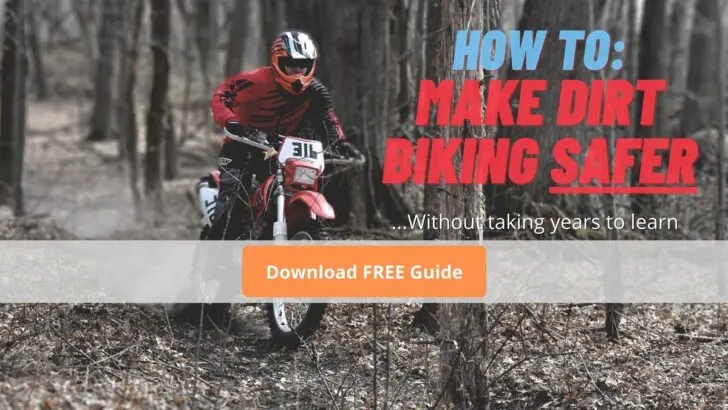 Engine – what to expect
It's an air-cooled 125cc four-stroke engine, so it's not high-performance. But that's a good thing if you're a beginner.
The power is smooth and predictable, so it's easy to control the clutch and throttle. You won't wheelie and loop out easily because there isn't a lot of power – but there's enough power to have lots of fun!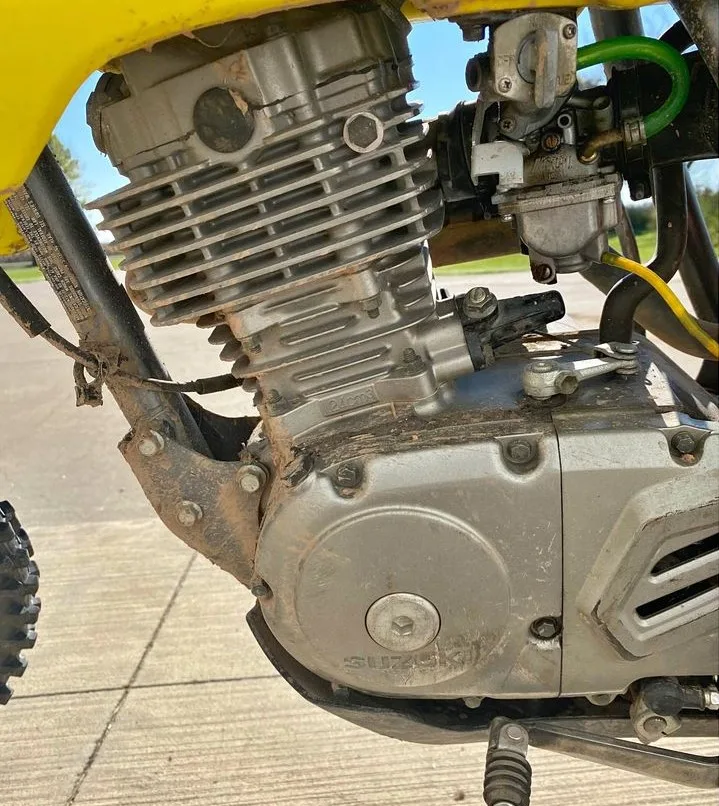 Horsepower
The DRZ 125 has about 7 horsepower, which is probably less than your lawn tractor. However, that's more than enough to go trail riding, even if you're an adult.
It's not about the peak power, but rather the torque and HP across the RPM range. For example, when you have smooth power right off of idle, it's easy to get moving and accelerate at low speeds without stalling because you don't have to slip the clutch as much.
Top speed
A DRZ can reach a top speed of about 45 MPH on flat ground with stock gearing, but does that matter? Not unless you're drag racing.
If you want to go faster, just change the gearing with a different size sprocket (Amazon).
Is it easy to start?
One downfall of the Suzuki DRZ 125 and 125L is that they only have a kick-start – all of the 125-140cc competition has electric start. This is definitely a factor to consider when buying, but there are ways to make it easier to kick start.
For example, even if you're not very strong, using a proper starting procedure will make a big difference in how easy or difficult it is to start. Also, having the carb properly tuned will help, and it only takes a few minutes to get started.
Suspension
The forks and shock are like any trail bike in the 125cc class – soft and comfortable for low speed riding. You can add some stiffer springs if you're a heavier rider, but I still wouldn't recommend taking this bike to a motocross track.
The stock suspension is set up for 80-120 lb riders, but it will work if you are heavier and just want to casually ride.
Front forks
The DRZ 125 has conventional forks that are not externally adjustable. This means you can't easily tune it for your weight, but it's simple and reliable.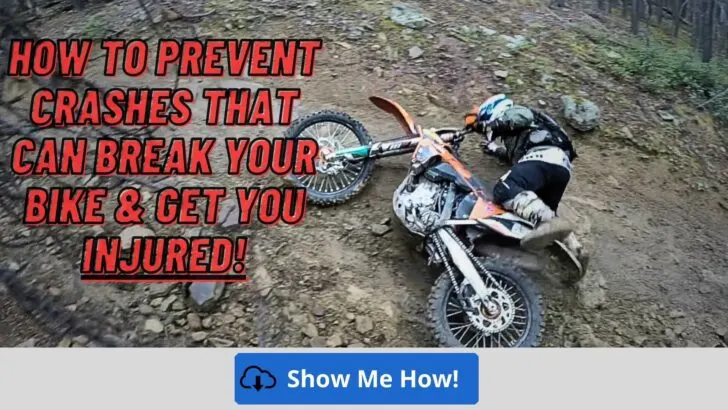 If the front forks are bottoming out because you're too heavy or riding aggressively, you want to install some stiffer springs (Amazon). They're affordable, but will take a little bit of mechanical knowledge to install – following the OEM service manual makes it easier.
Rear shock
You get a simple rear shock as well, but the preload is adjustable. The preload is important if you want the suspension to be balanced.
A rear that's too low or high will affect the handling and traction, which will reduce your comfort and confidence. If you're a bigger rider, you'll want a heavy-duty shock spring (Amazon).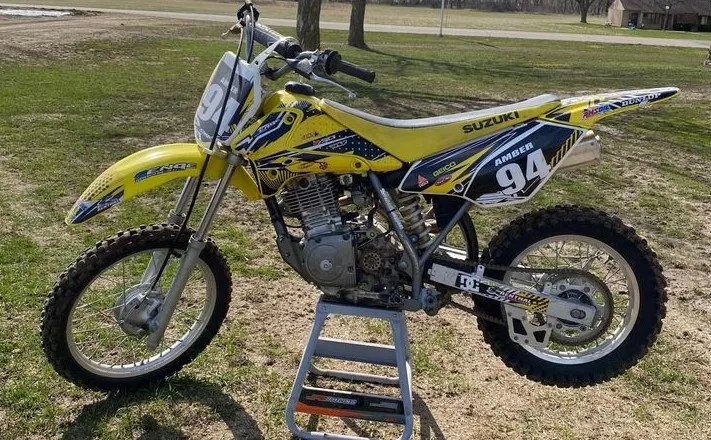 Handling
With smaller wheels, a lower seat height, and a short wheelbase, the DRZ 125 handles very well at low speeds and tight trails. No, it's not for hard enduro riding, but it turns easily because the center of gravity is lower and the turning radius is small compared to a full-size dirt bike.
Weight
The Suzuki 125 4 stroke small wheel model weighs 194 lbs and the big wheel weighs 196 lbs. That's 30-60 pounds lighter than an adult size dirt bike, which makes it easier to handle if you're short and not very strong (like me!).
It's not only easier to lean and turn, but it forces you to have good riding technique. Why? Because a lighter bike will get out of balance quicker if you have poor body position or hit an obstacle.
Seat height – what size rider is the DRZ 125 for?
With a 30.5-inch seat height, the small wheel DRZ 125 is a good size dirt bike if you're 4'8″-5'2″. The DRZ 125L big wheel has a 31.7-inch seat height, which is better if you're 5'0″-5'4″ tall.
Riding a smaller dirt bike is better if you're a beginner rider because it helps build your confidence when you can easily touch the ground and safely handle the bike. With that said, you don't need to put both feet on the ground.
So, as you become a better rider, the seat height doesn't matter as much because you should have proper balance skills by using the basic techniques to help prevent falling.
Model year history & changes
Suzuki started making the DRZ 125 in 2003 with Kawasaki's KLX 125. It hasn't changed a whole lot since then, aside from separating from Kawasaki after 2006.
The only change has been different graphics and dropping the small wheel model. Now they only offer the DRZ 125L big wheel.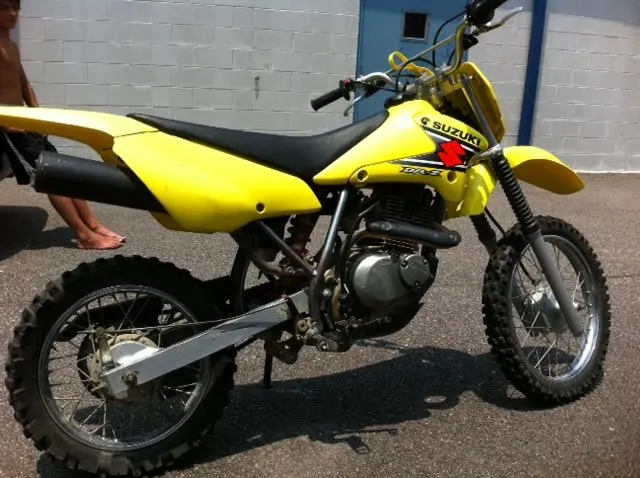 Reliability – how long will it last?
Even though it's heavy, outdated technology, and simple, that's also an advantage when it comes to reliability. It's made to be durable and withstand abuse, such as lack of maintenance.
A Suzuki DRZ 125 can last you many years before needing to be rebuilt if you just do simple things to take care of it. Changing the oil and air filter of the big ones to prevent a catastrophic failure in the middle of nowhere.
Any common issues?
There are any major common problems with this trail dirt bike that you need to worry about. The biggest issues will most likely be from the owner not keeping up on maintenance or letting it sit too long, causing it to not start.
How much does a DRZ 125 cost?
A new DRZ125 is $3,299 for a new model. The price of a used model depends on a few factors.
A used one, depending on your local market can be from 1000-2500. The newer and better condition it's in, the higher it will be, as as general rule.
DRZ125 Specs & Dimensions
These are the specifications from Suzuki:
| | |
| --- | --- |
| Engine | 124cc air-cooled 4 stroke |
| Transmission | 5-speed manual clutch |
| Seat Height | 32.0″ (DRZ125L model) |
| Weight (wet) | 196lbs (DRZ125L model) |
| Horsepower | 7HP |
| Top Speed | 45 MPH |
Is the DRZ 125 a good dirt bike for you?
Are you a short adult or looking for your teen to learn how to use the clutch? The DRZ125 and 125L are great transition and beginner bikes.
You should get a DRZ125 if you:
Are new to riding off-road
Want a bike that's easy to ride
Prefer reliability over performance
Simplicity over high-tech
Like 4 stroke over 2 stroke
Are between 4'6″-5'4″
Will ride tight, slow trails
You should NOT get a DRZ125 if you:
Want a race bike
Will be jumping it
Want a high tech bike
Ride high speed terrain
Are taller than 5'6″
DRZ125 vs DRZ125L
They're based on the same platform, but the main difference is the small vs large wheels. The DRZ125 small wheel has 17/14" wheels and tires, while the DRZ125L large wheel has 19/16" wheels.
The seat height is accordingly taller, making the 125L better if you're above 4'10" tall. It also handles better on the trails over logs, rocks and terrain because the larger diameter wheels roll over obstacles more easily. It's just how physics works.
DRZ125 vs KLX140
These dirt bikes are very similar, but the KLX140 has a slight advantage in power, as well as having electric start. The DRZ125 weighs less, if you prefer a lightweight bike.
DRZ125 vs TTR125
They're pretty blasted even. The Yamaha may have a slight performance advantage in stock form, but an exhaust and jetting will make them really close. They're basically the same size, so pick your color. The TTR125 is more widely available in the used market.
Best DRZ125 mods
Unfortunately, there aren't as many mods available for the DRZ 125 as a Honda or Yamaha 125cc pit bike/dirt bike. With that said, you can still improve the overall comfort and speed with some simple upgrades and tuning.
The best DRZ125 mods for your money are:
Suspension upgrade (stiffer springs for your weight)
Intake mod
Exhaust upgrade
The DRZ125 does well with most mods because it's so choked up as stock from the factory. Even a simple exhaust upgrade with some jet tuning will make a noticeable difference.
However, you'll want to beef up the suspension if you're above 120lbs or riding it aggressively.
Want to ride with control & confidence?
The fastest way to become a better and safer rider is to get some formal training. I want to make that possible for you by showing you proper riding techniques and why it's so important to help you stay in control of the bike and prevent crashes. Click here to learn how.