Suzuki DRZ125 Review – Everything You Need To Know
Looking to get a Suzuki DRZ125 but not sure it's the right dirt bike for you? In this article I'll cover the practical info you need to make the best buying decision. 
What is the DRZ125?
It's a 125cc 4 stroke trail bike for teens and short adult riders. It's a low-tech, easy to ride dirt bike that's affordable and reliable if you're just starting out.
The DRZ125 is still being made today, but it hasn't seen any significant changes over the years.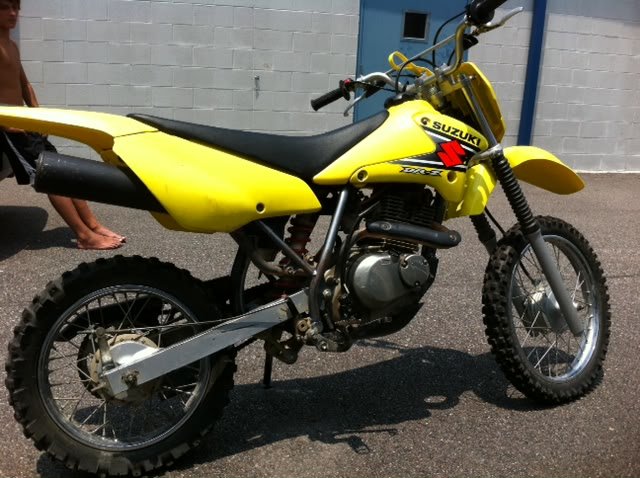 Who's it NOT for?
If you're an experienced rider that needs a high performance enduro or motocross bike, then the DRZ125 is not for you.
Engine
This 125cc 4 stroke engine is very smooth with broad power. It's very forgiving, so you don't have to worry about it getting out of hand. 
Suspension
The forks and shock are like any trail bike in the 125cc class – soft and comfortable for low speed riding. You can add some stiffer springs if you're a heavier rider, but I still wouldn't recommend taking this bike to a motocross track. 
DRZ125 vs DRZ125L
They're based on the same platform, but the main difference is the small vs large wheels. The DRZ125 small wheel has 17/14" wheels and tires, while the DRZ125L large wheel has 19/16" wheels.
The seat height is accordingly taller, making the 125L better if you're above 4'10" tall. It also handles better on the trails over logs, rocks and terrain because the larger diameter wheels roll over obstacles more easily. It's just how physics works.
DRZ125 vs KLX140
These dirt bikes are very similar, but the KLX140 has a slight advantage in power, as well as having electric start. The DRZ125 weighs less, if you prefer a lightweight bike. 
DRZ125 vs TTR125
They're pretty blasted even. The Yamaha may have a slight performance advantage in stock form, but an exhaust and jetting will make them really close. They're basically the same size, so pick your color. The TTR125 is more widely available in the used market. 
How much does a DRZ 125 cost?
A new DRZ125 is $3,299 for a new model. A used one, depending on your local market can be from 1000-2500.
DRZ125 Specs
| | |
| --- | --- |
| Engine | 124cc air-cooled 4 stroke |
| Transmission | 5-speed manual clutch |
| Seat Height | 32.0″ (DRZ125L model) |
| Weight (wet) | 196lbs (DRZ125L model) |
| Horsepower | 6HP |
Bottom Line
Are you a short adult or looking for your teen to learn how to use the clutch? The DRZ125 and 125L are great transition and beginner bikes. 
You should get a DRZ125 if you:
Are new to riding off-road
Want a bike that's easy to ride
Prefer reliability over performance
Simplicity over high-tech
Like 4 stroke over 2 stroke
Are between 4'6″-5'4″
Will ride tight, slow trails
You should NOT get a DRZ125 if you:
Want a race bike
Will be jumping it
Want a high tech bike
Ride high speed terrain
Are taller than 5'6″
DRZ125 mods
The DRZ125 does well with most mods because it's so choked up as stock from the factory. Even a simple exhaust upgrade with some jet tuning will make a noticeable difference.
However, you'll want to beef up the suspension if you're above 120lbs or riding it aggressively.
Want to ride with control & confidence?
The fastest way to become a better and safer rider is to get some formal training. I want to make that possible for you by showing you proper riding technique and why it's so important to help you stay in control on the bike and prevent crashes. Click here to learn how.