Looking for the best dirt bike for 13 year old riders? Whether you're a beginner and need a bike that's easy to ride, transitioning to a race bike, or you're looking for a quality dirt bike for your kid, you're in the right place!
In this article, I'll show you what size dirt bikes are best for 13 year-olds, why it's important to choose the right type of bike, and then how to pick the right one based on your size and budget.
Can a 13 year old ride a dirt bike?
Absolutely. No license is required (In the U.S. or other big countries that I know of) to ride an off road dirt bike.
I started when I was 7, so 13 is definitely not too early of an age to begin riding (or too late!).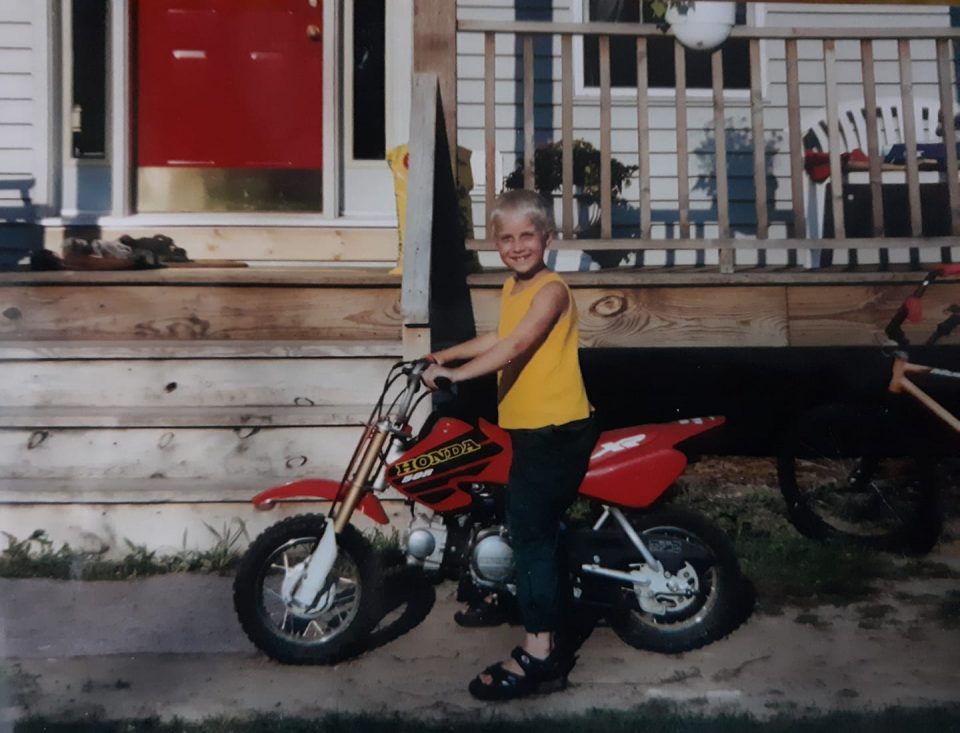 What size dirt bike is best for a 13 year old?
It really depends on how tall you or your kid is. If they're under 4'10" then you'll want a dirt bike with a seat height of under 31". That way they can touch the ground with at least one foot, which will boost their confidence when learning to ride.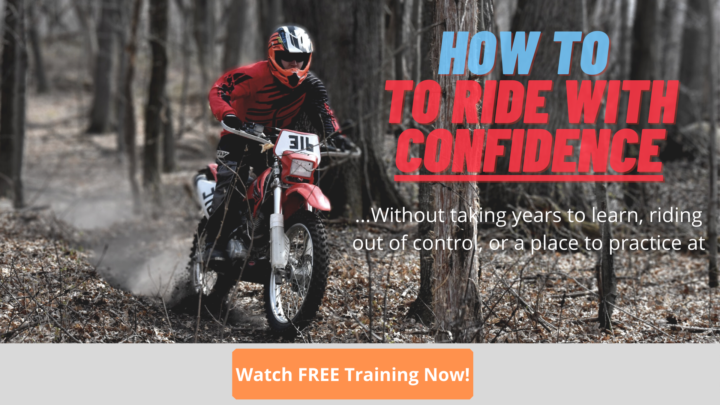 Are they taller than 4'10"? Then a seat height of 31-36" is most likely the range you want.
Looking at this height range, you'll be looking at a dirt bike with 110cc, 125cc, 230cc, or somewhere in between.
Being 13 years old, I recommend getting a dirt bike with a clutch. They're starting to grow into adults, so it's time to learn how to use the clutch.
Best dirt bike brand for your kid to start on
You may read from other blogs that recommend the lesser known brands and types of dirt bike that you can get on Amazon, such as Razor or Coolster. I will not recommend these because they are poor quality compared to the name brand dirt bikes from Japan and Europe.
The cheap dirt bikes from Amazon may be affordable, but they will not last long before parts start wearing out and breaking, and finding replacement parts for them will be very difficult.
Do these bikes work? More than likely, but I would not get one for my 13 year old or any age kid, so I cannot recommend them.
If you want a reliable dirt bike that will last for years, I recommend you stick to these top brand dirt bikes for kids: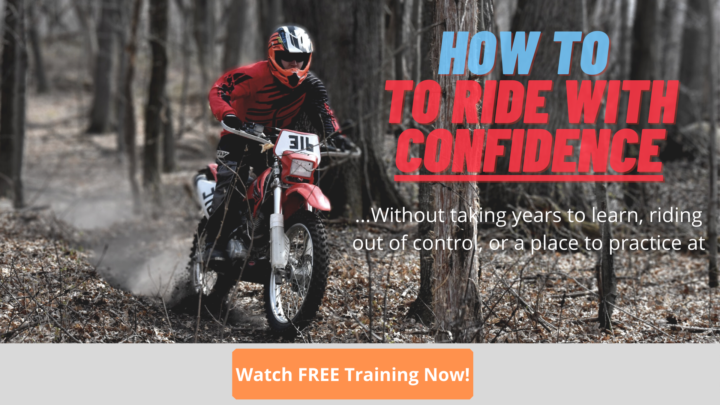 Rant over.
Best beginner dirt bikes for 13 year old
To make it quick, it comes down to your kid's height, their experience, and how much you are willing to spend.
The most dangerous dirt bikes for a 13 year-old beginner are motocross bikes. They have too much power and are harder to ride because the clutch and power is harder to control.
So for your first dirt bike, you want something easy to ride, and that's generally a 4 stroke trail bike.
So, I'm just going to give you the 4 best dirt bikes for a 13 year old, whether they're short, tall, and if you are on a budget or not.
Honda XR100
I've had a few XR100's, and it was actually my first dirt bike with a clutch, so I have good memories from it. It's basically bombproof and reliable if you change the oil and keep the air filter clean regularly.
The seat height is low if you have short legs, but the bike is big enough for an average-size adult to ride around on.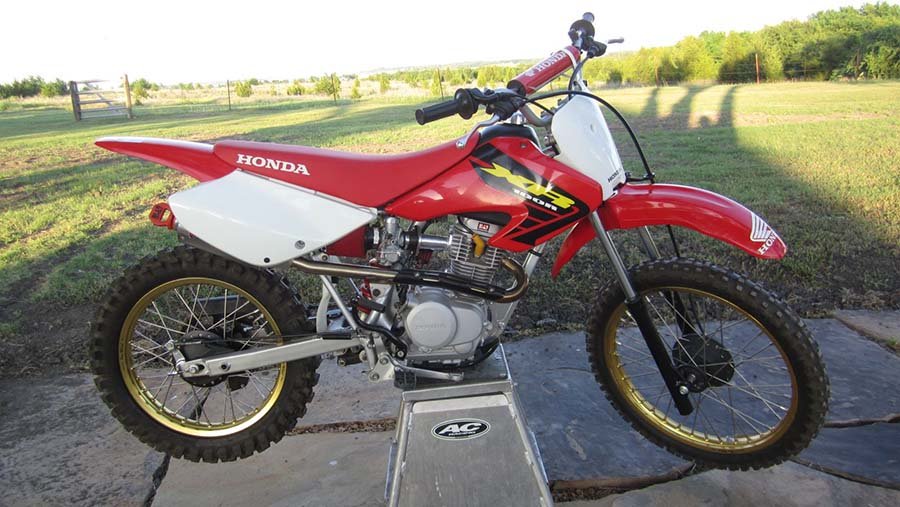 The engine is super forgiving with its smooth power, and the clutch is about as easy as it gets to learn on.
I think I was 13 or 14 when I transitioned to the XR100, so it's a perfect stepping-stone bike for your teen if you want a cheap used dirt bike.
Kawasaki KLX110L (KLX110R L)
The KLX110L has a low seat height of 28.7", so I would only recommend it if height is the biggest concern. The larger wheel L model KLX110 not only has larger wheels, but a manual 4-speed transmission with a clutch.
The standard KLX110 doesn't have a clutch, so beware choosing which bike for your kid.
Yamaha TTR230
The TTR230 has been around for a while since it's just a newer version of the TTR225. It has electric start, has decent power, and can handle a larger rider if you're a conservative trail rider.
For teens that are above 5'4", the TTR230 is one of the cheapest used bikes that's reliable and easy to ride.
Honda CRF250F
Want a new dirt bike? The CRF250F is Honda's modern CRF230F (or XR250 if you want to compare) with fuel injection and electric start.
It has plenty of torque for taller riders, and is a great starter bike for teens 13 and older.
Which is the best one to start on?
Best cheap dirt bike for short teen: Honda XR100
Best new dirt bike for short teen: Kawasaki KLX110L
Best cheap dirt bike for tall teen: Yamaha TTR230
Best new dirt bike for tall teen: Honda CRF250F
Best motocross racing dirt bikes for 13 year-olds
Already past the beginner stage and ready for a race bike for your 13-14 year old? It basically comes down to 4 dirt bike size options unless they're really tall and ready for a full size bike.
What are these MX race bike options?
85cc 2 stroke
Or Honda's CRF150R
Small wheel model
Large wheel model (supermini)
80/85cc 2 stroke mx bike
It used to be the 80cc 2 stroke mini class for 12-15 year olds, but they went to 85cc around 2003. These motocross bikes are fast and should not be your very first dirt bike.
They're harder to ride because they don't have much bottom-end power, but then they turn on like a lightswitch once you hit the powerband in the higher RPM.
These are the best 85cc race bikes for teens and preteens (age 12-15):
Yamaha YZ85
KTM 85 SX
Husqvarna TC 85
Kawasaki KX85
Suzuki RM85
Honda CRF150R
Honda came out with the CRF150R, which is not to be confused with the CRF150F, in 2007 with big plans to change the mini class of motocross. The CRF150R is a liquid-cooled race bike that is built for racing.
The CRF150RB (Expert) ended up being put in the supermini class against modified 112cc 2 strokes and had a hard time keeping up because of their extra weight.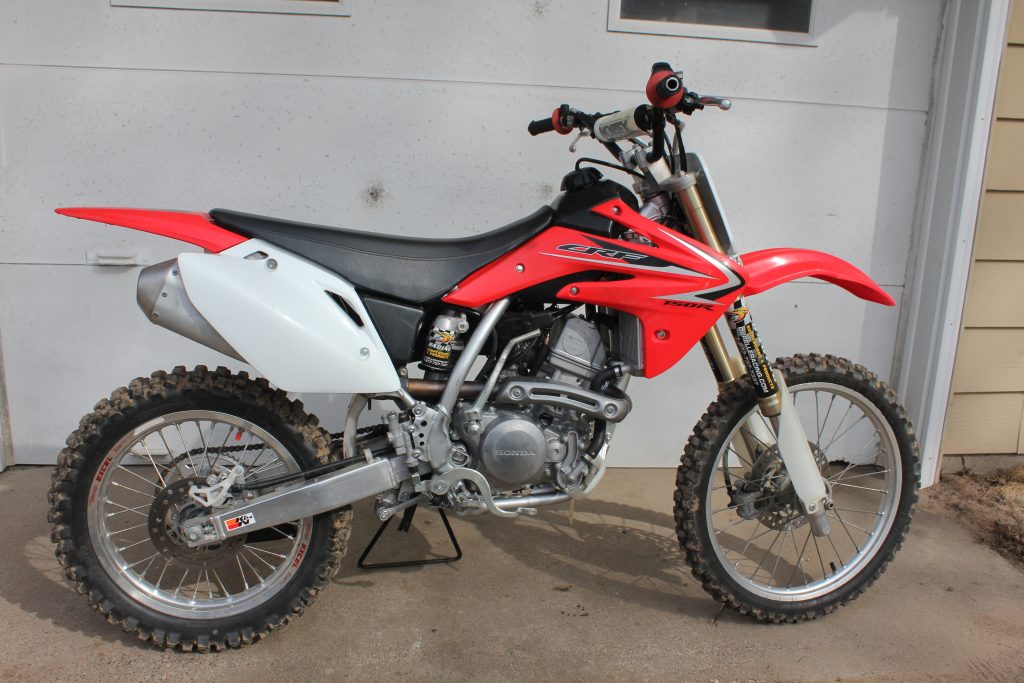 I do not recommend it to beginners, especially if you're just trail riding.
With that said, if you're already an experienced rider, there are some mods you can do to make it more trail-friendly, but they can get a little expensive.
Large Wheel/Expert/Supermini model
The larger wheel supermini bikes are just a bigger version of the 85cc (or CRF150R) mini mx bikes. They have larger wheels – 19/16" vs 17/14".
So if you need a race bike for your teen and they're between 5'0" and 5'6", these large wheel supermini bikes are the best:
Yamaha YZ85 LW
KTM 105 SX
Husqvarna TC 105
Kawasaki KX100
Suzuki RM85L
Honda CR85RB (not made since 2007)
How to get into dirt biking on a budget
Having fun doesn't have to cost a fortune – I count pennies and have learned how to spend the least amount of cash to have the most amount of fun. And now I want to show you how so that you can enjoy dirt biking on a budget too. Click or tap here to get started.