Trying to figure out what the best KTM dirt bike is for you but just overwhelmed with all the different models and sizes? You're in the right place because I'm going to break it down for you, step-by-step to make your decision quick and easy!
In this article, I'll show you what kind of dirt bike you need, why it's important to choose the right type of bike (especially if you're a beginner), and how to pick the best one based on your specific needs.
How to choose the best KTM dirt bike for you
KTM has many different sizes and types of dirt bikes, so how do you know where to start and which one is best for you? Going by my foolproof 4-step process, you need to figure out what type of riding you'll be doing.
For example, these are the most common types of dirt bikes:
Trail bike
Enduro bike
Dual sport bike
Motocross bike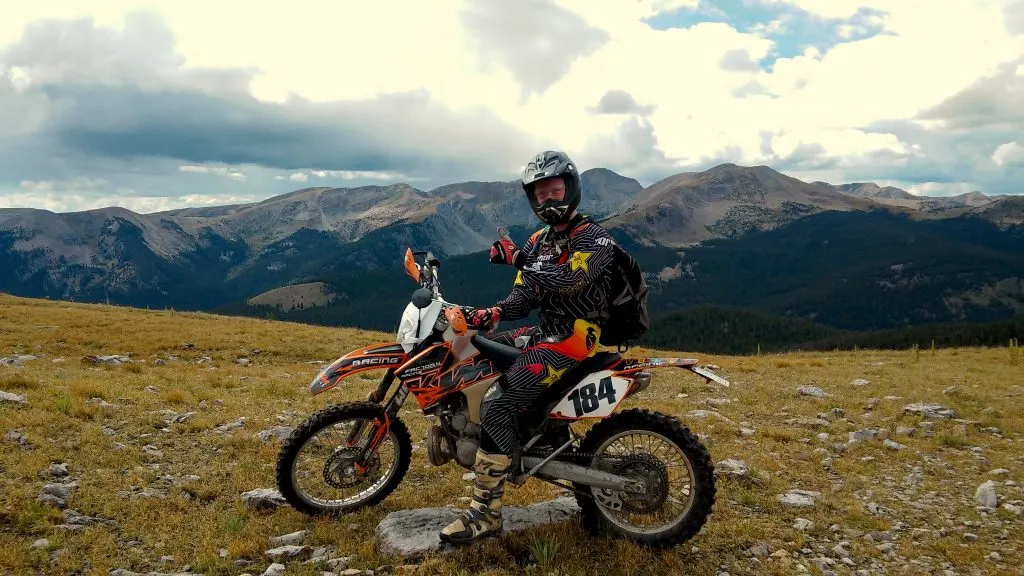 You don't want to pick a motocross bike if you're a beginner that just wants to learn how to ride and stay safe – at least right now. An MX bike is harder to ride because the power is more abrupt, the suspension is stiff, and they're the tallest type of dirt bike you can buy (not what you want if you're a short rider like me).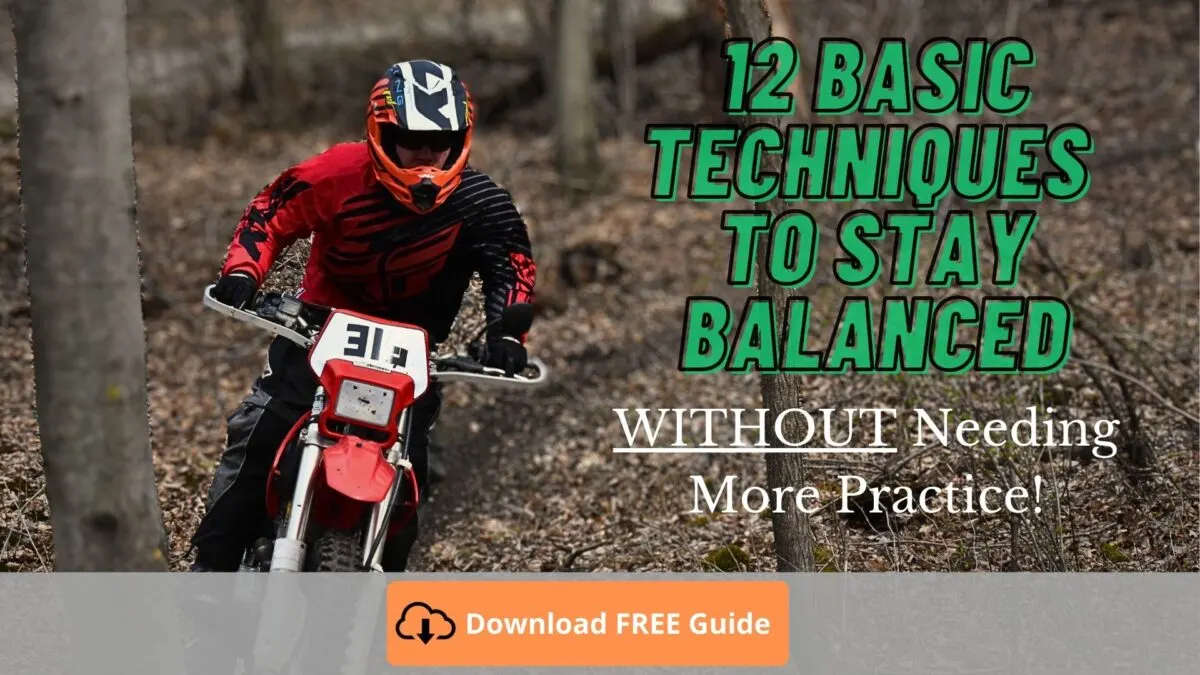 When considering the best KTM dirt bike based on your needs, you should know that most of their dirt bikes are enduro bikes and motocross bikes. With that said, if you want a dual sport or beginner-friendly off-road motorcycle, I'll show you the best choices and why.
Which size KTM dirt bike is best for you?
After you figure out the kind of off-road riding you'll be doing, you'll need to decide on what size KTM dirt bike to start on. However, the size of a dirt bike is more than just the number on the bike.
You have the engine size, which is the displacement (I.E. 125cc or 250cc), as well as the physical size, which is the seat height. If you're a newer rider, I always recommend starting on a smaller dirt bike for a couple of important reasons.
A shorter KTM dirt bike will be easier to ride because you can touch the ground with one foot in case you need to catch yourself while learning how to properly ride off road. This is especially important if you have short legs because you won't have good balance skills right away.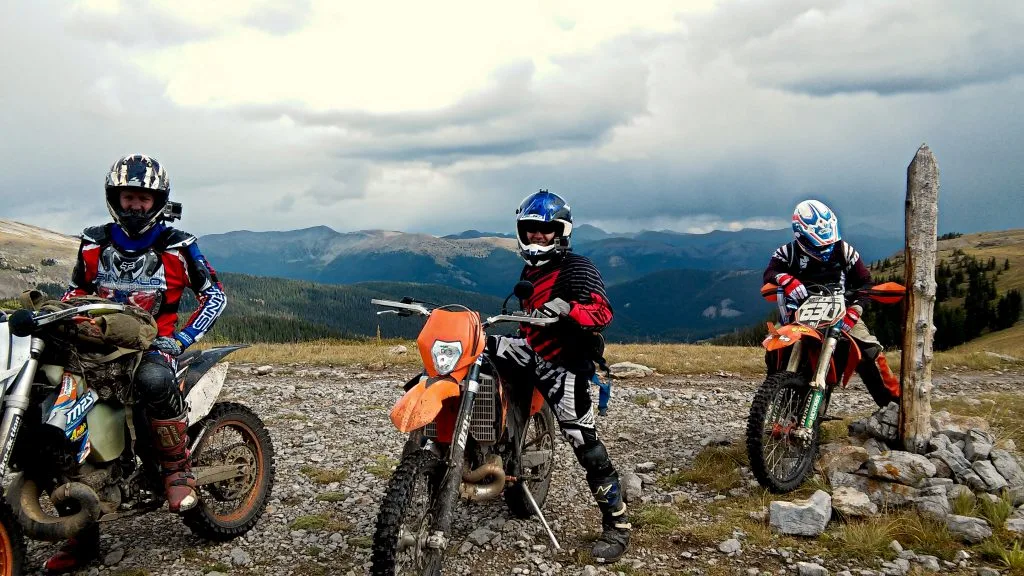 Starting on a "slower dirt bike" will also help you become a better rider faster and prevent crashes that lead to injury. Instead of choosing a 300 or 450cc for your first dirt bike and trying to "grow into" it, you should start on a slower bike because you'll get less exhausted, and most importantly, you can focus on learning proper technique to quickly improve your confidence and speed.
Best KTM for beginner
To be honest, KTM is lacking when it comes to good dirt bikes for beginners. I think they're missing out on a lot of new dirt bike riders, but I guess they're content with mainly selling "Ready To Race" motorcycles.
With that said, these are the three KTM dirt bikes that are good if you're a beginner:
KTM SX-E 3
KTM SX-E 5
KTM Freeride
KTM Freeride E-XC
KTM SX-E 3 vs SX-E 5 for beginners
The SX-E 3 and SX-E 5 are electric dirt bikes for kids, with the SX-E 3 being the newer model that's the better choice if your son or daughter is a beginner. The "3" is smaller and less powerful, while the "5" is best for racing or taller little kids.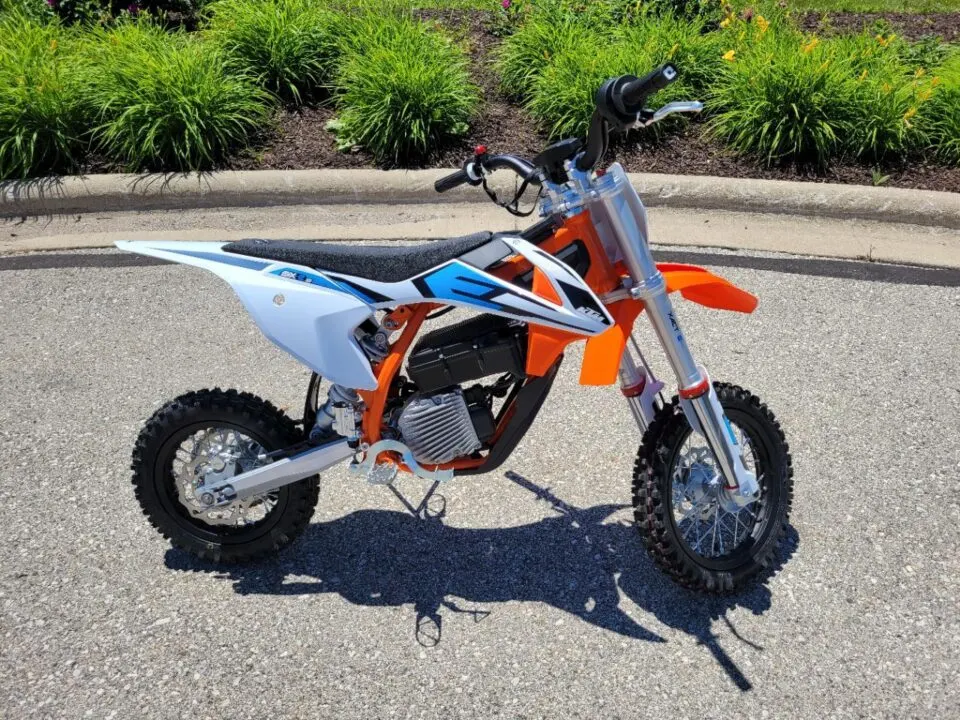 If these dirt bikes are too big or expensive for your young child, then I recommend starting on an electric balance bike – they're smaller, lighter, easier to handle, and better for learning fundamental balance and throttle control skills before getting on an actual motorcycle for kids.
KTM Freeride 250R (discontinued)
The Freeride model is basically the only gas dirt bike from KTM that's made for beginner adults, although it's not like most other beginner bikes. It's somewhat of a combination of a trials bike, trail bike, and enduro bike.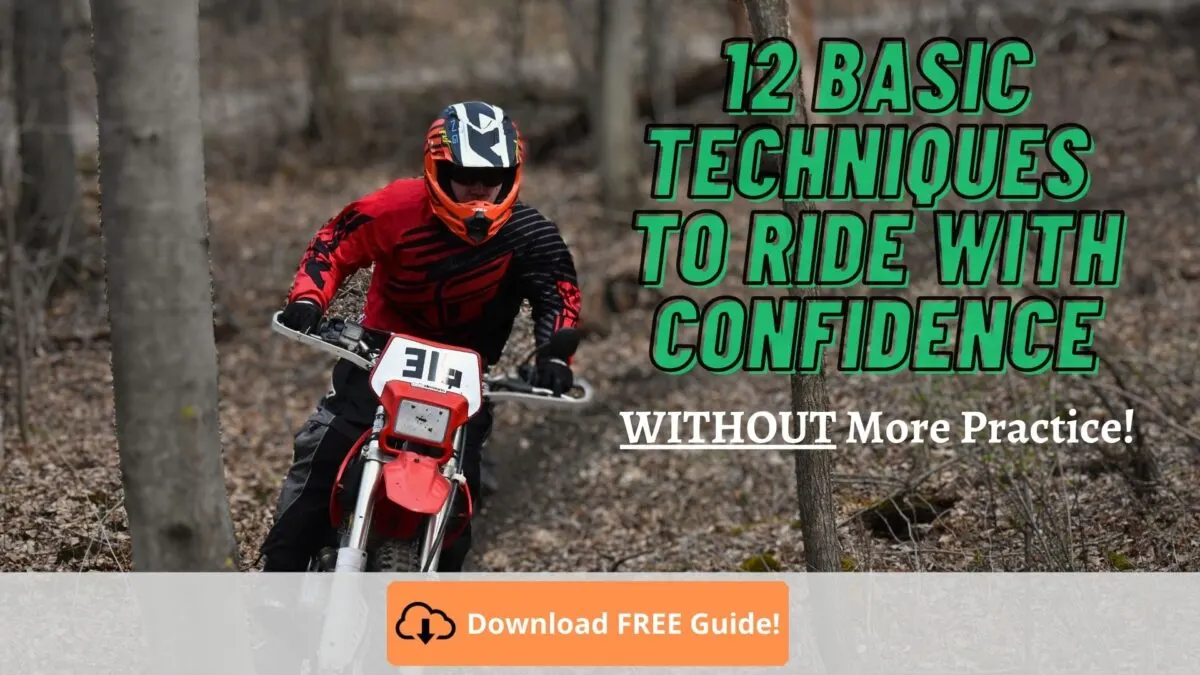 It has a low seat height, a smooth and predictable power curve, plush suspension, and is a lightweight dirt bike, making it fun and easy to ride for newbies. However, these compromises showed when you try to ride faster on the trails.
The suspension and brakes are lacking because there's less travel (to get the low seat height) and the brake systems are smaller (less weight). It was a very "niche" bike for specific riders and was discontinued and replaced with an electric version.
KTM Freeride E-XC
KTM tried to learn from their mistakes and update their Freeride beginner dirt bike with the Freeride E-XC electric dirt bike. It's basically the same thing but has a giant battery pack and electric motor.
There's less maintenance, but you still have to charge it every 1-2 hours of ride time, depending on how hard you use the throttle. It's a good beginner bike for adults and teens if you want a quiet dirt bike that doesn't run on gas.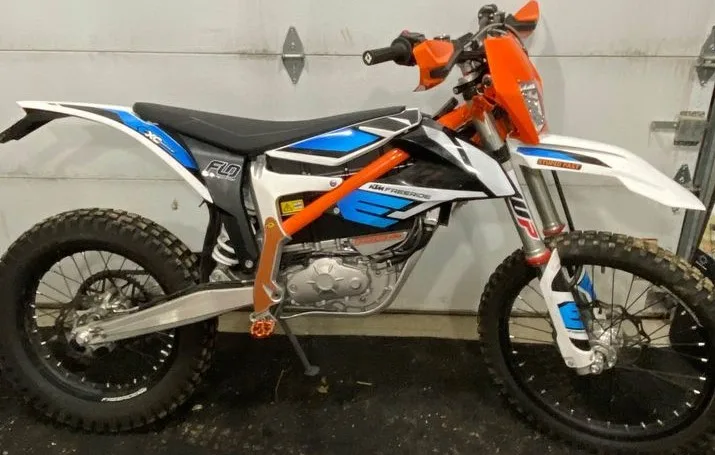 For trail riding and enduro
Once you're ready for a high performance trail bike (enduro dirt bike), KTM has quite a few options. Whether it's two-stroke vs four-stroke, or off-road vs cross-country dirt bikes, there's a good dirt bike for you.
2 stroke
A 2 stroke has quite a few benefits over a 4 stroke, including: less weight, better handling, easier to start, and less likely to stall.
These are the best KTM 2 stroke dirt bikes for trail riding:
150 XCW
250 XC
250 XCW
300 XC
300 XCW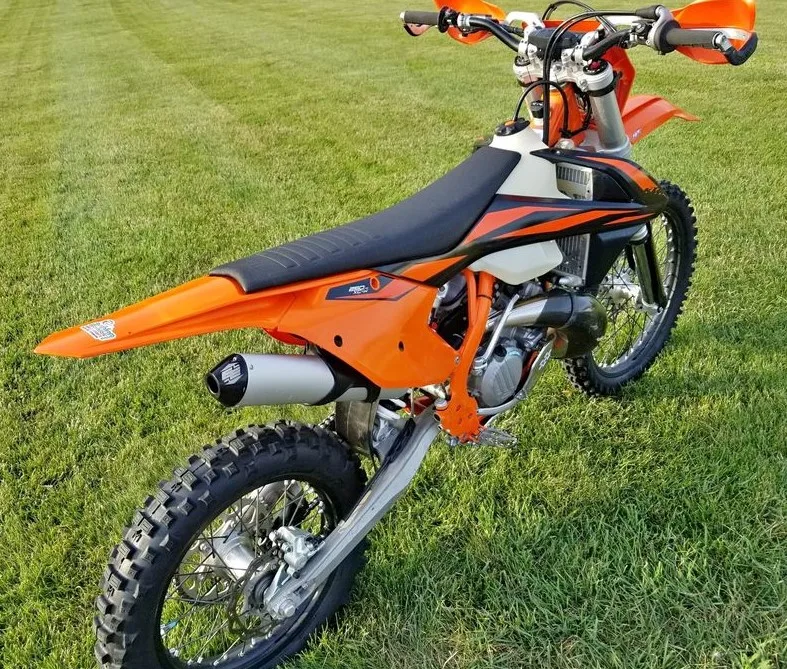 There's some minor differences between the XC and XCW KTM Enduro bikes, but they can make a big difference if you have a strong preference.
The main differences are: the XC-W has a wide ratio transmission, softer suspension valving, slightly smoother engine tune, a PDS rear shock (no linkage), and comes with a headlight/tail light compared to the KTM XC models.
KTM 150 vs 250 vs 300 2 stroke
When choosing which size KTM is best for you, the biggest difference will be the power and the weight, but there's more to it than just that. A 300 obviously has more power than a 150 because it's double the engine displacement, but how the power is tuned is quite a bit different.
Comparing power differences
A KTM 150 has pretty good power – up around 40 horsepower. This doesn't mean that the KTM 300 has 80 HP because it's twice as big. Rather, the 300 has a lot more torque down low, while the 150 has most of it's power up high in the RPM range.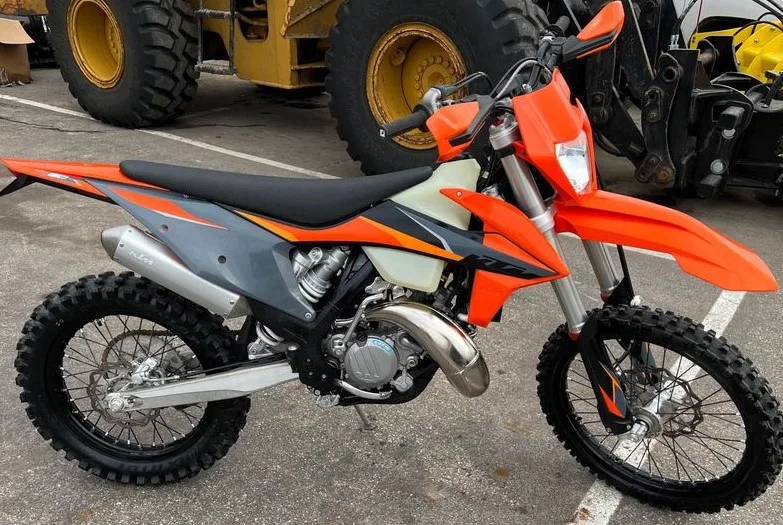 This means that you have to rev the 150 more to accelerate, while you can short shift and lug the 300 at a lower RPM. The 250 has almost as much HP as the 300, but mainly just less low-end torque.
So, just go for the 300 then, right? Well, do you really need that much power? It's much easier to get out of control on the 300, or even the 250 if you aren't a confident trail rider. The 150 can also be more fun to ride because it's lighter and forces you to be an efficient rider.
Weight – how does it affect you?
Surprisingly, the 150, 250, and 300 are all within 30 lbs of each other. This means that the KTM 300XCW only weighs about 20% more than the 150XCW, but it's not just the physical weight that makes the difference.
The engine mass also makes it feel heavier. For example, when you ride at 8000 RPM, the 300 will feel even heavier than the 150 compared to riding at 4000 RPM. When the bigger engine is spinning, that rotating mass makes your bike feel heavier and harder to handle.
This leads to you getting exhausted quicker if you're not in tip top physical shape!
4 stroke
Maybe you don't want a KTM 2 stroke dirt bike for trail riding because you prefer the "grunt" and torque of a 4-stroke. Or maybe you just don't want to deal with 2-stroke oil, even though you don't have to mix gas on the fuel injected models.
In any case, these are the best KTM 4 stroke dirt bikes for trail riding:
250 XCF
250 XCF-W
350 XCF
350 XCF-W
450 XCF
450 XCF-W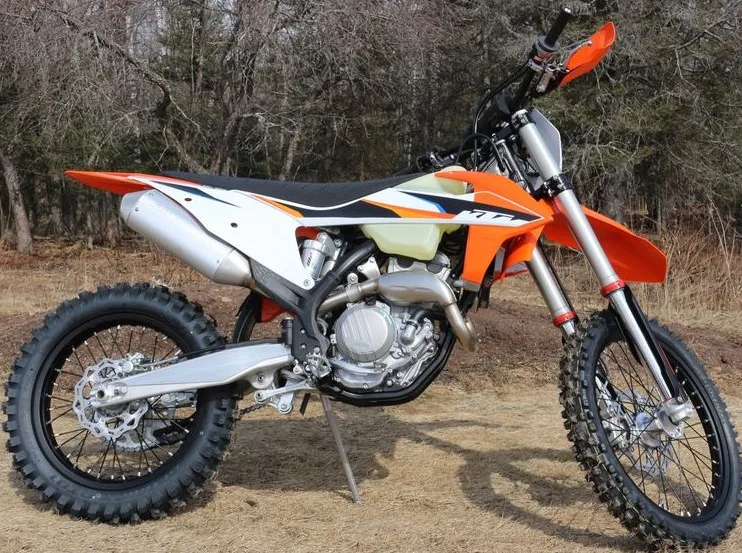 Just like the two stroke models, the XCF is the "Cross-Country Four-stroke" version, and the XCF-W is the off-road model. They are both very similar, but the XCF W is better for more casual trail riding due to the softer suspension, wide-ratio transmission, lights, and broader power tune.
Hard enduro KTM
Are you an experienced rider that loves a challenge? Hard enduro riding is the most technical type of trail riding because you're riding on trails with big rocks and/or logs with steep hills.
This is one of the few times where a little more power might help, especially if you have steep elevation changes. With that said, a good rider can always do it on a smaller bike than a lesser rider.
These best KTM dirt bikes for hard enduro riding are:
250 XC
250 XCW
300 XC
300 XCW
You read that right – the best KTM's for hard enduro are 2-strokes. Does that mean a 4 stroke is a bad choice? Not necessarily, but it just has some disadvantages that can make a big difference when you're riding on the roughest trails and terrain.
A 2 stroke is lighter and easier to handle so you don't get exhausted as quickly. It's also less likely to stall or overheat, which is just the nature of a 2-cycle engine when properly jetted or tuned with fuel injection.
Most reliable KTM
Virtually all KTM dirt bikes are reliable these days – the biggest factor is the rider and owner (YOU). You can actually get hundreds of hours on a stock KTM 2 stroke or 4 stroke engine, but it depends on how you ride it and maintain it.
If I HAD to choose, these are the most reliable KTM off-road motorcycles:
300 XC-W
350 XCF-W
500 EXC-F
Dirt bikes with bigger engines aren't particularly more reliable. They just tend to last longer because you don't need to rev them as high to accelerate as quickly as a smaller motorcycle.
Want to make your dirt bike more reliable? Follow these simple steps to prevent a catastrophic failure.
Most Powerful KTM
The 450 SX-F is the most powerful KTM dirt bike. If you like dyno numbers, the KTM 450 makes 55 horsepower and 34 ft. lbs of torque, according to DirtRiders test.
Does horsepower mean anything? Not really when it comes to rideability, which is how easy it is to ride and control the power of a motorcycle.
Simply put, if you want a dirt bike that's easier to ride, choose one that has a broader power curve. You might actually be faster, even if it has significantly less peak horsepower.
KTM Dual sport motorcycle
When considering a street legal dirt bike, KTM really only has two dual sport bikes: The 350 EXC-F and 500 EXC-F, plus the 500 Six Days model if you count that (different graphics package).
The 350 EXCF is a better dual sport if you want a lightweight street legal dirt bike that can still handle some single-track trail riding. While the 500 is plenty capable of trail riding, it's better for more long distance dual sport riding.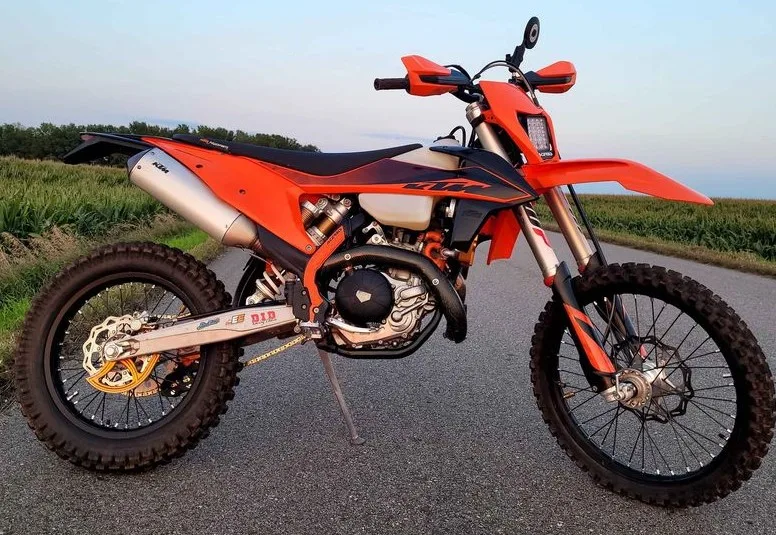 KTM Adventure bikes
Do you want an adventure motorcycle that is comfortable for long-distance highway riding but can handle a little bit of off-road?
An ADV bike is a step up in size and power from most dual sport bikes. They're more stable and handle better on the road at cruising speeds, so you won't get blown into the ditch when a semi-truck passes by.
They just aren't very good at trail riding due to their weight, size, and chassis which makes them stiff and hard to lean and turn at low speeds.
The KTM Adventure bikes are:
690 Enduro R
890 Adventure
890 Adventure R
1290 Super Adventure S
1290 Super Adventure R
The 690 is closer to a lightweight adventure bike, while the 890 is a midweight adventure bike.
The main difference between an 890 Adventure and the Adventure R model is that the "R" is better for off-road with bigger suspension components, a smaller windshield, and better knobby tires.
The 1290 is the most comfortable adventure bike for cruising on the highway because it's the most stable and most powerful KTM adventure bike.
When comparing the 1290 S vs R, the "S" is simply the street model with cast wheels and road tires, while the "R" has spoke wheels with dual-sport knobby tires and more suspension travel for better comfort off-road.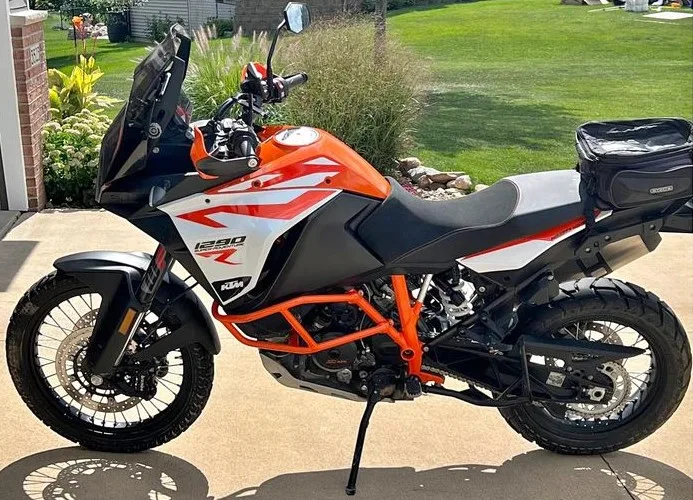 Motocross
Besides enduro motorcycles, KTM makes motocross bikes that are "ready to race", as they claim. It's not as much of a difference over other dirt bike brands as it used to be, but they simply have some upgraded parts over other stock dirt bikes from the factory.
2 stroke
KTM has quite a few 2 stroke motocross bikes, which is awesome for a couple reasons.
2 stroke dirt bikes are great for learning the fundamental techniques, such as clutch control, throttle control, and being efficient with your body position. It's also cool that KTM continues to develop each model – every few years they get a little bit better!
These are the KTM 2 stroke dirt bikes for motocross:
50 SX mini
50 SX
65 SX
85 SX 17/14
85 SX 19/16
125 SX
150 SX
250 SX
Comparing these size MX bikes
KTM has two 50cc MX bikes – the mini has smaller wheels, less suspension and power, making it the best choice for your youngest child racer when he or she is ready. The 50 SX is bigger and slightly faster for the older 50cc MX class.
KTM took away their 105 SX and just added a big wheel kit to their 85 for the supermini class MX bike. With the larger wheels (19/17), it's better suited for kids or teens that are too tall for the small wheel 85. You can install a 112cc big bore and stroker kit for the max engine displacement in the supermini class.
The 125 and 250 SX have been around for a long time, and the 150 is quite popular for vet class racing. It's lightweight, makes good power, and is a blast to ride because it's easier to handle than a 250, but has more power than a stock 125.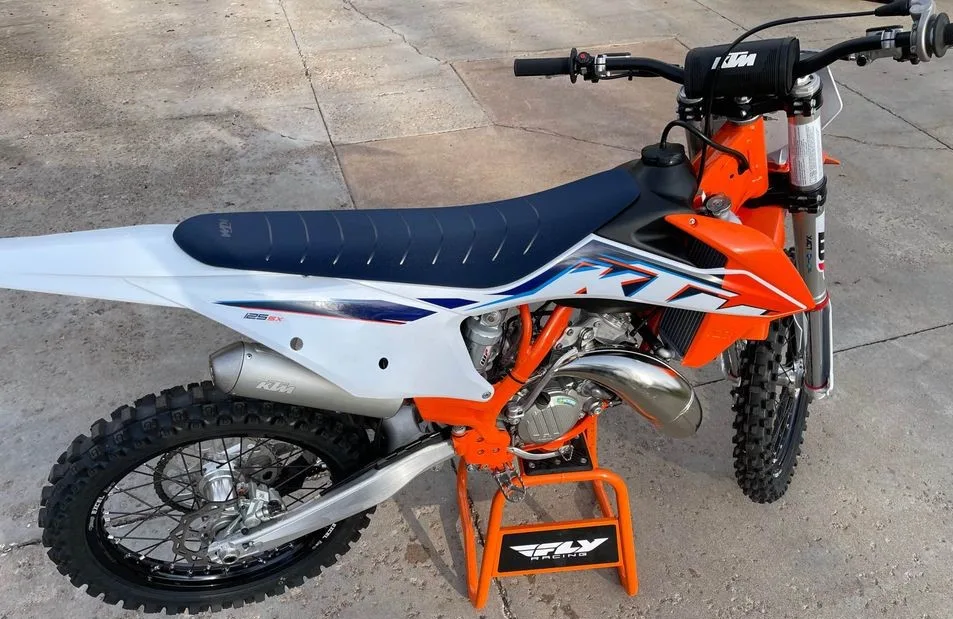 4 stroke
Since KTM doesn't have any 4 stroke mini bikes for motocross, you just have three big bike options.
These are the KTM 4 stroke dirt bikes for motocross:
250 SX-F
350 SX-F
450 SX-F
250F?
For most people, a 250 is plenty of power for racing because you can't take advantage of the full power anyway. 250F's are fast, fun, and one of the easiest race bikes to ride, but maybe you just "need" more power, whether you're a heavier dude or just like to be lazy on the throttle.
450F?
A 450 is the premier class motocross bike, and the KTM 450 SX-F is a beast of a bike if you've never ridden a 450cc dirt bike. Lots of torque, more horsepower than you ever need, but it can be exhausting because that power and weight (engine inertia) will wear you out quicker.
350F?
A 350cc 4 stroke is a great compromise because it has almost the same power as 450, but the handling feels closer to that of a 250. The big difference is that the 350 SX-F has noticeably less torque right off idle than the 450.
Best used KTM dirt bikes not made anymore…
Maybe you want a KTM dirt bike but can't afford a new one. They have made and discontinued so many different models and sizes over the years; some good, some bad.
But here are the best used dirt bikes KTM doesn't make anymore:
How to ride a KTM dirt bike
If you're new to riding dirt bikes or off-road, then you need to know that it requires certain techniques. From using proper body position to clutch and throttle control and much more, it's easy to form bad habits that cause you to ride out of control.
But That's why I want to help you – I made a checklist of the 12 basic techniques you need to ride with confidence off-road so that you stay safe: click here to download it.