Looking for the best Yamaha kids dirt bike but not sure where to start? Whether you're a kid trying to buy your own bike or you're a parent (grandparent) looking for the right dirt bike for a child, you've found the right article!
You're going to learn:
The different types of Yamaha bikes for kids
Why it's important to choose the right one if you want to have fun & stay safe
How to pick the best model based on your specific size and budget
What type of dirt bike is best for kids?
Before you even consider what size dirt bike, you need to figure out what type is best. There are two main types of Yamaha dirt bikes for kids – Trail bikes and motocross bikes.
If you (or your son or daughter) are new to dirt biking, then you need to start on a trail bike. Trail dirt bikes are smaller and less powerful, and they're MUCH easier to ride.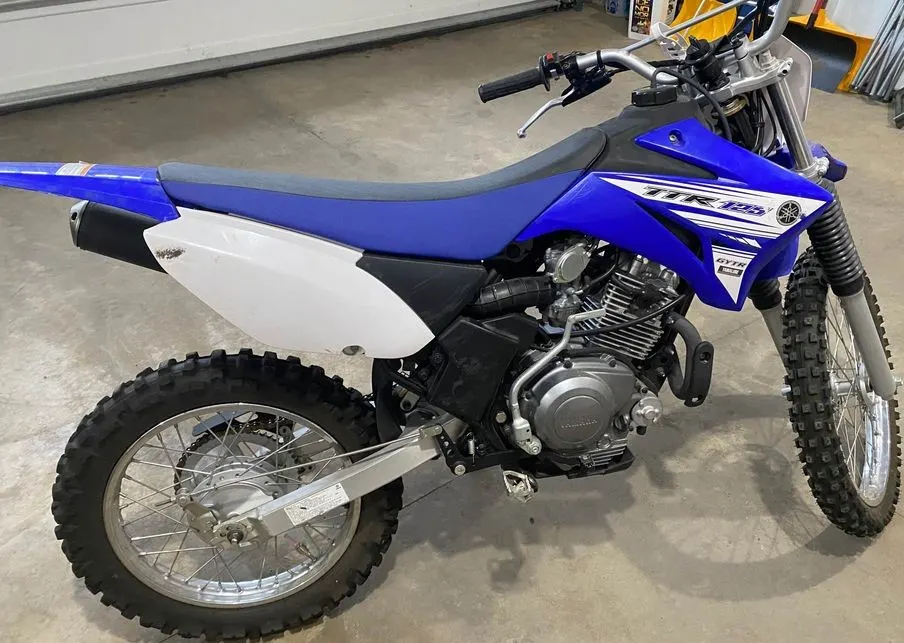 What type of dirt bike to avoid for kids?
You don't want your first dirt bike as a 4-year-old to be an MX race bike that's going to get out of control really quickly.
Motocross bikes are only for kids that have been riding for a while and are confident in the basic techniques so that they can safely control the power, whether on a track, on trails or in your backyard.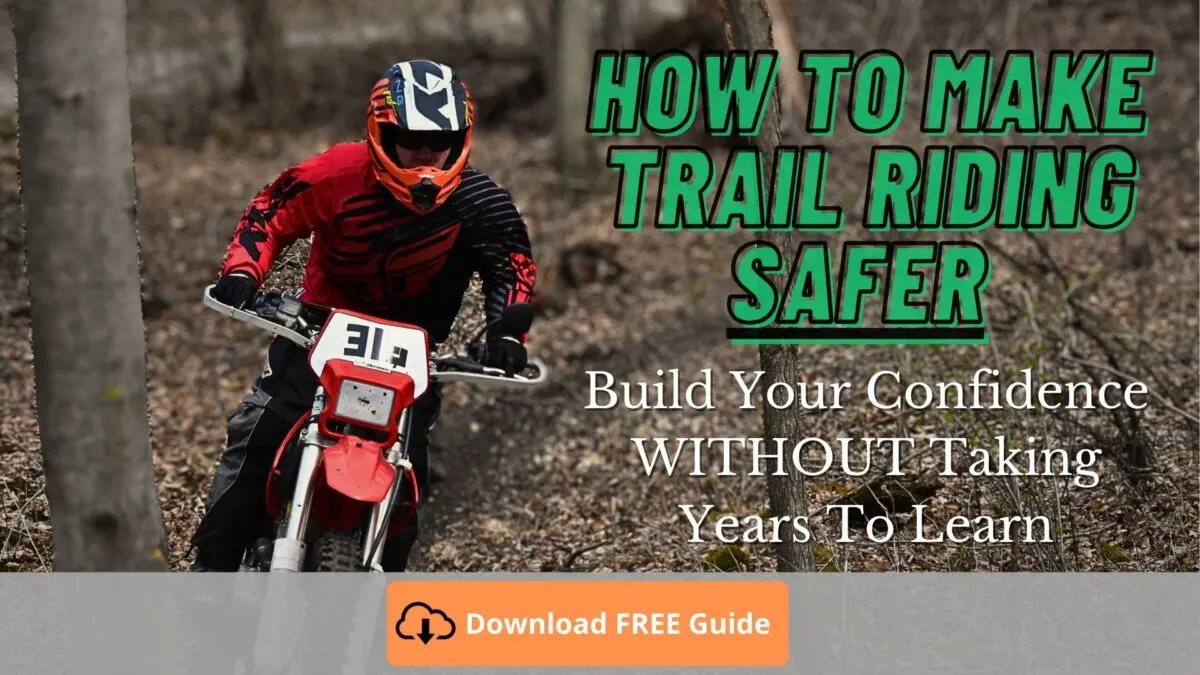 What size dirt bike is best?
Yamaha has several youth dirt bikes to choose from, with an age range from 3 years old on up. Ideally, I recommend you go to a dealer that has Yamaha motorcycles for kids and sit on multiple bikes to see what fits best.
You just need to be able to touch with one foot on the ground while sitting on the seat.
Going by my dirt bike size chart, this is a guide for the best size dirt bike for kids:
3-7 years old: 50cc
7-11 years old: 110cc
10-15 years old: 125cc
13-18 years old: 125-250cc
Small Yamaha dirt bikes for toddlers/little kids
Just need the smallest dirt bike for kids out there? Yamaha has you covered with the two best motorcycle options out there!
50cc Yamaha 2-stroke – the smallest dirt bike
Just want the smallest gas dirt bike available for your 3, 4 or 5 year old? Yamaha is genuinely known for getting thousands of kids on their first dirt bike with the PW50.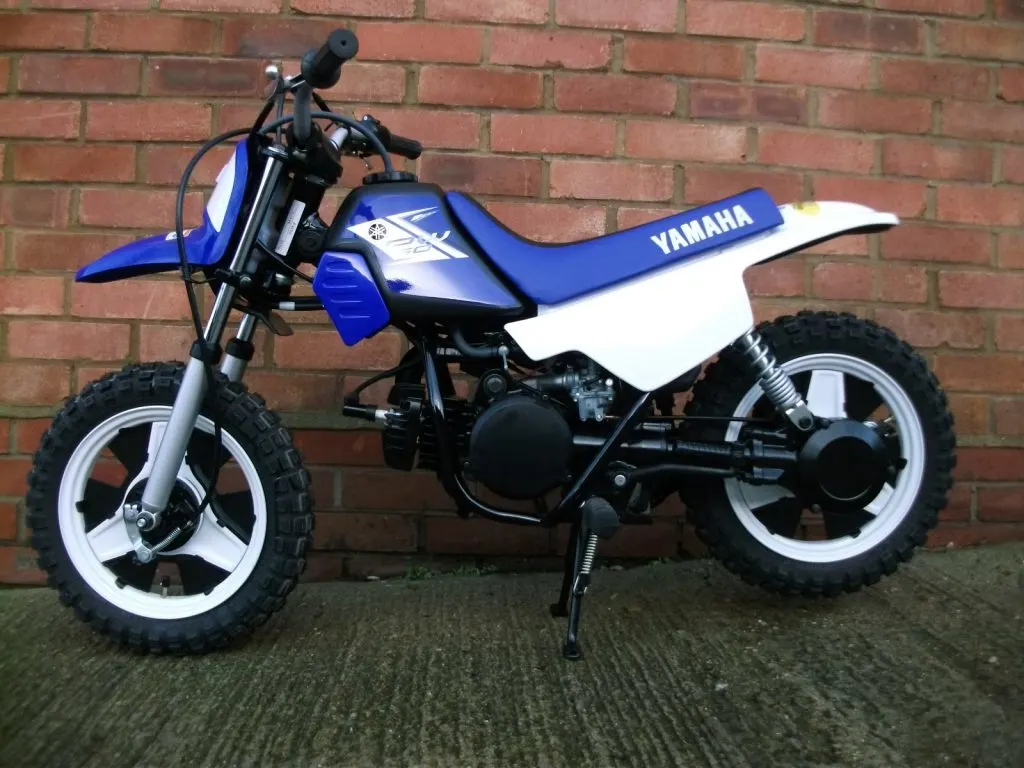 It's an oil-injected 2 stroke dirt bike with a super low seat height (19 inches) and is very simple and easy to ride. The throttle is adjustable, so you as a parent can limit how far the throttle can be turned to limit the acceleration and max speed.
Training wheels can be added, but you might as well buy a quad. The biggest selling points are the low seat height so your son or daughter can touch the ground, its overall weight is well under 100lbs, low maintenance, and the smooth power makes it forgiving for a new rider.
50cc Yamaha 4-stroke dirt bike
If the PW50 is too small, or you simply don't want a 2 stroke dirt bike, Yamaha's TTR 50 is the next size up for their kids dirt bikes. The 'E' stands for electric start, so that takes away a little bit of frustration if you or your kid doesn't like kick-starting it.
That's the biggest advantage the TTR 50 has vs the Honda CRF 50, which only has a kick-start.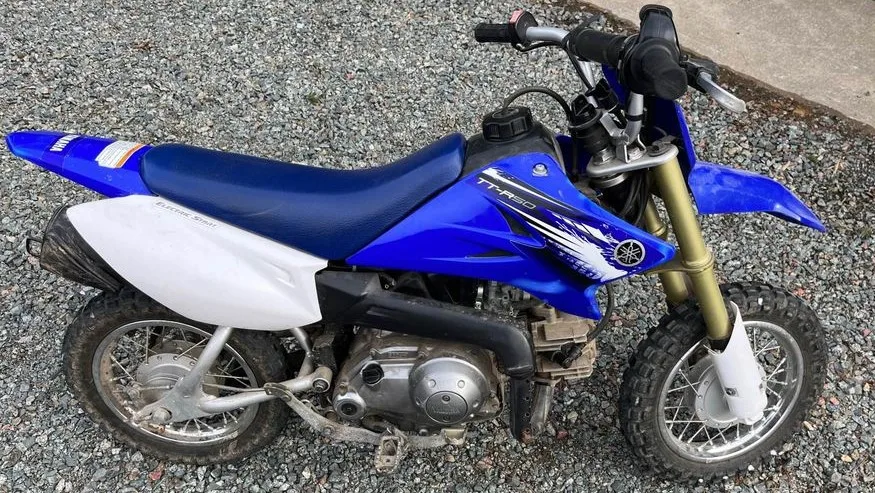 It's noticeably bigger and heavier, with a seat height of almost 22 inches and it weighs 126 lbs. It's a good dirt bike for a 5 or 6 year old, depending on how tall your child is.
The 4 stroke engine is bulletproof if you keep oil in it and clean the air filter when it gets dirty. It has a 3-speed semi-auto transmission, so your son or daughter can get used to shifting gears without worrying about a clutch yet.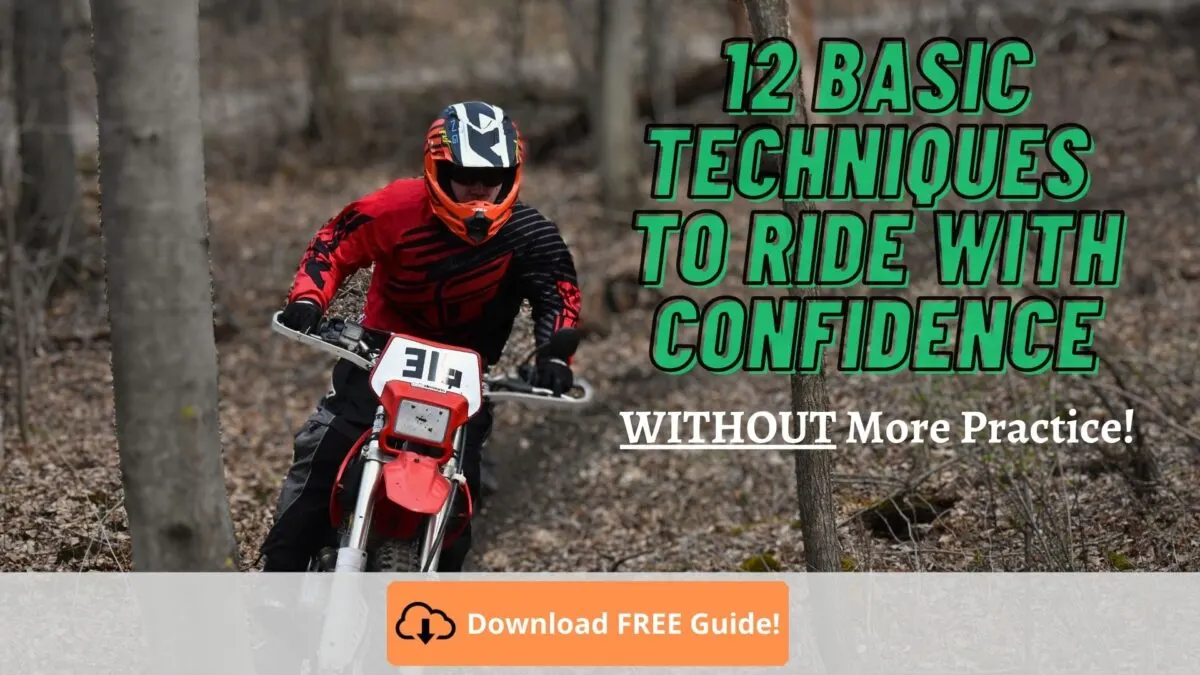 Yamaha dirt bike with training wheels
Yamaha doesn't sell a mini bike or dirt bike with training wheels, but you can buy a training wheel kit from MotoSport for under $200.
It can give toddlers more confidence on a dirt bike if they can't handle the weight and keep falling. But if you want my honest opinion, you shouldn't have to use training wheels – that's what a 4-wheeler is for.
If your kid isn't ready for a Yamaha gas dirt bike, then you should start them on an electric balance bike. They're lightweight and easy to handle, and it teaches you how to have proper throttle control and balance.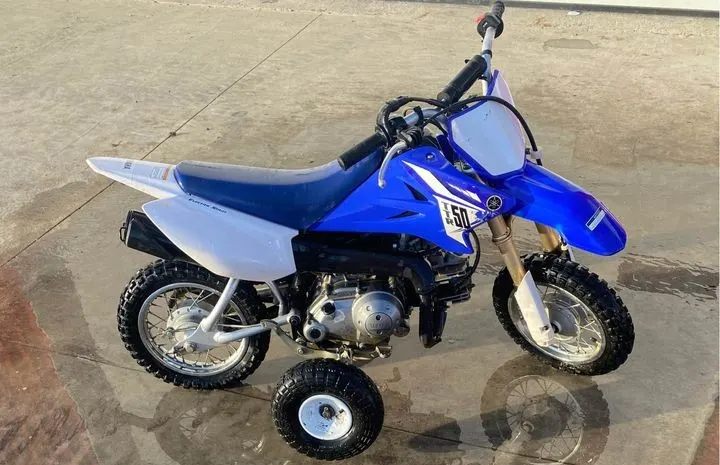 110cc Yamaha kids dirt bike
Upgrading to the TTR110, it's the next logical step up for kids' trail dirt bikes. It has quite a bit more power than the 50cc but is still very mellow and forgiving.
The TTR110E also has an electric start and a 4-speed transmission but no clutch. If you have a 7-9 year old that's ready to upgrade from a smaller bike, or they want a slightly bigger bike without a clutch, the TTR 110 is your best choice from Yamaha.
It's also a great pit bike when your kid isn't riding it, which means there are a few mods available.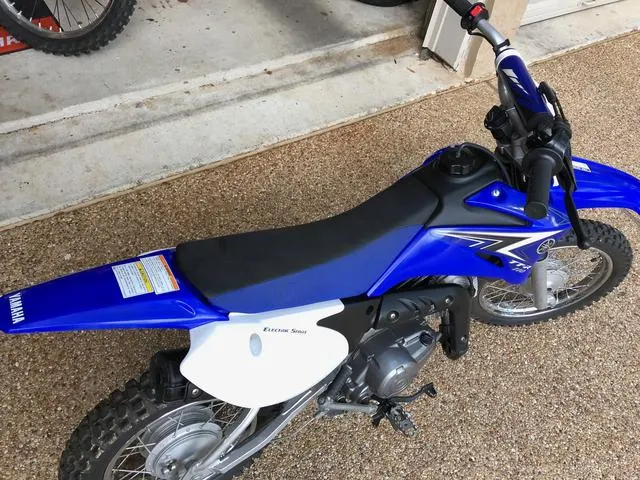 125cc Yamaha
Moving on to the 125cc 4 stroke, the TTR125LE has been around for about 2 decades. There used to be 4 options for the TTR125, but Yamaha reduced it to just one size and option – the large wheel and electric start model.
I have taught many adults and teens how to ride a dirt bike with a clutch on a TTR125, and that's because it's easy to ride with a low seat height. It's a great beginner and trail bike if your kid is 10-13 years old.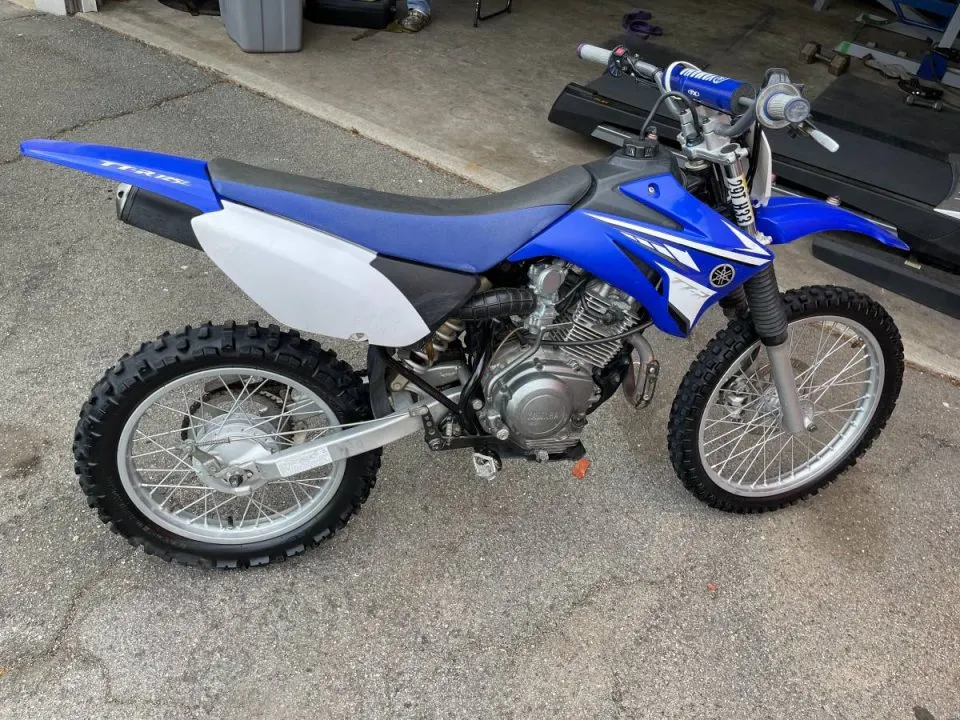 The clutch and 5-speed transmission are beginner-friendly with a very low first gear, but with enough top speed for most kids to get that adrenaline rush.
230cc Yamaha dirt bike for teens & young adults
The last and biggest kids' dirt bike from Yamaha is the 230cc full-size trail bike. It's not as tall as a full-on enduro or MX bike but it still has full-size wheels, making it ideal for trail riding as a teen or young adult.
There's no backup kick-start on the TTR 230, but as long as you don't drain the battery, the electric start is reliable. It has a 6-speed transmission, so it will handle cruising at 45-50mph on fire roads if you need to put on a few miles to connect trailheads.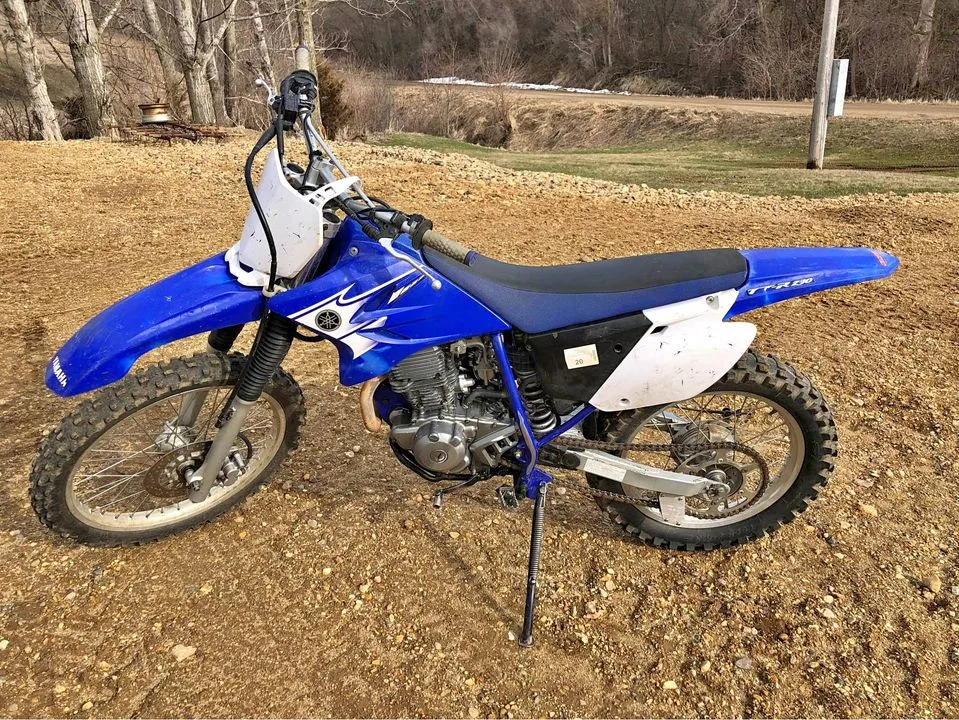 It's definitely bigger and heavier than the TTR125, so don't put your kid on the 230 if they're too short or too weak to lift the bike up. It doesn't feel that heavy when riding, thanks to the low center of gravity, but it's hard to pick up off the ground. To help prevent falling and crashing, it's best to get the proper training to learn basic riding techniques.
Yamaha Motocross bikes for kids
I highly recommend NOT getting a motocross bike for your kid if this will be their first dirt bike. Why? Because
If they're timid and you're not sure if they'll like dirt biking, then they'll be sure to not like it after trying to control a snappy 2 stroke motocross bike around the yard or trails.
Even if they are motivated to ride, your son or daughter will struggle to learn proper riding techniques right away because they're trying to keep the power under control.
With that said, Yamaha has three motocross bikes for kids, and they are: YZ65, YZ85, and YZ85LW
65cc 2-stroke
Built to compete with the KX65, 65SX, and TC 65, Yamaha finally came out with their own 65cc 2-stroke kids MX bike. They had one back in the 1980s, but it's been missing for over 30 years.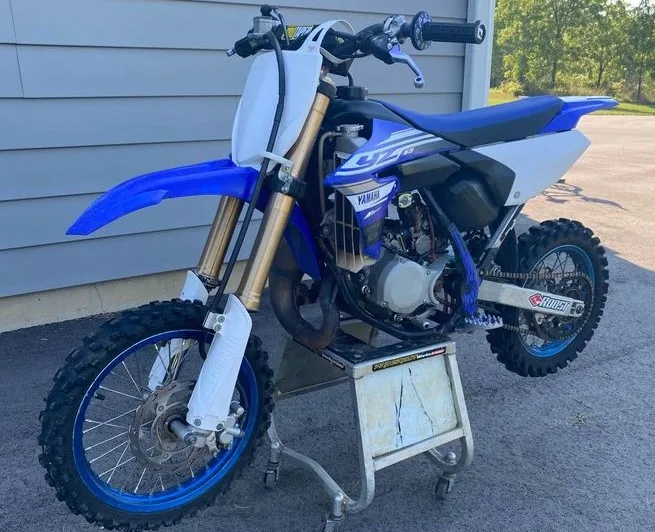 It's completely new and built to be competitive right out of the box. It still doesn't have quite the performance that the KTM 65 has, but it's also several hundred dollars cheaper. The YZ65 is designed to be a compromise of performance, simplicity, and cost, with it leaning more toward performance. It's a race bike for kids aged 9-11
85cc 2-stroke
The YZ85 has been around since 2002. It hasn't changed much as far as performance goes over the years, but why fix what still works great? It's a great race bike if your kid is in the 12-15 year-old age range.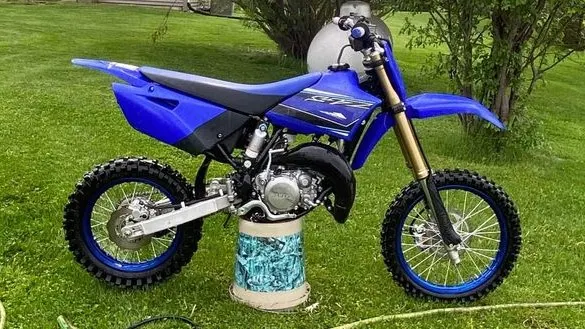 Yamaha 85 Big-wheel
If the small wheel YZ85 is a little too small, the YZ85LW is the next step up with bigger wheels and a longer wheelbase, making it slightly taller and more stable.
It still has the same 85cc 2 stroke engine, but the wheels, swingarm and suspension are different, making it fit a bigger 12-15 year old kid.
Yamaha dirt bike lineup for kids' new
Yamaha has changed their off-road motorcycle lineup quite a few times over the years. The dirt bike models they make are based on the demand – the number and percentage of sales, so they remove a model if it's not profitable for the company.
The new 2023 lineup for kid's dirt bikes available from Yamaha:
PW50
TTR50E
YZ65
YZ85
YZ85LW
TTR110E
TTR125LE
TTR230
Best cheap used Yamaha dirt bikes for kids
Maybe you don't have the money to afford a new dirt bike but really want to get one for your kid. Starting on a used bike is the way to go if you know what to look for.
Why?
They're going to tip over and make that shiny bike dirty and scratched up. He or she may also be ready to upgrade to the next bike sooner than you think.
Yep, that means another dirt bike could be in your near future!
With that said, here's a list of the used Yamaha dirt bikes you can find for your son or daughter:
How to make dirt biking safe if you're riding with your kids
Starting on the right dirt bike is the best way to make dirt biking fun and safe, but that's just the beginning. If you don't learn the basic techniques, then you're going to struggle learning to balance, corner, or control the clutch, throttle, or the whole bike at times.
If you're ready to take dirt biking seriously, then I want to help you get started the right way. Click or tap here to quickly learn the proper riding techniques.