Looking to get a Yamaha TTR 50 and need to know if it's the right dirt bike for you? It's one of the best 50cc dirt bikes you can buy, but maybe you don't even need this kind of bike.
In this review, I'll show you what kind of dirt bike the TTR 50 is, why it may or may not be right for you, and what you should expect when buying one new or used so that you save time and money!
What is the Yamaha TTR 50?
It's a 50cc air-cooled 4 stroke trail dirt bike with a 3-speed semi-automatic transmission, but what does that mean for you? It's the smallest 4-stroke that Yamaha makes – it's made to be simple and reliable.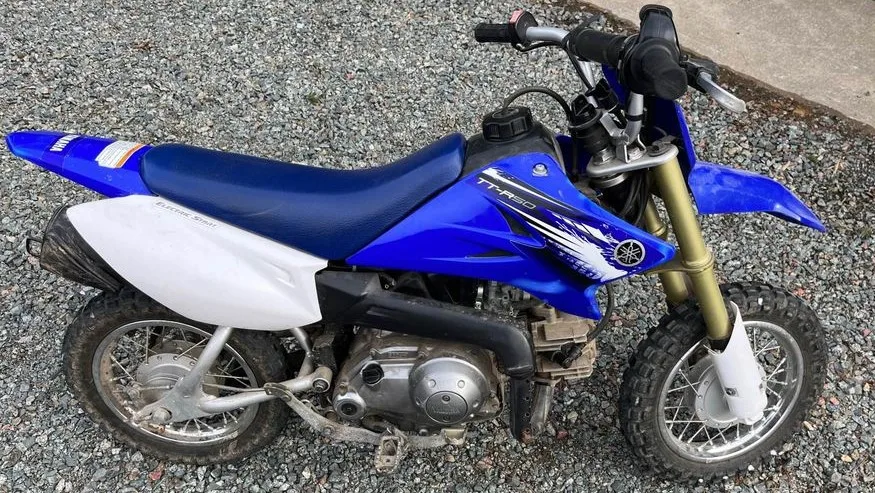 Who's it for?
It's an entry-level off-road motorcycle for kids to get started dirt biking. It's just a step up in size compared to Yamaha's PW50, but there's no 2 stroke oil to deal with.
For training your kid how to safely ride a dirt bike, the TTR 50 is an excellent choice because it's small, reliable, and easy to ride and control.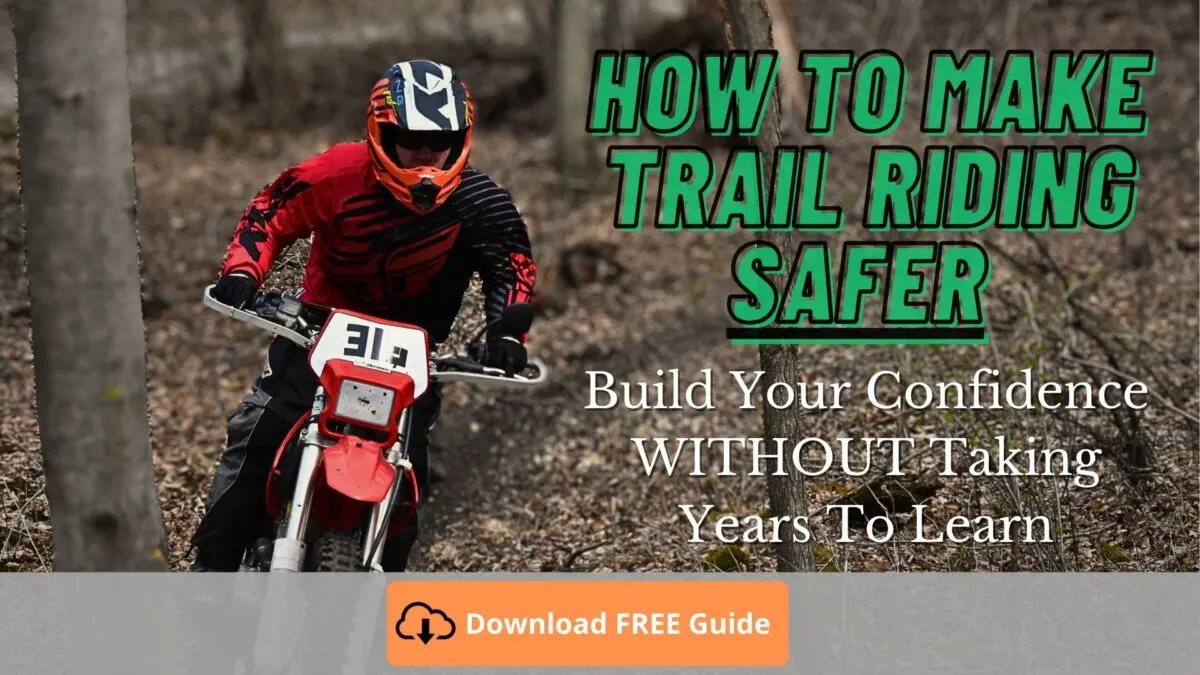 Engine – what to expect
Being an air-cooled 50 cc four-stroke, it's pretty low performance, but that's a good thing. It makes very smooth power from idle on up. This gives you more confidence because it's predictable and won't easily get out of control if you give it too much gas.
With 3 gears, you can learn and practice your shifting up and down, but there's no clutch to worry about. You just have to learn proper throttle control and shift timing – no need to have a clutch at such a young age because you're already dealing with so much as it is!
Horsepower
With a whopping 2.5 horsepower, a stock TTR 50 doesn't seem like it has enough power to do much. However, that's more than enough to have fun as a kid, or even an adult using it as a pit bike.
Top speed
Are you racing against other 50cc dirt bikes? A stock TTR 50 can reach a top speed of about 30 mph if you're on flat, smooth ground.
For trail riding, your top speed doesn't really matter, but the spacing of the gearing does. For example, if you want to cruise at a higher speed, you can install a smaller rear sprocket. Or if you want better acceleration and a slower first gear, go with a bigger rear sprocket.
Electric start
The biggest advantage of choosing the Yamaha TTR50E over the Honda CRF50F is electric start. Instead of having to struggle to kick start the engine every time you want to turn it on and ride, you can just push a button with your thumb!
As long as the battery is in good condition (not weak from sitting or old age), the electric start system on the Yamaha 50 is reliable. If needed, you can try bump-starting the engine if the battery is too weak.
Suspension
To make the TTR50 more affordable, Yamaha used simple and sturdy components for the front and rear suspension. As a beginner dirt bike, this is good because it's not only more durable, but there's less to go wrong and you don't have to do maintenance to it very often.
Front forks
The forks don't have a lot of wheel travel because the TTR 50 is so short, but that's fine because most kids aren't hitting jumps or big bumps on it. It has just enough plushness to give your son or daughter a more comfortable ride.
If you weigh more than 80 lbs, then the stock forks will bottom out pretty easily. Once that happens, you can start breaking parts fairly quickly, so you'll want to stiffen it if you're an adult riding it.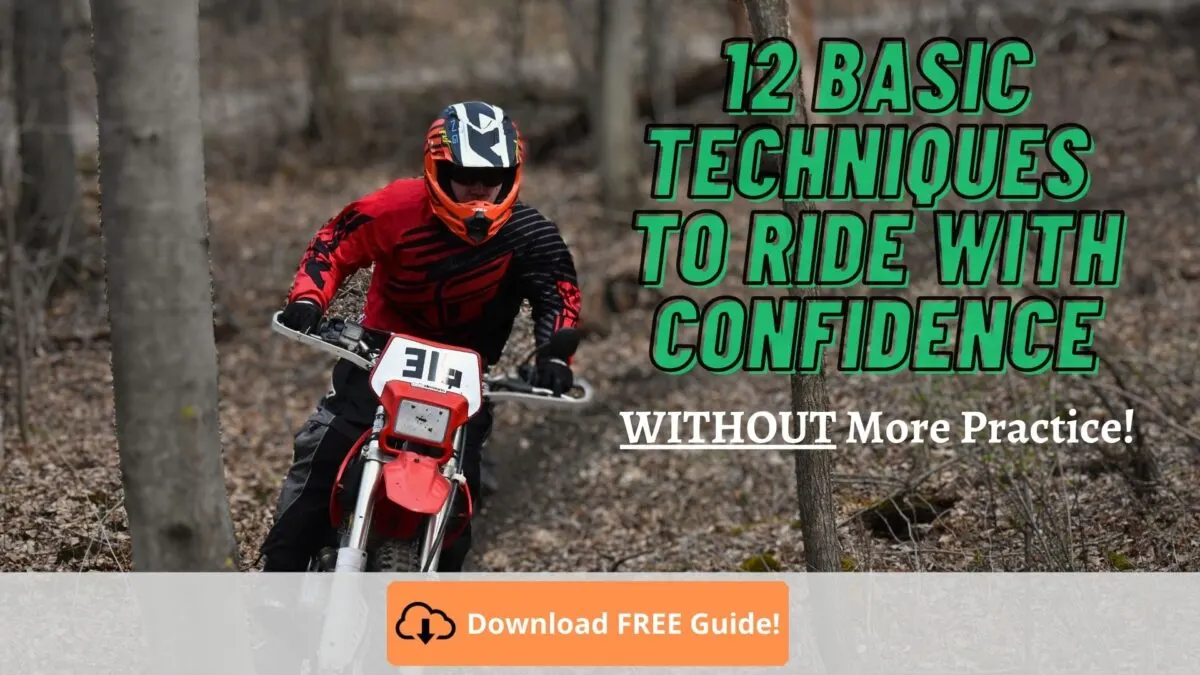 The TTR 50 forks don't have any external adjustability (inexpensive), but you can still make them stiffer with heavy duty fork springs. Changing to heavier weight fork oil (Amazon) can help a little bit too because it slows down how quickly the forks compress and rebound.
Rear shock
The stock rear shock is also very soft and basic, although you can adjust the preload based on your weight. The preload changes the shock sag, which affects the handling and your confidence on the bike – you'll want to learn more about it if you're serious about dirt biking for many years to come!
Handling
As a small and short dirt bike, the TTR 50 is made to handle well at slow speeds. It has a low center of gravity, so it's easy to learn and control for little kids – a taller dirt bike will take more balance because it wants to tip over more easily.
With such a short wheelbase, you can turn quickly in tight areas. This is great for learning how to ride if you have a small backyard
TTR 50 Seat height – is it the right size for you?
A stock Yamaha TTR 50 has a 21.9 inch seat height, which is great if you or your kid is 42-46 inches tall. However, your inseam is also a factor, and honestly, you just need to be able to touch the ground with a single foot to be comfortable.
That's why I always recommend sitting on the dirt bike you want in person if the seat height is a big concern. The size of your dirt bike is more important as a beginner because it's harder to balance at first. Many new riders make the mistake of starting on too big or too fast of a dirt bike, making it harder and more dangerous to be a confident rider.
TTR 50 with training wheels?
Not ready to have your kid ride a dirt bike yet? Whether a TTR50 is too tall or you just don't want to balance, there are training wheels for dirt bikes if you really want one…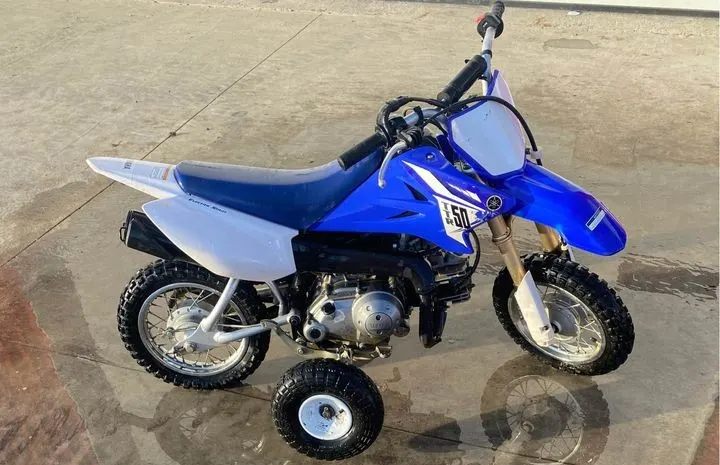 You can buy a cheap training wheel kit (Amazon), but then that defeats the purpose of riding a motorcycle. You might as well get a 4 wheeler – if you're not ready for your little son or daughter to get on a gas dirt bike, get them a balance bike!
Model year changes
There haven't been any major changes to the TTR50 over the years since it was first made in 2006. In 2012, Yamaha changed to a dual-throttle cable for liability/safety reasons.
Otherwise, it's basically just new graphic designs each year. This means that a nice and clean older model year TTR 50 is just as good as a newer year.
Reliability – how long will it last?
Do you want a quality dirt bike that will last for many years so that all your kids can learn to ride on it? The TTR 50 is one of those dirt bikes because it's so reliable and durable – if you properly maintain it.
What's the maintenance like?
Worried about doing more work than riding? This is one of the lowest maintenance dirt bikes, but it still takes a few things to keep it running for a long time.
The most important maintenance items on a TTR50 are:
Change the oil
Clean the air filter
Adjust the chain tension
Add gas and go ride for a long time!
Any common issues?
There aren't any major common problems with the TTR50 outside of the typical dirt bike problems. Whether you're buying a brand new dirt bike or a used TTR trail bike, it could have normal issues, such as these:
TTR 50 Specs & dimensions
These are the essential specifications from Yamaha's website:
| | |
| --- | --- |
| | TT-R50E |
| Manufacturer | Yamaha |
| Engine | 49cc air-cooled 4 stroke |
| Transmission | 3-speed semi-auto (no clutch) |
| Seat Height | 21.9" (55.6cm) |
| Suspension Travel | 3.8"/2.8" |
| Weight | 128 lbs |
| Horsepower | 2.5 HP |
| Top Speed | 26 MPH |
| Price (New MSRP) | $1,749 |
Is the TTR 50 the right dirt bike for you?
Still can't decide if the TTR 50 is a good dirt bike for you? Here are some practical pros and cons:
Pros:
Low seat height
Electric start
Smooth and predictable power
Easy to ride at low speeds
3-speed for shifting
No clutch to worry about learning
Super reliable
No 2 stroke oil to deal with
Fun pit bike for adults with some simple mods
Bigger displacement on stock bottom-end compared to Honda
Cons:
It's a little heavier than the Honda 50cc 4-stroke
The seat height isn't as low as the PW50
Can be hard to find used
Not as much power as the CRF50
Less aftermarket parts available to upgrade as a pit bike
How much does the TTR 50 cost?
A brand new Yamaha TTR50E costs $1,749 MSRP plus destination charge and freight charge, which will add up to over $2000 if you can't haggle on the price with your dealer.
A used one can be found for $800-1600, depending on your location and the condition it's in. If you're new to buying a used dirt bike, you need to know what the most common mistakes buyers make when going to look at a dirt bike so that you don't end up with a bike that needs a lot of work. Click or tap here to download this Free guide.
TTR50 vs PW50
The biggest differences are: the PW50 is a 2 stroke with a lower seat height and less weight, making it a better starter dirt bike for smaller kids/toddlers. The TTR50 is a 4 stroke with multiple gears and is slightly taller, so it's a better choice if you're too tall for the PW50.
TTR 50 vs CRF 50 (Yamaha vs Honda)
The main differences are that the Yamaha TTR50 has electric start and the Honda CRF50 weighs less, has more power, and more aftermarket parts to upgrade as a pit bike.
Best TTR50 mods
If you're an adult, these are the best mods for the TTR50 to make it faster & more comfortable:
Tall bars
Tall seat
Uncork (intake/exhaust)
Jetting
Suspension upgrade
Exhaust
Learn how to safely ride with confidence
Ready to go get your dirt bike but worried about getting hurt? Whether you're an adult riding or you're getting a dirt bike for your kid, wearing proper riding gear is super important, but that's just the first step to preventing injuries.
The next step is learning proper technique so that you stay in control and ride with confidence. I want to show you the basic techniques so that you will become a better and safer rider faster – click or tap here to download my free basic techniques guide.