Yamaha is still making dirt bikes and I want to show you what they have, which dirt bike is best for you, and why it's important to choose the right bike.
I've owned over a dozen Yamaha dirt bikes throughout the years, so I'm not just spewing random information out on you.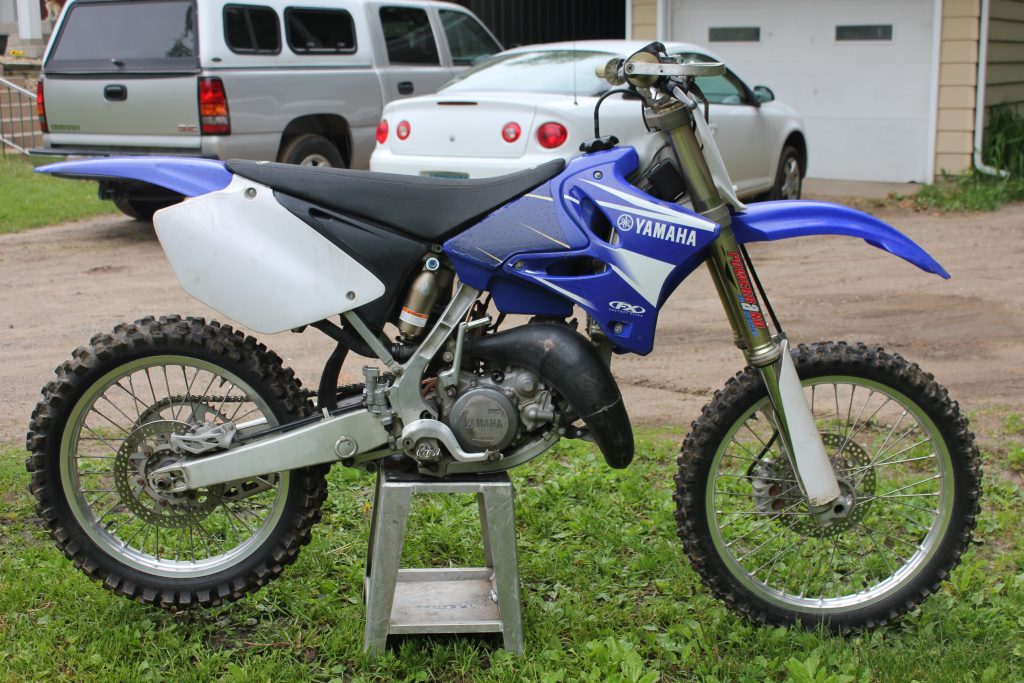 How to pick the right dirt bike for you
Picking a dirt bike to start on can be fun but also intimidating because you might not know enough info on what types of dirt bikes are best for you.
If you're a beginner, then I'm glad you're here, and I want to help you out so that you don't get started dirt biking on the wrong bike.
The biggest mistake new riders make is choosing a dirt bike that's too big and powerful, whether it's because they didn't know any better, or their friend recommended it.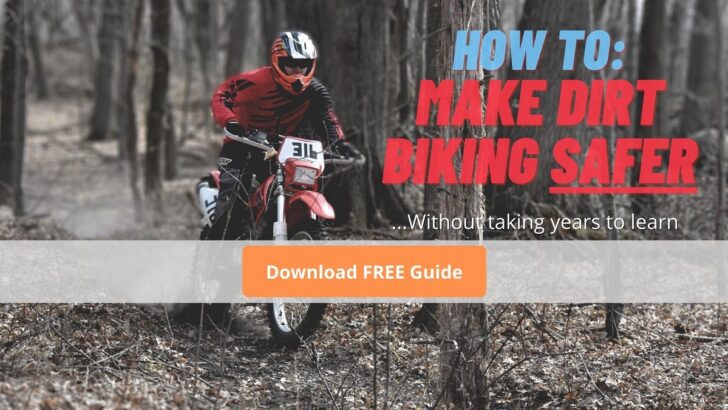 Don't worry about "out growing" a beginner bike too quickly, especially if safety is a big concern. It's much easier to learn proper riding technique and build your skill on a 'slower' and lower dirt bike rather than trying to control the 'manly' horsepower of a 300 or 450 enduro bike.
What's the right size dirt bike for your height?
So, just what is a good size dirt bike for you? The better you get, the less the height of the dirt bike matters because you'll have more balance skill.
As a beginner, it's best to start on a dirt bike that has a lower seat height, especially if you are a short rider like me. Being able to touch the ground will greatly boost your confidence as you're learning to ride off-road.
Here's a size chart that you can use as a guideline, but your inseam will make a difference as well.
Yamaha trail bikes for beginners
Trail motorcycles are not only for beginners, but they're great for casual trail riding or just putting around the farm. They're super reliable, durable, easy to maintain, and just plain practical for teaching friends and family how to ride.
These are the current Yamaha trail bikes for kids and adults:
PW50
TTR50E
TTR110E
TTR125LE
TTR230
PW50
The PW50 is the ultimate "first dirt bike" for little kids. It's where so many riders caught the riding bug that started their passion for off-road.
Why is this peewee 50 dirt bike so popular? Because it's the smallest, lightest and easiest dirt bike to ride from one of the best quality motorcycle companies out there. It's a good size bike for most 3-6 year olds.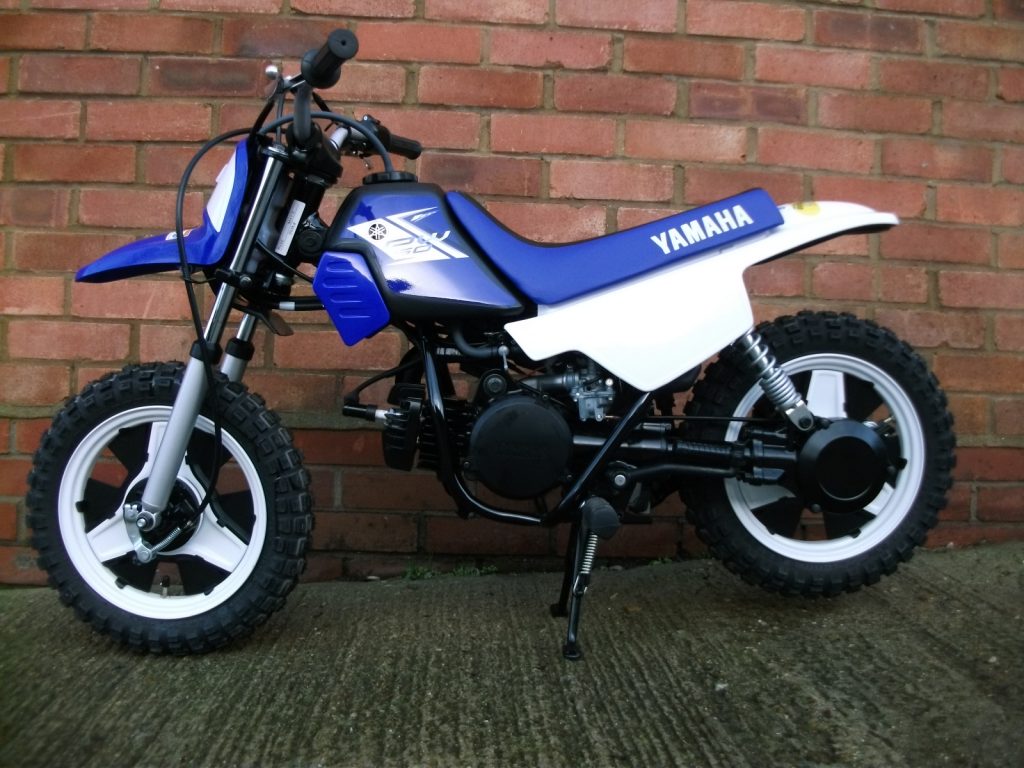 TTR50E
Need something a little taller for your son or daughter, or just want a 4 stroke with a semi-automatic transmission? The TTR 50 is the next best choice because it's easy to ride, and the electric start gets rid of possible kickstart frustrations. It's a great dirt bike for 5-7 year olds depending on how tall they are.
TTR110E
The 'pit bike' model from Yamaha is their biggest dirt bike without a clutch, so that's the biggest selling point. If your kid outgrew the 50, but isn't ready for a dirt bike with a clutch, then the TTR110 is your best choice.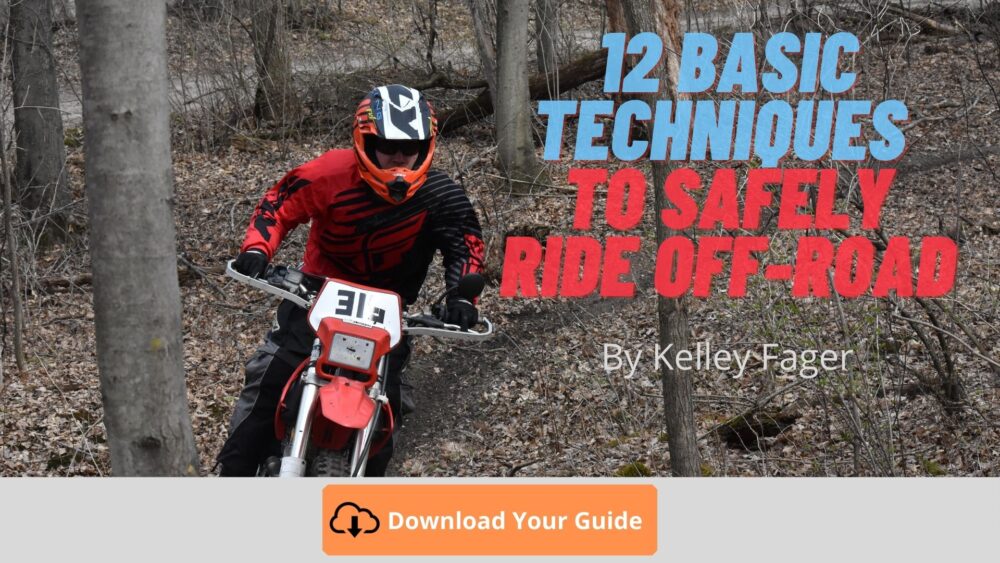 It has electric start, a 4 speed transmission, and it's very easy to ride. The engine is smooth, quiet, and reliable, just like all of the Yamaha TTR models.
TTR125LE
I have always liked the TTR125 (which is why I own a couple of them) because they are a good size dirt bike for teaching teens and young adults how to ride a dirt bike with a clutch.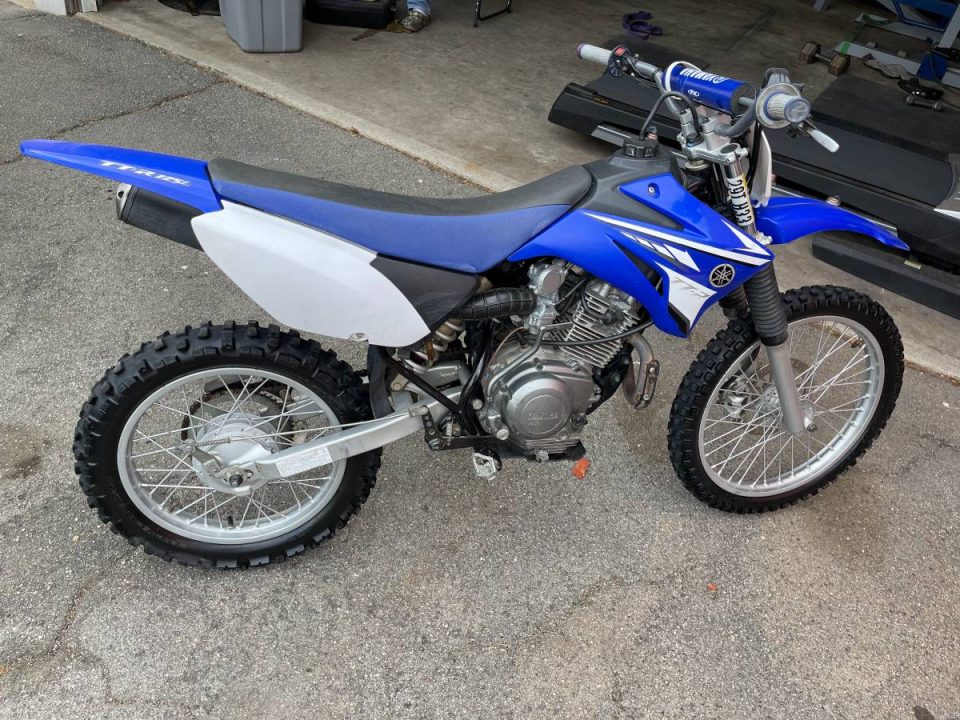 The only current model is the large wheel with electric start. There's plenty of mods available as well if you plan to ride it for many years to come.
TTR230
The top full size dirt bike for beginners from Yamaha is the TTR230. It has a low seat height compared to a typical full size enduro bike, which is one of the reasons why it's much easier to start riding off-road with.
With electric start and a smooth power curve, making it predictable and very forgiving.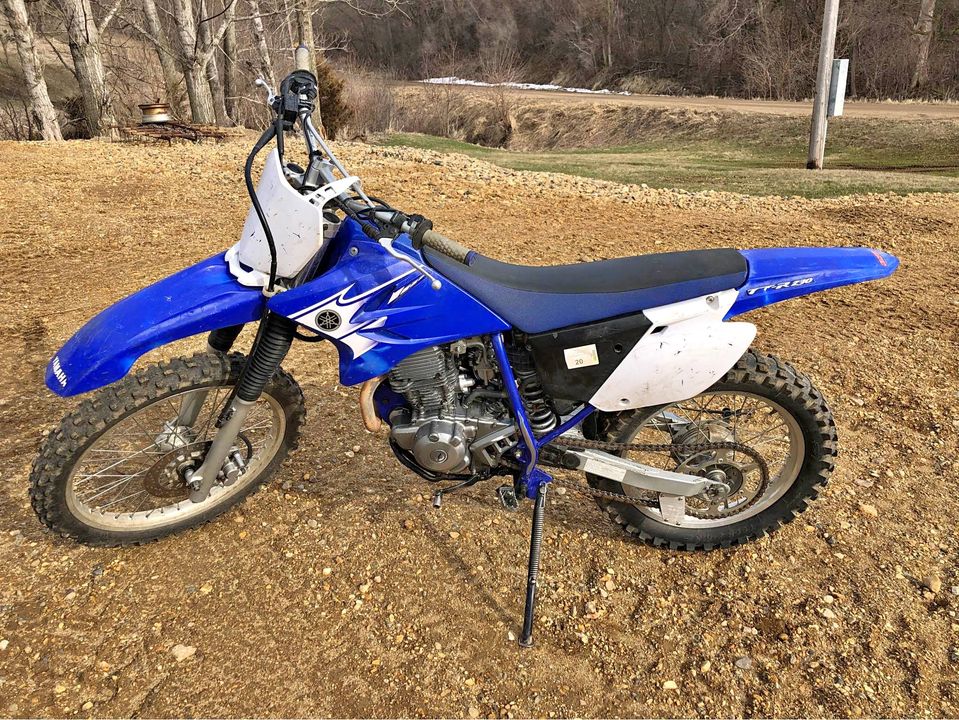 Yamaha enduro bikes for trail riding
Once you have enough skill and confidence, you'll probably want to upgrade to a dirt bike with more power and better suspension to start with. With more power you not only have more potential to ride faster, but you can ride more challenging trails more easily.
But, with more speed and power, you also have a greater risk of getting hurt because it's easier to get out of control. That's why it's even more important to learn and master all the basic techniques.
Here are the Yamaha's enduro dirt bikes:
WR250F
YZ250FX
WR450F
YZ450FX
WR250F
It's been around since 2001, but the WR250F has been updated several times for higher performance. It takes after the YZ250F motocross bike, but the updates come later, and it's detuned to be more comfortable for trail riding.
It has smoother power, a wide ratio transmission, lights, a kickstand, and softer suspension for a fun and fast trail bike.
YZ250FX
Planning on racing or just want a really fun 250 4 stroke enduro bike for aggressive riding? The YZ250FX is even closer to the 250F MX bike than the WR with snappy power, slightly stiffer suspension, less weight, and a close ratio transmission.
WR450F
It's one of the best dirt bikes of all time. Yamaha's WR450F has set the standard for performance combined with reliability. The whole bike has changed several times since 1999 as the WR400, but it's always been versatile and practical.
I have trail ridden a WR450F as well as ridden one for years on the street with a supermoto kit. It makes good, usable power.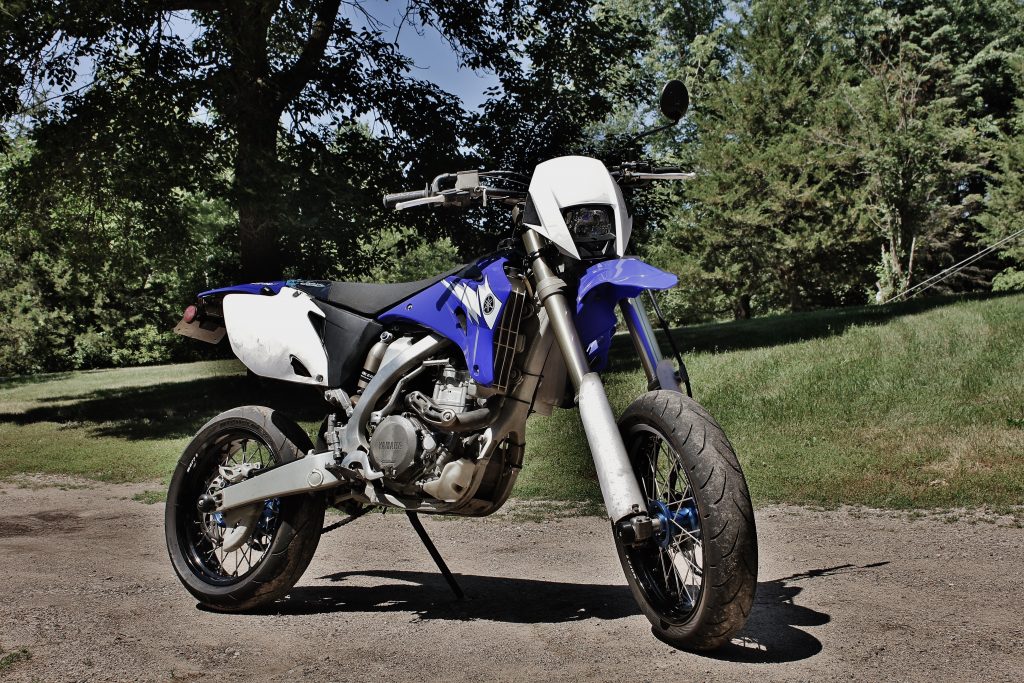 YZ450FX
The ultimate 450 enduro bike is the YZ450FX. If you want a dirt bike for track and trail riding, this is it. The power is very similar to the YZ450F MX bike, but the suspension is just soft enough for some fun trail riding.
Yamaha motocross bikes for racing
Yamaha has been making great motocross bikes since the 1990s (prior to that they were good, but not considered great). They're the only Japanese dirt bike brand that still makes a 2 stroke dirt bike, and they've actually made some updates to them recently!
These are the 2 stroke Yamaha motocross bikes:
YZ65 – great for kids ages 7-11 that are ready to start racing motocross
YZ85 – the next step up for MX racing for 12-15 year olds.
YZ85LW – built for taller teens for the supermini class in MX racing. Th large wheel model has bigger wheels and a taller seat height
YZ125 – a perfect transitional bike jumping up from an 85cc before your kid jumps onto a 250F.
YZ250 – beat up on the 250F with a 2 stroke 250. It has good power and great suspension, plus it's very reliable
Here's the 4 stroke Yamaha motocross bikes:
YZ250F – One of the best 250F MX bikes you can buy. It has great torque and horsepower with good suspension, handling, and is reliable.
YZ450F – Another top motocross bike that's gotten really good in the last 5 years. Yamaha has updated the YZ450F every few years, and with the power tuner app you can adjust the power from your phone (works for the 250F as well)
Yamaha dual sport bikes
Looking for a street-legal dirt bike to ride on the road and on the trails? A dual-sport bike is the right bike for you, and Yamaha has these two options for lightweight dual sport bikes:
TW200
For the best beginner street legal dirt bike, look no further than the Yamaha TW200. With an ultra-low seat height and a very forgiving power curve, it's the perfect first dual sport bike for adults.
With the wider tires, it's well suited for off-road riding. I wouldn't recommend it for adventure riding or putting a lot of highway miles on.
XT250
It's not a huge upgrade in performance, but the XT250 is a little bit bigger and better handling with the narrower wheels. With electric start, this is a great dual sport bike for town and light adventure riding from Yamaha.
Best cheap used Yamaha dirt bikes
Looking for your first dirt bike but don't have the budget for a new model. These are your best options for a cheap used Yamaha dirt bike:
TTR125 – there's 4 model options and they can be found relatively cheap since they've been around since 2000.
TTR225 – this was the previous model to the TTR230. It looks a little older and the ergonomics are different, but it's the same engine and platform.
TTR250 – bigger and more powerful than the 225, it's a great beginner bike if you're a taller rider.
Learn to become a better & safer rider
Starting on the right dirt bike is important if you want to quickly increase your skill because a bike that's too powerful will be hard to control and learn on as a beginner.
If you want to stay safe on a dirt bike, then you need to learn proper off-road riding techniques. I want to show you how with my free training, so tap here to get started.