Looking to get a Yamaha WR250R but not sure if it's the right bike for you? It's good at a lot of things, but it certainly isn't the "perfect dirt bike" for everyone.
I'll cover the practical info as well as why you should or shouldn't get one, whether you're a beginner or an experienced rider.
What is the Yamaha WR250R?
It's a lightweight dual sport motorcycle with a 250cc 4-stroke engine and a 6-speed manual clutch transmission – but what does that mean for you?
It can handle riding off-road, but it's also legal to ride on the street, so it's a versatile motorcycle. However, it's not exactly comparable to a trail bike or street bike – it's more of a compromise.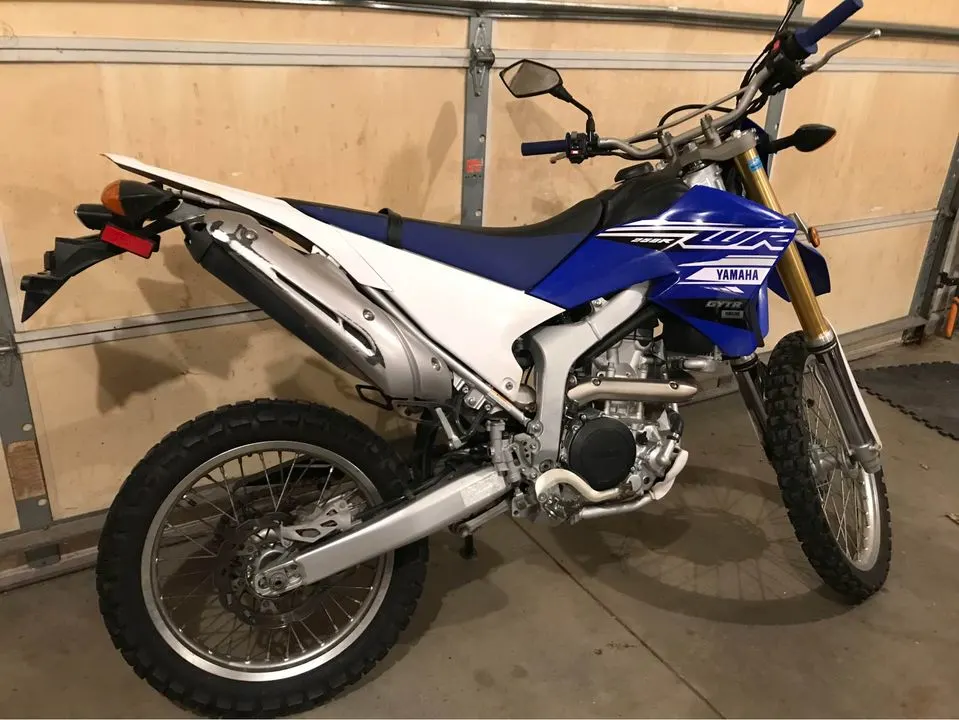 Who is the WR250R for?
It's a street legal dirt bike for dual sport riding. If you're a beginner that wants to ride on the road and on some easy trails, this is a good bike to start on. It's not particularly great at anything, but it's good and versatile at a lot of things.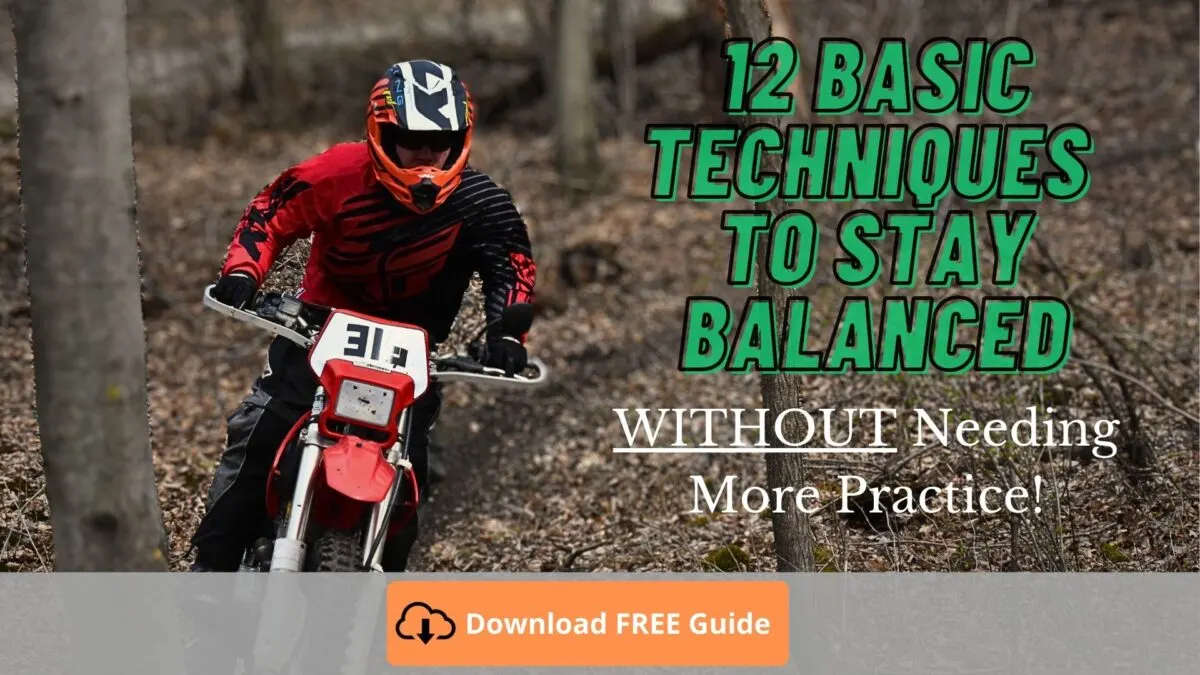 WR250R vs WR250F – what's the difference?
The main difference is that the WR250R is a dual-sport motorcycle that can be legally ridden on the road, while the WR250F is a higher-performance trail bike for off-road riding only.
They don't share much in common other than the fact that they're 250cc liquid-cooled 4 stroke dirt bikes from Yamaha.
Engine characteristics
The WR250R has a street-bike-based engine, so it doesn't share any common parts with the WR250F or YZ250F dirt bikes. It's tuned for smooth and predictable power and it's geared to be able to cruise on the highway without wringing it out.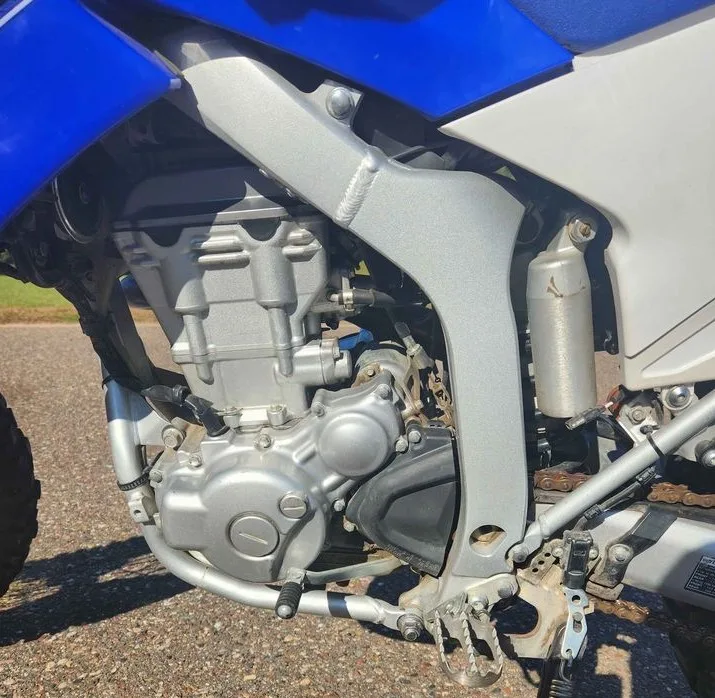 Horsepower – does it have enough?
It really depends on what your goals are – are you riding long-distance with a lot of freeway miles, or will you be dual sport riding with a lot of off-road or gravel road
It's not lacking power, but it definitely doesn't have much 'snap' or 'giddy-up', which makes it beginner-friendly for learning to ride. It has enough power for any adult to have fun, but the weight and suspension are the biggest factors to how well it rides off-road.
Top speed
The max speed of a stock WR250R is nearly 90 mph, but how often are you going to need to go that fast? Since it has a wide ratio transmission, you can still ride fairly slow in first gear while still having a comfortable cruising speed in 6th gear without wringing the engine out at an extremely high RPM.
WR250R Suspension – what to expect
If you're new to riding off-road, the stock suspension is plenty good to start on. The WR250R is a middle-of-the-road dual sport bike, so it's not meant to be raced, but it can still handle all sorts of riding from different types of riders.
If you plan on keeping this bike long-term and/or adventure riding, then it might be worth investing in some practical suspension upgrades to make it more comfortable for you. Even then, you need to know what you want the bike to do differently, or else the "upgrade" might actually turn into a "downgrade".
The moral of the story is – Ride it and learn how to feel what the bike is doing so that you can work on tuning specific areas to make it work better.
Front forks
The stock forks are fully adjustable and can handle street and off-road riding fairly well for an inexpensive dual-sport motorcycle. You can adjust the compression and rebound clickers to change the damping for better comfort.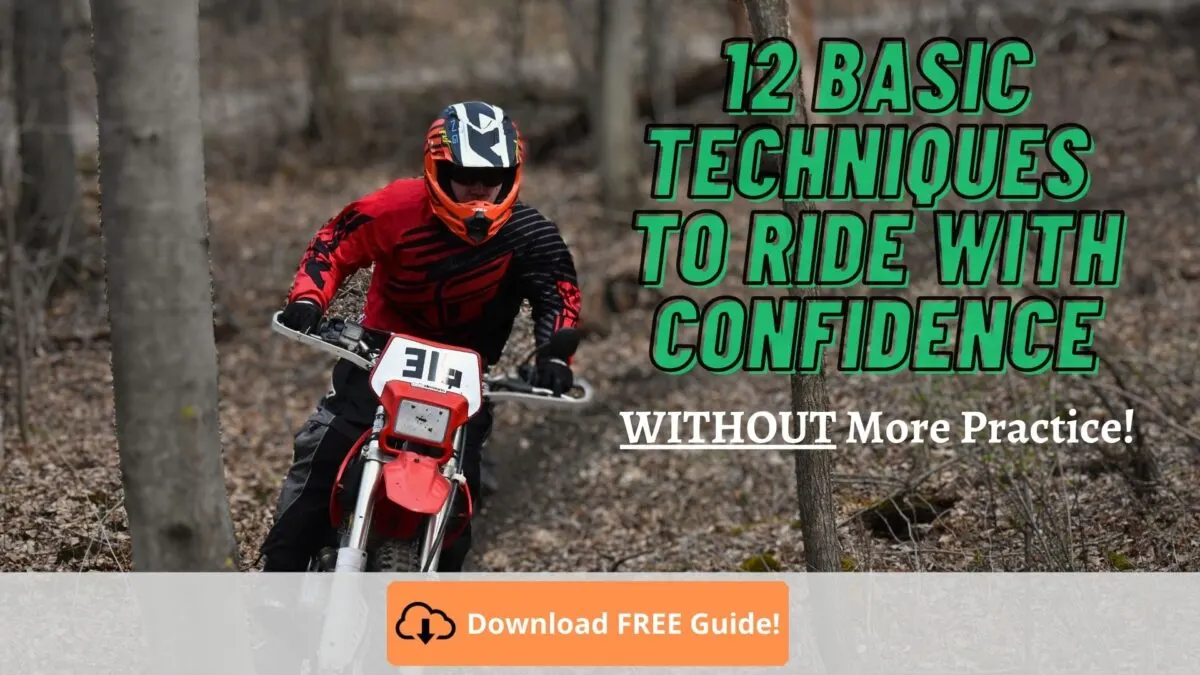 For example, if you're a lighter rider or want more comfort at low speeds, you can speed up the damping so that the forks soak up more of the bumps. The stock forks are good if you're a beginner or casual rider under 200 lbs.
Once you start riding aggressively or if you weigh over 200 lbs, you might want to consider installing some stiffer fork springs so you don't bottom out easily.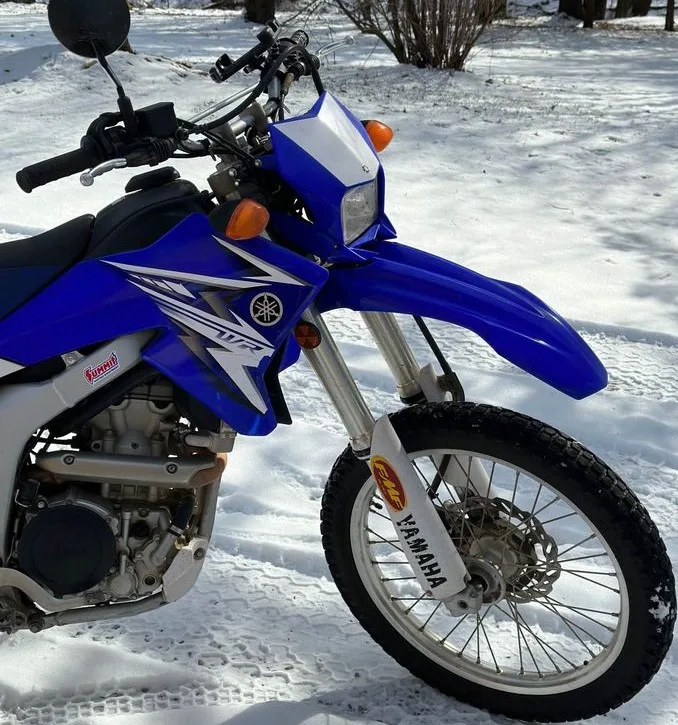 Rear shock
You also get a fully adjustable rear shock, which can handle both on and off-road riding. It has adjustable preload, which is super important if you want better handling and traction – if the rear is too low or too high then you'll lose stability or front-end traction.
The stock rear shock is known to have poor rebound damping, which makes it more uncontrollable the harder you ride it on rougher terrain. If it's still not good enough with the proper spring rate for your weight and you've already tried adjusting the preload and clickers, then it's either time to get it professionally re-valved or upgrade to a different dirt bike that best suits your needs.
Handling
Like any dual sport, it's not going to handle great on any certain type of terrain, but it's pretty good at doing everything.
The Yamaha WR250R is not going to handle tight singletrack trails as well as a trail bike because of its weight, but it's also not going to be quite as stable as a heavier dual sport bike.
Stock WR250R Tires
The tires are DOT street legal, so they don't have as good of knobbies on them for riding off-road. This means you won't have as good of traction in the dirt, making it easier to slide out the more aggressive you are on the brakes and throttle.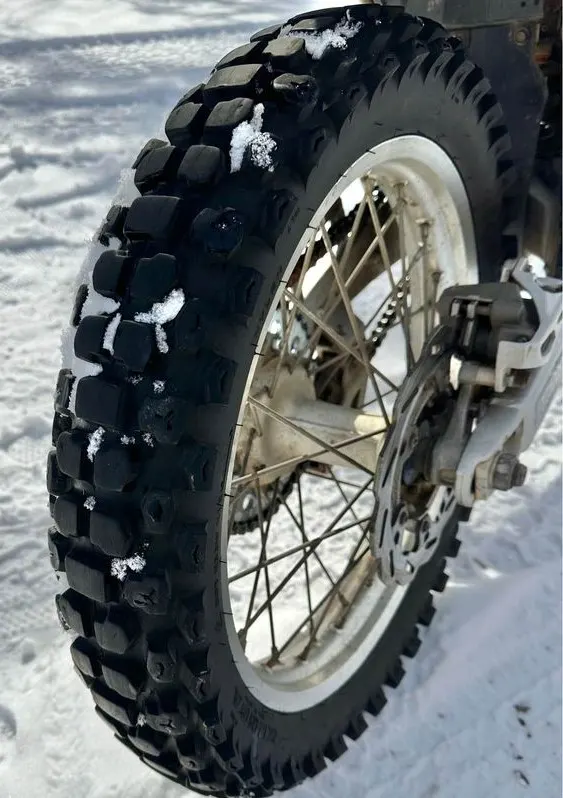 Stock tire sizes are:
Front: 90/90-21
Rear: 120/90-18″
A good upgrade would be the Kenda Big Block front and rear tires (Amazon) if you want to do more off-road riding. They aren't as good for riding on pavement, causing more vibration, but they're much better for riding in the dirt, sand, gravel, and mud.
Seat height – What size rider is it good for?
At 36.6″, it's not the tallest dirt bike, but it's taller than most street bikes. This makes it hard to touch the ground if you're a short adult or have short legs like me.
If you have good balance skills then it's not an issue, but as a beginner, riding a bike that's too tall won't give you as much confidence because it's easier to tip over.
The WR250R is a good size dirt bike if you're between 5'6″ to 6'2″ in height.
WR250R Weight – how does it compare?
For trail riding, it's heavy, but for riding on the road it's pretty light. That's pretty typical for dual sport bikes because they have to be good for riding on and off road.
An average weight of a trail bike is 250 pounds, so the WR250R with a weight of 295 pounds is a huge difference. The slower and tighter the trail you ride with it, the more you'll notice the weight. It will be harder to lean and turn quickly unless you're physically strong and can "manhandle" the bike.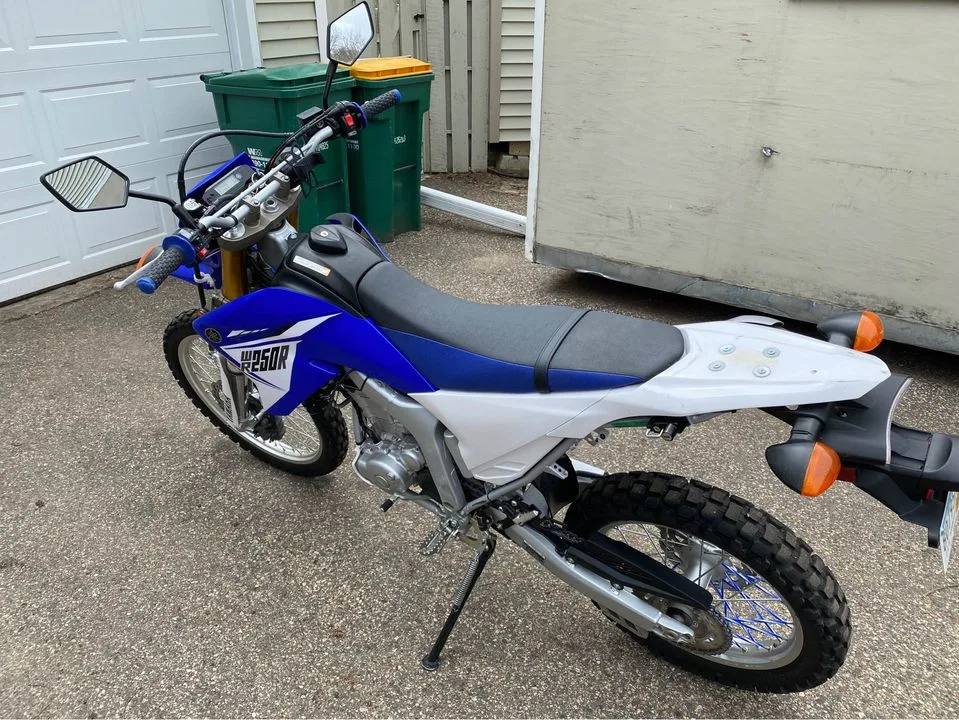 Model year history
Yamaha first came out with the WR250R in 2008 but discontinued it in 2020, most likely due to lack of popularity.
No major changes were made in all those years, so there isn't really a "best model year".
Is the WR250R reliable?
There weren't any common major issues with the WR250R. It's a very reliable dirt bike and will last thousands of miles if you do simple maintenance, such as oil and air filter changes.
Is it good for trail riding?
In stock form, the WR250R is definitely not the greatest trail motorcycle, especially if you're riding technical single-track trails or in deep sand due to its weight and tires that are made for road riding.
With that said, if you put some 80/20 DOT knobby tires (Amazon) on then you'll have much better traction and control.
Specs & Dimensions
These specs are from Yamaha's website:
| | |
| --- | --- |
| Engine | 250cc liquid-cooled 4 stroke |
| Transmission | 6-speed manual clutch |
| Seat Height | 36.6″ |
| Weight | 295 lbs (wet weight) |
| Horsepower | 30 HP |
| Top Speed | 90 MPH |
Bottom Line: Is the WR250R a good dirt bike?
Yes, it's good if you want a beginner-friendly street legal dirt bike. It's reliable, easy to ride, gets great gas mileage, and has enough power to have fun.
It's not great for hardcore trail riders or riding a lot of miles on the road – at least in stock form. But it can be turned into a pretty good lightweight adventure bike for riding the back roads around the country.
If you still can't decide, here are some quick pros and cons of buying a Yamaha WR250R:
Pros:
Smooth and predictable power
Reliable
Fuel injection
Has enough power for most types of riding
Great lightweight adventure bike to start on
Better for off-road compared to most dual sport bikes
Cons:
It's heavy for a trail bike
It doesn't do anything great (typical for a dual-sport bike)
Tires are limiting because they're 50/50 (street/dirt)
WR250R vs WR250X
While these two 250 four-strokes from Yamaha are very similar, the main difference is that the WR250X has full street wheels and tires, and the WR250R has dual sport tires for on and off-road riding.
You can ride on the dirt with a WR250X, but it's not going to handle very well because it doesn't have any "real knobbies" to get good traction.
Learn how to ride with confidence off-road
Riding a dirt bike is relatively easy, but riding it with control is difficult off-road, especially on trails if you're new to riding. It takes proper balance and learning how to properly use the bike, but so many beginners don't learn the basic techniques, and this often results in them crashing more often.
That's why I created a simple guide that teaches you the basics, step by step, and I want to give it to you for free as a gift. Click here to learn more.