Are you considering getting a Yamaha WR250X but not sure if it's the right dirt bike for you?
In this review, I'm going to show you what kind of motorcycle it is, who it's for, and why you should or shouldn't get one.
Who is the Yamaha WR250X for?
It's a street-legal supermoto dirt bike that is good for riding on the road and around town because it has street wheels and tires. A normal dirt bike has knobby tires for riding in the dirt, but the WR250X tires are basically the same as a street bike/motorcycle.
Can you ride off-road with it? Yes, but you won't have nearly as much traction, making it hard to control and enjoy as much. It has the capability with the suspension if you want to hit a dirt road, but I don't recommend using the WR250X as a "trail bike".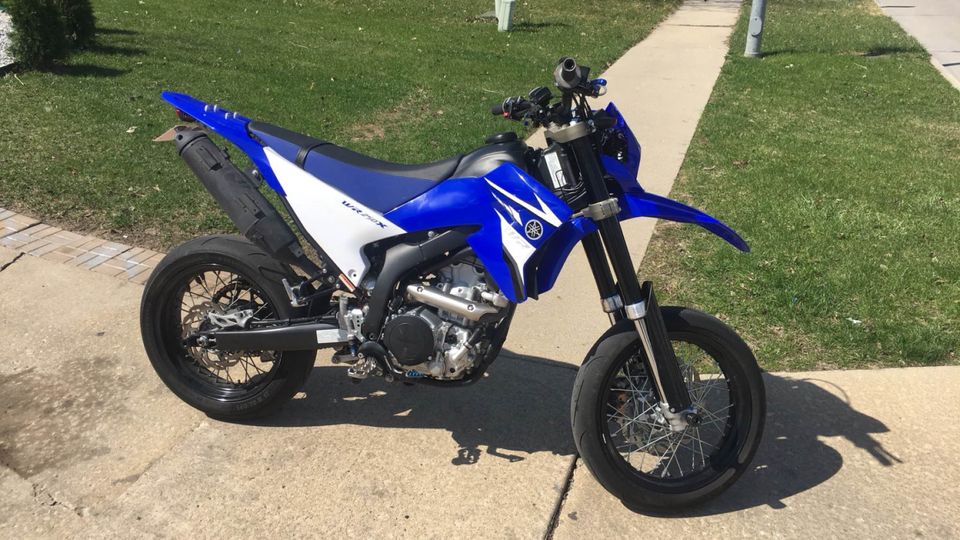 Engine
Using the same engine as the WR250R, the WR 250X is a 250cc street bike style engine. It's a liquid-cooled 4 stroke that makes decent power, but it's tame enough if you're a beginner that wants to learn how to ride on the street.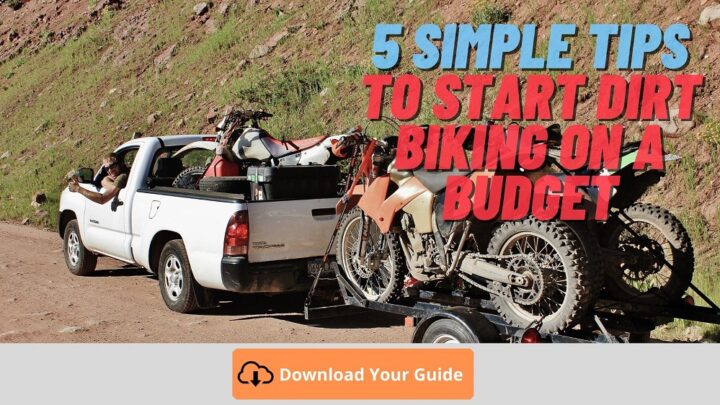 Since it's not a high-strung, high-revving engine like the WR250F, the 250X is easy to ride and is very reliable. With regular oil and filter changes, you should be able to easily get 10k miles before needing to touch the engine internals.
It's basically a smaller version of the DRZ400 SM, or comparable to Kawasaki's KLX250SF. A good town bike for hooligan-type riding and having fun on a small street bike.
The Yamaha WR250X has electronic fuel injection, so no worrying about carb jetting or getting dirty. Fuel-injected dirt bikes can still have problems, but this engine is proven to be reliable.
Suspension
The stock forks and shock are nice and plush, which is good for casual street riding. If you're an aggressive rider or weigh over 200 lbs, it's going to start limiting you.
With that said, there's some adjustability that can make a noticeable difference. These changes are free and easy to make if you just take a few minutes to learn how to do them.
It starts with setting the sag, which will balance your suspension for proper handling. Then it's onto adjusting the compression and rebound clickers.
If it's still too soft, you can change out the shock and fork springs for stiffer springs. Adding or increasing the fork oil weight slows down the initial compression, making it feel stiffer.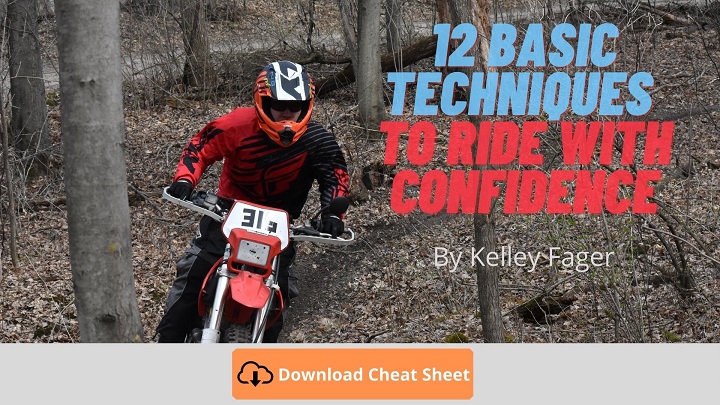 Handling
The WR250X is a supermoto dirt bike, so it's not going to handle like a lightweight trail bike. It's built for riding on the road, so the handling will be slower but stable.
This simply means that it's harder and slower to turn at low speeds or and tight areas compared to a normal dirt bike.
On the flip side, the WR 250X is super lightweight and quick handling compared to a full street bike or larger adventure bike. Everything is relative, so you have to go in with the right expectations, and that's why I'm helping you figure out if this is the right dirt bike for you.
Size
With a 35.2" seat height, it's a couple of inches shorter than most adult size dirt bikes. However, it's still taller than most street bikes, making it harder to touch the ground if you have short legs like me.
So, it's a good size dirt bike if you're at least 5'6" tall and up to about 6'2" in height. It also depends on how long your arms and legs are, but you can tune the 'cockpit' size to fit your needs.
Small handlebar adjustments can make a big difference in how your dirt feels as well as how it handles.
Weight
At about 300 pounds, the Yamaha WR250X is heavy for a dirt bike. But that's because it's not meant for off-road riding.
For a street bike, it's actually very light, and you'll notice that when riding around town if you're used to a cruiser motorcycle like the Yamaha VStar.
Specs
| | |
| --- | --- |
| Engine | 249cc liquid-cooled 4 stroke |
| Transmission | 6-speed |
| Seat Height | 35.2" |
| Weight | 300 lbs. (wet weight) |
| Horsepower | 30 HP |
| Top Speed | 85 MPH |
Model Years
The Yamaha WR250X was first made in 2008 and was discontinued in 2018. Yamaha stopped making it because it was not popular enough.
Common WR250X Issues?
This bike did not have any common serious issues – that's how reliable Yamaha made it from the beginning. Treat it right from the beginning and it will last you thousands of miles.
Doing simple maintenance like oil and the air filter as well as using good pump gas will help make your dirt bike last longer. Not paying attention to what your bike is telling you is the most common reason for dirt bike problems.
Bottom Line: Is the WR250X a good dirt bike?
It's a great lightweight supermoto dirt bike, but it's a little underwhelming in power if you're an experienced rider. It's also a poor off-road bike because of the DOT street wheels and tires.
Pros:
Reliable
Great street bike for new riders
Perfect town bike
Handles the twisties (corners) well
Fuel injection
Power is smooth and predictable
Good high speed stability for a dirt bike to cruise on
Cons:
Not good at off-road riding
Heavy for a "dirt bike"
A little bit tall if you're under 5'6" in height
Not a ton of peak horsepower for riding on the street
The WR250X is for you if you:
Want a lightweight street bike
Ride a lot of tight, twisty roads
Don't mind only 250cc
Want a reliable street legal dirt bike
Only plan to ride the occasional off-road
Prefer fuel injection
Want a supermoto that's easy to ride
WR250X vs WR250R
The biggest differences is that the wheels and tires on the WR250X are for riding on the street, while the WR250R has dual-sport wheels and tires to do some off-road riding.
If you're riding on the street 99% of the time, get the Yamaha 250X. For close to 50/50% riding, get the 250R.
WR250X vs WR250F
The biggest difference is that the WR250X is a street-legal dirt bike for riding on the road, while the WR250F is strictly an off-road dirt bike for trail riding.
Don't get the 250X if you want to do a lot of trail riding in the dirt.
Learn to ride with confidence
Are you new to dirt biking and want to become a better rider without getting hurt? I see so many riders spend so much on the latest bike and gear, but they don't invest in the most important part.
Learning the basic techniques is the quickest and easiest way to become a better rider, and I want to show you how to do that with my free training guide. Tap here to download it and get started.