How To Make A Dirt Bike Street Legal Supermoto Conversion
Want to convert your dirt bike to the ultimate street legal hooligan supermoto bike? Well, that's possible to do with virtually any dirt bike, but there's a number of required parts needed to make it legal for riding on the street. In this guide we'll take a look at each set of parts you need, whether it be street legal tires, or a headlight and brake light.
If you've ever ridden a dirt bike on the street, you'll know how exhilarating it can be when you whack the throttle and the front wheel comes off the ground. Motards/supermotos are the ultimate hooligan bike, and can get you into a lot of trouble if you don't follow the rules. However, if you want to legally ride on the street or go to track-days on a road course with your dirt bike, here's some things you will need to replace or install.
Supermoto Wheels and Tires
If you want to convert your dirt bike to a supermoto, you're going to need dirt bike street wheels and street tires. 17 inch wheels, front and rear, are the most common for supermoto, and are much better for street riding than the stock 21/19 that are stock on most full-size dirt bikes. They lower the bike, they handle better, and they're wider so you can lay more rubber down.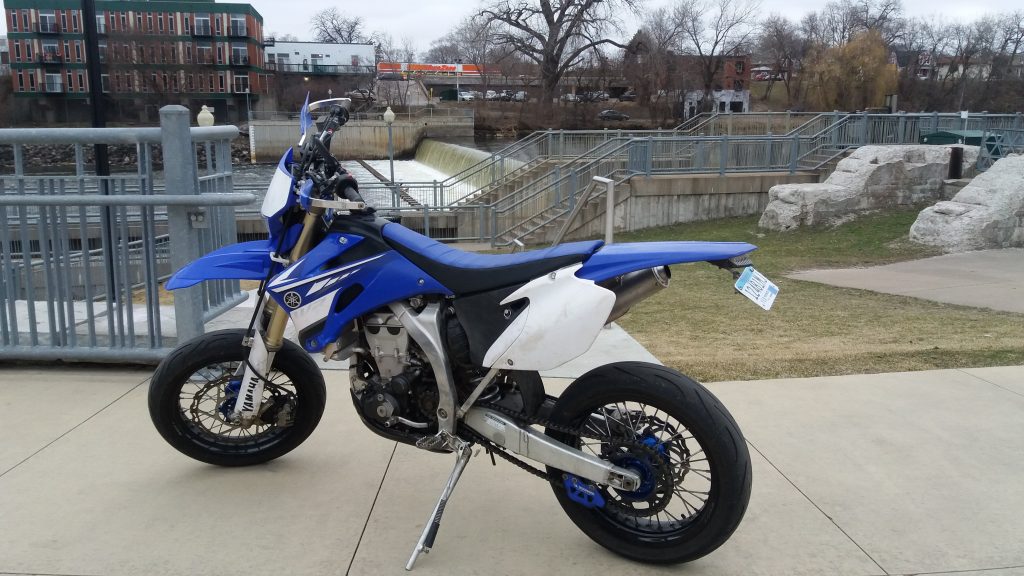 3.5″ width is typical for front supermoto wheels, and 4-5″ are the most common for the rear, with several in between. You can go wider or narrower, but you may run into tire width issues, as well as the wheel being too wide and rubbing on the chain and/or swing-arm.
Dual Sport Tires
Dual sport tires can be added to your stock dirt bike tire to make your dirt bike street legal. However, it will not handle quite as well on the road as a full supermoto wheel conversion. It will have less potential traction as well since the tires are narrower.
Dual sport bikes open doors to a whole new world of riding because you can ride on the street as well as off-road and have adequate traction and handling on both. With that said, it will not be the best at either. If you're mainly riding on the street, I recommend going with supermoto street wheels and tires.
How Much Rubber Do I Need?
Tire size selection is important in order to make your motard ride right. If you have a rear tire that's too wide, it can actually hinder the performance. For example, if you have a 4.25″ rear wheel with a 160/17″ tire, the wheel will be pinching the bead of the tire because it is wider, thus creating a more extreme profile with a smaller radius, and ultimately less road surface.
However, if you put a 150/17″ tire on the same rim, it will have more contact surface on the road and perform better than the wider tire. This is research that you should do for your specific year and model bike to determine what combination is best.
Custom Wheel Swap
There is also the more extreme route for those that have the machining ability and want to possibly save a few bucks. Street bike wheels from certain bikes can be retrofitted to work with your dirt bike. However, there is usually machining involved to make clearance to fit on the swing-arm and/or forks.
Bearings are fairly easy to swap out, but you'll either have to find wheels with the same size bearings as your dirt bike to fit the axle, otherwise you have to buy some bearings with the correct size inside and outside diameters.
Potential Caliper Mounting Issues
Another problem that may come up if you choose to do this conversion is mounting the caliper. This depends on what size rotor you're going to use, or if you want to put the stock caliper on the wheels you're using.
I can't recommend a certain set-up for everyone, as there are so many different bikes and combination of wheels. Unfortunately, that is where YOU will have to read-up on as well. I don't recommend going this route unless you are mechanically inclined and have the machining capabilities/resources.
Cast or Spoked?
Lastly, cast wheels are not as strong as spoked supermoto wheels, and they will not be able to withstand the abuse of jumping and off-road riding; just something to keep in mind as well.
Powering Up Your Lights
Lights are required if you're going to ride on the street. Every state is different, but the usual requirements are a headlight (hi/low beam), tail-light/brake-light, mirror, turn signals (hand signals are OK in some states), and reflectors. Headlights are fairly easy to install if you carefully read and follow the instructions. For an Enduro/Supermoto conversion lighting Kit, click here or the image below to buy one on Amazon. It includes everything you need except a headlight.
However, if you are using a motocross bike, you will either need an alternate or bigger power supply for the electrical system. An upgraded or rewound stator is probably the easiest way to go because that alone will power the lights. You'll need to get a regulator to go with it so you don't burn the lights out.
Unfortunately there's not an aftermarket stator for every dirt bike, or at least one that's reliable. Another easy way to get usable lights for your street legal conversion is with battery power. You can buy an aftermarket lighting system for most bikes, such as the DRC EZ electric wire kit. It is powered by a battery pack of 8 AA batteries that are easy to swap out. They will last several hours, depending on how many lights you have and what kind of wattage they pull.
Another option would be using rechargeable Lipo batteries, such as ones used in RC planes and cars. They should be 12 volt (4 cell) to match the lighting system. This route requires a little more initial cost, but being able to recharge the battery makes it easy, especially since you don't have to worry about carrying around a bunch of small AA batteries.
Brakes
In order to go faster, you must be able to stop faster. If you're converting your dirt bike to ride on the street or asphalt, you will want to upgrade the front brake. The rear brake isn't as important because it's not doing as much braking, so it's adequate for most riders unless you're highly competitive in supermoto racing.
The brake-system is fairly simple in regards to modifications. You have the master cylinder, brake line, caliper, and rotor. The quickest way to get more braking power is by replacing the rotor with a bigger one because it produces more leverage. 320mm is a popular rotor size for motards to have, but there's some things you'll have to consider.
Relocation Bracket
Most bikes can use the stock caliper with a larger rotor, but the stock location will not work. This is why you must buy a relocation bracket in addition to the rotor. Be sure you buy the correct bracket, though, as the size/brand of rotor and caliper may vary. Calipers with four or six pistons are a common upgrade, as this will also produce more stopping power.
Need More Stopping Power
A steel or aluminum braided brake line is a fairly inexpensive accessory to your braking system, and they perform better than the stock rubber hose. They are built to withstand more pressure, and give you a more consistent and less "mushy" feel compared to stock.
Master Cylinder Upgrade
Upgrading the master cylinder can get expensive, but if you are racing and want the most power with less effort, a better Master will complete the package. There's quite a few options out there to choose from, and generally, you get what you pay for.
On the flip side, many riders on a budget find an MC from a different dirt bike, street bike, or even a quad that is better than what they already have. Remember to do some research as to what works with your specific bike if you decide to upgrade.
Accessories
Last, but not least, are the 'accessories' that you must add to your motard to make it "street legal" and pass inspection if needed. Every state is a little bit different, so I will just hit the basics on what's required. Almost, if not every, state will require a working horn. This doesn't have to be anything fancy. In fact, a lot of riders buy a cheap bike horn from wal-mart. Turn signals may or may not be required. Hand signals are legal in some states.
Hi-Low Beam
Most states need a headlight with a hi-low beam headlight, as well as a working tail/brake-light that works with the rear brake. Reflectors are a good idea, whether they're required or not. It will make you a little easier to see, and if you get pulled over, the deputy may take you more seriously if you add little safety things like this. You will likely need a mirror to be legal, so a simple handlebar mounted or bar-end mirror will work.
Streel Legal Dirt Bike Exhaust
A road-legal exhaust is a good idea if your bike is being inspected. Most dirt bikes have "For off-road use only" stamped on the stock exhaust, which isn't going to fly if a cop scrutinizes your motard. Also, bikes that carry passengers must have an appropriate seat set-up and passenger pegs. I know that supermoto's are solo-bikes 99.9% of the time, but it's just something else to keep in mind.
Now it's time to start building your bike! All of these parts add up quickly, which is why properly set-up supermotards (especially when plated) are so expensive to buy used. You probably won't get your money back when you go to sell it, but it can be worth the money to know that you built it with all of the parts that you want. If you buy a complete supermoto kit for your dirt bike, you can always go back to the stock set-up if you want to ride in the dirt again
License Plate Bracket
Any dual sport or street legal dirt bike needs a license plate to meet law requirements. License plate brackets are cheap and easy to install with some basic tools, such as a drill and screwdriver. Most license plates mount to the rear fender with several screws. Drilling holes in the fender will most likely be required.
Parts needed to make dirt bike street legal
I know that was a lot to take in, so you should bookmark this page/website and come back to it throughout your build. If you just want to see all the parts involved in making a supermoto, here's a simple list (how far you want to go down it is your decision):
Supermoto wheels and street tires
Street gearing/sprockets (depends on what kind of riding you're doing)
Headlight
Tail/brake-light
Upgraded stator or battery system for lights
Larger front brake rotor and relocation bracket
Better front brake caliper and master cylinder
Turn signals
Mirror
Horn
Hi/low beam headlight switch
Reflectors
Street legal exhaust
Passenger seat/pegs
The biggest components to your supermoto build are the wheels. To buy your supermoto conversion wheels, click on the eBay link below.
Are you new to street legal dirt bikes? Click here for a complete beginners guide so that you know what to expect and what the best bikes are.