Interested in learning how to make a dirt bike street legal but not sure where to start or if it's even possible for your specific bike? In that case, you've found the perfect article!
I have converted multiple dirt bikes to be made street legal over the years, whether it's for riding around town or for being legal on public roads in the mountains to connect trailheads.
I want to show you the simple steps and parts you need to make virtually any dirt bike street legal, whether you have an old trail bike or a modern motocross bike.
Are dirt bikes street legal from the manufacturer?
Most dirt bikes are not street legal – they're made for off-road or close-course competition only. However, there is a type of dirt bike that is street legal.
These are called dual sport bikes, and they're specially built from the factory to ride on the road legally. They have certain features that make them safe and comfortable to ride on pavement and dirt – the tires are the most important.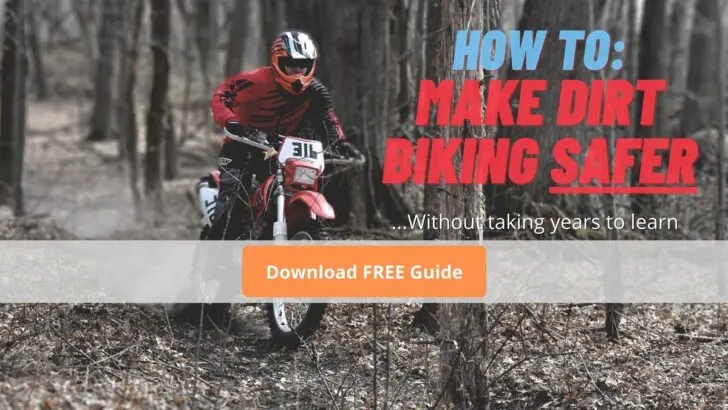 Do you need a license to drive a dirt bike?
For just riding off-road, you don't need a license to ride a dirt bike (in most countries, from what I've researched). However, if you're riding a street-legal dirt bike on a public city road, then you need to have a driver's license with a motorcycle endorsement to be legal.
Dirt bikes vs street bike
While they're both motorcycles, they're very different when it comes to riding. In comparison, a dirt bike generally has more suspension, a taller seat height, knobby tires, and requires different riding techniques to stay in control.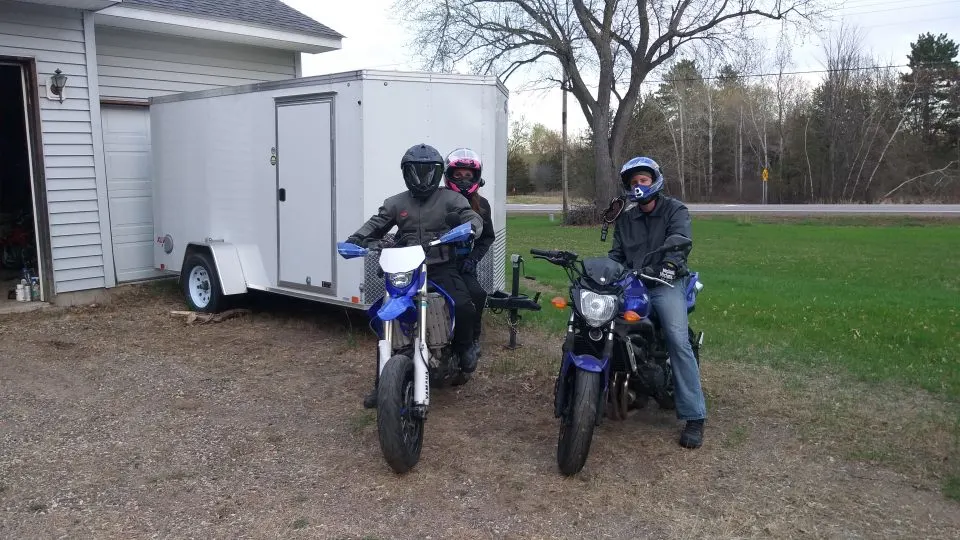 Is it easier to ride a dirt bike or a street bike?
Maybe you've never ridden a motorcycle before and are considering a dirt bike vs street bike to start on – congrats, and welcome! Both are awesome, but my friendly recommendation would be to start on a dirt bike.
A dirt bike is easier to ride at low speeds due to how it's set up, and it will teach you proper balance and traction – these are absolutely necessary if you want to stay safe and ride with confidence, whether you're in the dirt or on the road.
Can you turn a dirt bike into a street bike?
Yes, it's definitely possible to convert your dirt bike into a street bike or dual sport bike, but it requires some time and money. You'll want to plan out the process ahead of time so that you will be prepared for what it takes – I'll show you what most dirt bikes need to be street legal very shortly so you know what to expect!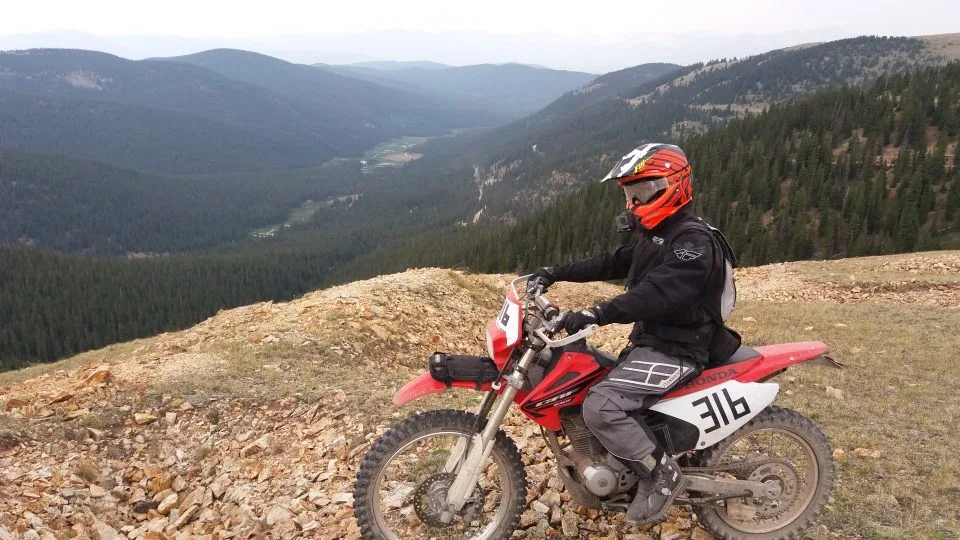 Should you buy or make a street legal dirt bike?
There are pros and cons to buying vs making a dirt bike street legal. When you make or convert your dirt bike to be street legal, you can say it's your own and that you did all the work.
A converted dirt bike is a generally lighter-weight bike because it won't have all of the extra accessories or overbuilt chassis that add weight. With that said, if you'd rather just buy a bike and ride it without having to work on it, it's much better to just buy a street legal dirt bike.
What is a dirt bike with street tires called?
A dirt bike with street tires is either called a dual sport motorcycle or a supermoto bike. A dual sport bike is made for on and off-road riding, while a supermoto is mainly built for road riding because the tires don't have knobbies.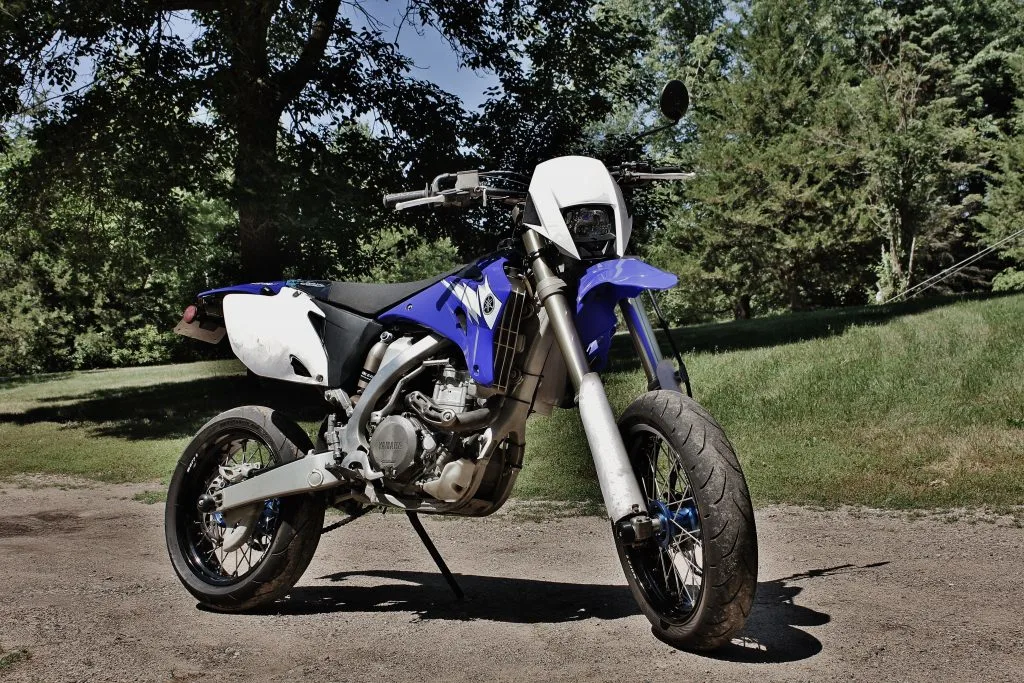 How to make a dirt bike street legal
Not every state has the same laws & regulations, but I will cover the most common parts and changes you need to make your dirt bike street legal. You'll have to refer to your local state and city for specific laws.
Parts you need to convert it to be road legal
First, you need to get all of the parts to make it street legal. This is more or less of a checklist, so it's pretty straightforward – you just need to know how to properly install them if your dirt bike doesn't already have each part listed.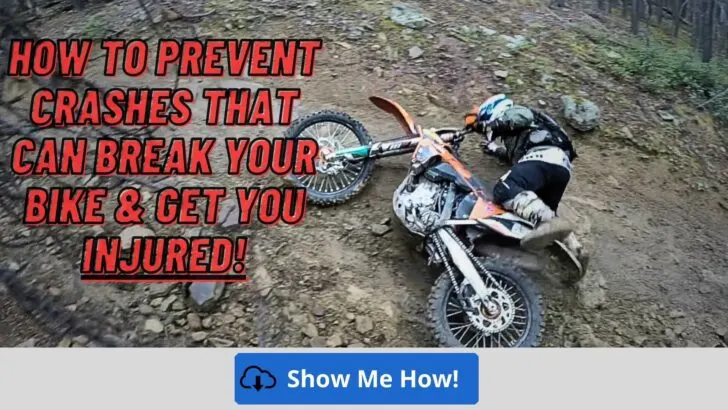 These are the parts you need to make your dirt bike street legal (in most areas):
Headlight
Every dirt bike needs a working headlight (Amazon) to be legal on the road. Not only is it important to have a good headlight for riding at night, but it's also necessary during the day to be legal and seen by other drivers.
Since dirt bikes and motorcycles are so small, we need to have running lights on so that everyone can see us – safety is even more important when riding on the road!
Tail light/brake light
You also need a tail light with brake/stop light (Amazon) to make your dirt bike street legal. Vehicles need to see you from behind, and that can be difficult if you have no tail or brake lights when slowing down.
Most dirt bikes do not have a tail and brake light, so you'll have to install one, as well as a wiring harness and switch. Doing it manually is the cheapest, but a universal wiring harness is usually easier, especially if your dirt bike already has a battery and/or headlight wiring.
Regulator/rectifier
Including a regulator/rectifier (Amazon) in your lighting kit is necessary if your dirt bike doesn't already have one so that you don't blow your lights or electrical system out. It simply controls the voltage/power and keeps it steady so that the battery and the electrical system don't get overcharged while riding.
How to wire this regulator/rectifier
Red: Battery Positive (+) Terminal
Green: Ground/Battery Negative (-) Terminal
Yellow & Pink: AC input, connect to magneto/stator coil
Brake switch
If you don't have a brake light switch on your dirt bike, then your brake light is useless. A brake switch is simply a trigger that tells the brake light to turn on when your press or pull in one or both of the brakes on your dirt bike.
Dual sport bikes come with factory-installed brake switches on the master cylinders for each brake, but most off-road dirt bikes do not. This means you have to add one, which can be done in a few different ways.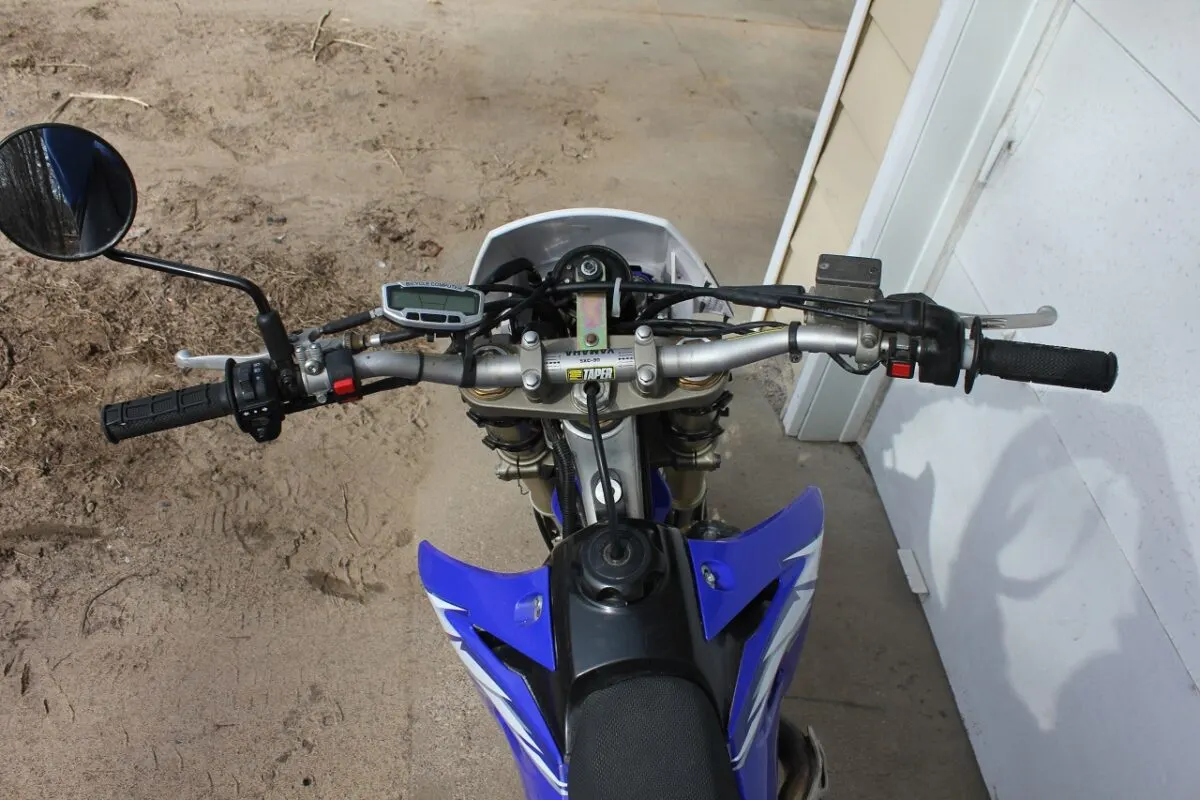 To make your dirt bike street legal, you can install a brake switch one of these ways:
Install a front master cylinder with a built-in brake switch from another bike or quad (should be the same brand components as stock)
Install a banjo bolt with a brake switch (Amazon) on the front or rear master cylinder
Install a mechanical brake switch on the rear brake pedal
What type of brake switch is best for you?
Installing a mechanical switch (Amazon) is usually the easiest because you don't have to mess with the hydraulic brakes, but it's the least durable option.
A banjo bolt with a brake switch (Amazon) is also cheap and fairly easy if you can bleed the brake system.
Swapping to a master cylinder with a built-in switch is just about as easy if you find one that works with your current brake system, so you might have to do a little extra research for this option.
Horn
Every vehicle needs a functioning horn (Amazon), so you'll need to add one to your dirt bike to make it street legal. Not only are they necessary, but getting a quality horn can save your life if you need to use it to warn another driver or a crossing animal – I'm serious about this one!
DOT tires
Dirt bikes come with knobby tires that are made for getting the best traction in dirt, sand, and mud, but they're not legal for riding on the road. You'll need to install DOT-legal tires (Amazon) to make your dirt bike street legal – it's also much safer and more comfortable on the pavement.
What makes DOT tires different?
DOT simply stands for Department Of Transportation, which means that the governing organization has classified specific tires that can be legally used for riding on the road. DOT tires are different because they have smaller knobs that are more rounded than full dirt tires.
When you have a smoother-rounded tire, it gets better traction on flat asphalt. They're also called dual sport motorcycle tires, and there are many variations.
Which dual sport tires are best for you?
Dual sport tires are best categorized by their percentage. For example, an 80/20 dual-purpose tire (Amazon) is best for 80% on-road and 20% off-road. This just means that it's better in wet and dry conditions on the road and is smoother riding.
If you're mostly riding in the dirt and want to be DOT-legal, then you'll want a 20/80 dual sport tire (Amazon), which has bigger knobs that get better traction in the dirt. You can also get a 50/50 set of tires, which is in the middle, and other combinations based on your preference.
Supermoto wheels & tires?
Maybe you want to convert your dirt bike to a supermoto with full street wheels and tires. This requires buying 17" wheels and street bike tires, which handle a lot better on the pavement, but don't work well off-road.
You can buy a complete supermoto wheel kit (Amazon) for most dirt bikes. While this is definitely more expensive than just swapping to dual sport tires, a legit supermoto setup is a lot more fun on the street around town and in the twisties because it gives you a lot more traction and better handling.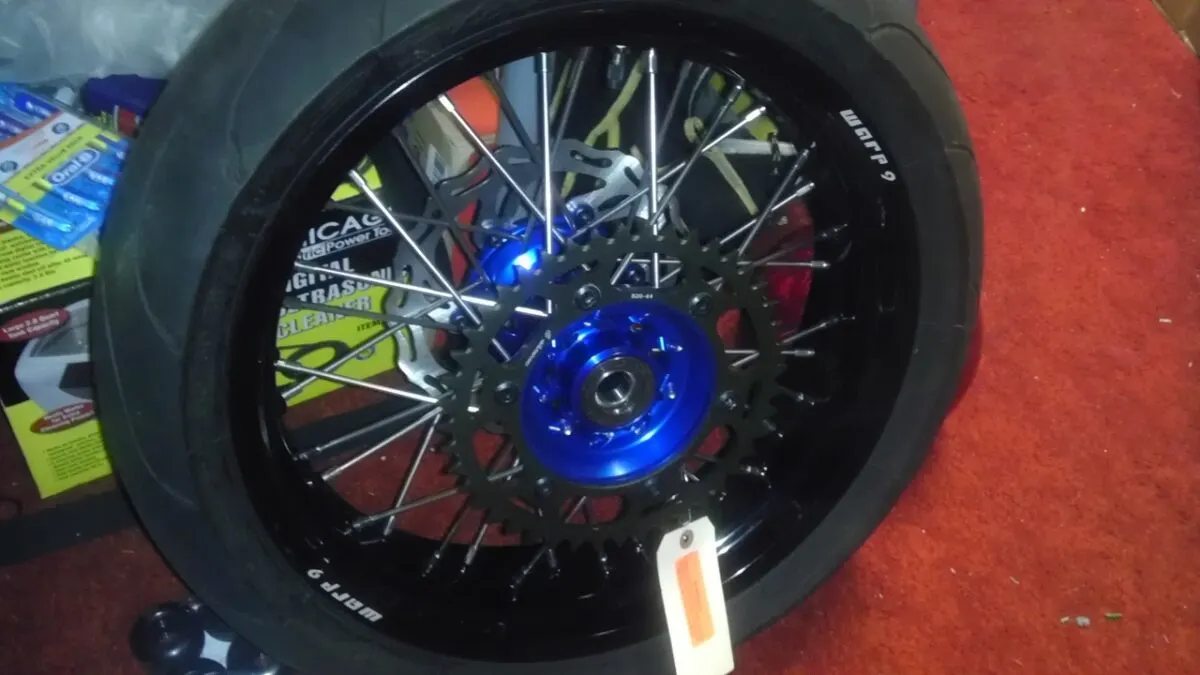 License plate holder
Since you're learning how to make your dirt bike street legal, you'll need to get a license plate holder that's legal. Some states may be different, but it generally needs to be clear and visible from the rear – as well as being high enough on the bike to be seen.
Some people install holders on the swingarm or on the underside of the rear fender so they're more visually pleasing, but a lot of cops don't like that and may pull you over for it.
I recommend getting a simple, but solid, rear fender license plate holder (Amazon). They're often included in the tail light assembly, but you may also need to reinforce it. The vibration can wiggle the plate loose, so get a friend to follow you down the highway and have them see how much it's vibrating.
Mirror(s)
There are many different styles and sizes of mirrors you can install, but you'll need at least one mirror to make your dirt bike street legal. It's up to you to determine what kind of mirror you want and need.
You can get a cheap one that will just get you legal, or a quality set (Amazon) that makes a big difference in being able to see what's behind you.
Just remember that a low-profile mirror, such as under-the-bars, is more likely to get you pulled over for questioning.
Turn signals
Depending on your state or country's regulations, you may or may not need right and left-end turn signals (Amazon) on the front and rear of your dirt bike to make it street legal. These will also require wiring if your bike doesn't already have them, but a quality harness and handlebar switch will make it a little easier.
Speedo/Dashboard
While not all states may require a speedo, most do to make your dirt bike street legal. It's also really nice to have so that you know how fast (or slow) you're going on the road, as well as other helpful info.
If you go with the Trail Tech Vapor dashboard (Amazon), it will show your speed, odometer, RPM, coolant temp, warning lights, and much more if you like to know what you and your bike are doing at all times.
Compliant exhaust
Some states may require a DOT-legal or EPA-compliant exhaust. It's usually due to SMOG & emissions, so it's up to you to determine what you need and whether or not your dirt bike will be inspected to be made street legal.
Footpegs
While stock foot pegs are legal, you'll need some purpose-built foot pegs if you're carrying a passenger (2-up). You'll either need to install some aftermarket passenger pegs (Amazon) or make some custom pegs that are solid – you may or may not be inspected for this, depending on your state or DMV/DVS office.
Kickstand
If you're converting your motocross bike, then you'll probably want to install a durable kickstand (Amazon) so you don't have to find something to lean it against when you need to park it. While a kickstand may not be required to make your off-road motorcycle legal, it's really convenient to have.
Cush-drive hub
Another part that's not required to be legal, but rather nice to have on the street is a cush-drive hub on the rear wheel. When you buy an aftermarket wheelset for your dirt bike, you might have the option to include a cush drive.
It's basically rubber dampeners in the rear wheel hub that soften the "hit" when you accelerate and decelerate every time. This will make your transmission, chain, and sprockets last longer because they won't have as much of a "shock when you transition from shifting, braking to throttle, or vice-versa.
Fan kit
Dirt bikes aren't made to sit and idle for more than 10-20 seconds if the engine is fully warmed up – especially modern liquid-cooled engines. If you let it idle for too long, it will start overheating, which will cause it to spit coolant out the overflow and can eventually damage your engine.
That's why you'll want to add a radiator fan (or two) to your street legal dirt bike if you're going to be riding in the city. When you sit at a stop light, the fan will pull air through the radiators, which is needed to keep the coolant and your engine running cool enough.
Do I need a battery to make my dirt bike street legal?
Most dirt bikes made today have a battery because they need it for electric start. However, some bikes are still kick-start and don't have a battery – do you need one to be legal or power the lights?
In short, no you don't NEED a battery and charging system for your dirt bike to be street legal. While it's very convenient to power your lights and accessories without worry, you can add a total-loss battery system that won't require you to change the stator or current electrical system.
What is a total-loss battery system for dirt bikes?
It's basically adding a battery that powers the lights, but it requires manual charging from a battery charger or tender. The size/capacity of the total-loss battery, as well as the power output of the lights, will determine how long you can run them before the battery dies and needs to be recharged.
This can be anywhere from 30 minutes to several hours or more. Obviously, there are pros and cons to choosing a total-loss battery vs upgrading the stator and/or electrical system on your dirt bike to make it street legal.
Depending on the model that you're trying to convert and how much free time you have, this is why it might be better to buy a dirt bike that's already made to be street legal from the factory if you don't like projects.
Dirt bike street legal conversion kit
Depending on how much you want to spend, how durable you want the parts to be, and how your want your dirt bike to look when it's made street legal, there are many options for converting it to the street.
Cheapest kit for dirt bikes with battery and headlight
The cheapest and quickest conversion kit would be the Tusk Enduro lighting kit (Amazon), which includes the tail light, brake light and switch, wiring harness, regulator/rectifier, handlebar switch, horn, turn signals, and mirror – basically all the essentials except a headlight.
Cheapest kit for dirt bikes without a battery
Maybe you have an older trail bike that you want to make street legal that already has a headlight but it doesn't have a battery or electric start. You can get the Tusk enduro lighting kit with a battery (Amazon).
It's still affordable and installing it is pretty easy because you don't have to do anything to the OEM wiring because it comes with a rechargeable battery to power the lights. It's not the most durable kit, but it will get the job done for cheap, and it's the easiest to install if your dirt bike doesn't have a battery.
How to register a dirt bike
Depending on your state or country, it may be easier or more difficult to get your dirt bike registered and plated to legally ride on the road. In most cases, you'll need to get it registered and/or titled.
This will usually require some sort of form or application to title it or get it dual registered. For example, in Minnesota, you can easily make a dirt bike street legal if you register it with the DNR and then fill out OHM Certification Checklist and bring it to your local DMV for a small fee.
Many of the employees may not know exactly what it is, but it's perfectly legal and doesn't require you to file for an expensive title that a typical street bike has.
How to safely ride off-road on a motorcycle
Whether or not you're ready to convert your dirt bike to make it street legal, it's time to learn the proper techniques so that you stay safe and quickly build your confidence. I want to show you how to do that with my free guide – click or tap here to download it now.