Looking to buy a KTM 200 but not sure where to start or what the different models are? Whether you're looking for your first dirt bike, your next enduro bike, or somewhere in between, you've found the right article!
In this review, I'm going to show you what kind of dirt bike the KTM 200 is, why you may or may not want one of the different models, and how to choose the right one based on your specific needs.
What is the KTM 200?
It's a 2-stroke enduro bike with a 200cc liquid-cooled engine, but there are different models that have slightly changed over the years. They are all similar, but enough to possibly make you want one model or year over another.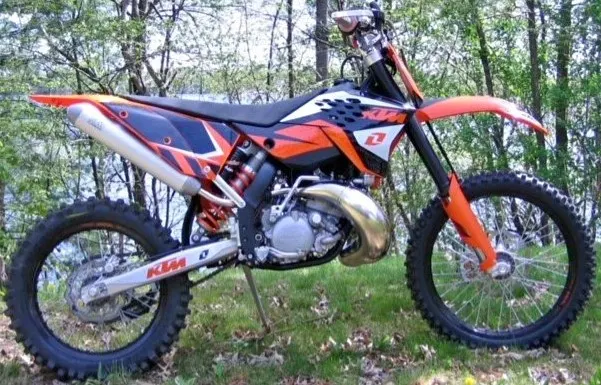 Who's it for?
It's an enduro bike that's made for off-road and trail riding. This means it can be used for racing, casual riding, or somewhere in between. The KTM 200 is a very versatile dirt bike – I'll cover in more detail what to expect when it comes to power, sizing, suspension, and more in this review.
Engine – what to expect
One of the biggest reasons why the KTM 200 was and still is such a popular dirt bike is because of the engine. It's basically an oversized 125cc 2-stroke engine, which means it's lightweight and fast.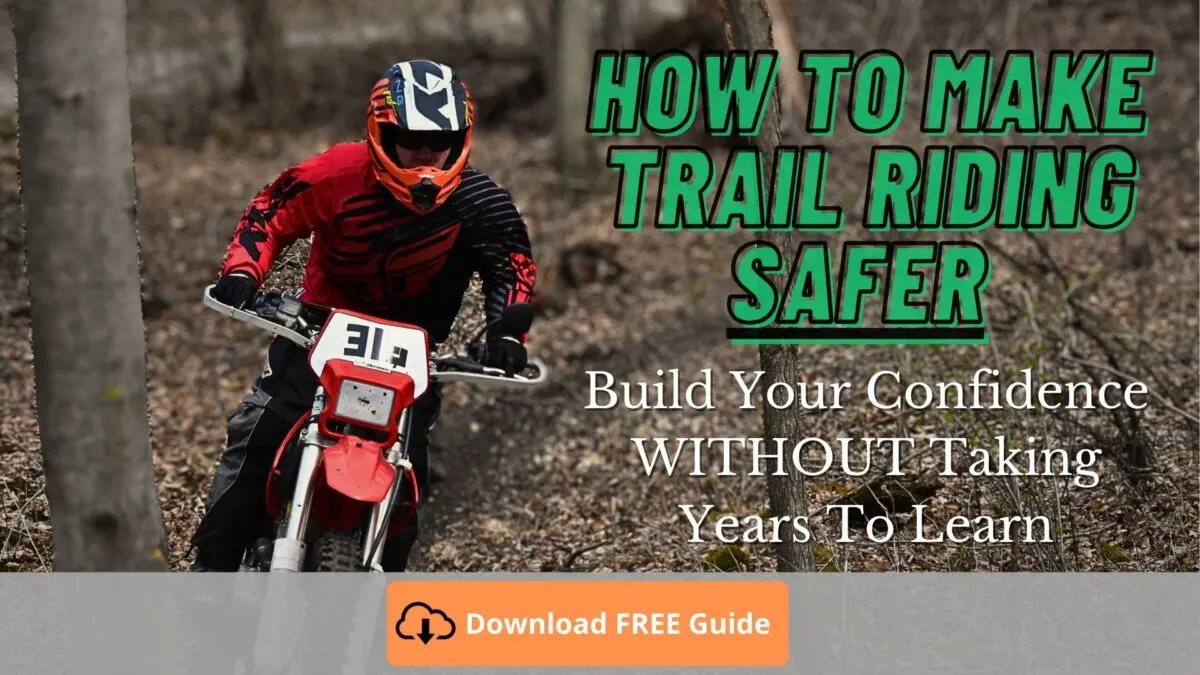 It makes noticeably more low-end torque than a 125, making it much easier to ride at low speeds and lower RPM – you can actually lug it and short-shift a little bit, especially if you're a lighter rider.
It the same time, the 200cc engine pulls hard through the midrange and top-end, with power in between a 125 and 250 two-stroke. It's like combining the best of both bikes: less weight with more power without a lot of vibration.
XCW vs XC transmission/gearing differences
The main difference is that the 200 XCW (and EXC) have a wide-ration transmission, while the XC model has a close-ratio transmission. With the wide ratio, 1st and 2nd gear are noticeably lower, and 6th gear is taller.
This makes is better for slow and technical trails, while the 200XC is better for racing because the RPM doesn't drop as much between shifting gears.
Horsepower
A stock KTM 200 puts out about 35-40 horsepower, depending on the model, year, and how the power is being tested. At the crank, it's close to 40 HP, but at the rear wheel on a dyno, it's closer to 35 HP.
This is a few more than most 125's, but that's not what makes it such a great off-road bike. What you really want to look at for rideability is the torque curve.
Torque – more than a 250F?
Torque is what gives you acceleration, especially at lower RPMs, and a broad torque curve makes a dirt bike easier to ride because it's smooth and predictable as the RPM increases.
A stock KTM 200 XCW, as tested by JDJetting, makes 14 ft. lbs of torque at just under 4000 RPM. It slightly dips and then picks back up and increases up over 22 ft. lbs of torque just past 8000 RPM.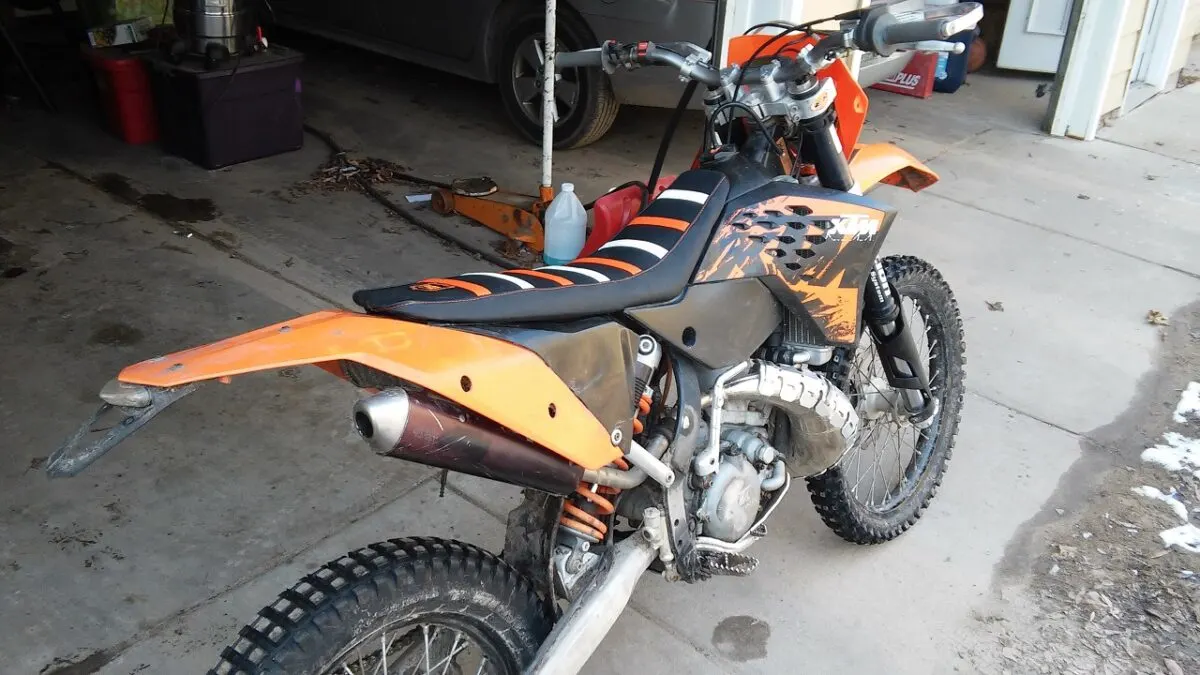 In comparison, a modern 250F MX or enduro bike only makes about 17 ft. lbs of "peak" torque. This means the KTM 200 has almost the same torque at a much lower RPM. This is also tunable, which I'll cover shortly.
Top speed
Depending on what model and year you're looking at, a KTM 200 has a top speed of about 70 mph. This isn't very important unless you're drag racing on flat ground or in the desert.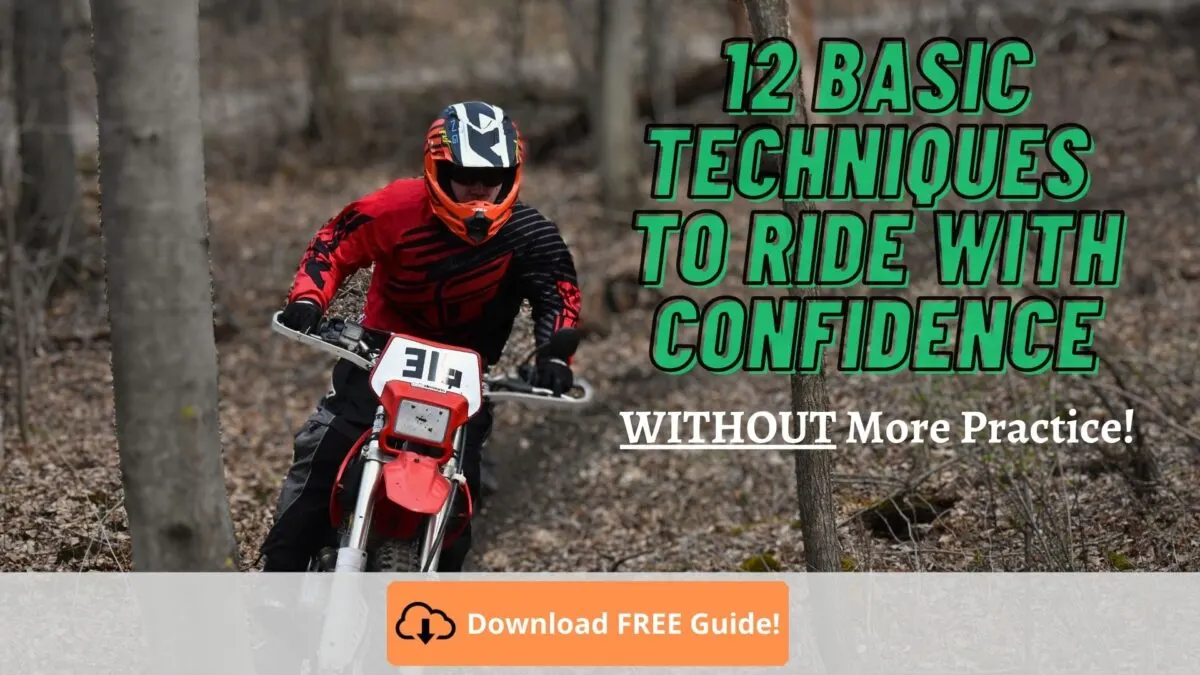 What's more important, for most of us, is how quickly it gets there and how usable each gear is. For a lower first gear and quicker acceleration, a quick and cheap mod is to use a larger rear sprocket or smaller front.
Kick start vs electric start
The KTM 200 EXC, XCW, and XC models only had a kick-start from 2000-2012, then got an electric start added in 2013. It wasn't the most reliable, but KTM updated the starter and battery in 2014 for a slight improvement in starting.
Kickstarting the 200cc engine is surprisingly easy, especially if it's jetted properly and you have a good starting technique. The electric start is nice to have if you have a bum leg or knee, but the first generation of KTM's 2-stroke electric start wasn't the best, so don't count on it lasting forever.
Power upgrades
Do you want a 125-like screaming power band, or do you prefer to lug and short-shift like a big-bore 2-stroke dirt bike? The KTM 200 engine is very tunable with power valve, jetting, pipe, and porting mods.
Jetting
Getting the carb dialed is the first thing you should do if you want your 200XCW or XC to start easy and run great. It's easier than you think, and you can get started in just a few minutes with my Free guide here.
The early years had a 38mm Keihin PWK carb, while the 2007 and later years had a 36mm PWK carb. The 36 mm carb is a little easier to jet it right, and it gives you a little more low-end and midrange torque, so keep that in mind if that makes a difference to you.
Power valve
Next, the power valve is easily adjustable to give you a different power characteristic. You can have it open sooner or later in the RPM range, giving you a "hit" earlier or later in the power for better traction or a different feel.
Pipe
The stock pipe is a pretty good compromise of power between low-end torque and peak horsepower. You can change to an FMF Gnarly pipe (Amazon) for even more bottom-end power, making it feel like a "mini-300cc".
Suspension
The stock suspension changed a few times over the years, and there's a fairly big difference between each model.
XCW vs XC suspension differences
The 200XC-W has softer suspension that's better for slower or more casual trail riding, while the 200XC is slightly stiffer for more aggressive riding and a faster racing pace. It's not a huge difference, but it's definitely noticeable if you're a more experienced rider.
The other big change is that the XCW has a PDS rear shock, which has no linkage, while the XC has a standard linkage-style rear shock system. The PDS doesn't have a linkage hanging down, so it won't get caught on big logs and rocks.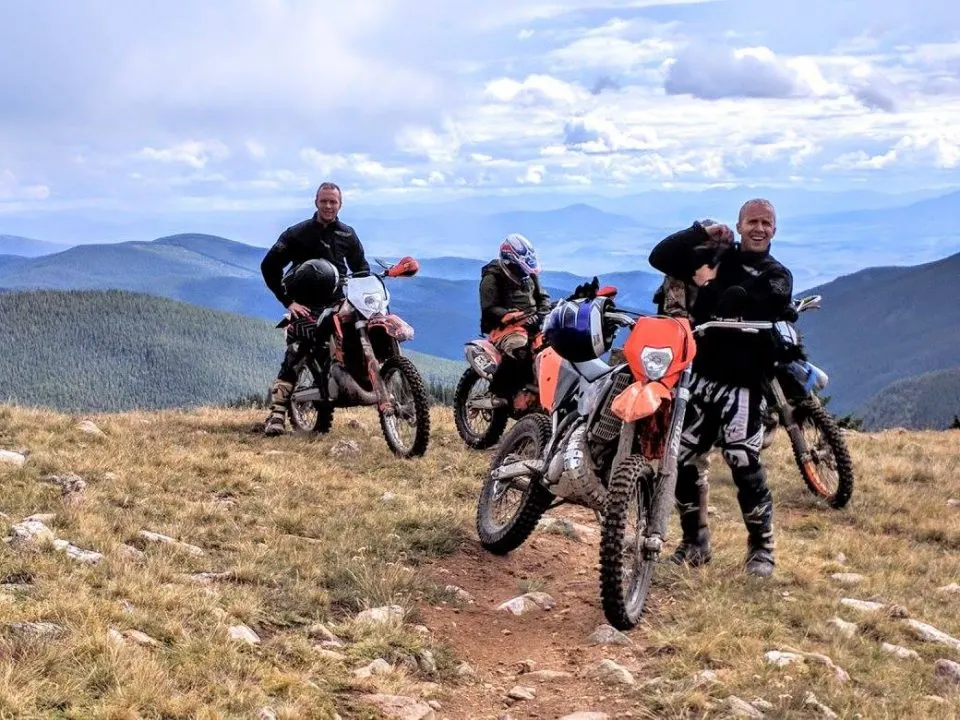 Some people say they don't like the PDS because it doesn't have as good of a "feel" or is too harsh, but I think it comes down to personal preference – you can also tune the shock for a better feel.
Front forks
The stock forks have always been adjustable, but the components have changed over the generations of the KTM 200. It first had 43mm WP forks and PDS shock then was updated to 48mm forks in 2003 with more travel and stability.
The 2008-2011 generation got 4CS forks, which are known to be harsh and harder to tune. This is fine for high-speed racing, but not for low-speed trail riding unless you get them properly tuned for your weight and riding style.
2012 got another update with improved comfort and performance. You can tune them all with compression and rebound clicker adjustments to make it stiffer or softer.
Rear shock
The stock rear shock is completely adjustable, starting with the preload. This controls the ride height, which is necessary to get the suspension balanced for the most comfort and traction, giving you more confidence and control.
In each generation of the KTM 200, the shock got updated with more wheel travel and a stiffer setup until 2012 when it improved on the 08-11 harshness.
Seat height – what size rider is the KTM 200 for?
All of the KTM 200 dirt bike models are full-size, which means they have 21/18-inch wheels, but they're not all the same-size dirt bikes. The 2000-2007 model years have a smaller and specially made frame (used on the 125 SX), which gives it a slightly smaller feeling and lower seat height.
This is awesome if you're looking for a shorter enduro bike to better touch the ground on, but in 2008 KTM moved to the 250F-sized chassis, making it just as tall as every other enduro bike (great if you're a taller rider)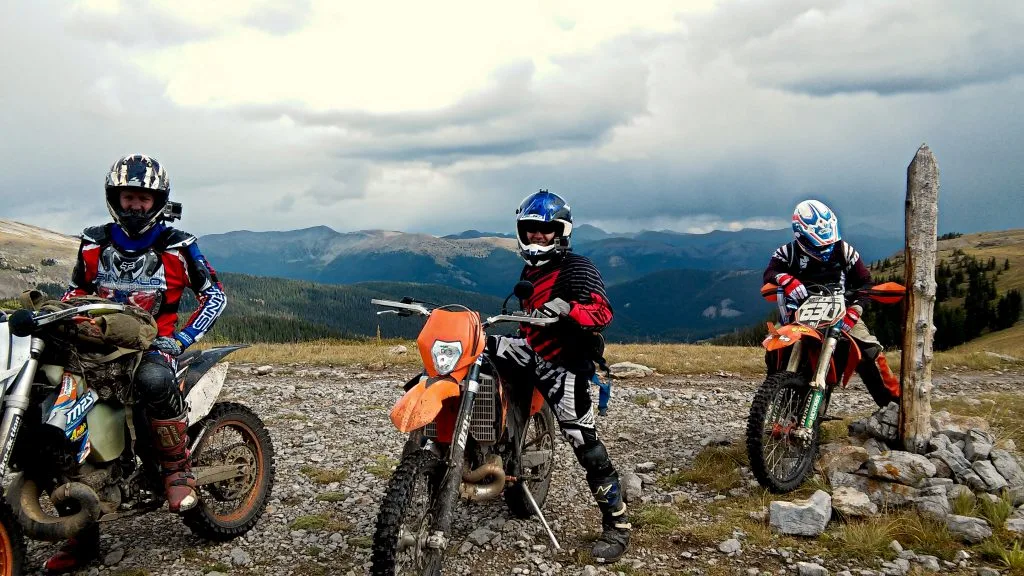 The 2000-2007 KTM 200 has a 36.4" seat height, which is a good size if you're 5'4"-5'10" tall. The 2008-2016 model years have a 37.8" tall seat height, so it's better if you're 5'7"-6'2" tall.
In the end, the seat height doesn't matter as much as you become more confident in your skills. When you have good balance skills, you won't need to worry about putting a foot down to prevent falling.
Handling
Want a lightweight dirt bike that handles well off-road on tight trails as well as faster-flowing sections? Since the KTM 200 feels more like a 125, it handles better than a 250 due to being lighter and easier to control.
This makes it easy to handle if you're a beginner and less exhausting. With a low center of gravity, leaning and turning take less effort. The 2007 and older models with the smaller chassis are even easier to corner at low speeds due to the difference in geometry (this also makes them slightly less stable at high speeds).
Weight
Dirt bike weights are often misleading, especially when comparing a dry weight vs a wet weight. The dry weight of a KTM 200 is 215-220 lbs, but you can add another 20 lbs or so when it has all the proper fluids and a full tank of fuel.
Either way, 240 lbs is fairly light for an enduro bike, especially when it's only 200cc. A smaller engine also feels lighter because there's less rotating mass – a factor that also plays into your exhaustion on long trail rides or races.
Model year history & changes
While there have been many little changes throughout the KTM 200's history, there are 4 main generations: 1st gen (00-02), 2nd gen (03-07), 3rd gen (08-11), and 4th gen (12-16).
These are the major updates on the KTM 200 EXC, XC, and XC-W over the years:
2000: First year of KTM 200 EXC
2003: Bigger (48mm) forks with front and rear suspension travel increase, larger hubs and front axle
2004: Updated gas tank, plastics, graphics, and seat
2005: Speedo added, updates to the front brake line and engine/transmission to increase durability/performance
2006: Changed EX-C model name to XC-W and added 200 XC model
2007: 38mm carb changed to 36mm, internal suspension updates, CDI updated for two modes: rain & race
2008: Completely new (bigger/taller) chassis and suspension
2009: Last year of 200 XC model
2012: Completely new chassis, suspension, plastics/tank updated, with revised air box & intake, updated wheels/hubs
2013: Electric start added
2014: Updated electric start for reliability, minor plastic changes, updated lower triple-clamp, H4-style headlight bulb, revised clutch for easier pull
2015: Updated computer/speedo, lighter battery, black rims, orange frame
2016: Last year of XC-W and any KTM 200cc dirt bike
XC vs XCW vs EXC – what's the difference?
While a KTM 200 XC-W and EX-C basically mean the same thing (XCW is just the newer model name), there are some significant differences between the XCW and XC models. The transmission and suspension are the major ones, with the XC-W having wide ratio gears and the XC having a close-ratio tranny with slightly stiffer suspension and a linkage-style rear shock.
The XC-W is better if you're riding trails or at low to moderate speeds, while the XC is better if you're racing and need a firmer suspension.
Reliability – how long will it last?
With all this performance, there has to be a disadvantage, right? Well, as good as the KTM 200 is, the reliability is another reason to like it.
As long as you take care of it, the engine and overall components are reliable. This means keeping the air filter clean, changing the oil when it's low/dirty, ensuring it's jetted properly, and warming it up the right way.
You could get 200+ hours on a top-end before needing a rebuild if you're a casual trail rider and properly maintain. A common mistake is neglecting the bike, and this can cause a major engine failure at the worst time.
Any common issues?
For most years, the KTM 200 doesn't have any major common problems. The electric start can be problematic, especially the first year it was added in 2013.
Otherwise, it's a reliable and durable dirt bike that won't have many problems other than these typical ones:
Specs & Dimensions
Here are the specifications of each KTM 200 2-stroke enduro bike model:
| | | | |
| --- | --- | --- | --- |
| KTM | 200 EXC | 200 XC-W | 200 XC |
| Years made | 2000-2005 | 2007-2016 | 2006-2009 |
| Engine | 193cc liquid-cooled 2-stroke | 193cc liquid-cooled 2-stroke | 193cc liquid-cooled 2-stroke |
| Transmission | 6-speed wide-ratio | 6-speed wide-ratio | 6-speed close-ratio |
| Seat Height | 36.4" (cm) | 36.4"/37.8" | 36.4"/37.8" |
| Suspension Travel | 11.8"/12.8" | 11.8"/12.8" | 11.8"/12.8" |
| Weight (Dry) | 214 lbs | 214-220 lbs | 214-220 lbs |
| Horsepower | 35 HP | 35 HP | 35 HP |
| Top Speed | 70 MPH | 70 MPH | 65 MPH |
Is the KTM 200 a good dirt bike for beginners?
For most people, a 200EXC or 200XCW is not the greatest dirt bike for beginners. While it's easy to control compared to most other enduro motorcycles, it still has quite a bit of power if you're looking for your first dirt bike.
With that said, if you're a bigger rider, or transitioning from a smaller trail bike, the KTM 200 is a great choice because of the reasons listed above.
Is the KTM 200 the right dirt bike for you?
Still can't figure out if it's the best dirt bike for you? Here are some practical pros and cons of the KTM 200 enduro bike:
Pros
More power than a 125/150, but less weight than a 250
Smoother power that's easy to ride and control
One of the best enduro bikes for woods and technical riding
Less vibration than a 250 two-stroke
Great for off-road, trail riding, and hard enduro
2007 and older chassis is smaller if you have short legs
Better low-end power than the KTM 150
Easy to kickstart
Easy to work on/rebuild
Cons
Not made anymore
Can be hard to find and more expensive than other bikes
Electric start isn't the best on the models that have it
How much does the KTM 200 cost?
The value of a KTM 200 greatly varies, depending on the year, model, condition, as well as your local market demand. You can expect to spend anywhere from 2000-5000 for a used KTM 200 EXC, XCW or XC.
The newer generation you buy, the more expensive it will be, as a general rule. A 2000-2007 will generally be under $3000, an 08-11 under $3500, and a 12-16 will be in the 3500-5000 dollar range.
KTM 200 vs 250
The biggest difference will be the power and vibration. The 250 has slightly more power all around, but the 200 can be tuned to have more low-end or top-end based on your needs.
The 200 is noticeably lighter, especially the older generation chassis that's smaller, and there's slightly less vibration, which reduces fatigue on long rides.
KTM 200 vs KDX 200
The KTM 200 is basically an updated version of the Kawasaki KDX200. It has slightly more power, a better suspension that's more adjustable, and handles better, but it also costs quite a bit more as a result.
Learn how to trail ride with confidence
Whether you're looking for your first dirt bike or you're just wanting to improve your overall confidence and control riding off-road, I want to help you out for making it this far on my website. Here's a FREE guide to learn the basic techniques so that you stay safer and ride better in less time: Click here to download.