Looking for the best supermoto bike but not sure what it is or where to start? There have been many different supermoto models made over the years by different motorcycle manufacturers, but I'm going to narrow them down for you.
In this article, you'll learn what the most popular supermoto dirt bikes are, why each one may or may not be best for you, and then how to choose the right one based on your specific needs and budget.
What is a supermoto?
A supermoto is basically a dirt bike with full street wheels and tires – sometimes called a supermotard. They're generally 17" diameter wheels.
The different wheels and tires not only dramatically change the handling characteristics but lower the bike as well, giving you a shorter seat height and lower center of gravity.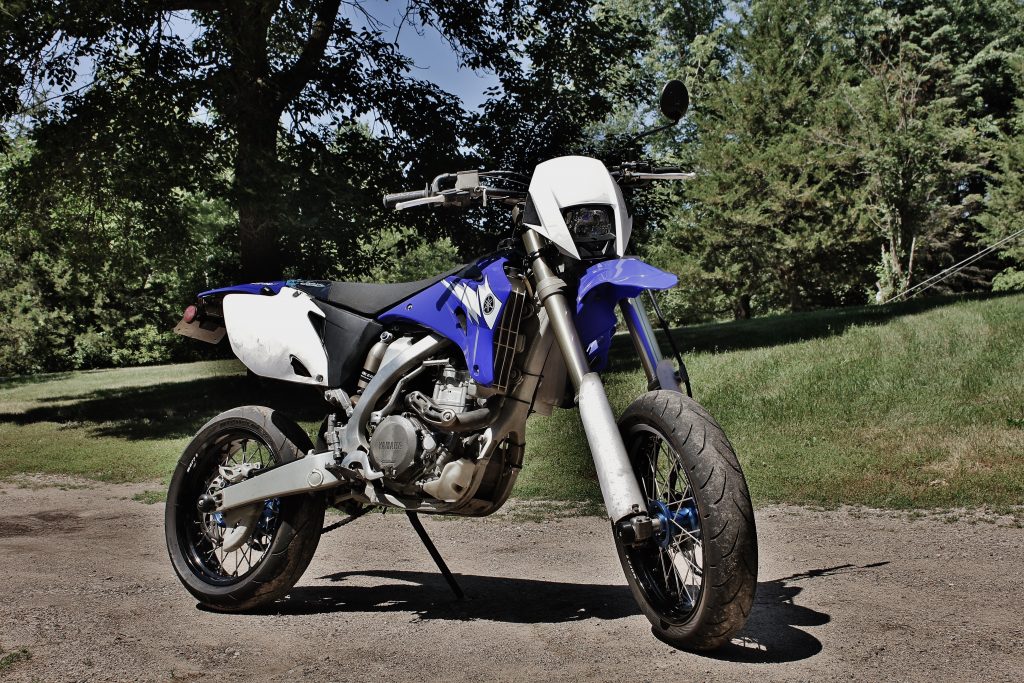 Supermoto vs dual sport bike
While closely related, the biggest difference is that a supermoto has wheels and tires that are purpose-built for the road. This makes them handle better with more traction on the pavement.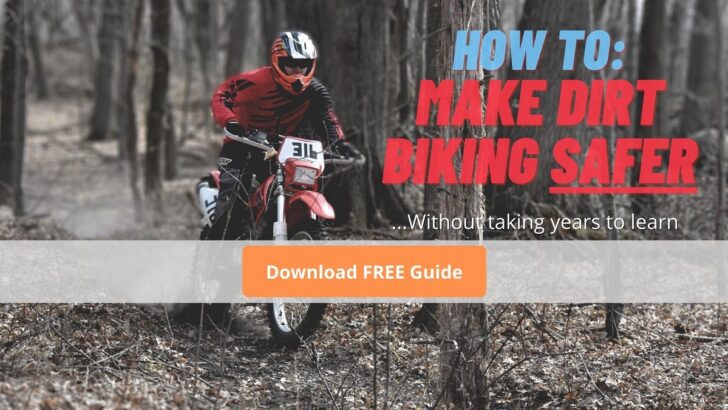 A dual sport bike has DOT-legal tires for riding on-road and off-road, but they're narrower and have small knobbies. This gives you better traction in the dirt, but not as much on the road, so you can't lean it over and corner as well as a supermoto bike setup.
What's the point – Why would you want one?
The main reason a supermoto is so desirable for city riding, commuting, or road racing is that it takes less effort and energy to ride it at low speeds. Think about it…
Compared to a 400+ lb street bike, a 280 lb supermoto bike feels so much lighter. This makes it a blast to ride on the street or if there are slow, twisty roads because you can start, turn and stop much easier than on a typical motorcycle.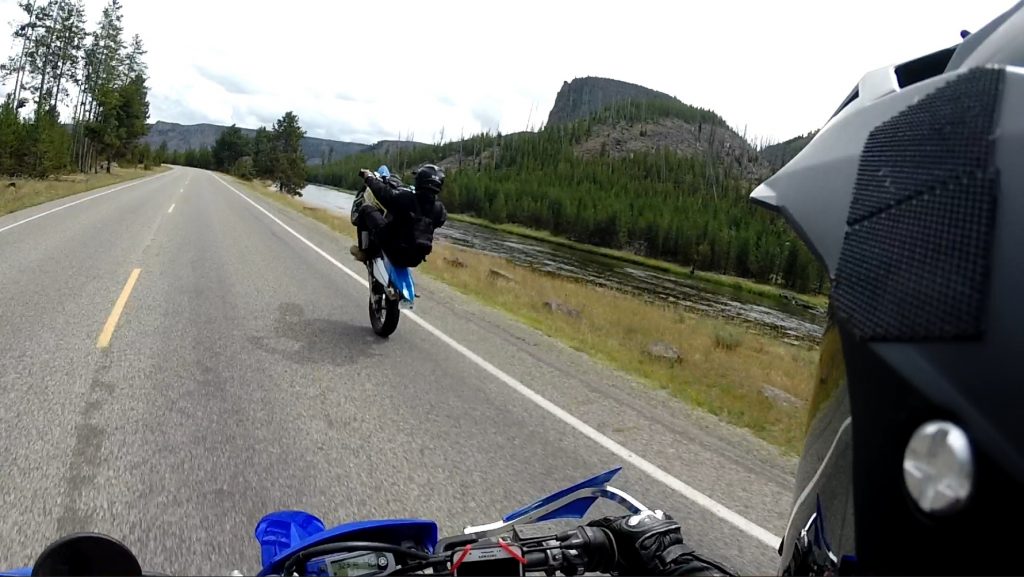 Are supermotos reliable?
Dirt bikes can require frequent engine rebuilds, so does that mean a supermoto, which is basically a street legal dirt bike, will be unreliable on the road? Yes and no.
A supermoto can be very reliable, but it depends on the bike you're riding, how you ride it, and how well you maintain it. There are certain models that are slightly more reliable, allowing you to get more miles before needing a rebuild.
But, if you're bouncing off the rev limiter all the time, no bike will last long. And if you're not taking care of it, you could have a major failure on the road.
How long will a supermoto bike last?
Depending on the factors I just listed above, you could get anywhere from a couple of thousand miles to 20,000 miles and more before the engine needs to be rebuilt. For choosing a reliable bike, I'll give you a hint: The higher the performance, the more maintenance it will require.
What are all of the supermoto bikes available?
Supermoto bikes have come and gone and somewhat come back in style. They're definitely not for everyone – especially if you want an off-road trail bike. Most manufacturers don't even offer a supermoto model these days, but I'll show you all the bikes that have recently been available – you can correct me if I've missed any (Thanks!).
These are the supermoto bikes that you can buy in the last couple of decades:
Aprilia SXV 450
Made from 2007-2010, the Aprilia SXV 450 was more of an exotic supermoto for us average joes. Not only were there few of them made, but they had something other supermoto bikes didn't – an extra cylinder.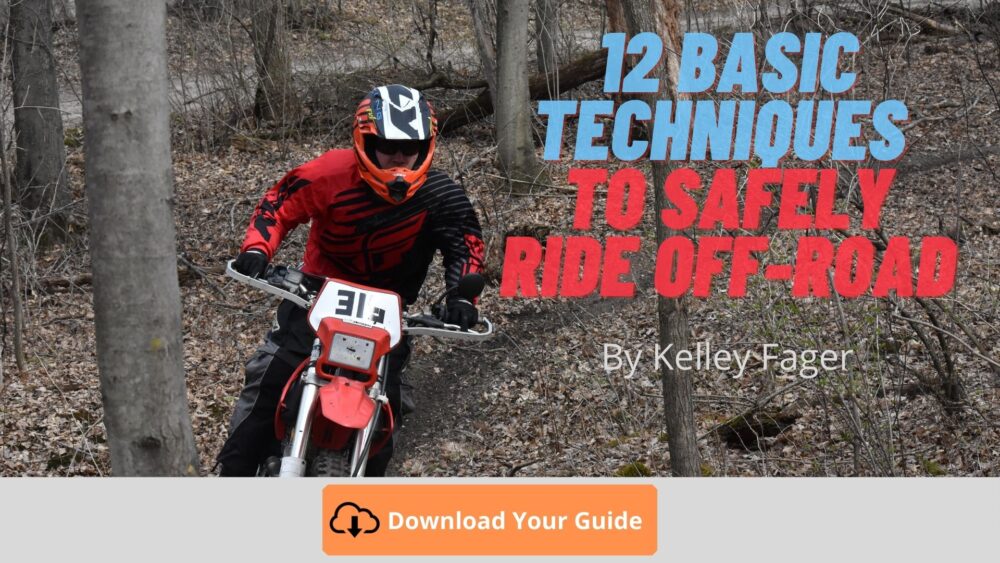 The SXV 450 is a v-twin engine, which is an advantage when it comes to making power on the street. It weighs just slightly more than a single-cylinder 450 dirt bike, but it makes 60 horsepower when stock.
That may not be shocking today, but back in 2007, that was an impressive number for a 450cc motorcycle.
Aprilia SXV 550
Similar to the 450, the SXV was simply a larger version of the same supermoto bike. It produced a claimed 70 horsepower, which is desirable for the street if the weight is nearly the same – more wheely-popping power!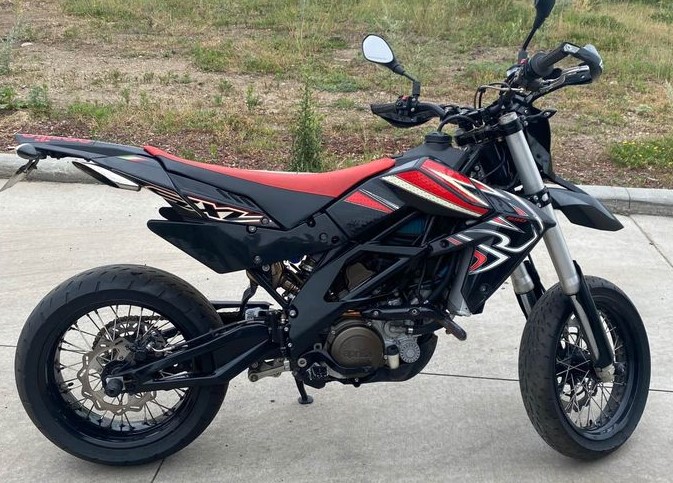 Pros:
Lots of power
Lightweight for a twin-cylinder supermoto motorcycle
Cons:
Expensive
Requires more maintenance
Only made for a few years
Bikes and replacement parts are hard to find
Ducati Hypermotard 950
I'm still questioning if this bike should be on the list of best supermoto bikes because it barely fits the category. Yes, it somewhat resembles a dirt bike and has full street wheels and tires, making it a supermoto-style and handling bike, but it's closer to a full street bike.
First, it weighs over 400 lbs with all the fluids, which is street bike territory compared to a dirt bike weight. Yes, it makes 114 HP, but it needs that with all the extra weight. I'll let you decide…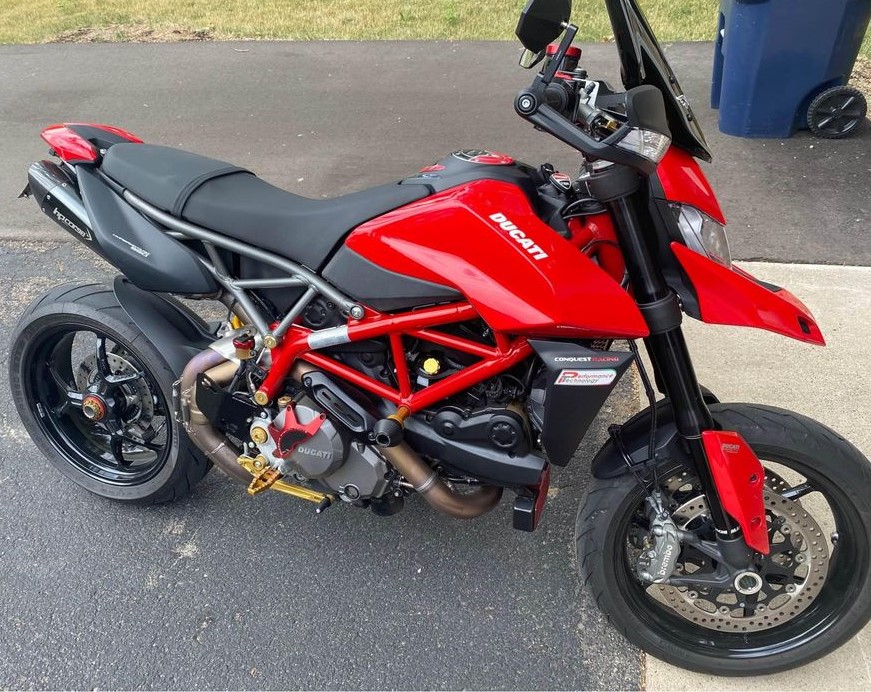 Pros:
Powerful
Sounds cool?
Lots of options for street riding
More comfortable at higher cruising speeds
Still being made today
Cons:
Heavy for a supermoto
Expensive
Honda CRF230M
The CRF230M is the only supermoto bike that Honda has made in the past 20 years, and it was only made for a couple of years. It's a great motorcycle to learn on because it has a low seat height, the engine is smooth and predictable, and it's fairly lightweight.
However, it didn't catch fire when it came to popularity, whether it was because of the great recession in 2008, or perhaps it simply didn't have enough performance for riding on the road.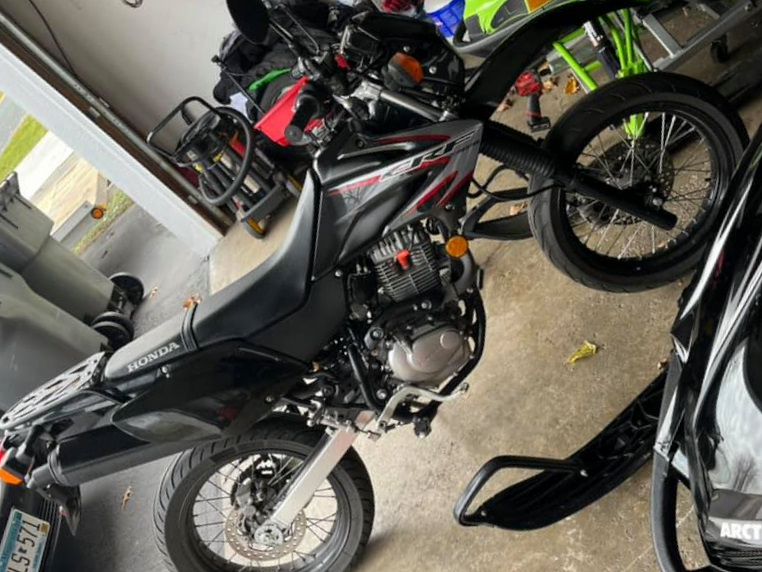 Pros:
Low seat height
Reliable
Easy to ride
Good gas mileage
Cons:
Slow
Only made for two years
Husqvarna SM 450 R*
Going in alphabetical order, Husqvarna has had a few supermoto bikes in the past couple of decades. The SM 450 R was in the previous life of Husqvarna – before KTM bought and owned the originally Swedish-made company.
It was basically a supermoto race bike, disguised as a street bike. This means that if you could get past some of the practical shortcomings, it;'s a fun and fast bike on the street.
Pros:
Fast
Lightweight
Good suspension/handling
More reliable than the 510 model
Cons:
No fan
Poor headlight
Weak charging system
Small gas tank
Not made anymore
Parts can be harder to find.
Husqvarna SM 510 R*
Much like the SM450R, the SM 510 R is a fun and fast supermoto bike that's not made anymore. You get more torque, and more horsepower, at roughly the same weight.
Why would you get a 450 then? Good question. It's more of a race bike or for hooligan riding around town due to the same drawbacks, but they're pretty reliable if you do simple maintenance.
Husqvarna SM 610 R
If you don't mind a little extra weight, the Husky SM 610 R is better suited for street and long-distance riding than the 450 & 510. It's still not great for the freeway, but with more stability and better street accessories, you can do more with it without worrying about having a problem.
With a bigger fuel tank, better charging system, and headlight, you can ride longer and later in the day. The biggest drawback is the extra weight, but that's the compromise for better comfort on the road.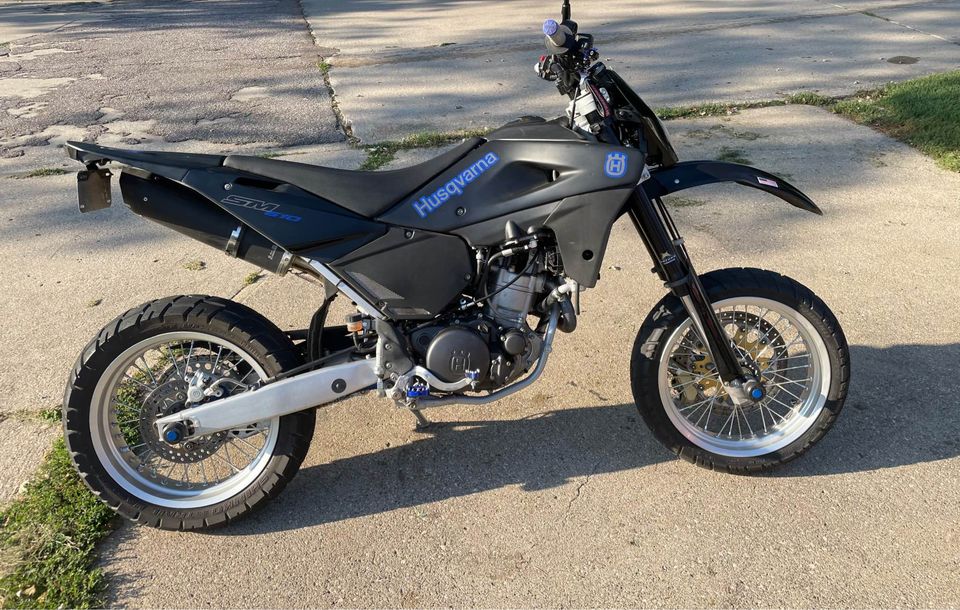 Pros:
Good torque and horsepower
Reliable for many road miles if properly maintained
Cons:
Weighs over 300 lbs (heavy compared to smaller supermoto's)
Not made anymore
Husqvarna FS 450
Today, Husqvarna makes a purpose-built 450cc supermoto bike that's not street-legal. What's the point, you ask, if you can't legally ride it on the road?
It's made for racing, and it does it well right from your dealer's showroom floor. With a powerful engine in a lightweight bike, it's fast in stock-trim – you don't have all the street accessories that rack up the weight.
Pros:
Fast
Lightweight
Still being made today
Cons:
Not street legal
Not good for beginners
Husqvarna 701 Supermoto
Taking the KTM 690 engine, the Husky 701 supermoto is a high-end street supermoto if you want the most power (besides the Hypermotard, but I don't count that). With virtually unlimited torque and horsepower in a dirt bike-ish chassis, it begs to be ridden on one wheel or in the twisties.
While it can easily handle commuting on the highway, you'll want to take every detour that stays on the pavement. The only downfall? It weighs well over 300 lbs – 324 to be exact, and that's without fuel.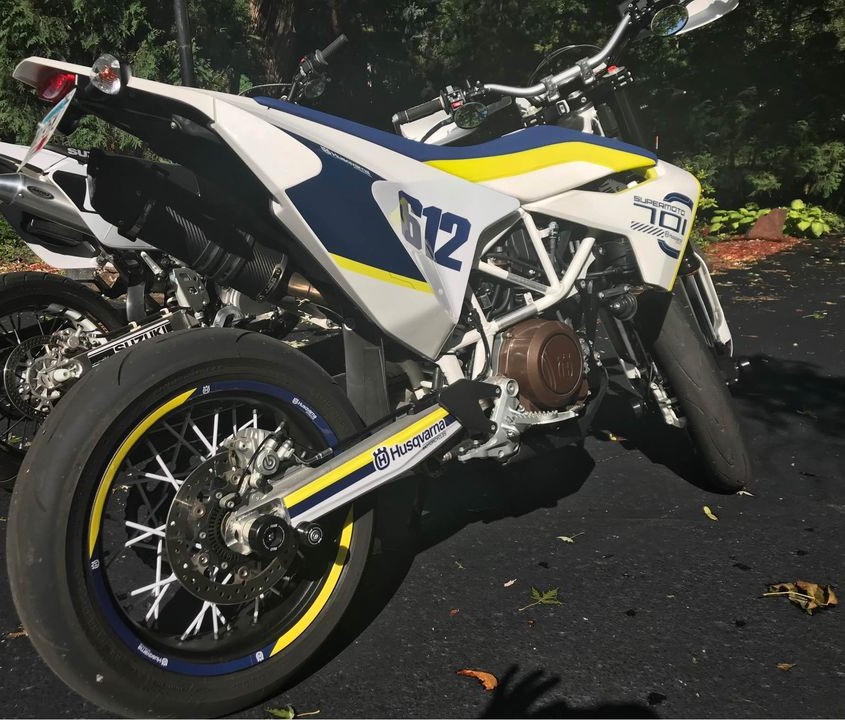 Pros:
Plenty of torque and HP
Larger fuel tank for longer rides
Still handles well at low speeds
A current model still being made today
More stable and comfortable on the highway
Cons:
It's noticeably heavier than smaller supermoto bikes
A bit much to handle if you're a beginner
Kawasaki KLX230SM
Kawasaki is taking advantage of the lack of small-displacement supermoto bikes in hopes that it will succeed with the beginner bike crowd. It's based on the KLX230R trail dirt bike, so it's nice and low to the ground and is very fuel-efficient.
While it may be the easiest supermoto to learn on and ride, it's definitely lacking the power to cruise at speeds over 55 mph unless you're wringing it out at high RPM and/or change the gearing. In any case, it's definitely more affordable and a great entry-level supermoto bike.
Pros:
Low seat height – if you're a short rider
Smooth engine – easy to handle and not overpowering
Cheap compared to most other supermoto bikes
Reliable if properly maintained
Fairly light for a street legal supermoto bike
A current model being made today
Cons:
Not enough power to comfortably cruise on the freeway
On the heavier side for its size (295 lbs curb weight)
Kawasaki KLX250SF*
Like Yamaha that I'll cover shortly, Kawasaki came out with a 250cc supermoto bike in 2009 that was supposed to be an efficient and lightweight bike for beginners and experienced riders alike. It makes just enough power to cruise on the highway but is smooth and easy to control if you're a beginner.
With a 33.9" seat height, it's taller than the CRF230M but shorter than the WR250X. Unfortunately, it was only made until 2011, whether it was due to the poor economy or a lack of demand for a small-displacement supermoto dirt bike.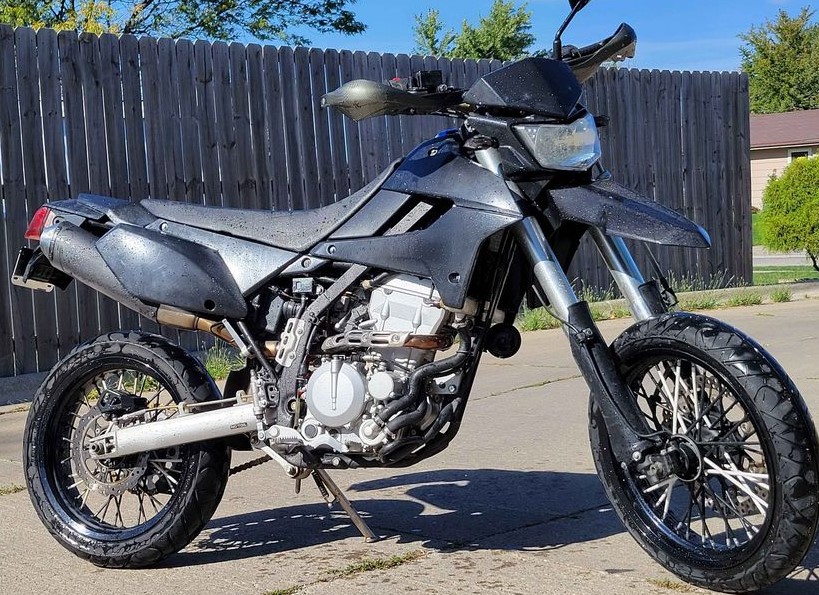 Pros:
Lightweight
Fuel-efficient
Slightly lower seat height than bigger supermoto's
Cons:
Only made for 3 years (discontinued)
Lacking power compared to 450cc+ bikes
Kawasaki KLX300SM
Kawasaki decided to get back into the midsize supermoto game with their updated 300cc dirt bike. Based on the KLX300R, the new KLX300SM has 17" street wheels and tires, like any typical supermoto.
With electric start and fuel injection, it's a great entry-level street legal supermoto with decent power. It's not the lightest bike, but it will still handle well. It's great for tooling around town, commuting on a budget, and hitting some backroads on the way home.
Pros:
Lightweight for a street-legal motorcycle (304 lbs curb weight)
Easy to handle if you're a beginner
New model has EFI and electric start
33.9" seat height is lower for a slightly shorter rider
Has enough power for cruising – better than a 250
Good gas mileage
Handles well at low speeds and twisty roads
Cons:
Not nearly as much power as a 450+ supermotard
Weighs slightly more than a high-performance 450/500
KTM 450 SMR
Just like the new Husky 450 supermoto, the 450 SMR is made for one thing: racing. Whether you're racing on pavement on short courses or actually competing in supermoto races with dirt and asphalt, the KTM 450 is "ready to race" out of the box.
This means that it's not street legal and is strictly set up for racing. You could convert it to be street legal, but it would take quite a few things to make it practical for daily riding.
Pros:
Fast
Lightweight
Great handling and suspension when stock
Cons:
Not street legal
Expensive
Too much bike (power) if you're a beginner
KTM 690 SMC R
Cousin to the 650 Enduro, the KTM 690 SMC R is basically the orange version of the Husky 701 supermoto. It's definitely heavier, but with more power and stability, it's a good choice for putting on a lot of miles compared to a 250 or even 450 supermoto.
Pros:
Plenty of torque and HP
Longer fuel range
Better stability on the highway/freeway
Cons:
Quite a bit heavier than a 250-450cc sumo bike
Expensive
Suzuki DRZ400SM
Suzuki obviously had it right when it came out with a supermoto from the factory. Why? Because it's still being made today, and it hasn't changed much at all!
What's different than the WR250X or KLX250SF? Maybe Yamaha and Kawasaki had poor timing, but the Suzuki DRZ400SM is a great combination of power, lightweight, reliability, and affordability while being street legal when new.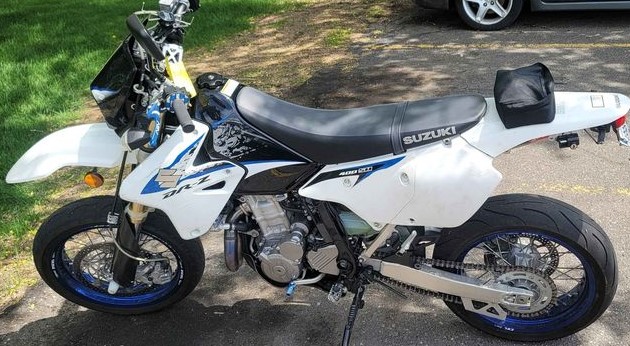 Pros:
Decent power – plenty for cruising on the highway
Fairly lightweight
Super reliable
Street legal
Affordable new or used
Easy to find bikes and parts used
Multiple colors available over the years
Cons:
Not as much power as a stock 450 unless heavily modified
Slightly heavier than most 450's
Yellow is ugly?
Yamaha WR250X*
Cousin to the WR250R dual sport that was made for several years longer, the WR250X only lasted from 2008-2011. It was made to be a lightweight supermoto with excellent reliability for beginners.
Whether it was bad timing or a lack of power, it really never took off. Maybe if they relaunched it with a 300cc or slightly bigger engine it could build some demand today…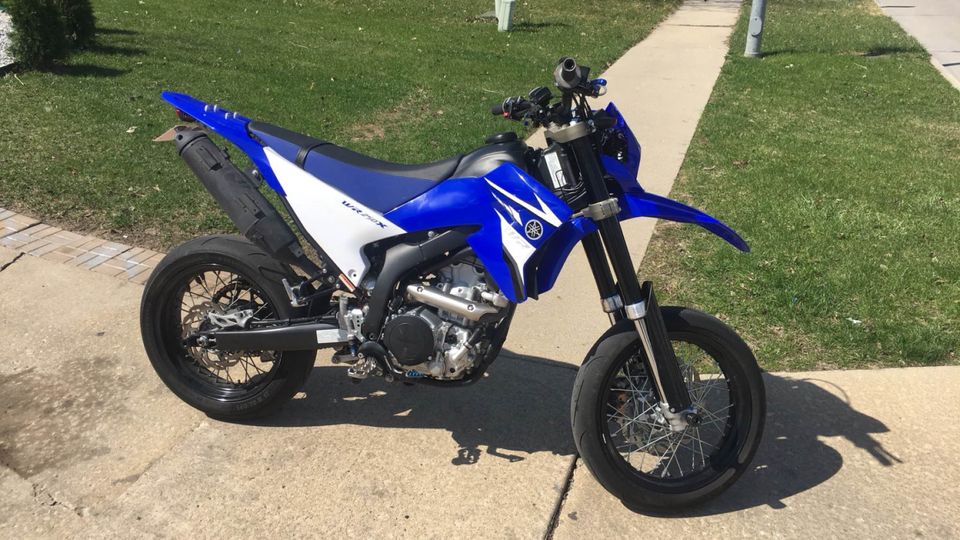 Pros:
Lightweight
Super reliable 250cc fuel-injected street bike engine
Decent power for an entry-level bike
Great for riding around town or short commutes
Cons:
Taller than the other lightweight supermoto bikes
Lacking power for cruising at high speeds
Only made from '08-'11
Other supermoto bikes not listed
These are some of the lesser-known and popular supermoto bikes that you can still find and buy in the used market:
KTM 560 SM
Husaberg FS 550e
Husaberg FS 570
KTM 640 LC4 Supermoto
Which supermoto is best for you?
Still can't decide what's the best supermoto bike for you? Whether you're a beginner, wanting to race, or somewhere in between, I'll make this easy for you by categorizing the top supermoto models based on your specific needs.
Best supermoto for beginners
New to riding motorcycles and want a bike that's easy to ride so that you can focus on staying safe by using the fundamental techniques? You want a supermoto that's either low to the ground and/or easy to control with a smooth power curve.
These are the best supermoto bikes for starting on as a beginner:
Kawasaki KLX230SM
Kawasaki KLX300SM
Street legal supermotos
Maybe you need a supermoto bike that's street legal so that you can commute or just be legal to ride on the road. Some models are for racing only, and you may even find some dirt bikes that are converted to supermoto, but they're not always plated and registered for riding on the road.
These are all of the latest street legal supermoto bikes:
Kawasaki KLX230SM
*Honda CRF230M
*Yamaha WR250X
*Kawasaki KLX250SF
Kawasaki KLX300SM
Suzuki DRZ400SM
*Aprilia SXV 450
*Aprilia SXV 550
*Husqvarna SM 610 R
KTM 690 SMC R
Husqvarna 701 Supermoto
* Discontinued
Fastest supermoto
Just want the biggest and fastest supermoto bike to brag on all your buddies? The Husqvarna 701 Supermoto is the fastest, but that's only in a straight line.
I don't count the Ducati Hypermotard because I don't consider it to be a "True Supermoto".
Best supermoto for racing
Don't need a street legal motorcycle and just want to race? The best supermoto for racing on pavement or supermoto tracks are the KTM 450 SMR or the Husqvarna FS 450.
These are purpose-built race bikes for closed-course racing competition – that means they're not detuned or choked down on power or suspension, and they have every bit of weight removed that isn't necessary.
Best supermoto for commuting/city riding
Depending on your experience, size and budget, you have several options that are good for commuting and city riding. Generally, the less experience you have, the smaller starter bike you want to choose.
These are the best supermoto bikes for commuting and city/town riding:
Kawasaki KLX230SM
Kawasaki KLX300SM
Suzuki DRZ400SM
KTM 690 SMC R
Husqvarna 701 Supermoto
I don't recommend the KTM/Husky unless you're more experienced and need the extra power or stability. The 230, 300 and 400 are great bikes because they're light, easy to handle, reliable, and affordable.
Best supermoto for highway
Riding on the highway can be a little more exhausting on a sumo bike because you don't have much, if any, wind protection. You're also winding the engine out if it's much smaller than a 450 or if your gearing is too short.
These are the best supermoto bikes for highway riding:
Suzuki DRZ400SM
KTM 690 SMC R
Husqvarna 701 Supermoto
Best supermoto for off-road
Want a supermoto dirt bike that will handle some off-road riding in the dirt? With true street tires, all supermoto bikes are terrible for real off-road riding because traction is at a minimum.
With that said, I would recommend a smaller bike that's easier to handle if you're going to ride in the dirt. One of these would be a good supermoto for off-road:
Kawasaki KLX230SM
Kawasaki KLX300SM
Suzuki DRZ400SM
Best supermoto for cheap
Depending on if you want to buy a brand new motorcycle or a used bike, there's a big price difference between cheap bikes and the most expensive – hint: it's almost a $10,000 dollar difference!
However, supermoto bikes are one of the most expensive types of dirt bikes, so you're probably not going to find one that's ready to ride for under $2500 even in the used market. This is because street wheels and tires are more expensive, and street legal dirt bikes are more desirable and bring higher prices.
These are the best cheap supermoto bikes (new & used):
Kawasaki KLX230SM
Suzuki DRZ400SM
Convert dirt bike to supermoto (see below)
Best dirt bike to supermoto
Looking to convert your dirt bike into a sumo bike for the ultimate hooligan riding experience? Then you'll most likely want a 450-500cc dirt bike that already has lights, a good powering system/stator, and a wide ratio transmission that works well on the road for cruising.
These are the best dirt bikes to convert to supermoto:
KTM 500 EXC-F
Honda CRF450X
How to convert a dirt bike into a supermoto bike
Didn't find a bike that you liked? Maybe you've seen other dirt bikes that are used as a supermoto, such as the WR450F.
A dirt bike can be converted to a supermoto bike, but it takes some money and/or time. Whether you want to make it street legal or not, I put together a step-by-step article on how to convert it to sumo here.
Learn the proper techniques to ride with confidence
Whether you're riding a dirt bike or supermoto, there are some basic techniques that you must learn to ride with control, but I see so many people making the mistake of not learning these proper techniques. I want to show you how to get started the right way – grab my free guide here.