You shouldn't get a Yamaha WR450F! At least not yet, because it may not be the right dirt bike for you.
In this article I'll cover the practical info you need about it, why it may or may not be the best bike for you, and where to go from there.
Who is the Yamaha WR450F for?
The WR450F is great at a lot of things, so it's a good dirt bike if you want a trail bike with plenty of power that can potentially be raced off-road or ridden on the street.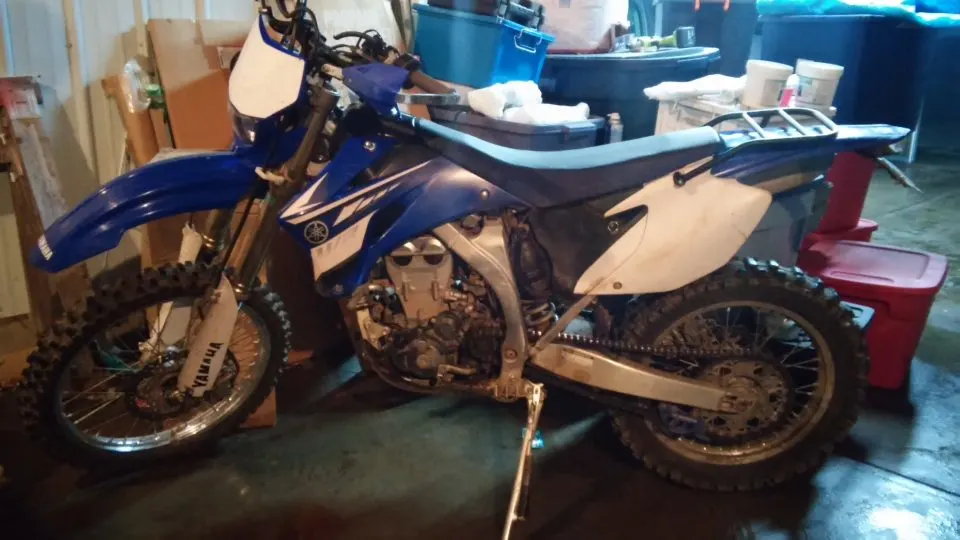 WR450F vs YZ450FX – what's the difference?
The main difference is that the WR450F has softer suspension and a wider ratio transmission, as well as smoother power than the YZ450FX, making it more comfortable and easier to ride on trails if you're not an aggressive rider.
Engine characteristics
The engine platform for the WR450F has changed over the years, with one major change in 2016, but it's always been reliable and produces good power.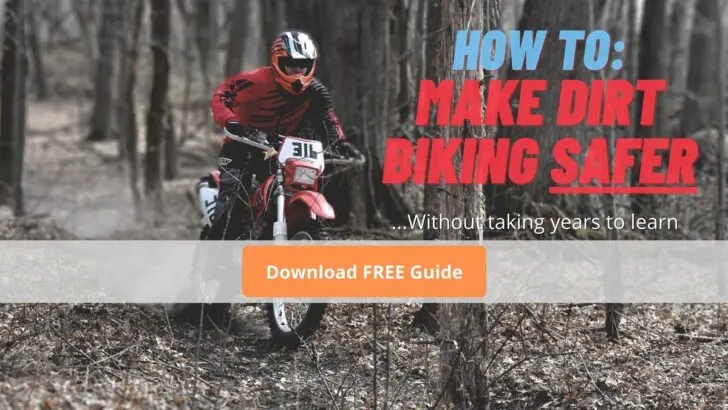 From 1999 (WR400) until 2015, Yamaha made the same basic 5-valve engine with some minor updates throughout the years to make it more reliable while producing more power.
The 5-valve engine is known to be one of the best and most reliable 450 dirt bike engines ever made. It may not have the most peak horsepower, but the low-end and mid-range torque combined with its durability makes it extremely user-friendly.
Not only is it easy to ride and control for a 450, but it's going to last a long time before needing a rebuild if you do simple maintenance.
2016 reverse engine updated
The 2016 and newer engine is based on the 2010+ YZ450F motocross bike engine. The engine is reversed, so the intake is in the front of the cylinder head and the exhaust comes out the back. Yamaha was able to get more power out of this set-up, which is why they changed it and still use this style engine to date.
The piston/cylinder bore is a bigger diameter and the stroke is shorter; this generally makes more horsepower because there's a bigger surface area for air and the piston doesn't have to travel as far each revolution.
The result? The 2016+ WR450F makes slightly less low-end torque but makes more horsepower on top.
This doesn't mean it's gutless down low like a 125 2 stroke, but it's enough of a shift for it to be noticeable. Is it a deal-breaker? Maybe, maybe not… It depends on what your needs are, and what other new technologies you want on your bike.
Suspension
The forks and shock have always been solid on the WR450F. They're a little soft if you're a bigger guy or are trying to race it at high speeds, but it's comfortable and works well for multiple types of riding.
The suspension is fully adjustable, so if you don't like it as it comes, you can do a lot of tweaking to get it more comfortable – for free!
Yep, the most important things to get right are the spring rates for your weight and then setting the sag so that the suspension is balanced. Then it's just adjusting the compression and rebound clickers to get it to your liking. External suspension adjustments are very simple.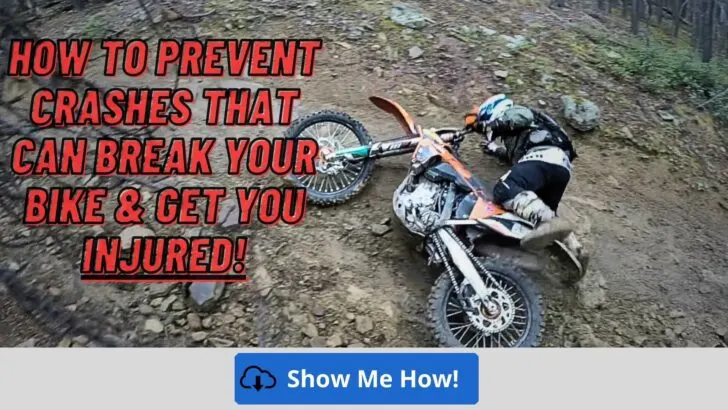 Handling
Compared to a 250 or a medium size trail bike, the WR450F is a brute if you're riding tight trails. It's a good handling dirt bike, but the tighter and slower you ride, the harder it will be to handle and turn.
It handles best on moderate-speed trails that aren't completely whooped out. Can you ride it on hard enduro trails? Yes, but it will wear you out quicker and overheat more easily if you don't have good clutch control.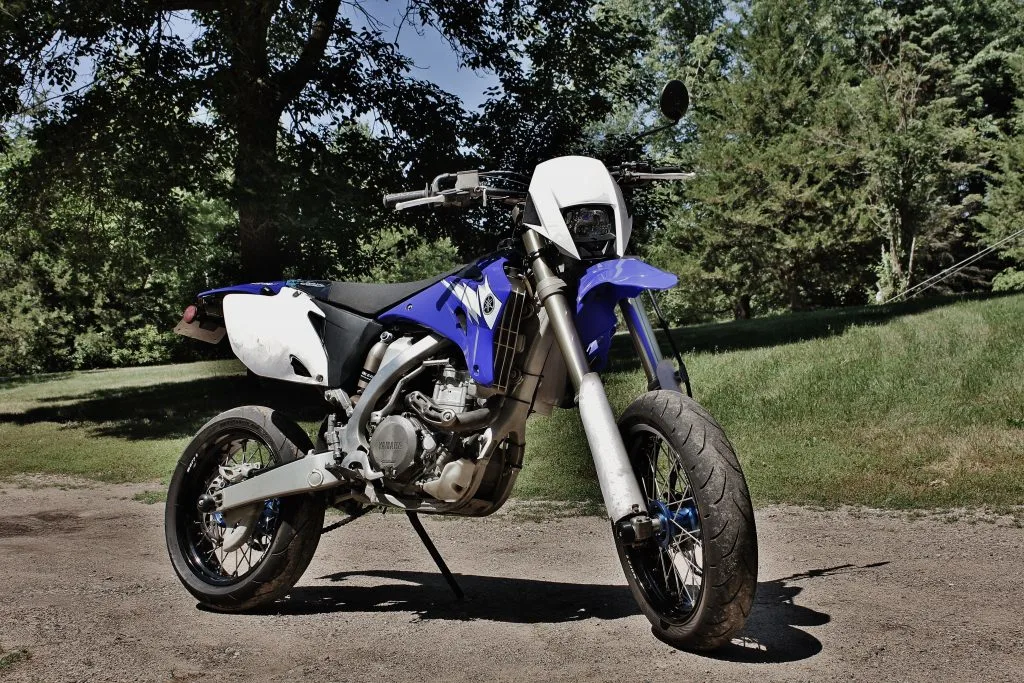 Size & weight
Not only does the WR450F weigh slightly more than the average trail bike, being a 450cc engine makes it feel heavier because of the rotational inertia. Yep, bigger engines make the bike feel heavier, even if it's just a few pound difference in actual wet weight.
Specs & Dimensions
| | |
| --- | --- |
| Engine | 449cc liquid-cooled 4 stroke |
| Transmission | 5-speed |
| Seat Height | 37.6" |
| Weight | 273 lbs. |
| Horsepower | 45 HP ('03-'15)/50 HP ('15+) |
| Top Speed | 95 MPH |
Model year history
It originally came out in 1998 as the WR400F, transitioned to the WR426F, and then Yamaha updated it to be the WR450F in 2003. Here is a brief history of the model years and any major changes it received:
1998: First year of WR400F
2001: Updated model name to WR426F
2003: First year of WR450F – 450cc engine, electric start added auto-decompression cam, side-access airbox
2007: New frame/chassis, updated bodywork, de-tuned engine for better low-end torque
2012: Added fuel injection, updated chassis (stiffer 250F frame), new bodywork
2016: New engine (YZ450F reverse-style), new bodywork
2019: Kickstarter removed
What's the best year WR450F?
It really depends on what you're looking for. If you don't mind a carburetor and want the best low-end torque, then 2007-2011 were good years.
For the best overall performing WR450F, 2016 and newer is the best because it has the most power and a better fuel injection system with good handling.
Common problems?
It never had any major problems. Yamaha has updated minor parts in the engine to make it a little more reliable over the years, but the overall build quality of the WR 450F is as good as it gets.
Bottom Line: Is the WR450F a good dirt bike?
Yes, it's a great dirt bike if you are experienced enough to handle the power. Most riders don't need 450cc of power unless you're an expert or absolutely need the most torque and horsepower for your type of riding.
Here are some practical pros and cons to help you decide:
Pros:
Plenty of power that's smooth and broad
As reliable as it gets
Electric start
Maintenance is easy if you're just a casual rider
Holds its value
Does well for virtually all types of riding
Wide-ratio transmission as great gear spacing (even though it's only 5-speed)
Can be turned into an awesome supermoto dirt bike for street riding
Cons:
Hard to handle the weight and power on tight trails
Not a good beginner bike
Harder to work on the engine (aluminum frame models '07+)
Hard to find them for sale in the used market
How to ride with confidence off-road
If you're new to dirt biking, I HIGHLY recommend that you don't start on a Yamaha WR450F. It's one of the most common mistakes that beginners make because they think: "I'll grow into the power of a 450"…
Let me tell you – having good clutch and throttle control is not as easy as it sounds, at least not when you're just starting out. It's way more important to learn the proper techniques to stay in control riding off-road, and this is much easier to do on a dirt bike that's "slower".
Whether you're new, just getting back into riding, or coming from a street bike, I want to help make dirt biking safer and more fun for you. I made a basic techniques guide that shows you how to ride with confidence and control, and I want to give it to you for free as a gift. Click here to grab this free guide.