What is a medium dirt bike size, and is it the right size for you? In this article, I'll not only answer those questions but the even more important questions like "is the size of your dirt bike that important?" and the simple steps to getting started dirt biking the right way.
How big is a medium dirt bike?
There's no "set size" for a medium dirt bike, but it's my opinion that a medium-size dirt bike has a seat height of 30-35 inches.
Why do I say this? Because most of the tallest dirt bikes have a 37-38″ tall seat height and are too tall to comfortably sit on for an average to slightly shorter than average size rider.
For example, I'm 5'6″ tall and I have a short inseam of about 27″. I fit well on dirt bikes with a seat height of 34-35″ because I can touch the ground with one foot just barely when I need to come to a stop.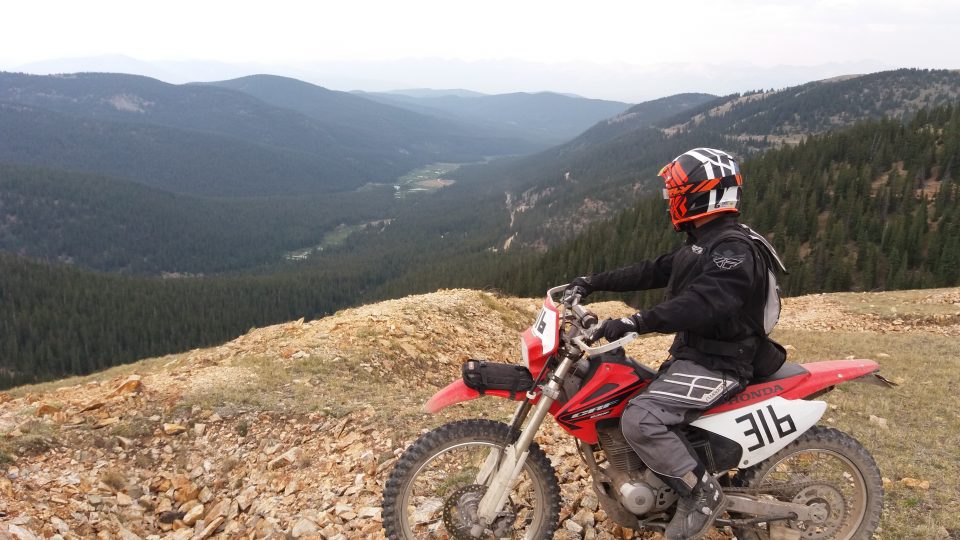 Is the size of your dirt bike really that important?
If you're new to dirt biking, then the size of your bike is absolutely important. Not only how big and tall it is, but the size and type of engine is important.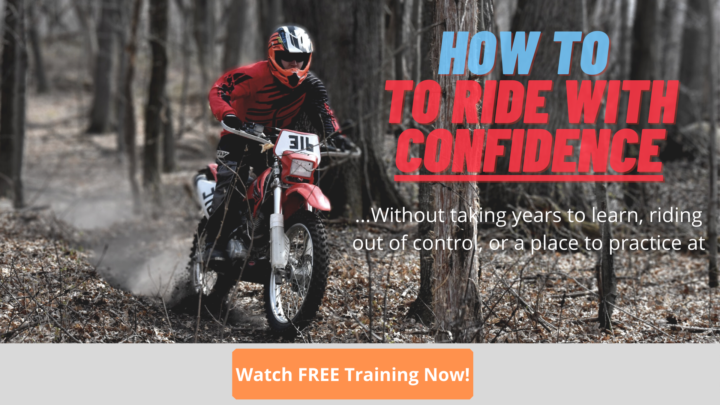 If this sounds overwhelming, then I want to make things simple for you by going step by step…
Size based on seat height
The seat height is very important if you're a beginner because you want to be able to touch the ground with one foot when you come to a stop. This will build your confidence because you don't have to worry about constantly tipping over.
As you become a better rider by mastering the basic techniques, the height of your bike won't matter quite as much because you'll have better balance skills to prevent tipping over at low speeds.
Size based on engine displacement
The majority of dirt bikes range from 50cc to 500cc, and anything bigger is built for dual sport or adventure riding (legal for on and off road). Dirt bikes for kids are typically in the 50-125cc range, while medium dirt bikes are generally 125-250cc.
With that said, a TTR125 is a beginner bike for teens and short adult riders, but a YZ125 is a motocross bike for older teens and adults.
So, how do you tell the difference if they have the same "CC" or engine size?
You simply have to check if it's an off-road trail bike, or a motocross bike. A trail bike is going to be smaller, slower, and built for beginners. Motocross bikes are not good for beginners because the power is unpredictable, the seat height is much taller, and the suspension is really stiff, making for an uncomfortable ride.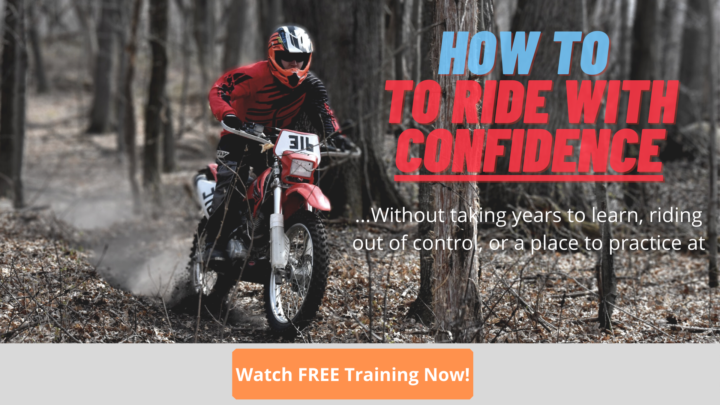 If you're looking for your first dirt bike, then the best bikes usually have an air-cooled (no radiators) 4 stroke engine and are not meant for racing.
What are the sizes of dirt bikes?
As far as the seat height goes, dirt bikes range from about 20-39″ tall. Little kids' bikes are in the 20-25″ seat height range, while kids that are 9-12 years old usually fit a dirt bike with a 26-30″ seat height.
Then comes the "medium dirt bike size", which is in the 29-35″ seat height range. Some have full size wheels (21″ front and 18 or 19″ rear wheel), and some are slightly smaller.
I consider these medium or midsize dirt bikes because they are a few inches shorter in height than a typical full-size bike, making them easier to ride if you're short or have short legs like me (5'6″ with 27″ inseam).
Tall dirt bikes have a 36-39″ seat height and are good if you're over 5'8″ in height.
How tall should you be to ride a 250cc dirt bike?
It depends on what kind of 250cc dirt bike you're talking about. A 250 4 stroke trail bike is good if you're at least 5'4″ tall because it's shorter than a 250 enduro or MX bike.
This is most important if you're looking for your first dirt bike. As a beginner, it's harder to balance riding off-road, which is why a shorter and lighter dirt bike will help.
Best medium dirt bike for adults to start on
Almost all dirt bikes that I consider "beginner-friendly" are in the "medium dirt bike size category", and that's not just a coincidence. Unless you're well over 6 feet tall, you should be starting on a smaller/shorter dirt bike because you will have more confidence right from the get-go.
Whether it's trying to balance on your tiptoe or worrying about having a whiskey-throttle moment, there are very few advantages to starting on a bigger and faster dirt bike.
These are the best medium size dirt bikes if you're a beginner:
These are all of the best dirt bikes to start on that are currently available. They're all 4 stroke trail bikes with an air-cooled engine, which means they're easy to ride, reliable, and easy to maintain.
Budget options for used bikes
Maybe you're like me and didn't have much cash when you got started – I had to pay my dad back for paying 500 bucks for my first dirt bike with a clutch.
These are the best cheap & reliable dirt bikes to start on if you're on a budget:
Learn to safely ride with confidence
Whether you're brand new to dirt biking or just getting back into it, there are some basic techniques that you need to learn if you want to ride off-road and stay in control. Staying balanced is one of the most important things, and it's even more important if you're a short rider like me that can barely reach the ground on a full-size dirt bike.
That's why I put together some free training guides to help you get started the right way. I show you the simple steps to becoming a safe and confident rider, as well as the basic techniques you need to learn along the way. Click or tap here to get started for free right now.