Looking for a Honda 125cc dirt bike? The Honda CRF125 is a great bike for the right rider.
In this article, I'm going to give you the practical info you need to decide whether or not it's the right dirt bike for you.
What is a CRF125F dirt bike?
It's a 125cc 4 stroke trail bike that's built for beginners learning to ride a dirt bike with a clutch. Honda used to make a CRF80/XR80, which was replaced with the small wheel CRF125F, and the bigger wheel CRF100/XR100 was updated to the CRF125FB to also compete with the Yamaha TTR125.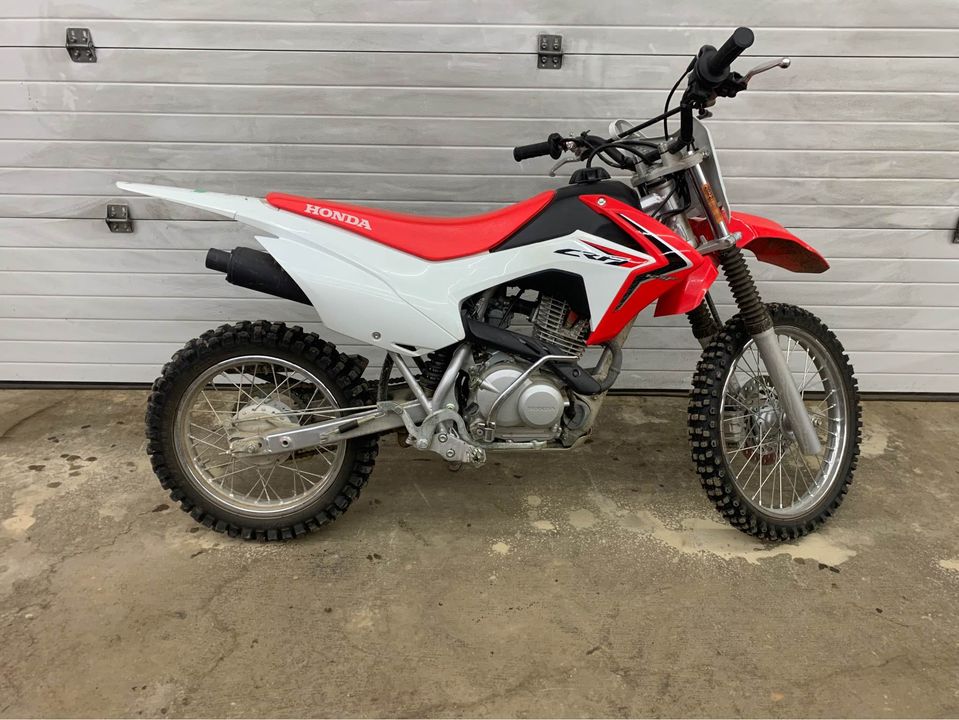 What age range is the CRF125 for?
While it mainly depends on how tall you are, the CRF125F is good if you are or have a kid that's10-13 years old. With that said, there's a small wheel and big wheel version, and the bigger wheel works well if you're a female or a guy with short legs.
CRF125F vs CRF125FB – What are the differences?
The standard model has smaller wheels (14/16") with a seat height of 29.1". The bigger wheel CRF125FB version has 16/19" wheels and tires with a 30.9" seat height.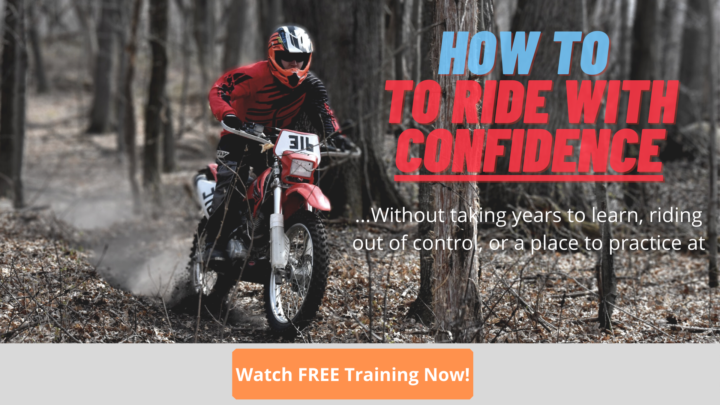 Not only is the seat height taller, but the bigger wheels make a difference in handling on the CRF125FB – it rolls over obstacles on the trail a little easier and is more stable.
Does it have a clutch?
Yes, the CRF 125 has a 4-speed transmission with a clutch. It's a fantastic dirt bike to learn how to use the clutch on because the power is so forgiving.
The worst thing you can do is start on a motocross bike with a snappy powerband that's hard to control. It will only frustrate you more and make it harder to learn how to ride properly because you're trying to control the bike instead of practicing proper techniques.
Is the CRF125 fuel injected?
When this 125cc Honda first came out in 2014, it came with a carburetor, but Honda changed to a fuel injection system in 2019.
I personally like fuel injection because you don't have to deal with a messy carb that gets dirty easily and the EFI compensates for temp and elevation changes. This means no jetting changes. A fuel tuner is only needed if you modify the intake/engine/exhaust.
CRF125 engine characteristics
Reliable, smooth, and low maintenance are the keywords I would use to describe this engine. It's a simple, air-cooled 125cc 4 stroke, so it doesn't have much power, but that means it's very forgiving and great for learning to ride.
Keep oil in it and change the air filter when dirty, and this engine will last for years. That is unless you're thrashing it all the time.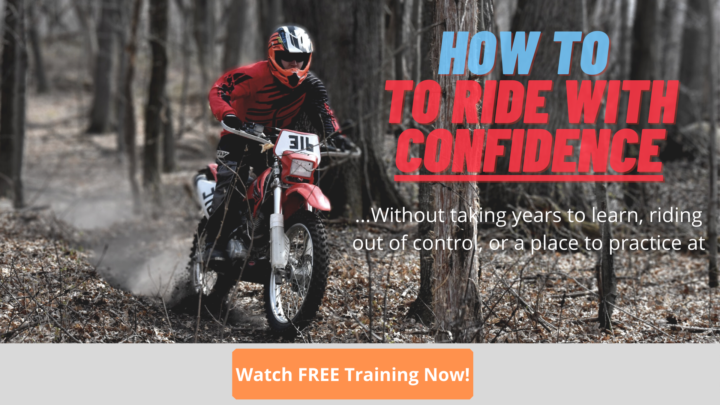 CRF125 Specs/Dimensions
| | |
| --- | --- |
| Engine | 124cc air-cooled 4 stroke |
| Transmission | 4-speed manual clutch |
| Seat Height | 29.1/30.9″ |
| Weight | |
| Horsepower | 6HP |
| Top Speed | 40 MPH |
Why you shouldn't buy a CRF125
This isn't the right dirt bike for everyone. You shouldn't get a CRF125 if you:
Are an experienced and aggressive rider
Are taller than 5'6″
Don't like the color red
Don't want a dirt bike with a clutch
Why you should buy a CRF125
Need more help deciding if this is the right dirt bike for you? You should get a CRF125 if you:
Are brand new to dirt biking
Want a dirt bike that's easy to ride and learn to use the clutch
Are 4'8″-5'4″ tall
Prefer the simplicity and reliability of a Honda trail bike
TTR 125 vs CRF 125
They're a pretty close comparison, but it comes down to a couple preferences. The 2019+ CRF 125 has fuel injection over the outdated TTR 125 carb. The Yamaha has a 5-speed transmission, whereas the Honda only has 4 gears.
These 125cc 4 strokes are both great bikes, so go with your favorite color or the one that you can find in better condition if you're buying used.
Best CRF125 mods
There's a lot of mods you can do to make this pit bike faster, but the top mods to make it more comfortable are:
Stiffer suspension
Uncorking
Rejet/tune
Learn to ride with confidence
What if you could learn to ride with confidence this year, even if you don't have a lot of time to practice? I want to show you the proper riding techniques to quickly build your confidence and control. Tap here to download my free training guide.