Considering buying a Honda CRF 125 dirt bike but can't decide if it's the right bike for you? Maybe you're looking for your first dirt bike or want to upgrade from a smaller size – whatever the case, you're in the right place!
In this review, I'm going to show you what kind of dirt bike the CRF125F is, the differences between the models and years, what to expect when buying and riding one, and how to know if it's the best dirt bike based on your specific needs so that you save time and money!
What is a CRF125F dirt bike?
It's a 125cc 4 stroke trail bike with a simple air-cooled engine and a 4-speed manual clutch transmission, but what does that mean to you? It's built to be reliable, easy to ride, and it's Honda's smallest dirt bike with a clutch.
If you want a slightly smaller dirt bike without a clutch then you need to check out the Honda CRF110F.
CRF125F vs CRF125FB – What's the difference?
There are several small changes between the small wheel & big wheel models that add up to make a noticeable difference between the dirt bikes.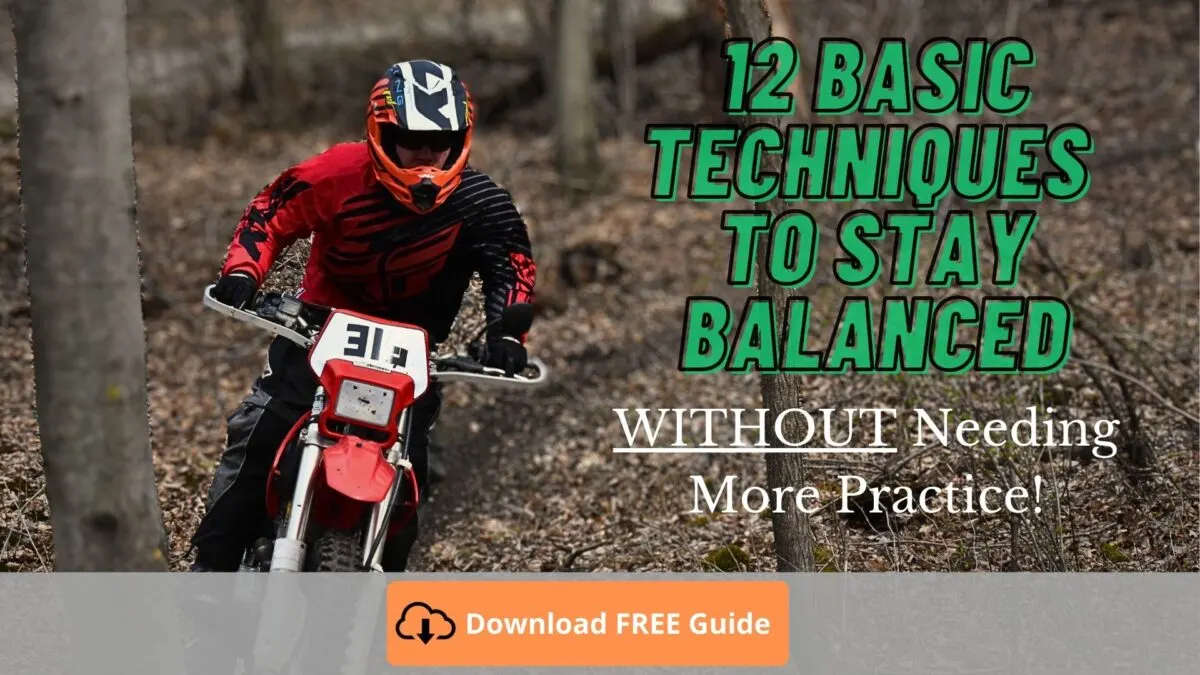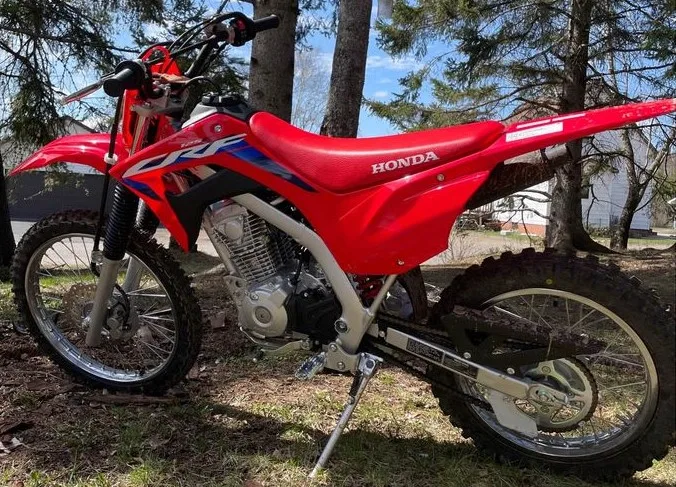 These are the differences between the Honda 125F & 125FB:
Wheel & tire size
Seat height
Ground clearance
Suspension travel
Handlebars
Gearing
The standard model has smaller wheels (14/16") with a seat height of 29.1". The bigger wheel CRF125FB version has 16/19" wheels and tires with a 30.9" seat height.
Not only is the seat height taller, but the bigger wheels make a difference in handling on the CRF125FB – it rolls over obstacles on the trail a little easier and is more stable.
CRF 125 engine characteristics
Reliable, smooth, and low maintenance are the keywords I would use to describe this engine. It's a simple, air-cooled 125cc 4 stroke, so it doesn't have much power, but that means it's very forgiving and great for learning to ride.
Keep oil in it and change the air filter when dirty, and this engine will last for years. That is unless you're thrashing it all the time.
Horsepower – does it really matter?
A stock CRF 125 has about 6 horsepower. This doesn't sound like much, but there's more to it than just peak horsepower.
You see, when you look at the power each dirt bike produces, that's only the "max horsepower" it makes at one specific RPM. That means you have to rev the engine to that RPM and keep it there to make that power.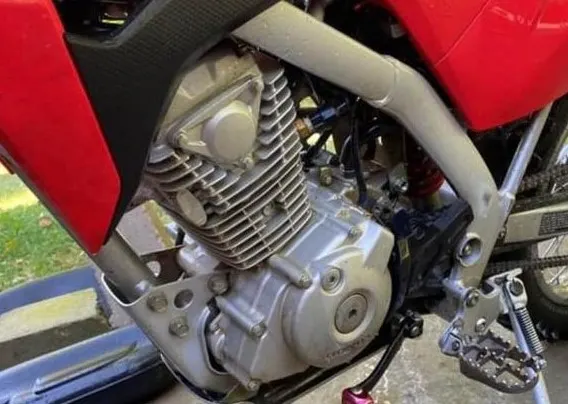 That's difficult to do and not practical, so that's why it's important to consider the power curve from idle to peak, which is where this Honda 125 4-stroke shines. With decent torque right off of idle and a smooth power curve, it's extremely easy to ride if you're a beginner learning how to use the clutch.
Top speed
You can reach a top speed of about 45 MPH on a stock CRF125F if you're on flat ground. This number isn't very important either because you're not going to go that fast on trails if you're serious about dirt biking. If you want to raise the max speed then just go to a smaller rear sprocket (Motosport).
Electric start vs kick start
Compared to an older dirt bike with just a kick-start, the CRF125's electric start greatly reduces frustration – especially if you're a newer rider. Many beginners struggle with clutch control and stall it often, so it's a lot easier to push a button than constantly kick it.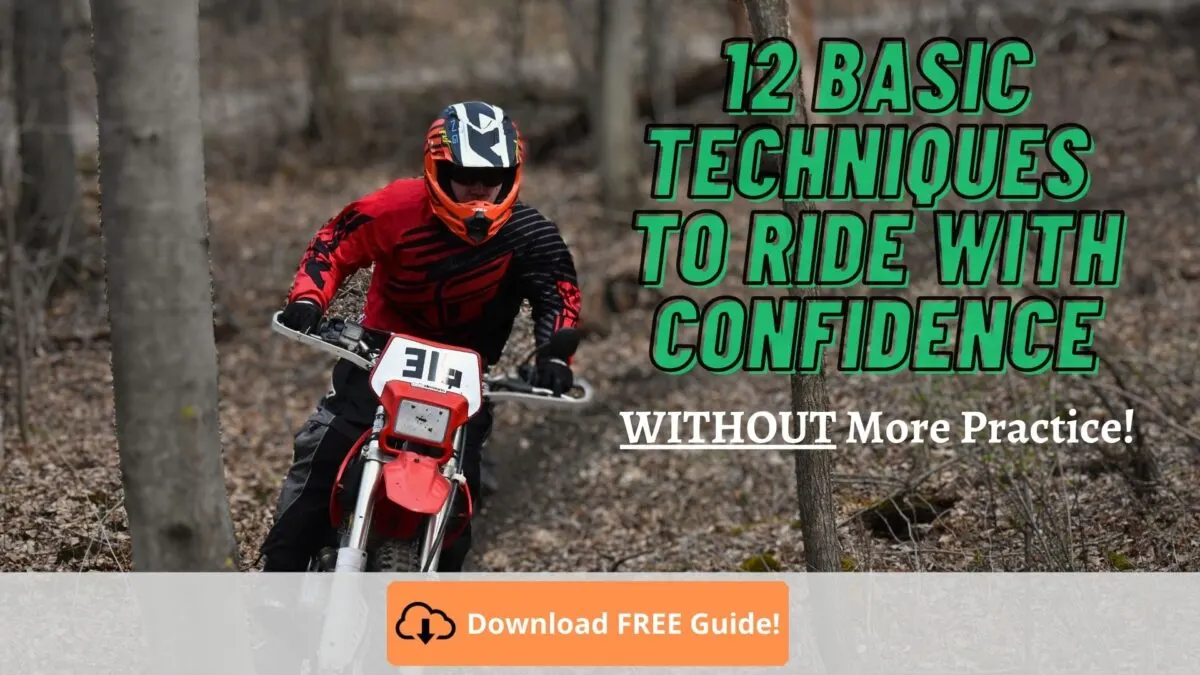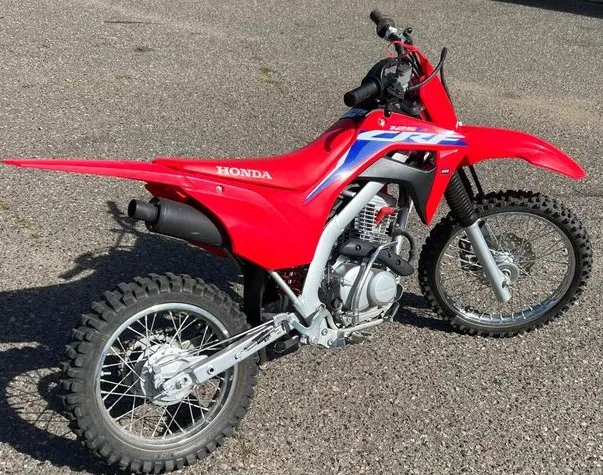 Is the CRF125 fuel injected?
When this 125cc Honda first came out in 2014, it came with a carburetor, but Honda changed to a fuel injection system in 2019.
I personally like fuel injection because you don't have to deal with a messy carb that gets dirty easily and the EFI compensates for temp and elevation changes. This means no jetting changes.
A fuel tuner is only needed if you modify the intake/engine/exhaust.
EFI vs carb – which is best for you?
A carburetor is fairly simple because there are no electronics, but they can be a pain if you let it sit for too long and the gas gums up the small jet circuits.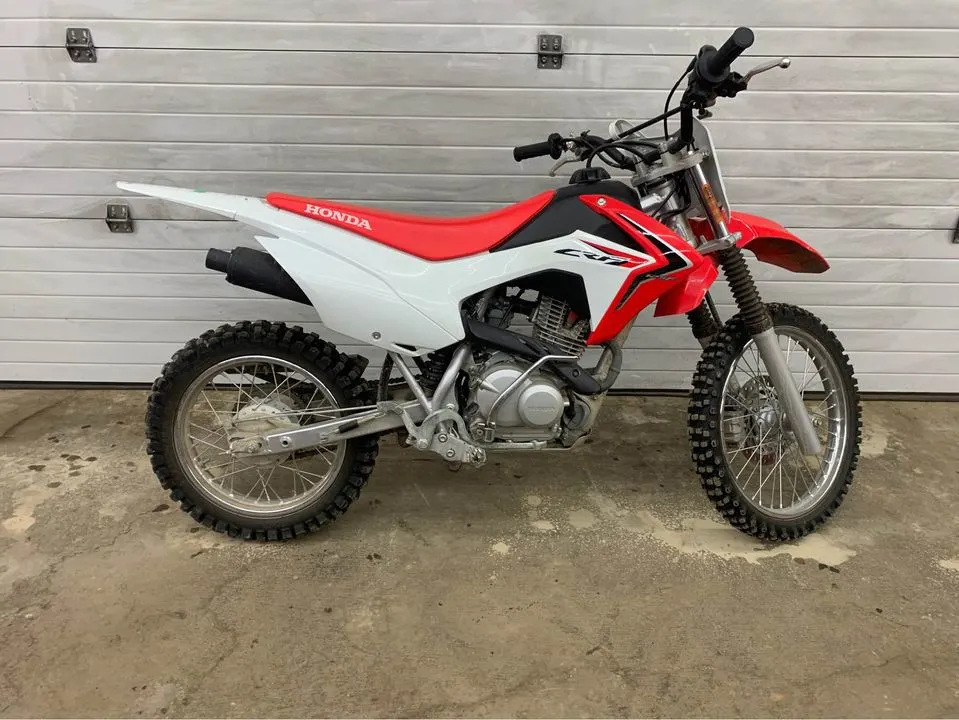 Not only is fuel injection easier to start when tuned properly, but it also automatically adjusts the fuel mixture if you ride in different temps or elevation. This means you don't have to fiddle with changing jets.
These are factors to keep in mind if you're looking at the different CRF 125 model years:
2014-2018: Carburetor
2019-current: Fuel injection
Suspension – pros & cons
You get pretty basic suspension components with the CRF 125, which is just fine if you're a beginner or novice rider. Simple suspension makes it more reliable, with less tuning to worry about, and more affordable.
The problem is when you start riding faster and more aggressively or you weigh over 150 lbs. The stock suspension is set up well if you're 80-120 pounds, so it will be very soft if you are heavier.
You'll start bottoming out the forks and shock, causing an uncomfortable and unsafe rider, which could cause you to crash and break the bike or yourself – not good!
Small wheel vs big wheel suspension travel
The main difference between the two model sizes is that the CRF125 small wheel has 5.9"/5.5" of suspension travel (front/rear), and the CRF125 big wheel has 6.7"/6.6" of travel.
The longer travel gives you a little more comfort on the trails because it can soak up bumps and impacts more, which will reduce fatigue and allow you to ride longer.
Front forks
The front forks are nice and soft, which is perfect if you're a teen or short adult that's learning to ride. They absorb the bumps well at low speeds but will start feeling harsh if you ride at an intermediate to expert-level pace.
Unfortunately, there are no external adjustments you can make other than raising or lowering the forks in the triple clamps, but I don't recommend it unless you've already adjusted the shock ride height and are comfortable with motorcycle geometry tuning.
Cheap fork upgrade?
If you want to make the front forks stiffer, you'll have to go to a heavy-duty fork spring, along with heavier weight fork oil (Amazon). You can test using one or two stiffer springs to see which is more comfortable for your weight and riding style.
Rear shock
Moving to the rear shock, there's only one external adjustment for the CRF 125, whether it's a small wheel or a big wheel model.
The shock sag adjustment is critical on any bike because it directly affects how your bike handles – you can get more traction and easier turning if you set it up for your weight, which will give you more confidence!
Cheap shock upgrade?
The stock shock is also soft to match the forks, so if you're bottoming out, then you'll want to upgrade to a stiffer spring rate (Amazon). It's not made to be rebuildable, so if you want more performance then you'll have to upgrade to a better shock, which doesn't exist in the U.S. that I'm aware of.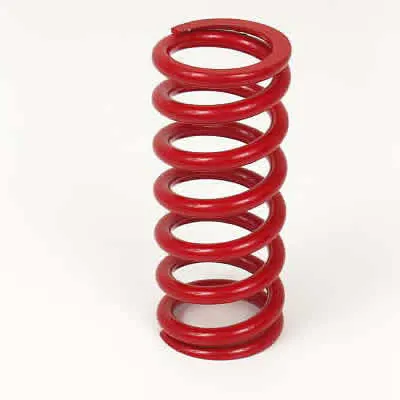 Handling – what to expect
The CRF 125 is roughly the same size as the CRF80 and the CRF100 when it comes to the wheels, tires, and seat height of the big and small wheel models. In other words, they're midsize trail bikes that handle well at slow speeds and tight areas for a few reasons.
With a low seat height and a short wheelbase, you get a lower center of gravity and a small turning radius. This makes it easier to lean, corner and control the bike, which is important if you're a kid, teen or female that's new to dirt biking.
CRF125F Weight comparison
The small wheel CRF 125 weighs 194 pounds and the big wheel model weighs 196 pounds, but what does that mean for you? Compared to a full-size dirt bike, it's about 40-60 lbs. lighter, making it easier to handle and pick up if you fall over.
The Honda CRF 125 4 stroke weighs about the same as other 125cc 4-stroke trail bikes. Even though they aren't "lightweight" for their size, the low center of gravity makes them feel even lighter, making them very fun to ride, if you're too tall to fit on one properly.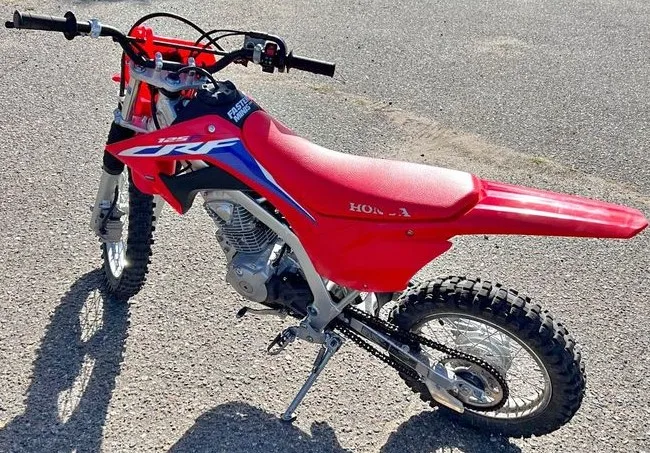 Is there a weight limit?
There's no technical weight capacity, but the stock suspension will be too soft if you weigh over 140 lbs – especially if you're riding aggressively. You definitely don't want to do motocross jumps unless you stiffen the suspension at a minimum.
The more you weigh and the harder you ride, the more likely you'll bottom out the suspension, which will eventually lead to cracking the frame, which can cause a terrible crash and get you hurt, which I don't want to happen!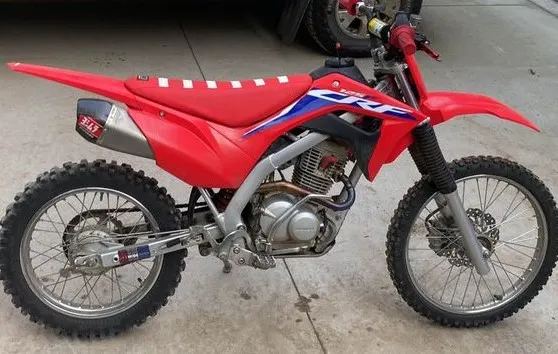 Honda CRF 125 Specs & Dimensions
These specifications are taken from Honda's website:
| | |
| --- | --- |
| | CRF125F / CRF125FB |
| Manufacturer | Honda |
| Engine | 124cc air-cooled 4 stroke |
| Starting System | Electric start w/ backup kick-start |
| Transmission | 4-speed manual clutch |
| Seat Height | 29.1″(74cm) / 30.9″(78.5cm) |
| Weight | 194/196 lbs |
| Horsepower | 6HP |
| Top Speed | 45 MPH |
| Price (MSRP) | $3,399/3,799 |
TTR 125 vs CRF 125
They're a pretty close comparison, but it comes down to a couple preferences. The 2019+ CRF 125 has fuel injection over the outdated TTR 125 carb. The Yamaha has a 5-speed transmission, whereas the Honda only has 4 gears.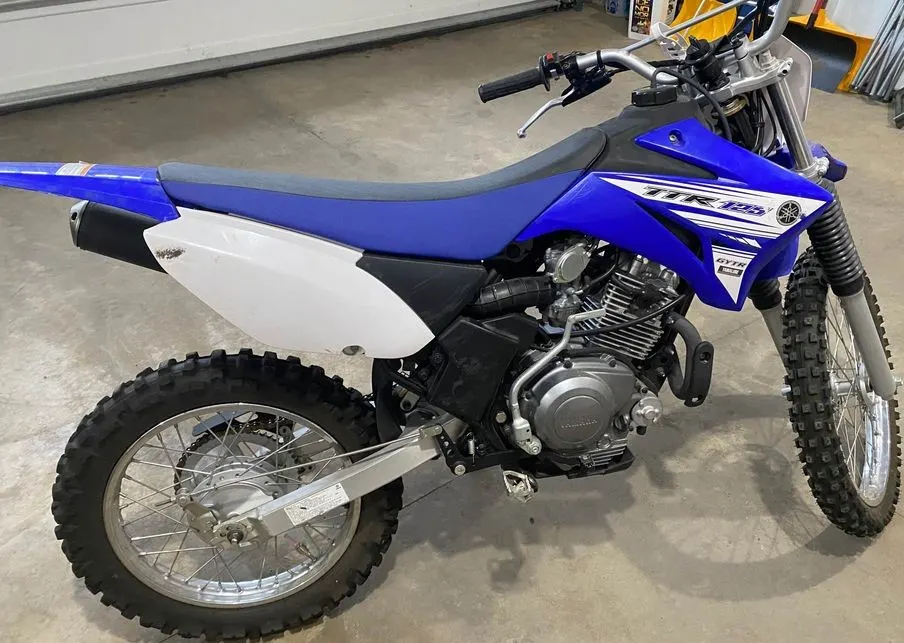 These 125cc 4 strokes are both great bikes, so go with your favorite color or the one that you can find in better condition if you're buying used.
CRF 125 vs CRF 100
The CRF125F is the new version of the CRF100F that Honda stopped making in in 2013. The biggest difference is that the CRF 125 has slightly more power, electric start, only 4 gears, two model sizes to choose from, and the 2019+ models have fuel injection.
Taking over the CRF80
Honda used to make a CRF80/XR80, which was replaced with the small wheel CRF125F, and the bigger wheel CRF100/XR100 was updated to the CRF125FB to also compete with the Yamaha TTR125.
What age range is the CRF 125 for?
While it mainly depends on how tall you are, the CRF125F is good if you are or have a kid that's 10-13 years old. With that said, there's a small wheel and big wheel version, and the bigger wheel works well if you're a female or a guy with short legs.
Is The CRF125F a good dirt bike for you?
Yes, it's a great trail bike if you're new to dirt biking or if you just want a smaller dirt bike with a clutch to practice your skills. With the 2nd gen CRF125F (2019+) having fuel injection, it's as close to a worry-free entry-level bike for training your family and friends as possible.
Why you should buy a CRF 125
Need more help deciding if this is the right dirt bike for you?
You should get a CRF 125 if you:
Are brand new to dirt biking
Want a dirt bike that's easy to ride and learn to use the clutch
Are 4'8″-5'4″ tall
Prefer the simplicity and reliability of a Honda trail bike
Why you should NOT buy a CRF 125
This isn't the right dirt bike for everyone.
You should NOT get a CRF 125 if you:
Are an experienced and aggressive rider
Are taller than 5'6″
Don't like the color red
Don't want a dirt bike with a clutch
Best CRF125 mods
There are a lot of mods you can do to make this pit bike faster, but the top mods to make it more comfortable are:
Stiffer suspension
Uncorking
Rejet/EFI tune
How to lower a CRF 125 seat height
Maybe you want the CRF 125 because it's the smallest kids dirt bike with a manual clutch, but it's still a little bit tall. You can shave the seat foam, but that can be messy with removing the seat cover, and it's also uncomfortable for your backside to sit on.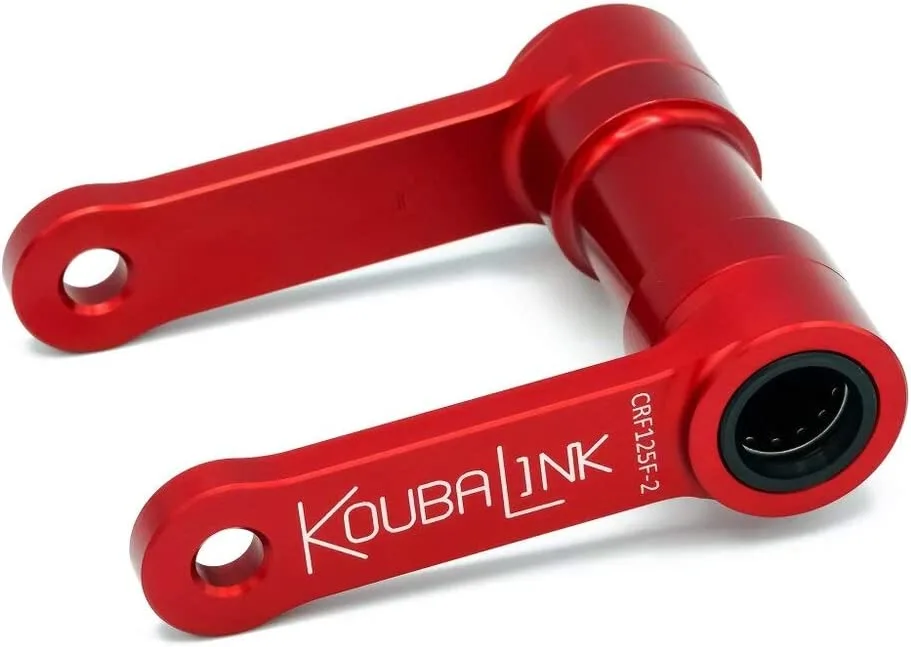 The easiest mod to lower your CRF 125 seat height is a lowering link (Amazon). It's a simple replacement part for the rear shock linkage that instantly lowers the seat about 1.5 inches.
Learn to ride with confidence
What if you could learn to ride with confidence this year, even if you don't have a lot of time to practice? I want to show you the proper riding techniques to quickly build your confidence and control. Tap here to download my free training guide.