What Is The Best Dirt Bike For My Kid? [2020 Guide]
Are you looking to buy a dirt bike for your little kid but don't know which one is the best choice to start out on? Choosing the right bike for your young rider is very important, especially if they've never ridden before.
Kids can start riding as young as 3 years old, so once they are able to ride a bicycle without training wheels they should be capable of learning how to ride a dirt bike. Please remember to always have your kids wear proper safety gear all the time. This includes a DOT/Snell certified helmet, dirt bike boots, riding pants, goggles, gloves, and elbow/knee guards are highly recommended as well.
Age & Size Plays a Role
There are a few factors that come in to play when finding the right dirt bike for a kid. Age, experience, size, and where you are going to ride all come in to play when looking for a bike. There are 50cc, 70cc, 80cc, 90cc, 100cc, 110cc, 125cc, and 150cc four-stroke dirt bikes that are mostly meant for off-road and trail riding. For the smaller two-stroke dirt bikes, there are a couple different 50s, 65s, and 85cc bikes. These are used for motocross racing.
For a more detailed guide on what size dirt bike to buy read this.
Best Dirt Bike For Kids 3 & 4 Year Old

s

Starting your little kid on a dirt bike when they're under 6 can be scary if you don't know much about dirt bikes. You may hear stories about dirt bikers always getting hurt, but that is not the case if you are properly prepared.
Electric or Gas Dirt Bike?
I rarely consider electric dirt bikes when recommending them to people due to their lacking capabilities. However, electric bikes for little kids are worth considering for a first bike to learn how to ride.
Electric Dirt Bike: Is It Good?
An electric bike such as a Stacyc is small, lightweight, and easy to ride because it's low to the ground. There are different models, but the power is docile and smooth, so the throttle is very forgiving. An electric dirt bike is also quiet, so neighbors can't complain about noise.
There are a few downsides to most electric bikes, however.
Electric Dirt Bike Disadvantages
The ride time per battery charge is generally about 30 minutes. This may not be a problem, since most kids won't need to ride longer than that before getting tired or bored at the age of 3 or 4. Long ride days are still not possible on electric bikes without recharging, which takes at least as long to charge, if not longer.
Parts availability are also another concern. Since most quality electric bikes are made in smaller quantities, they don't stock as many parts as a large dirt bike manufacturer would. Electric dirt bike technology changes more rapidly as well, so a 3 year old model may not even be available anymore.
If you aren't ready for a full gas dirt bike, then an electric dirt bike is a good option for learning and practice balance and throttle skills on two wheels. There are pros and cons to owning an electric bike, so you must weigh each option and decide for yourself which is best.
Best Gas Dirt Bikes For 3 & 4 Year Old:
Yamaha PW50
Suzuki JR50
Kawasaki KDX50
The Yamaha PW50 is the only one of the 50cc 2 stroke dirt bikes still made, but these are all good starter bikes for your little kid. The KDX 50 and JR 50 are 2 stroke oil injected dirt bikes as well. They all have very low seat heights (19 inches/48cm), which makes it easy to touch the ground and hold the bike up.
All of these 50cc dirt bikes have a single speed transmission and a throttle adjuster so you can limit how fast they go. Start them out slow to teach them balance, turning and throttle control, then adjust the throttle as you feel more comfortable.
The Best 50cc Dirt Bikes Are:
Yamaha TTR50
Yamaha PW50
Honda CRF50F
KTM 50 SX Mini
Suzuki JR50
Other 50cc dirt bikes that are not made anymore but are still good are the Honda XR50 and Kawasaki KDX50.
Electric Dirt Bike Is Better For:
Riding in noise-conscience areas
Smaller kids to learn balance and throttle
Not dealing with gas and oil
Tuning the speed (certain models)
Gas Dirt Bike Is Better For:
Learning how to ride an actual dirt bike
Kids that like an engine
Riding
Teaching your kid how to maintain a motorcycle
General durability (Most quality dirt bikes are more robust than electric)
50cc
There are a few different 50cc dirt bikes, but the most common is the Honda CRF50F/XR50R. This is where dirt biking starts for many little kids that has never ridden before. These things are almost bullet proof if you maintain it properly. If you are looking for a first bike for a kid that is under 7, then this is probably the best choice, unless they are bigger/taller than the norm.
There is also the Suzuki JR50, Kawasaki KDX50 and Yamaha PW50; all of which are oil-injected 2-strokes that are very light and perfect for the smallest of riders, and the Yamaha TTR 50 which is about the same as the CRF 50, so it just depends what color you like best.
70 & 80cc
Honda made the CRF/XR70 and 80cc bikes for kids that are just starting, but a little too big for a Honda 50cc dirt bike. The 70cc has a taller seat height with a little more power than the 50cc, but the 80cc has a clutch which is perfect for training the little ones without letting them ride on a fast bike.
100cc/110cc/125cc/150cc
Honda has been known for their XR/CRF100 which reaches to a variety of riders. It has a clutch and is just right for the older kids to learn on if they are too big for the CRF80F. The 100 is a great trail bike because it has just enough power, and it's also big enough for an adult, so this bike should be easy to find used, and cheap I might add.
Kawasaki/Suzuki
Kawasaki and Suzuki decided to make the ultimate pit bike for kids and adults. The KLX110/DRZ110 (Parts are interchangeable) has become popular because of how much power it has, or is able to put out, for its size. The 110 is an automatic, so it's great for smaller riders that want more power than a 70 without going to a clutch yet.
Yamaha/Honda
Yamaha also has a bigger off-road bike for kids, the TTR-125. The TTR-125 is a popular model for bigger kids just starting out. It has a clutch with enough power to haul riders around, young or old. Honda also has the CRF150F for riders that want more power and a taller ride height than the 100. Although the set-back for the 150 is that it weighs about as much as a full-size motocross bike.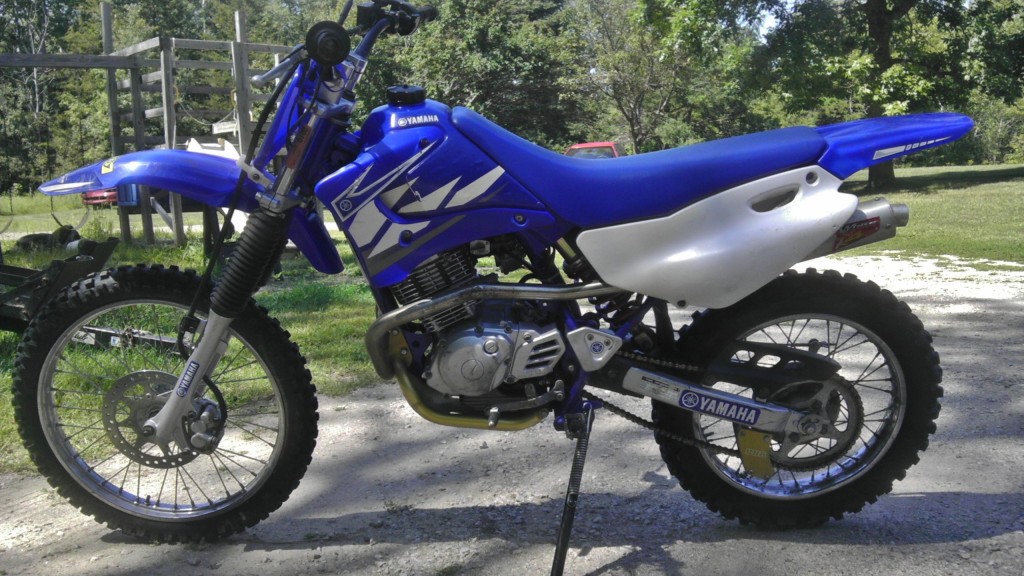 These mid-sized off-road bikes are popular for a reason, and this means that they have usually been ridden a lot and probably abused. So if you're looking at buying a used one then make sure it is clean, it has somewhat low hours, and has been well maintained.
Best
Motocross Bikes

For Kids

50cc
There are a couple different name-brand 50cc motocross bikes for kids, and they are both KTM two-strokes. KTM has the 50 SX Mini, which is for the smallest beginning racers. There is also the 50 SX which is bigger and suits a little taller beginning racer. These bikes both have a one-speed automatic transmission and are liquid-cooled. KTM 50s are expensive, but they are perfect race bikes for your little kids that are ready to tear up the tracks. There are also Chinese companies with 50cc motocross bikes, which aren't made with as much quality.
65cc
KTM and Kawasaki are the only name brand companies that still make a 65cc two-stroke motocross bike. KTM has the 65 SX which is more expensive and usually the racers that are serious buy them. Right from the factory KTM puts aftermarket parts on their bikes, such as VForce reeds on the two-strokes, handlebars, and Brembo brakes.
The Kawasaki KX65 is what riders that just want to race buy because they are so cheap. That does not mean that they aren't fast, they just aren't always as reliable and don't have a very high re-sale value. Both are great race bikes for intermediate younger riders in around the age 7-10 that have been riding for some time. These bikes are usually not used for trail riding because they are not as easy to ride and lug around as a four-stroke is.

85/105/150cc
85cc motocross bikes are the start for a young teen aged racer. They have more power than most any kid could use, which makes these bikes a blast for adults or adrenaline-junkies as well. KTM, Suzuki, Kawasaki, and Yamaha all make an 85cc two-stroke mx bike. Honda put a stop to their two-stroke inventory after 2007, but people still buy their late model bikes.
Instead, Honda wanted to start a revolution for mini-bikes with their all new 150cc four-stroke motocross bike. It was well talked about, but once it came out it died slowly. They are powerful bikes and are easier to ride than an 85, but the weight and cost lost it for them. These CRF150R's (Big and small wheel) were generally bought by racers with money because they also needed quite a bit of maintenance. If you have money and your kid loves the easy ride-ability of a four-stroke then this would be a good race bike to buy.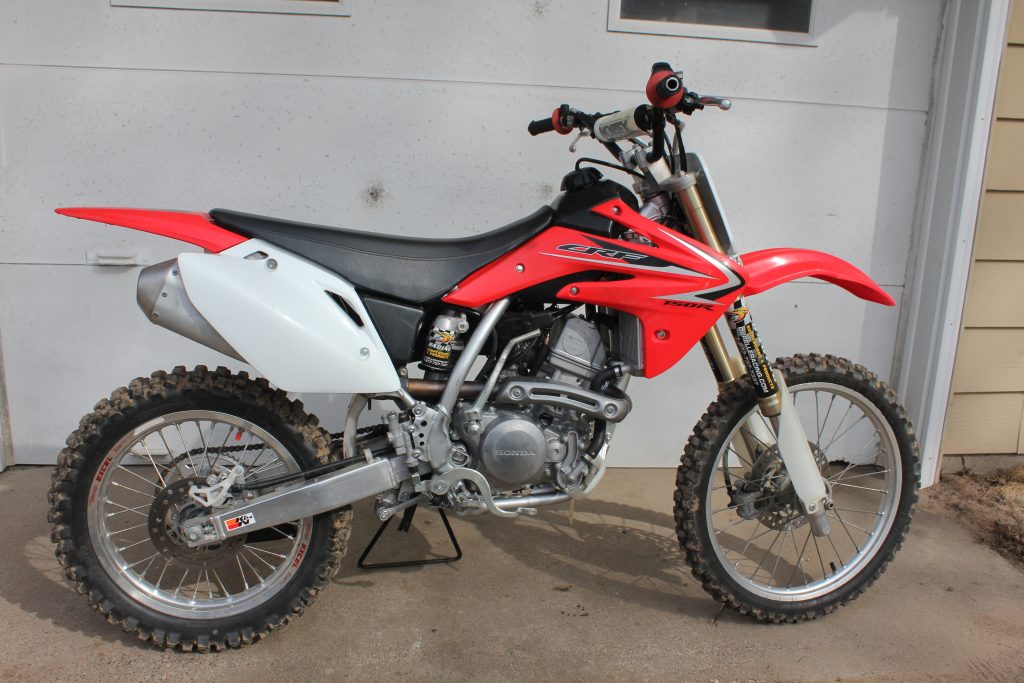 If you don't have a deep pocket, then an 85 or 100/105cc two-stroke stroke is a great choice. Your kid will love you for getting them one of these bikes; before they flip it at least once, that is. If you find someone selling a used 85 that hasn't been flipped, then you're either lucky or they're lying. 85s are pretty much race-only bikes. I've trail-ridden with one, and it was not very fun because of the lack of power down low.
The Honda CR85R and Yamaha YZ85 hit harder and are more snappy than the others because they don't have a power valve. KTM's 85 SX comes with aftermarket goodies from the factory like all of their other bikes, so it's probably the fastest out of the lot. Kawasaki's KX85 and Suzuki's RM85 are very similar and are used by many riders that are on a budget because of how cheap they can be. Honda and Suzuki both have a larger wheel 85, which helps those taller kids that quite aren't ready for a 125 or 250F.
Kawasaki and KTM have a big-bore 85 to compete in the supermini class (86-112cc). Kawasaki's KX100 is a big wheel and has plenty of power for any young racer. KTM has a 105 SX which is one of the best power-to-weight ratio bikes you can buy, and also has larger wheels. When it comes down to choosing an 85,100/105, or a 150cc four-stroke motocross bike for your kid, it depends how big your pocketbook is, what fits your kid, and what color you like best.
If you know what bike you want to get, check out my article "How To Buy A Dirt Bike".