Looking to get a Honda CRF50? It's Honda's smallest kids dirt bike, but they're not the only ones that ride them.
I've owned a Honda 50cc dirt bike for many years, so I want to show you what kind of dirt bike it is, why it might be the best bike for you or your kid, and what to expect when buying and riding one.
What is the Honda CRF50?
It's a 50cc air-cooled 4 stroke trail bike designed for little kids beginning their dirt biking journey. It has a kick-start only engine with very simple suspension and smooth power that is easy and predictable to ride.
With a 3-speed semi-automatic transmission, there's no clutch to learn how to use, but you can shift gears – or keep it in first if your son or daughter is just learning to ride.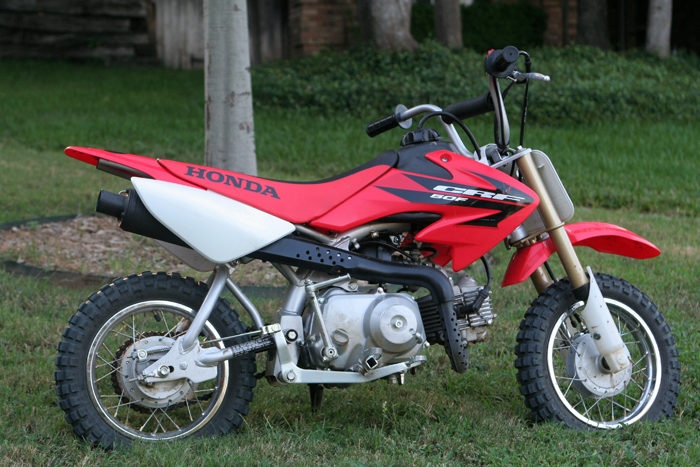 What age is a CRF50 for?
The Honda 50cc has always been a perfect first dirt bike for little kids (which is what I started on back in 2000. If your son or daughter can ride a bicycle, then they're able to ride this dirt bike as a beginner.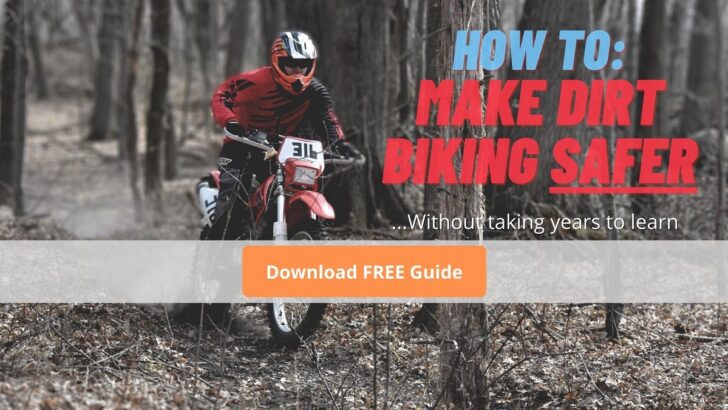 Depending on the size of your child, the CRF50 is good for ages 3-8 years old. It mainly depends on their height and experience level.
Do they still make the CRF50?
Yes, Honda still makes the CRF50. It first came out in 2003, but it's the same thing as the previous model XR50. Honda just renamed it as they phased out the "XR" model lineup for the new "CRF" model names.
CRF50 vs XR50
They're basically the same dirt bike – the biggest difference is that Honda updated the plastics and name to a "CRF" model to feel more modern.
The XR50 has the same engine and suspension and was made from 2000-2003, and before that, the old Honda 50cc dirt bike was called the Z50.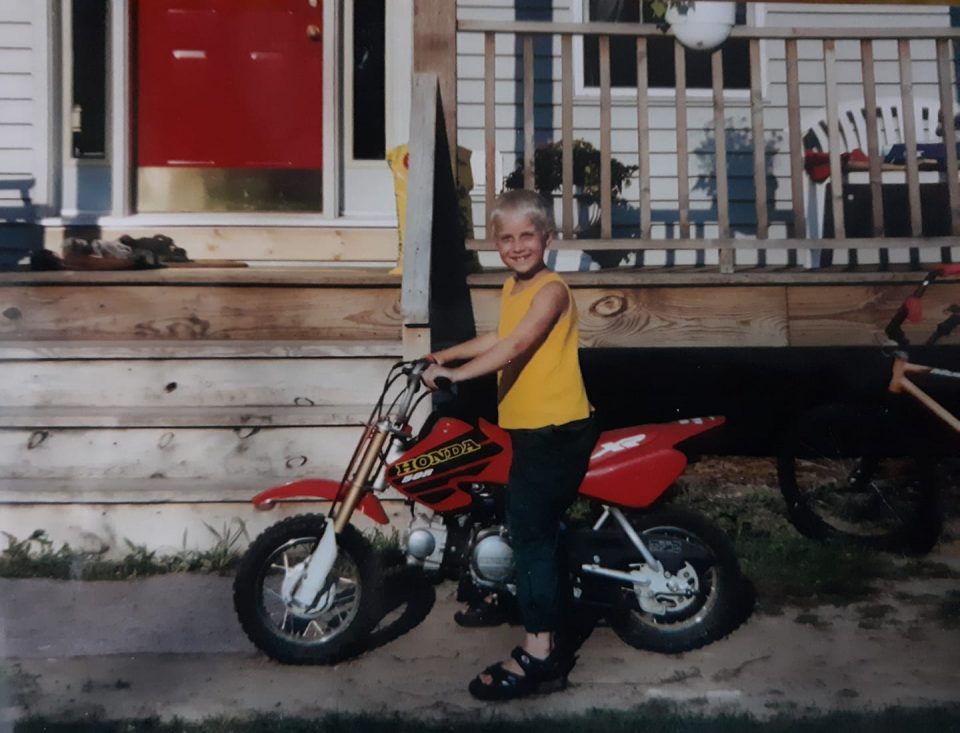 CRF50 Engine – what to expect
A 50cc 4 stroke engine is the standard for small kids motorcycles because it has just enough power for your kid to have fun without being too fast. The benefit of the four-stroke engine over a 2 stroke is that there's no 2 stroke oil to deal with, and the power is slightly smoother.
Horsepower
With a 50cc air-cooled engine, it makes a 'whopping' 3 horsepower. Yep, less than your lawn mower, but it's enough power to have fun. For getting started into dirt biking as a young kid, 3 HP is plenty, and it's actually safer because it won't jump out of control easily – that's why I don't recommend (youth) motocross bikes to beginners.
Top speed
The top speed of a stock Honda CRF50 is about 30 MPH on flat ground. It also depends on how much you weigh, the terrain you're riding, tire pressure, and gearing. If you want a higher max speed, just go to a smaller rear sprocket (Amazon).
Increasing the horsepower can also increase your overall speed, but you'll need to change the gearing to go much faster than 30. With that said, you rarely need to go that fast on a little kids' dirt bike unless you've converted it for supermoto riding on the road.
Kick start only?
The biggest drawback of the Honda 50cc trail bike is that it still doesn't have an electric start – it's a kick-start-only engine. So, your kid has to learn how to properly kickstart their dirt bike, which isn't necessarily bad.
The problem is if for some reason, they have to kick-start it when they're alone and don't have the physical strength to do it – they're stuck! I will say that there are ways to get around having a weak leg (proper starting procedure), but it is a drawback if this frustrates you or your kid.
Hot to easily start your CRF 50
To prevent hard starting, make sure the carb jetting is dialed in, the air filter is clean, and you don't let the bike sit too long. When gas sits, it gums up, and the CRF50 carburetor has very small jet circuits, making it easy to clog and cause it not to start.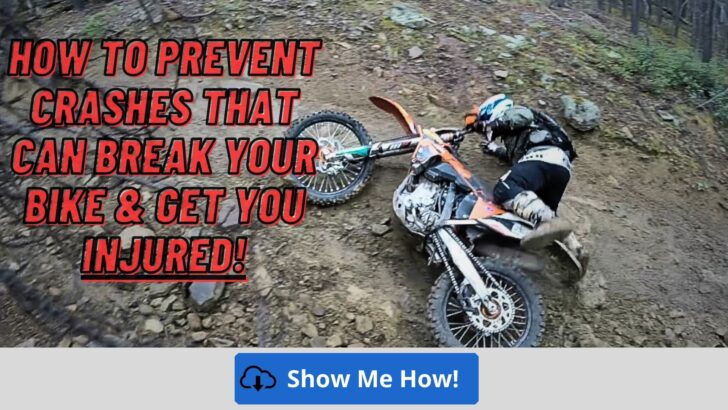 If you want a 50cc 4-stroke trail bike but absolutely need an electric start button, then you need to consider the Yamaha TTR50E.
Reliability & maintenance
The Honda CRF 50 engine is incredibly reliable – if you properly maintain it. That means changing the oil when it's dirty/low. Besides that, it's just keeping the air filter clean, the chain adjusted, and the tank full of gas.
Maintenance is as easy as it gets on this dirt bike, so you don't need to worry about spending hundreds of dollars every year if you're just a casual rider. It will last many years if you simply pay attention to the little things.
CRF50 Suspension
The stock forks and shock are pretty basic and non-adjustable, but this isn't bad. That makes it affordable to sell and it works well for most kids.
It has USD (upside-down) forks, but they're nothing special compared to modern USD forks. Since there's so little suspension travel, there isn't a lot that will help outside of stiffer springs and a service job with fresh oil, seals, and bushings if they have a lot of hours on them.
Front forks
It has inverted (USD) forks, which is uncommon for an inexpensive trail bike, but they're still simple and soft. They're best if you're 40-70 lbs, otherwise, they'll start bottoming out easily – and there's only 3.7" of wheel travel.
There is no external adjustment, which is just fine if your son or daughter is just learning to ride. You can't mess anything up, and they're reliable if you're not jumping it.
Rear shock
With only 2.7 inches of rear wheel travel, the stock rear shock is a little bit firm. However, it still works for learning to ride at slow speeds because you don't need it to absorb big bumps.
Like the forks, there are no external shock adjustments when it comes to damping. You can adjust the shock preload, which will help make it more comfortable for your weight – when the rear shock has too much sag (too low) or not enough (too high), it won't handle as well because the suspension isn't balanced.
Suspension upgrade
A simple way to make your CRF50 suspension stiffer is by installing stiffer fork springs and a shock spring. This will hold the bike up higher in the travel, making it more usable and plush, as well as resist bottoming better.
You can use heavier weight fork oil (Amazon) and shock oil, as well as increase the preload, but there's only so much you can do with the stock suspension. If you're using a Honda CRF 50 as a pit bike, you'll want to upgrade to an aftermarket shock and set of forks, which can get expensive if you're buying new.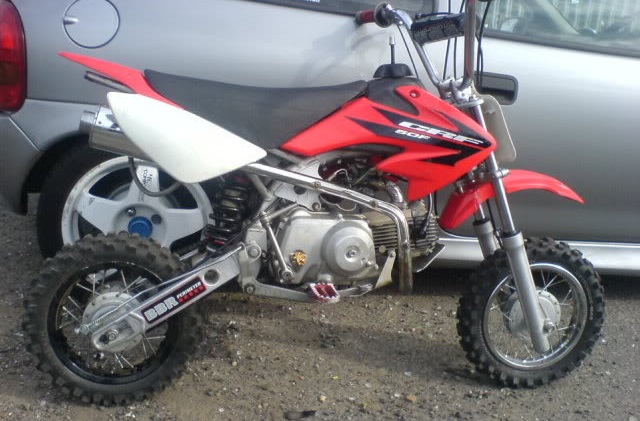 Handling
With such a short seat height, wheelbase, and small wheels, the CRF50 feels very light and almost unusual handling. The stock tires are fairly wide for such a small diameter, such it kind of feels like a mini fat tire bike.
With that said, it's a great bike for your little kid to learn on because it handles well at slow speeds and small areas. Even when you tip over, it's not very difficult to pick back up for how much it weighs.
Weight
The CRF50 weighs 111 pounds wet (ready to ride with fluids), which is 8 lbs lighter than the Suzuki DRZ50 and 14 lbs lighter than the Yamaha TTR50E. The main difference is that the Honda 50 only has kickstart, making it 8-14 lbs lighter than the competition.
If weight is your biggest concern, the red 50cc pit bike is the winner. However, it's not the lightest 50cc dirt bike.- that goes to the Yamaha PW50 at 90 lbs.
Is there a weight limit?
The Honda CRF50 is widely used as a pit bike, whether it's for racing or just tooling around the pits. The weight limit is technically supposed to be for kids under 80lbs or so, but it will still hold you if you're 200lbs.
Once you start riding aggressively or jumping it, however, the suspension will easily bottom out and you'll start breaking parts. That's why there are a lot of aftermarket parts available to upgrade the suspension and frame.
Any common problems?
The CRF50 has never had any major issues outside of common operator error, which is: poor or lack of maintenance. Since this 50cc motorcycle has been around for many decades without changing much, it's a proven package that won't be a headache unless it's been worked on by a hack.
CRF50 won't start problem
With that said, it's common when you can't get it kick-started because the carburetor is so small. When gas sits in the carb for months (or even weeks), it can clog up the jets, causing it not to start.
The pilot jet is very small and is the most important jet circuit for starting, so it's the most likely problem. Sometimes you can drain the float bowl and spray some air through the jets, but it may need a good & proper carb cleaning to get it started again.
Model year history & changes
Honda started making the CRF50F in 2004 and is still selling them today in your local dealer. The truth is… they haven't changed since then.
That's right – there have been no real updates or changes to this dirt bike. The only difference between the model year history is that the graphics and plastics have slightly changed in color scheme. That means a clean, low hour 2004 is just as good as a current model year.
Seat height – what size rider is the CRF50 for?
With a 21.6″ seat height, it's a good size dirt bike if your kid is between 38-45″ inches tall. As long as they can touch the ground with one foot, they're tall enough.
While it's targeted at little kids, many of us adults like to steal this bike while they're not watching and ride them as pit bikes…
Is there a Honda 50cc dirt bike with training wheels?
Maybe your kid is too short or not strong enough to handle a Honda CRF 50cc dirt bike. Unfortunately for you, there are no models that come with training wheels, but…
Aftermarket training wheels (Amazon) can be added if he or she can't balance with their feet, but I don't recommend training wheels because they don't get the real dirt bike experience.
You'd be better of starting them on a balance bike or a smaller PW50.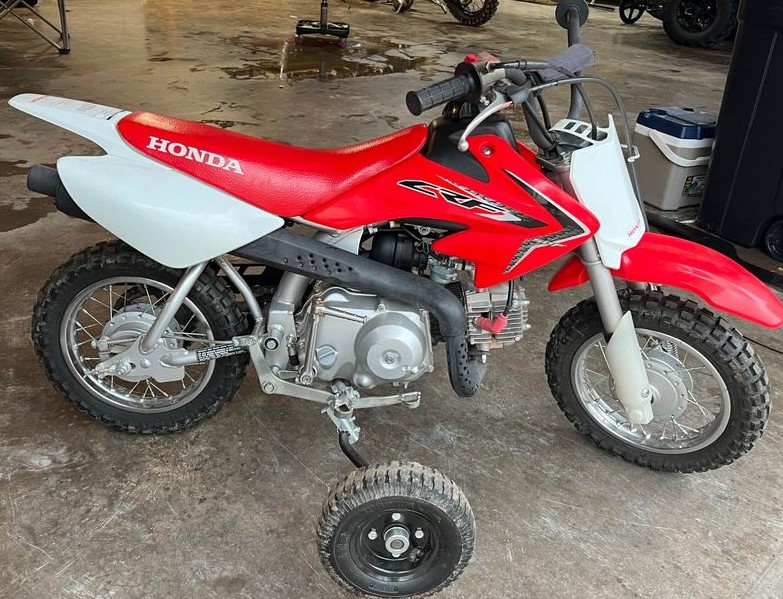 How much does it cost?
The price of a new model has an MSRP of $1649 (plus any destination/dealer fees and taxes), but a used one can be had for 500-1400, depending on your local market and what condition the bike is in.
When looking to buy a used CRF 50, you want to be aware of bikes that have been abused with little maintenance. Since they're so reliable, many owners did not keep up on maintenance.
This means the oil has been run low for too long and the air filter hasn't been cleaned or replaced often enough. This leads to burning oil and potentially an engine that smokes out the exhaust.
CRF50 vs PW50
When considering a first dirt bike for your little guy or girl, the PW50 is the most common comparison to the CRF50. So which one is better?
It mainly depends on the size of your kid. The PW50 has a seat height of 18.7″ and the CRF50 is 21.6″, so 3″ is a pretty big difference. The Yamaha is also about 20lbs lighter.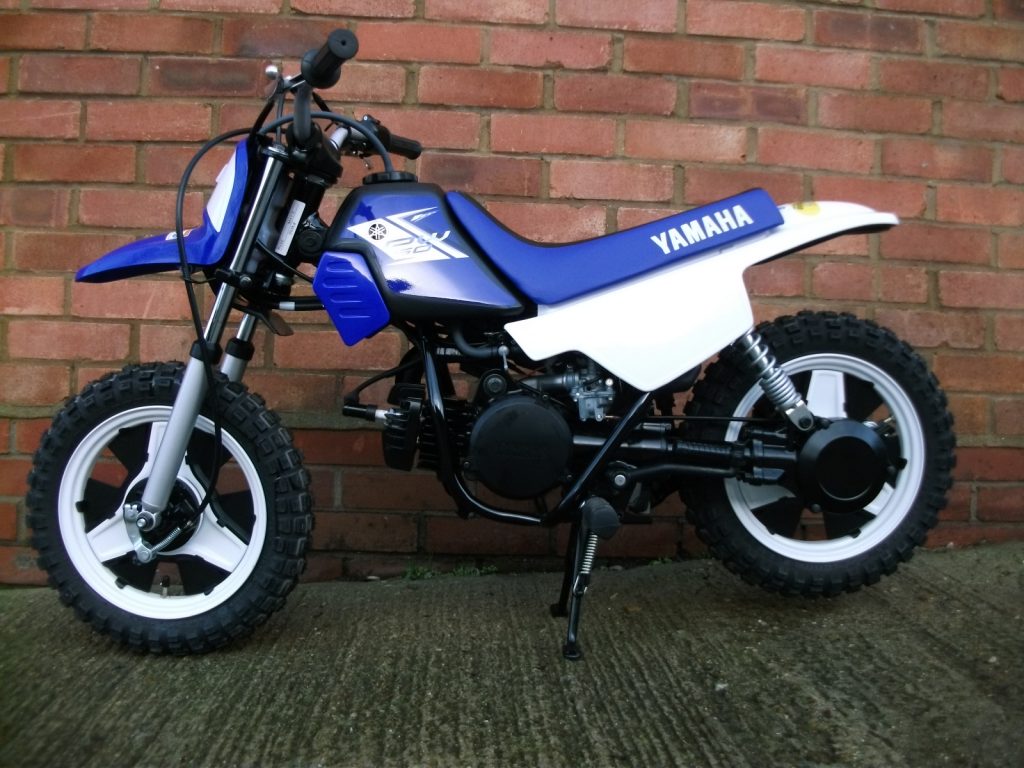 The PW50 is also a 2 stroke, so you just have to remember to keep the oil tank filled (no premixing required). It has a single-speed transmission with a shaft drive, so it's super simple and reliable.
The CRF 50 is a little more durable and has plenty of aftermarket accessories available.
But if the CRF50 is too big, then the PW50 is the better to start on.
Racing the Honda 50 – can it be done?
Can the CRF50 be raced? Yes, if your kid wants to race the 50cc class as a beginner, this is a good bike to start on.
It won't handle much for jumps and obstacles, but it will train your son or daughter how to properly balance, control the throttle and brakes, as well other riding techniques before they move to a faster dirt bike.
Is the Honda CRF the best dirt bike for you?
Still can't decide if the CRF50F is the right dirt bike for you or your kid (grandkid)? Here are some simple pros and cons to make your choice easier.
Pros:
Smallest size 4 stroke dirt bike available
Easy to ride – smooth power
Extremely reliable & durable – it will last many years
Maintenance is simple
Great resale value – easy to sell when you upgrade
It's the lightest 50cc four-stroke trail bike
Parts are easy to find – it hasn't been changed since 2004
Plenty of aftermarket parts to upgrade into a pit bike
Cons:
No electric start
No fuel injection
It's not the shortest (lowest seat height) dirt bike available
No real updates since it was first made
Honda CRF50 Specs & Dimensions
| | |
| --- | --- |
| | CRF50F |
| Manufacturer | Honda |
| Engine | 49cc air-cooled 4 stroke |
| Transmission | 3-speed semi-automatic |
| Seat Height | 21.6″ |
| Weight (wet) | 111lbs |
| Top Speed | 30mph |
| Horsepower | 2.5 HP |
| Price | $1649 (MSRP) |
Best CRF 50 mods to build a pit bike
There are countless mods available for the CRF50, including:
The best upgrades include:
Carburetor
Exhaust
Suspension
Engine upgrades
What dirt bike gear do you need to get started?
If you or your kid (or grandkid) is just getting started and you care about safety, then you need to get the proper riding gear. Not only do you need a helmet, boots, and a few other items, but it needs to be the right type of gear. I show you how to pick the right gear without spending a fortune in this article on riding gear here.