Looking for the best dual sport riding gear to keep you safe and comfortable? Whether you're a beginner, on a budget, or just want to prevent an injury, you've found the right place!
In this article, I'll show you:
The common mistakes riders make when choosing gear
Why it's important to pick the right gear and the factors involved
How to choose the right gear based on your needs
Why do riders fail to wear the right riding gear?
Not only is it important to wear protective riding gear while riding a motorcycle, but it's a common mistake to wear the wrong protection. People that wear no safety gear are just plain stupid – that's right, you can hate me and call me names, but if you choose to ride a dirt bike or dual sport motorcycle without any protection, you're asking for a lot of pain and hospital bills.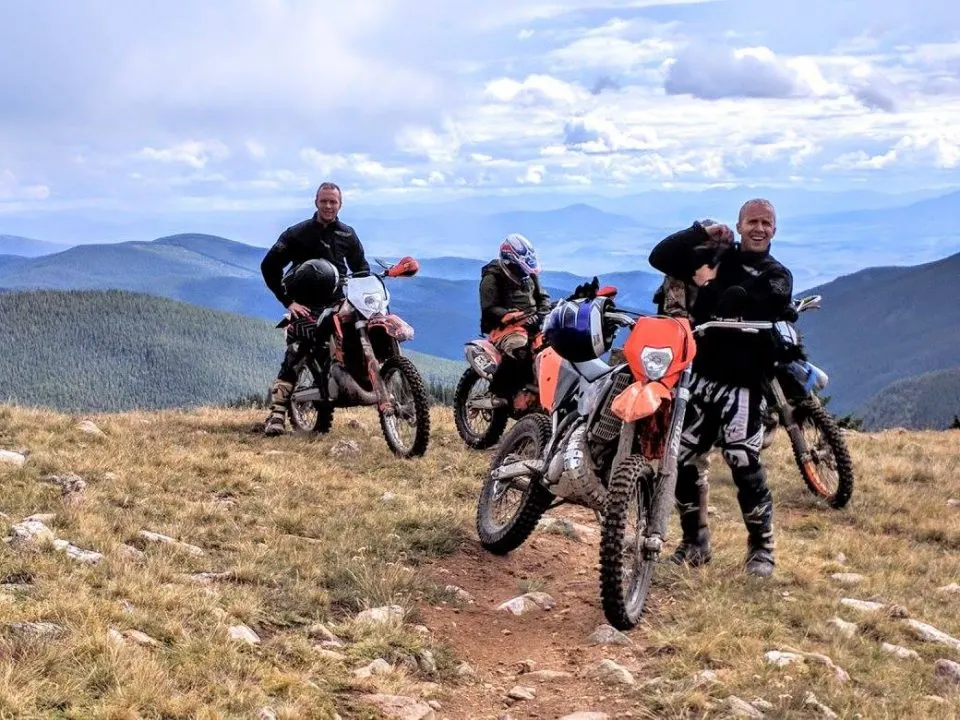 As I like to say, "It's wiser to dress for the crash and not the ride". This doesn't mean you're definitely going to fall and get hurt, nor does it mean that riding gear will always save your life.
However, the chances of you getting hurt from a fall are much higher when you doing wear the right gear, and you just never know when you might go down – especially when it's not your fault!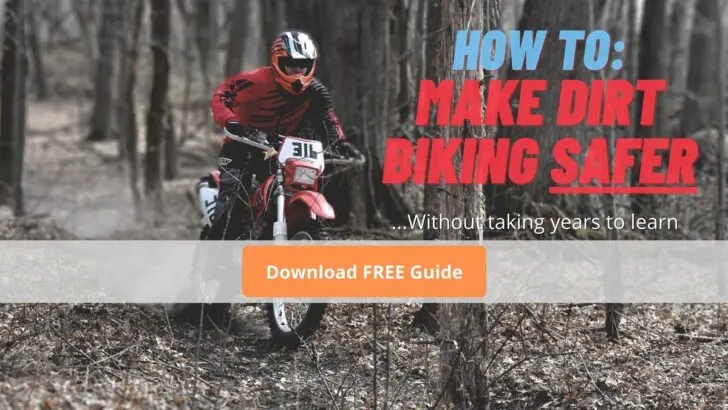 How to choose the right riding gear based on your needs
Maybe you use protective gear while riding your dual sport bike, but it's the wrong equipment for the job. This could be the wrong type of gear, the wrong choice of fabric/material, or simply the wrong size – which is actually way more common than you think, unfortunately!
Which type of gear is best for riding on and off-road?
First of all, jeans, shoes, and a t-shirt or hoodie is NOT any kind of protection. If you're riding on asphalt or gravel and go down at 40 mph, those materials will only last a split second and then you're losing all your skin.
Unfortunately, I see way too many riders wearing one or all of these items… If you care about your skin and body, you'll wear proper riding gear all the time – even when it's hot because you know it's not worth the risk.
So, when it comes to dual sport riding, the right type of gear will be:
Versatile – for changing weather and riding type
Breathable – to keep you cool and wick away moisture/sweat
Armored – to protect your major body parts when impacted
Washable – it's going to get dirty and smelly if you ride off-road!
What material is best for dual sport riding?
This depends on what type of riding you do most. The more street riding on the road you'll be doing, the more armor and protection you can add. This is because you don't need as much mobility with your arms and legs – falling on asphalt or concrete is a lot harder than the dirt, especially at higher speeds!
With that said, the best material for dual sport riding gear is one that's tough enough so that it won't get scratched up from scraping branches or falling on the dirt, breathable, and weatherproof if possible. Well cover this more shortly, but having a jacket and pants that are windproof and waterproof can make or break your day (or week) of riding.
How to actually pick the right size dual sport gear to keep you safe
Have you ever worn a helmet or motorcycle jacket that feels like it fits pretty well but is a little bit loose? It sure is comfortable, but that's actually dangerous.
In fact, wearing cheaper riding gear that fits properly is actually safer than wearing expensive gear that is too loose. This is extremely important when it comes to your helmet, boots, and body armor.
If it moves around or slides off, it's not going to save you from smacking the ground or grinding your skin off – I hate to be so graphic, but that's the cold hard truth, and I don't want to hear that you got hurt!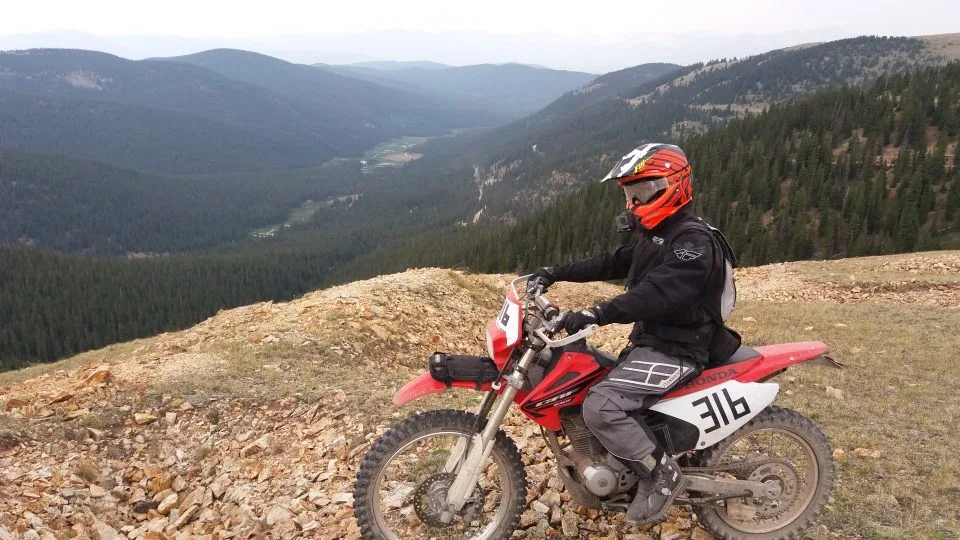 What do you wear on a dual sport motorcycle?
Since riding a dual-purpose motorcycle is a combination of a dirt bike and a street bike, you'll want to get more specific to have the best comfort, mobility, vision, and protection. I've been riding dirt bikes, street bikes, dual sport bikes, and supermoto bikes for many years, and this is the essential riding gear list that you must have for riding a dual sport bike: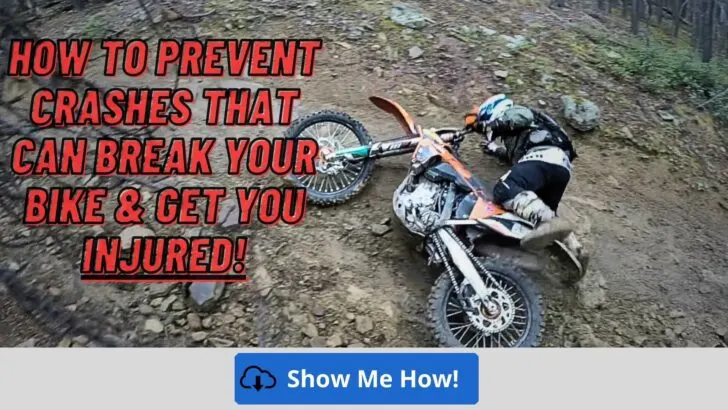 Helmet – what kind?
The type of helmet you pick should be based on the type of riding you'll be doing the most of. For example, if you are going to be riding on the street 90-100% of the time, I would choose a full street bike helmet – it's the most aerodynamic and quietest for the most comfort at highway speeds.
Riding mostly in the dirt? Go with a dirt bike helmet. Both dirt and pavement? A modular helmet or dual sport helmet that can use a visor and/or goggles.
Riding boots – how stiff?
Dirt bike boots are as stiff as it gets, making it hard to shift and move your feet. They're also tall and very safe if you fall and your bike lands on you because they help prevent your ankle from getting twisted or crushed.
A pair of street motorcycle boots are softer for better comfort and mobility, but they're also not as tough and protective. If you're riding in all kinds of weather, you'll want it to be waterproof because wet feet suck!
Jacket – features?
A street bike jacket with full armor is nice and protective, but you lose some mobility, which can be pretty important if you're riding off-road and want to use proper body position. A jacket that's windproof & waterproof is good for dual sport riding.
However, you'll also want a riding jacket with plenty of pockets, as well as vents or even removable arms to get more airflow and stay cool. It mainly comes down to where you'll be riding the most and the weather you'll be riding in to choose the best jacket or body armor.
Riding pants – material
Dirt bike pants are nice, comfortable, and lightweight, but they don't offer much protection if you're riding on the road or in the rain. Good pants for dual sport or adventure riding will be waterproof with vents (if you ride in a warmer climate), at least a couple of pockets, and some armor around the hips and knees.
Kevlar is a really strong and durable material that will keep your skin safe if you slide across the pavement or gravel, but it can be expensive and/or bulky depending on the gear you get.
I would stay away from any plastic-based materials because they will melt into your skin from abrasion if you skid across the road.
Gloves – dirt or street?
Once again, you have to choose between max protection vs mobility, as well as waterproof vs breathability. Dirt biking gloves are the lightest and most comfortable, but they won't help much if you scrape across the pavement.
The best gloves for dual sport riding are generally heavier dirt bike gloves or lightweight to midsize street bike gloves.
Best dual sport riding gear based on your type of riding
Are you going to be riding more on the street or the dirt? Will it be hot and dry or cool and wet? Proper preparation prevents poor performance.
Simply put in this case, if you get the right gear from the start, your riding will be a lot more enjoyable and safer. Once you decide what type of riding you'll be doing, then you can determine your budget, which is where it can get a little hairy…
Best budget dual sport riding gear
Spending $10,000 on a new dual sport motorcycle and then nothing on gear is not smart. With that said, you don't need to spend thousands of dollars to get good protection to keep you much safer.
Just remember: proper fitting gear is more effective than expensive gear that doesn't fit right.
So, here's my list of the best budget dual sport gear:
Best beginner dual sport riding gear
Maybe you're just new to dual sport riding and want some quality gear that's reasonably priced. This list is slightly more expensive, but you'll get a little more in safety, features, and hopefully better durability.
Here's some of the best beginner dual sport gear:
How should I dress for an adventure motorcycle?
Going on an adventure ride generally means you'll be doing more road, highway, or easier off-road riding. This means you can get away with gear that has some added features because you won't need to move around on the bike as much – although it depends on where & how you ride.
To dress for an adventure motorcycle ride, I recommend wearing:
Full-face helmet – dual sport or modular
Waterproof jacket with armor, vents, and pockets
Waterproof riding pants with armor, vents, and pockets
Waterproof enduro/dual sport riding boots
2 sets of riding gloves – waterproof/windproof for cold weather/rain, and a vented set for hot weather
Helmet communicator – for talking to riding group, phone calls, or listening to music
Can I use an off-road helmet on the road?
You can use an off-road dirt bike helmet for riding on the road, but it won't be quite as comfortable. An off-road helmet typically has a visor, which will greatly affect the aerodynamics, buffeting you around more.
You see, even with a small windshield on your dual sport bike, the wind will still blow in your face – whether it goes over and down or around the gas tank and up. When you have a visor on your helmet, it acts like a small 'sail' and the wind will push it up.
This requires you to use more energy to hold your head steady because your helmet is trying to pull you up and back! It also makes it hard to look right and left because it will pull your head around, causing you to use more neck muscles to hold it upright.
What are the benefits of an off-road helmet?
With that said, there are some benefits to wearing and off-road dirt bike helmet, including:
Staying cooler with more ventilation
The ability to wear goggles with tear-offs or roll-offs
A visor to protect from sun and roost (dirt)
Less weight (depending on your helmet
How to actually stay safe on any dirt bike
Now that you know how important it is to wear the right gear while riding a motorcycle, you need to know that you're still not safe. That's right – if you don't know how to efficiently ride your dual sport bike (or any dirt bike), you're not as safe and in control as you could be…
That's why I want to show you how to make riding safer so that you can do it for many years to come with your family and friends. It starts with the basic techniques, and you can start learning them TODAY to build your confidence. Click here to download my Free "12 Basic Techniques Guide".