Is a Yamaha TW200 a good motorcycle for you? Why does it have extra-large tires? Whether you're brand new to dirt biking or just want a dual sport bike that's easy to ride, you've found the right place!
In this dirt bike review, I'm going to show you:
What the TW200 is, including the basic specs and what they actually mean for you
Why it may or may not be the right bike for you
How to get the right bike and stay safe riding
What is the Yamaha TW200?
It's a 200cc air-cooled 4 stroke dirt bike that is street legal. What makes it so unique is that it's a fat tire dirt bike, but it's also a small motorcycle with a low seat height compared to similar bikes.
What does "TW" stand for?
The letters simply stand for Yamaha "Trailway" motorcycle. In other words, it's an easy way to get to and ride the trails because it's built for riding on the street and dirt with it's fat tires.
What is a fat tire dirt bike?
A fat tire dirt bike is simply a dirt bike that has extra wide and tall tires. The idea is to give you better traction and comfort riding in different off-road conditions to stay in control and have more fun.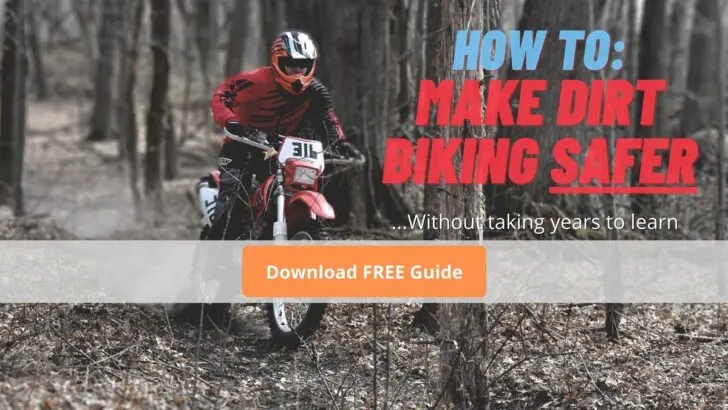 Who's it for?
To be honest, it's not that great at any type of riding. But, there is no "perfect bike", so we just need to look at what it is good at.
The Yamaha TW200 is a good motorcycle if you:
Are a new rider
Want a street legal dirt bike
Have short or have short legs
Want a motorcycle that's easy to ride
Ride in sand, mud, snow, gravel, and pavement
Will be riding on and off-road
Prefer a low-performance bike that's easy to maintain
Are on a budget and want a reliable bike
Why are Yamaha TW200's so popular?
The biggest difference between a TW200 and a regular dirt bike or dual sport motorcycle is that the tires and wheels are abnormally large – so why does this make such a big difference in how it rides?
The main reasons why it's so popular are:
It can ride on virtually any terrain because it gets better traction
It's affordable to buy and maintain
It has a low seat height so almost any size adult can ride
The fun factor because it's slow but easy to ride almost anywhere
Seat height – what size rider is the TW200 for?
With a 31.1 inch seat height, the TW200 is a good size dual sport bike if you're only 4'10"-5'4" tall. It's about 3-5 inches shorter than most dual sport motorcycles, which is huge, and also why it's such a good starter bike if you're short or not very strong.
While you don't need to be able to put both feet on the ground at a stop (that's poor technique), being able to touch with one foot will give you a lot more confidence when learning to ride a motorcycle with a clutch. Instead of trying to keep your bike upright on a taller model, you'll be able to focus on learning proper techniques to make you a better and safer rider.
Engine – what to expect
It's a 200cc air-cooled 4 stroke engine with a 5-speed manual transmission, but what does that mean for you? An air-cooled engine is older technology and lower performance, but that's not necessarily bad.
It doesn't have a lot of power, but that makes it easier to ride – especially since it's tuned for low-end and midrange torque. More power down low also makes it easier to learn how to use the clutch if you're a beginner.
The engine is counterbalanced so that it runs nice and smooth. There will be very little vibration while riding down the highway.
5 gears?
For some reason, Yamaha decided to use a 5-speed transmission, which is fine for off-road use. However, it's lacking for top speed if you're planning on riding on the road a lot.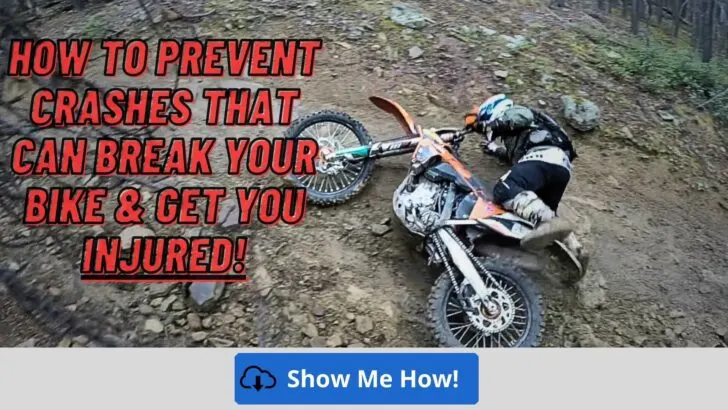 It's not that it needs to go faster, but rather to cruise at a lower RPM to improve efficiency and reliability. You can do this by going down to a smaller rear sprocket (Amazon).
Horsepower
The TW200 has a whopping 15 horsepower. Not very much compared to a big street bike today, huh?
Well, it's not meant to be fast. In fact, one reason why it's so fun to ride is because it doesn't produce much power.
Think about it…
It's not only safer to ride a slower motorcycle because it won't get out of control as easily, but it's more exciting and challenging to ride a slow bike because you have to rev it more – this makes it "feel" like you're going faster!
Top speed
You can reach a top speed of about 70 MPH on flat ground with a stock TW200. You can change the gearing to raise the max speed, but it doesn't have enough power to go much faster.
Most people like to replace the rear sprocket with a smaller one to get a higher cruising speed at a comfortable RPM – you don't want to be at redline while cruising down the highway.
Economy – what's the MPG like?
Yamaha estimates the TW 200 will get an average of 78 mpg, but that depends on you the rider. That average is based on highway riding with a conservative throttle hand (i.e. not full throttle acceleration from every stop light/sign).
If you're doing more off-road riding, your fuel economy will likely drop into the 40-50 mph range. The slower you ride and more throttle you use, the worse your mileage/range will be.
The biggest problem, if you want to do some adventure riding, is that the gas tank is not very big. At 1.8 gallons with the stock fuel tank, you probably won't get more than 120-140 miles before needing to fill up.
But there are plenty of ways to haul extra gas if you need to increase your range.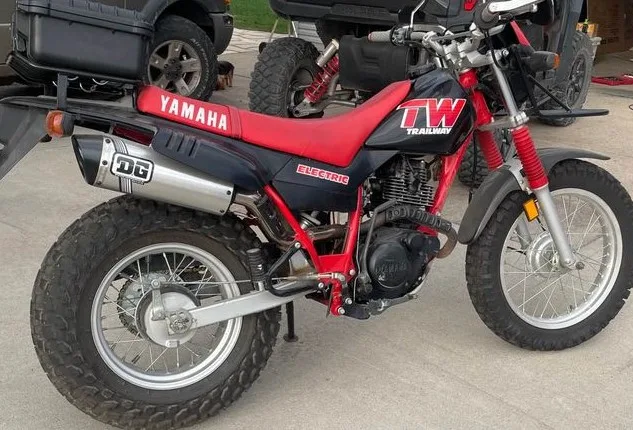 Suspension
Yamaha claims it to have "long-travel suspension", but I don't necessarily agree with that. I mean, when it's less than 7 inches of wheel travel, that's not a lot compared to other dual sport bikes with 10-11 inches, which would give you more overall performance and comfort – especially riding off-road.
However, one major reason why the seat height is so low is because there's less suspension travel. So, it's definitely a trade-off; do you want more performance or a lower seat height?
Since it's a beginner dual sport bike, performance probably won't matter to you. At least not right away.
Front forks
The stock forks are pretty basic – soft and not adjustable, but that's okay because it's reliable, simple and affordable. They're nice and soft for slow and conservative riding, especially if you're on the lighter side.
Once you start riding faster on the trails, you'll feel the forks bottom out. Riding in the road is fine if you're under 200 pounds, it'll just be a little mushy if you're a heavier guy.
If you want to make them stiffer, you'll have to replace the springs with heavy duty springs that are a higher spring rate. Heavier weight fork oil (Amazon) is also an easier way to increase damping and prevent bottoming.
Rear shock
The stock rear shock is also very basic with just one adjustment. It's good for casual riding up to about 180 lbs – if you're heavier or ride faster then you'll want to go to a stiffer shock spring or upgrade to a better shock.
The only external adjustment, which is an important one, is the shock preload. This tunes the sag, which is the ride height. It affects the balance of your suspension and needs to be adjusted for your weight if you want a better handling and comfortable ride.
Handling
With odd size wheels and extra large tires, the TW200 will handle a bit differently than a typical dirt bike or dual sport motorcycle. Steering will be a little bit slower, so it won't feel quite as light as a trail bike.
You'll also get more traction due to the extra rubber gripping the ground. Your tires won't slide out as easily, and you can actually get too much traction
Weight comparison
At 278 pounds, it's a little heavier than most trail bikes, especially for its size. However, it's one of the lightest dual sport bikes, which is one reason why it's popular – it's fun to ride on and off-road.
The TW200 is about 30 lbs. Heavier than the similar-sized TTR230 because of the way it's built. It has all of the street legal accessories, as well as fat tires, and is built a little beefier to handle a larger rider if needed for durability.
How much weight can it handle?
Yamaha doesn't give an actual weight limit, but there's a general range based on the suspension and power the TW 200 has. Ideally, it's best if you're in the 120-160 lb range, but it can safely handle up to and over 200 lbs if you're riding slow or conservatively.
Once you start riding more aggressively, the suspension will bottom out more easily. This will eventually lead to damage and can break the frame or suspension parts, casusing you to crash.
Brakes
It had drum brakes from 87-00, which work just fine as long as they stay dry. Drum brakes don't work as well if they get wet or muddy.
In 2001, the front got disc brakes, but the rear is still drum. You get a little better braking performance, allowing you to stop faster on the road or on the trail.
Model year history & changes
There haven't been any major changes to the TW 200 since it was first made in 1987, which is pretty shocking. It just shows how populer it is that Yamaha can make almost the same bike for 35+ years.
These are all of the major changes (according to tw200forum):
1987: First year of the Yamaha TW200 – potentially had slightly more power than other years due to advanced ignition curve
1988: Revised electrical system
1996: Front fork drain screws removed – probably cheaper for Yamaha to make
2001: Updated to front disc brake, footpeg offset changed, charging system upgraded from 35W to 55W, changed to CV-type carb, removed kick-starter, trip meter added, auto cam chain tensioner, updated exhaust mounting
2002: Smaller fuel cap
2009: Base gasket issue resolved – reports of cylinder not properly torqued in 2006
2017: Updated rear shock – no change in performance
TW200 Reliability – how long will it last?
One of the biggest advantages is that the TW200 is so reliable. Not only does it require very little maintenance compared to a high-performance bike, but you can get a ton of hours out of it.
In fact, it can last many years before needing a rebuild if you just take care of it. Simple oil changes and keeping the air filter clean are key to keeping it reliable.
Any common issues?
The TW200 has had very few changes over the years because it hasn't had any major issues. There were some reports of some 2006 year models that had base gasket failures.
Apparently, it was a simple manufacturing error because the cylinder head bolts didn't get properly torqued down. Other common issues include:
Specs & dimensions
These specifications are taken from Yamaha's website:
| | |
| --- | --- |
| | TW200 |
| Manufacturer | Yamaha |
| Engine | 196cc air-cooled 4 stroke |
| Starting System | Electric start |
| Transmission | 5-speed manual clutch |
| Seat Height | 31.1" (79cm) |
| Suspension Travel | 6.3"/5.9" |
| Tire Size (Front/Rear) | 130/80-18(front)/180/8–14 (rear) |
| Wheelbase | 52.2" |
| Weight (Wet) | 278 lbs |
| Fuel Capacity | 1.8 gal |
| Horsepower | 15 HP |
| Top Speed | 70 MPH |
| Fuel Economy | 78 MPG (Estimated) |
| Price (New MSRP) | $4,899 |
Is the TW200 the right dirt bike for you?
Still can't decide if you should buy one? Here are some simple reasons why you should or shouldn't get a Yamaha TW200:
Pros
Easy to ride
Low seat height – gives you confidence if you have short legs
Inexpensive
Electric start
Durable and reliable
Easy to maintain
Good resale value
Cons
Lacking power – not good for cruising on the highway/freeway
No 6th gear?
Small gas tank – about 120 mile range before needing to re-fill
How much does the TW200 cost?
New retail price is $4,899 according to Yamaha, but you can find a used one much cheaper. The value depends on a few factors, but you can often find them priced in the $2000-3500 range.
TW200 vs XT250
While they have similar engines and power, the big difference is that the XT250 has smaller (normal) size tires and wheels, so it handles more like a dirt bike.
The TW200 has a little less power and has a slightly lower seat height. The TW200 is a little better if you're a shorter beginner rider and want to do all kinds of riding in the dirt but still be street legal.
Best TW200 mods
There are many things you can modify or upgrade on your TW200, but they're not all good for you. The aftermarket parts you choose should be based on the type of riding you do.
These are some of the top mods for a Yamaha TW200:
Jetting
Seat pad
Suspension upgrade
Footpegs
Gearing
Tires
Learn how to safely ride a dirt bike
Choosing the right bike and riding gear is the first step to staying safe, but I want to help you prevent the next most common mistake. It's not learning how to properly ride your bike, which can lead to riding tense and out of control, as well as a bad crash. I want to show you the basic techniques to get started riding safer and with confidence. Tap here to learn how.