Are you considering looking at or buying a Yamaha XT250 but aren't sure if it's the right bike for you? Whether you're looking for your first bike or your next, you're in the right place!
In this review, you'll learn what kind of motorcycle the XT 250 is, why it may or may not be the best dirt bike for you, and what to expect when buying and owning one so that you save hours from researching.
What is the Yamaha XT250?
It's a 250cc air-cooled 4-stroke dual sport motorcycle, but what exactly does that mean? Well, the air-cooled engine has enough power for basically any size rider, but it's super smooth and predictable because it's low-performance, making it super easy to ride.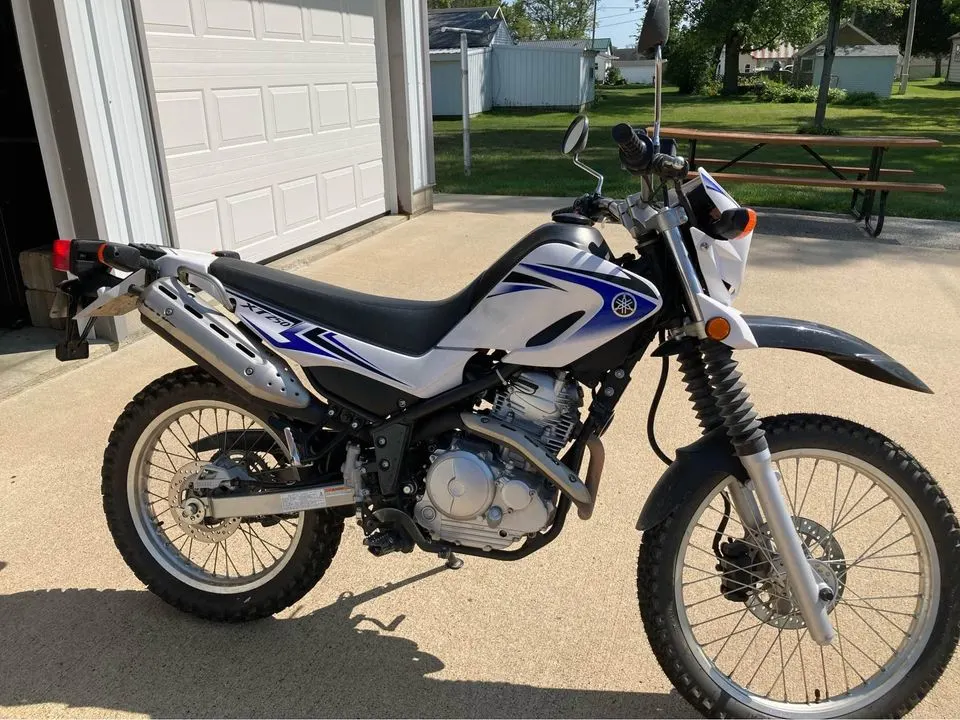 Being a dual sport bike means it's a street legal dirt bike that can legally ride on the road while still being capable of doing some off-road and mild trail riding.
Who's it for?
In a nutshell, the Yamaha XT 250 is a good choice if you're a beginner rider that wants to ride around town and do some light trail riding but needs a dirt bike that has a low seat height and is easy to ride. It doesn't do anything great, but it's a great way to get started riding on and off-road at an affordable price – but to learn more about what to expect when buying and owning one, keep reading.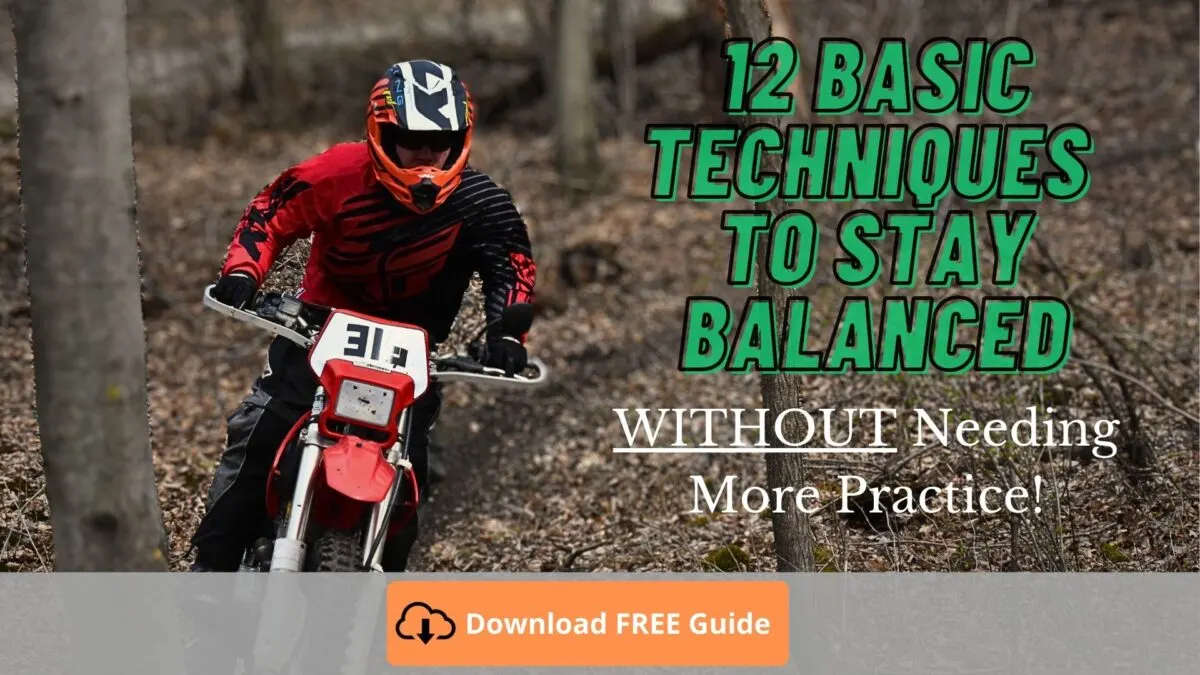 Engine – what to expect
The XT 250 engine is not high-performance, but that's why it's so popular – for the right person. If you prefer simplicity, reliability, less maintenance, and a motorcycle with a very forgiving power curve, you're going to love this engine.
At 250cc, it's a midsize engine for a dirt bike, but it's on the smaller size for dual sport riding – that's totally fine if you're a beginner that doesn't need to cruise at high speeds (over 55 mph).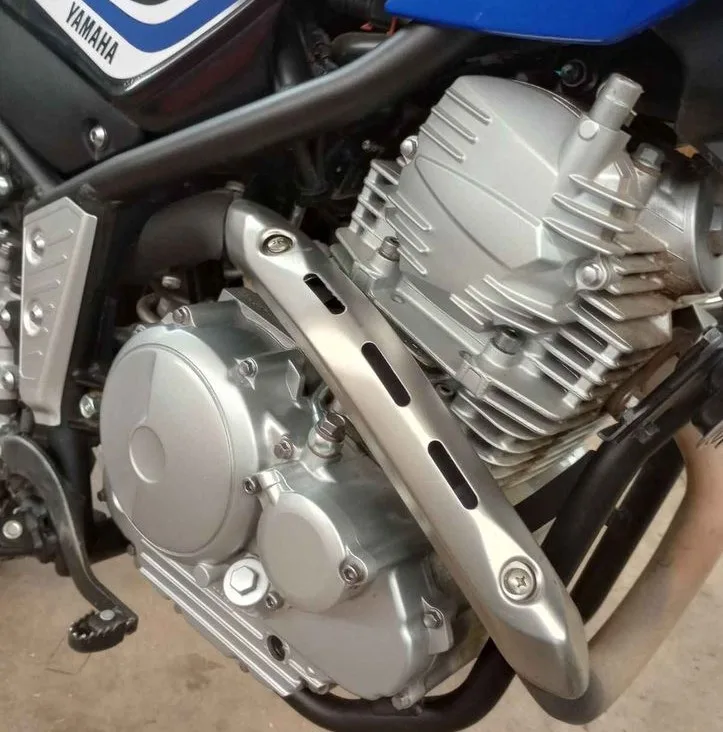 Horsepower
The XT250 only has about 20 horsepower at the crank (slightly less at the rear wheel), which is plenty if you're a beginner that's riding off-road or wants a small bike to cruise around the city. Once you need to hit the freeway and cruise at 60+ mph for more than 5 minutes, you're going to have to wind it out at full throttle basically.
Not only is that harder on the engine, but you'll probably have a lot of vibration – so don't expect to be comfortable cruising at high speeds on the highway on this street-legal dirt bike.
Top speed
The max speed of a Yamaha XT250 is about 75 mph if you're on a flat road – this can be slightly increased with some mods, such as a smaller rear sprocket (Amazon). It won't make a huge difference, but you might get slightly better fuel economy since it will cruise at a lower RPM.
However, this will also make first gear taller, so you'll have to use the clutch more at slow speeds if you're trail riding.
How reliable is it?
For a dirt bike, the XT250 is about as reliable as it gets – you should be able to easily get 10,000 miles before needing to rebuild the top end, but it should last a lot longer if you do simple preventative maintenance.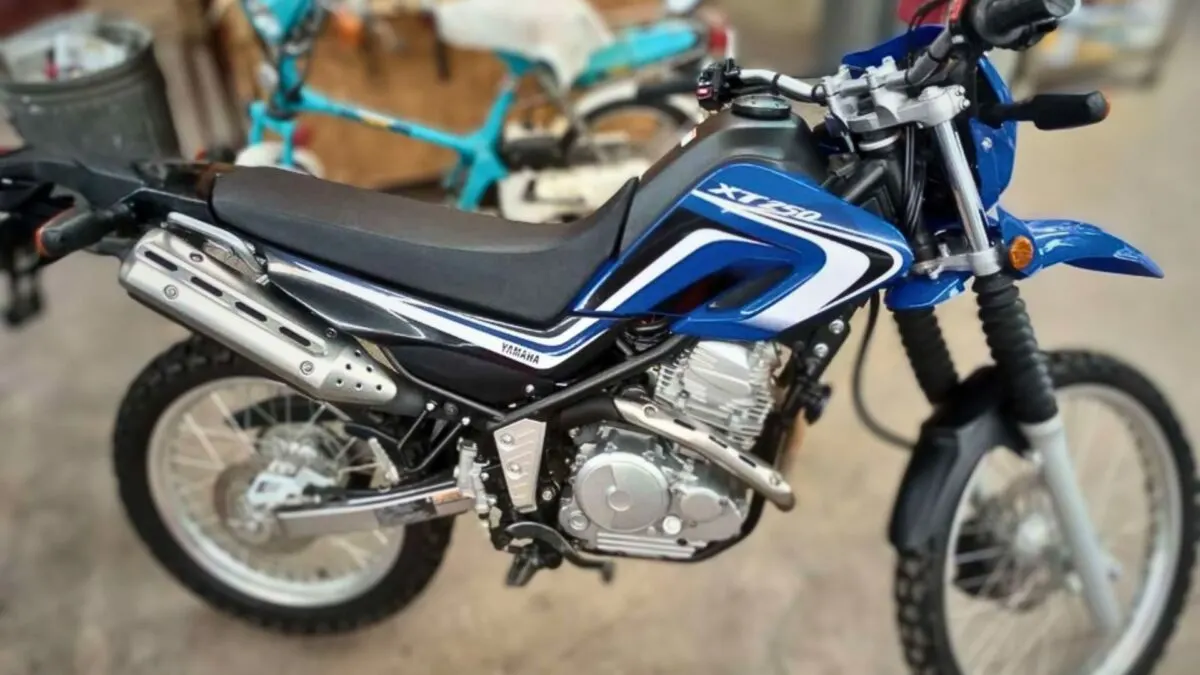 Carb vs EFI
In 2013, Yamaha updated the XT250 with a fuel injection system, but is it better than the older carbureted model? If you don't like dealing with cleaning a dirty carb after sitting over the winter months or having to re-jet when you ride at different elevations, then you'll want a 2013 and newer model with EFI.
Yamaha claims that it gets about 5% better gas mileage than the carb version, but you probably won't notice much difference.
Fuel economy – what to expect
The older carb'd XT250 gets an estimated 73 MPG and the 2013+ EFI model has an estimated 76 MPG, but it really depends on how you ride.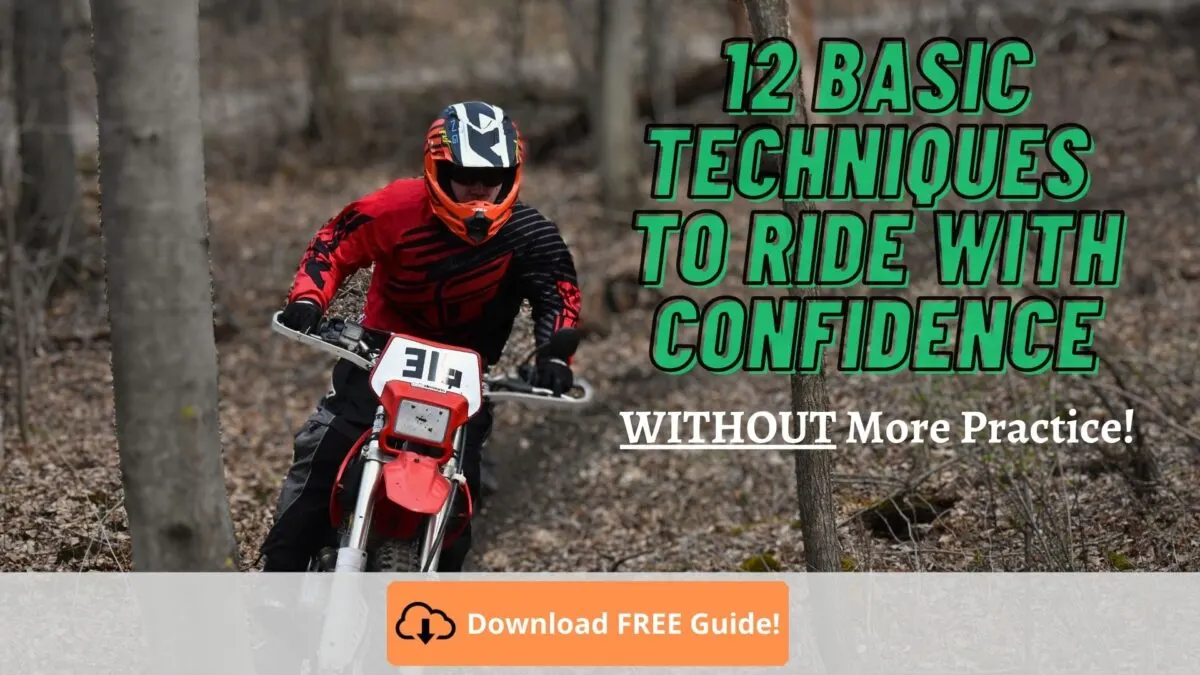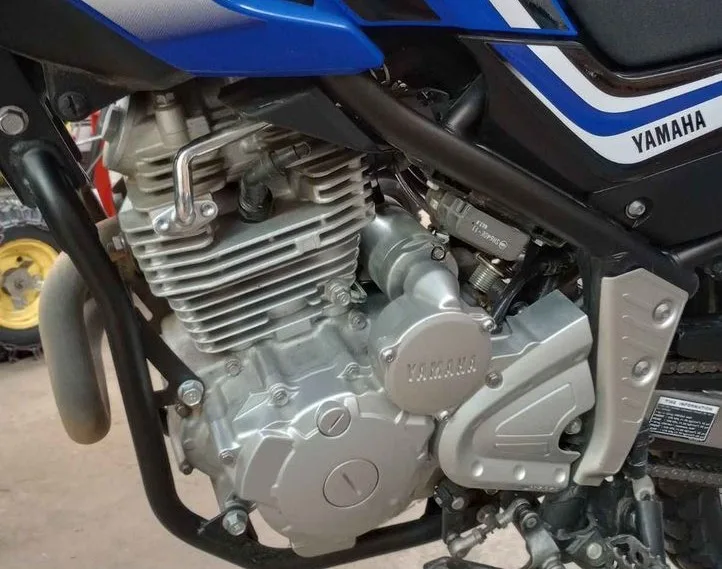 For example, if you doing a lot of low-speed riding, such as trail riding in 1st or 2nd gear, you're not going to get that good of fuel economy – probably in the 40-50 MPG range.
But if you're cruising around town, not having to stop often, and you're easy on the throttle, you can get 70-80 miles per gallon, giving you about a 150-mile range before needing to find a gas station to refuel.
Gearing issues?
One of the downfalls of the simplicity of the XT250 engine is the transmission – it only has 5 gears. Fewer parts to go wrong, but 1st and 5th gear aren't as wide as they could be.
This is only a problem if you need to ride at super low speeds as well as cruising at higher speeds on the same ride. You'll just have to compromise with your gearing since it doesn't have an extra (6th) gear, but this is a minor complaint.
Electric or kickstart?
The first generation XT250 in 1980-1990 had a kickstart engine, but the later 2008 and newer models have electric start engines. There's no backup kickstarter, but the electric starter is reliable as long as you don't let the battery go bad – a simple battery tender (Amazon) will keep it charged during storage.
Suspension
To make the XT250 affordable, Yamaha uses very basic suspension components, but that's not necessarily a bad thing. The forks and shock are soft, which is great for learning, but it's also reliable and requires very little maintenance.
Front forks
With just under 9" of front wheel travel, the front forks are good enough for riding off-road but don't expect to be able to keep up with faster riders on trail bikes. The stock XT 250 forks are soft and plush, giving you a comfortable ride on the road and at low speeds to absorb small bumps and obstacles.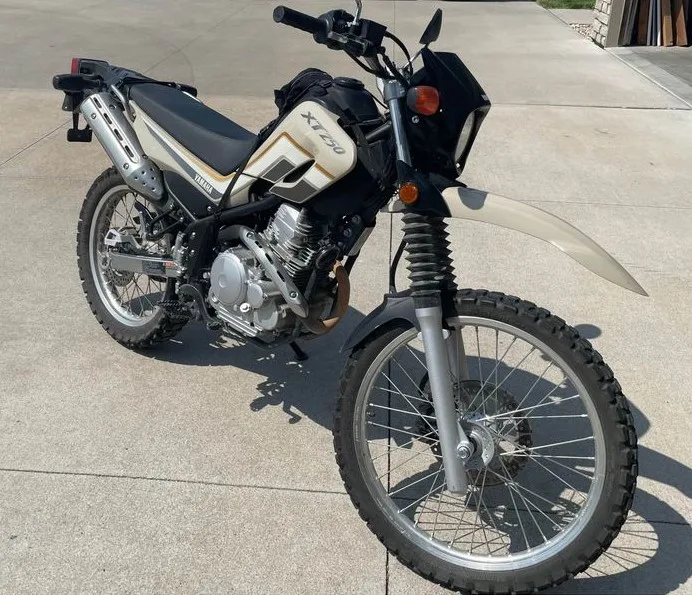 Once you start riding faster, you'll notice that the forks dive under heavy braking and will bottom out easily if you're riding aggressively on the trails, especially if you weigh over 200 lbs. There is no external adjustability, but that also means there's very little to go wrong.
Rear shock
The stock rear shock only has 7.1" of wheel travel, but that's still enough to enjoy some mild off-road riding if you want to have some fun during your commute home from work in the city.
There is only one way to externally adjust the stock shock. The first one is the preload, which you should do on every bike – getting the proper sag/ride height is super important if you want your dirt bike to handle well and get good traction with both wheels
XT250 suspension mods
Fortunately, there are quite a few aftermarket upgrades available to make your XT 250 suspension perform a lot better. One of the easiest ways to make the forks stiffer is with some heavy duty springs (Amazon).
Combine that with some heavier-weight fork oil (Amazon) and it will be able to handle more abuse without bottoming easily. Either that or you can upgrade to some Race Tech emulators which take a little more tuning but can perform even better.
Handling
With a low seat height and a short wheelbase compared to most dual sport bikes, the Yamaha XT 250 handles very well at lower speeds and tight turns. This also means it will handle riding in the woods better than bigger dual sport bikes, especially since it's lighter than most.
However, the biggest factor in getting traction will be the tires. The stock XT250 are DOT dual-purpose tires, which are made for on-road and off-road.
They aren't great for trail riding if you want to be aggressive or ride in wet/slippery conditions – you'll want some 80/20 DOT tires (Amazon) that have some bigger knobs if you don't mind more vibration and less traction on the pavement.
Seat height – what size rider is the XT250 for?
The stock seat height is 32.7", which makes it a good size dirt bike if you're 5'2"-5'6", but it mainly depends on your inseam length. For example, if you're 5'8" but have shorter than average legs, then you'll probably fit fairly well.
Can the XT250 be lowered?
Maybe you really like everything about this motorcycle so far – except the seat height. If it's hard to reach the ground, then you can install a lowering link and shorter kickstand (Amazon) to lower the seat height by 2-3", which will also affect the handling.
This will lower the rear end of your dirt bike, so you'll also want to lower the front end so that it's balanced or else you'll have a poor-handling bike because there won't be enough weight on the front.
With a lowering link, you can always go back to the stock seat height once you've built up your confidence by reinstalling the OEM shock linkage.
Weight
The wet weight is 291 pounds, which is with all of the gas and fluids so you're ready to ride, but how does that compare to other dirt bikes? Well, an average trail bike weighs 240-260 lbs, so you'll feel that extra 40 – 50 lbs when trail riding, but it hides the weight well due to its low center of gravity.
Compared to other dual-sport motorcycles, the XT 250 is one of the lightest options. This makes it great if you're a beginner and want to ride on the road because it's easy to lean, turn and handle.
The downfall of a lightweight bike on the road is that it's not as stable, so you'll get blown around more by the wind and other vehicles while cruising on the highway.
Model year history & changes
The Yamaha XT 250 originally came out in 1980, but the latest version restarted in 2008.
Since then, there haven't been many changes, but here's a quick breakdown of the XT250 history:
1980: First year of the XT250 dual sport (enduro) model
1990: Yamaha discontinued the XT250
2008: The XT250 is made again, replacing the XT225
2013: First year of fuel injection
Any common issues?
There is very little that goes wrong with these motorcycles. As long as you take care of them with regular oil and filter changes, as well as using fresh gas and keeping the chain properly tightened, there are no major common problems with the XT250
The most common issue is usually when it won't start after sitting in storage. This is often due to bad gas or a weak battery that doesn't have enough power to crank it over and start the engine.
XT250 Specs & dimensions
These are the basic specifications from Yamaha's website:
| | |
| --- | --- |
| | XT250 |
| Manufacturer | Yamaha |
| Engine | 250cc air-cooled 4-stroke |
| Transmission | 5-speed manual clutch |
| Seat Height | 32.7" (83cm) |
| Suspension Travel (Front/Rear) | 8.9" / 7.1" |
| Weight (Curb/Wet) | 291 lbs |
| Horsepower | 20 HP |
| Top Speed | 75 MPH |
| Price (New MSRP) | $5,299 |
How much does the Yamaha XT250 cost?
A new model retails at $5,299, which is relatively inexpensive for a dual sport motorcycle, but there are usually plenty for sale in the used market because people upgrade within the first couple of years.
You can usually find a used XT250 for $2500-4500 – the biggest factors that determine the value are your location, the condition of the bike, and what year it is.
Is the XT250 the right dirt bike for you?
Still can't make the "right decision" on what bike to get? Here are some quick pros and cons of the Yamaha XT 250:
Pros
It's a street legal dirt bike
It's lightweight compared to most dual sport bikes
Low seat height makes it easy to start & ride if you're under 5'8" tall
Air-cooled engine is simple and reliable – requires little maintenance
It's cheaper than most street legal dirt bikes
Electric start – so you don't have to worry about kicking it over at a stop light
2013+ has EFI, so no carb to deal with
Supply and demand of used models are usually good
Good gas mileage (70+ MPG on the road)
Stock tires can handle pavement and mild off-road riding
Cons
Suspension is soft if you're aggressive or over 200 lbs
Not good for cruising above 55 mph
No wind protection (as it comes from the factor)
Stock tires aren't great for trail riding/dirt/gravel
No backup kickstart on the 2008+ models
XT250 vs CRF250L
They're both dual sport bikes, but the main difference is that the CRF250L has noticeably more horsepower, a taller seat height, more suspension travel/performance, and is a liquid-cooled engine with radiators.
If you prefer simplicity with slightly more low-end torque right off of idle, then the XT250 be the better choice, but the Honda 250L definitely has more overall performance, which is why it usually costs more in the used market.
XT250 vs TW200
The XT250 has regular 21/18" wheels and dual sport tires, while the TW200 has smaller diameter wheels with fat tires that are better for adventure riding on almost any terrain.
The TW200 has slightly less power, but the seat height is even lower (1.6" shorter)
XT250 vs XT225
The XT250 is the newer version of the discontinued XT225. The 250 has slightly more power, and the 2013 and newer years have EFI, otherwise these two dual sport motorcycles are fairly similar.
XT250 vs DR200
The Yamaha XT250 has slightly more overall performance compared to the Suzuki DR200, which isn't sold new anymore in America. The Yamaha also has a slightly taller seat height (0.8").
Learn how to trail ride with confidence
One of the biggest mistakes I see new riders make that cause them to crash and get hurt right away is trying to figure everything out on their own. Starting on the right bike, such as this XT 250, is the first important step, but if you don't form positive riding habits, then you're more likely to lose control because you won't have as much traction and balance while riding.
Since you made it this far, I want to give you a quick guide to get you started today for FREE – grab this guide here.