Looking to buy a Suzuki DR200 or just need to know more about it? Whether you're choosing your first dirt bike or comparing it to another model, you're in the right place!
In this review, you'll understand what kind of bike the DR 200 is, why it may be the best (or worst) motorcycle for you, and what to expect when buying and riding one so that you save time & money making the best choice possible.
What is the Suzuki DR200?
It's a 200cc dirt bike that is street legal for riding on the road and off-road – also called a dual sport bike. It has a 4-stroke air-cooled engine with a 5-speed wide ratio transmission, but what does that mean for you?
The air-cooled engine is low-performance, but that makes it easy to ride and extremely reliable for thousands of miles or hours. The wide ratio transmission makes it easier to ride at low speeds as well as cruise on the road.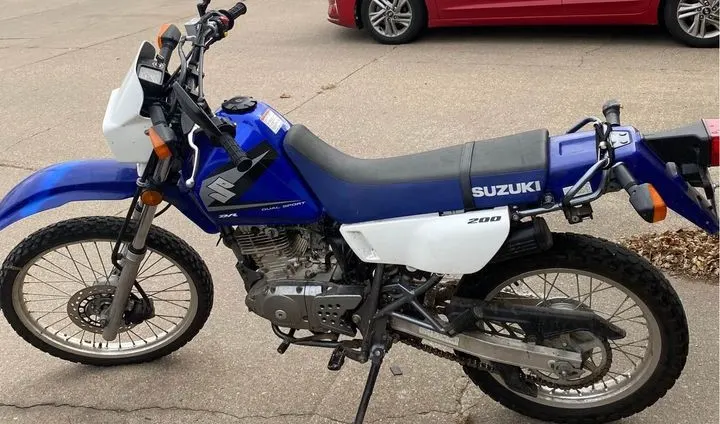 Engine – what to expect
At 200cc, the DR200 is a midsize dirt bike, but it's also in the lightweight dual sport class. So it really depends on how you're looking at this motorcycle – are you trail riding, commuting, or dual sport riding?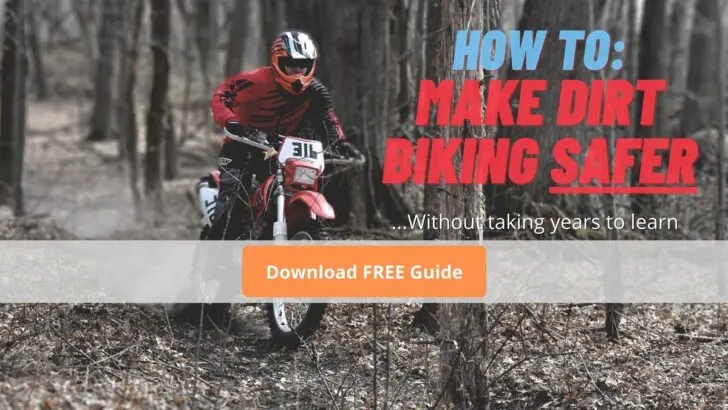 Being air-cooled, you don't have to deal with radiators or overheating unless you're abusing the clutch at slow speeds. With a buttery-smooth power curve, it's not only predictable and easy to ride, but it's great for learning how to control the clutch if you're a beginner.
Horsepower
Lets face it, you're not going to win any races with the DR200 – it only has about 15 horsepower, but this is also an advantage. For one, you're not going to get out of control easily. A huge mistake that many beginners make is starting on too big and powerful of a motorcycle.
Besides, you're not going to be riding at 8000 RPM all the time, which is where the peak power is made. Instead, you'll be riding at a lower RPM, which is where the DR 200 makes good low-end torque and is a characteristic of a good beginner dirt bike that's easy to ride.
Top speed
While top speed isn't important on most dirt bikes, it can be on dual sport motorcycles if you'll be riding on the highway. The Suzuki DR200 has a max speed of around 70 mph, so you'll have to take this into consideration.
Obviously, you don't want to be riding at the max speed for long periods of time – it will wear the engine out faster.
So, you'll have to do one of three things if you're going to be riding a lot of highway miles:
Ride slower – to keep the RPM down
Change the gearing
Choose a bigger bike for higher speed riding
How to get a higher cruising speed
If you don't mind sacrificing low speed rideability, then you can increase the cruising speed with one simple mod. It will make trail riding harder, but you'll reduce the RPM in high gear on the highway and possibly increase fuel mileage.
You simply change the gearing – either install a smaller rear sprocket or a larger front sprocket. 1 tooth change on the front is roughly the same amount as 3 teeth on the rear.
Fuel economy
If you're dual sport riding and conservative with the throttle, you can get 75 MPG. For slower riding or more off-road, it might go down into the 40s and 50s, but that's still really good for a dirt bike.
This means you can get 150 miles on a tank before needing to refill. That might be enough to commute to work, ride some backroads and then make it back home and still have some gas in the tank!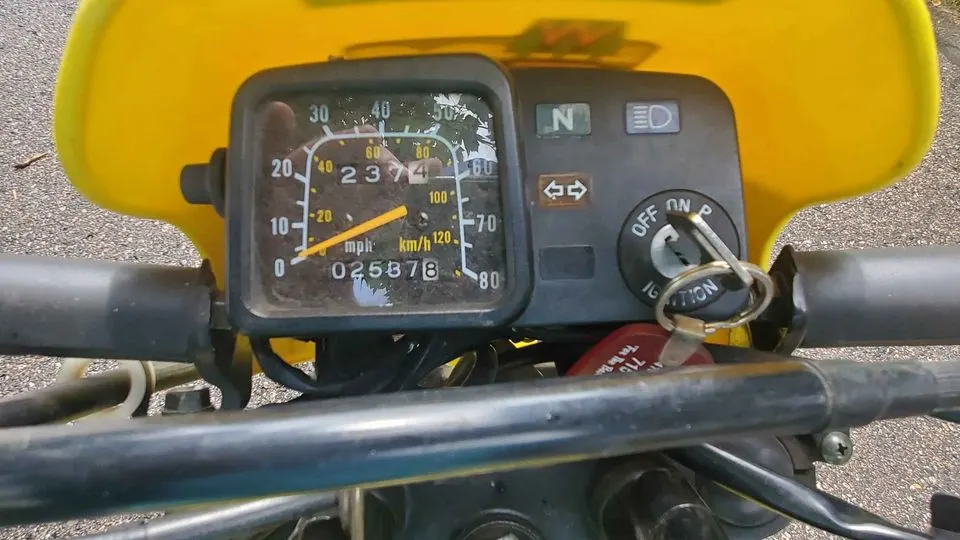 Suspension
With this highly affordable street legal dirt bike, you get inexpensive suspension. The stock front forks and rear shock are low-tech, but this is perfectly fine if you're a beginner or prefer plush and simple suspension.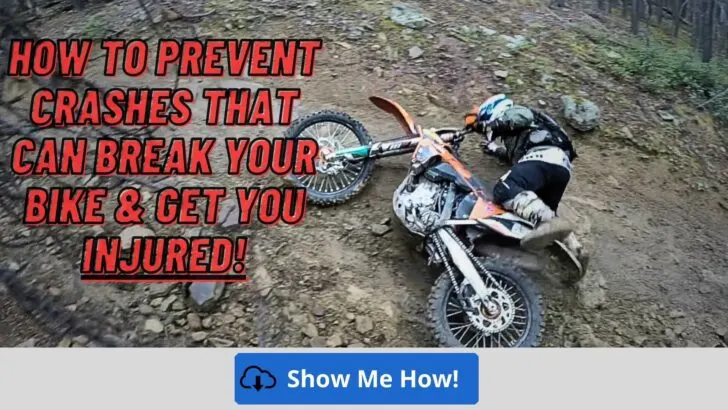 There's not much adjustment you can do externally, but maybe you don't want to have to touch anything. They're very durable and reliable, so you won't have to do much maintenance to them.
Front forks
With 8.1 inches of suspension travel, the stock forks are pretty basic. They're definitely not what I consider "long-travel", but this is the side-effect of having a really low seat height, which I'll explain more shortly.
There's no external damping adjustment on the forks – the only thing you can do is slide them up or down in the triple clamps, which I don't recommend doing until you've tried adjusting the rear sag.
Rear shock
The stock shock is also nice and plush with 8.1 inches of wheel travel. There's no compression or rebound damping adjustment, but you can (and should) adjust the pre-load.
The preload controls the amount of sag your dirt bike has, and this is important for setting the proper ride height for your weight. When you properly set the ride height, the suspension will be balanced, giving you more traction and control overall.
Suspension upgrades?
The first thing you need to do before upgrading the suspension is get the proper spring rates. If the stock forks and shock are too soft, then you'll need heavy duty springs.
After that, then the cheapest performance upgrades are heavier weight fork oil (Amazon) and shock oil, adjusting the fork oil height, or adding a preload spacer to the forks.
Handling
The handling of a dirt bike is what it feels like when you ride, balance, corner, and do obstacles with it. The DR200 isn't made to be a great handling bike because of its chassis and suspension, but it does do some things well just because of its size.
It handles well at low speeds, whether you're in a parking lot or on a tight single-track trail. This is because it's shorter than most full-size dirt bikes, giving you a lower center of gravity that makes it easier to learn and balance on.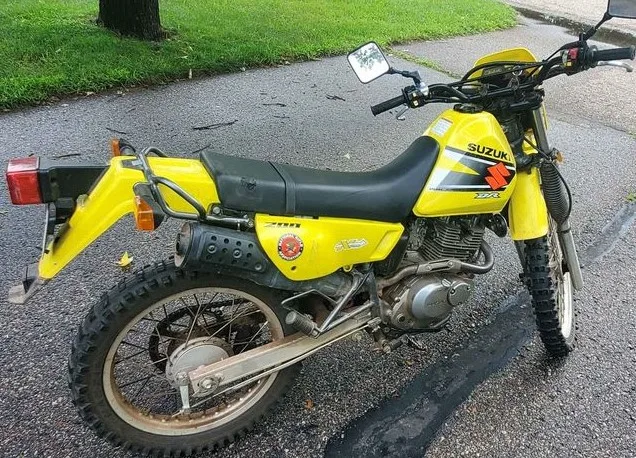 Weight
Depending on which model Suzuki 200 you choose, it's not a lightweight dirt bike. However, it is on the list for lightweight dual sport bikes because they are naturally heavier bikes due to more durable frames and street legal accessories, such as headlight, tail light, and horn.
The DR200S weighs 278 lbs, and the DR200SE weighs 291 lbs curb weight – wet with fluids and ready to ride. This may be heavy for a trail dirt bike, but it's light for a street bike.
Is there a weight limit?
While there's no technical weight limit given in the specs from Suzuki that I've seen, there is a limit to how much the stock suspension can handle. It's made for riders 140-180 lbs, but it also depends on how you ride.
For slow or casual riding, you'll be fine if you're 200 lbs. But if you're heavier or want to ride more aggressively, you'll want to stiffen the suspension so that it doesn't bottom out and cause an accident.
Model year history & changes
There have been a few changes to the DR200 over the decades, but the biggest were updated models. It started as an off-road motorcycle, with the newer models being dual sport motorcycles.
Here's the history of the Suzuki DR200 and years that had major changes:
1986: First year of the DR200
1996: First year of the DR200SE – dual sport bike
2013: Discontinued DR200SE model
2015: First year of the DR200S – dual sport bike
Does Suzuki still make the DR200?
Suzuki still makes the DR200, but it's not currently sold in North America/United States.
Reliability – how long will it last?
Want a dual sport bike that will last a long time? The DR200 is about as reliable as it gets if you just do a few simple things to maintain it. Not only is the air-cooled engine durable, but all of the suspension and chassis components are over-built.
You could make it last hundreds or thousands of hours if you spend a little time taking care of it. This could turn into tens of thousands of miles and many years of trouble-free riding before it needs to be rebuilt.
Any common issues?
The DR200 has never had any major common problems outside of the ordinary. You might run into other common dirt bike problems, such as:
Suzuki DR200 Specs & Dimensions
These are the specifications from Suzuki's website:
| | | |
| --- | --- | --- |
| | DR200S | DR200SE |
| Manufacturer | Suzuki | Suzuki |
| Engine | 199cc air-cooled 4 stroke | 199cc air-cooled 4 stroke |
| Starting System | Electric start | Electric start |
| Transmission | Wide ratio 5-speed manual clutch | Wide ratio 5-speed manual clutch |
| Seat Height | 33.3" (85cm) | 33.5" (85cm) |
| Weight | 278 lbs (Curb) | 291 lbs (Curb) |
| Fuel Tank Capacity | 3.3 Gal (12.5 L) | 3.4 Gal (13.0 L) |
| Suspension Wheel Travel | 8.1" | 8.1" |
| Horsepower | 15 HP | 15 HP |
| Top Speed | 70 MPH | 70 MPH |
| Price (New MSRP) | $4,649 | $3,999? |
Seat height – what size rider is the DR200 for?
With a seat height of 33.3-33.5 inches tall (depending on which model), the DR200 is at least a few inches lower than many dual sport and full size dirt bikes. This is a good size off-road motorcycle if you're in the 5'0"-5'8" height range, while still being large enough if you're a little taller.
Not only is the lower seat height easier to control, but it will build your confidence quicker – especially if you have short legs like me! When you can touch the ground, you can focus on learning the fundamental riding techniques without worrying about falling over easily.
How much does the DR200 cost?
The DR200S has always been one of the cheapest dual sport motorcycles when new, which makes it so attractive if you're looking for your first dirt bike. When it sold in the U.S. market, the MSRP was $4,649, but you can still find them for sale in the used market.
A used DR200 in good condition is worth roughly $2000-3200, but the actual value also depends on your local market and what the demand is.
DR200S vs DR200SE
The original DR200 was an off-road trail bike, but the newer 200S and 200SE models are much similar. They're both street legal dual sport bikes, which used to be called enduro motorcycles.
These are the biggest differences between the DR200s vs DR200SE:
Front fender engine guard bar and plate
Rear carrier rack
Headlight protector
Fuel tank
Styling/ergonomics
Weight
Overall width – DR200SE is several inches wider
The DR200SE is made for more off-road and dual sport riding with more aggressive knobby tires and luggage capacity, while the DR200S is better for town/city riding.
Who's it for?
The Suzuki DR200 is a good bike, but it definitely has its weaknesses and is not a great choice for everyone. With that said, it's great if you're a beginner that wants a street legal dirt bike.
Since it's plated for road use, you can ride around the city and still do some trail riding or cruise down some gravel roads. With a low seat height and low-performance engine, it will build your confidence if you're short in height or if this is your first dirt bike.
Is the DR200 the right dirt bike for you?
Still can't decide? Here are some pros and cons of why you should or shouldn't choose the DR200 to be your next (or first!) dirt bike:
Pros:
Legally ride on the street and dirt with comfort
Low seat height
Easy to ride
Smooth engine makes learning the clutch easier
Great for riding around town
Good gas mileage
Lightweight for a dual sport bike
Extremely reliable when properly maintained
Cons:
Lacking power for highway cruising
Heavy for trail riding
Suspension is soft if you're a heavier rider
Not sold new in the U.S.
Best mods
Depending on whether you want more power, suspension performance, or just some dual sport accessories, there are quite a few things you can do to modify your 200cc Suzuki dual sport bike.
These are the best DR200 mods for your money:
Uncork intake/exhaust
Jetting
Suspension
Luggage rack
Gearing
Learn how to trail ride with confidence
Starting on the right bike will build your confidence quicker, and the DR200 is a good choice, but that's just the beginner. Whether you've never ridden a dirt bike before or you're coming off a street bike, there's quite a few differences when it comes to technique and body position.
I want to show you the proper techniques so that you stay safe and have fun – Click or tap here to download my FREE guide.