Looking for the best cheap dirt bikes for adults? If you're on a budget but still want a quality bike, I want to show you the best beginner dirt bikes for adults that are still affordable and reliable.
Obviously, you're going to have to buy used if you want an inexpensive first dirt bike, so you also have to find a used bike in good shape. I'll include some tips for that as well.
Cheap dirt bikes but still good quality
Unfortunately, there's not many cheap dirt bikes these days that are of good quality. Some Chinese brand dirt bikes may last a while, but I stay away from them because there's little to no factory support, as well as aftermarket availability.
That's why I'm primarily going to cover the name brand dirt bikes in this article because they will be the most reliable, easiest to find used, and the most durable.
2 stroke vs 4 stroke for beginners
2 stroke dirt bikes have gotten a lot easier to ride in the past 10 years with the updated enduro models – but I still don't recommend them if you're new to dirt biking. They're just a little to hard to control as a beginner because they have quite a bit of power for their size.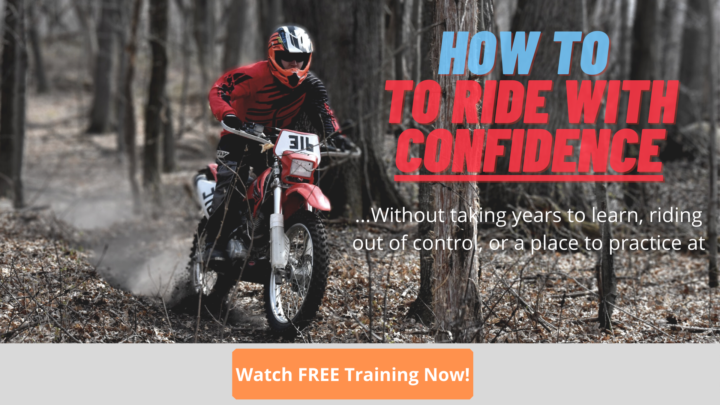 If you're truly a beginner, I recommend picking a cheaper 4 stroke trail bike that's air-cooled. An air-cooled engine has smoother and more predictable power, making it very easy to ride and learn on. It's also simple and easy to maintain.
Best budget dirt bike
If you're a beginner, then the 2 dirt bikes that are generally the cheapest are the TTR125L and the XR200. If you're a short adult, then the TTR125 is a great bike to start on. The XR200 will fit most adults.
Keep reading to learn which of these bikes might be right for you and several more than are affordable, reliable, and fun to ride.
Yamaha TTR125
The TTR125 is one of my favorite beginner bikes for teens and adults because it's cheap and small, but the large wheel model is still big enough if you're an averaged sized adult.
It's super easy to ride and learn the clutch on, and there are thousands of them out there. Yamaha has 4 different TTR 125 models, including small and large wheels, as well as an electric start option.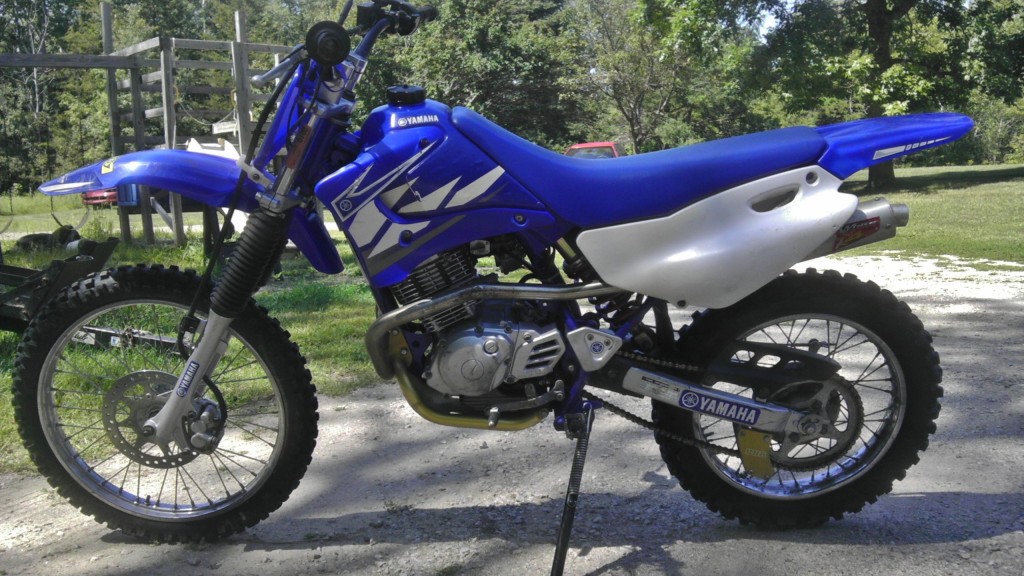 The TTR125 might be the most affordable and best value dirt bike on the used market if you're an adult that's just getting into dirt biking.
Who is the TTR 125 good for?
Since there's a small wheel, large wheel, and electric start options, there's a wide range it's good for. If you're in the 4'8″-5'0″ height range, the small wheel TTR125 would be a good size for you. If you're 5'0-5'6″ then the larger wheel TTR125L is a better fit.
There are also kick-start only and electric start models – they have an "E" at the end of the model name (TTR125E/TTR125LE). If you can live without electric start, you might be able to get a kick-start TTR for cheaper.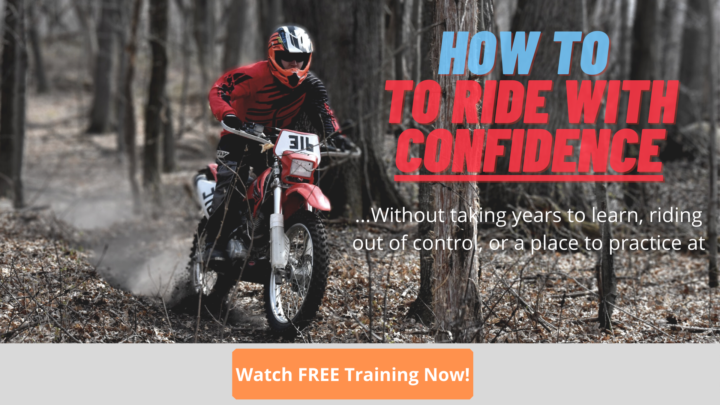 Honda XR200
While the XR200 hasn't been made since 2002 in the US, it's still one of the best beginner dirt bikes for adults on a budget because it's easy to ride, it has full size wheels, it's very forgiving, and it's as reliable as it gets.
With a little bit of suspension tuning/mods, it's a very capable woods bike for trail riding. That's why I took it out to Colorado for my first week of riding out there a number of years ago.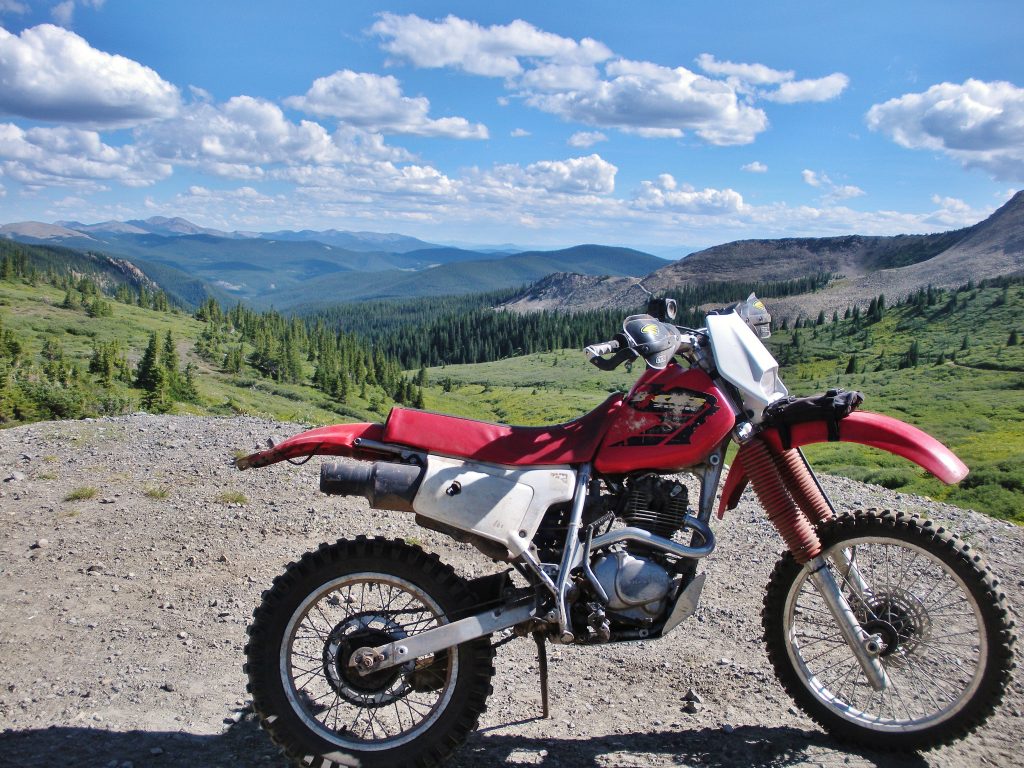 Who is the XR200 for?
The '86-'91 XR200 years are taller and have a little better suspension. They're a good size if you're 5'4″-6'0″ tall. The 1992-2002 XR 200 has a lower seat height, so it's better if your height is around 5'2″-5'8″.
Overall, the XR200 is still the best cheap beginner dirt bike for adults if you don't mind having a kick-starter and a carburetor. The only problem is that they're getting harder to find in the used market – especially in good shape because many owners didn't maintain them well.
Yamaha TTR230
While the TTR230 is still being made today, it's been around since 2005 and hasn't really changed. That means that you can buy an older year for less money but it will still be like a new model!
The TTR 230 is comparable to the XR200 I just mentioned, but it's supposed to compete with the newer CRF230F. The reasons you can find it cheaper are: it's been around for almost 20 years, and it didn't get quite as popular as the Honda – there's less of a demand, so the value is slightly lower on the used market.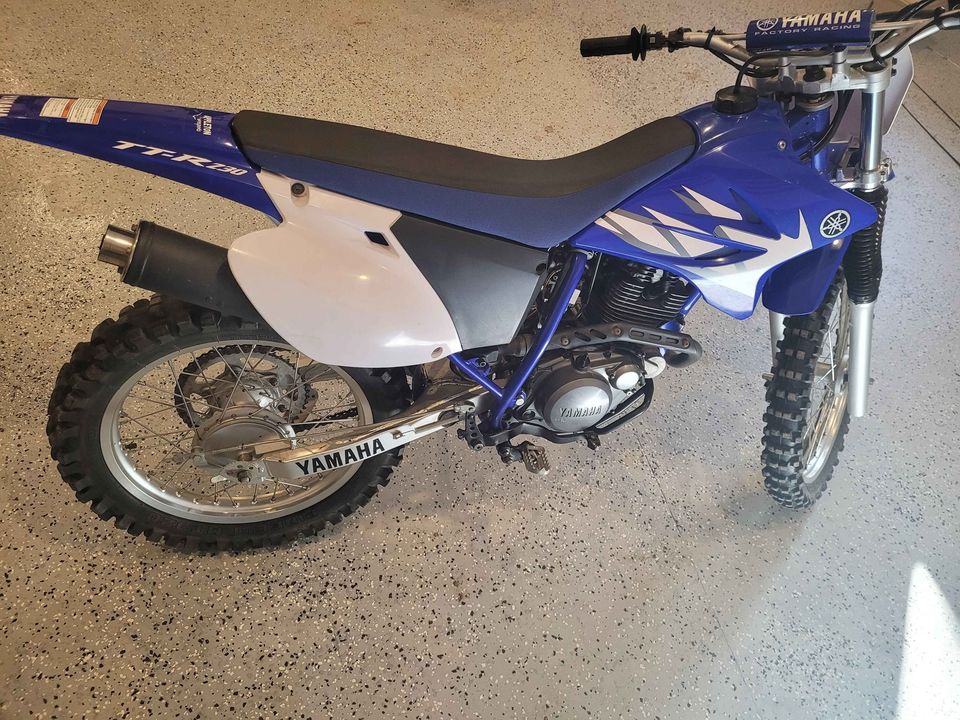 Who is the TTR230 for?
It's a full-size bike with a slightly lower seat height than the enduro models, so it's good if you have shorter legs like me. It's a good size if you're 5'4″-6'0″, depending on your inseam.
It's a quite a bit heavier than the TTR125, but it doesn't feel that heavy unless you have to pick it up off the ground. If you have good balance technique, then you don't need to worry about that!
Honda XR250
Like the XR200, the Honda XR250R is still popular after being discontinued for nearly 20 years. It has noticeably more power than the 200, and it's slightly bigger in size.
With two cams, a bigger engine, a longer chassis, and better suspension, the XR250 is best suited for moderately tight to open single-track trails. With a good fork and shock set-up, it can be a very good woods bike.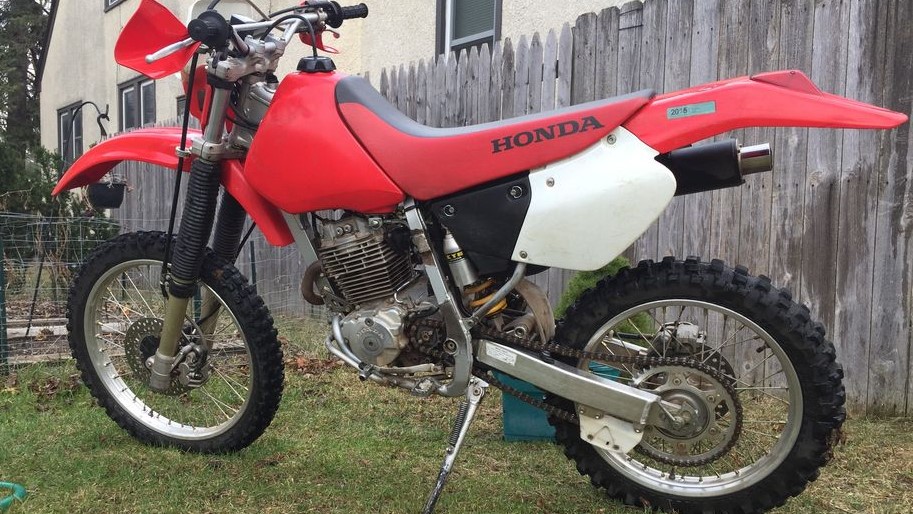 Who is the XR250 for?
If the XR200 is a little bit too small for you, then the XR 250 is the next logical choice. It's a good size if you're 5'6″-6'0″ tall. The suspension is a little soft if you're a heavier rider, but there are mods you can do to make it more comfortable.
Cheap motocross bikes
I've owned and ridden almost every dirt bike brand, and Yamaha is always near the top for overall performance and reliability. Yamaha is also the best value dirt bike because they're relatively inexpensive. The best cheap motocross bikes are the Yamaha YZ125 and YZ250F, but it depends on the model year that you buy.
YZ125 – Budget 2 stroke mx bike
The YZ125 is still the most popular 125cc 2 stroke dirt bike for many reasons. Unfortunately, the 2005 & newer is still pretty expensive to buy used because Yamaha hasn't updated it until just recently.
It's just an overall great bike for a 125 because it's reliable, handles well, and makes good overall power – especially low-to-midrange, which makes it easier to ride and control.
Which model year?
With that said, this is the perfect reason to get a 2004 or older YZ 125 if you're on a budget. The demand is lower, but the performance is just about as good.
The 2002-2004 models are lightweight and narrow feeling to ride. The only possible downside is the 5 speed transmission (if you absolutely need 6 gears).
The 99-01 year models are great as well and are super reliable. Finding a clean and well maintained YZ125 may be somewhat difficult, but they're a worthy motocross bike if you're an adult or growing teen.
YZ250F – Budget 4 stroke mx bike
Looking to start racing motocross but want a 4 stroke? The YZ250F is not only the most affordable, but it's the most reliable 250F mx bike. It's been around since 2001, so you can find them for less than other 250F's on average.
2006 is when the YZ250F went to an aluminum frame, and they started getting expensive at that point.
Best cheap dirt bikes
I've covered the top choices, but I'll include some other good dirt bikes that are cheap. They might be harder to find, but it would be good to keep them on your list if you're struggling to find the right model.
Best cheap small dirt bikes for adults:
Best starter dirt bikes for adults that are inexpensive:
Honda XR200
Yamaha TTR230
Honda XR250
Best affordable motocross bikes for adults:
Yamaha YZ125
Yamaha YZ250F
How to get a used dirt bike for cheap
First, you must know that you may have to wait some time to get an actual good deal on a cheap dirt bike. You may find one within the first week, but if you're looking for a specific brand and model bike, you may have to wait months.
Knowing what to look for when you get there is half the battle. Being able to spot signs that the bike has been well maintained or not will give you the best chance of getting it for cheap.
The top things to look for when buying a used dirt bike are:
Oil level and color
Air filter – is it clean, dirty, falling apart?
Coolant level – if it's liquid-cooled with radiators
Overall look and cleanliness – are there bolts missing/mismatching?
Inexpensive dirt bikes
Looking at those pit bikes and dirt bikes for $599 or similar brand new? These may be cheap to buy brand new, but they're made in China and are poor quality compared to the name brand dirt bikes from Japan and Europe.
I recommend staying away from these inexpensive dirt bikes and pit bikes if you plan on riding for more than a year. They're not very durable if you're riding aggressive, and parts will be hard to get in the future.
Are dirt bikes under 1000 worth it?
The biggest problems with "cheap dirt bikes", such as the Apollo 125cc on Amazon, is that the build quality is lower and they're harder to fix/repair if something breaks or wears out.
The materials are cheaper and less durable (the reason why they're cheap to buy), and the assembly isn't always good (loose or missing parts is common).
If you fall and break something, it might be hard or impossible to find a dealer that stocks a replacement part. If you do find one, it might take a long time to be delivered.
For as cheap as they are, they're definitely usable and functional, but you just have to expect that it won't last nearly as long as a name brand dirt bike.
Why are enduro dirt bikes so expensive?
I consider an enduro dirt bike to be a high performance trail bike. An example would be the Yamaha YZ250FX. They are a lot more expensive than a trail bike, such as the TTR230, because of all of the technology and R&D.
Trail bikes don't change that much over 5-10 years, so dirt bikes brands don't have to invest in new equipment to change them. This saves money, as well as time, which equates to more money.
Enduro bikes continue to get better because the companies keep investing time and money to test and and tune them. This is why they are so expensive compared to a beginner trail bike
How to get started dirt biking safely
Want to start dirt biking on the right path? Choosing the right bike is the first step, but then you need proper gear and instruction on basic riding technique. Want some riding tips to help prevent common newbie crashes? Tap here to learn more.