Looking for the best motocross bike but can't figure out where to start? Whether you're a beginner, expert, short or tall, you're in the right place!
In this article, I'll show you:
What makes a motocross bike different than other types of dirt bikes
Why you should or shouldn't get one
How to pick the right MX bike based on your specific needs
What is a motocross bike – what makes it different?
A motocross bike is a type of dirt bike that's specifically made for racing on a track with jumps and obstacles. The engine, chassis, and suspension are set up to be the most comfortable for an average size and level racer: about 180 lbs and 5'11" tall.
The engine on an MX bike is built for more top-end horsepower, so it's snappy and abrupt when you give it gas. The suspension is stiff and harsh compared to a trail bike to be able to absorb big jumps and impacts.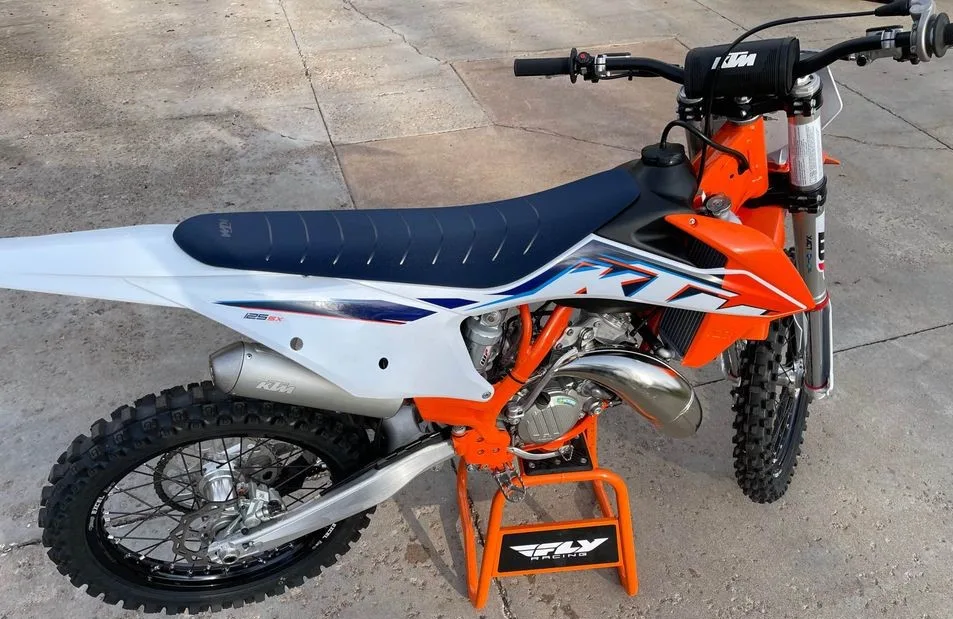 Should you get a motocross bike?
Before we even consider the best motocross bike for you, it's important to know that you may not even want or need one if you have done the right research. For example, you may want a motocross bike for riding fast on trails because they're light and powerful, but that's not the right bike for the job.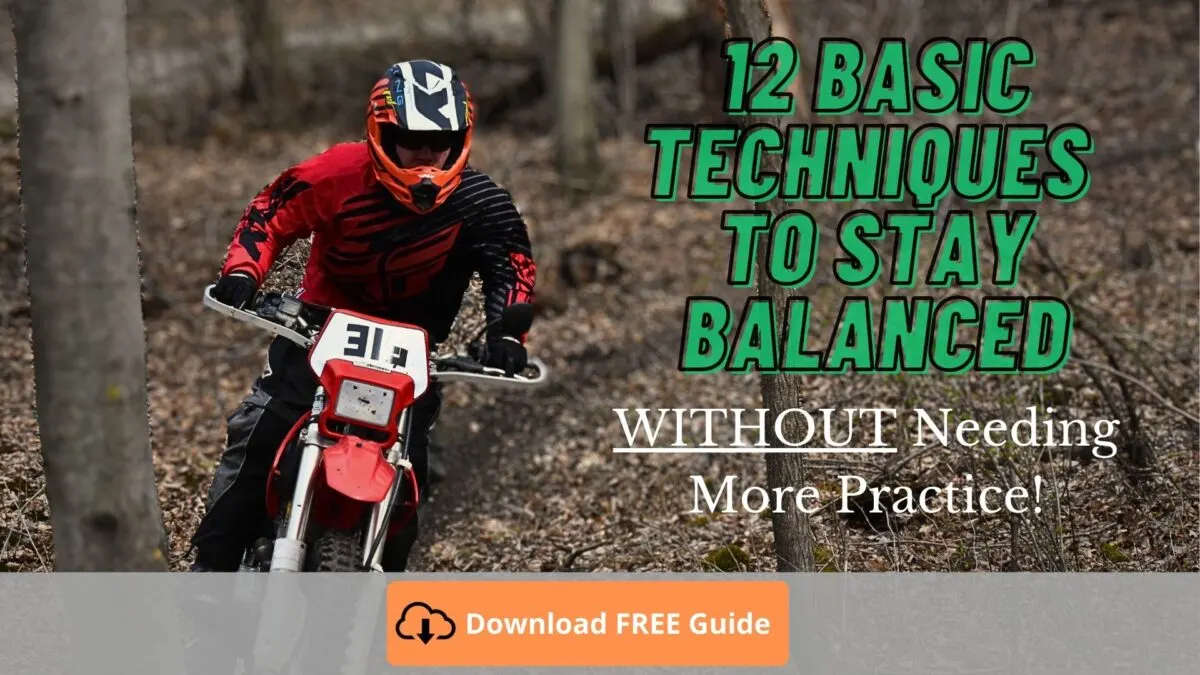 An enduro bike would be a much better option if you're an experienced rider because they have a better-tuned engine, suspension, and chassis for riding off-road – you'll be more comfortable and have more confidence because it's easier to control.
New to riding?
On the other hand, you might be new to dirt biking and already know that you want to race motocross – that's great! But, if you were my friend, which I consider you to be for reading this, then I would highly recommend starting on a dirt bike that's easier to ride and staying away from a motocross track… at least at the beginning.
Learning how to ride a dirt bike in the dirt is hard enough, even if you've been riding on the street for 20+ years. Adding multiple layers of difficulty with learning how to ride a track with jumps and other people flying by you on top of learning proper clutch control, throttle control, and balance is not a recipe for staying safe!
Do yourself a favor (and other people) and please start on a beginner-friendly trail bike in an open area and easy trails before you "jump" onto a motocross track.
Can you use a trail bike for motocross racing?
Maybe you already have enough confidence in your riding skills and are ready for at least practicing on a motocross track, but you still have a trail bike – is it possible?
The simple answer is yes, but I highly caution you because the suspension is not made for it. A trail bike is set up for riding trails at slower speeds with soft suspension to absorb small bumps and obstacles.
When you try jumping a dirt bike that's made for trail riding, you're going to bottom out the forks and shock very easily. This is not only uncomfortable, but it's dangerous if you're doing big jumps. You're more likely to get bucked off on a hard landing.
So, I recommend either getting a proper suspension set-up for jumping, or the better option of buying an actual motocross bike.
2 stroke vs 4 stroke – which is better for motocross?
Before you look at what size motocross bike is best for you, the first option is choosing a 2 stroke or 4 stroke dirt bike. There are pros and cons to each, so let's consider each.
2 stroke pros: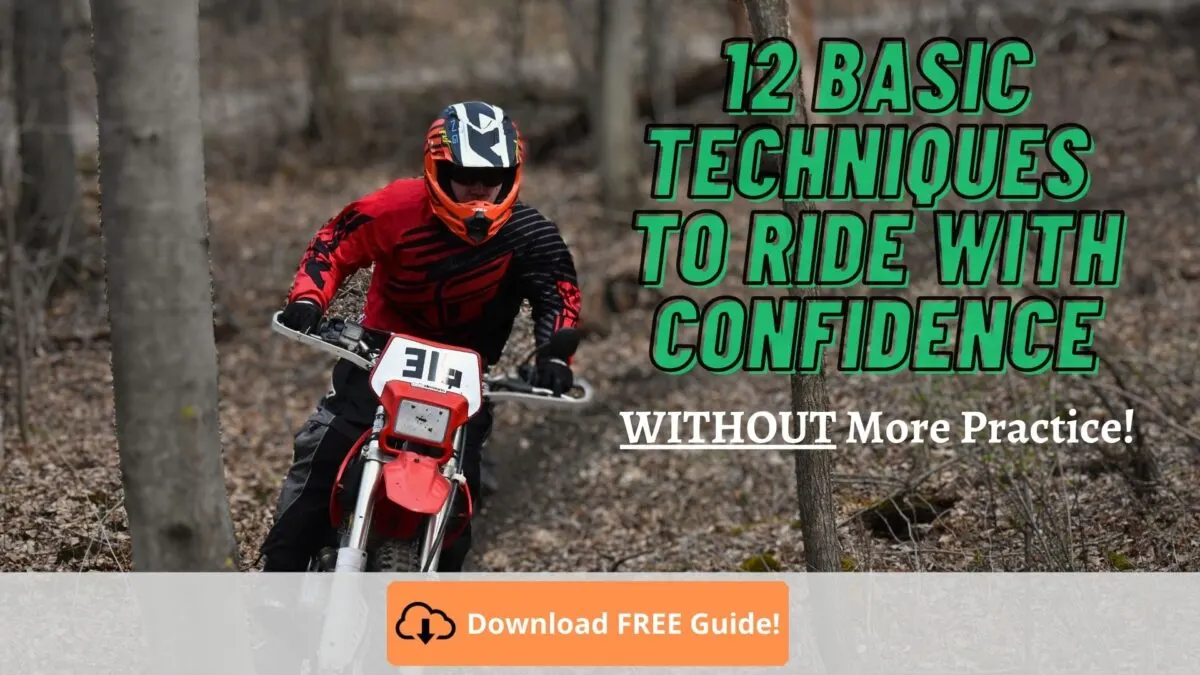 Less weight and feel lighter – easier to turn and handle
Good power to weight ratio
They teach you how to use better clutch & throttle control
Easier to maintain and rebuild engine
4 stroke pros:
Easier to ride – less fatiguing
More low-end torque – better if you like short-shifting and not shifting as much
No mixing gas
If you're still not sure what you want, either type of dirt bike is a good choice if you choose one that is easy enough for you to ride.
What size MX bike is best for you?
Once you figure out if you want to get a 2 stroke or 4 stroke for motocross, the next step is choosing the right size based on your experience, as well as your height and weight.
For example, if you're new to motocross, you shouldn't start on a 450 four-stroke because you do not need that much power. They're also more exhausting to ride due to the extra power and weight.
So, here are some references for a good starting point on what size to choose…
Best size motocross bike for beginner adults:
125cc 2 stroke
250cc 4 stroke
Best motocross bike for kids based on your age:
4-7 years old: 50cc
6-11 years old: 65cc
11-15 years old: 85/112-150cc
16-18 years old: 125cc 2T or 250cc 4T
What if I can't touch the ground on a tall MX bike?
Maybe you're an adult with short legs like me – I can't touch the ground on a full size MX bike unless I shift my weight to the side and tiptoe. Well, for learning to ride, a smaller trail bike is a good choice because you'll have more confidence if you can touch the ground.
But for racing motocross, you don't need to be able to touch the ground except on the starting line.
So, it's okay if the bike is a little bit tall for you. There are some ways to lower the seat height if you think it's absolutely necessary.
Best motocross bike for beginners
Motocross bikes are not exactly "beginner friendly" because their racing characteristics make them harder to ride. A snappy power curve and stiff suspension are more exhausting, especially on an MX track. But if you're ready for riding on a track, there are a few options that I recommend starting out with.
These are the best motocross bikes for beginners:
Yamaha YZ125
KTM 150 SX
Yamaha YZ250F
YZ125
A 125cc 2 stroke is the smallest full size MX bike for adults, making it a good choice to start on for a number of reasons. It's lightweight, doesn't have nearly as much power as a 250 or 450, so it won't get out of control as quickly, and it will teach you how to use the clutch and shift gears to keep the RPM in the meat of the power.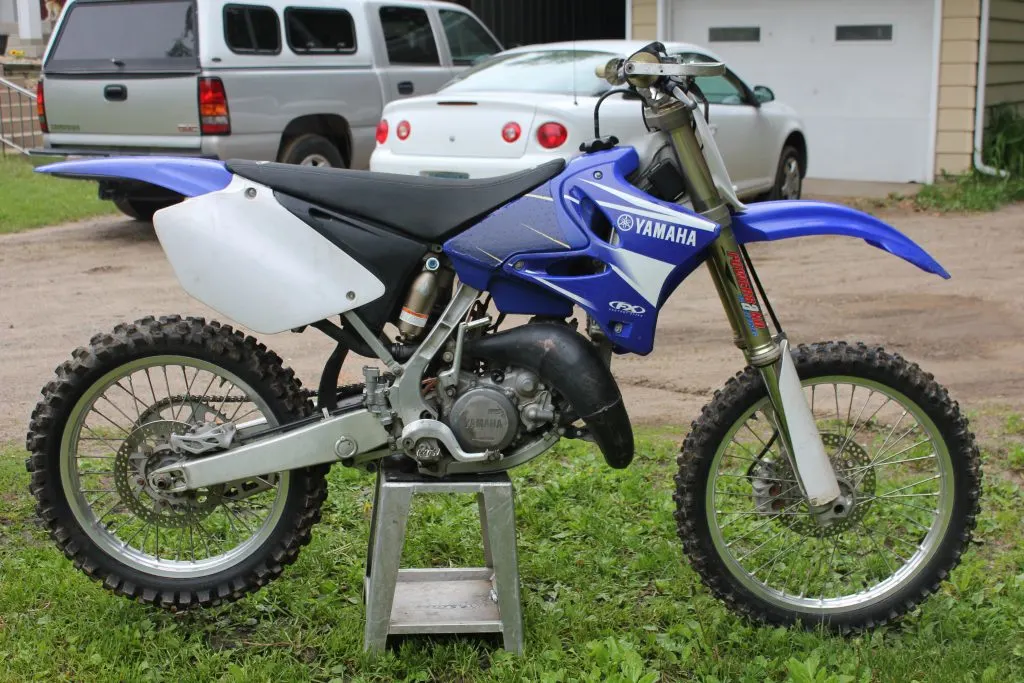 The YZ125 is the best choice out of the 125's because it has the broadest power curve. With better low-end and midrange torque, it's easier to ride as a beginner because it will still accelerate if you don't have the throttle wide open and the RPM up high.
150 SX
The KTM 150 SX is also a good choice for beginners because it's just as light as the 125, but the 20cc extra helps quite a bit. You get that little extra low RPM torque to ride at a lower out of corners, making it a little smoother and easier to ride.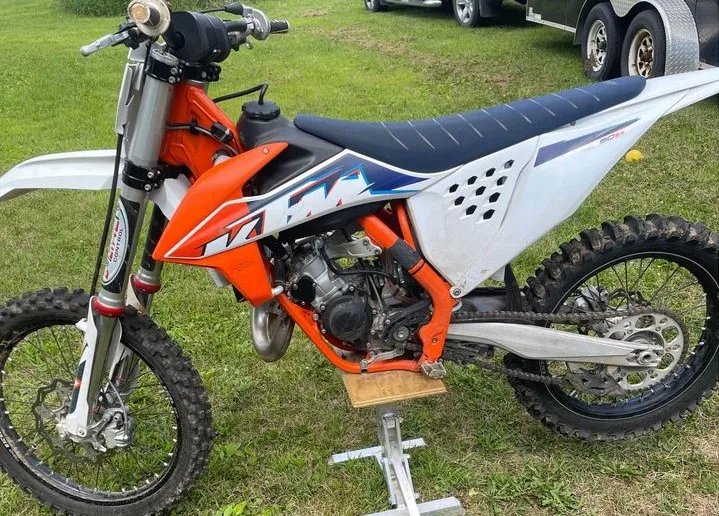 YZ250F
The next best MX bike for beginners is the Yamaha YZ250F. The 2014+ engines have great bottom-end torque for a 250F, but even the older generation engines are a good choice.
The YZ 250F is a good pick if you're new to motocross because it has very smooth and broad power. It's the easiest race bike to ride because of this and will allow you to ride longer without getting as exhausted. It's much better to start on a 250F than a 450 because you won't get out of control easily from the massive torque when you're fatigued and give it gas!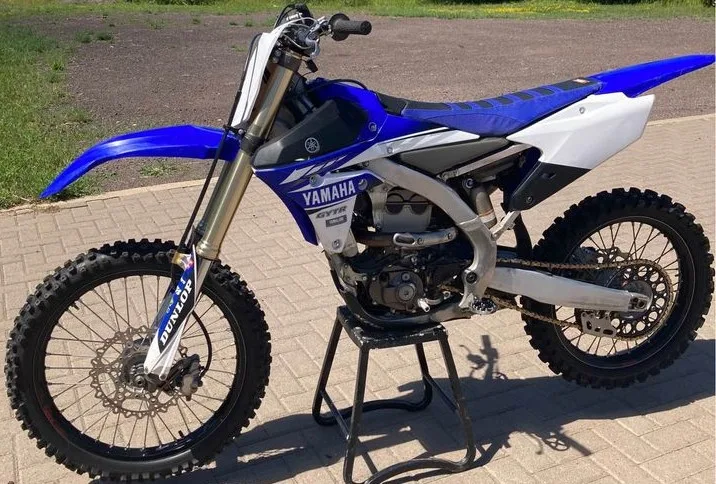 What's the best brand for motocross bikes?
There are many different brand name dirt bikes, and the best brand doesn't always win every category. Virtually all dirt bikes are so good these days.
You can't go wrong with any of the name-brand Japanese and European motocross bikes, although certain models may have slightly different characteristics, such as the power curve and how it feels when you accelerate at different RPMs.
With that said, these are the best brands for motocross bikes:
Yamaha
KTM
Honda
Kawasaki
Husqvarna
GasGas
Suzuki
50cc motocross bike for kids
There are several different 50 cc 2 stroke MX bikes for racing. KTM has a couple different sizes for different classes of racing.
50cc is usually a good size if your kid is 4-7 years old, but these bikes are not good to start on. There are better options for that.
These are the best 50cc MX bikes:
Cobra CX50
KTM 50 SX mini
KTM 50 SX
Husqvarna TC 50
65cc motocross bike for kids
The next size up for racing is the 65 two-stroke class. This is for kids ages 6-11 years old.
These are the best 65cc MX bikes:
Cobra CX65
KTM 65 SX
Husqvarna TC 65
Yamaha YZ65
Kawasaki KX65
GasGas MC 65
85cc motocross bike for kids/teens
If you're 11-15 years old, you'll transition to an 85 (used to be 80cc before 2002). Again, these are race bikes and not good if you're a beginner.
They have a lot of power, but they're hard to control because the engine is tuned for top-end horsepower with virtually now low-end torque – it feels like an "on/off" switch, depending on which brand you choose.
These are the best 85cc MX bikes:
Yamaha YZ85
KTM 85 SX
Kawasaki KX85
Husqvarna TC 85
GasGas MC 85
TM Racing 85
Supermini motocross bikes for teenagers
A supermini is essentially a big wheel 85 MX bike. It's specifically made for racing and is the biggest kids dirt bike before you move up to an adult size dirt bike with full wheels.
You have the bigger front and rear wheels (19/16 inch) and a potentially bigger engine displacement – up to 112cc is legal for this class.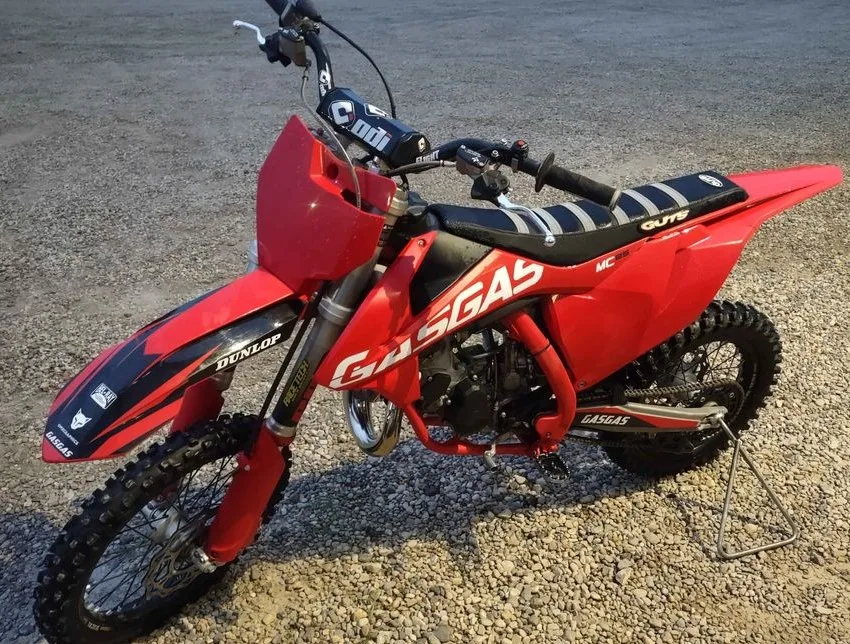 The larger wheels and tires handle a little better, and the seat height is taller, so it's a good size if you're just a little too big for a small wheel 85cc model. With a modified engine, they're very fast bikes and definitely not a good starter bike.
These are the best supermini MX bikes:
Yamaha YZ85 LW
KTM 85 SX 19/16"
KTM 105 SX
Kawasaki KX 112
GasGas MC 85 19/16"
Husqvarna TC 85 19/16"
125cc 2 stroke MX bike
The smallest motocross bike for adults is a 125, and even though it has such a small engine, they have a decent amount of power. Of course, they have to be revved high to accelerate quickly because there isn't much torque in the lower RPM range.
They're great for teaching you how to be efficient with your clutch, throttle and momentum. If you just slam into corners and whack the throttle, it's not going to get up and go like a 450.
These are the top 125cc motocross bikes:
Yamaha YZ125
KTM 125 SX
Husqvarna TC 125
GasGas MC 125
KTM 150 SX
TM Racing 125 MX 2T
250cc 4 stroke MX bike
A 250 four-stroke is supposed to compete with a 125 two-stroke, but they're much easier to ride faster, especially with all of the technology the newer 250F's have now.
All of the top brands have good bikes, but some have a slightly better engine or suspension than others.
These are the best 250 four-stroke MX bikes:
GasGas MC 250F
Husqvarna FC 250
Kawasaki KX250
KTM 250 SXF
Suzuki RMZ250
Yamaha YZ250F
250cc 2 stroke MX bike
What used to be the premier class in motocross and supercross, 250cc 2 strokes are somewhat forgotten in the racing world unless you're riding off-road. With that said, there are still several models to choose from – three are basically a KTM-variant.
These are the top 250 two-stroke MX bikes:
KTM 250 SX
Husqvarna TC 250
Yamaha YZ250
GasGas MC 250
TM Racing 250 MX 2T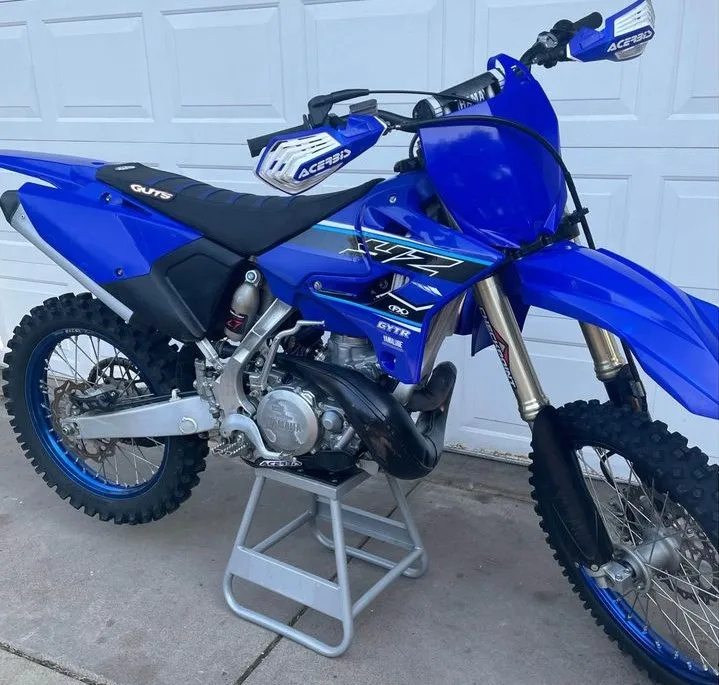 350cc motocross bike
KTM tested the waters with a dirt bike size that seemed odd, and although they didn't succeed at the pro racing level, their unique 350 motocross bike is quite popular for amateur racing.
It's made to have similar power as a 450 while feeling as light as a 250. In reality, it feels like a lightweight 450 that has almost the same peak HP, but not quite as much torque right off-idle.
If you like to rev a 250 but want a little more "oomph", a 350 might be the best choice for you.
These are the best 350cc MX bikes:
KTM 350 SXF
Husqvarna FC 350
450cc motocross bike
Ready for the biggest and 'baddest' modern motocross bike? A 450 four-stroke may not seem like a lot of you're coming from a 1200 or 1800cc street bike, but it's totally different when you're riding in the dirt.
Most 450's have around 55 HP right off the showroom floor, which is way more than the average rider needs. I wouldn't recommend one for racing unless you're an expert level rider or are a heavy dude that needs the extra "grunt".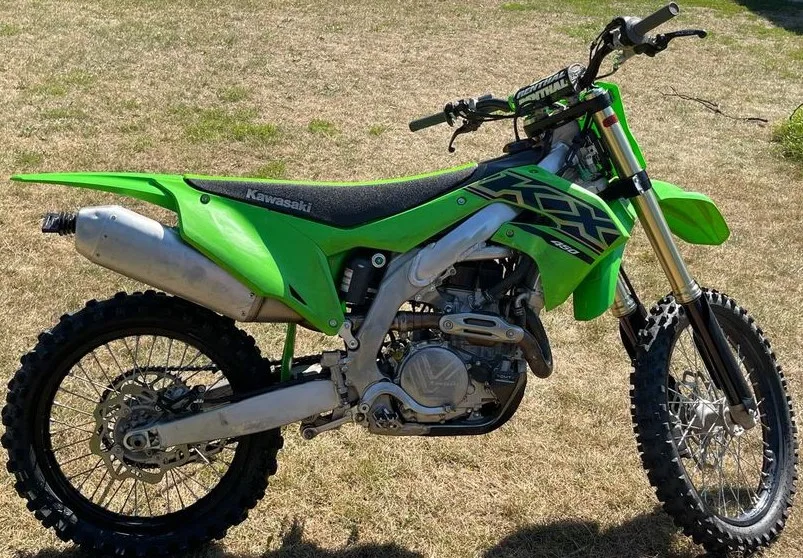 These are the top 450cc motocross bikes:
GasGas MC 450F
Honda CRF450R
Husqvarna FC 450
Kawasaki KX450
KTM 450 SXF
Suzuki RMZ450
Yamaha YZ450F
Is a 450 good for beginners?
If you're new to dirt biking, I highly recommend staying away from a 450cc motocross or enduro bike. I wouldn't get anything bigger than 250cc for your first dirt bike because you need to learn the basic techniques first – you can always upgrade to a bigger bike later.
500cc motocross bike
Maybe you're an old school racer and want to tame the 500cc beast.
The 2 most common and best 500's for MX are:
Kawasaki KX500
Honda CR500
Best motocross bike for tall riders
Virtually all full size motocross bikes (125cc+) have the same seat height (37-38″). Even if you're 6'2″ tall it will still fit you, but once it will feel a little cramped if you're much taller.
These are the best motocross bikes to start on if you're tall:
Yamaha YZ250F
Honda CRF250R
Kawasaki KX250F
Suzuki RMZ250
KTM 250SXF
Husqvarna FC 250
There are some things you can do to your bike to make the cockpit feel bigger and more comfortable. A taller seat will help because it increases the distance of your seat to the legs so that your legs aren't cramped.
Most people jump straight to tall handlebars and/or bar risers, but that's not always the best option when it comes to riding technique. You see, when you're standing up too tall, you have poor body position and are out of balance on the bike – this reduces the amount of traction and overall control you have.
Best motocross bike for short riders
Since basically all adult MX bikes have the same seat height, none of them are great if you're short like me (5'6″). If you truly want a smaller seat height, then you'll either have to lower your dirt bike or go to a smaller MX bike size, such as an 85 or supermini.
Best 2 stroke motocross bike
It's hard to determine the best dirt bike because it really depends on what your specific needs are. Not only does your size and experience level matter, but your preferences as well.
With that said, the best overall 2 stroke motocross bike is a KTM 250 SX. It continues to improve with technology, making it the fastest and lightest dirt bike in its class.
Best 4 stroke motocross bike
Do you want a 250, 350, or 450 four-stroke? Most riders don't need more power than a 250F, so a Yamaha YZ250F is th best 4 stroke motocross bike.
It has the most power in its class, plus the handling and suspension are very good, making it the top overall choice for new motorcycles.
3 simple steps for beginners to become confident
Struggling to ride with confidence? Whether you're racing motocross or trail riding, it's easy to get out of control if you haven't learned all the basic techniques. I want to give you a guide that shows you 12 basic techniques you need, and it's free. Click here to download it.