A Dirt bike is generally referred to as an off-road motorcycle, but there are many different types of dirt bikes, so how do you know which is right for you?
In this article, I'll show you every name of dirt bike classification, what type of riding they're made for, and how to choose the best one based on your needs.
What Is A Dirt Bike?
Before we go any further, we need to take a quick look at what a dirt bike is and what kind of motorcycle riding it's good for.
A dirt bike is a type of motorcycle that is designed for off-road riding. It has unique traits that are different from a street bike.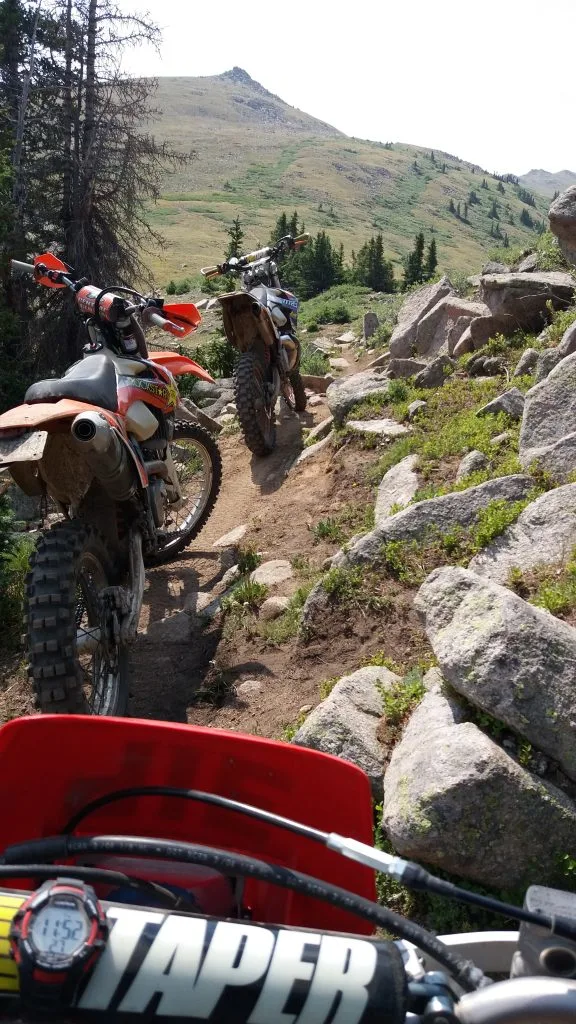 For example, a dirt bike has off-road "dirt knobby tires". On most dirt bikes (but not all), they come with more suspension travel, a narrower and flatter seat, a smaller capacity gas tank, a different style of chassis and frame, along with a shorter wheelbase to handle better at lower speeds.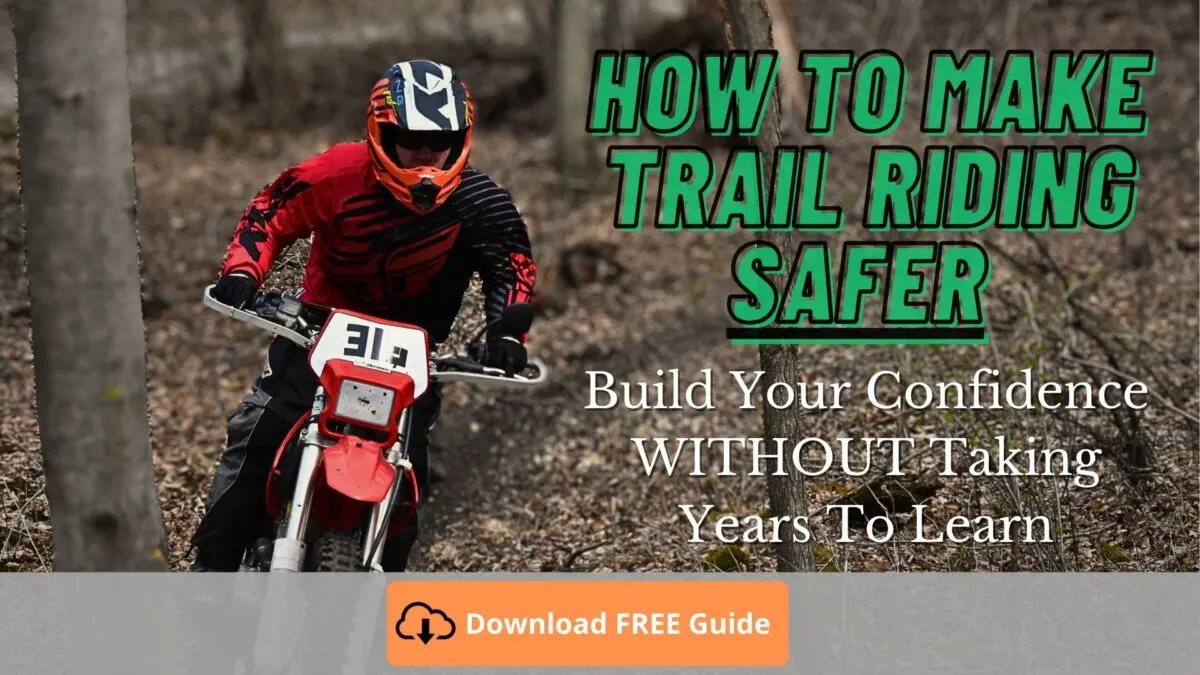 These are just some of the major differences between a dirt bike and a street legal motorcycle.
There are 8 main types of dirt bikes, and each one is designed for a specific style of riding. Read through each name and description, then decide which one is a good bike for you.
Some names are an exact description of what they are used for, but other types are closely related and need more details on where to ride them to have the most fun!
Trail Dirt Bike – Dodging Trees & Rock Hopping
A trail bike is the most common type of dirt bike. For adults, they range from 125cc up to 650cc and include both 2 strokes and 4 strokes. The engines are designed to have smooth power that is easier to ride.
The seat height is usually a few inches lower than a motocross bike. A lower seat height is better for new riders because it allows you to touch the ground and balance more easily.
The suspension on most trail bikes is simple and soft, but usually adequate. Trail bikes are cheaper because they are targeted toward beginner riders that don't need all the latest tech and gadgets.
However, many riders like their trail bike so much that they start modifying it as they increase their riding skills. Suspension mods or conversions are very popular.
A common suspension conversion would be installing the forks and rear shock from a motocross bike (KX250) onto a trail bike (KDX200).
The most common trail dirt bike sizes for adults are:
125cc
140cc
200cc
230cc
250cc
300cc
The most popular trail bikes today are: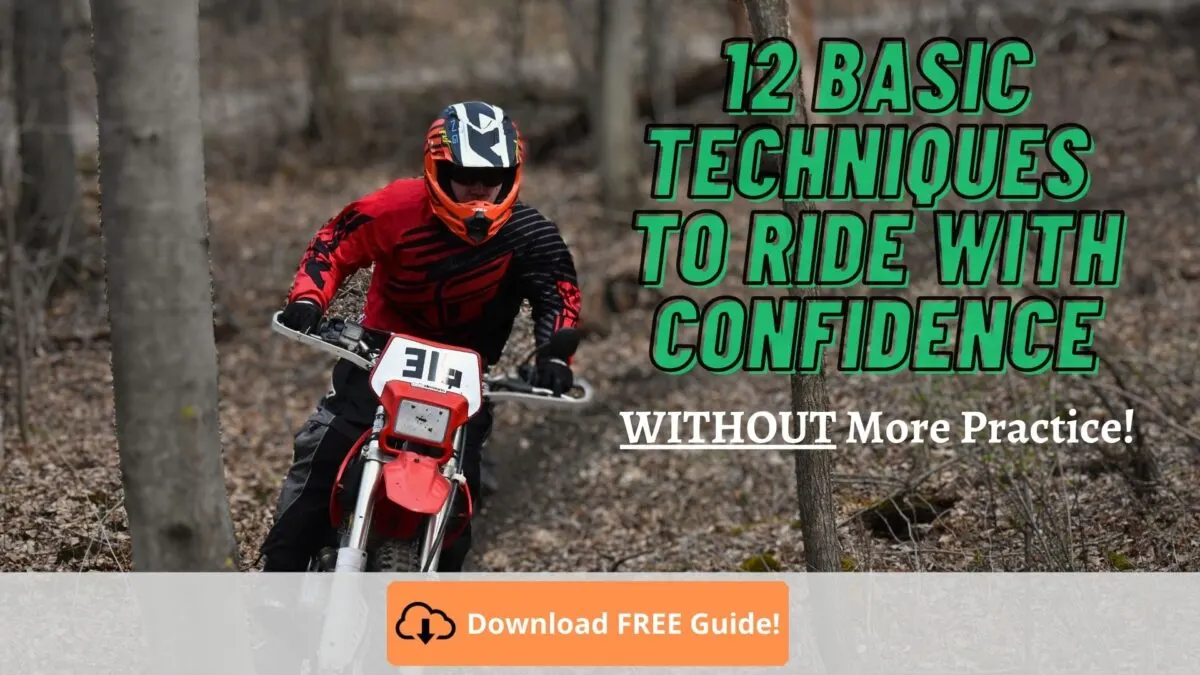 Many new riders start on a trail bike because they are easy to ride and are the most forgiving if you make a mistake.
After choosing the right bike to start on, you need to learn proper riding techniques to build your confidence and prevent big crashes. Click here to learn how to become a confident trail rider 5X faster than the average person.
Motocross Bike – Jump For Show, Corner For Dough
Motocross bikes are just about as popular as trail bikes. They are often seen as the "top tier" type of dirt bike because they have the most powerful engines and the highest technology in suspension.
MX bikes (for short) are built for racing on closed-course competition tracks that have dirt obstacles, such as jumps and whoops.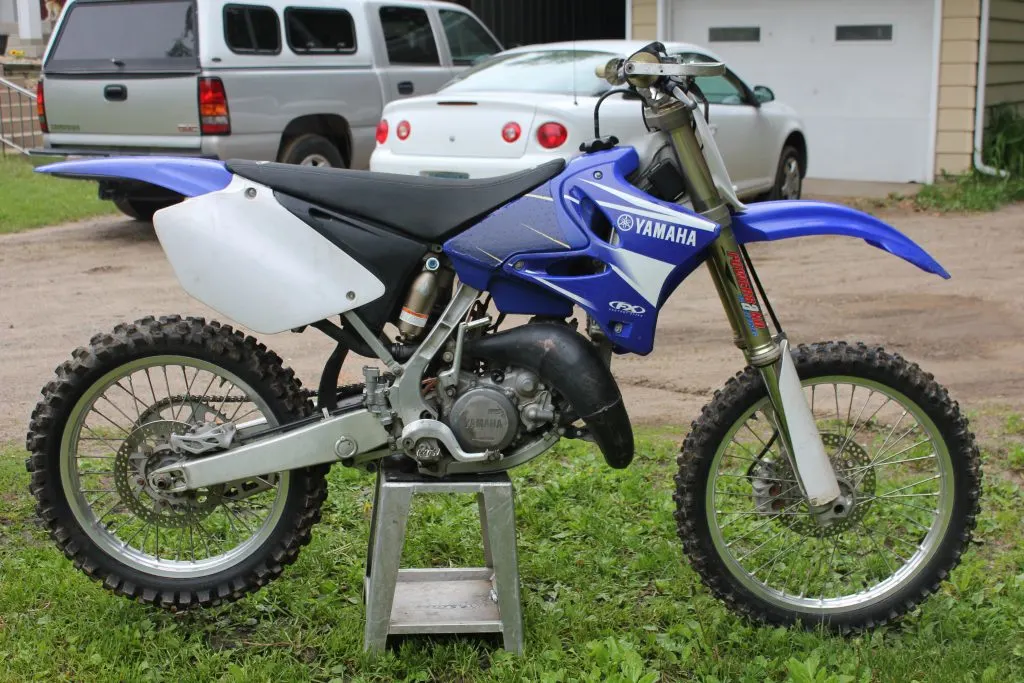 Motocross bike specs that make them different than other types of dirt bikes:
Lightweight
No extra gadgets; headlight, tail light, speedo, etc.
Engine tuned for mid to high RPM horsepower (peaky and more difficult to ride)
Close ratio transmission (easy to keep in the meat of the powerband, but requires shifting more often)
Suspension is firm/stiffer to absorb big impacts and landings
Exhaust has little restriction: loud
Smaller fuel tank
19″ rear wheel and tire
Motocross bikes come in a variation of sizes and strokes. MX classes are divided into "CC" classes.
Dirt bike CC is just short for the technical term "Cubic Centimeter", which is the size or displacement of an engine.
Motocross sizes are divided into:
125cc 2-stroke
250cc 2-stroke
250cc 4-stroke
450cc 4-stroke
At many amateur racing events, 250 2 strokes race against 250 4 strokes. In Professional Motocross and Supercross, the classes are 250 and 450. 250cc 2 strokes must race in the 450 class professionally.
Enduro Bike – A Little of Both
An enduro bike is a race version of a trail bike that is good for racing in enduros and hare scramble type events. An enduro bike costs more than a trail bike, but you get a lot of the technology that motocross bikes have.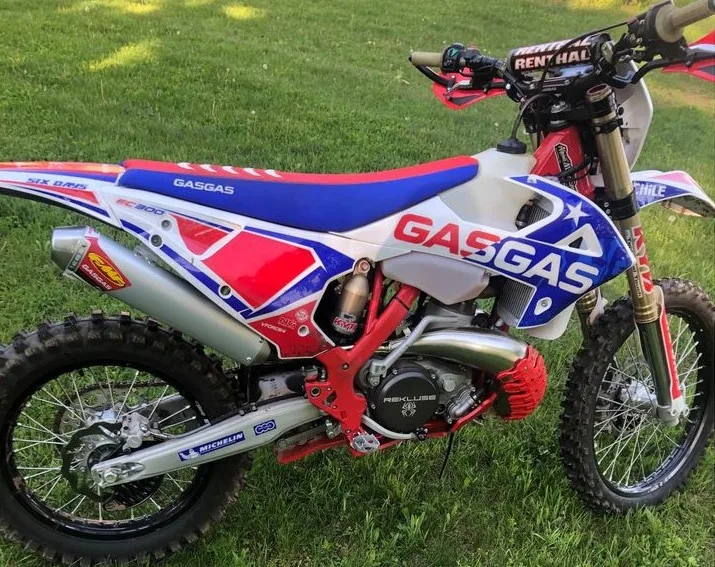 Some enduro bikes use the same engine as their motocross bike version for a starting point.
Take the Yamaha YZ250FX for example. It's a new enduro bike that is built for speed, whether you're racing across a desert course or ripping through the woods in a hare scramble race. It has the same engine design as the YZ250F MX bike, but Yamaha tuned it a little bit differently to make it a little more manageable to ride.
Enduro bikes specs that stand out compared to the other types of dirt bikes:
Engine tuned for broad power; easier to ride and less tiring than an MX bike
Some enduro bikes have a wider ratio transmission, which makes each gear last longer; less shifting
Often come with a headlight and tail light or wiring to add them
Most come with a speedometer/computer for recording miles/speed/distance
Come with a kickstand
Quieter exhaust than a motocross bike
Larger fuel tank
18″ rear wheel and tire
Examples of popular Enduro Bikes:
Yamaha YZ250FX – 250cc 4 stroke
KTM 250XC – 250cc 2 stroke
Beta 300RR – 300cc 2 stroke
Husqvarna FX350 – 350cc 4 stroke
Honda CRF450RX – 450cc 4 stroke
Dual Sport Bike – Good At Everything, Great At Nothing
Don't care to ride in the woods or jump on a motocross bike? That's okay because there are plenty of adventures to be had and seen while riding a dual sport bike.
Dual means two parts, and a dual sport bike doubles as a trail dirt bike and a street legal dirt bike. You can ride on the road, then hop on a trail or dirt road, and still ride comfortably because of the dual sport tires.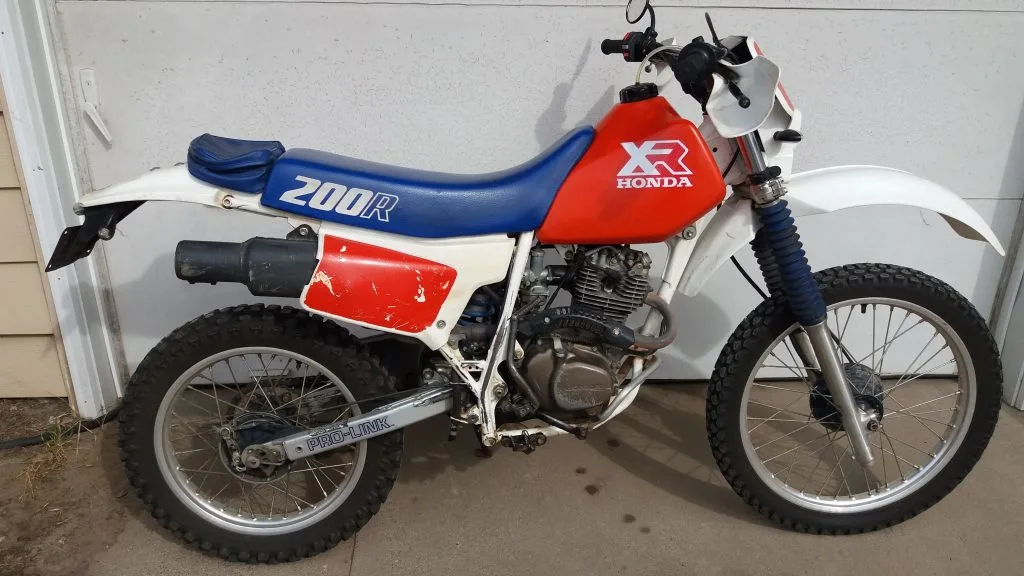 The unique tire pattern isn't the only thing that makes dual sport bikes standout, but the tires are definitely an important part of it. They come with knobby dirt tires, but the pattern is less aggressive than what a typical dirt bike has.
You can choose a tire that's more biased to where you ride the most. Want to stay on the road more? Get an 80/20 tire that's developed for about 80% street riding and 20% off-road riding.
Prefer the dirt? You can choose just the opposite, or somewhere in between to get the best performance.
Find Your New Adventure
A dual-sport bike is basically a comfortable and heavier dirt bike that is meant for touring the country and back-roads. It won't do anything spectacularly well, but you'd be surprised how much you can ride through, all while having a blast.
Want to see your country through a new lens? Strap some lightweight camping gear on the back and take off!
Dual sport bike specs that are easy to identify:
Robust and reliable engine that's not made for high-performance
Larger fuel tank for longer range riding capability
Overall bike weight is higher; more stable for highway cruising speed
Bigger, wider seat for comfort on the highway
Full headlight, brake/tail light, turn signals, horn, mirror, etc.
Most Popular Dual Sport Bikes:
Kawasaki KLX250S
Honda CRF450L
Trials Dirt Bike – It's Just A Misspelled Trail Bike…?
Nope, a trials bike is quite a bit different than the trail bike version that we already covered above. A trials dirt bike (also known as observed trials) is a special class that is not based on speed.
Trials events or competitions are designed to test the skill and control a rider has with a bike.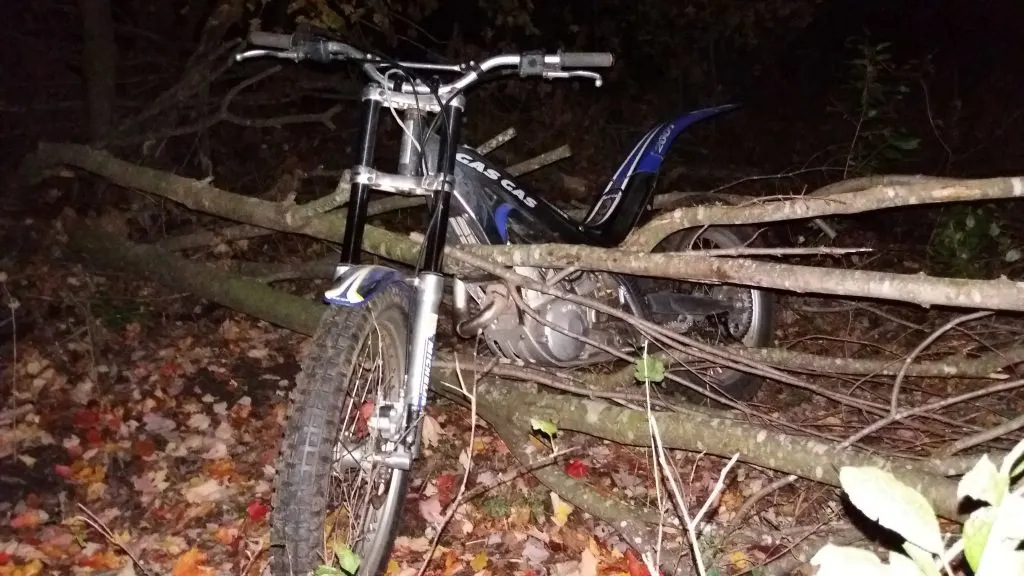 Using careful clutch and throttle control, a trials bike rider can launch over or onto obstacles that are seemingly impossible on a regular dirt bike. A trials bike is built and set-up very differently than any other type of dirt bike, so they are very easy to spot.
The biggest differences of trials bike specs are:
It has no seat; requires you to stand the entire time
Short wheelbase; for handling and tight turning radius at very low speeds
Trials type knobby tires; usually a continuous and symmetrical knob pattern
Frame and plastics are smaller
Small gas tank
Very heavy flywheel: helps build up inertia for conquering obstacles
Very unique transmission spacing: first few gears are really short and tight for slow speed
Lightweight: most trials bikes are around the 150-160lb (68-72kg).
Trials bikes are excellent tools for training, which is where many of the top enduro racers started out. Build your balance, clutch, and throttle control and a trials bike, and riding a dirt bike on technical terrain will be easy compared to your buddies.
Supermoto Bike – Causing A Ruckus, But Oh, So Fun
Still haven't found the right bike for you? A Supermoto bike is unlike any other dirt bike on this list. While it originates from an off-road bike, a supermoto has full street wheels and tires and is street legal to ride on the road.
I bought a Yamaha YZ450F and turned it into a plated and street legal supermoto. It was a sweet bike.
It's very lightweight and nimble compared to any other motorcycle on the street. I ended up selling it and converting a WR450F into a supermoto because it already has lights, electric start, and a wide-ratio transmission.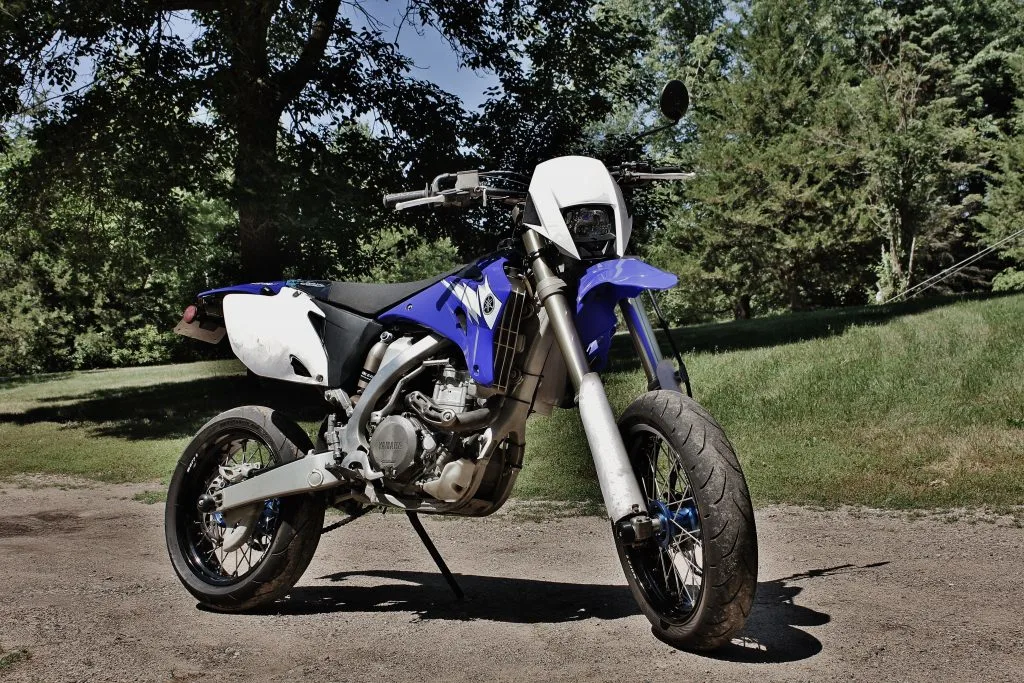 Every time I leave a stop sign the front wheel begs to be lifted off the ground. This can be a hazard for numerous reasons.
But it's also one of the reasons why so many riders enjoy their supermoto. To learn how to make a dirt bike street legal or convert it into a Supermoto check out this article here.
Hill-climb Bike – Can You Climb The Wall Faster?
Getting towards the end of the list, these types of dirt bikes are very specific in their designed riding purpose. A hill-climb bike is simply a dirt bike that is modified to be able to ride up a hill more easily.
Hill climb competitions are set-up at locations with extremely steep hills with little to no run-up.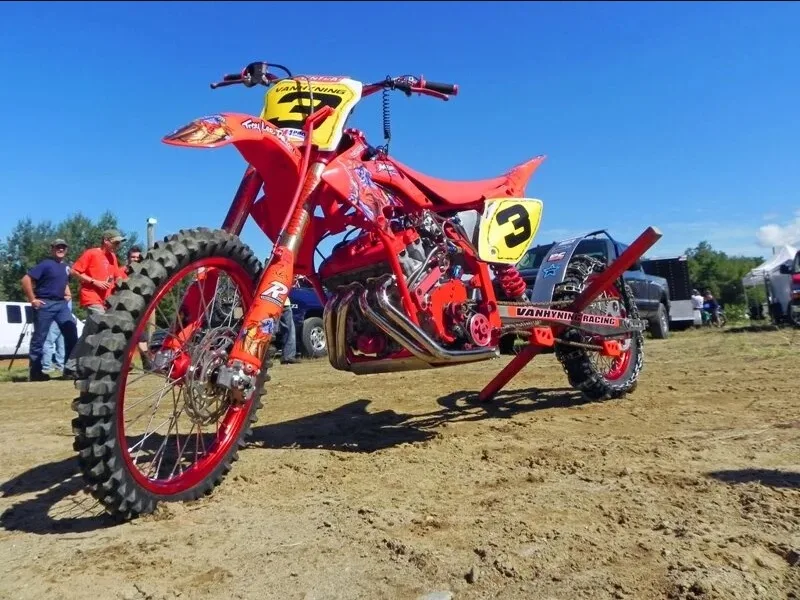 Hill climbs are notoriously dangerous for a couple of reasons. Take a highly modified dirt bike with way more power than the average rider can handle. Start at the bottom of a hill that looks more like a wall. Now hold the throttle wide open and dump the clutch while in gear.
Hold on tight and hope that the bike stays straight and underneath you. If you don't make it up to or over the top of the hill, gravity will bring you back down.
Flat-Track Dirt Bike – No Fenders, No Brakes, Just Drifting
Flat tracks are built for one thing: racing on a flat course. This can be an oval track or a TT flat track course. Flat track bikes are completely custom bikes or highly modified dirt bikes.
With lowered suspension and flat-track specific tires, you can comfortably drift around an oval track at extremely high speeds for a dirt bike.
Flat-Track Bike Specs:
Lowered forks and shock
Flat-track specific tires
Some classes require front brakes to be removed
Engines are highly tuned for all-out horsepower
If you don't have a dirt bike yet, it's never too late to get started! There are plenty of guys still riding into their 70s, and some even older than that!
Dirt bike comparison
Still not sure what type of dirt bike is best for you?
Here's a quick comparison of the different styles of dirt bikes:
Trail bike:
Lowest performance (least amount of power)
Softest suspension
Lower seat height
Best & smoothest low-end torque for riding at low RPM/speeds
Cheaper to buy (lower-performance/heavier materials)
Easier & cheaper to maintain
Enduro bike:
High-performance trail bike – snappy engine
Stiffer suspension – more performance
Taller seat height
Requires more maintenance
Most expensive to buy
Motocross bike:
Highest performance MX race bike – snappiest engine
Stiffest suspension – for jumping
Tallest seat height (similar to enduro bikes)
Requires most maintenance (generally)
Expensive to buy (when new)
The biggest differences are that a trail bike is the most beginner friendly when it comes to cost, maintenance, and how easy & comfortable it is to ride when just starting out. An enduro bike is harder to control due to its snappy power and stiffer suspension, while an MX bike is best for racing on tracks with jumps.
What are the best brands/companies?
If you want a quality dirt bike, then I highly recommend sticking to one of the popular motorcycle brands because they will be the most reliable, durable, and highest performances bikes you can get.
These are the top off-road motorcycle manufacturers:
Yamaha
Honda
KTM
Kawasaki
Husqvarna
Suzuki
GasGas
Beta
Sherco
TM
The 8 common types of dirt bikes
It's important to pick the right one for the kind of riding your doing not only for your safety, but to enjoy riding more.
You're going to have more fun and build your confidence quicker if you choose the right bike for the job.
These are the names of the 8 different types of dirt bikes:
Trail Bike
Motocross Bike
Enduro bike
Dual sport bike
Trials dirt bike
Supermoto bike
Hillclimb bike
Flat-track bike
What's the best off road motorcycle?
So, now that you know all the types of dirt bikes, what is the best for you? If you're still unsure, you have to decide what kind of riding you want to do first.
Then you need to determine the right size based on your height and experience. Don't go too big for your first dirt bike or else it will be harder to build your confidence, which is extremely important when riding off-road!
These are some of the best off road motorcycles:
Kawasaki KLX 140
Honda CRF 250F
Beta 200RR
Yamaha YZ250FX
KTM 250XCW
Husqvarna TE300
Yamaha WR450F
KTM 500 EXC-F
How to make dirt biking safer
It's important to start out on the right bike so you don't injure yourself the first time you ride, but the next step is even more important…
Learning to properly ride your dirt bike is going to give you the confidence and control you need to stay on the bike and prevent bad crashes, and I want to help you get started. Tap here to quickly learn the basic techniques to riding off-road with control.