Best Dirt Bike For Old Guy or Gal
Are you an old guy or gal just starting out or looking to get back into riding off-road? Dirt bikes have changed a lot in the past few decades. 
This article will cover all of the best bikes for you, whether you want a bike that's easy to ride or something for hard enduro riding. 
Can Big Guys Ride Dirt Bikes?
Big guys can still ride dirt bikes, but some changes to the bike should be made to make it safe and comfortable. 
First of all, swapping out the fork and shock springs for heavier duty springs that fit your weight should be done. 
A proper suspension job should re-valve it as well, otherwise it won't perform nearly as well with just stiffer springs. 
If you're a taller rider, certain mods can be done to make your dirt bike feel bigger. Taller handlebars, bar risers, taller seat foam, and lowered foot pegs are common mods.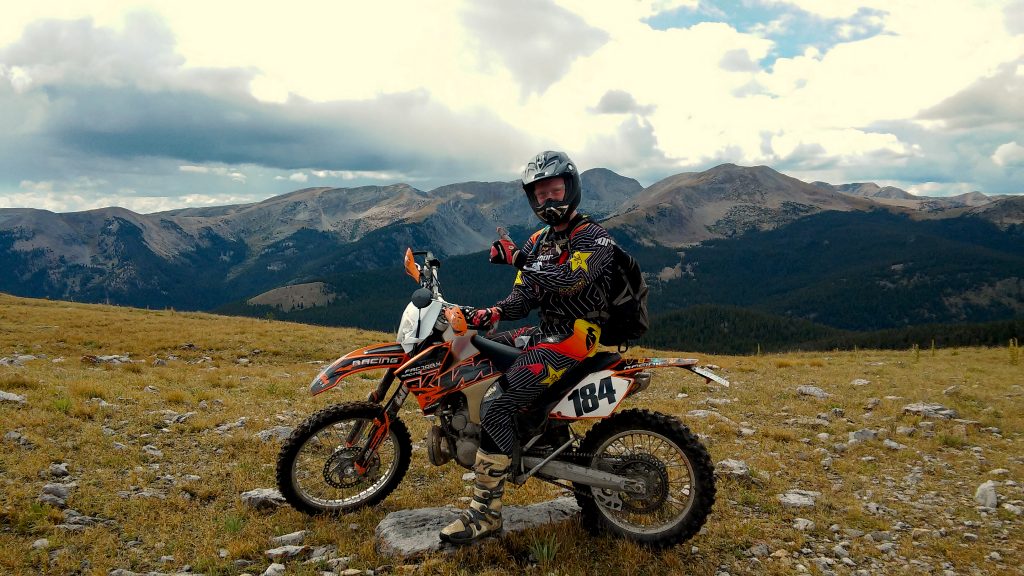 Of course, the more you weigh, the more power you'll want. If you're still a beginner, a good bike will be one with plenty of low-end torque and smooth power. Good trail bikes for a big guy are a Honda CRF250F, Kawasaki KLX300R or even a Yamaha WR450F if you're really big and need the extra power. 
Different Dirt Bike Types
There's 8 main types of off-road motorcycles, but there's only 3 that are common. This is a trail bike, enduro bike, and motocross bike. 
If you're just starting out, I highly recommend getting a cheap, simple and reliable trail bike. They're the easiest to learn how to ride on and are very forgiving, which is crucial for building your confidence. 
Is 40 Years Old Too Late To Start Riding Motocross?
40 years old is definitely not too late to start riding mx. There's plenty of guys over 50 years old that ride and race motocross. 
With that said, if you're new dirt biking, I strongly encourage you to practice your technique and skills to build up your confidence before heading to a track. 
Motocross is more dangerous because of the jumps, whoops, and other competitive riders on the track. If you don't feel comfortable jumping on the same track as other people, please don't risk it before you're ready. 
Good Beginner Dirt Bike For Adults
There are plenty of dirt bikes to choose from these days, but which ones are best for a beginner? Starting on the right bike is just about as important as learning proper technique.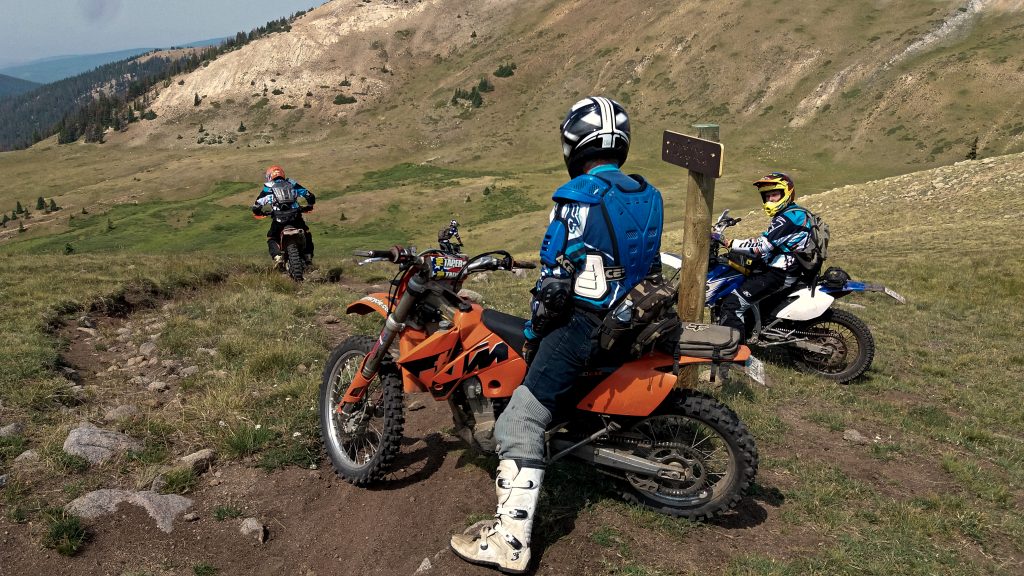 Depending on your size, the best dirt bikes to start out on for an adult beginner are:
Kawasaki KLX140G
Kawasaki KLX230R
Honda CRF250F
Beta 200R
Beta 300 XTrainer
In my opinion, one of the best first dirt bikes for an old guy is the Honda CRF250F. The older CRF230F is just as good if you want a cheaper bike. 
Is A 250 Dirt Bike Too Big For A Beginner?
A 250cc dirt bike may or may not be too big for a beginner. If you're talking a motocross bike, then yes, a 250F or 250 2 stroke is too much to handle if you're just starting out. 
A 250 trail bike, such as the air cooled CRF250F, is a great starter bike because it has a lower seat height and has smooth, predictable power. 
Best Dirt Bike For Senior (65 Year Old)
It really depends on how tall you are and how much power you want. Looking for a smaller, low-powered dirt bike? The KLX140G is a good bike. 
With that said, the Kawasaki KLX230R is a good dirt bike if you're a senior over 60 years old. It has electric start and fuel injection, making it virtually frustration-free. It's perfect for putting around on and cruising around the yard or trails at lower speeds.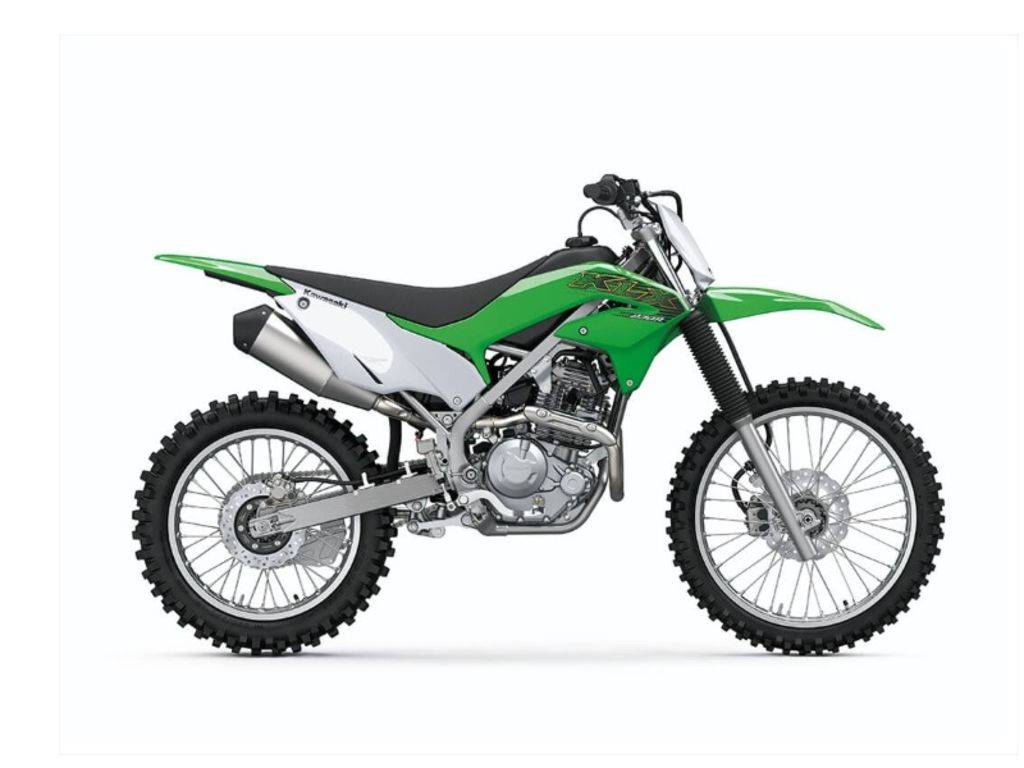 Best 4 Stroke Dirt Bike For Trail Riding
Looking for the best woods dirt bike? Maybe you ride hard enduro type trails and need something high performance. 
Whether you need one fast or slow, here are the best 4 stroke dirt bikes for trail riding are:
Honda CRF250F
Kawasaki KLX300R
Yamaha WR250F
Honda CRF250RX
Yamaha WR450F
KTM 500 EXC
Best Trail Dirt Bike of All Time
So is one of those the best trail bike of all time? It's really hard to say because bikes have changed so much in the past decade. It also depends on what kind of riding you're doing. 
With that said, if I had to pick one dirt bike that is the best overall for trail riding, I would pick the KTM 250XCW for a 2 stroke, or a Yamaha WR450F for a 4 stroke. 
Best MX Dirt Bike For 40 Year Old
So if you're 40 years old and want to ride MX but still new to riding, you want to start on a more forgiving bike. Some new enduro models have good enough suspension to handle the track and trails. They just aren't great for aggressive moto riding. 
Here are the top 3 motocross bikes I would pick it I was starting motocross at an older age:
Yamaha YZ125
KTM 150SX
Yamaha YZ250F
The YZ125 and 150SX are small bore 2 strokes that are easier to ride than a bigger 4 stroke. They have plenty of power so they're quite fun to ride. You'll learn proper clutch control and momentum on a 2 stroke, which is excellent training. 
The YZ250F is the tried and true 250F mx bike. It's always been reliable and a good performer. It's hard to go wrong with the Yamaha if it's been well taken care of. 
Are you just getting into or back into riding? Post in the comments below your short story.
Like this article? If you're new to riding, click here to get FREE exclusive riding lessons.