Looking to get a Beta XTrainer 300 but not sure if it's right for you? Beta is an Italian dirt bike brand that has gotten more popular in the United States in the last 5 years for good reason.
In this review, you'll learn what kind of dirt bike the Cross Trainer (XTrainer) 300 ACTUALLY is, why it may or may not be the best dirt bike for your specific needs, and what to expect when buying and owning one so that you save time & money.
What Is The Beta XTrainer?
The Beta Cross Trainer 300 is a 300cc 2 stroke enduro bike that was originally made for "beginners", but it's mainly good for hard enduro-style trail riding or if you're a less aggressive trail rider.
It first came out in 2015 and continues to be a popular bike if you want a modern 2-stroke trail bike that's easy to ride with plenty of power.
It has modern technology but is tuned for smooth power and has a slightly smaller-than-average chassis. This makes it easier to touch the ground and build your confidence.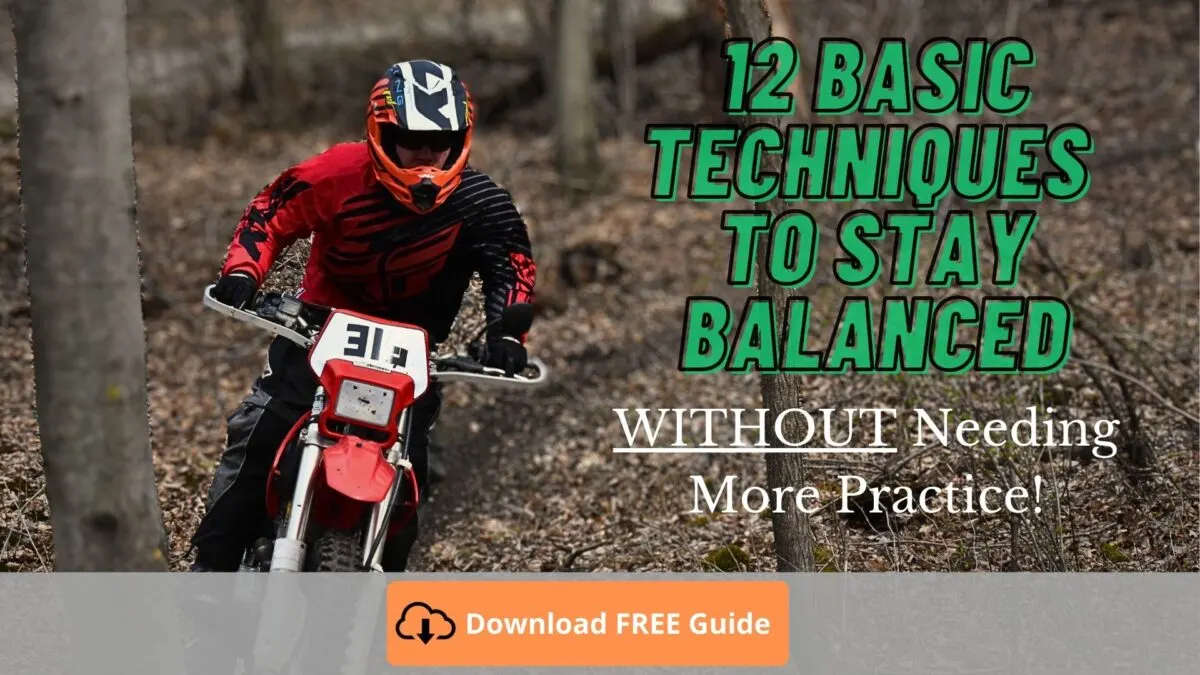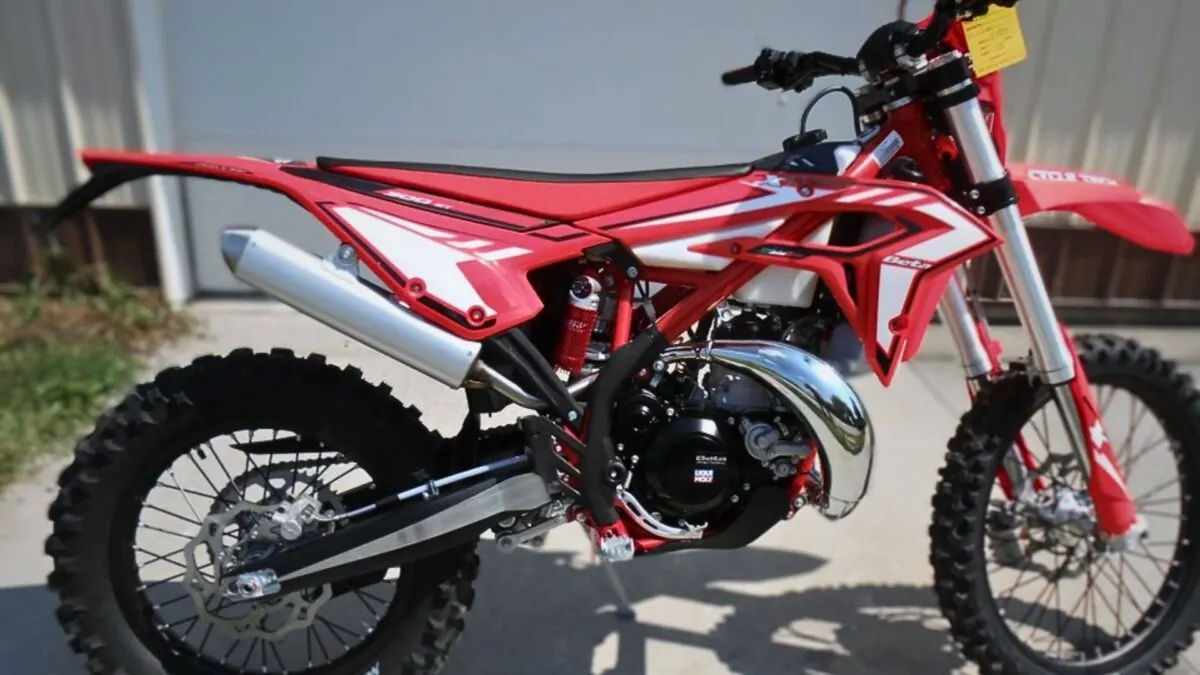 Is Beta XTrainer Street Legal?
A stock Beta XTrainer is not street legal from the factory. Depending on your local laws and regulations, you may or may not be able to get it registered and plated for legal street riding.
Xtrainer Engine – is it really 300cc?
Technically, it's a 293cc 2-stroke liquid-cooled engine, but that's what a KTM 300 has for displacement as well. Does this mean it's just as powerful as the ultimate 2-stroke enduro bike?
No, because Beta designed the Xtrainer to be a lot more "rideable", but what does that mean? Simply put, the power curve is very smooth, making it easier to control because the power isn't as snappy.
Low-end torque is very good, making it great for trail riding because you don't have to rev it as high to accelerate up hills or get over logs, but it still has plenty of horsepower to get you into trouble if you rev it out.
How much power does the Beta Xtrainer have?
It's not like other 300cc enduro bikes, since it only has about 40 horsepower at best. However, the broad torque curve is what makes the XTrainer so good in the woods. The off-idle and mid-range torque allows you to worry less about slipping the clutch.
You can short-shift, and get over logs and rocks easily because the power doesn't fall off quickly if you drop the RPM. The smoother power will wear you out less compared to the snappy power of a typical enduro bike.
Top speed
The max speed of a stock Beta Xtrainer is around 75 mph, but that doesn't really matter if you're a trail rider – when are you going to need to go that fast off-road?
If you want a higher top speed for cruising or perhaps quicker acceleration with less MPH, then a simple gearing change is a cheap mod. A 13T front sprocket (check price on Amazon) will give you quicker acceleration.
Oil-injection – is it reliable?
A concern that you might if is if the oil-injection system is reliable and won't cause the engine to seize from failing, which is why some owners have bypassed it and opted to premix the 2-stroke oil and gas in the fuel tank.
There have been some complaints of plug fouling from incorrect oil ratios, but an oil-injection failure is very rare, especially if you regularly ride and maintain your dirt bike.
Here are some practical tips for keeping your Beta Xtrainer oil-injection system reliable: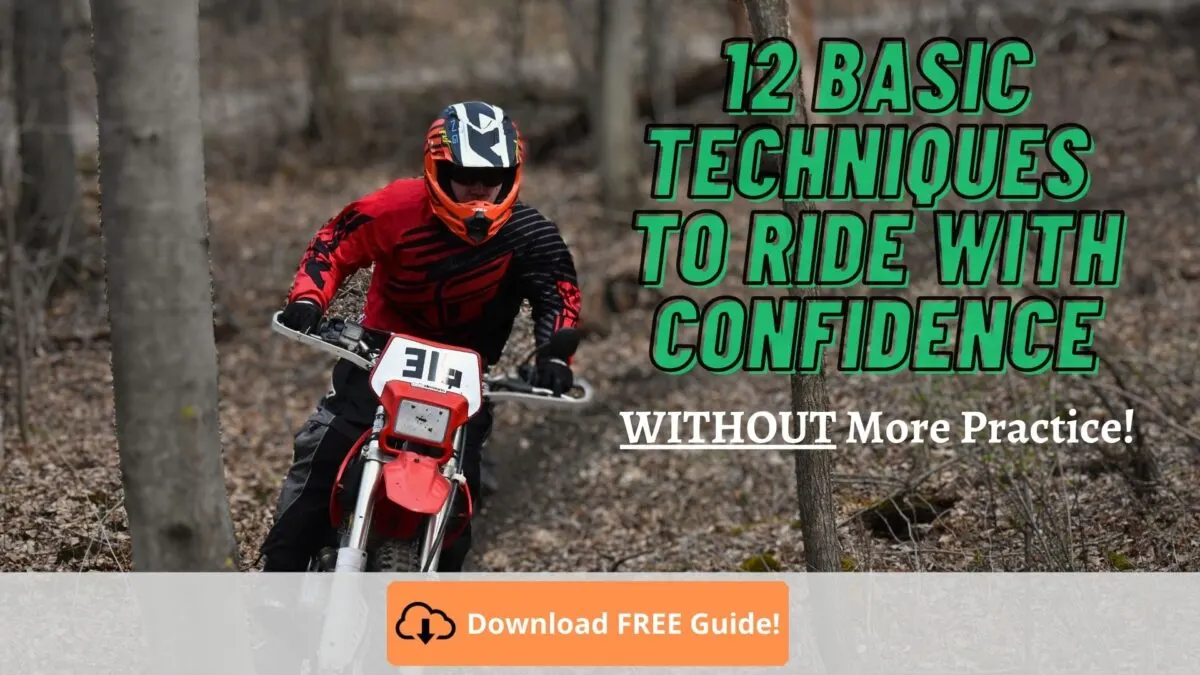 Don't let the oil tank run dry
Start and ride your dirt bike often (at least once a month is best)
Test the oil pump volume at least once a year
How to test Beta Xtrainer oil injection pump
Here are the steps according to Beta:
Empty fuel tank and refill with 60:1 premix
Disconnect oil tube from intake manifold & slide some carb vent tubing over the end
Cap off the inlet jet
Start the bike and check the amount of oil flowing into the tubing. Proper flow is about 1″ per 90 seconds and 1″ per 60 seconds while revving/at higher RPM
Suspension – what to expect
One of the biggest complaints about beginner trail bikes is that the suspension is soft and low performance. In other words, it bottoms out easily or it blows through the suspension travel quickly on rough terrain with rocks, logs, or whoops – but that's where the Xtrainer is different.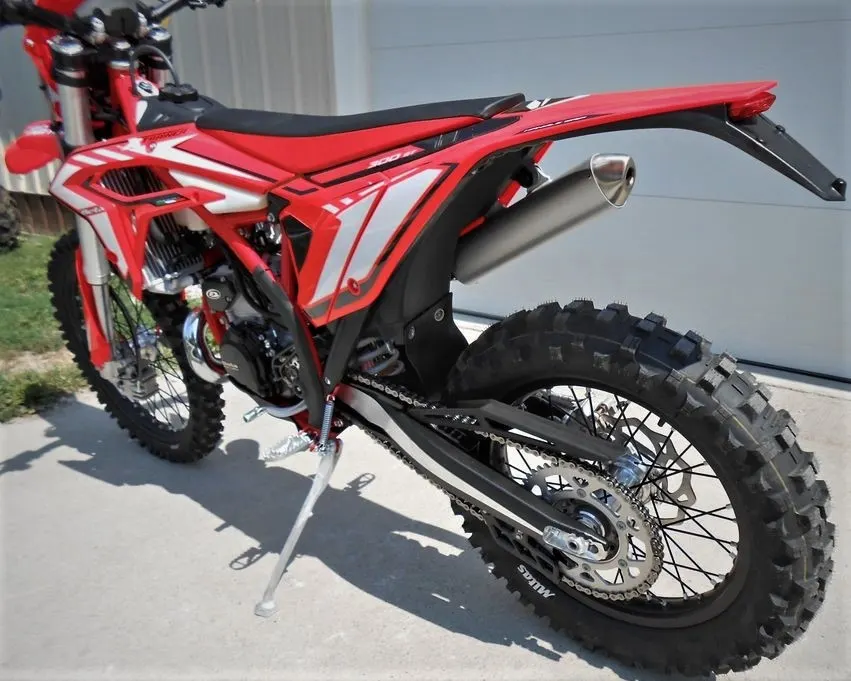 The 300 X Trainer has more modern suspension with more travel and better damping to give you more comfort and control on real single-track trails WITHOUT feeling harsh at low speeds like a typical enduro bike does, such as the Beta 300RR.
Front forks
The stock forks have 10.6″ of travel, which is about 1-inch less than the Beta 300RR race bike model, but it's not needed if you're a casual or less aggressive rider. It's way better than conventional RSU forks that have that "pogo stick" feel if you're riding faster or on whooped out trails.
Compared to a competition enduro bike, the Xtrainer forks are soft/plush, so they absorb bumps, rocks and logs better if you're riding at slower speeds. This allows you to ride longer without getting exhausted because you the suspension isn't bucking you around from being too stiff.
There's adjustable damping, which means you can slow down or speed up how quickly the forks compress and rebound. This will give you more confidence when tuned properly because your front tire will get better traction from staying on the ground more.
Rear shock
The stock rear shock is well balanced with the front end – it's nice and plush, and you also get adjustability. With a proper spring rate for your weight and the sag set for a comfortable ride height, adjusting the clicker will give you a little more control.
Size & Handling – how does it compare?
One of the most popular "features" of the Beta Xtrainer is the physical size and seat height. Since it's smaller, lower to the ground, and shorter, it handles very well in tight woods, especially since it's lightweight.
The lower center of gravity and shorter wheelbase make it easier to learn and turn at low speeds, making it a great "first enduro bike" if you want high performance while still being light and easy to ride.
This also means it won't be quite as stable at high speeds, such as desert riding.
Transition from an air-cooled trail bike
For example, if you're coming from a beginner trail bike, such as a Honda CRF250F, you'll enjoy the extra power, considerably less weight, and better-performing suspension. As long as you don't mind owning a 2-stroke, the Xtrainer is a great upgrade if you're not ready for a full-on race bike.
Weight – is it as light as they say?
Beta claims the weight as 216 lbs 'wet', but then they add that the number doesn't include gas. In my mind, that's not a truthful "wet weight". In reality, the Xtrainer 300 weighs about 230 lbs with all the necessary fluids and a full tank of gas.
Compared to the 300RR cross-country model with lights, the Xtrainer is about 12 lbs lighter, while it's only 4 lbs lighter than the 300RX competition model. Either way, the Xtrainer is about as light as it gets for a 250cc+ 2-stroke enduro bike.
Is that weight actually noticeable on the trails?
Unless you compare the models back-to-back, you're probably not going to notice the extra 5-10 lbs unless you're a skilled rider. If it's easier to handle on the trails, it's more likely due to the lower seat height.
However, you may notice the lack of weight if you're picking up your Xtrainer off the ground if you're constantly falling over, or if you pick it up to park it on a dirt bike stand.
Seat height – what size rider is it good for?
The Beta Xtrainer has a 35.8″ seat height, but what does that mean for YOU? Do you need a 36″ inseam to touch the ground? Thankfully not, LOL – the suspension compresses about 4″ when you sit on the bike.
It's about 1-2″ lower to the ground than most enduro bikes, which means it's not only easier to swing your leg over and get on, but it can build your confidence quicker when coming to a stop or riding in technical rocky sections where you might need to put a foot down.
The Beta Xtrainer is a good size dirt bike if you're in the 5'6″-5'10" height range, but it also depends on your inseam length. For example, if a full-size enduro bike is just a little bit too tall for your comfort, then the X Trainer will probably fit you well.
Any common problems?
There's been a number of small problems that XTrainer owners have had over the years. However, most of them are just a small percentage of riders.
After doing my own research, it seems that the most common problems with the Beta XTrainer are:
Carb float height is high on earlier model years (leaks gas)
Kickstand foot is too small, causing it to sink in soft terrain
Oil injection system may need tuning (mixing ratio is off, causing spark plug to foul)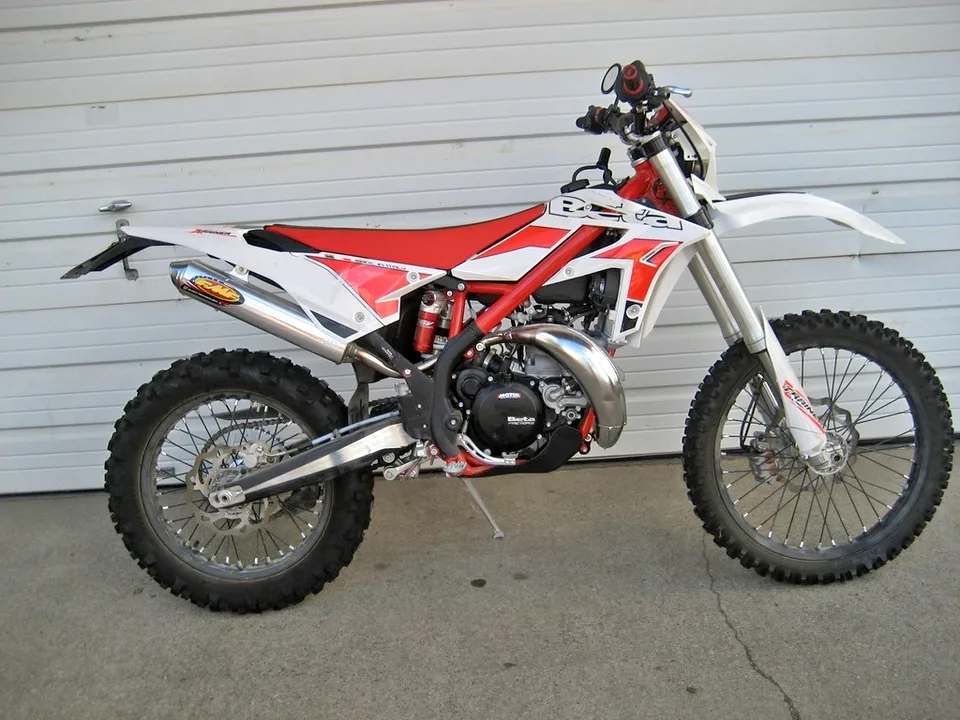 Beta CrossTrainer 300 Specs & Dimensions
These are the specs from Beta's website (unless they were not listed):
| | |
| --- | --- |
| Engine | 293cc liquid-cooled 2 stroke |
| Starting System | Electric (Kick-start add-on optionable) |
| Oil Tank Capacity | 650cc |
| Carburetor | 36mm Keihin PWK |
| Transmission | 6-speed |
| Seat Height | 35.8" |
| Wet Weight (with fluids/gas) | 230lbs |
| Suspension Travel | 10.6″ |
| Top Speed | 75mph |
| Price | $8,399 (MSRP) |
Beta XTrainer model year changes
There have been a few changes to the Xtrainer 300 over the years, making it even better every few years as Beta addresses small longterm issues.
Here's a list of the model year changes and what you can expect to be different:
2015: first year
Obviously, no changes other than being the first year that it was released. The first year of any new model is often known to be "buggy", meaning it's most likely to have problems because it doesn't as much "field testing time".
With that said, there weren't any major issues, so if you can find a clean 2015 model for a good deal, it might be worth saving some cash over a new model if you don't need all of the new updates.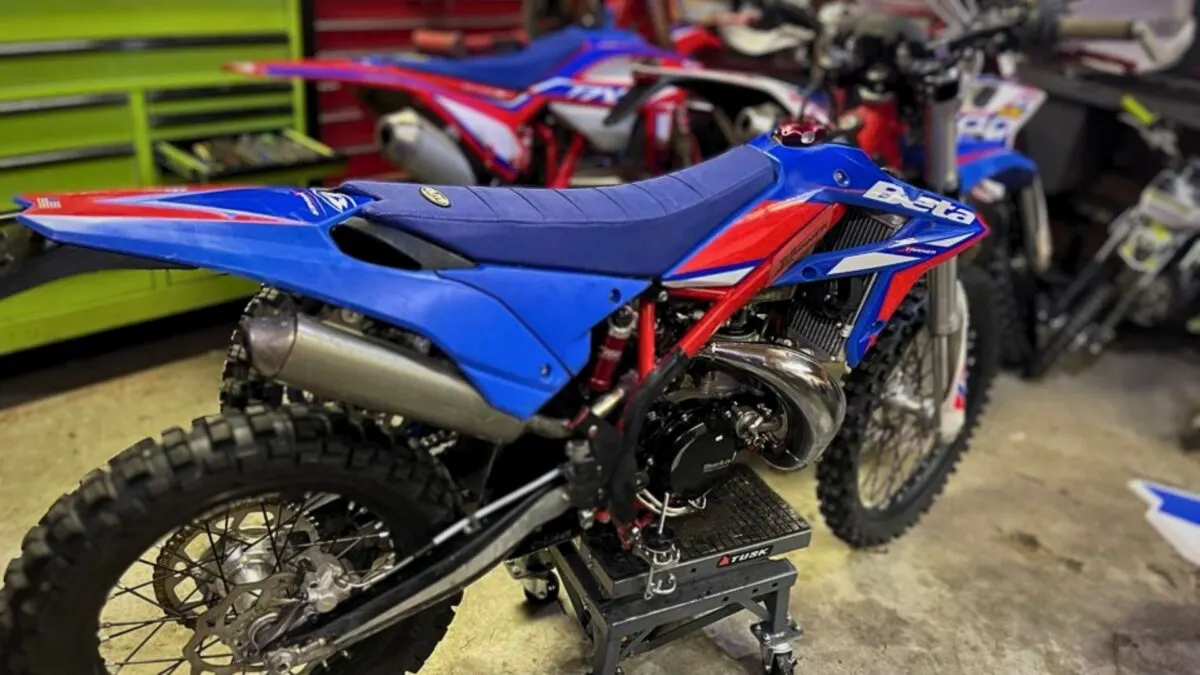 2018 Beta Xtrainer
New clutch is lighter with better engagement
Updated transmission to prevent any "false-neutrals"
New cylinder design for better power throughout the RPM range
New piston and head designed with higher compression for better low-end torque and throttle response
Crank assembly updated for reliability
Overall, no huge changes for 2018 vs 2017.
2020 Beta Xtrainer
Engine updated with better countershaft for less vibration and smoother power, as well as increased lubrication
Taller gearing to match new engine updates
Longer swingarm for stability & updated chain guide
Forks & shock tuned better for bottoming resistance on big impacts
Ignition mapping selector
Plastic cosmetic updates for strength and less weight
Updated instrument panel
These are pretty big changes that make the 2020 noticeably better than the 2019.
2022 Beta XTrainer
New engine design with bigger bore & shorter stroke (geared more towards horsepower than torque)
Updated clutch for lighter and smoother pull
New starter motor – supposed to be more reliable
Updated electrical system wiring for easier access and cleaner layout
Not as many big changes as the 2020 model, but the new engine will definitely feel different.
Is it a good beginner dirt bike?
Honestly, I would not recommend the Beta XTrainer if you need a beginner-friendly dirt bike. While it's detuned compared to other 300cc enduro bikes, the power is just too much when learning how to ride off-road. The bottom end power is nice and manageable, but if you accidentally hold it wide open, the XTrainer can get away from you in a hurry.
Too much power is intimidating if you're a new rider. It will likely slow down your goal of becoming a better rider.
Who's it for?
With that said, this would be a great 2nd or transitional bike if you want a versatile 2 stroke trail bike. That is after you've learned proper riding techniques so that you can safely control the extra power.
Pros
Shorter and smaller (If you're short like me)
Lightweight for a 300cc enduro bike
Broad, smooth power
Has plenty of horsepower for most riders
Plush suspension for trail riding
Oil injection (no premixing gas)
Parts are becoming more available
Cons
It's smaller (If you're tall)
Soft suspension (for high speed/aggressive riding)
Jetting/oil injection system may need some tuning depending on the model year
Top-end power falls flat compared to the Beta 300RR or KTM/Husky 300
Beta XTrainer vs KTM 300
The main difference is the power and suspension. The Beta Xtrainer is softer in every way, while the KTM 300 has more power that's snappier, and the suspension is stiffer, which makes the KTM better if you're a faster or more aggressive rider/racer.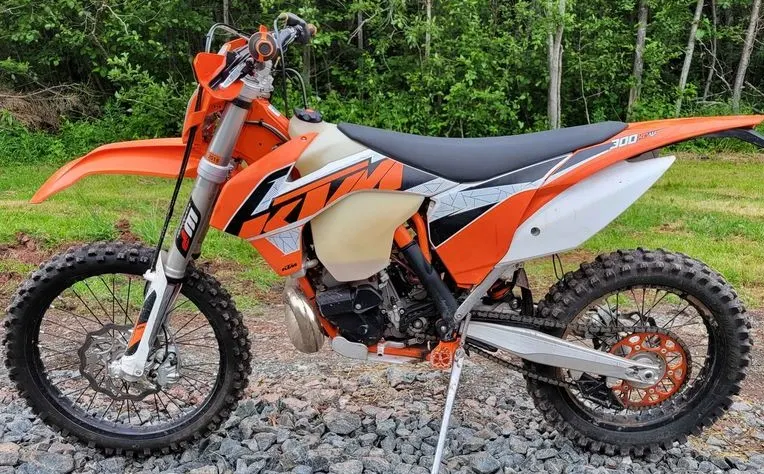 Beta XTRainer vs 300RR
While the Beta XTrainer and 300RR are both 2 stroke enduro bikes, they have some distinct differences. Since the XTrainer is designed for a novice to intermediate rider, the engine is smoother and less of a "hit" or snap than the 300RR.
The suspension is softer, and the chassis is slightly smaller are the other big factors when comparing the XTrainer vs 300RR.
Looking For The Best 2 Stroke Trail Bike?
The Beta Cross Trainer 300 is on my list among the best two stroke dirt bikes for trail riding. It's not for everyone, but it has a specific type of rider that it's intended for.
Will the XTrainer make you a better trail rider?
It can help you ride faster and do more technical trails because it's predictable with good power. But there's something that will make you an even better rider in the woods and off-road…
It starts with your riding technique. Tap here to get started with proper riding position to improve your control & confidence.