Beta XTrainer 300 Review – Is It Right For You?
Looking to get a Beta XTrainer 300? Beta is an Italian dirt bike brand that has gotten more popular in the United States in the last 5 years for good reason. This review will cover the basics of what you need to know about the Cross Trainer (XTrainer) 300 and whether or not it's the right bike for you. 
What Is The Beta XTrainer?
The Beta Cross Trainer 300 is a 300cc 2 stroke enduro bike that's designed for hard enduro style trail riding or less aggressive riders. It has modern technology, but is tuned for smooth power and has a slightly smaller than average chassis. This makes it easier to touch the ground and build your confidence.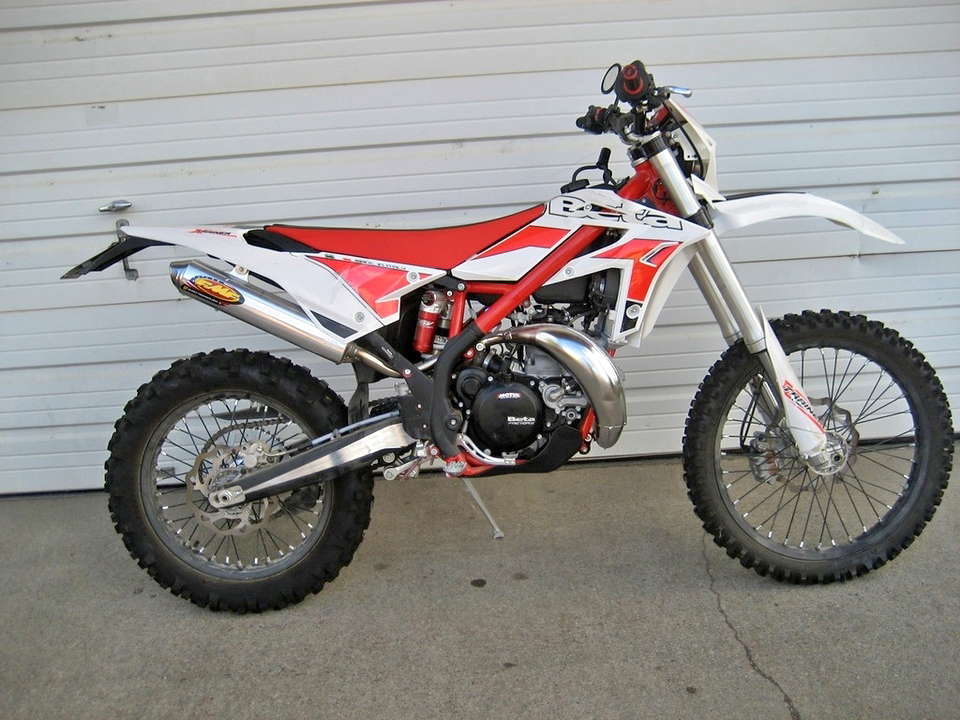 Is Beta XTrainer Street Legal?
A stock Beta XTrainer is not street legal from the factory. Depending on your local laws and regulations, you may or may not be able to get it registered and plated for legal street riding. 
Problems
There's been a number of small problems that XTrainer owners have had over the years. Most of them are just a small percentage of riders.
After doing my own research, it seems that the most common problems with the Beta XTrainer are:
Carb float height is high on earlier model years (leaks gas)
Kickstand foot is too small, causing it to sink in soft terrain
Oil injection system needs tuning (mixing ratio is off, causing spark plug to foul)
Specs
| | |
| --- | --- |
| Engine | 293cc liquid-cooled 2 stroke |
| Starting System | Electric (Kick-start add-on optionable) |
| Oil Tank Capacity | 650cc |
| Carburetor | 36mm Keihin PWK |
| Transmission | 6-speed |
| Seat Height | 35.8" |
| Wet Weight (with fluids/gas) | 232lbs |
| Top Speed | 75mph |
| MSRP | $7,799 |
Specs are according to Beta's website (unless they were not listed).
Beta XTRainer vs 300RR
While the Beta XTrainer and 300RR are both 2 stroke enduro bikes, they have some distinct differences. Since the XTrainer is designed for a novice to intermediate rider, the engine is smoother and less of a "hit" or snap than the 300RR. The suspension is softer, and the chassis is slightly smaller are the other big factors when comparing the XTrainer vs 300RR.  
How does it ride?
The XTrainer, as previously mentioned, is more conservative in almost every way compared to the typical high performance enduro bike. 
It works well as slower, technical trails because the suspension is fairly soft and plush. The chassis is shorter, and the geometry is better handling at lower speeds. This means it won't be quite as stable at high speeds, such as desert riding. 
Is it a good beginner dirt bike?
Honestly, I would not recommend the Beta XTrainer if you're a beginner. While it's detuned compared to other 300cc enduro bikes, the power is just too much when learning how to ride off-road. The bottom end power is nice and manageable, but if you accidentally hold it wide open, the XTrainer can get away from you in a hurry.
Too much power is intimidating if you're a new rider. It will likely slow down your goal of becoming a better rider. 
Who's it for?
With that said, this would be a great 2nd or transitional bike if you want a versatile 2 stroke trail bike. That is, after you've learned proper riding technique so that you can safely control the extra power. 
Pros
Shorter and smaller (If you're short like me)
Lightweight for a 300cc enduro bike
Broad, smooth power
Has plenty of horsepower for most riders
Plush suspension for trail riding
Oil injection (no premixing gas)
Parts are becoming more available
Cons
It's smaller (If you're tall)
Soft suspension (for high speed/aggressive riding)
Jetting/oil injection system may need some tuning depending on the model year
Top-end power falls flat compared to the Beta 300RR or KTM/Husky 300
Looking For The Best 2 Stroke Trail Bike?
The Beta Cross Trainer 300 is on my list among the best two stroke dirt bikes for trail riding. To learn what other bikes are comparable click here.