Are you looking for the best 2 stroke dirt bike for trail riding? There's a lot of models to choose from, so how do you know which one is good, and what makes a 2 stroke better than a 4 stroke?
This article will cover all of the top 2 stroke trail bikes, whether you're a beginner or an expert, and how to pick the right one for you.
There are different kinds of trails, so there's no perfect bike for every type of trail and rider. That's why we'll look at what bikes are best for each specific kind of trail you might be riding.
What's The Difference Between A Dirt Bike And A Trail Bike?
A trail bike is a type of dirt bike that is made specifically for trail riding. When I refer to trail riding, I generally mean single-track trails that are cut specifically for off-road motorcycles.
Trail bikes are easier to ride because they have softer suspension and an engine and transmission that is tuned for broad, smooth power.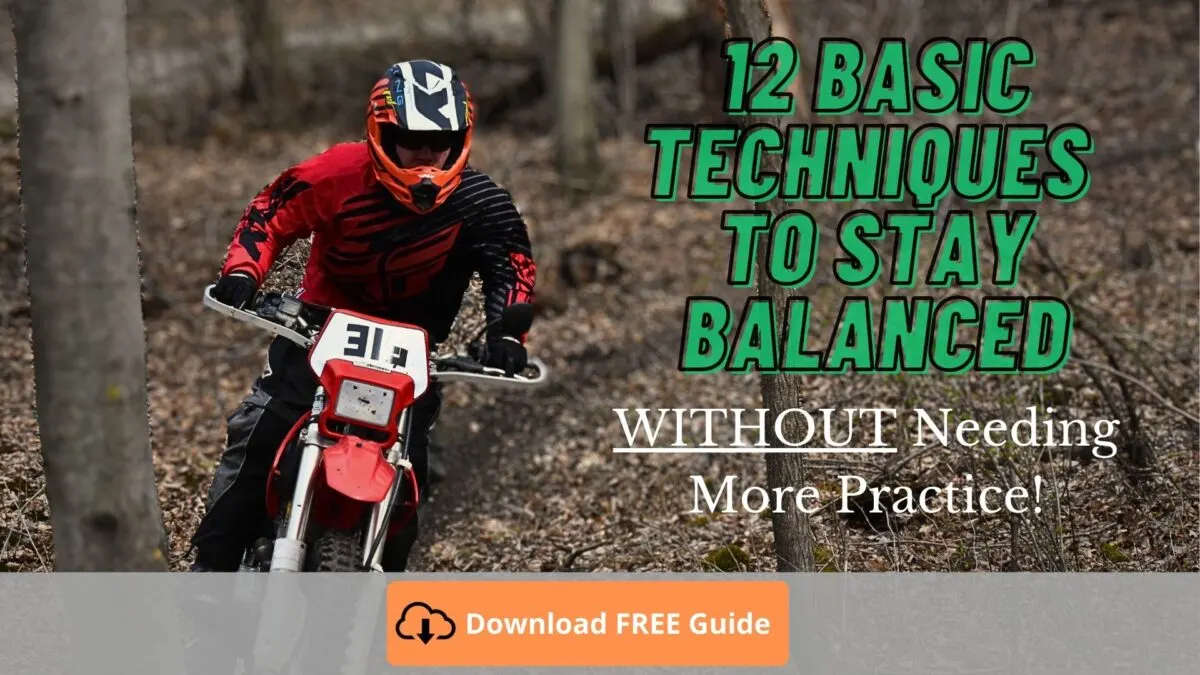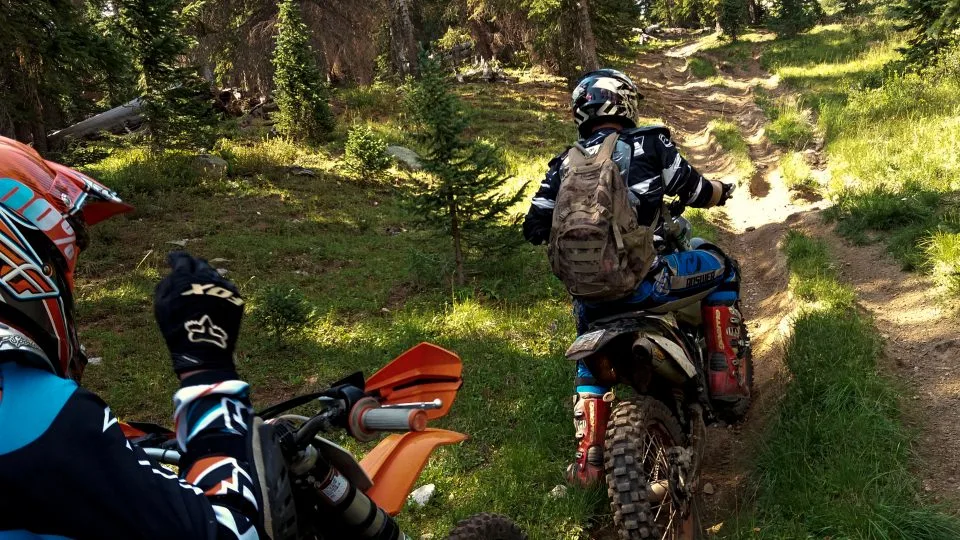 Choosing the right kind of 2 stroke trail bike for you
The first question you must ask is: "what kind of riding will you be doing?" Then you need to determine the size of dirt bike you need, as well as your budget.
If you're just a casual trail rider, then you don't need the latest 300cc 2 stroke, especially if you're a smaller guy like me – you don't necessarily need more power to have fun, especially if you want to stay safe.
2 stroke enduro bike vs trail bike
It really depends on who you're asking, but an enduro bike is essentially a modern-day term for a high-performance trail bike. They're based on the motocross bike models but are set-up slightly different to be more comfortable off-road where there aren't big jumps.
For example, a KTM 250 XC is a 2 stroke enduro bike, but could also be considered a high-performance trail bike for experienced riders. I often refer to a "trail bike" as a more entry-level dirt bike for beginners. There aren't many 2 stroke dirt bikes that are good for beginners, but I'll cover that later in this article…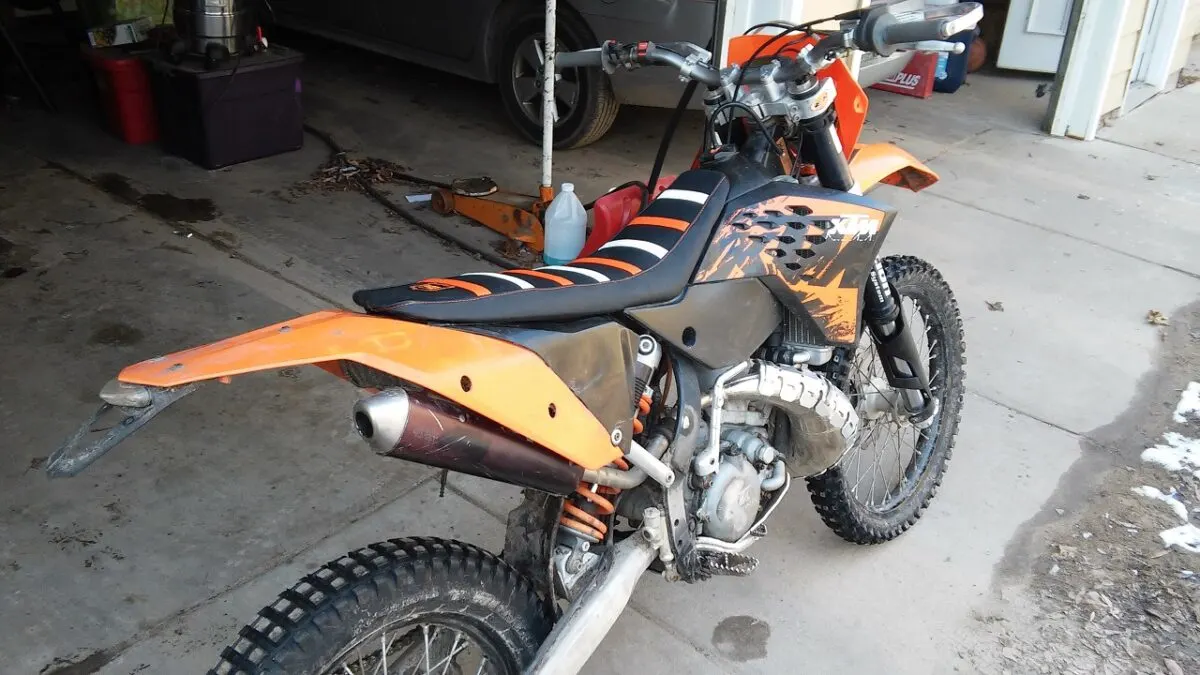 Dirt bike brands who still make 2 stroke dirt bikes for trail riding
Unfortunately, there are only a few left, and there's only one original Japanese manufacturer making a 2 stroke dirt bike for trail riding.
With that said, the latest 2 stroke trail bikes are as good as they've ever been.
These are the current dirt bike brands still making a 2 stroke trail bike:
KTM
Yamaha
Husqvarna
Beta
Sherco
Gas Gas
Rieju
Is A 2 Stroke Good For Trail Riding?
For many years, 2 strokes have been known to have a "peaky" and abrupt power-curve – also known as the "power-band" that only real men can handle… This is not beneficial to trail riding.
However, modern 2 strokes have smoother power curves with good low-end torque. 2 strokes with smooth power are generally better for trail riding because they are easier to ride.
If you are new or still learning how to ride with confidence on the trails then I strongly recommend you learn proper technique because you'll have more control and be safer.
The worst 2 stroke dirt bikes for trail riding
Can you ride a motocross bike in the woods? Absolutely, I used to do it all the time, but that doesn't mean it's good.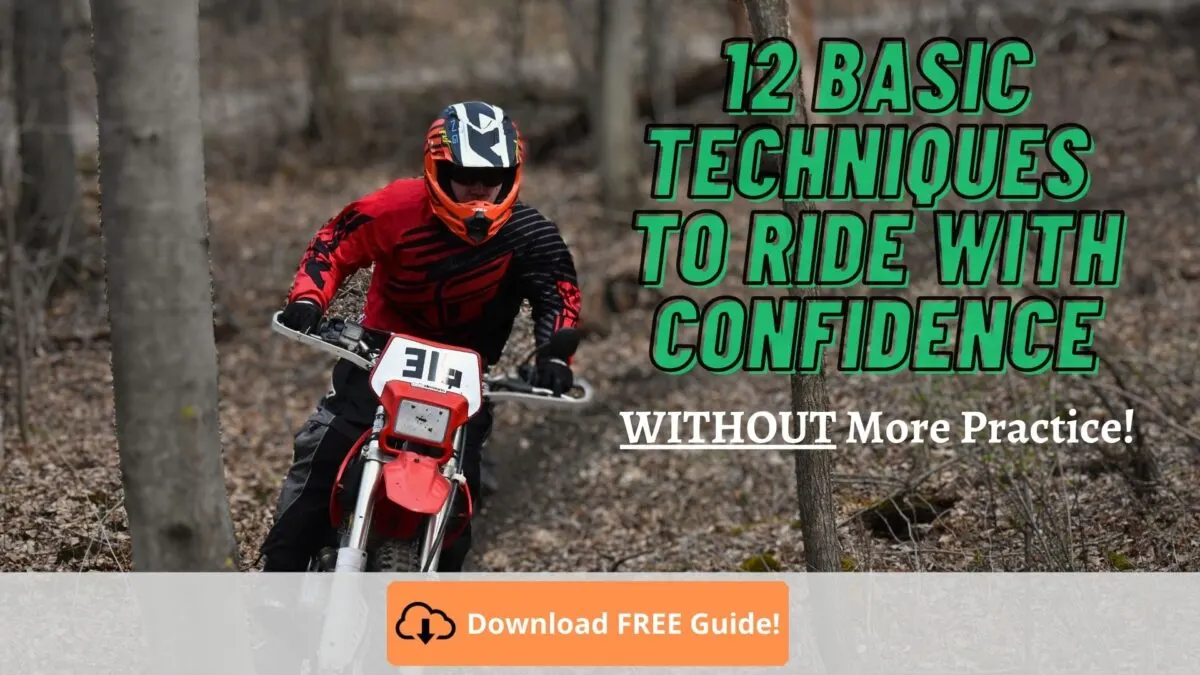 In fact, motocross bikes are generally not good for trail riding because of how they're tuned. For example, the stiff suspension, abrupt power, and close-ratio gearing typically don't work as well as a trail bike or enduro bike for riding off-road on trails.
That's why I recommend avoiding these three 2 stroke dirt bikes and similar for riding trails:
Honda CR125
KTM 150 SX
Honda CR250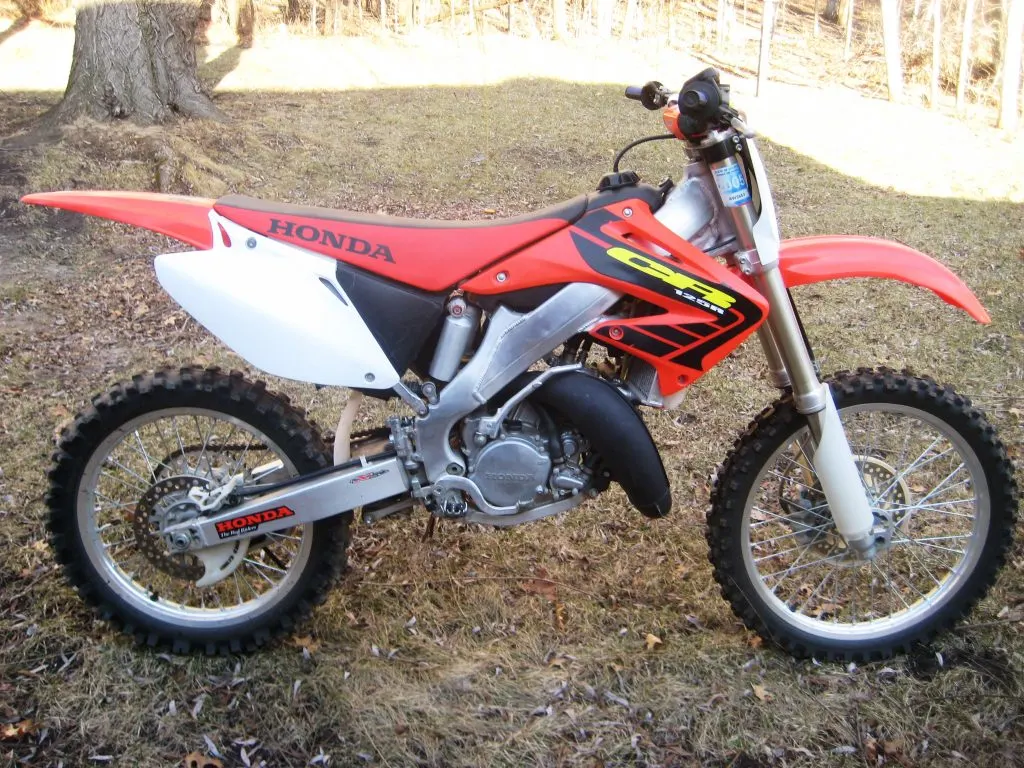 2 Stroke vs 4 Stroke For Trail Riding
This will always be a great debate. There are many arguments to why each type of dirt bike is better for trail riding, but it all comes down to one thing.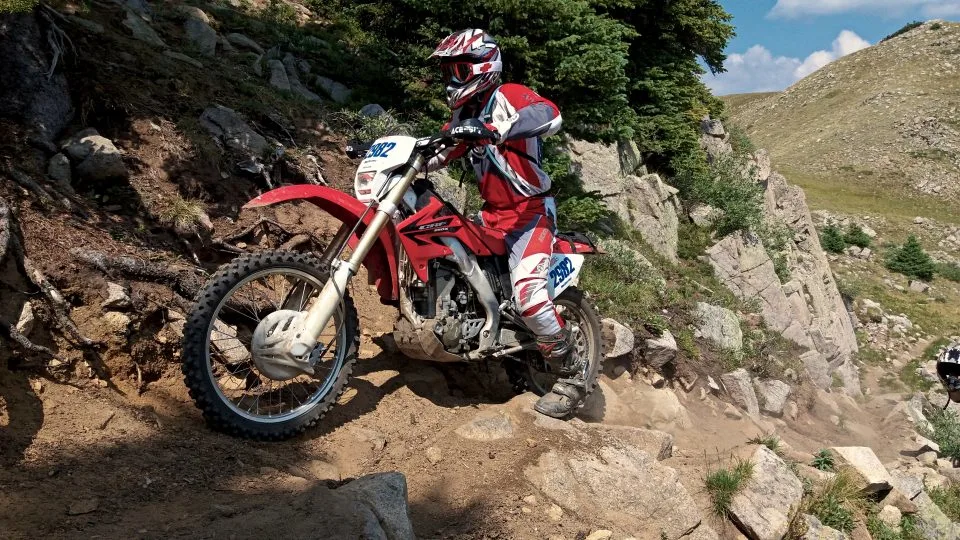 What is your personal preference?
With that said, how do you know what your personal preference is if you haven't ridden both 2 and 4 stroke trail bikes?
Below shows the benefits of each type of dirt bike.
2 Stroke Pros:
Lightweight
Simple
Cheaper to rebuild
Good power to weight ratio
Easier to handle
Easier to start
4 Stroke Pros:
Broad power curve
No mixing oil
Latest R&D technology
Easier to ride longer
Generally longer rebuild intervals
The type of riding you primarily do should determine what the best bike is for you. There's no "best dirt bike" for every individual because every person has different needs and preferences.
Tuning and adjusting will almost always be required on any new dirt bike to suit your personal needs. This may be adjusting the suspension or adding protection for trail riding.
The best 2 stroke enduro bikes for trail riding
Depending on what you're looking for in a trail bike, these 2 stroke dirt bikes are the best for trail riding:
KTM 150 XCW
Beta 200RR
Yamaha YZ250X
KTM 250 XCW
Husqvarna TE 300
Beta XTrainer 300
These 2 stroke enduro bikes are best if you're an experienced rider that knows what you want in a bike.
Which KTM Is Best For Trail Riding?
The best overall KTM 2 stroke dirt bikes for trail riding are the 150 XCW, 250 XCW, and 300 XCW.
The 150 is one of the lightest trail bikes available, but it has plenty of power. It's great if you want a 2 stroke that is easy to handle and maintain, but want to be aggressive and have fun twisting the throttle.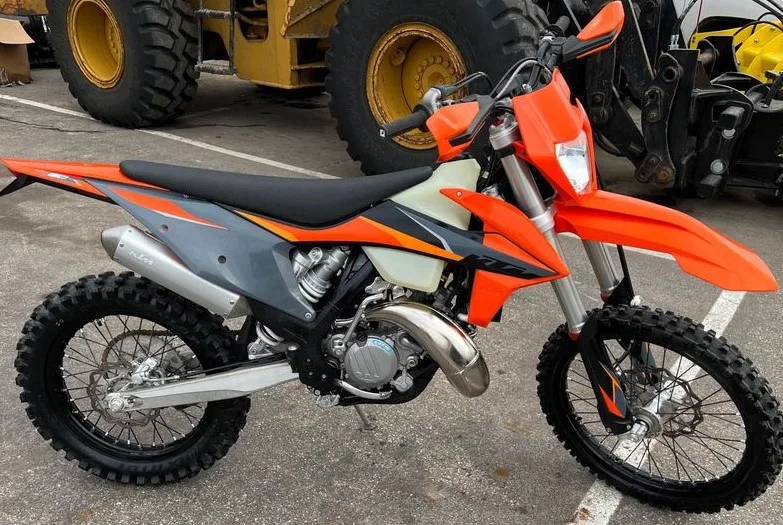 It doesn't have a lot of low-end torque compared to a 250 or 300, so you'll have to use the clutch more and shift it more often.
The 250cc is the better all around model. It has enough power from low to high (when tuned to your preference).
KTM's 300 has been "The Enduro Bike" for a number of years now because there's not much it can't do.
When compared to the 250, the 300 has more low-end torque, but there's also noticeably more vibration.
Although, since the better counterbalanced crank, the vibration has considerably less. This allows you to ride longer with more comfort because your hands won't go numb as quick.
KTM XC vs XCW
They're very similar 2 stroke enduro bikes, but the biggest difference is that a KTM XC is more of a race bike with a more aggressive and stiffer set-up, while the XCW models are better for trail riding because of the softer set up.
For example, a KTM 250 XCW has softer suspension, a wider ratio transmission (lower 1st gear for technical trails and a higher 6th gear for high speed), and a PDS rear shock (no-linkgage = better ground clearance for logs/rocks). This makes it a little more comfortable at lower speeds, but it's still competitive in off-road racing.
On the other hand, the KTM 250 XC has stiffer suspension, a close ratio transmission, and a linkage rear shock. It's a little bit closer to a 250 motocross bike set-up while still being compliant for off-road if you're an aggressive rider.
Best 125 or 150 2 Stroke dirt bike for trail riding
Yamaha and KTM both make a 125cc 2 stroke enduro bike for trail riding, but KTM is the only dirt bike brand that makes a 150 2 stroke dirt bike.
and KTM 150XCW are the top small bore 2 stroke trail bikes.
KTM 150 XC-W vs 150 XC
The KTM 150 has more overall power over the 125, as you might expect with the extra displacement. It also has electric-start, which the Yamaha doesn't have.
The 150XCW has a wider ratio transmission than the 150XC, and the suspension is a little bit softer. The 150 was supposed to be KTM's transition to a "new market" because they discontinued the 200cc XC & XCW in 2017.
Yamaha YZ125X
The YZ125X is Yamaha's new 125 2 stroke enduro bike. It's a slight variation of the tried and true YZ125 mx bike.
The biggest changes are slightly different chassis geometry for off-road riding, the engine is tuned for smooth and broad power, an 18″ rear wheel and a kickstand.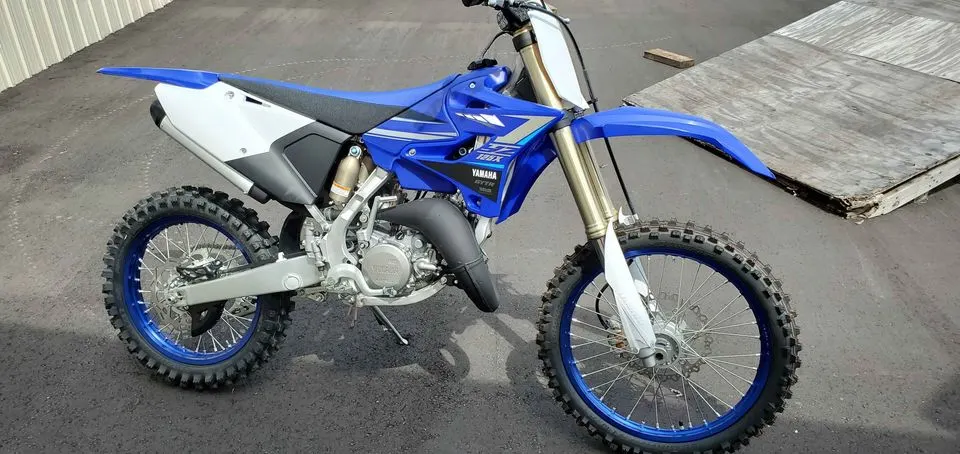 YZ125X vs 150XCW
When it comes down to it, each bike has its own advantages. This simple table will compare the key specs that differ for the Yamaha and KTM.
| | | |
| --- | --- | --- |
| | YZ125X | 150XCW |
| Weight (wet) | 209lbs | 217lbs (est.) |
| Power | Less | More |
| E-Start? | No | Yes |
| Price (MSRP) | $6499 | $8799 |
Best Beginner 2 Stroke For Trail Riding
A 250 or 300cc 2 stroke is not a good dirt bike for a beginner because it simply has too much power to safely manage. One extra twist of the throttle and you're into the trees or creek.
A 125 or 150 is definitely more manageable, especially being lighter, but there's still a little too "peaky" to learn on.
200cc 2 stroke dirt bike – Finding The Middle Ground
A 200cc 2 stroke, such as the old KDX200 or KTM 200XCW are a great middle ground because they're tuned for beginner-friendly trail riding. Unfortunately, neither of these bikes is made anymore.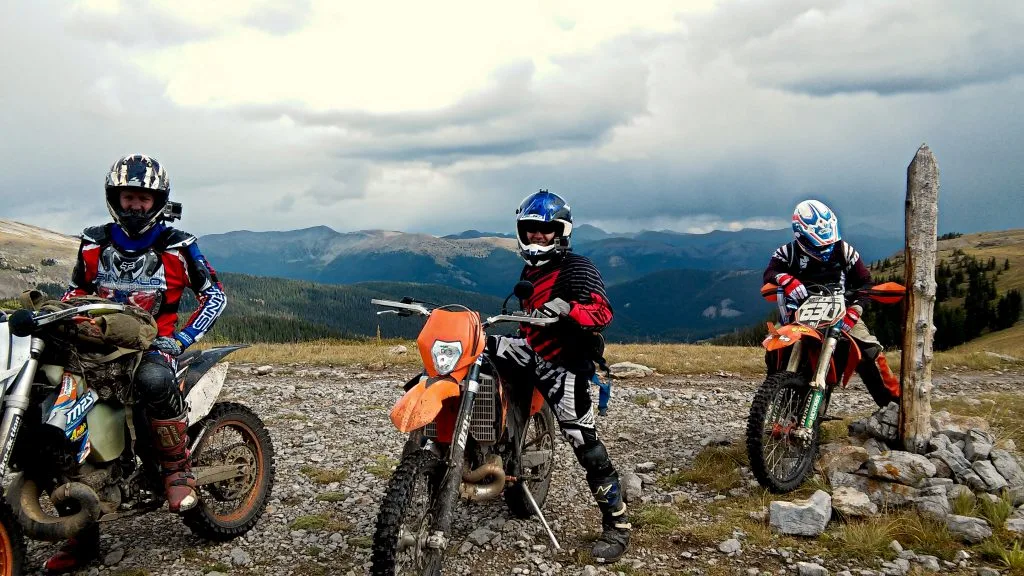 On the flip side, Beta has been taking over the 200cc niche with their 200RR. It took over where KTM left off. The chassis is slightly smaller, making it easier to handle if you're a first time or shorter rider.
Electric start and oil injection are nice options that increase the fun factor because you don't need to kick start or pre-mix your gas and oil.
There's also a relatively new brand in town, and that's Rieju with their MR Ranger 200, which has a slightly lower seat height and is tuned for controllable power. It still has a carb and requires pre-mixing your gas, but it's one more option to choose from.
A lightweight 250?
The engine is also tuned for broad power with good low-end torque, so it'll feel more like a 250 without quite as much top-end 'snap'.
Choosing a good beginner bike is key to staying safe on the trails, although there's one thing that will help prevent more crashes and allow you to ride with more control.
It starts with your riding technique, and I want to help you with my free training guide. Tap here to learn proper techniques to start building your confidence today.
Best Yamaha 2 Stroke For Trail Riding
The new YZ125X and YZ250X are the only current 2 stroke enduro/trail bikes that Yamaha has to offer, which is better than what they had before – nothing.
The YZ250X is the better overall trail bike for most experienced riders because it has plenty of power but has a broad powerband. The low-end torque makes it easier to short-shift and use smaller throttle inputs to get up hills and over logs.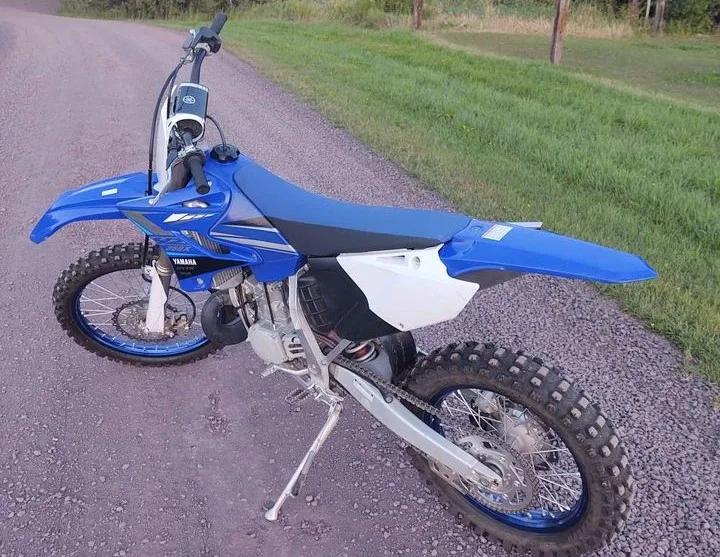 The YZ125X is a good enduro woods bike for younger and lighter riders. It's still a quick bike, but the power is biased more towards the top-end due to being only 125cc.
Best KTM 2 Stroke For Trail Riding
KTM has quite a few 2 stroke bikes designed for woods and trail riding. The 150XCW, 250XCW and 300XCW are the best overall 2 strokes for riding trails. You just need to decide how much power and weight you want to handle.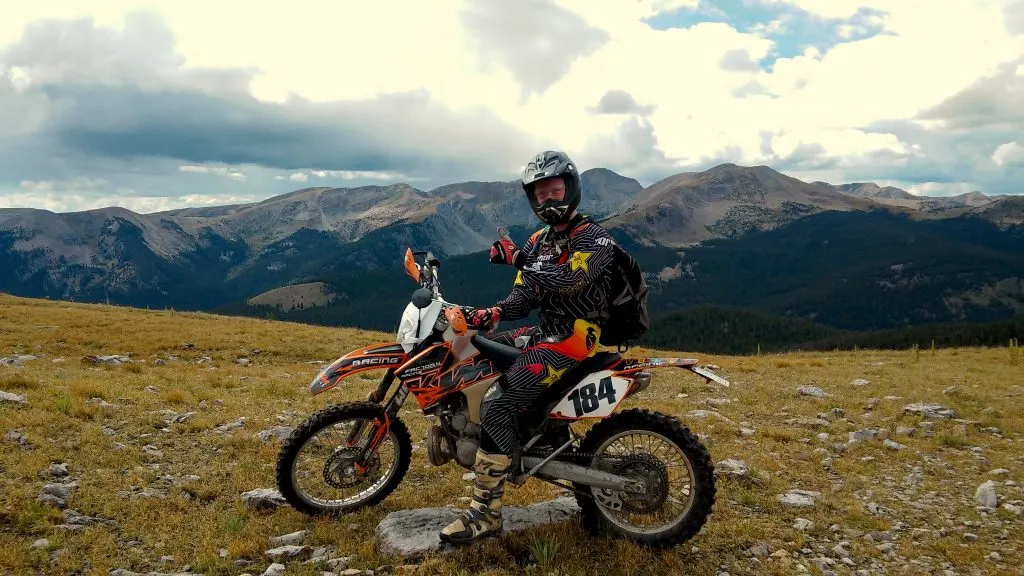 They all have electric start, and as of 2020, they have KTM's patented TPI fuel-injection, which automatically compensates for elevation and temp/humidity changes.
Best Husqvarna For Trail Riding
Husqvarna, being a sister company of KTM, has very similar bikes. The TE 150, 250, and 300 are all great 2 stroke enduro bikes. You just have to decide how many CC's you want to handle.
New 2 stroke dirt bike for trail riding
Ready to buy a brand new dirt bike? I don't recommend it for your first dirt bike, especially if you're taking out a loan.
But, if you know what you want, these are the best new 2 stroke dirt bikes for trail riding:
KTM 300 XCW TPI
KTM 150XCW
Beta 200RR
Yamaha YZ250X
KTM 250 XC
Beta XTrainer 300
Husqvarna TE300
Rieju MR 200 Ranger
A new dirt bike loses value immediately after you buy it. You may need a brand new motorcycle if you're just starting out – you're not going to feel the performance difference until you build your confidence and skills.
Cheap 2 stroke dirt bikes for trail riding
Are you on a budget and just want an affordable bike? These are the best used 2 stroke dirt bikes for cheap that can be used for trail riding:
Kawasaki KDX200
Yamaha YZ125
KTM 200XCW
Yamaha YZ250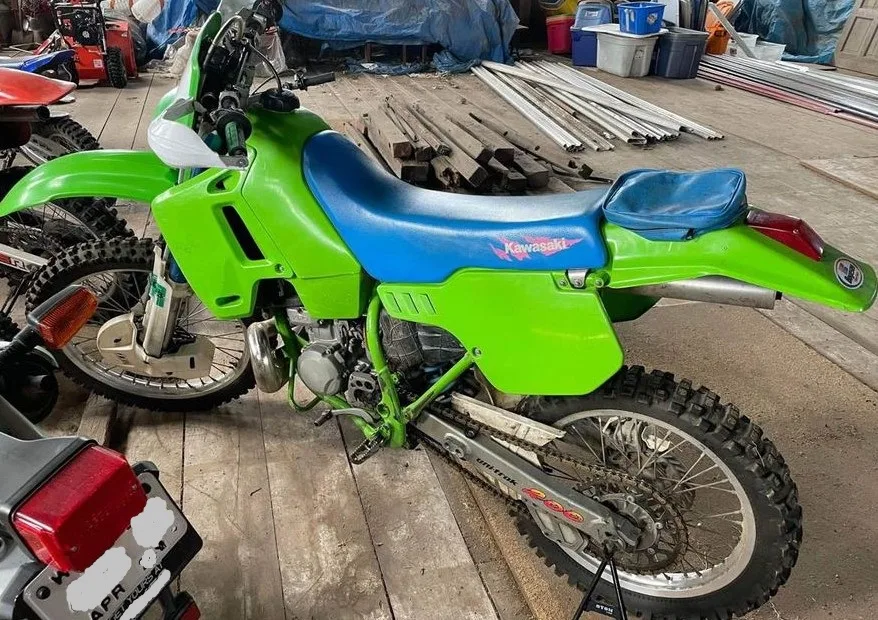 Can I Use My 2 Stroke Motocross Bike For Trail Riding?
Motocross bikes can be used for trail riding, but most MX bikes have some significant disadvantages.
Abrupt power and close-ratio transmission gearing, as well as harsh suspension are the biggest drawbacks to trail riding a motocross bike.
You can combat these things with tuning and mods, up to a certain point. But in the end, it may take more time, money and effort than it would to simply buy a bike that's already setup for riding in the woods or mountains.
What's the biggest 2 stroke dirt bike?
Currently, the biggest CC 2 stroke is 300cc, and you don't really want to go bigger than that.
Why? Because more power won't help you unless you're racing in the dunes or hill climbing.
Also, once you get over 300cc, a single-cylinder engine starts to vibrate more. 2 stroke engines already vibrate more than a 4 stroke engine, so it's less enjoyable and more exhausting to ride.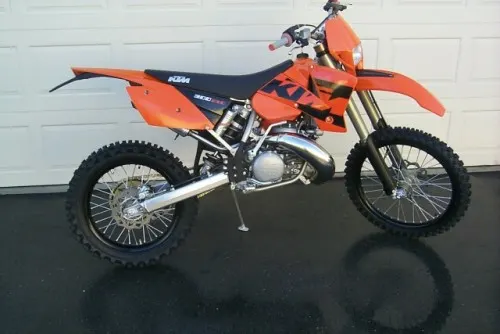 What's the most reliable 2 stroke dirt bike?
Want a 2 stroke but don't want to replace the top-end as often? They can actually last a long time if you're not constantly revving them at high RPM, which is why a 300 enduro bike can last a few hundred hours on a top-end.
With that said, these are the most reliable 2 stroke dirt bikes that are good for trail riding:
Kawasaki KDX200
KTM 200 XCW
Yamaha YZ250X
KTM 300 XCW
It really comes down to how you ride and how well you maintain your dirt bike if you want it to last a long time. Change the oil, keep the air filter clean, and use fresh pre-mix gas, warm it up properly, and it will last quite a while!
How to buy a used 2 stroke with confidence
Ready to buy a 2 stroke dirt bike but can't afford a brand new motorcycle? No problem – there are plenty of used models that are great bikes.
How do you know what to look for so that you get a good deal on a bike that won't need a rebuild? Check out my video (or podcast episode) below!
Best cheap dirt bike for trail riding
Looking to get a reliable dirt bike but tight on finances? I've got you covered with my list of best cheap used dirt bikes. Click here to download this cheat sheet to save thousands over new!