The Yamaha YZ250X is based on the YZ250, but how much different is this enduro bike from its motocross sibling? Whether you're looking for your first enduro bike or just want to upgrade, you've found the right article!
In this review, you'll learn what exactly makes the 250X unique, why it may or may not be right for you, and what to expect when buying and riding one so that you save time and money by choosing the right dirt bike!
What is the Yamaha YZ250X?
It's a 250cc liquid-cooled two-stroke enduro bike that's based on the YZ250 motocross bike – but what does that mean? The engine is high-performance, so it has a lot of power, but Yamaha tuned the power and suspension to be smoother and slightly softer for off-road riding so that you have better traction and control on slippery terrain.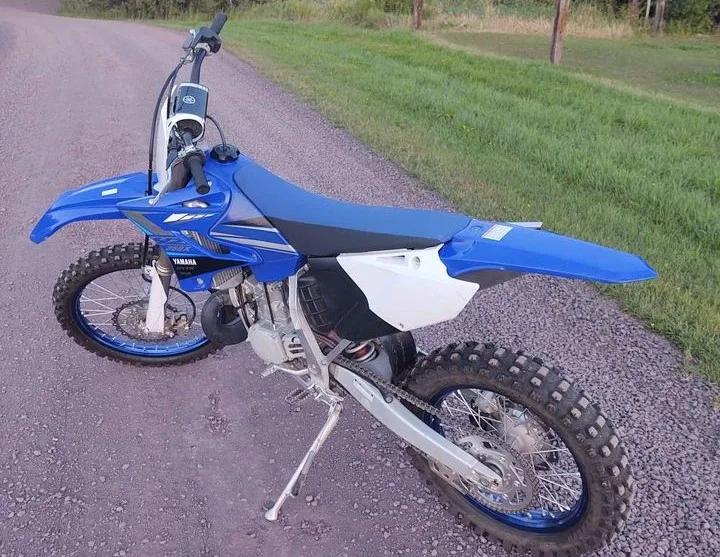 Who's it for?
The YZ 250X is a great choice if you're looking for a simple but good-performing 2-stroke enduro bike.
It doesn't have all of the modern updates that the KTM 2-stroke enduro dirt bikes have, such as fuel injection or electric start, but it's a solid platform because it makes good usable power, has great suspension, handles well, and is more affordable – so that you can use the extra money to modify it the way YOU want or just save it for gas and tires to build your riding skills.
Is it a good beginner dirt bike?
I strongly recommend not getting a YZ250X if you're looking for your first dirt bike or just getting back into dirt biking after 20+ years of not riding for one major reason. If you want a dirt bike that's easy to control so that you don't have to worry about letting the clutch out and doing a surprise wheelie, then you should look at these beginner-friendly dirt bikes.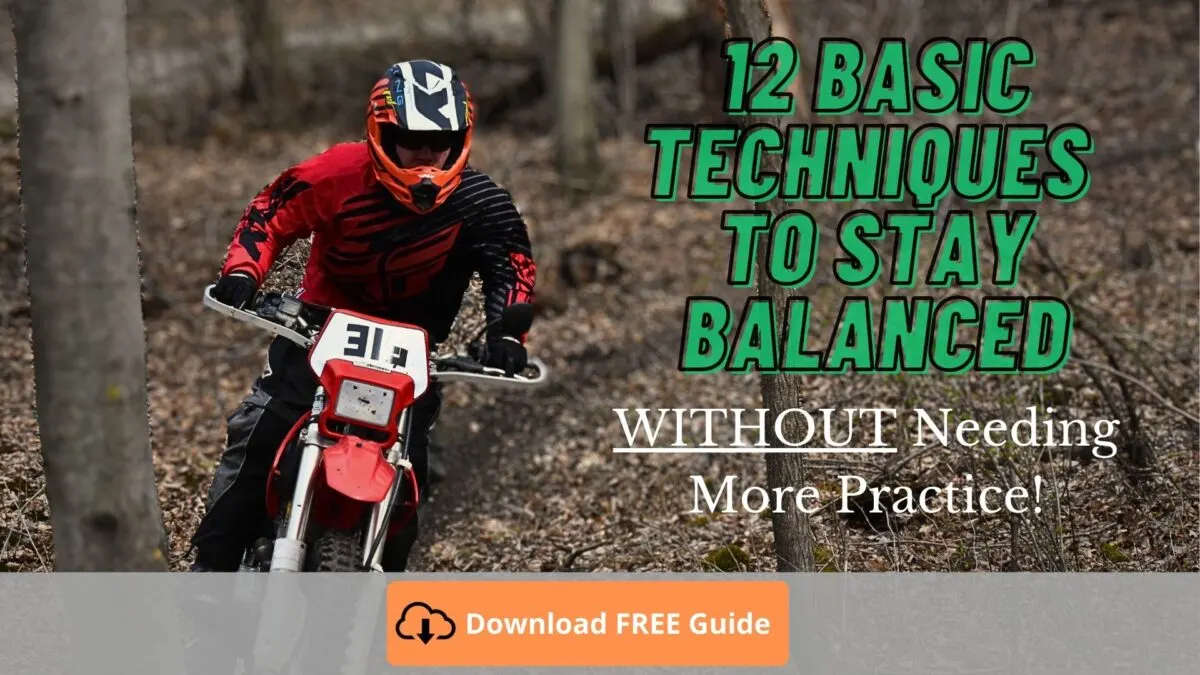 The YZ 250 X has a lot of power, and while it's smooth compared to the MX version, it's way more than you need for learning to ride on, and the stiff suspension will make it harsh and exhausting to ride if you're a casual rider at low speeds.
Seat height – what size rider is the YZ250X for?
With a 38.4" tall seat height, it's one of the tallest dirt bikes you can buy. With that said, it's a comfortable size bike if you're in the 5'10"-6'2" height range, but that doesn't mean it won't work if you're taller or shorter.
For example, if you're under 5'10", you can absolutely fit on the YZ 250X if you just change your riding style when starting and stopping – once you get moving, it doesn't matter because your feet will be on the foot pegs – unless you don't have good balance yet.
There are some simple mods you can do if you feel cramped because you're over 6'2" tall, but changing your riding technique will generally make the most difference if the YZ250X feels too small – especially when standing on the pegs.
Engine – what to expect
While the YZ250X engine is based on the YZ250 motocross bike engine, there are definitely some differences that make it better for cross-country enduro and trail riding. The biggest change is that the power valve, cylinder, cylinder head, and pipe are tuned for more bottom-end and midrange torque.
This gives you a smoother transition, making it easier to control and less fatiguing so that you can ride longer because it's getting traction instead of trying to rip your arms off when it hits the powerband.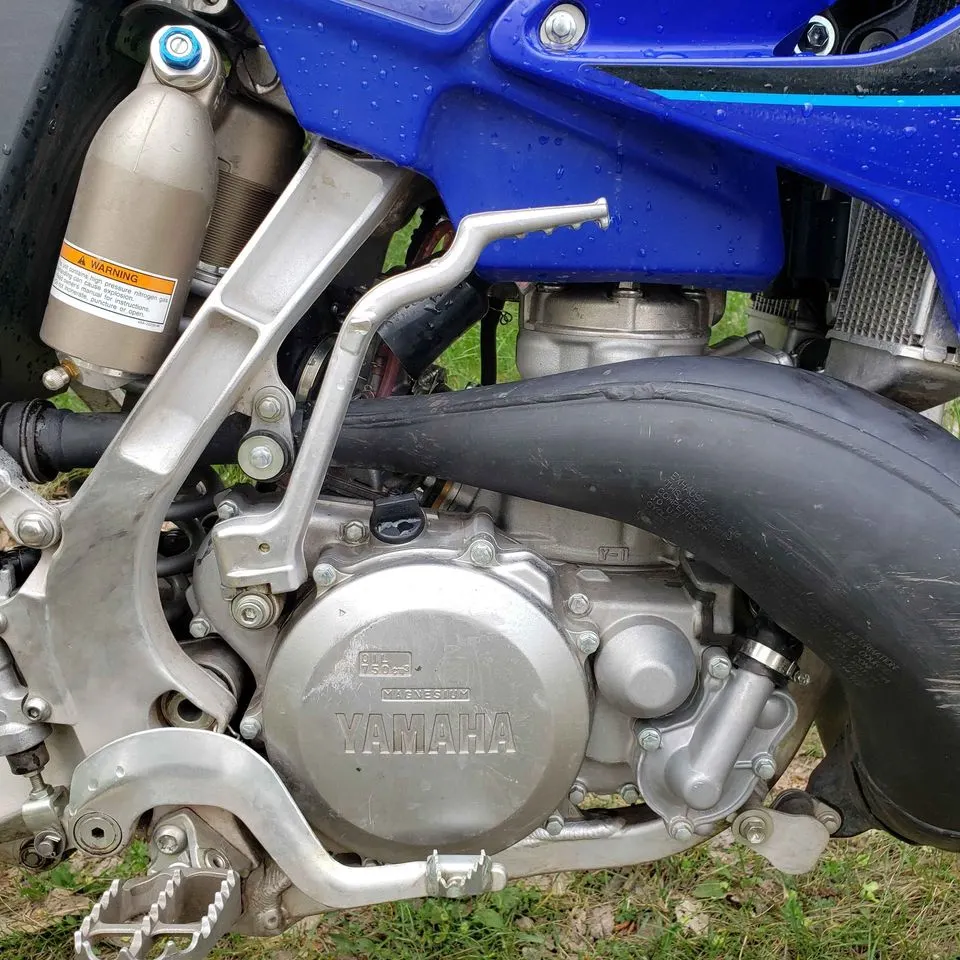 Horsepower
The YZ250X doesn't have as much power in the upper RPM range as the YZ250 until it reaches 8500-9000 RPM. At that point, they both have about 45 horsepower at the rear wheel.
You will actually feel a little bit more over-rev on the 250X due to the lower compression. The 250 MX engine falls off a little quicker in comparison, making it feel more "peaky" and snappy.
Less compression but more torque?
The YZ250X has about a 9.4:1 compression ratio while the YZ250 MX engine has a 10.6:1 compression ratio, but increasing compression is one of the easiest ways to get more low-end torque – how does the YZ250X have better low-end power for trail riding then?
Well, it actually doesn't have more power – it's just that the smoother power curve and transition to high RPM make it easier to ride because it's less likely to spin the rear wheel – you keep moving with more traction and control.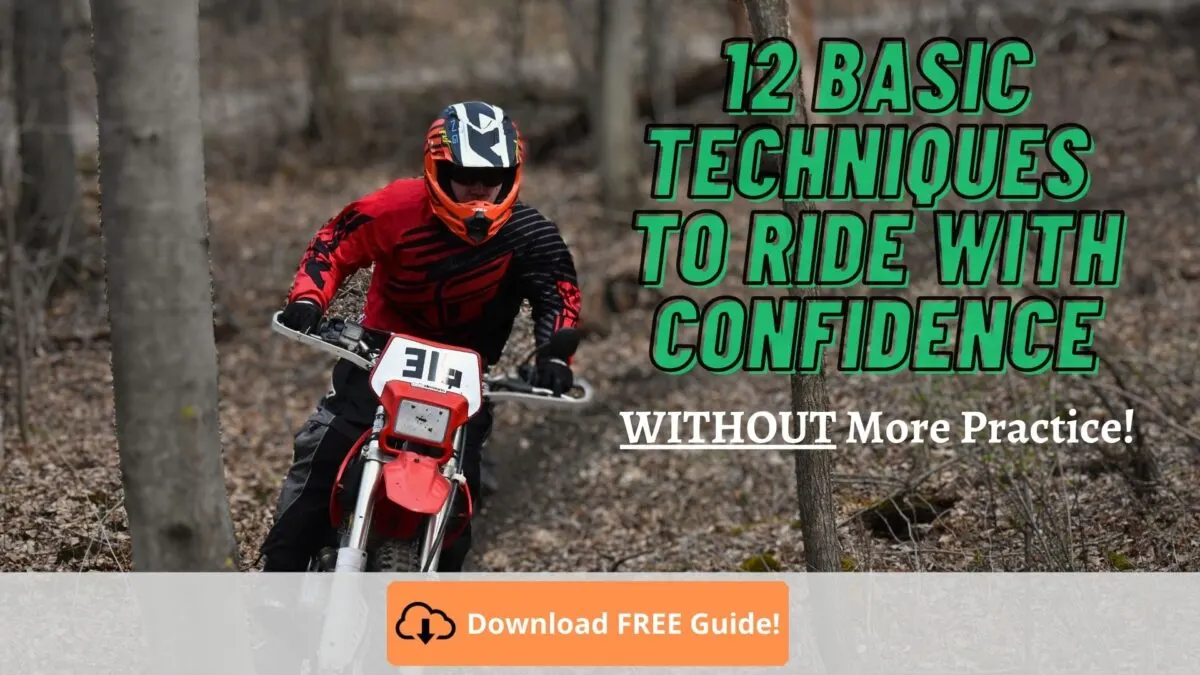 Does it have a spark arrestor
You need a USFS-approved spark arrestor to legally ride on state trails here in America, but unfortunately, the YZ250X does not come with a spark arrestor screen or system because it's a competition race bike. You'll need to purchase an aftermarket spark arrestor silencer (Amazon) for trail riding, but fortunately, you have $3k left to spend on your YZ compared to the KTM 250!
Gearing – is it different than the YZ250 transmission?
One of the several complaints that owners or "would-be" owners of a YZ250X is that it only has 5-gears, which is the same as the MX-bike engine. Why is that a complaint? Because the comparable KTM 250 XC has a 6-speed transmission.
The YZ250X, however, does not have the exact same transmission as the MX engine – the 250X 5-speed is a wide ratio, so the gears are a little more spread out.
This is really nice if you want a lower 1st and 2nd gear for technical riding while still having a tall enough 5th gear to "stretch the engine's legs" on a high-speed section. Not having 6th gear won't make a difference to most riders, but if you want a little more spread for a super-low 1st and tall 6th gear for cruising/high speed, then you'll have to compromise your gearing with the Yamaha.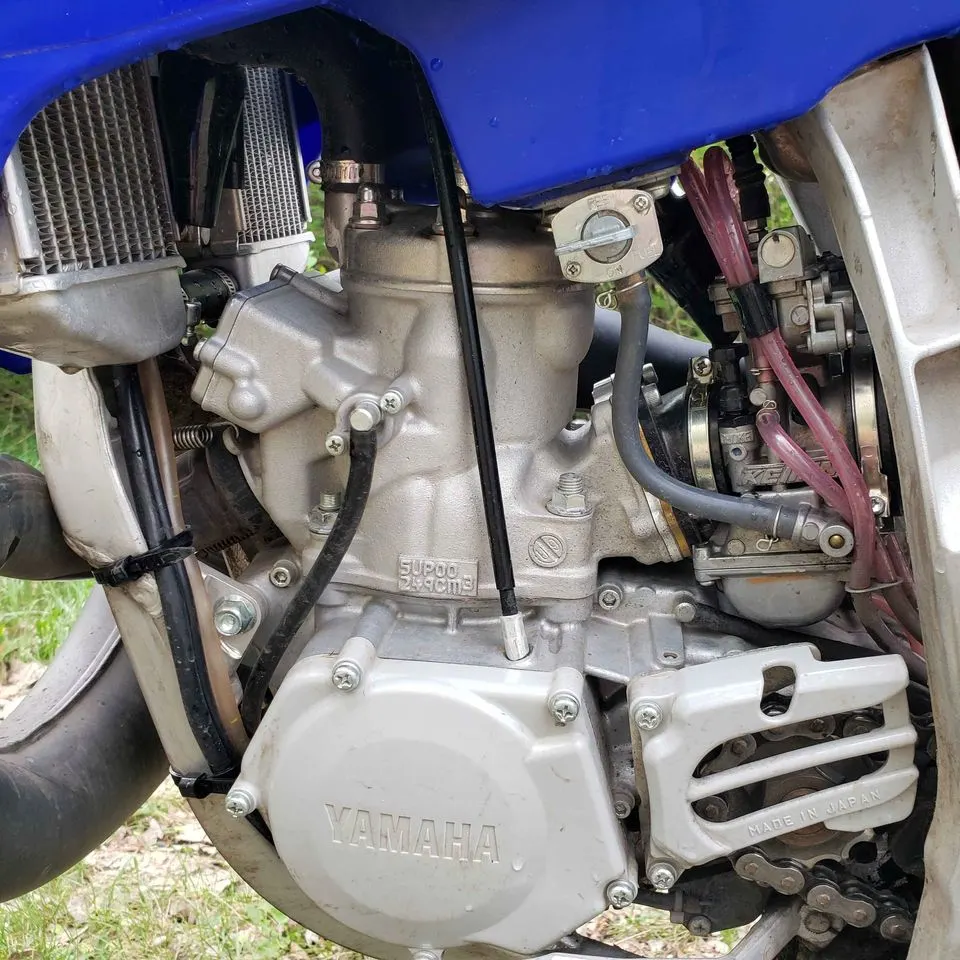 Top speed
With stock gearing, the max speed of a YZ250X is about 80 mph, but does that really matter? Well, if you're doing high-speed racing or want to cruise at a lower RPM, otherwise the top speed doesn't make as much difference as acceleration or 1st gear RPM – which is easily adjustable.
If you want a high top speed or a lower RPM cruising speed in 5th gear then you need a smaller rear sprocket (Amazon).
Suspension
Many people have used a YZ250 as an off-road trail bike because it's so versatile, but one of the most significant drawbacks is the stiff suspension. Since it's a motocross bike, the firm valving for absorbing big jumps makes it feel harsh while riding on tight trails with small bumps – causing you to get fatigued quicker, which makes it more likely to lose control because you can't hang onto the bars.
That's where the YZ 250X is different. The spring rates are the same as the MX suspension, but the internal damping is tuned to be softer for a more compliant and comfortable ride on the trails or in an enduro race.
Front forks
The YZ250 has had class-leading suspension since it came out with the Kayaba SSS forks in 2006 – even today they're still competitive for 99% of riders.
You get full adjustability with damping clickers that control how fast the forks compress and rebound, but first, you need to make sure that the springs are properly sprung for your weight. The stock fork springs are best if you're in the 160-180 lb range, but can work if you're a little heavier or lighter based on your riding style and speed.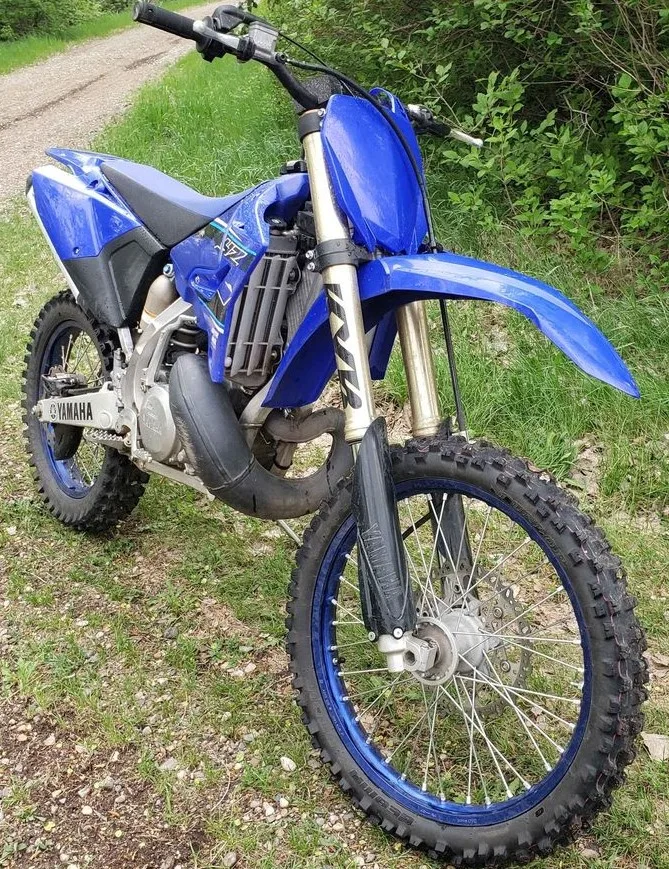 Rear shock
The stock shock is fully adjustable as well, with spring rate and ride height being the most important things to get right. If your ride height (AKA "rider sag") is off, then your YZ250X won't handle as well as it could.
For example, if your shock preload is set too low in the rear, then your front end will have less traction and be more likely to wash out. That's why it's so important to adjust your suspension based on your specific weight and riding style.
Can you do motocross on a YZ250X?
The short answer is "Yes", but suspension is always a compromise if you're doing a wide variety of riding. For example, one of the reasons why the YZ 250X is better for off-road and trail riding is because the suspension is softer, giving you more comfort and traction for better control.
When you take this off-road enduro bike onto the track, that softer suspension will start to feel harsh because it's compressing too much and more likely to "bottom out" or fully compress the forks and shock.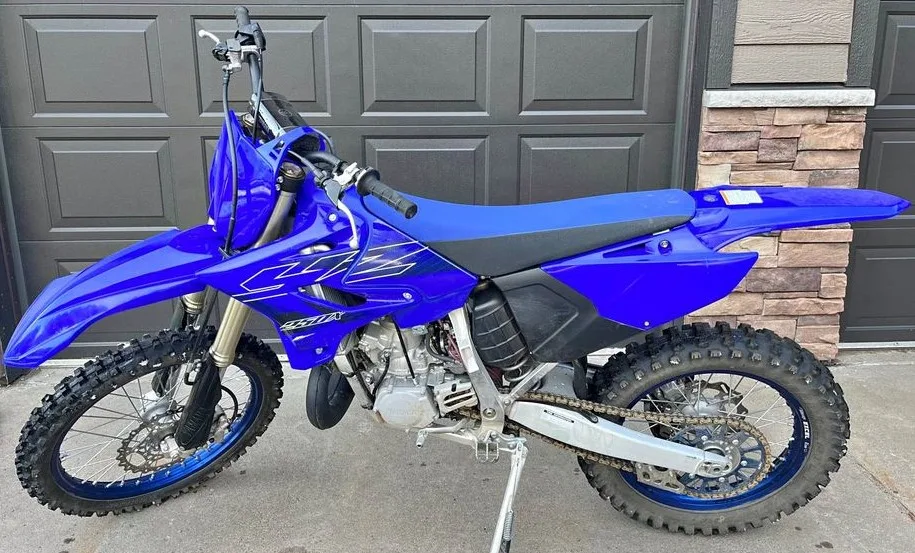 With that said, the YZ250X is still one of the best track and trail bikes you can buy because it's a good compromise between stiff and soft suspension – it's not as firm as a motocross bike, but it's not super plush like a beginner trail bike.
Handling
Yamaha has had the handling of the YZ250 figured out for a while. That doesn't mean it can't get better, but the YZ250X works well right out of the box if you have the suspension properly tuned for your weight.
Being a 2-stroke, it feels lighter and turns more easily in the tight woods compared to a 4 stroke enduro bike – especially a 450F, or even a 300cc two-stroke because there's less engine mass. The rotating engine mass makes the bike feel heavier, which makes it more exhausting to ride because you have to use more energy to keep the bike under control.
Weight
At 229 lbs wet weight, which is ready to go with fluids and fuel, the YZ250X almost 20 lbs lighter than the YZ250FX four-stroke enduro model. Not only that, but it's lighter than the "high-tech" KTM 250 XC!
This is most likely due to the KTM having a battery, electric start motor, and extra weight from the fuel injection system. The YZ 250X is one of the lightest enduro or cross-country bikes you can buy. The only models that are much lighter are the 125 and 150cc bikes, such as the YZ125X and 150 XCW.
Model year history & changes
Since the Yamaha YZ250X first came out in 2016, there haven't been any significant changes because Yamaha doesn't make big changes quickly to their off-road motorcycle lineup – especially when it comes to new models.
With that said, here are the model year updates to the YZ 250 X:
2016: First year for the YZ250X
2017: Larger front brake rotor for better stopping performance, black rims (updated from silver)
2018: Rims are now blue
2021: white number plates/side panels are now blue (updated from white)
2023: Updated ergonomics with narrower plastics and flatter seat, new intake for more torque, updated brakes, updated clutch pressure plates, rear shock updated with new internal coating for smoother action, lighter rear sprocket,
Reliability – how long will it last?
Do you have to rebuild the top end every 15 hours? No, at least most of us won't have to if you actually take care of your dirt bike.
For example, if you're doing regular air filter changes and oil changes, you could get 200+ hours on a piston and rings if you're a casual trail rider. The YZ250X is just as reliable as any other enduro bike on the market – it's up to YOU to prevent most catastrophic failures on the trail.
With that said, if you're an expert-level racer that holds the throttle wide open most of the time, you might need to rebuild the top end every 20-50 hours. One of the best ways to know is if the compression is lower now than when it was new.
Any common issues?
There aren't any major common problems with the YZ250X, and if there are, it's usually due to owner or rider error. That doesn't mean no one ever has a random problem, but breaking down is typically caused by a lack of maintenance or abusing the engine by constantly over-revving it.
Specs & dimensions
These are the most important specifications and dimensions of the YZ250X from Yamaha's website:
| | |
| --- | --- |
| | YZ250X |
| Manufacturer | Yamaha |
| Years Made | 2016-current |
| Engine | 249cc liquid-cooled 2 stroke |
| Transmission | 5-speed close-ratio manual clutch |
| Seat Height | 38.4" (97.5cm) |
| Suspension Travel (Front/Rear) | 11.8/12.4" |
| Wet Weight (Curb) | 229 lbs |
| Horsepower | 51 HP (45 RWHP) |
| Top Speed | 80 MPH |
| Price (New MSRP) | $7,999 |
Is the YZ250X the right dirt bike for you?
Still can't decide if the Yamaha YZ 250 X is the right dirt bike for you?
Here are some practical benefits and disadvantages to buying and owning this 250cc 2-stroke enduro bike:
Pros:
Affordable for a 250cc enduro bike
Much better for off-road riding than the YZ250 MX-bike
It's simple with no electric start, battery, or fuel injection to worry about
Great suspension right out of the box
Smooth power, but plenty of it
Lightweight compared to the competition
Easy to maintain and rebuild compared to a 4-stroke enduro dirt bike
Wide-ratio transmission gives you low 1-2 gears with a relatively tall 5th gear
Cons:
1.8-gallon gas tank – short fuel range for an enduro bike
No electric start – can be hard to start on a steep hill
Still has a carb – requires jetting with mods or different elevation riding
No 6th gear – another gear might help if you're cruising or racing at high speeds & still want a low 1st gear
Wide-ratio transmission – you may not like the larger gap between gears if you're a racer
How much does the Yamaha YZ250X cost?
The MSRP has slowly gone up, but it's still only $7,999 plus fees. That may sound like a lot, but it's a bargain compared to the $10,999 and $11,099 KTM 250 XC/XCW models if you don't need the high-tech features.
The YZ 250X is somewhat difficult to find in the used market because it's relatively new and most people don't want to get rid of them. With that said, you can often find a used one in the $5500-7500 price range. The actual value depends on where you live and the condition it's in.
YZ250X vs YZ250
While these Yamaha 250 cc two-strokes are very similar, there are quite a few minor differences that make them more or less desirable, depending on your specific needs.
These are the biggest difference that the YZ250X has vs the YZ250:
18" rear wheel
Kickstand
Wide-ratio transmission
Smoother power curve – New cylinder/power valve, head, CDI, and pipe
Softer suspension
Seat height – 250X is 1-inch lower
O-ring chain
"Reserve" fuel petcock
Newly adopted scraper between the fork's dust and oil seal
Easier clutch pull – 10% softer springs
YZ250X vs YZ250FX
The main difference is that the 250X is a two-stroke and the 250FX is a four-stroke 250 enduro from Yamaha. They're both cross-country dirt bikes that are made for racing and trail riding if you want a high-performance dirt bike.
The two-stroke will feel lighter and have slightly more horsepower, but the YZ250FX is slightly easier to ride because it has a broader power curve with less "snap" which makes it more exhausting to ride.
They're both very reliable – you might be able to get more engine hours on the 250FX before needing a rebuild, but the 250X is simpler and easier to rebuild.
YZ250X vs KTM 250XC
They're both 250 2-stroke enduro bikes, but the KTM is the winner if you want the most modern updates and features. That also means if you want a less expensive and simpler dirt bike, the Yamaha is the better pick.
These are the main differences between the YZ250X and 250XC:
EFI vs carb – Fuel injection for the KTM 250 and a carb for the Yamaha 250
Electric start – KTM has the E-start button and the Yamaha is kick-start only
Gears/trans – YZ only has 5-gears and is a wide-ratio, while the KTM has a close-ratio 6-speed
Price – the YZ250X is about $3000 cheaper MSRP (Yes, that's correct – $3k!)
Learn how to trail ride with confidence
Are you a new off-road rider that's struggling to stay in control because you get exhausted quickly or you get intimidated by new and changing terrain? If you're tired of just "riding more" and not advancing your skills, it's most likely because you've formed bad riding habits that are holding you back.
Don't worry, this is super common if you're a self-taught rider or were shown how to ride by a buddy or family member. I want to show you how to quickly break those habits so that you can enjoy riding with confidence without needing to practice more with my quick riding guide that you can get for FREE today.