Looking for the best dirt bike for trail & track riding so that you don't have to own multiple bikes? Whether you're a beginner or just looking to upgrade, you're in the right place!
In this article, I'll show you how to choose the right bike, which ones to stay away from, and then the best dirt bike based on your experience level.
2 stroke vs 4 stroke
One of the first questions you need to ask is what kind of dirt bike you want: 2 stroke or 4 stroke?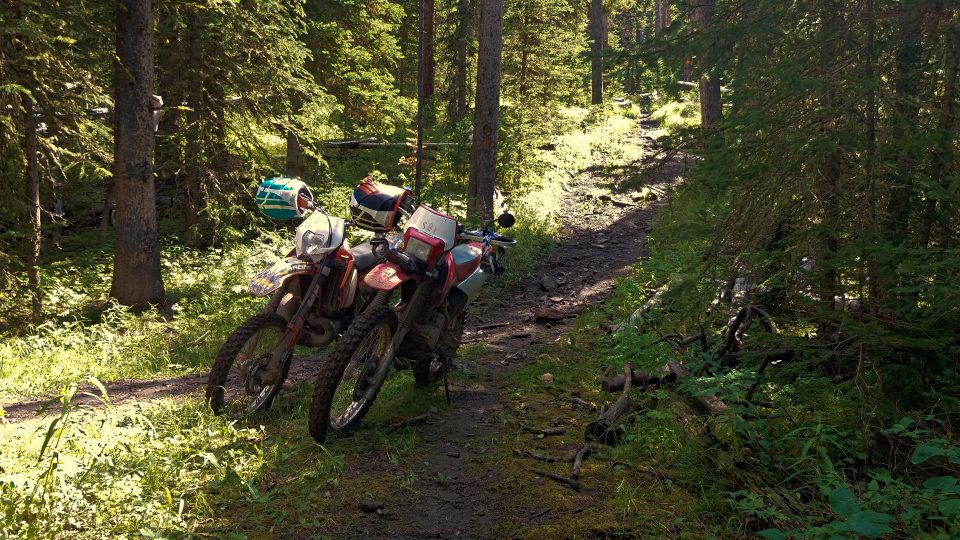 There are pros and cons to each. The biggest differences are:
Mixing gas
The power curve
Engines – ease of maintenance & rebuilding
The sound
If you are already a confident rider, it's hard to go wrong with either one these days.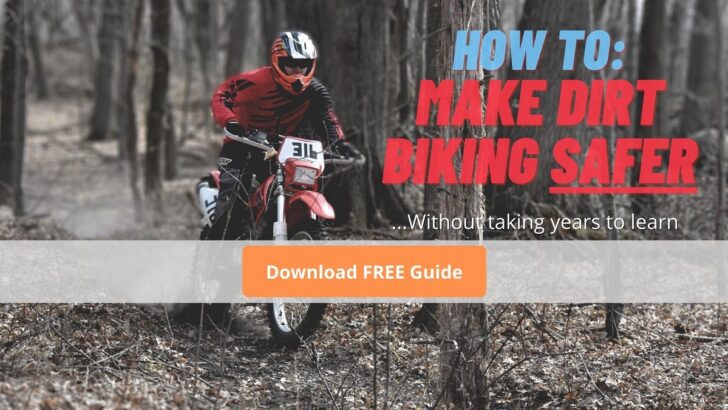 Which is better for trail riding?
It depends on what kind of trail riding you're doing. If you need the lightest feeling bike that won't overheat as easily, a 2 stroke enduro bike is generally the better choice – for example, hard enduro or extreme enduro type of riding.
On the other hand, an off-road 4 stroke trail bike for beginners is great for riding on smooth, easy trails, as well as technical trails if the suspension is tuned for your weight.
It really comes down to your preference, what type of riding you'll be doing most, and then how you want the bike to feel while riding when comparing a 2 stroke vs 4 stroke dirt bike for trail riding.
Is a 450 good for trail riding?
I don't recommend getting a 450 dirt bike for trail riding to most people for a variety of reasons. They simply have way more power than you need unless you weigh over 300 lbs.
A 450 also feels heavier in the woods or on tight trails, making you feel exhausted quicker. It's a little more manageable on the track, but you can get into trouble a lot quicker if you're fatigued and can't keep it in control.
A 450 can be good for trail riding if you're an experienced rider that's bigger and can handle or need the extra torque and horsepower. For open desert riding or sand dunes, it might be the right choice for you.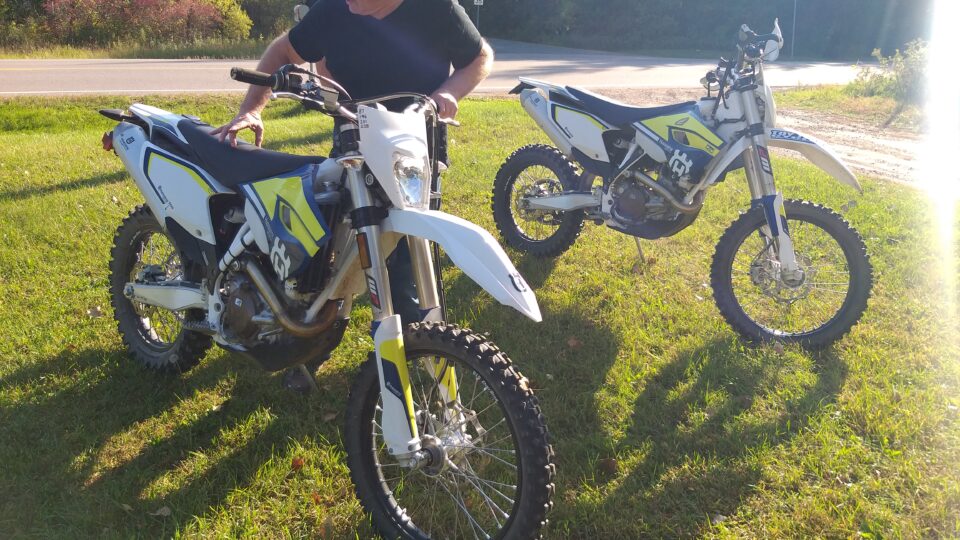 Are motocross bikes good for trail riding?
Motocross bikes are the worst type of dirt bike for trail riding. Why? Because of several reasons that make them harder or less enjoyable to ride off-road.
For example, the stiff suspension, abrupt power curve, close-ratio gearing, no-kickstand, and lack of electric start (on older MX bikes) are some of the biggest reasons why motocross bikes are not as good for trail riding.
With that said, you can ride a motocross bike on trails and still have fun. In fact, if you're an experienced and aggressive rider, then a 250F moto bike might be the most enjoyable on fast and flowing trails because you can hammer it hard.
For the majority, though, I recommend an actual trail bike or enduro bike if you plan on riding trails the most.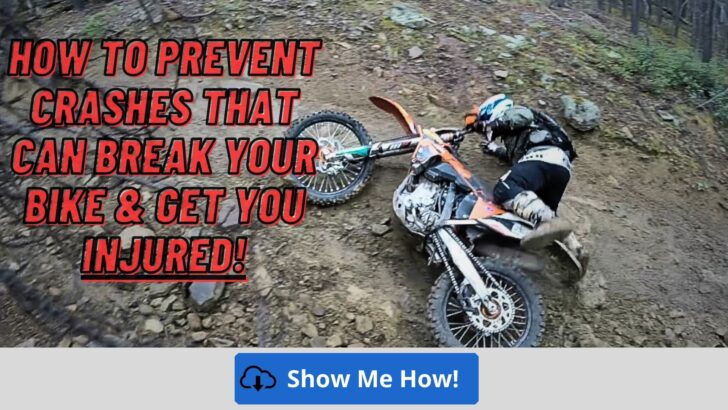 Best single track dirt bike for enduro riding
In order to pick the best dirt bike for single track riding, you have to figure out what size bike you need and how you want to ride it.
For example, if you're short like me (5'6") and just want to casually ride trails then something like a Honda CRF250F would be a good choice. However, this will not be good for riding on the track because the suspension is way too soft for jumping.
So, you have to compromise. Do you want a shorter bike with less suspension and/or power? Do you want a faster bike that's better for aggressive riding and jumping but has a taller seat height?
These are the best single track dirt bikes for adults:
Yamaha TTR 125 (medium trail bike)
Yamaha YZ125X (adult enduro bike)
Kawasaki KLX 140L/G (medium trail bike)
KTM 150 XCW (adult enduro bike)
Yamaha TTR 230 (adult trail bike)
Honda CRF 250F (adult trail bike)
Yamaha WR250F (adult enduro bike)
Yamaha YZ250FX (adult enduro bike)
KTM 250XCW (adult enduro bike)
Are you ready for motocross track riding?
So you're looking for the best dirt bike for trail and track riding, but do you have the confidence and riding skill to safely go on a track? Riding a dirt bike isn't super hard, but doing it on an MX track with obstacles and other riders takes it to a whole new level.
I'm not trying to scare you, but if you've never jumped or raced motocross before, you should definitely go to a practice ride day. This will help you get used to doing jumps, whoops, ruts, and corners with other riders without the pressure to perform in a race.
Pro Tip for track riding:
If you're new to riding on a track, one of the biggest tips for staying safe is holding your line and not crossing lines – if there's a faster rider coming, don't move out of your current line. They will find a way to pass you. Cross jumping, especially, is one of the easiest ways to get into a catastrophic accident for you and others.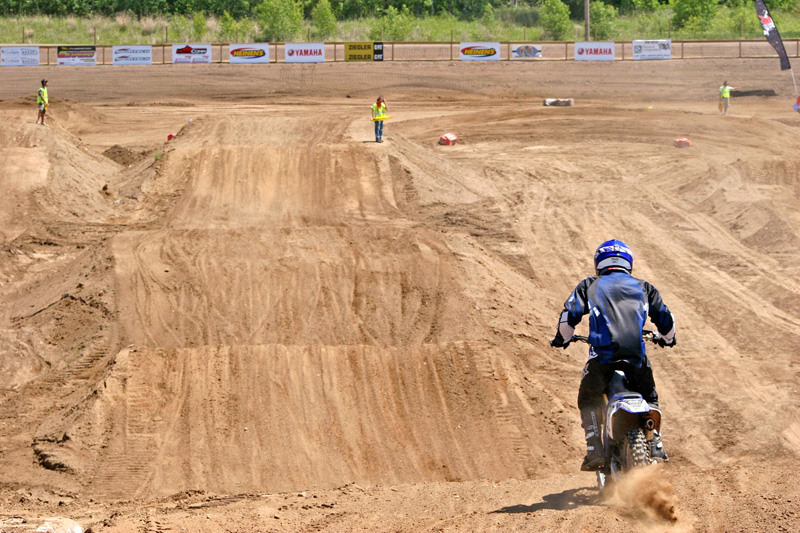 Are you ready for trail riding?
Maybe you're still new to riding – if that's the case then I strongly encourage you to stay away from any track.
You need to learn the basic techniques of riding off-road so that you properly use your body to stay in control. Even if you're a street or mountain bike rider, a dirt bike is much different to and requires specific techniques.
Once you're comfortable and confident riding in an open area or wide trails, then it's time to hit some easy dirt bike trails to continue building up your confidence.
Best trail dirt bike for beginners
The safest dirt bike to start on is a trail bike because they're smaller and generally have less power. This makes it easier to control and focus and master the fundamentals.
These are the best trail dirt bikes for beginners:
Yamaha TTR125
Kawasaki KLX140
Yamaha TTR230
Kawasaki KLX230R
Honda CRF250F
Yamaha WR250F
Kawasaki KLX300R
Best dirt bike for trail & track riding
Okay, so maybe you know that you're not a beginner and just want to upgrade to be able to ride on tracks and trails with the same dirt bike.
There's no dirt bike that's the best at everything, which is why it's best to have multiple bikes. But maybe you can't financially afford more than one motorcycle.
If that's the case, then these are the best dirt bikes for trail & track riding:
Yamaha YZ125X (2 stroke)
KTM 150 XC (2 stroke)
Yamaha YZ250FX (4 stroke)
Honda CRF250RX (4 stroke)
Kawasaki KX250X (4 stroke)
Yamaha YZ250X (2 stroke)
KTM 250 XC (2 stroke)
KTM 350XCF (4 stroke)
Yamaha YZ450FX (4 stroke)
All of these are enduro bikes that are based on the motocross bike model but are specifically tuned for off-road riding. The suspension is stiffer than the full off-road models, making it safer and more comfortable to ride on a track.
So, whether you want a 4 stroke or 2 stroke for riding, the dirt bikes listed above are all good and reliable if you just do simple maintenance when needed.
How to become a better & safer rider this year
Whether you're brand new to dirt biking, just getting back into it, or just want to build your confidence, the quickest way to become a better rider is by learning the proper techniques. I want to give you a free gift so that you don't make the same mistakes so many people do that cause you to fall and get hurt more easily. Click here to download your free guide.