Interested in buying a Yamaha YZ125X but don't know if it's "the right bike" for you? Maybe you're looking for your first off-road motorcycle, or perhaps you just want a lightweight enduro bike that's fun and easy to ride – whatever the case, you've found the right article!
In this review, you're going to learn what kind of dirt bike the YZ 125X is, what makes it different from other bikes, why it may or may not be right for you, and what to expect when buying and riding one so that you save time and money!
What is the Yamaha YZ125X?
It's a 125cc 2-stroke enduro bike for off-road riding and racing – it's based on the YZ125 motocross bike, but there are some minor differences that make it quite a bit different when riding.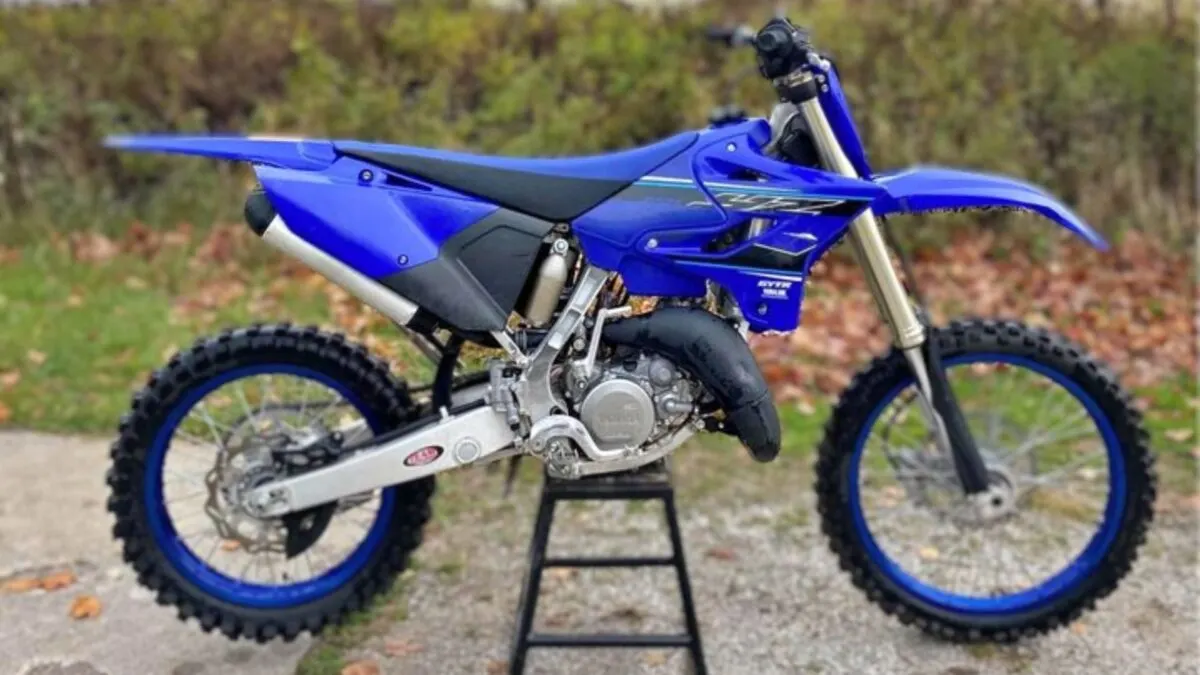 Who's it for?
It's a surprisingly versatile bike, meaning you can have fun riding it on many kinds of trails or tracks. It's a great bike for teens, adults, and even women if you want something, fun, lightweight, and slightly more challenging to ride – without worrying about having "arm-ripping" power like a 250 or 450 enduro bike has.
Maybe you've already had 250s, 300s, or 450 for quite a few years, but having a 125 would be nostalgic for you. There are many older guys in their 50s and even 60+ that go back down to a 125 and say that "This is the most fun I've had on a dirt bike".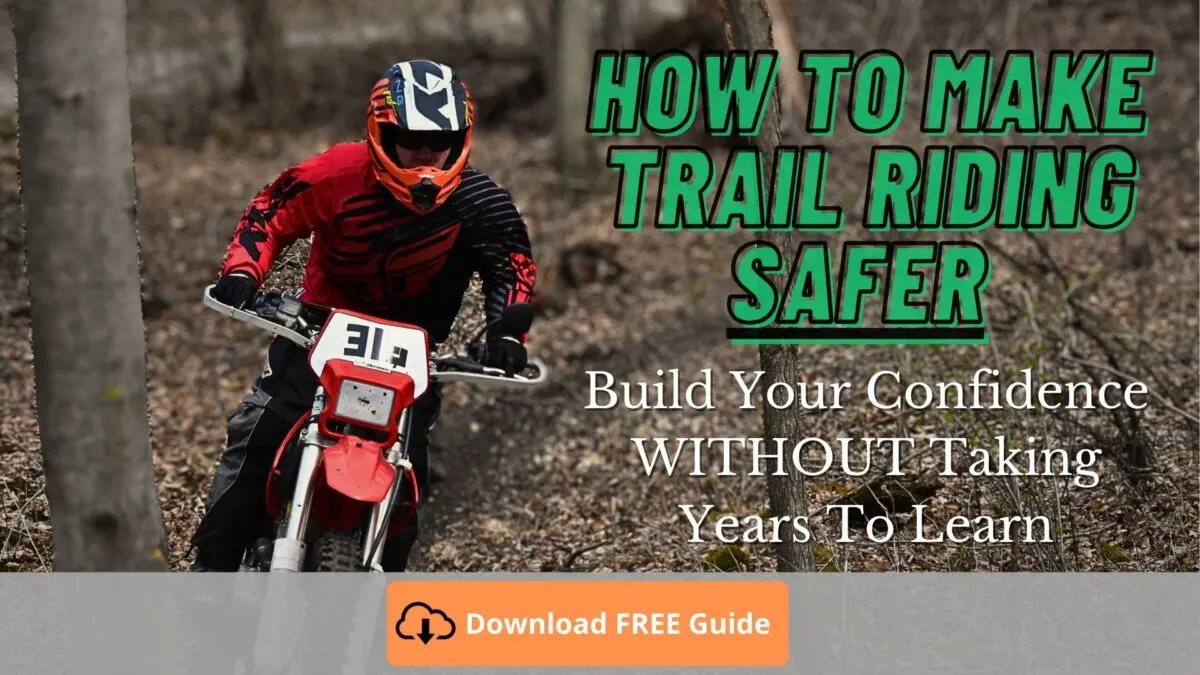 Engine – what to expect
Since it's based on the motocross bike, the YZ125X has the same 125cc 2-stroke liquid-cooled engine, but with some minor tweaks to make it easier to control. The main difference is that the power valve has a different shape and opens later – this gives you a softer hit, but slightly improves low to mid-RPM torque, which is great for trail riding off-road.
The cylinder head has more volume, which lowers the compression. It loses some power potential, but it also means that you don't need quite as high of octane in your gas.
Horsepower
The top-end horsepower is about 34, which is pretty close to the same as the MX model. That's not what makes the YZ 125X a great bike, though, because it's quite a bit lower on peak power than the European 144cc enduro bikes (i.e. KTM 150).
The 125X is great because it has a smoother power curve that's easier to handle if you're transitioning from a midsize Yamaha dirt bike, such as the YZ85 or TTR125. With more predictable power, it's easier to stay in control with more traction and is less tiring than the snappy motocross engine.
Top speed
Max speed is about 60 MPH, which doesn't really matter unless you are racing out in the desert on high-speed terrain. If you want to increase your YZ125X top speed, just put a smaller rear sprocket on it (Amazon).
You'll lose a little bit of acceleration and 1st gear will be noticeably taller, but if you're not doing tight and technical trail riding then it shouldn't be an issue.
Transmission/Gearing
The YZ 125X shares the same 6-speed transmission as the 125 motocross engine. The only gearing difference is that the 125X uses a 50-tooth rear sprocket vs a 48 on the YZ125 MX bike.
This gives you slightly lower gearing for better slow-speed riding on narrow trails as well as quicker acceleration. You lose a little bit of top speed in 6th gear, but that's not a big deal unless you're cruising at high speeds, which is not what this Yamaha dirt bike is made for.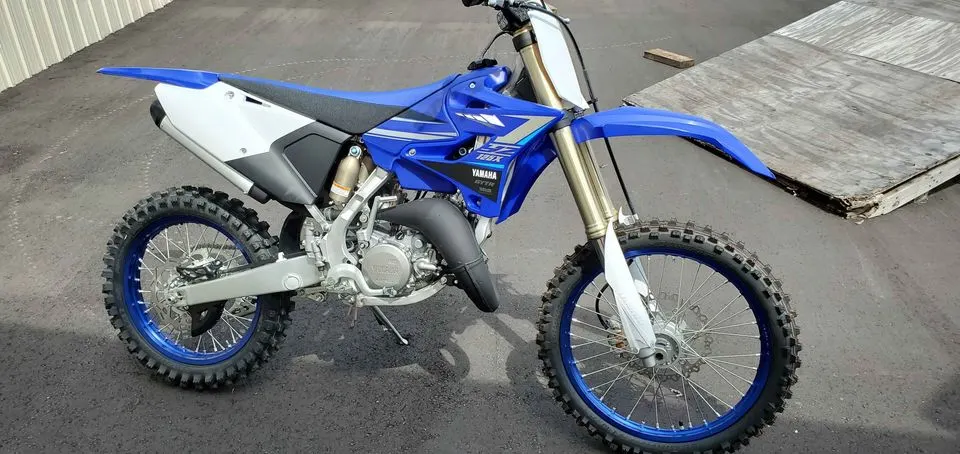 Carburetor – dealing with jetting
While the European bikes are going fuel-injected, even on the small-bore 125's and 150's, the YZ125X still has a carb. This is totally fine if you prefer fewer electronics and a cheaper price tag.
Jetting is relatively easy, especially with the new PWK38 carb. If you're worried about tuning the jetting, I can help you get started in just a few minutes (click to learn more).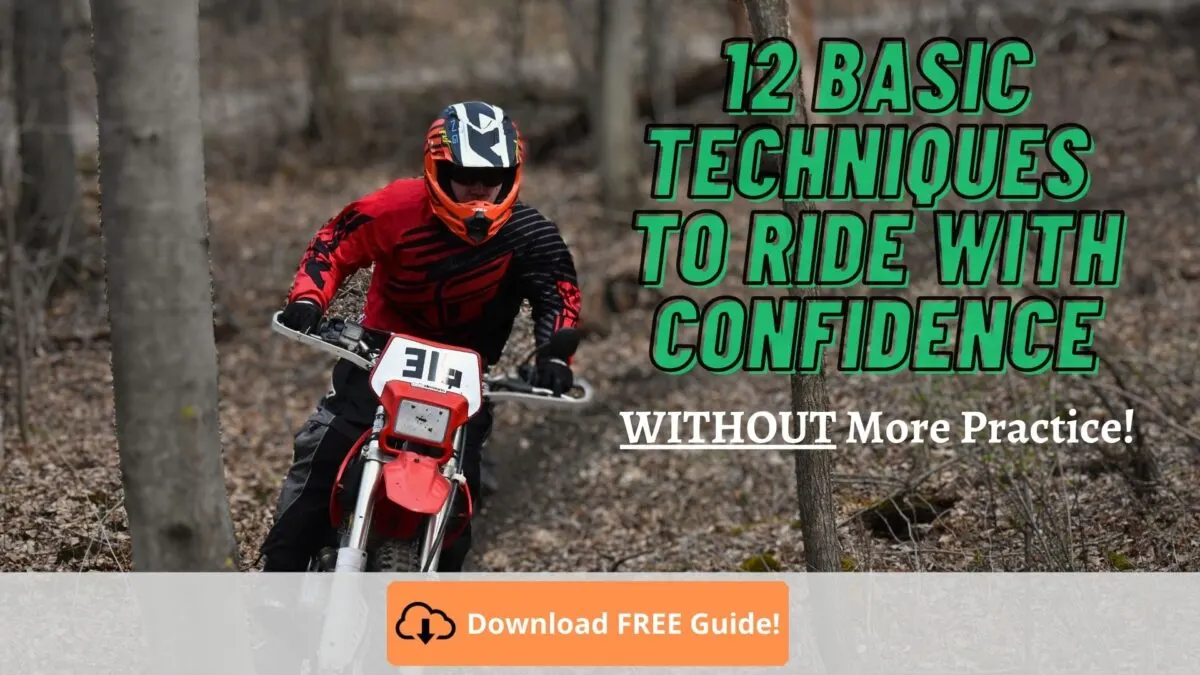 Trail mods
Yamaha specifically made the YZ125X to be more comfortable and practical riding off-road, which they did with an 18" rear wheel, softer suspension, and a kickstand… But there are a few parts that buyers and Yamaha enthusiasts are still asking for.
Why didn't they include them? To keep the price down, mainly. For them, and for you – the buyer. This way, it's cheaper to buy the dirt bike, and then you can customize it with your own aftermarket parts if you want.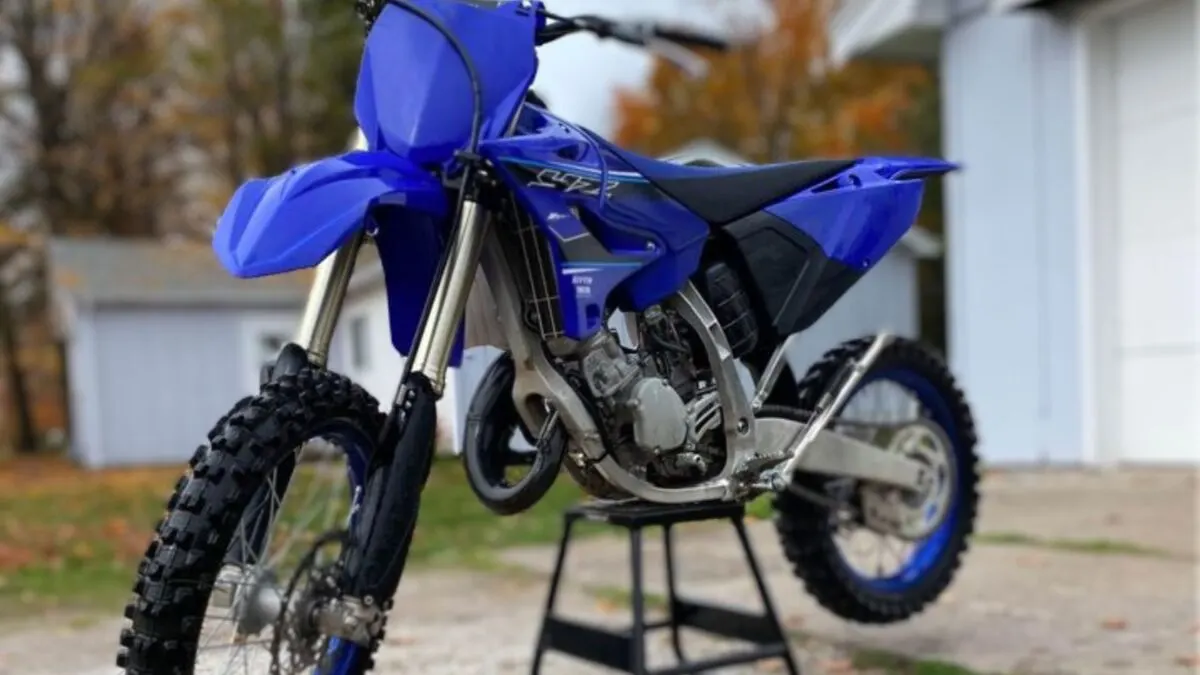 Parts Yamaha forgot to add
First, a bigger gas tank would be nice since it's the same capacity as the motocross bike. For off-road riding, you might be on a long ride, so being able to ride further without filling up would be a nice upgrade. At least it has a "Reserve" on the petcock so that you know when it's getting low if you are riding in the "ON" position.
Does it have a spark arrestor?
Next, Yamaha forgot to add a spark arrestor to the silencer! Sure, it's a competition model for racing. But where I live, you need a spark arrestor to race a hare scramble or enduro, as well as ride on state trails.
Electric start?
There is a kickstarter, but no electric start, which the European 125 enduro bikes have. However, this makes the 125X simpler, especially since it doesn't have a battery to worry about going dead.
Headlight?
The 125X does not come with a headlight or tail light, which isn't as big of a deal. If you want to add one, then you'll probably need to upgrade the stator because it doesn't produce enough juice to power up much for lights.
Suspension
One of the many good features of the Yamaha YZ125X is the suspension – it has the same components as the motocross bike version, but some internal changes make it more comfortable for off-road riding.
The biggest difference between the YZ 125 and 125X are that the 125X model has softer valving, but what does that mean? Well, it's still good if you're in the 150-180 lb weight range, but the forks and shock will compress and rebound quicker on slower terrain.
This is great for off-road riding because it will soak up the bumps and small obstacles better for a more comfortable ride. In comparison, if you have the MX suspension, you will "bounce" off of the small bumps more and get fatigued more quickly.
Front forks
Just like the Motocross model, you get the same fully adjustable front forks. This means you can adjust the compression and rebound clickers externally with a simple screwdriver.
By tuning these clickers, you can make the forks feel stiffer or softer because these "damping clickers" control how fast the forks move in and out. If you already have the proper fork spring rates, then these clickers are the "fine-tuning" adjustment to get the most comfort and traction – most people don't even touch them in fear that they will mess something up, but you're likely missing out on a better-performing dirt bike!
Rear shock
The rear shock on the YZ125X is also fully adjustable, including spring preload and damping. Once you have the correct spring rate for your weight, you need to adjust the shock preload to get the proper ride height so that it handles well.
Then, you can adjust the low and high-speed damping clickers, which work similarly to the front forks. By getting both the front and rear suspension working together, you can get your YZ 125X handling well before you try sending it out to a professional tuner!
Handling
One of the biggest advantages to riding a YZ125X over a bigger enduro bike is that the handling is virtually as good as it gets for full-size off-road motorcycles. Not only is it lightweight, making it easy to turn and handle if you're not very strong, but the Yamaha YZ chassis is proven to handle very well!
Compared to a bigger 2 stroke or 4 stroke, the 125 feels almost like a mountain bike with an engine and solid suspension.
Weight
The wet weight of the YZ125X is 212 pounds, which is only 3 lbs more than the MX version. Compared to the KTM 250 XC 2-stroke enduro bike that weighs about 234 lbs, the 125X is over 20 lbs lighter, but that's only half the story.
The actual weight of a dirt bike is important when it comes to handling, but the size of the engine matters too. For example, the 125cc engine will feel noticeably lighter than a 250cc because the rotating mass is less. This also makes it less exhausting to ride – an important factor to consider if you want to do long trail rides or endurance races.
Seat height – what size rider is the YZ125X for?
With a 38.2-inch seat height, the YZ125X is about as tall as it gets for an off-road Yamaha motorcycle. While your inseam plays a role, this dirt bike is a good size if you're 5'8"-6'2" tall, but that doesn't mean it won't work well if you're shorter or tall than that.
For example, if you're short (like me), then the best thing you can do, aside from choosing a shorter bike, is to improve your balance technique. With more confidence, you won't need to put a foot down until you need to come to a stop.
Can you lower the seat height on a YZ125X?
If needed, there are some ways to lower the seat height of your 125X. One of the easiest ways is to install a lowering link (Amazon) that lowers the rear by about 1.5".
It will affect the handling, especially if you don't lower the front forks to balance the suspension, but it's an easy mod to swap back to stock once you don't need a lowered dirt bike.
YZ125X Specs & dimensions
Here are the physical specifications from Yamaha's website:
| Spec | YZ125X |
| --- | --- |
| Manufacturer | Yamaha |
| Engine | 125cc liquid-cooled 2 stroke |
| Transmission | 6-speed close-ratio manual clutch |
| Seat Height | 38.2" (97cm) |
| Suspension Travel | 11.8" / 12.4" |
| Weight (Curb/Wet) | 212 lbs |
| Horsepower | 34 HP |
| Top Speed | 60 MPH |
| Price (New MSRP) | $7,099 |
Model year history & changes
Yamaha just started making the YZ125X for 2020. However, the 2023 model received some fairly significant updates that the MX model got in 2022.
So, for 2023, the YZ125X has new internal engine updates, a carburetor, intake, and a flatter seat, all adding up to a noticeably more powerful engine and modern-feeling ergonomics. These changes make it more enjoyable to ride and more competitive with other brands of enduro bikes.
Reliability – how long will it last?
Yamaha is committed to making high-performance dirt bikes that are also reliable, and the YZ125X is no different. If you've ever owned a YZ125 MX bike, then you know how durable they are.
You may only get 20 hours on the top end if you're an expert rider that holds the throttle wide open most of the time, but the YZ125X is reliable enough to last well over 100 hours before needing a rebuild. You just need to do simple maintenance to prevent a major engine failure.
Any common issues?
Even though the YZ125X has only been out for a few years, we know that it doesn't have any common problems because it's almost identical to the YZ125 motocross model – and that bike doesn't have any glaring issues.
Just remember to keep the air filter clean, change the oil regularly, and use quality fresh gas and 2-stroke oil, and you shouldn't run into many problems with this dirt bike.
Is the YZ125X the right dirt bike for you?
Still can't decide if this is a good dirt bike for you to buy? Here are some practical advantages and disadvantages of owning and riding a YZ125X:
Pros
Lightweight for full-size enduro bikes
Trail accessories make it more desirable for off-road vs the YZ125 MX bike
It's more affordable than the European bikes
No EFI or electric start to worry about
It's easy to kickstart
More affordable to buy and maintain compared to the competition
Smoother and controllable power compared to an MX bike or bigger enduro bike
Great suspension and handling
Cons
Tall and still has quite a bit of power – not good if you're a beginner
No electric start
No EFI
Not many for sale used
Underpowered compared to a KTM 150
How much does the Yamaha YZ125X cost?
MSRP on a brand new YZ 125X is $7,099, which is over $1,100 cheaper than the KTM 125 XC, which gives you the spare cash to spend on riding or doing your own mods & upgrades.
Since the 125X has only been around for a few years, finding a used model to buy may be a little difficult. However, they can be found in the 5500-7000 dollar range, depending on your location, the model year, and the condition of the bike.
YZ125 vs YZ125X
People kept asking Yamaha for a 125 two-stroke enduro model, which is why they took the YZ125 MX bike and made some slight but very important changes to make a fairly affordable choice.
The biggest differences on the YZ125X are the softer suspension, smoother engine with more torque, a kickstand, an 18" rear wheel, and a 50T rear sprocket for better acceleration and a lower 1st gear for tight trail riding.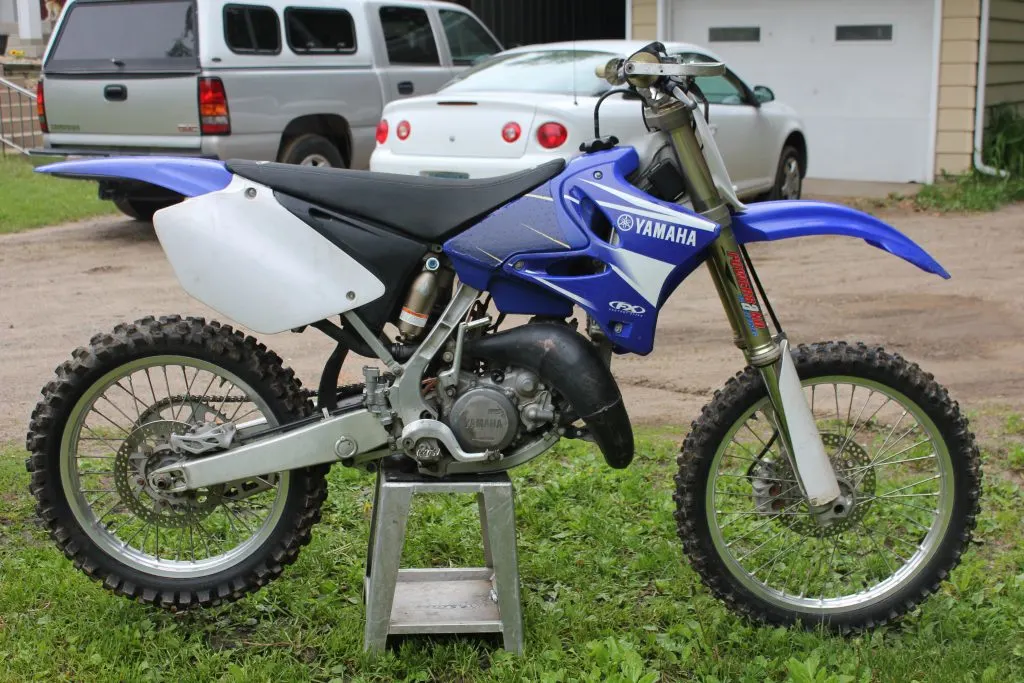 Learn how to trail ride with confidence
The Yamaha YZ125X is a great dirt bike for trail riding, but if you're still struggling to stay in control then it's probably because you're just trying to figure it out on your own. While it's possible to do (speaking from experience), it takes a lot longer to build your confidence if all you're doing to advance your skills is "just riding more".
If you want to improve your skill and confidence much quicker so that you can ride faster while reducing the risk of injury, then I want to help you out. I have a basic techniques guide that I want to give you as a gift for reading this far – click or tap here to download it today.