Interested in getting a Yamaha YZ125 but not sure if it's the right bike for you? Whether you're looking for your first dirt bike, upgrading from a smaller bike, or downgrading to a lighter bike, you've found the right article!
In this review, you'll learn what kind of dirt bike the YZ 125 is, why it may or may not be the best dirt bike for you, how it compares to the competition, and what to expect when buying and riding one.
What is the Yamaha YZ125?
It's a Yamaha 125cc two-stroke motocross bike that has a 6-speed transmission and a liquid-cooled engine, but why is that important to you? It's received many changes over the years, but it's still a race bike that can be used for many things, including teaching you proper technique on a dirt bike.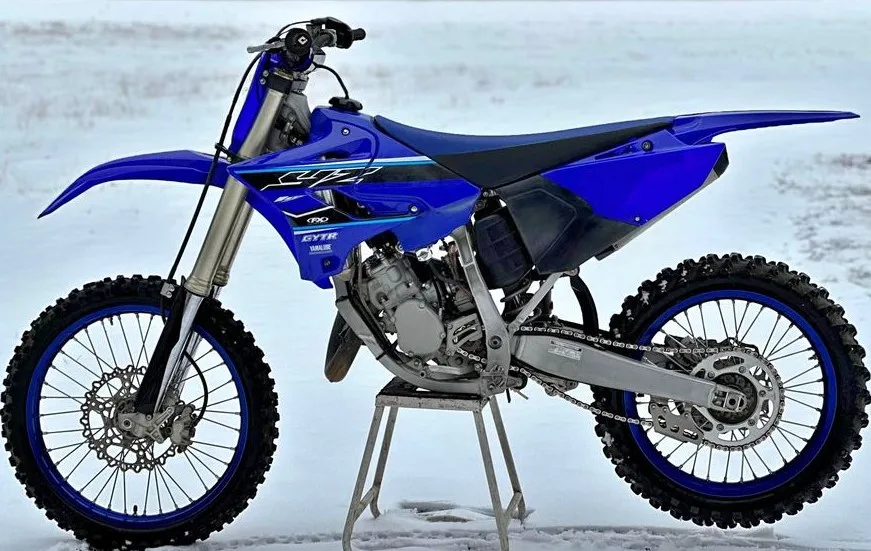 YZ125 vs TTR125
Did you happen to confuse these two 125cc Yamaha dirt bikes? The TTR125 is a 4-stroke trail bike that is a low-performance beginner bike for teens and shorter adults, while the YZ125 is a high-performance 2-stroke motocross bike that is bigger and faster for racing.
So if you're a beginner or a new rider that's under 5'6″ tall, then you'd be better to start on the TTR 125.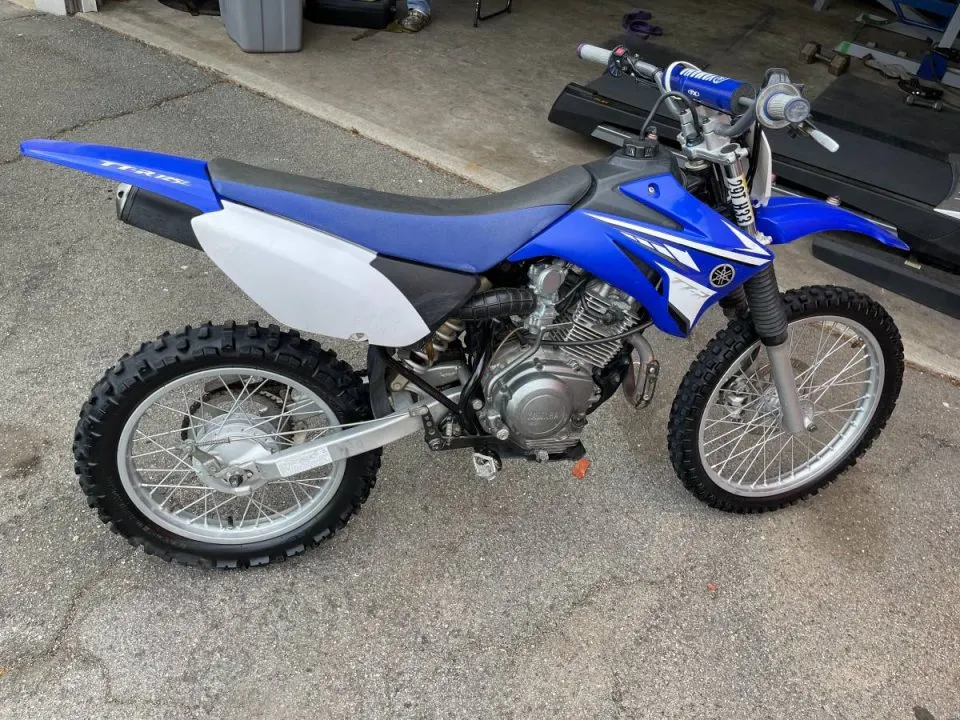 YZ125 Engine Performance – What To Expect
125's are known to have little to no bottom-end power, but the YZ125 has always seemed to have a little more torque down low than the others in its class, making it manageable if you need to lug it in tight areas. While it requires some clutch work to keep it going at low RPM, it keeps chugging fairly well when jetted properly – especially if you're a lightweight rider.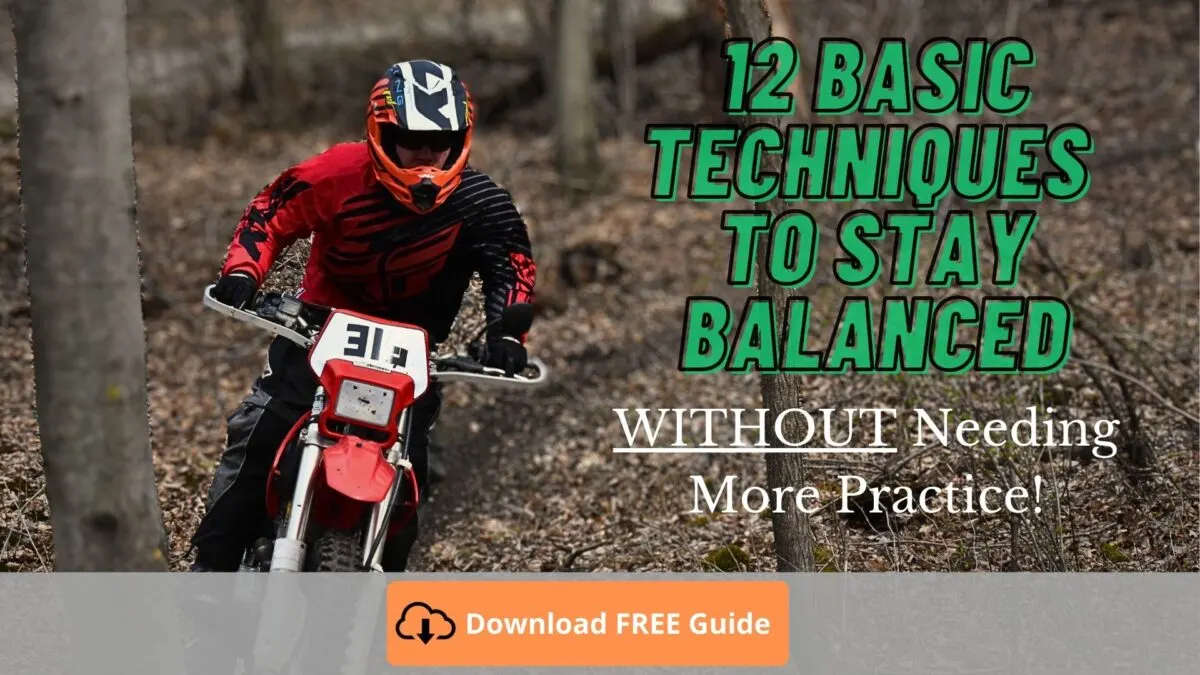 Once you get to the mid-range you can start to feel the inner beast come alive, especially on the later models. As soon as you hit the power band on one of these tiddlers, you'll know why they are so addicting.
It may scare you at first if you've never ridden a two-stroke motocross bike, but you'll be begging to do it again and again until there's no more premix in the tank…
Horsepower
A stock YZ125 has 30-35 peak horsepower, depending on what model year and how you're testing it. This is a lot of power for only 125cc, but it's not the only number you should be looking at.
Most people can't keep it pinned at all times, which means you're going to be riding at lower RPMs where low-end and midrange torque is the biggest factor. 'Usable power' has never really been an issue when it comes to the YZ125 in comparison to its competition.
Top speed
The top speed of a stock YZ125 is roughly 70 mph when you're on flat ground, but that number doesn't mean much unless you're drag racing or in the desert on a high-speed section. For motocross and trail riding, you're not going to be using high gear, so your acceleration is more important than the max speed.
For a cheap and quick change in top speed or acceleration, just change the gearing. A smaller rear sprocket will give you more speed, while a larger rear sprocket will give you quicker acceleration and a lower first gear, which is nice for trail riding.
Power upgrades?
In 2005, the YZ125 got a new engine and carburetor, which greatly improved the bike. It's so crisp and fast that you don't need to touch the bike to be competitive. Although, as the saying goes, it's easier to make a fast bike faster…
Slap a pipe on there, get it ported, run some race gas, re-jet, and she's ready to haul the mail! In amateur ranks, these small-bore two-strokes can hold their own against 450's with the right rider. Of course, it can be harder to ride them faster, but they have the ability, and it's extremely fun doing it.
Reliability – how long will it last?
125cc two-strokes are notorious for having "throw-away" engines. In other words, it's not uncommon to have to rebuild the top end every 10-20 hours of riding, or less!
However, that's only in the extreme case. The YZ125 is actually a very reliable engine – especially when stock and unmodified. It really comes down to how you ride and how well you maintain it.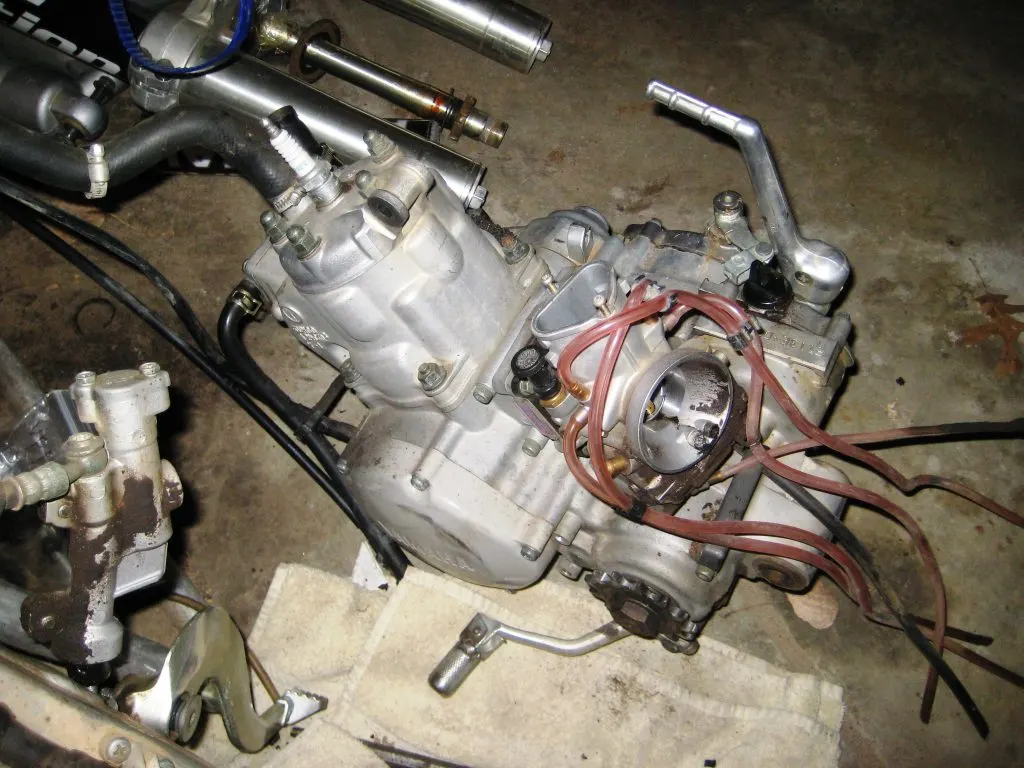 Handling characteristics
While it's light, fast, and flick-able, some people don't like the way YZ125's handle as much as other late-model 125's. The CR125 has been at the top of its class in the handling department since the 3rd generation chassis came out in 2002. That bike handles extremely well with comfort. The 2002 and newer YZ125 are not far behind though, so don't let that be the determining factor.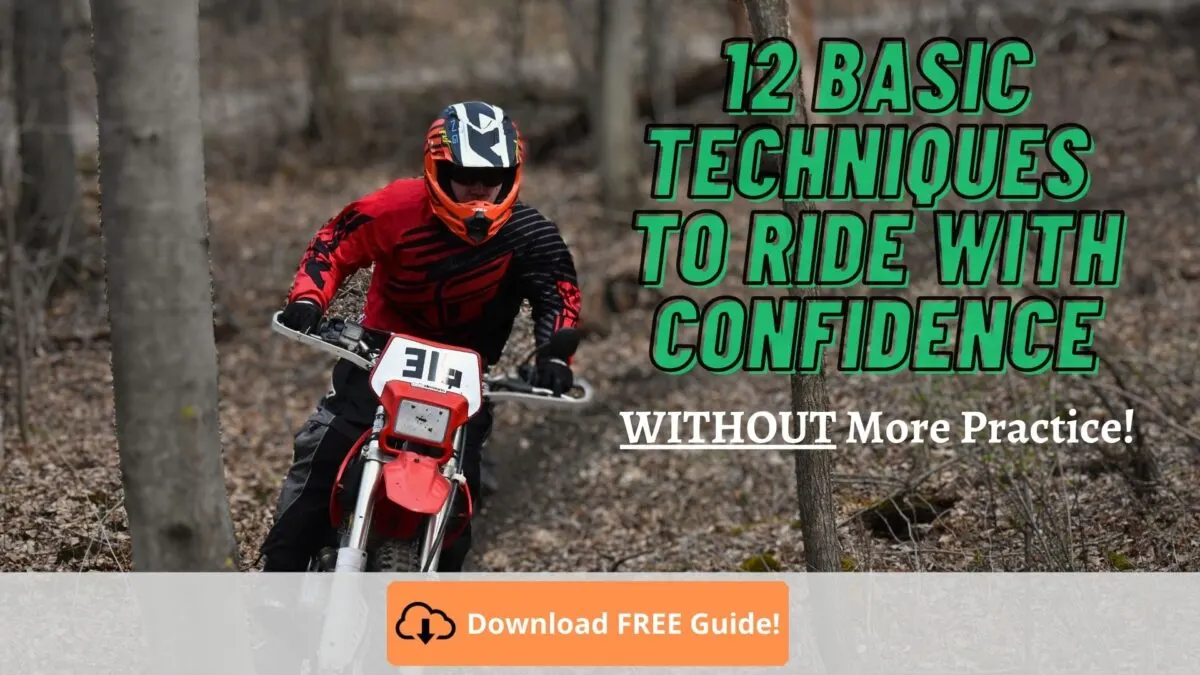 2005 was the first year of the aluminum frame, which is still claimed to be one of, if not the best 125 two-stroke made. It's lighter, faster, handles better, and just overall rides more like a modern motocross bike.
Suspension
Yamaha continues to provide top-notch suspension in their motocross bikes, and the YZ125 is no different. The older bikes from the 90s left something to be desired compared to modern MX bikes, but in the 2000's they have some of the best suspension out of the box.
Bottoming resistance is one of the leading factors behind it being at the top of its class. The ride isn't as harsh as some of the other bikes, but like any other motocross bike, you will want to get it re-valved if you weigh less than 140 lbs or more than 170 lbs depending on what kind of riding you do.
Front forks
You get fully adjustable forks with the latest technology compared to a trail bike. That means you can adjust the compression and rebound externally with a simple screwdriver.
In 2006, which was the last year of any major updates, the YZ125 received new SSS forks, which are considered a big upgrade. If you can find a good deal on clean '06, buy it! If you find a nice '05, I would definitely buy that too.
Unless you're an expert or pro rider, you probably won't notice much of a difference between the two. Besides, most racers get their suspension re-valved for their weight and riding style anyway.
Rear shock
The stock rear shock is also fully adjustable and can be tuned for better comfort based on your weight and riding style. The first thing you need to do is make sure the spring rate is correct for your weight.
Then you need to adjust the sag to get the proper ride height so that the suspension is balanced for the best handling. Next, you can adjust the clickers – these control how quickly the rear wheel compresses and rebounds so that you can get more traction and comfort.
YZ125 Weight Comparison
The wet weight of a Yamaha YZ 125 is 209 lbs, which is 6 pounds heavier than the listed weight of the KTM 125 SX, but… that's without fuel.
So, when you add the 10-12 lbs of fuel to the KTM 125, it's supposedly a few pounds heavier than the YZ125. In reality, you're not going to notice those few pounds, but compared to a 250 or 450 you will.
Not only is a 125 2-stroke 15-30 pounds lighter than a bigger MX bike, but the smaller engine mass will make it feel even lighter. You see, when you have less spinning mass, it makes the bike feel lighter, making it even easier to handle.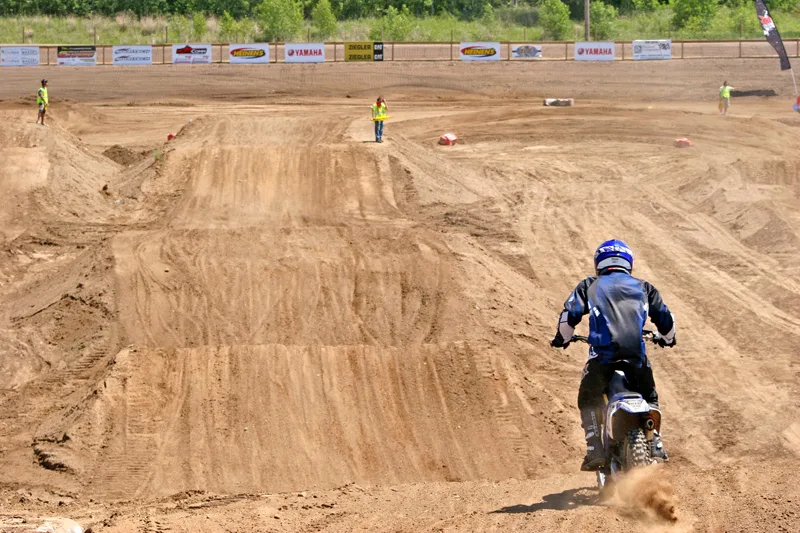 YZ125 Seat height – what size rider is it good for?
With a 38.6-inch tall seat height, the YZ125 is one of the tallest dirt bikes you can buy. It's actually 0.6″ taller than the YZ450F, which is the premier size motocross bike – so why is the YZ125 so tall?
Well, it has long-travel suspension, which gives you the most performance potential and also makes the seat height higher. But in reality, the chassis is no bigger than the YZ250 or YZ450F – the YZ 125 wheelbase is actually shorter than both for better low-speed handling.
To put it simply, the stated seat height is simply a number – it can be changed with a quick change of the shock sag for setting your ride height. So, when comparing motocross bikes, they essentially all have about the same seat height.
How to ride a tall dirt bike if you're short
A YZ125 is a good size dirt bike if you're 5'8″-6'2″ tall, but maybe you're short like me and ready to move up to a full-size motocross bike (perhaps, from an 85cc two-stroke). It's hard to touch the ground, which makes it hard to be confident if you're worried about falling.
There are some simple tricks to riding if you have short legs, such as shifting your butt off to the side of the seat to touch the ground. It really comes down to your balance – when you have good balance, you'll be able to stay on the footpegs and not worry about touching the ground unless you come to a stop.
YZ125 Model Year Changes
There have been many changes to the YZ 125 over the years, but it's been pretty quiet for many years… until 2022. It got a few big changes, showing that Yamaha still cares about improving their "old 2-strokes".
Going back to the mid-1990s, here are the YZ125 major changes by year and model generation:
1996-2001
1990's YZ two-strokes are fairly similar. In '96 they made some changes that lasted until the end of 2001. These are still considered some of the best motocross bikes, especially the 1999 model. They are fast, reliable, and are just a great overall bike.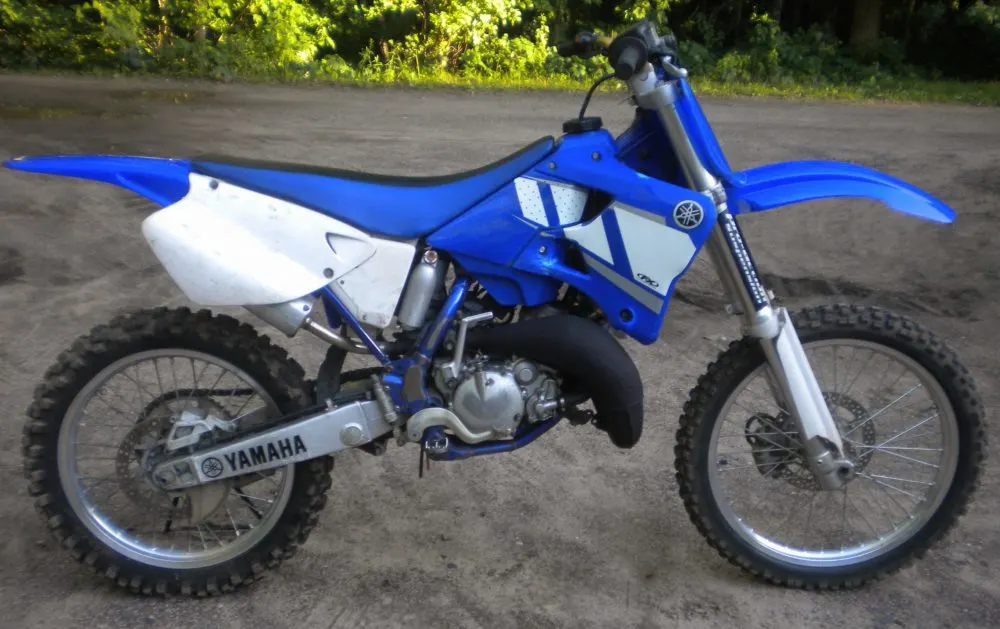 2002-2004
In 2002 the frame changed, making it lighter, narrower, and more flick-able. However, many people didn't approve because it switched to a 5-speed transmission. 125's have a narrow power-band as it is, and some riders just like having that extra gear.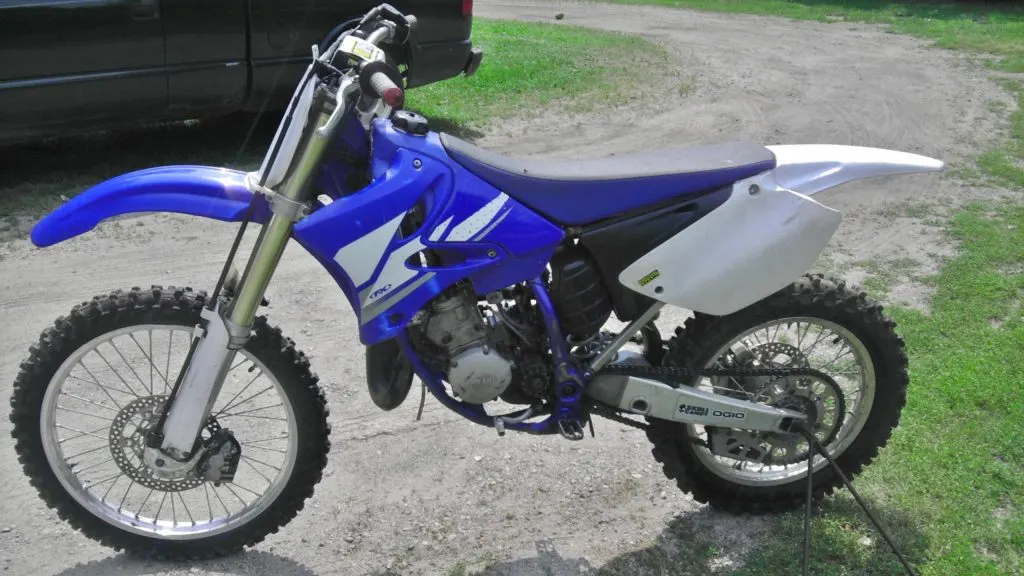 2005-2006+
2005 and 2006 are the biggest years for the Yamaha YZ125. In '05 they changed to an all-aluminum frame, made some engine changes, as well as changing back to a 6-speed transmission.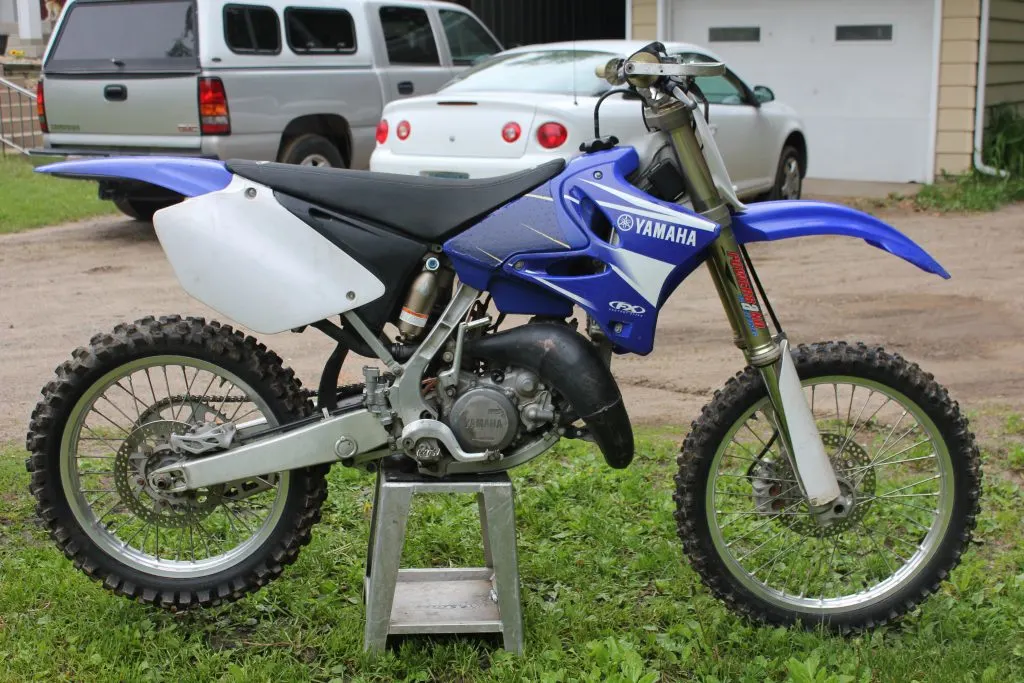 The 2006 and newer YZ125 is still considered one of the best 2 stroke dirt bikes ever made.
2022 YZ125
Yamaha just released an updated YZ125 for the 2022 model year, and it's somewhat surprising because it hasn't really changed for 15 years. According to Yamaha's website these are the major updates:
Bigger brakes for faster stopping
New cylinder, head, piston & crank assembly for improved power through the RPM range
Updated air intake system for a straighter path to the engine (more potential power)
VForce 4 reed valve system comes stock
Yamaha YZ 125 Specs & Dimensions
These are the specifications of a new YZ125 from Yamaha's website:
| Specification | YZ125 |
| --- | --- |
| Manufacturer | Yamaha |
| Engine | 125cc Liquid-cooled 2-stroke |
| Transmission | 6-speed manual clutch (except 02-04 models) |
| Seat Height | 38.6″ (98cm) |
| Weight | 209 lbs (Wet weight) |
| Horsepower | 35 |
| Top Speed | 70 MPH |
| MSRP | $6,999 |
YZ125 vs YZ125X – what are the differences?
Yamaha came out with the enduro version of the 125cc motocross bike to compete with the European brands in the off-road market. While it's very similar to the YZ125, the YZ125X is different when it comes to the engine, suspension, and trail accessories.
The YZ 125X has a kickstand, a slightly smoother engine with better low-end torque for off-road, and suspension that's tuned softer for better comfort on smaller bumps. The transmission is the same on both bikes, but the 125X has 2 extra teeth on the rear sprocket, giving it better acceleration and a lower 1st gear.
YZ125 vs YZ250F
The power of a YZ125 does not compare with a modern YZ250F. The peak HP might be close, but the low-end torque makes the YZ250F much easier to ride faster.
With that said, the YZ125 is a lot more fun to ride if you want a lightweight bike with snappy power. It's a challenge to ride it fast, especially in the woods because you're constantly using the clutch and shifting gears. But this will make you a better rider faster.
What age is the YZ125 for?
The YZ125 is great if you're a teenager progressing to a full-size motocross bike. You'll also enjoy riding it if you're an adult of any age that wants to rip around on a lightweight and small-bore 2 stroke.
Is the YZ125 a good beginner bike?
While it's only a 125cc dirt bike, I don't recommend the YZ125 if you're new to riding. It doesn't have much low-end torque, and the top-end power is very abrupt, making it unpredictable. It's also very tall, which is intimidating if you can't touch the ground easily.
You Should Get A YZ125 If You:
Want a light, nimble, quick bike
Like mixing gas and the smell of premix
Want to go back and learn the basics
Like snappy power
Want a dirt bike that's cheap to maintain
Want to rub it in when you beat friends on four-strokes
Don't want to make the jump all the way to a 250F
Want to rebuild top-ends at home
You Shouldn't Get A YZ125 If You:
Don't like mixing gas or the smell of premix
Want a smooth and very predictable power-curve
Like checking valve clearances
I've owned my share of YZ125's, and they've all been great. The most reliable motocross bikes I've owned, and they're just so much fun to ride.
Of course, the newer the better, but even a 1999 YZ125 is a great bike to get started in this awesome sport. There are also plenty of mods available to make it faster.
A YZ144 big bore kit can help turn your YZ125 into a woods weapon or a 250F killer. If your top-end needs to be rebuilt or you're looking for some more usable power, check out the review of the Athena YZ125 big bore kit here.
Will the YZ125 make you a better trail rider?
The YZ125 isn't a trail bike, although it can make you a better rider because it requires more control, but there's one thing that will make you a much better trail rider…
It starts with your riding technique, and I want to help you get started by learning the basics so that you stay in control and use less energy. Want to learn how by spending a few minutes reading my free training guide? Tap here to learn more.