YZ125 Big Bore 144cc Kit – Is It Worth It?
Are you looking for that little extra power to get over a certain jump? Or is it because you want to prove to your four-stroke friends that two-stroke dirt bikes still have what it takes? Either way, a big bore kit can help you do that.
YZ125's are the most common 125's in U.S., and for a good reason. Yamaha is the only Japanese manufacturer that imports two-strokes to America. They are fast, light, reliable, and fun. But, for some of us that just want a little more out of a small-bore two-stroke, an upgrade in displacement is probably on top of the modifications list for your YZ125.
Bottom Line on Athena YZ125 144cc Big Bore Kit:
If you just want a quick overview of the Athena Kit (Amazon) here's what you should know:
Requires some minor case grinding (see pics below)
No harder to install than a stock top-end
Adds more torque
Minor re-jetting required for optimum performance gain
Reliable as stock because you're using less RPM
Expensive, but reasonably priced for the actual gains you get
Just Because It's 144cc, Doesn't Mean It's A 144…
You can get a bored out cylinder that's 144cc's, but to actually perform like a 144 it will need some tuning. This is why you will hear positive and negative comments from people who modify their 125 to a 144.
Most of the time, it's the people who buy just a cylinder kit that give bad feedback. This is because the cylinder, carburetor, or exhaust are not properly tuned for the extra "cc's". When I say a cylinder kit, I'm talking about one you can buy from a company like Athena and just bolt it on.
You Can't Go Faster

Without Tuning

Too many people think they can make their dirt bike faster by bolting on parts and not do anything else. Motocross bikes are high-tech racing machines, so it's critical that they are finely tuned.

Your YZ125 probably won't be faster if you don't tune it after installing performance parts. In fact, it may even run worse. In an extreme case it can break shortly down the road.
How To Tune Your YZ144 Big Bore
More power requires more gas, so if the carb isn't feeding enough fuel to the cylinder, it's not going to run like it should. Although it may need more gas to make more power, some mods require different things as far as jetting goes.
A bigger engine is going to suck in more air/gas, thus requiring leaner jetting to make it burn properly. You will have to go down on the main jet at the minimum. A change in pilot jet and clip position on the needle may also be required for optimum performance.
Bigger Engine

Works Better With

Bigger Pipe

Take a look at the size and shape differences from a 125 to 250 two-stroke pipe if you haven't before. Bigger engines need bigger pipes to take full advantage of the higher displacement.

Yes, that means if you're using a stock pipe on a 144, then you probably aren't making the most out of the engine. Some companies make special pipes for big-bores, but may cost a little more (still cheaper than four-stroke exhaust by a long shot).

If you want to stick with FMF or Pro Circuit, do some research on which pipe works well for your dirt bike, because not every pipe and bike combination will give you the same result.
A Stock Pipe Still Gets The Job Done
A stock YZ125 pipe is still a good choice if you want to save money. It's also good to keep low-end and mid-range power, which is great for trail riding. A stock YZ 125 pipe won't put out high peak horsepower numbers with a 144 kit, but you'll have a lot of usable power.
When I say usable power, I mean that most riders can't use all the top-end power that a 125 has. Whether you're trail riding or racing motocross, sometimes it's easier to short-shift and let to bike use it's torque to pull out of a corner or up a hill.
The power-band will also be smoother, making it less-tiring to ride for long rides.
Any Other Mods Required To Fit A 144cc Big Bore Kit?
Yes, unfortunately there's some minor crankcase mods that needed to be done to make this piston fit. Obviously, having a bigger piston requires more room. The bottom of the Athena 58mm piston skirt will just barely hit the YZ125 crankcase if not relieved.
Don't worry, though, as this can be done with a simple dremel tool without splitting the cases. You just need to take a little extra prep time and go slowly when removing material. It's just a spot for clearance, so it doesn't need to be perfectly precise or look pretty, but you don't want to rush it risk ruining a critical surface.
Prepping The Case
Below is the spot that needs to be relieved. The piston diameter of the big bore piston is just too big, so the case diameter in this spot needs to be enlarged.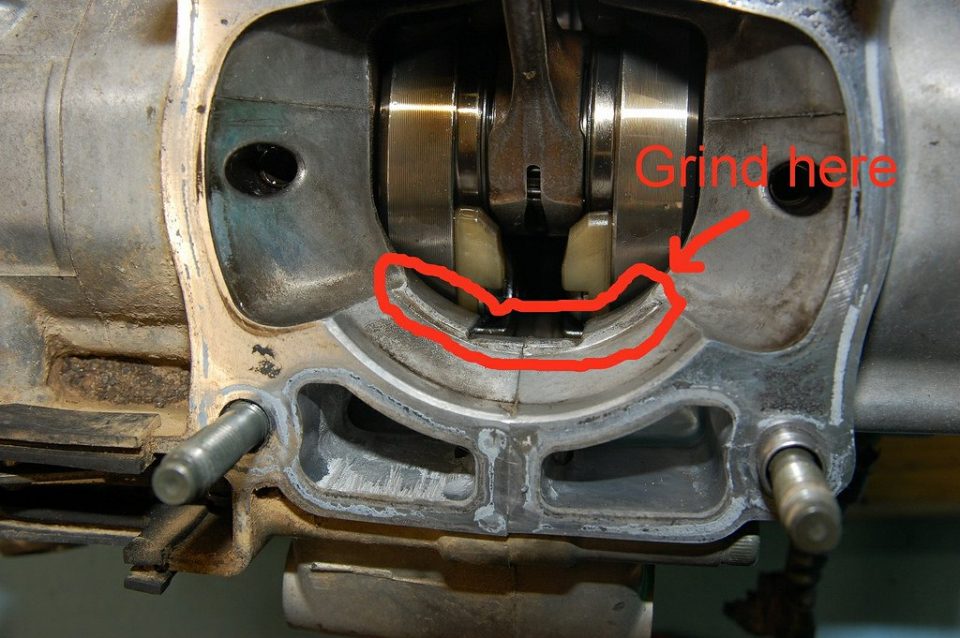 Next use putty and tape to cover up the crankcase and ports so that all of the metal shavings will not go down into it. See how the highlighted spot to be enlarged is only left uncovered.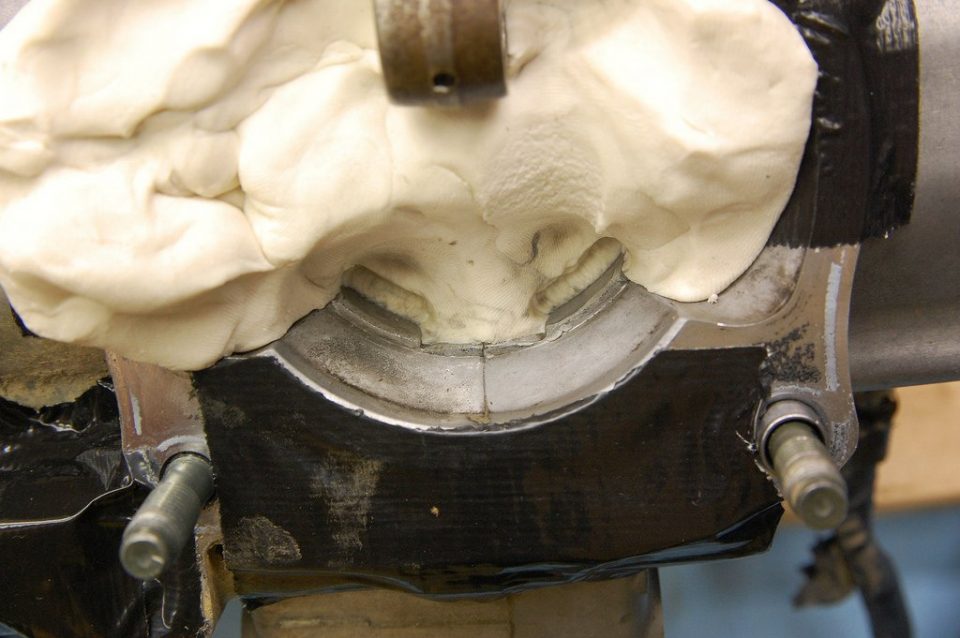 Remove Case Material
Now use a dremel or grinding tool to slowly and carefully remove the material in the highlighted area for clearance. Pro tip: mount a vacuum hose to suck up as much of the chips while you work.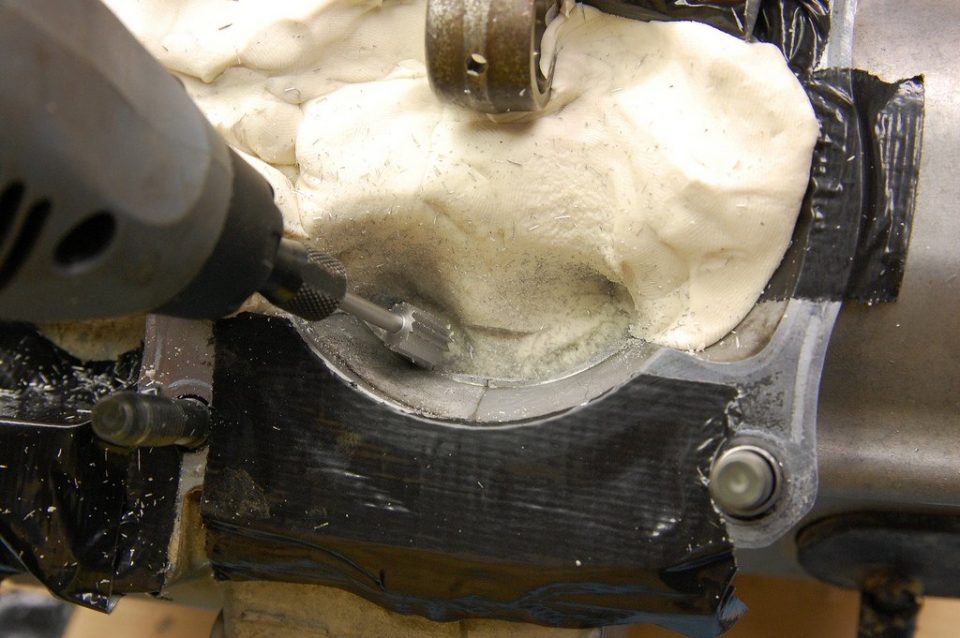 Do It Once, Do It Right
Remember to take your time and suck out all of the chips before removing the putty and tape. The finished product should look like the picture below: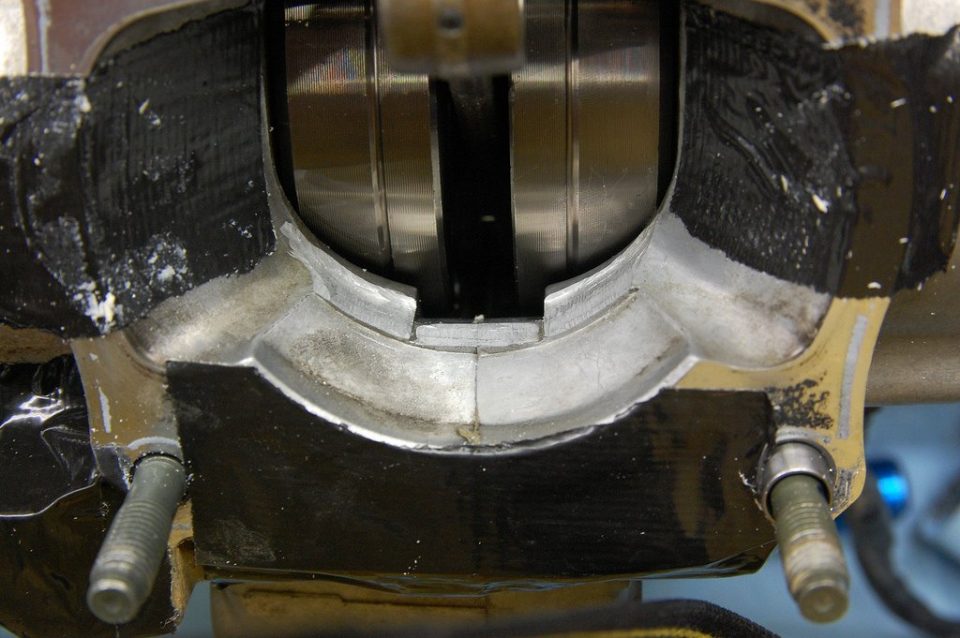 Now that it's done, you can install as many 144cc big bore pistons as you want on your YZ125. A stock piston will work as well if you desire to go back to 125cc.
Ready to get your 144cc Big Bore Kit yet? (Amazon)
Build The Ultimate 250F Killer
Now if you get your 125 two-stroke bored and built by a reputable bike builder, it can be out of this world. In addition to boring and plating the cylinder, most builders will port the intake and exhaust ports to your liking (either low to mid-range or mid to top-end power for most builders), change the port timing, possibly do some case mods if you send your entire engine in, and cylinder head mods if you want higher compression (will require race gas).
In result, this will make a screaming-fast small-bore two-stroke that will outrun 250F's and keep up with 450's with an experienced rider. Oh yeah, did I mention most shops can do this for relatively cheap too!? That's right, who needs a high-buck four-stroke when you can eat them up with a finely-tuned 125/144…
Looking to Bridge the Gap?
Going from a 125 to 144 can be a game changer even if you're just trail riding. The 144cc kit alone will boost the bottom-end to mid-range power, and that is exactly where a 125 2-stroke needs help for off-road riding.
Being able to ride a gear lower and shift less often is a huge help and time saver when riding technical terrain. It also helps you get up on the pipe quicker when you need that "power-band" to get up over a hill or obstacle.
Big Bore or Another Bike?
Going up to a 200 or 250 may be th next choice, but that's only if you have thousands more in your pocket. If you already built up your YZ125 and have everything set the way you like it with custom parts, plastics, graphics, handlebars, etc, buying another dirt bike will take time to do all the same mods.
So instead of buying a new dirt bike, going with a big bore kit will make it feel like a newer, better bike for a lot less. This is assuming you spend that little extra time to get the jetting right.
The easiest route to making your YZ125 a YZ144 would be to install the Athena big bore kit. It has everything you need, from piston and cylinder, to all the gaskets. It's no more difficult to install than replacing the piston in your 2-stroke. Click here or the picture below to order your YZ125 Athena big bore kit from Amazon today.