Looking for the best 85cc dirt bike but not sure where to start? Whether you're a beginner, upgrading your bike, or want the fastest 85, you found the right article!
I'm going to show you what kind of bikes they are, why an 85 may or may not be for you, and how to choose which one is best for you based on your needs!
What is an 85cc dirt bike?
It's a kids motocross bike with a 2 stroke liquid-cooled 85cc engine, but what does that mean? Well, for its size, it's a high-performance race bike that's made for doing jumps and obstacles on a motocross track.
A 2 stroke is more simple in design because it has less parts compared to a 4 stroke. It also makes more power per "CC" of engine displacement. However, the power characteristics make it more aggressive and harder to ride faster for most people. I'll go into the more shortly.
What age is an 85cc dirt bike for?
They're made for kids in the 9-15 year old age range, but that's a pretty big range. I want to narrow it down so that you can be sure an 85 is the right size and type of dirt bike for you or your kid.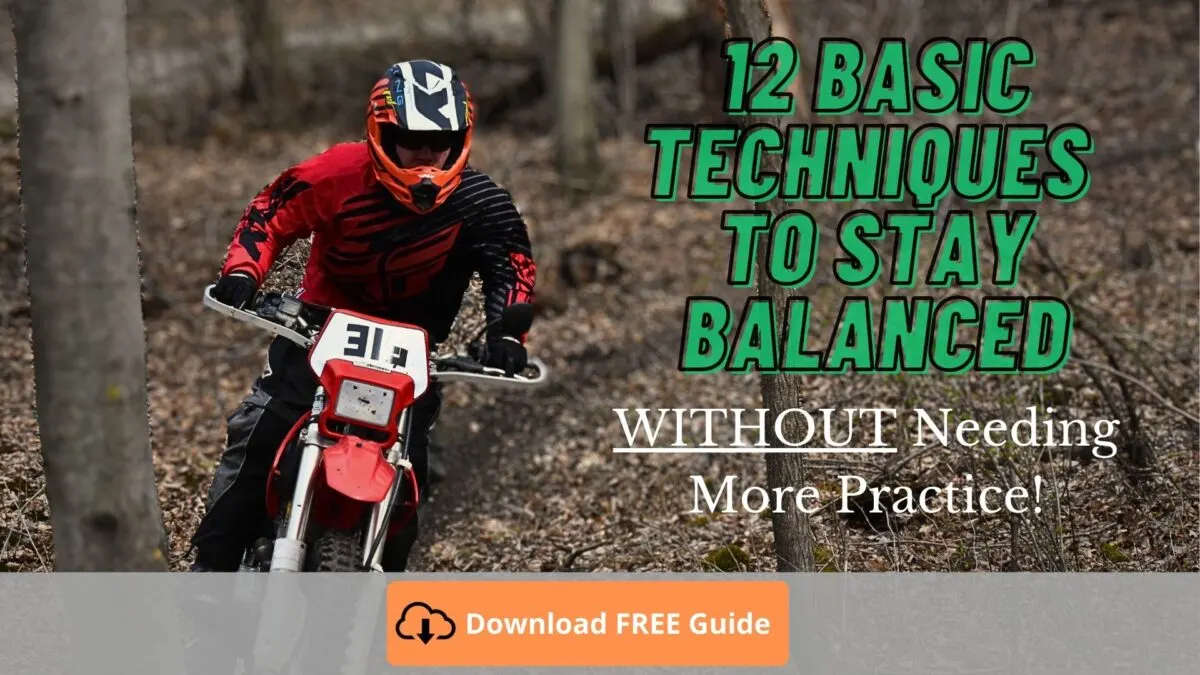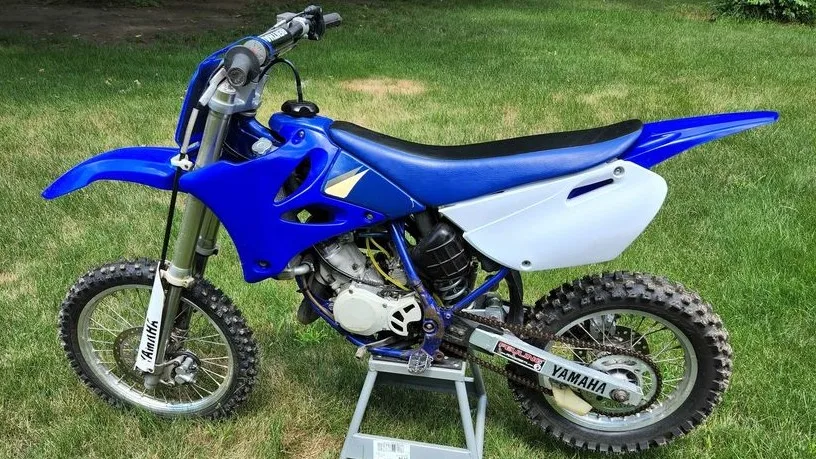 Can an adult ride an 85?
Yes, especially if you're a short adult like me (5'6″)! The large wheel version of an 85 with the 19/16 inch wheels will most likely fit you better for a couple of reasons.
Not only is the seat height slightly taller with the bigger wheels, but it will handle better due to the physics of a larger diameter wheel. They simply roll over obstacles better – think about trail riding over rocks and logs!
How tall should you be to ride an 85?
First, are you tall enough for an 85cc dirt bike? They have a seat height of about 33-34 inches, depending on which brand and model size you get.
A small wheel 85 is a good size if you're 4'8″-5'2″, while a big wheel 85 is better if you're 5'0″-5'5″. Your inseam length also plays a role. Being able to put one foot down while sitting on the seat will give you extra confidence when you need to come to a stop and balance.
Are you ready for a motocross bike?
The third important question is based on your riding skill and experience level. I always recommend new riders to start out on a trail bike and to stay away from a motocross track for a number of reasons that will greatly reduce the risk of injury.
With that said, if you're already confident in your basic riding skills & techniques, then going to a track to practice or race will not only be safer for you, but you'll enjoy it more. The main reason is that when you're a beginner, it's hard to focus on learning how to control the bike when you also have to learn how to do jumps and obstacles.
Then add other people flying over you on the same track – it's intimidating at first. But, if you take one step at a time, everything will be a little bit easier and less stressful.
How fast does an 85cc dirt bike go?
The average top speed is about 60 mph, but that number doesn't mean much because you're not going to max it out unless you're drag racing on flat ground. If you're racing or trail riding, you're going to be riding much slower, and the more important spec you should be looking at is the power curve.
If it has a smooth power curve, it's going to be easier to ride. But a steep curve with a sharp point will have a peaky power band that's harder to ride because you have to keep it in a narrower RPM range.
What dirt bike brands make an 85?
Honda used to make a CR85R, but they stopping making all 2 strokes in 2007. With that said, these are the current manufacturers that still make an 85cc 2 stroke MX bike: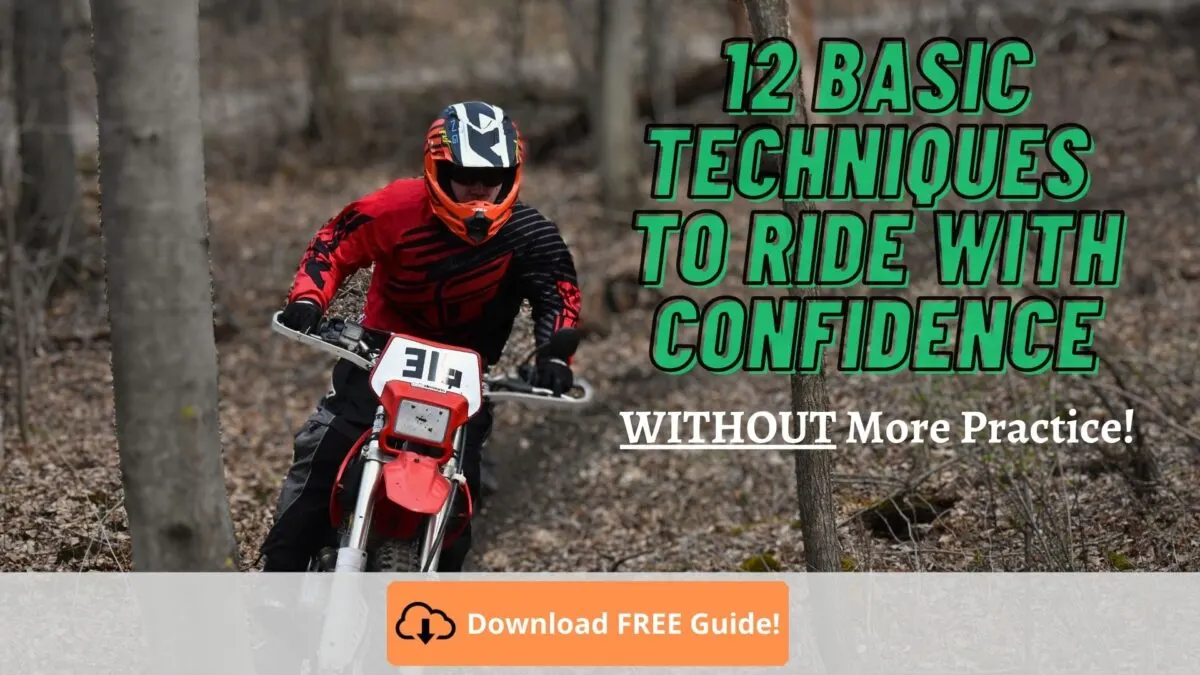 Yamaha
KTM
Husqvarna
Kawasaki
Suzuki
GasGas
TM Racing
Yamaha YZ85/YZ85 LW
Starting in 2002, the YZ85 was updated from the YZ80. It's been the same great bike – until 2022 when it got its first major update, including a new model option!
The ergonomics have changed for a slimmer and flatter design so that you can move your body on the bike more easily and keep a balanced riding position. The chassis is new with a stronger frame and lightweight removable subframe.
An updated intake design changes the air velocity to improve low-end throttle response and power. This makes it easier to ride, especially if you're transitioning from a smaller dirt bike.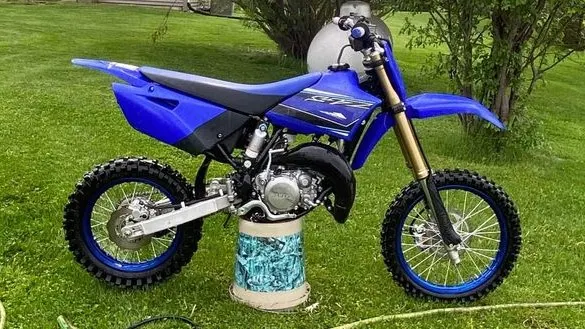 KTM 85 SX/105 SX
The KTM 85 SX came out in 2003 and has always had good power because it comes stock with an aftermarket style pipe and reed valve cage. Compared to the YZ85, the KTM 85 is a better race bike from the factory, but you're also going to spend more to get it.
Ready for a big wheel 85 or plan to race the supermini class? KTM used to offer a 105 SX that already had the bigger engine that was legal for supermini motocross racing, but now they just offer the big wheel model with the 19/16 inch wheels & tires.
They also come with a hydraulic clutch, compared to the traditional cable clutch. There are pros and cons to each.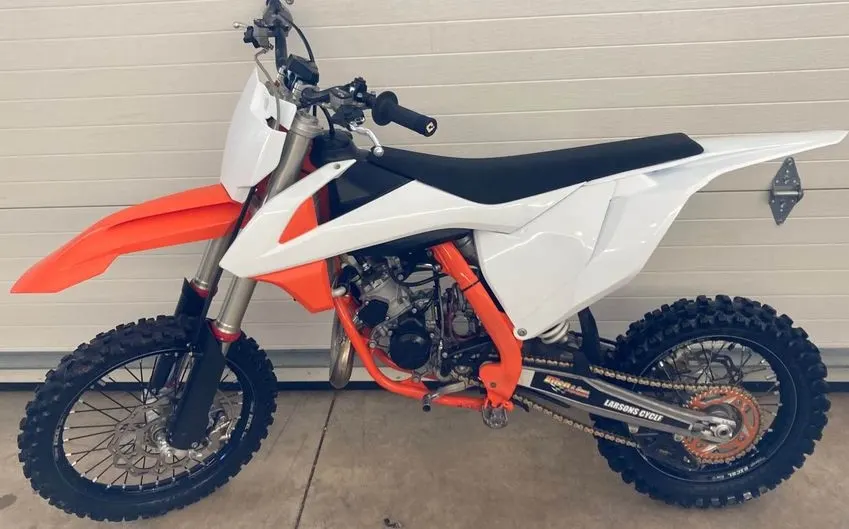 Husqvarna TC 85 (large wheel/small wheel)
The Husqvarna TC 85 is basically the same thing as the KTM 85 because they are owned by them. It's also at the top of the power category, but it's also the most expensive.
So, do you want an orange or white KTM? They both have great power and a hydraulic clutch, which some people prefer over a cable clutch because it's smoother and automatically adjusts.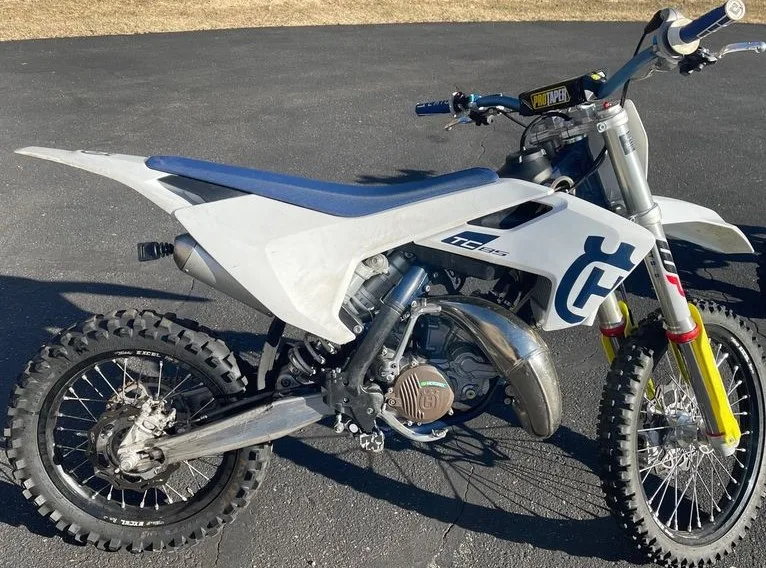 Kawasaki KX85/KX100/KX112
The Kawasaki KX85 had been the same from 2002 until 2014, and then just updated again in 2022. It's always been a great race bike with good performance – similar to Yamaha, but the overall durability is just slightly off. Nowadays, they're all about the same, but you might have more problems on a 10+ year old bike with high hours.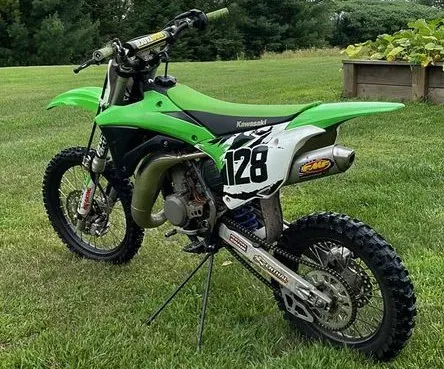 Suzuki RM85/RM85L
Suzuki still sells 2 stroke dirt bikes, but the RM85 is the only model. It was first made in 2002 and had a few minor updates in 2005, otherwise it's basically the same bike now, other than new graphics styling.
It's still a good bike and makes decent power, especially after the right mods and some tuning. The RM85L has the bigger wheels and tires (19/16″) if you're taller or want to race the supermini class.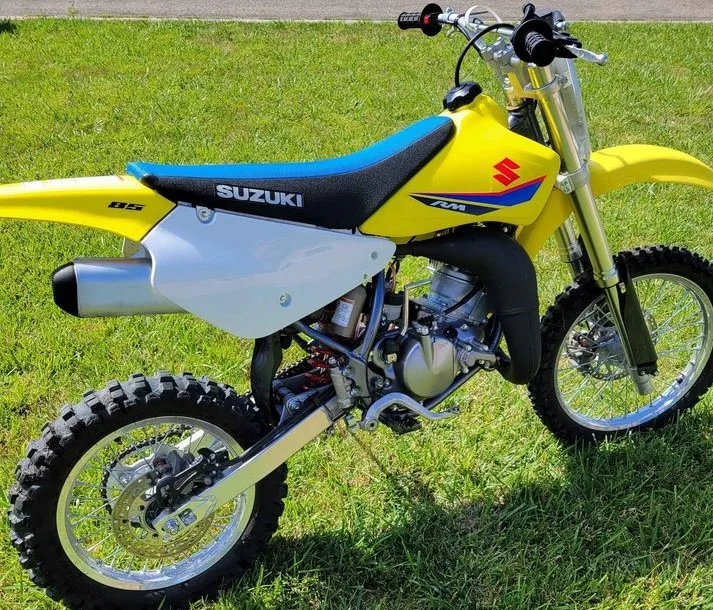 GasGas MC 85 (small wheel/big wheel)
Now that GasGas is also owned by KTM, they have a similar motocross bike lineup. So, do you want a fast 85 that has the color red?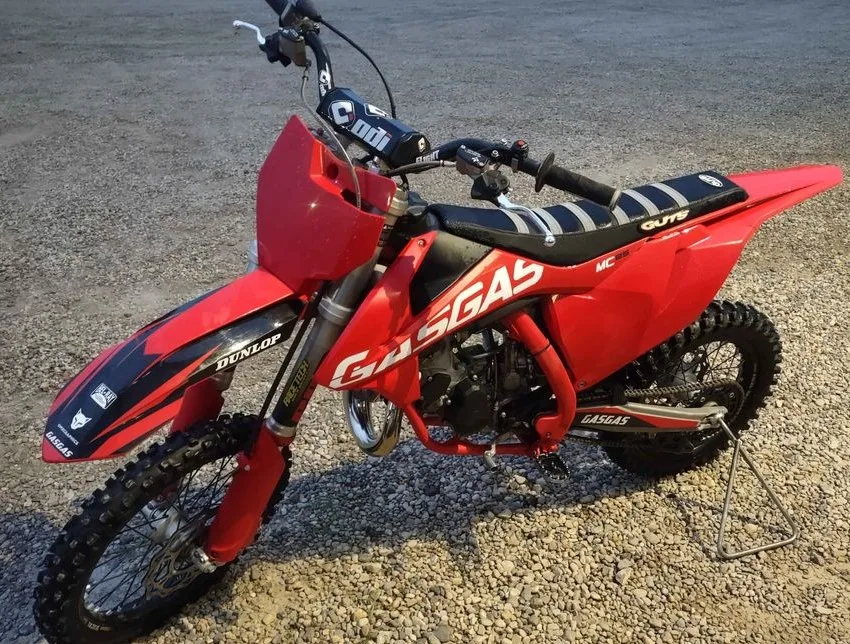 TM 85 MX
Looking for a highly modified 85 race bike right from the dealer? ™ Racing is an Italian motorcycle brand that makes custom trick bikes that are high performance.
The ™ 85 MX has even more power than the KTM, husky and GasGas bikes, which is saying something. It's a good choice if you're maxing out your stock 85 and need more torque and horsepower to stay competitive.
The only drawbacks are that parts may be hard to get if you don't have a good dealer close by, and resell may be difficult because it's an exotic bike in a sense.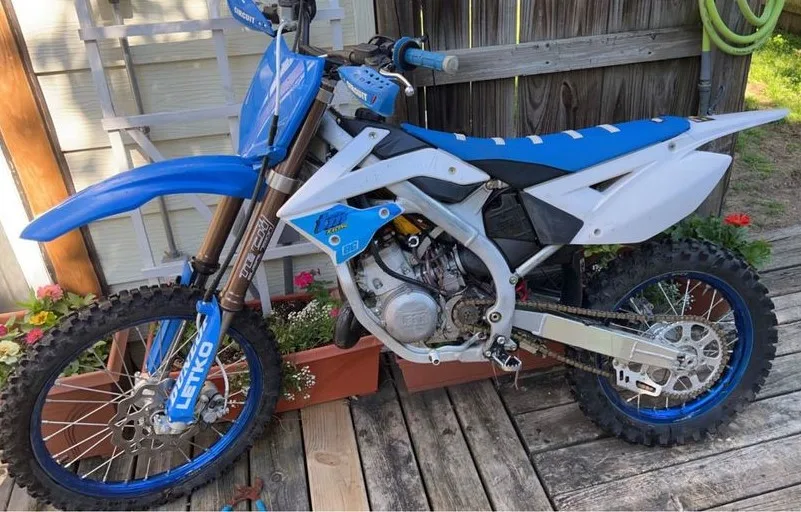 Honda CR85R/CR85RB
The Honda CR85 is still a good motocross bike if you don't mind having a dirt bike that isn't made anymore. Sure, it hasn't been updated in 15+ years, so the performance doesn't match the new bikes, but maybe you don't need it.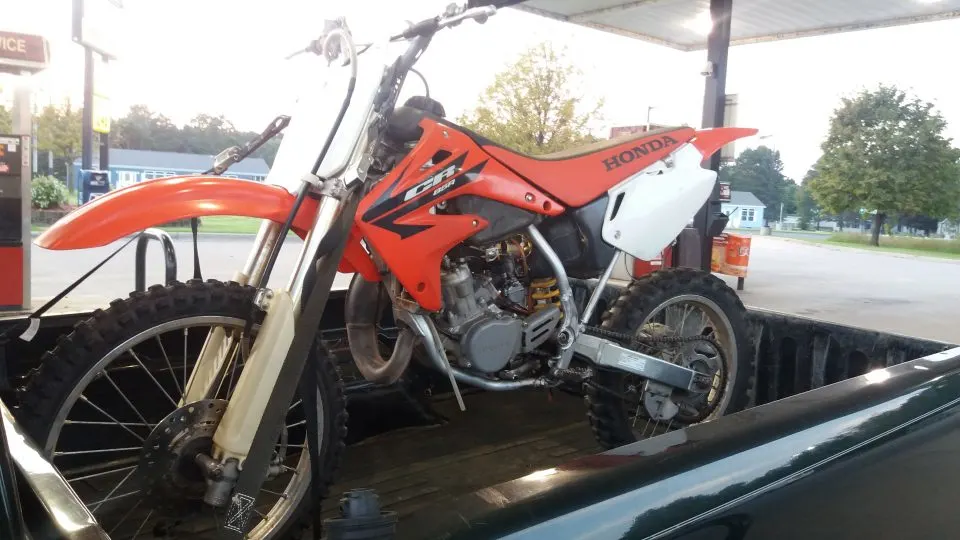 What's faster: an 85 or 150?
When comparing a new KTM 85 vs a Honda CRF150R, the 85 will be slightly faster because it has about the same power but weighs almost 30 lbs less. Not only will it feel quicker, but it will handle better and feel much lighter when turning and jumping.
With that said, the advantage of the Honda 150R is that it has a little bit more low-end and midrange torque, which makes it easier to ride because you don't have to rev it up as much to accelerate.
Best 85cc dirt bike
What are you looking for in a dirt bike? Do you want the most horsepower, best handling, or most affordable? If you have the money, the best 85cc dirt bike overall is the KTM 85 SX or Husqvarna TC 85.
But honestly, they're all good bikes these days, especially if you're not an expert level racer. Finding a clean, well maintained motorcycle is the key to having a good and reliable ride.
Best 85cc dirt bike for beginners
Maybe you just want to get started racing and an 85 fits you best for motocross. Choosing the one that has the best low-end and midrange torque is what you want.
The KX85, RM85 and 85SX are the best for beginners because they have the smoothest power – the power valve makes this possible.
What makes these models better for newer riders?
The 2 stroke engine in these bikes have a power valve that opens and closes to control the exhaust flow. This allows them to have a better tuned low RPM power, making it easier to ride if you're just starting out.
For example, the Honda CR85 is the worst if you're a beginner because it has virtually no low-end torque – the engine doesn't have a power valve.
How much does an 85cc dirt bike cost?
Just want to know how much they cost?
Here are the prices of each brand and model 85cc dirt bike and supermini:
| | |
| --- | --- |
| Dirt Bike Brand & Model | Price ($ USD) |
| Yamaha YZ85 | $4,899 |
| Yamaha YZ85 LW | $5,099 |
| KTM 85 SX 17/14 | $6,549 |
| KTM 85 SX 19/16 | $6,849 |
| Husqvarna TC 85 17/14 | $6,599 |
| Husqvarna TC 85 19/16 | $6,749 |
| Kawasaki KX85 | $4,699 |
| Kawasaki KX112 | $5,399 |
| Suzuki RM85 | $4,499 |
| GasGas MC 85 17/14 | $6,249 |
| GasGas MC 85 19/16 | $6,449 |
| TM 85 MX Jr 17/14 | $6,445 |
| TM 100 MX Jr 19/16 | $6,545 |
85cc Dirt Bike Prices per MSRP
These are the retail prices given by the manufacturer, which means it's not the actual "out the door" price if you were to buy one new from the dealer. For example, you will most likely have to pay Destination and Freight charges, as well as tax.
Some brands also offer optional parts to upgrade your 85 cc dirt bike from the factory, such as TM Racing with optional suspension, graphics, and other racing parts for an added cost.
Best used 85cc dirt bike
Can't afford a new dirt bike? There are plenty of used ones for sale, but some are going to be more durable in the long run.
Overall, the best used 85 is a Yamaha YZ85, with the KTM 85 also being a good choice because they're reliable. The YZ 85 may not have the best performance, but Yamaha just makes solid bikes that you can count on if it's well-maintained.
How to find a used 85 in good condition
Looking for and buying a used dirt bike can be overwhelming because you never know what you're going to get – it could be a ticking time bomb that's ready to blow up.
However, I want to show you the most common mistakes people make when buying a used bike that makes it turn into a bad deal. Click here to download my free buyers guide so that you don't end up with a bigger problem than when you started.