Kawasaki KDX200 Review – Is It Still A Good Trail Bike?
Wondering if the Kawasaki KDX200 is right for you? While it may not be sold new anymore, there's quite a few of them around, and they have quite the following. 
So, whether you're a new rider looking for a 2 stroke trail bike, or an experienced rider that wants to learn more about this unique dirt bike, this review will cover what you need to know about it.
What kind of dirt bike is the KDX200?
The kawasaki KDX200 is a 200cc 2 stroke trail bike. The last year it was made was 2006.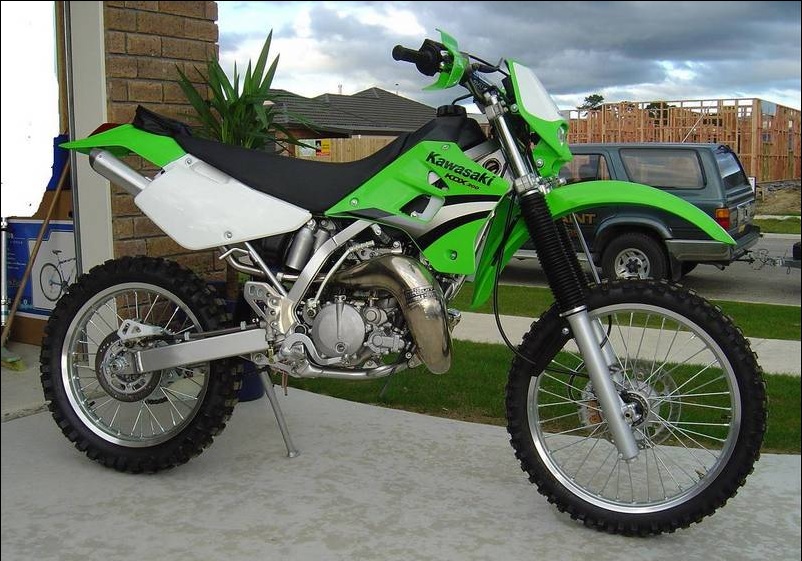 The KDX220 is very similar. It just has a bigger bore and a smaller carb. This means it has more bottom end power, which is generally better for trail riding. 
Air cooled vs liquid cooled
The original KDX200 was an air cooled engine from 1983-1987. Liquid cooling came in the 1988 and later engines, which resulted in more power. 
Who is it for?
While the kdx200 isn't made anymore, it's still a popular bike. The KDX200 is great if you want:
A 2 stroke (duh!)
Good power but easy to manage and ride
Slightly lower sweet height than a typical full size dirt bike
A low maintenance enduro bike
Older, simpler technology
A cheaper bike to start on
Who is it not for?
This dirt bike is not forever one. The KDX 200 is the wrong bike if you:
Don't want to mix gas
Need electric start
Don't like the color green
Want the latest in technology
Engine Power Characteristics
For a 2 stroke dirt bike, the KDX 200 has a fairly broad powerband. It has pretty good low-end torque, which is one of the main reasons why it's a good trail bike. 
The midrange keeps building, making it smooth and predictable, which is good if you're a beginner. And then the top-end has a good "hit" that you would expect from a 2 stroke. Overall, it's not very overwhelming in stock form, but it does have plenty of power for most type of riding. 
Is The Outdated Suspension Good Enough?
Conventional forks and a basic adjustable shock; this makes for a simple and reliable setup. But is it still able to keep up with modern enduro bikes?
In short: yes and no. 
Why?
It mainly depends on the type of riding you do as well as your weight. The KDX200 suspension would be considered "soft" by today's standards.
However, this actually works fairly well in tight and technical single track trails if you're under 180lbs. 
With that said, if you ride more aggressively at higher speeds, or weigh more, you'll probably want to at least change out the springs and oil. 
KDX200 vs KLX300
A quick comparison of Kawasaki's 2 stroke vs 4 stroke trail bikes:
The KDX200 has slightly more midrange and top-end horsepower, while the KLX300 has good off-idle torque with a smooth power curve. 
They're both easy to ride, with a slight advantage to the KLX300R. It also has more updater suspension, but it's still soft to begin with. 
The KDX 200 feels a little bit lighter, but they both handle well in the woods. 
Specs
Just need the OEM specs for the Kawasaki KDX200?
| | |
| --- | --- |
| Engine | 198cc single cylinder 2 stroke |
| Transmission | 6-speed |
| Seat Height | 36" (91cm) |
| Weight (dry/wet) | 220lbs/250lbs (estimated) |
| Top Speed | 70mph |
| Horsepower | 38HP |
Frequently Asked Questions
Below are the most commonly asked questions and answers about the Kawasaki KDX200 2 stroke trail bike. 
Is a KDX 200 street legal?
The KDX200 and 220 do not come street legal from the factory. However, you may be able to register and get it plated as a dual sport in certain states. See your local laws and regulations to apply for a title or dual registration. Then you have to go through a checklist to make it street legal. 
What kind of gas mileage can you expect?
It depends on how you ride. If you're cruising at higher speeds and are easy on the throttle, you could see 30+ mpg. If you're riding slow trails, it might only be 15-20 mpg. 
For a 2 stroke dirt bike, the KDX 200 gets pretty good gas mileage because it has broad power. 
Can you still find parts?
Bottom Line
What kind of dirt bike are you looking for, and how much do you have to spend? The KDX200 is a great trail bike for beginner and experienced riders that want a cheap and simple 2 stroke dirt bike. 
KDX200 Mods & Upgrades
Already own a KDX200 and just want to know what the best mods are?
Exhaust
Suspension
Reeds
Carb
To learn more about these upgrades and more, click here (article coming soon)