Do you live in or near Minnesota and want to get trained on how to properly ride a dirt bike so that you will ride with confidence to help prevent major crashes?
If you just got your first dirt bike, or you're a beginner or novice trail rider, then this is for YOU!
Why take formal dirt bike lessons?
Have you had one of these issues riding a dirt bike?
Constantly stalling the engine, especially on hills
Falling at least 50% of the time when you come to a stop
Having to slow down too much on tight turns
Losing your balance on narrow trails with ruts, obstacles or trees
Washing the front or rear wheel out on flat corners
Whiskey throttle and shooting into a tree
Slamming on the brake and washing out, causing a low-side or high-side crash
Tensing up and riding slow on unknown trails with obstacles or elevation changes
Whether this sounds like you or you want to prevent one of these problems so that you can enjoy trail riding for the rest of your life, a common mistake is trying to figure it all out on your own.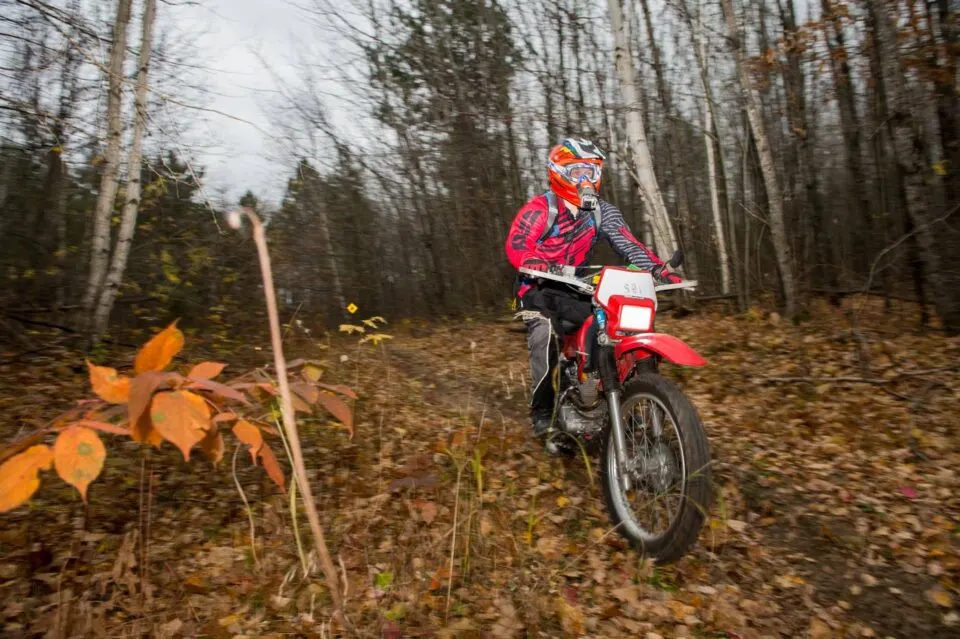 I thought I was a good rider after so many years of riding
You see, I thought I was a good trail rider when a good friend asked me to go trail riding with his family. They were unsure about my skills and thought I might get hurt, but I was kind of offended because I had already been riding for about 7 years.
Well, as much as I hate to admit it, they were right!
I not only had the wrong bike and was so much slower than them, but I struggled on steep hills, off-camber turns, and slippery sections with obstacles because I would stall, fall or tense up and have to slow down, which made me more likely to fall over!
I spent years researching through books, magazines, online articles and videos to figure out what tips and techniques helped me.
If I had to start all over again
If I knew what I know now, I would've skipped all of the cool "advanced techniques" and getting more "seat time" to try and become a better rider.
I would have focused on the essential techniques that give me the most control, which is what I teach in my dirt bike riding lessons as well as online dirt bike school.
Why come to me?
I could list my riding experience and accomplishments, such as:
22+ years of dirt bike riding experience (13+ years on the street and 2 years of Pro licensed drag bike racing)
Confident in all types of trail riding (including technical trails in the mountains out west)
Competing in off-road races (hare scrambles, enduros, motocross)
Owning & riding 50+ dirt bikes in virtually all types and sizes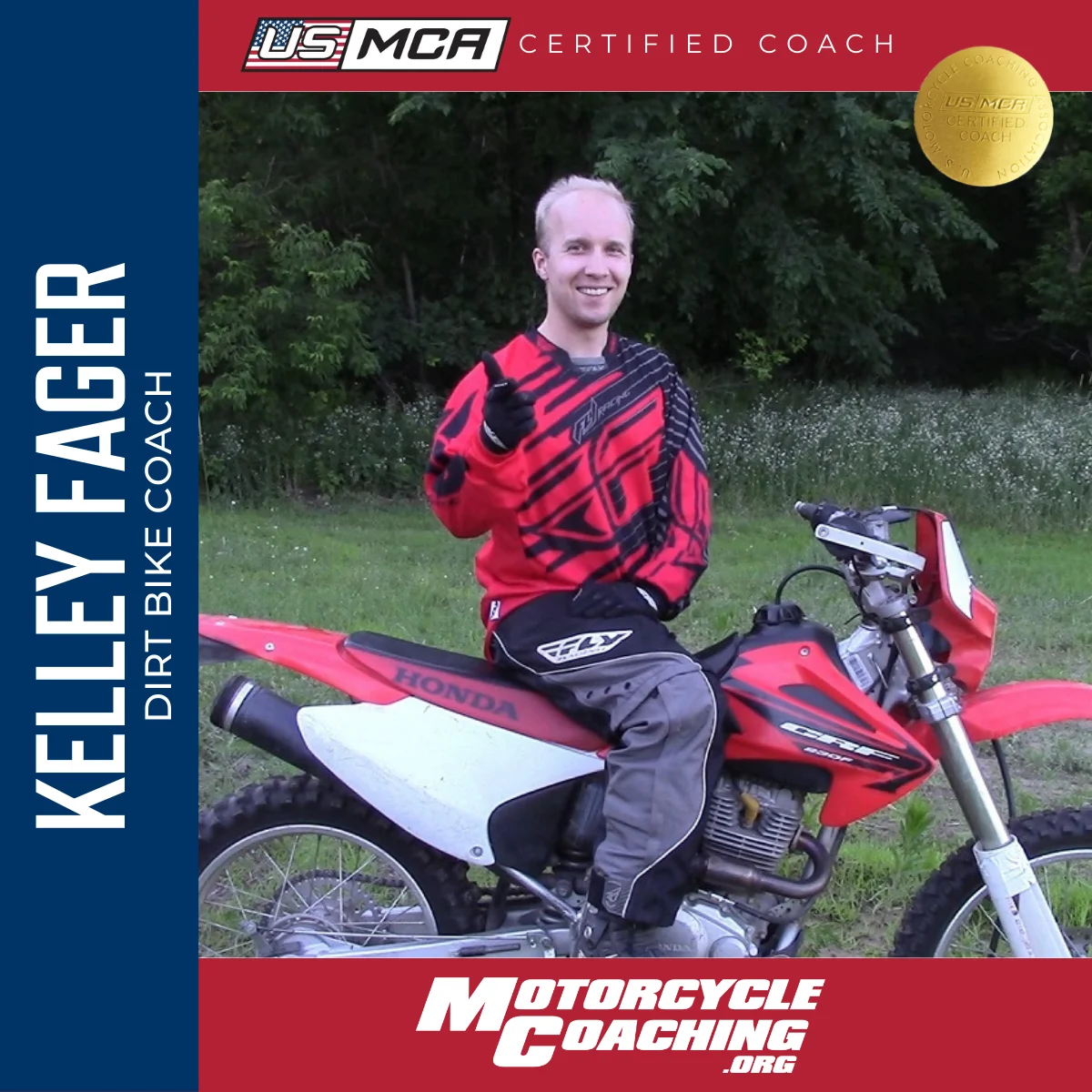 USMCA – Certified Coach!
I'm now officially certified through the United States Motorcycle Coaching Association on MotorcycleCoaching.org!
But these accomplishments don't make me a good coach. In reality, a good coach makes proper techniques easy to understand and explains the "why" behind what they're teaching.
If you've had a riding coach teaching you specific techniques and you ask them why and they can't give you an answer, that's a red flag!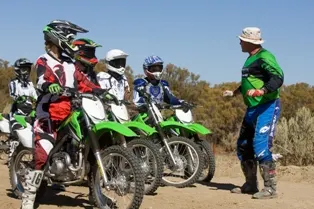 Either they don't understand what they're teaching because they're just saying what everyone else says, or it's not a proper technique or both!
Through so many years of making mistakes and trying to figure out the safest techniques that give you more control to stay safe and ride faster, I've learned what techniques work best for me, and I explain them in a way that's easy to understand and then immediately practice and use on your own!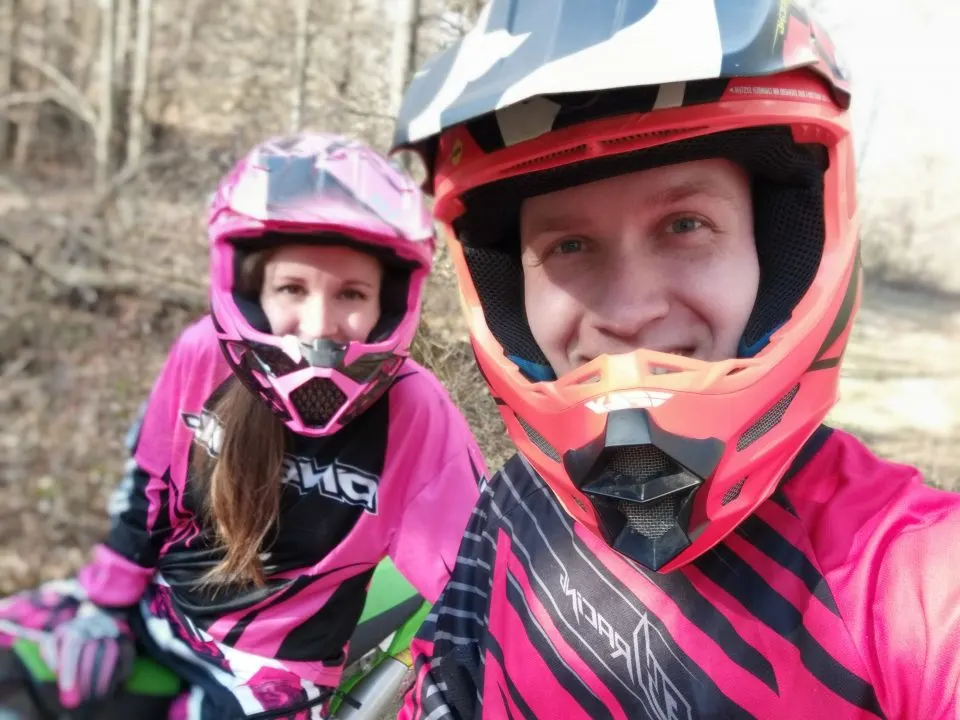 Want to see what my students have to say after going through my dirt bike lessons & training courses? Here's the testimonials page (click or tap here).
I (Kelley Fager) am working on getting my USMCA certification to be a registered coach on MotorcycleCoaching.org.
Adult Beginner Lessons (Ages 12+)
Whether this is your first time riding a dirt bike, you're transitioning from a street bike, or just getting back into riding off-road after a long break and just need a refresher course, this Adult Beginner class is for you!
This is a private 1-on-1 coaching session, so you'll get hands-on personalized training that works around your specific needs, but also gives you the essential tools and knowledge to prevent the most common beginner mistakes.
Here's what you'll learn:
How to properly mount and dismount your bike (even if you have short legs)
How to easily kickstart your dirt bike
How to be efficient and properly control the clutch & throttle to prevent stalling and wheelies
The proper body position; sitting & standing
Shifting techniques
Tight turns
Balancing at slow speeds
How to get the most traction accelerating & braking
And more…
Here's what you'll need:
Your own dirt bike; I recommend a beginner-friendly trail bike (I currently do not offer rentals, but if there's enough demand that may change)
Your own riding gear (helmet, dirt bike boots, gloves, eye protection, pants, long sleeves, and any body armor you need)
Single-Track Trail Riding Lessons (Ages 12+)
After taking the Beginner Class or if you're ready for the basics of single-track trail riding, the next step is to learn how to properly ride on trails in the woods.
A common mistake is going too fast too soon without mastering the basics, so in this class we'll focus on using those beginner techniques more in-depth at slow speeds on the trail. Once you know how to stay in control at slow speeds, then you can safely and smoothly pick up the pace as you build your confidence.
Here's what you'll learn:
How to ride tight trails with lots of trails
How to relax while sitting or standing to prevent rapid fatigue
Uphills
Downhills
Logs
Clutch & throttle control while trail riding
And more…
Here's what you'll need:
Your own dirt bike (I currently do not offer rentals, but if there's enough demand that may change)
Your own riding gear (helmet, dirt bike boots, gloves, eye protection, pants, long sleeves, and any body armor you need)
Dirt Bike Lessons Calendar Schedule
We're quickly working on getting a working calendar up so that you can sign up for a dirt bike lesson this Summer or Fall (2023).
Ready to get started now with the most important dirt bike lessons? Click here to grab my FREE "Basic Techniques" guide and start learning in your backyard today!
F.A.Q. (Frequently Asked Questions)
Where are the lessons held?

They are held on facility in Oak Grove, MN

How long are the lessons?

You can sign up for a 1-hour or 2-hour dirt bike lesson

What is the cost of the lesson/training class?

TBD – my goal is to make it affordable for the average person

Are rental bikes available?

No, we currently do not offer rental dirt bikes

Can I bring my own bike?

Yes, but it must meet an inspection – Trail bikes are highly recommended because they're easier to ride at the low speeds you'll be riding at, and they're less likely to overheat compared to a motocross bike (No big & heavy adventure/dual sport bikes at this time)

Do my street motorcycle riding skills translate to riding off-road?

For the most part, no, street riding skills are quite a bit different than riding off-road. That's why it's so important to learning the basics of dirt biking from the start so that you don't struggle due to lack of traction and control!

Who can attend a class/coaching lesson?

Must be at least 12 years old or older
Must be able to ride a bicycle and reach the controls on your dirt bike

What else to bring?

Since a training lesson is only 1-2 years, you don't need much unless you want a chair to sit on before/afterwards, as well as food/snack/hydration because riding a dirt bike is exercise