Trying to pick the best 200cc dirt bike but not sure where to start or what models are available? Maybe you're a beginner, or perhaps you're looking to upgrade from a smaller size dirt bike – either way, you're in the right spot!
In this article, I'll show you what
Is there a 200cc dirt bike?
Yes, there have been many 200cc dirt bikes made in the past and currently. 200cc is simply the size of the engine – it doesn't tell you exactly how tall or how fast the bike is, but I'll help you figure out which one is right for you shortly.
These dirt bike brands have made a 200 dirt bike:
Honda
Kawasaki
KTM
Beta
Yamaha
Suzuki
Rieju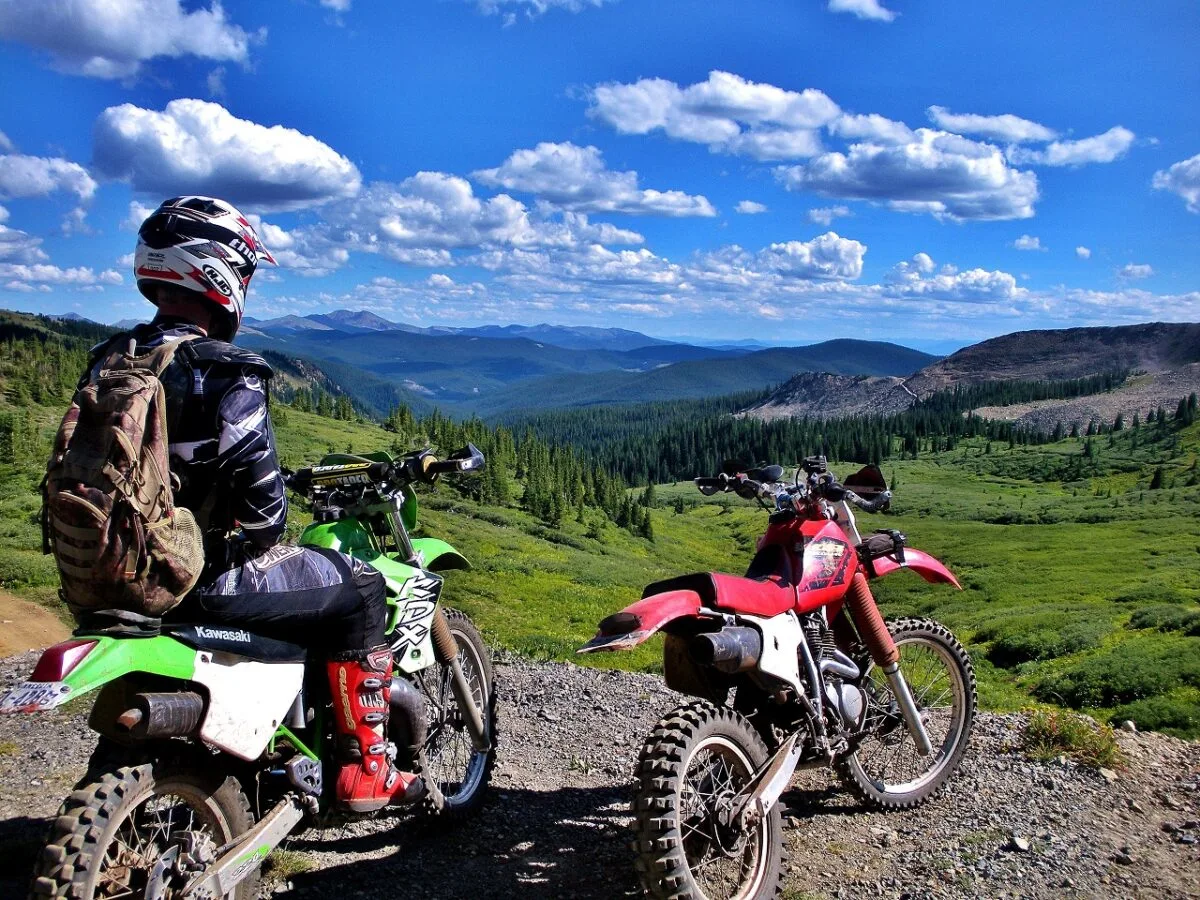 What are the different types of 200cc dirt bikes?
Not all 200 cc dirt bikes are created the same, so it's important to know what kind of dirt bike you need. For example, you don't want a race bike if you're a beginner that wants to ride on the road and dirt.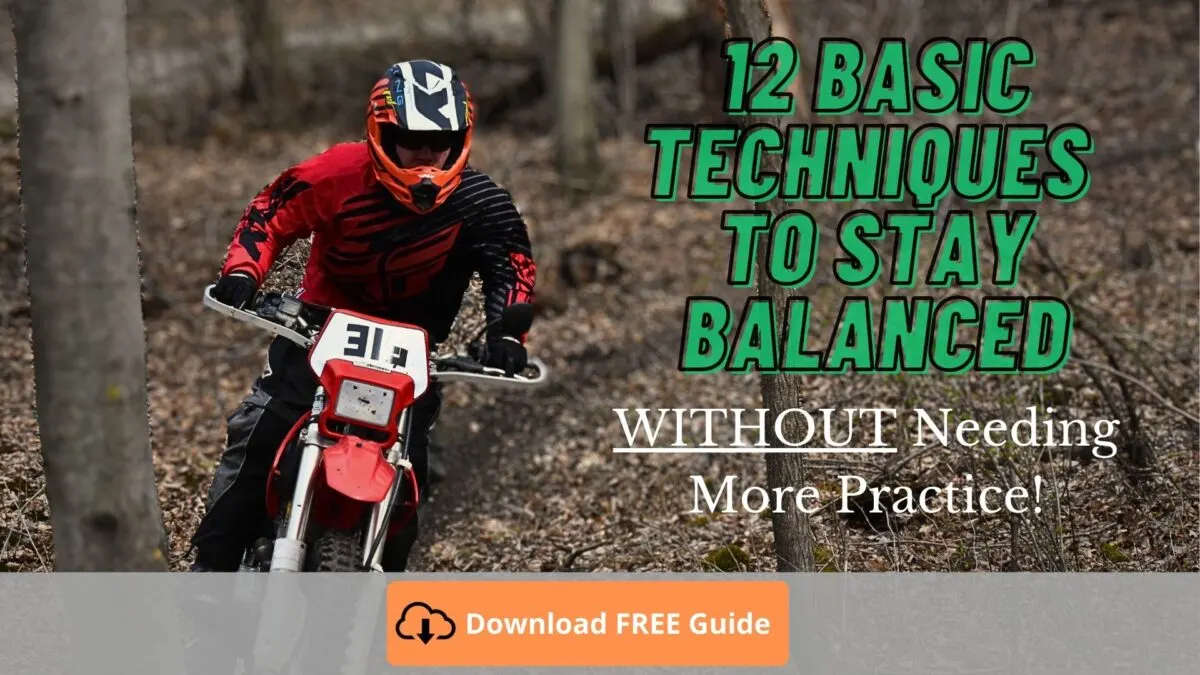 These are the different types of 200cc dirt bikes:
Trail bike
Enduro bike
Dual sport bike
Motocross bike
How fast does a 200cc dirt bike go?
The top speed and horsepower can greatly vary depending on which model dirt bike you choose. For example, they range from 16 to 36 HP, and the top speed of a 200cc dirt bike is about 50-60 mph, but those numbers don't always mean a lot.
When choosing which dirt bike is best, you need to consider where you'll be riding and what your experience level is. A good rider can be faster on the 16 HP dirt bike than a beginner on the 36 HP bike.
What are the 200cc dirt bikes you can buy new or used?
Many of these models are discontinued, so you can only buy them in the used market. I'll explain what type of dirt bike each one is, why it may or may not be right for you, and whether or not they're still being made.
These are the best 200cc dirt bikes you can choose from:
Honda XR200
The Honda XR200 was a longtime favorite dirt bike for beginners, trail riders and play bike riders until it was discontinued in 2002. Not only is it easy to ride, but it's amazingly reliable.
It only has a kick-start, but with proper jetting it's pretty easy to start if you have proper kicking technique. The XR 200's are getting harder to find, especially the 86-91 model years with taller and better performing suspension.
Below is one of my students, Paul, on his old '83 XR200 that's still running strong today!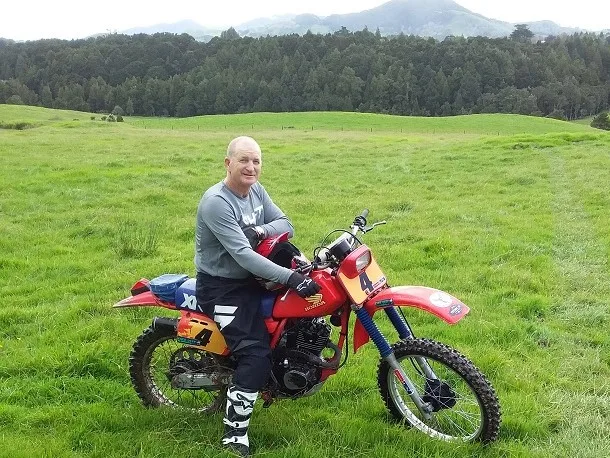 Why you should pick the XR 200:
Easy to ride
Super reliable
Low seat height for short adults
Easy to kick-start
Cheap to buy and maintain
Kawasaki KDX 200
The Kawasaki KDX200 is a 2-stroke enduro motorcycle that is still competitive in the hands of a confident rider. It may not have high-tech modern suspension, but when set-up right, it's capable of riding fast on tight trails or technical hard enduro sections.
Unfortunately, Kawasaki stopped selling them after 2007, but there are quite a few in the used market. They may need some TLC, but it's a good option if you want a cheap enduro bike that's fairly easy to ride.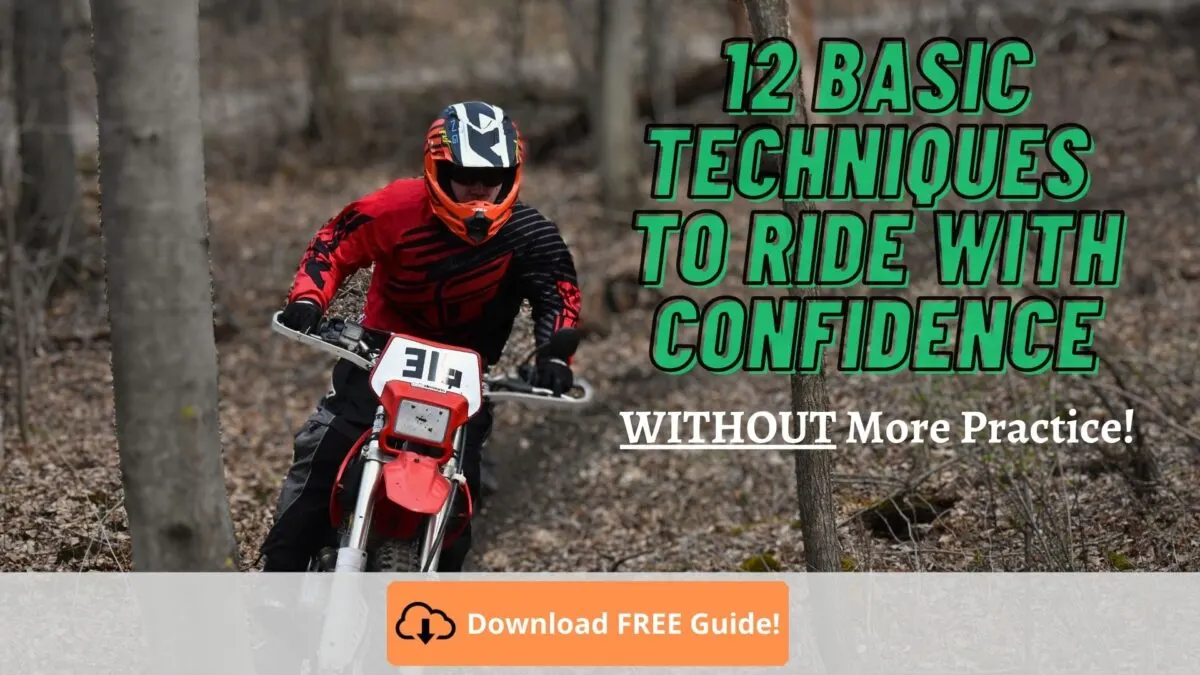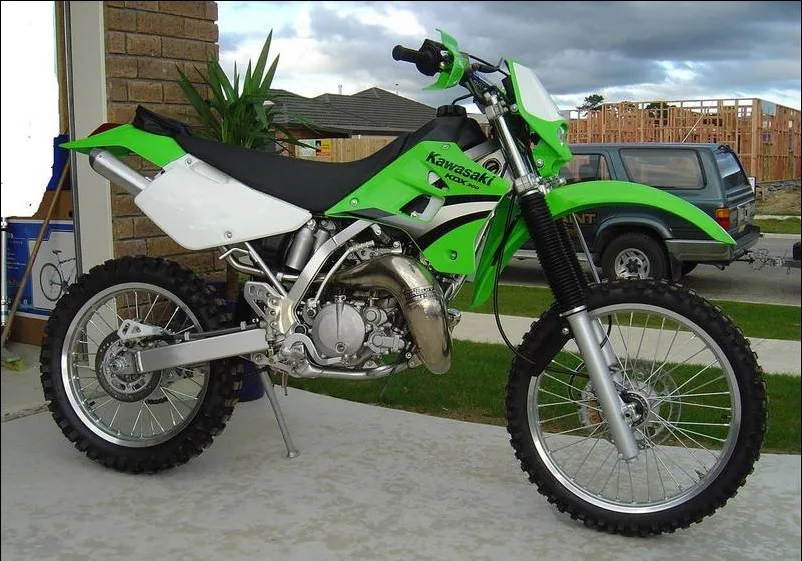 Why you should pick the KDX 200:
Plenty of power for 99% of riders
Great "first enduro bike" for off-road
2-stroke power, but a smooth powerband
Easy to kickstart when properly jetted
Affordable compared to modern enduro bikes
Reliable and easy to maintain
KTM 200 XCW/EXC
For many years, the 200 EXC, later changed to the XCW, was often called the best small-bore trail bike for many reasons. It had low-end torque that was comparable to a 250cc 2-stroke, while still great top-end horsepower – all in a lightweight 125 chassis.
It takes the best from a 125 and 250 two-stroke and throws out most of the negatives from each one. So, why did KTM stop making them then? Apparently they wanted the 150 to take its place…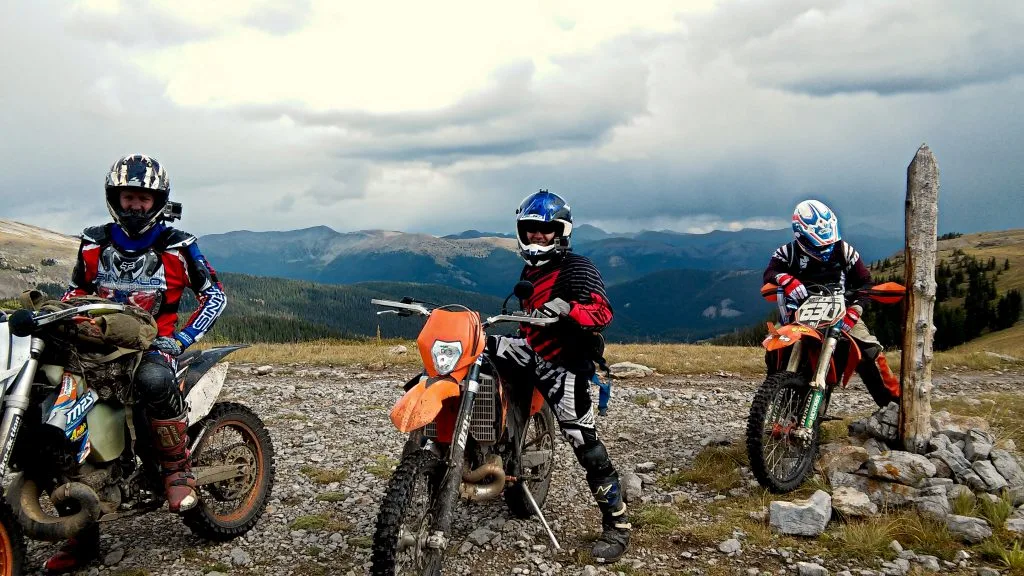 Why you should pick the 200 XC-W:
Great lightweight 2-stroke enduro bike
Easy to ride for how much power it has
Easy to maintain and rebuild
Reliable
Fast enough for expert riders
07 and older are slightly shorter seat height
Wide ratio transmission for trail or desert riding
Softer suspension than XC model
Comes with headlight
KTM 200 XC
KTM came out with the 200 XC model, which is very similar to the XCW, but enough of a difference if you're a specific type of rider. It still has the same great 200cc 2-stroke engine that's light, powerful and easy to ride, but the gearing and suspension are changed.
The 200XC model has a close-ratio transmission, which is better for racing because the power won't drop off as much when you're shifting up through the gears. Combine that with slightly stiffer suspension, and you have a sweet enduro race bike for hare scrambles.
Why you should pick the 200 XC:
Great lightweight 2-stroke enduro bike
Easy to ride for how much power it has
Easy to maintain and rebuild
Reliable
Fast enough for expert riders
Close-ratio transmission for racing
Stiffer suspension than XCW/EXC model
KTM 200 SX
While it was only made for two years (03-04), the 200 SX was a unique and special motocross bike. It had basically the same engine as the 200 EXC, but there were many little differences that made it much better for racing and track riding.
The pipe, top-end, ignition/timing, and suspension were the biggest difference between the 200 SX and EXC models. The 200SX is tuned for more mid-to-top-end power and has stiffer suspension to do jumps, whoops and bigger obstacles on the track.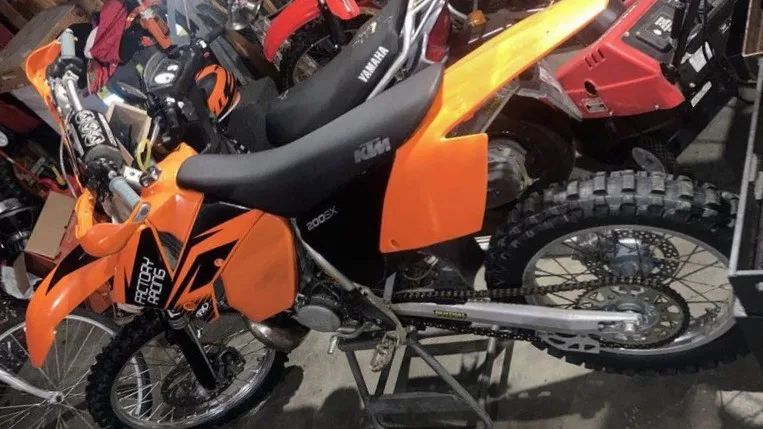 Why you should pick the KTM 200 SX:
You want more power than a 125 but less weight than a 250
You don't mind a unique bike that was only made for 2 years
Many parts interchange with other KTM 200 models and years
Beta 200 RR
Beta is trying to capitalize on KTM's mistake by selling a 200RR. It's a modern 200cc two-stroke enduro bike with an engine that makes plenty of smooth power.
With electric start and oil-injection, the only thing slowing down their growth is how many they can make. It's a smaller Italian brand, but Beta has grown a lot in the past 10 years in the off-road and enduro community.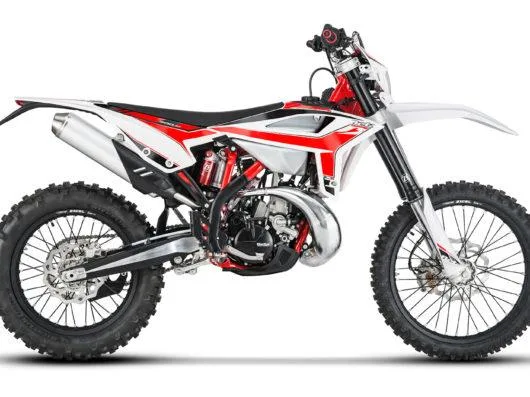 Why you should pick the Beta 200 RR:
Great midsize 2-stroke enduro bike
Lightweight
Easy to ride with good power
Modern suspension that's tunable
Electric start
Oil-injection – no mixing gas
Suzuki DR200S
Switching to a dual sport type bike, the Suzuki DR200S is far from an enduro bike. You can still ride it on trails, but its weight and lack of performance aren't great for fast or technical trail riding.
Instead, it's a fantastic beginner street legal dirt bike with a low seat height and buttery smooth engine. The DR200 is great for practicing clutch control, and it's also a good city bike or commuter if you don't have to ride many miles on the highway at high cruising speeds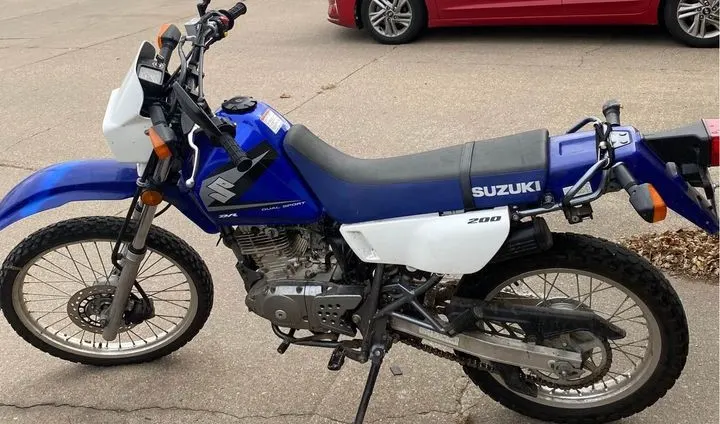 Why you should pick the DR 200 S:
Great beginner dual sport motorcycle
Low seat height if you're short riders/female
Super reliable and durable
Affordable to buy and maintain
Yamaha TW200
The Yamaha TW200 is a very unique dirt bike, but it's popular for a few reasons. With fat tires and low-performance engine and suspension, it's not great on the road or in the dirt.
But, this bike is not about winning any competition – it's about having fun by being easy to ride. It as a low seat height, gets virtually unlimited traction, and the engine is extremely smooth and predictable if you're riding a motorcycle for the first time. Did I mention that it's street legal?
Why you should pick the TW 200:
Great beginner street legal dirt bike
Low seat height for short legs
Fat tires make it fun to ride on almost any terrain
Very reliable and durable
Easy and cheap to maintain
Rieju 200 (MR Pro/Racer/Ranger)
While the company of Rieju has been around longer than most other dirt bike manufacturers, they're very new to the dirt bike/off-road enduro market. In 2019, they acquired the GasGas enduro bike platform, thanks to KTM buying out the GasGas brand name.
Now, they're selling slightly more affordable 200cc high-performance enduro bikes (along with a 250 and 300) with three different options based on your needs and budget. The MR Ranger 200cc model will likely grow in popularity for people that want an enduro bike with a lower seat height.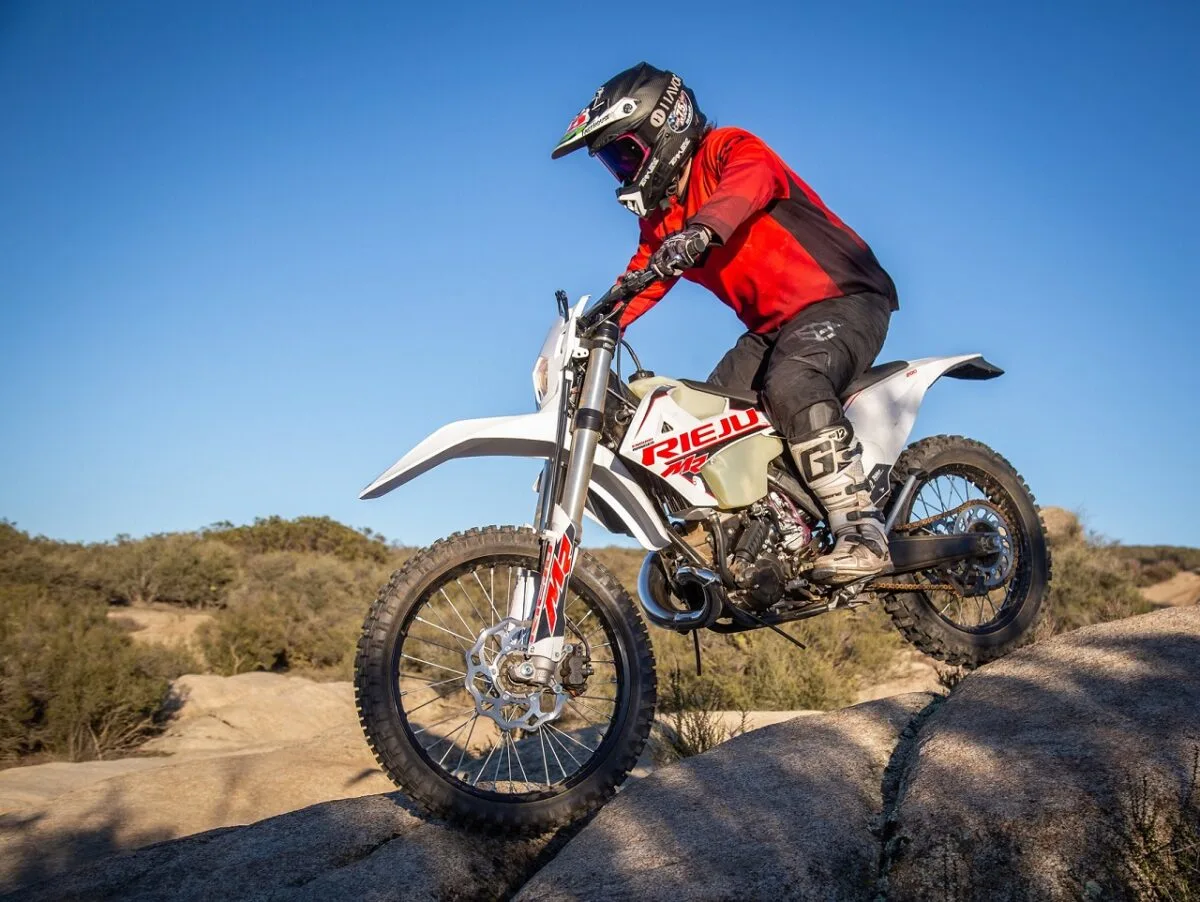 Why you should pick the Rieju MR Ranger 200:
Good enduro bike for teens and adults
Smooth power that's easy to handle
Enough power to race or do extreme enduro
1.5″ lower seat height for shorter riders
Electric & kickstart
Adjustable rear linkage for higher/lower seat height
What's the best 200cc dirt bike for beginners?
It really depends on what type of riding you'll be doing. Will you be trail riding or casually going around the farm? Then a trail bike is best.
To legally ride on the street and dirt, you'll want a dual-purpose motorcycle.
These are the best 200cc beginner dirt bikes:
Honda XR200
Suzuki DR200S
Yamaha TW200
The best 200cc dirt bike for enduro riding
Maybe you've already been riding for a while and want to upgrade to a midsize enduro bike. They're great for trail riding if you need a little more suspension and power.
These are the best 200cc enduro bikes:
KTM 200 EXC/XCW
KTM 200 XC
Kawasaki KDX 200
What's the best 200cc motocross bike?
There's really only been one 200 cc motocross bike that's been made by a name brand motorcycle company, and that's the KTM 200 SX. It was only made for a couple years, and although it works well, it just doesn't fit well in AMA racing due to the displacement – too big for 125cc and there's no 200cc size class in motocross.
Best 200cc motorcycle for dual sport riding
Maybe you can only have one dirt bike or street bike, so you decided to combine the two with a dual sport bike. Since there's only two options from the best companies, it shouldn't be hard to choose.
The best 200cc dual sport bikes are:
Suzuki DR 200S
Yamaha TW 200
What's the cheapest 200cc dirt bike?
The cheapest dirt bike isn't always the same one based on where you live, but I can tell you which ones are most commonly cheaper. Generally, the Honda XR200 will be the cheapest 200cc dirt bike that's reliable. A Kawasaki KDX 200 is the cheapest 200cc enduro bike.
Don't makes these mistakes buying a used dirt bike
Many people make the mistake of buying the wrong bike, whether it's the wrong model or it needs more repairs than expected. I want you to skip that hassle by learning what the top mistakes are and how to prevent them – Grab my Free guide by clicking or tapping here.