Need to know what size dirt bike is best for your height? Whether you're a beginner or just getting back into dirt biking, you're in the right place!
In this article, I'll show you the difference in sizes of dirt bikes, how to pick the right one based on your height and experience level, as well as some height sizing charts to give you a quick reference.
Why you need to choose the right size dirt bike!
I want you to choose the right bike so that you have the most fun riding without crashing and getting hurt from starting on the wrong bike – a common beginner mistake!
How tall are dirt bikes?
Just for quick reference, these are the average seat heights of the most common dirt bikes. Notice how the engine size doesn't always determine how tall it is.
| | |
| --- | --- |
| Dirt Bike Size | Average Seat Height |
| 50cc | 21.5″ (55cm) |
| 110cc | 26.4″(67cm) |
| 125cc 4 stroke | 30.0″(76cm) |
| 125cc 2 stroke | 38.0″(96.5cm) |
| 250cc trail bike | 35.0″(89cm) |
| 250cc enduro/mx bike | 37.5″(95cm) |
| 450cc | 37.5″(95cm) |
How tall each dirt bike size is on average (chart)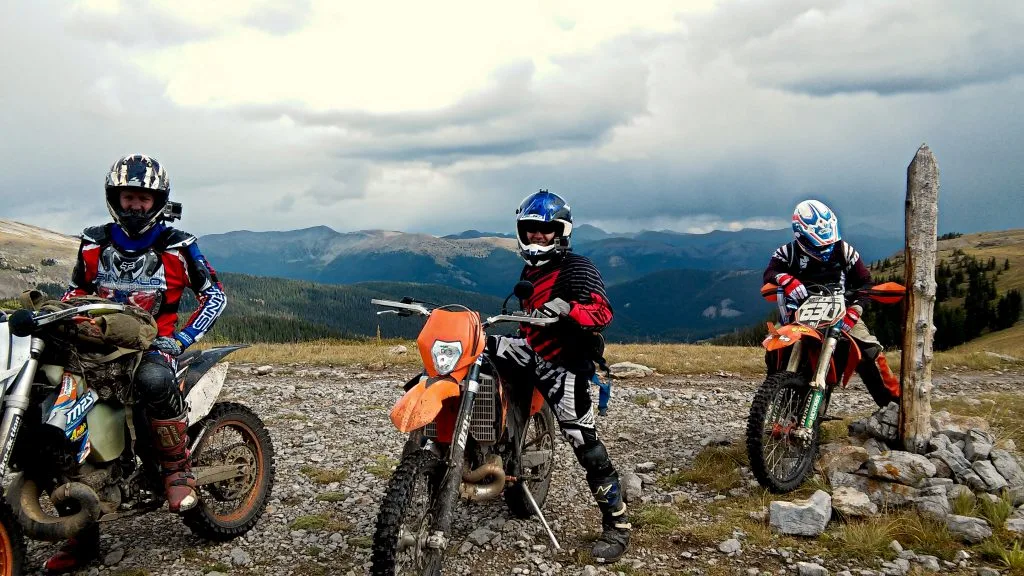 Why are some dirt bikes so tall?
If you're a short adult like me, then you might complain about how tall enduro and motocross dirt bikes are because you can't touch the ground with your foot. This is more or less of an issue than you might think.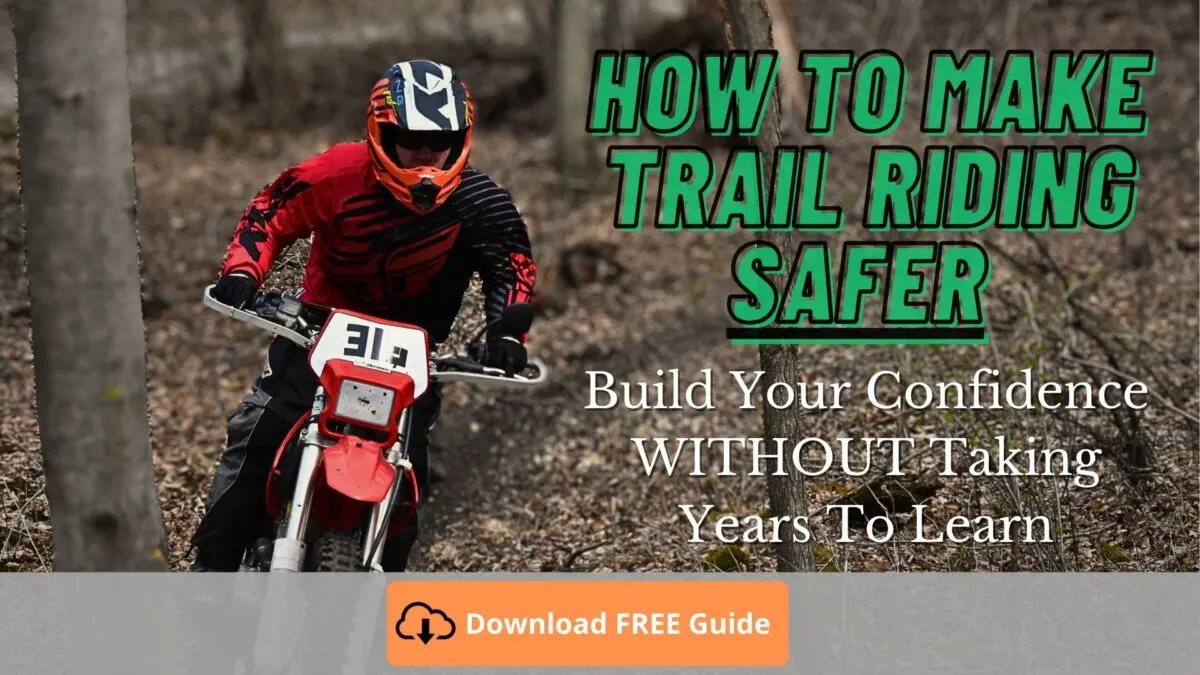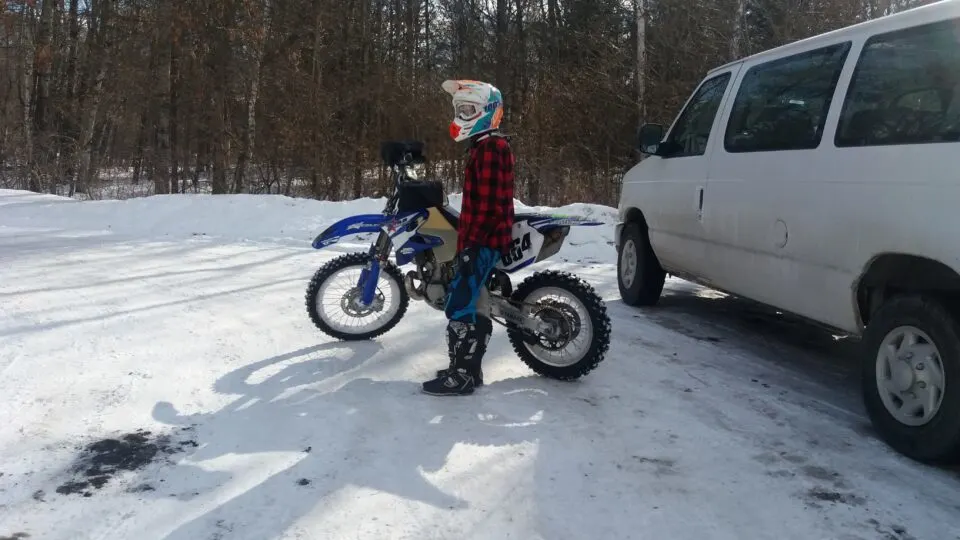 Enduro bikes and MX bikes have tall seat heights because they have long-travel suspension to get the best comfort and performance to soak up bumps and obstacles. If you keep the suspension travel long but lower the bike then you lose ground clearance and the bottom of the frame will hit or catch on the ground easily.
The disadvantage of lowering the seat height on a dirt bike
If you only lower the seat height then the ergonomics (position) of the seat will be too close to the foot pegs, making the cockpit feel cramped and small, especially if you have long legs (long inseam).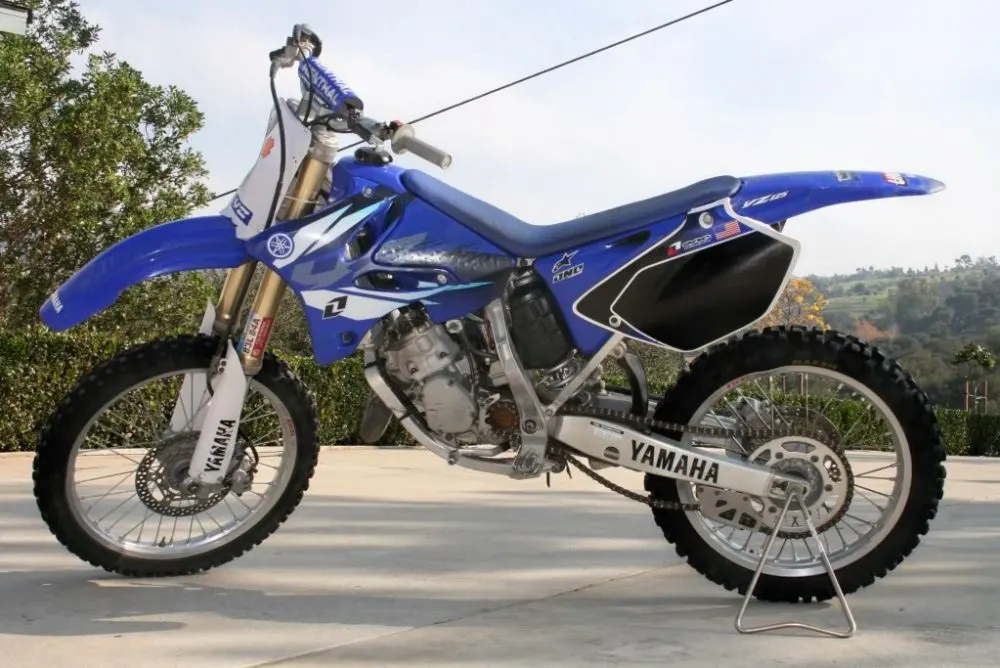 Also, you only need to be able to put one foot down on the ground when you come to a stop. If you're using two feet on the ground then you have bad technique and need to work on your balance skills.
What size dirt bike should I get for my height?
The best way to choose the best size dirt bike for you height is by driving to your local motorcycle dealer and sitting on a bunch of different size models. However, if you just want a starting point to get an idea, there are a couple ways to look at the "size of a dirt bike".
The 2 ways a "dirt bike size" is categorized
The size of a dirt bike is determined in two different ways. The physical size of a dirt bike itself, which is the seat height, is a very important factor in determining which dirt bikes will fit you.
The engine size is the other way to measure the size of a dirt bike. The engine size is referred to as "CC". A motorcycle or dirt bike CC is the engine displacement size calculated in "Cubic Centimeters".
Just like muscle car engine sizes
This is similar to how car engines have been categorized in the past, such as a Chevy 350ci V8 engine. The 350ci stands for "350 Cubic Inches" of engine size/displacement.
While it's not the rule, generally the larger the number the more power a dirt bike will have. A 450cc dirt bike has a larger engine than a 125cc dirt bike, and it also has a lot more power.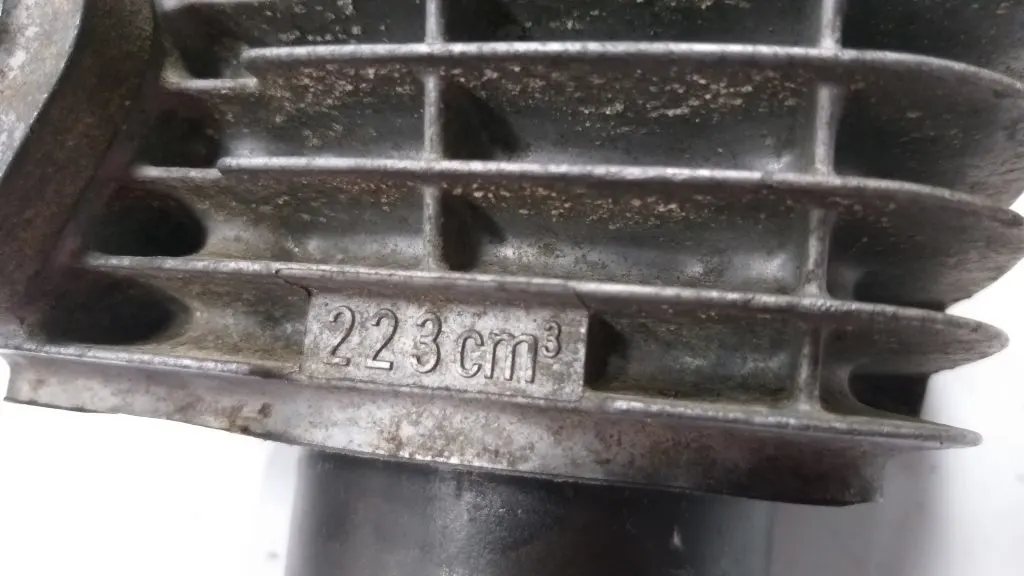 If you're looking for the perfect beginner dirt bike, figuring out what size fits you is critical when you first start riding, but it's not the only thing you should be considering to stay safe and have fun!
There's More To Consider Than Just "Size"
It's true that you shouldn't buy a dirt bike that is too big for you, but the seat height and engine size aren't the only specs you need to look at.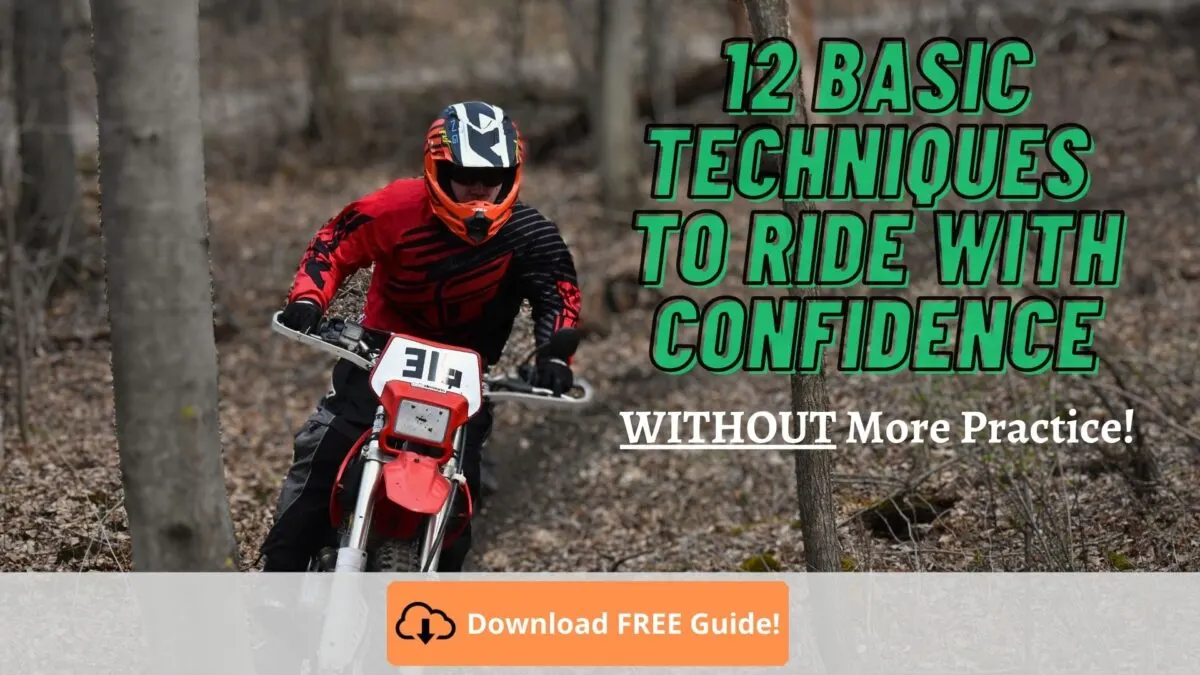 If you're a beginner or just want the safest dirt bike to learn on, then it's even more important to choose the right type of dirt bike. For example, you don't want to start on a big and heavy dual sport bike if you just want to trail ride in the woods.
Here are the top factors you need to consider in addition to size to find which dirt bike is right for you:
Seat height
Engine size
Type of engine (built for trail riding or racing)
Electric or kick-start
Reliability
Price
Dirt bike engine sizes based on your age
There are so many different engine sizes, so how do I know which one is best for me? If you're new to riding, it's best to start on a dirt bike that has a less powerful engine.
You can follow the chart below for recommended dirt bike engine size, but this is just a general guideline.
3-6 year old: 50cc
6-8 year old: 50-80cc
8-10 year old: 80-110cc
10-12 year old: 110-150cc
12-14 year old: 125-200cc
Adults: 125cc-500cc
It's more than just your height that determines the right size
The only problem with just looking at seat height in relation to rider height is the inseam length. Inseam length is from the crotch to your foot. This chart is based off of an average length inseam for a given height.
If you have a longer than average inseam (long legs in proportion to your upper body length) then you would probably fit better on a taller bike than what is recommended on the chart.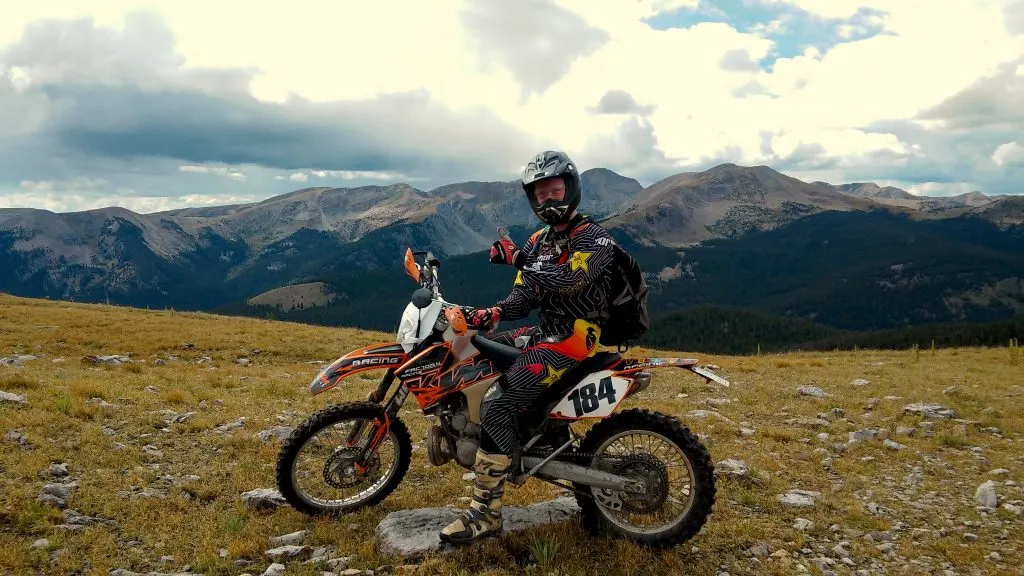 What Is A Small Kid Size Dirt Bike?
There is a large selection of dirt bikes for kids. Gas powered and electric dirt bikes are made for little kids as young as 3 and 4 years old, and up to 12 years old. So, which size is best for your kid?
First, let's look at what sizes are best for each age group, and then cover a chart for the sizes of all the best kids dirt bikes.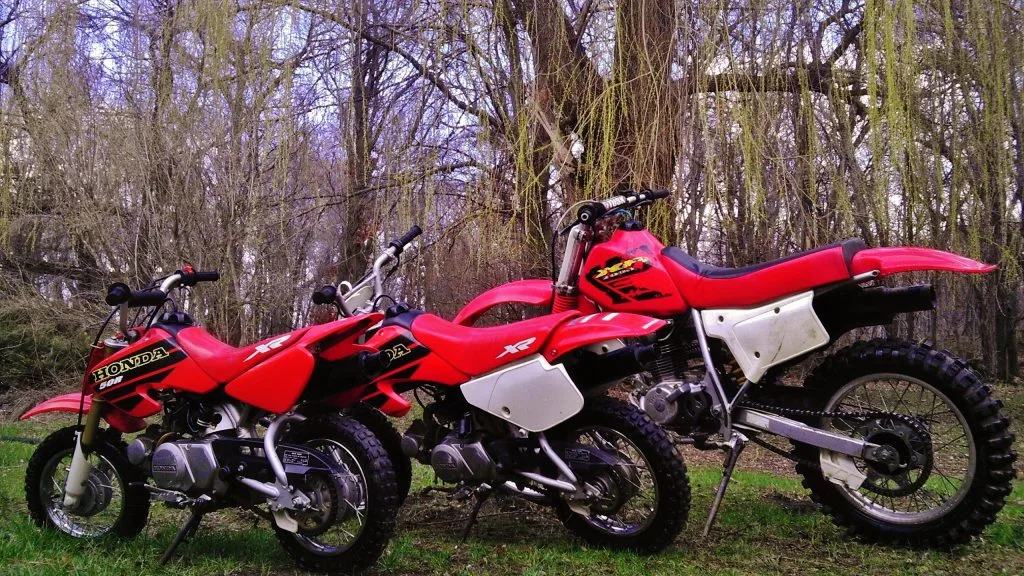 Dirt Bike Size For Kids Age 3, 4 and 5 Years Old
For the best quality dirt bikes, I recommend the PW50, CRF50, and TTR50 for little kids age 3-5 years old. They're the best options for a "first dirt bike" because they're 50cc (the smallest dirt bike size), they're reliable, and easy to ride.
Which 50cc is best for little kids?
The Yamaha PW50 is the best pick if you need the smallest dirt bike size with the lowest seat height. It's a couple inches lower than the 50cc 4 stroke dirt bikes, making it easier to touch the ground and build confidence riding.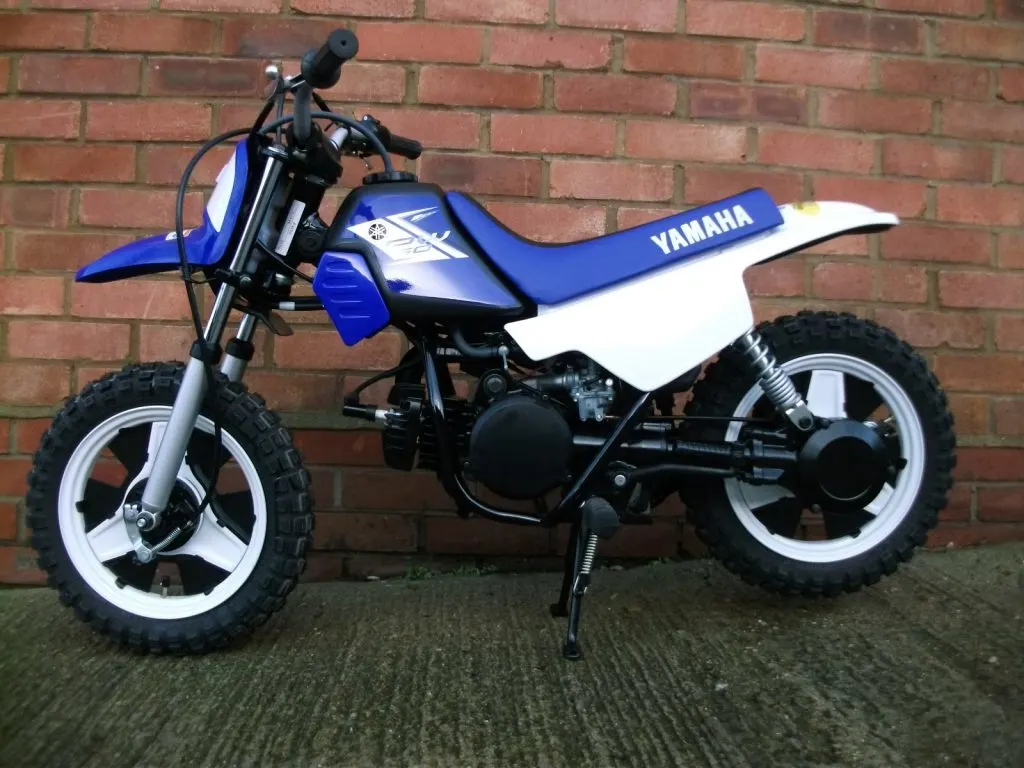 Even though the PW50 is a 2 stroke dirt bike, it's very mellow, has adjustable power, and is reliable.
The TTR50 and CRF50 are both great, but the TTR50E has an electric start button if that's a deal breaker, while the CRF 50 just has kick start.
Best size dirt bike for 10 year old
If your 10 year old kid or grandkid is still new to dirt biking then he or she probably isn't ready to learn how to use a clutch. In that case, these are the best dirt bikes for your 10 year old: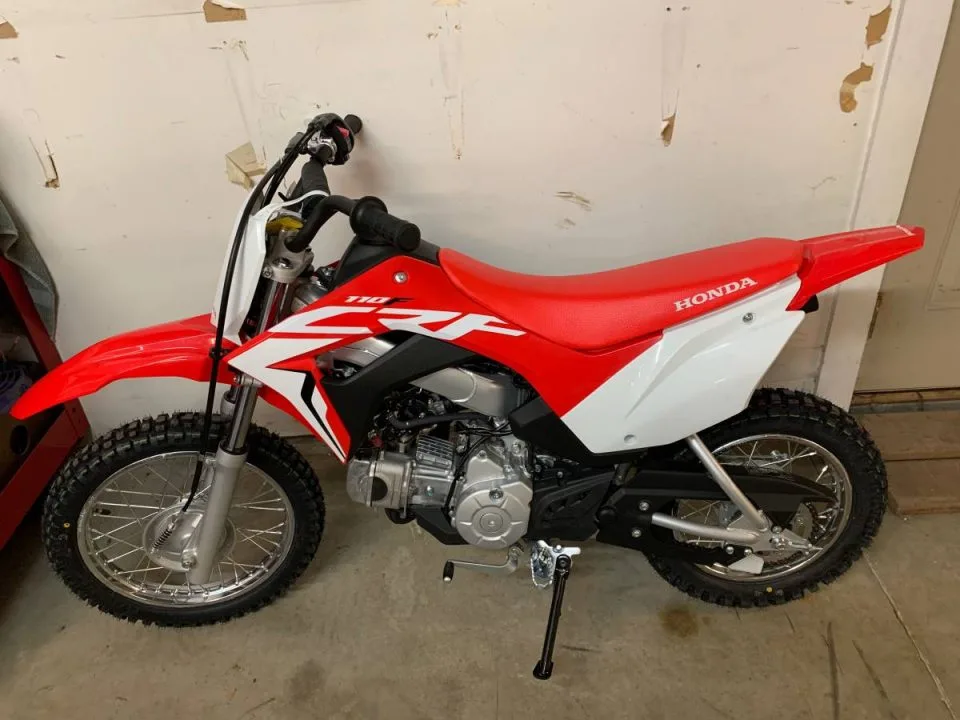 The right size for a 12 year old
Moving up to a dirt bike with a clutch, these will typically be a 125cc 4 stroke. The best dirt bikes for 12 year old kids are:
Honda CRF125F/B
Yamaha TTR125LE
Kawasaki KLX140/L/G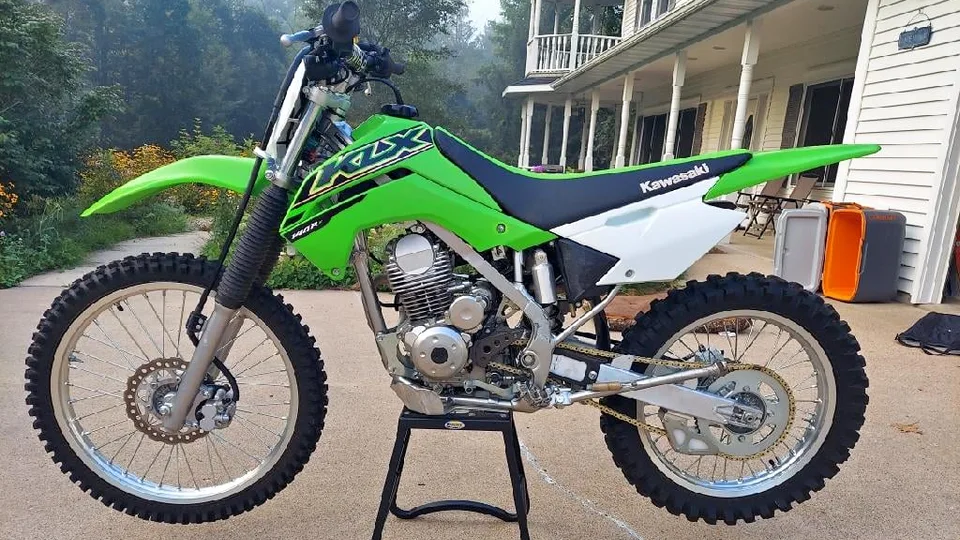 What Is A Medium Size Dirt Bike For Teens & Short Adults?
A medium sized dirt bike is a bike that has larger wheels and a taller seat height than a kids dirt bike, but doesn't have full sized wheels or the tall seat height that a full size dirt bike has. They're typically a great size dirt bike if you're a teenager or a female because it's easier to touch the ground with one foot.
However, some full-size dirt bikes may be considered medium in size because the seat height is so low. Dirt bikes with a low seat height but still have full size wheels are great for shorter than average riders.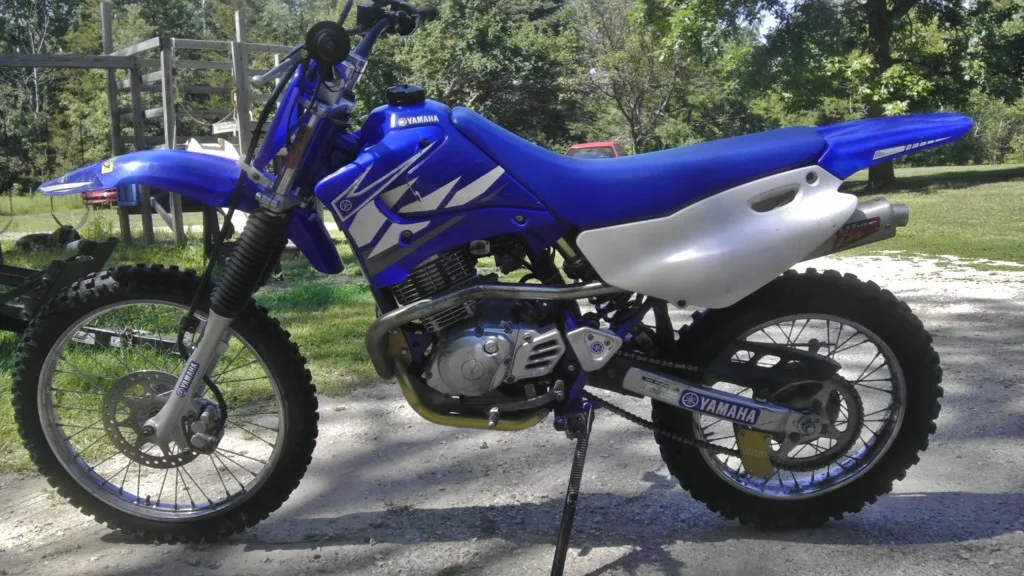 Medium Size Wheels
Most medium size dirt bikes have a 17/14 inch or 19/16 inch wheel and tire size. Except for extreme cases, the front wheel is always larger in diameter than the rear wheel.
So, most medium sized dirt bikes have a 17 inch front wheel with a 14 inch rear wheel combination, or a 19 inch front wheel with a 16 inch rear wheel.
Having larger wheels increases the ability to ride over obstacles with less work. The downside is that with bigger wheels, the seat height is usually higher.
Medium Size Seat Height
A seat height between 30 inches (76cm) and 35 inches (89cm) is considered a medium size for dirt bikes.
Popular Medium Size Dirt Bikes and Their Seat Height:
TTR125 – 30.5" (77.5cm)
KLX140L – 31.5″ (80cm)
CRF150F – 32.6″ (83cm)
KLX140G – 33.9″ (86cm)
CRF230F – 34.6″ (88cm)
Smaller men and adult women can still ride a full size dirt bike, but it will require more balance skill. However, there are ways to lower the seat height of a dirt bike.
Dirt Bike Sizes For Adults & Big Riders?
If you're an average size adult (5'6″ and taller), then you should look at full size dirt bikes – they will fit you better and they handle obstacles better. Bigger wheels ride over rocks and logs easier because the bigger diameter rolls over them with less effort.
Full size dirt bikes have wheels that are 21 inch in the front and 18 inch in the rear (motocross bikes have 19 inch rear wheels).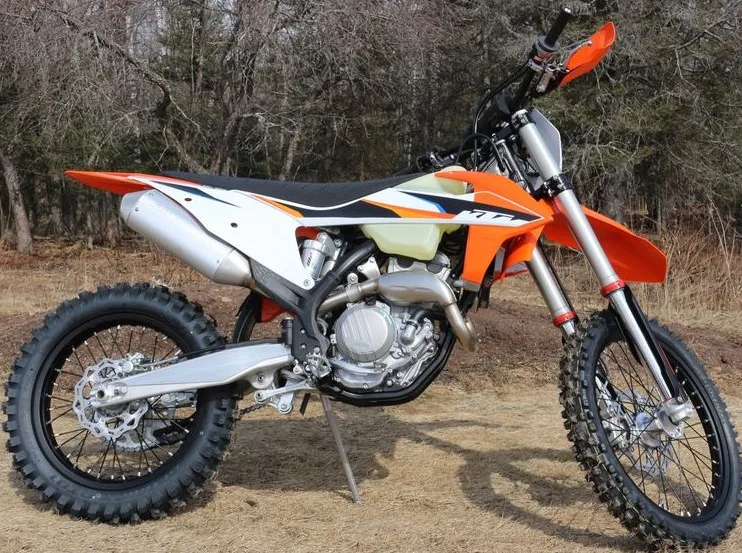 Some "full size" dirt bikes may be considered a "medium size" dirt bike because the seat height is lower, even though they have the 21/18" wheel sizes. For example, the seat height on a full size CRF250F is 35 inches (89cm).
The best beginner trail dirt bikes for adults are:
The best enduro trail bikes for experienced adult riders are:
Beta 200RR
Yamaha YZ250FX
Honda CRF250RX
KTM 250 XCW
Husqvarna TE 300
Other popular full size dirt bikes for experienced riders and their seat height:
Yamaha YZ125 – 39.3″ (100cm)
KTM 150XCW – 37.8″ (96cm)
Kawasaki KX250F – 37.0″ (94cm)
Honda CR250R – 37.8″ (96cm)
Husqvarna FC 350 – 37.4″ (95cm)
Yamaha YZ450F – 38.0″ (96.5cm)
Best size beginner dirt bike for taller riders (bigger guys)
Maybe you're 6'0″ or taller and need the tallest bike. If you're still a beginner, you don't just want to pick the biggest bike because it has more power than you need to safely ride.
Or if you weigh more than 250lbs then a little extra power can help get you moving, but you don't want too much.
These are the best beginner dirt bikes for taller & bigger riders:
TTR250
DRZ250
XR250
KLX300R
XR400
WR250F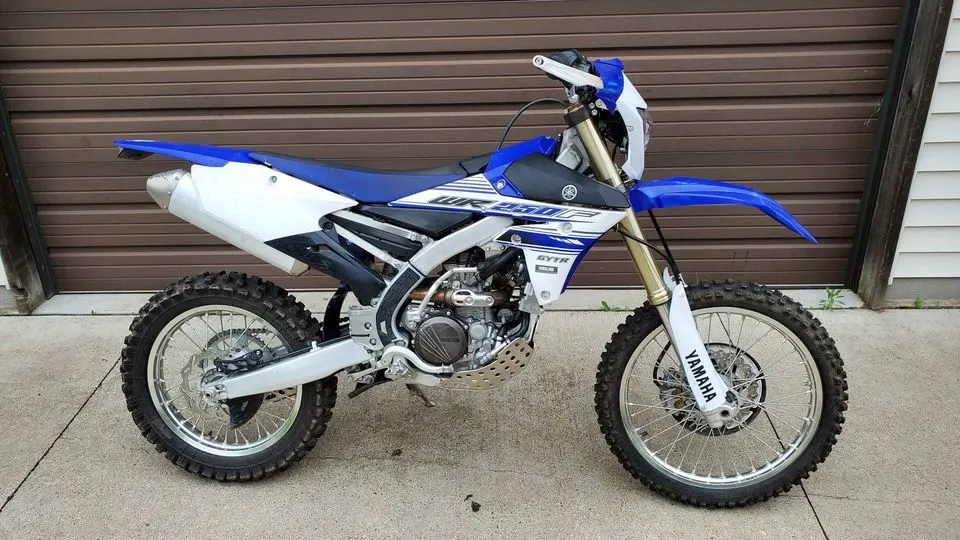 What Is The Right Dirt Bike Size For You Then?
Every rider is different in what will fit best. If you have zero experience, choose the bike that has a seat height that fits your actual height, and has an engine with moderately low power.
The goal is to start on the easiest bike to ride, so choosing one with smooth power that you can handle is very important. This will usually narrow it down to an air-cooled 4-stroke trail bike.
Choose The Type Of Dirt Bike First
As you can see, the seat height doesn't always correlate to how big the engine size is. First, you need to narrow down what type of dirt bike you want to ride.
This could be a trail bike, enduro bike, motocross bike, or perhaps a dual sport bike. It all depends on what kind of riding you want to do the most of.
For example, you don't want a bike MX bike for casual trail riding on tight trails.
Then A Seat Height Range
Once you decide on what kind of dirt bike you want, pick from the range of seat height that best suits your height. It doesn't have to be perfect, but it should be within 2 inches (5cm).
Just remember that the lower the seat height, the easier it will be to ride. This is especially true if this will be your first dirt bike.
Dirt bike size chart – Just a starting point
Below is a simple chart that you can use as a guideline for what the size (seat height) of a dirt bike should be based on your age or height. Use it simply as a starting point for what dirt bike to choose.
Dirt Bike Size Chart (Seat Height):
| Age/Height | Seat Height |
| --- | --- |
| 3-6 years old | 18-21 inch (45-53cm) |
| 6-8 years old | 21-24 inch (53-61cm) |
| 9-10 years old | 24-27 inch (61-68.5cm) |
| 4'10"-5'0″ (147-152cm) | 27-30 inch (68.5-76cm) |
| 5'0″-5'2″ (152-157.5cm) | 29-31 inch (73.5-79cm) |
| 5'2″-5'4″ (157.5-162.5cm) | 30-33 inch (76-84cm) |
| 5'4″-5'6″ (162.5-168cm) | 33-35 inch (84-89cm) |
| 5'6″-5'8″ (168-173cm) | 34-36 inch (86-91.5cm) |
| 5'8″-5'11" (173-180cm) | 35-38 inch (89-96.5cm) |
| 6'0″+ (183+cm) | 37+ inch (94+cm) |
Dirt Bike Seat Height Size Chart
Now Choose The Best Dirt Bike To Fit Your Needs
After choosing the type of dirt bike and the approximate size bike you will need, take a look at the specs and what each of the models have to offer.
Are they easy to start? Are they reliable? Is the power smooth or abrupt? Will the suspension work for the kind of riding you'll be doing? How much does it cost?
These are all important factors that you will have to figure out before choosing a good dirt bike for you.
You can always upgrade later…
With that said, it's better to just pick one than to spend weeks or months trying to decide which is the "Perfect Dirt Bike" for you.
To save you time, I've already narrowed down the best beginner dirt bikes for teens and adults here.
Dirt Bike Seat Heights From Shortest To Tallest:
| Dirt Bike | Engine Size | Seat Height | Type of dirt bike |
| --- | --- | --- | --- |
| Yamaha PW50 | 49cc | 18.7″ | Trail |
| Honda CRF50F | 49cc | 21.6″ | Trail |
| Kawasaki KLX110 | 112cc | 26.8″ | Trail |
| Honda CRF110F | 109cc | 25.9″ | Trail |
| KTM 65 SX | 65cc | 29.5″ | MX |
| Yamaha TTR125 | 124cc | 30.5″ | Trail |
| Honda CRF125FB | 125cc | 30.9″ | Trail |
| Kawasaki KLX140L | 144cc | 31.5″ | Trail |
| Honda CRF150F | 149cc | 32.5″ | Trail |
| Yamaha YZ85 | 85cc | 33.1″ | MX |
| Kawasaki KLX140G | 144cc | 33.9″ | Trail |
| Honda CRF230F | 223cc | 34.6″ | Trail |
| Beta XTrainer | 293cc | 35.8″ | Enduro |
| Beta 200RR | 190cc | 36.6″ | Enduro |
| Honda CRF250X | 249cc | 37.7″ | Enduro |
| KTM 125SX | 125cc | 37.8″ | MX |
| Kawasaki KX250F | 249cc | 37.2″ | MX |
| Suzuki RMZ250 | 249cc | 37.6″ | MX |
| Husqvarna TX300 | 293cc | 37.4″ | Enduro |
| Yamaha YZ250FX | 249cc | 38.2″ | Enduro |
Dirt Bike Sizes from shortest to tallest seat height
Best cheap dirt bikes for beginners
Want to get into dirt biking with a reliable bike that won't break down easily? I want to give you a free guide on the best dirt bikes for beginners even if your finances are tight. Click here to download it.