What Size Dirt Bike Is Best For Your Height?
Need to know what size dirt bike is right for you or your kid so that you don't start one one that's too big or too small? I want to give you all of the practical information you need, including simple charts, to choose best size dirt bike for your height and skill so that you don't crash and get hurt right away.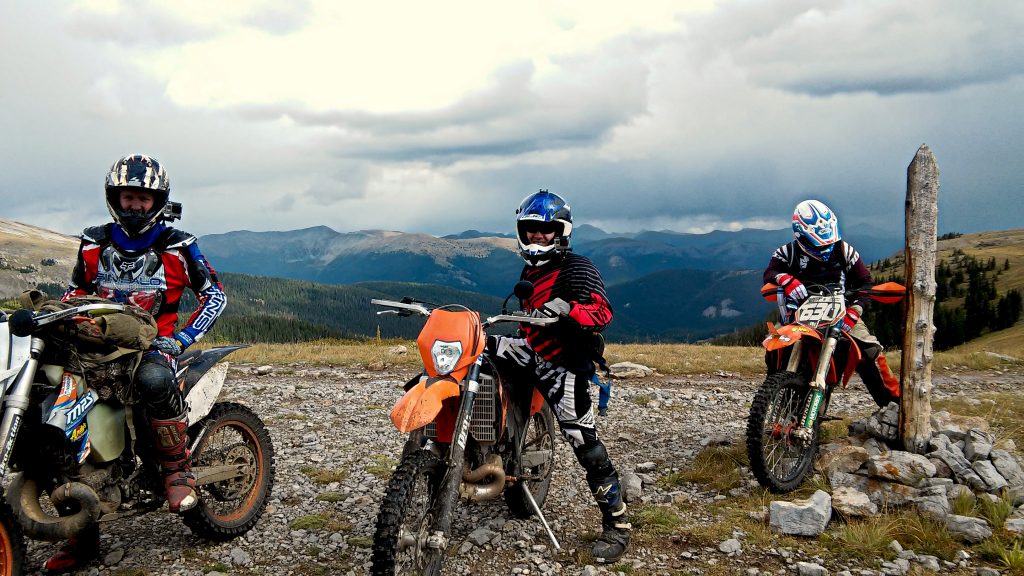 If you're looking for the perfect beginner dirt bike, figuring out what size fits you is critical when you first start riding, but it's not the only thing you should be considering.
In this dirt bike size guide, we'll look at the general appropriate size dirt bikes for each age and height group. You will also learn what other important factors there are to consider when buying a new dirt bike.
What Size Dirt Bike Should I Get For My Height?
The size of a dirt bike is determined in two different ways. The physical size of a dirt bike itself, which is the seat height, is a very important factor in determining which dirt bikes will fit you.
The engine size is the other way to measure the size of a dirt bike. The engine size is referred to as "CC". A motorcycle or dirt bike CC is the engine displacement size calculated in "Cubic Centimeters".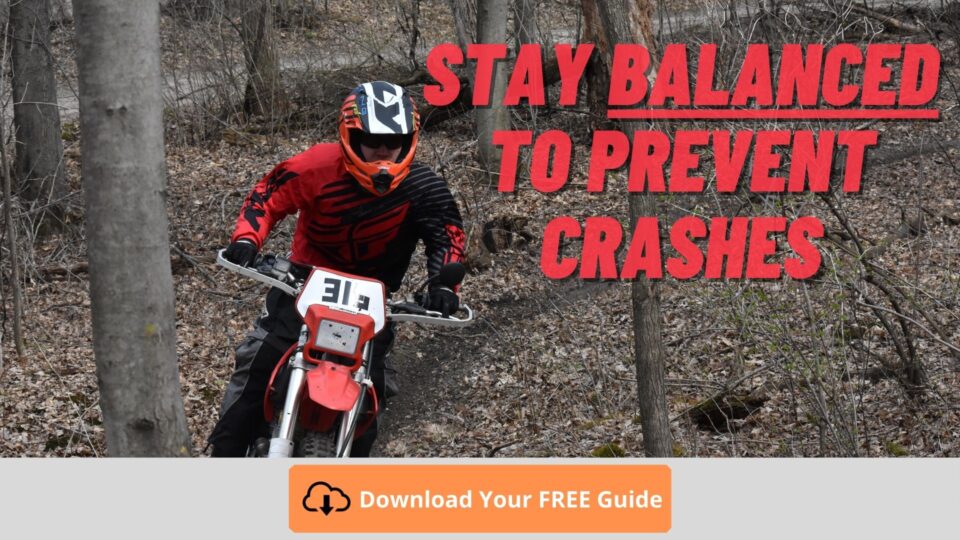 This is similar to how car engines have been categorized in the past, such as a Chevy 350ci V8 engine. The 350ci stands for "350 Cubic Inches" of engine size/displacement. While it's not the rule, generally the larger the number the more power a dirt bike will have. A 450cc dirt bike has a larger engine than a 125cc dirt bike, and it also has a lot more power.
There's More To Consider Than Just "Size"
It's true that you shouldn't buy a dirt bike that is too big for you, but the seat height and engine size aren't the only specs you need to look at.
If you are an adult or teen that is new to dirt biking, you need to look at the article on the best beginner dirt bikes guide. It goes every little detail that will help you determine what the best dirt bike to start on is for you.
Here are the top factors you need to consider in addition to size to find which dirt bike is right for you:
Seat height
Engine size
Type of engine (built for trail riding or racing)
Electric or kick-start
Reliability
Price
What Is A Kid Size Dirt Bike?
There is a large selection of dirt bikes for kids. Gas powered and electric bikes are made for little kids as young as 3 and 4 years old, and up to 12 years old. So, which size is best for your kid? First, let's look at what sizes are best for each age group, and then cover a chart for the sizes of all the best kids dirt bikes.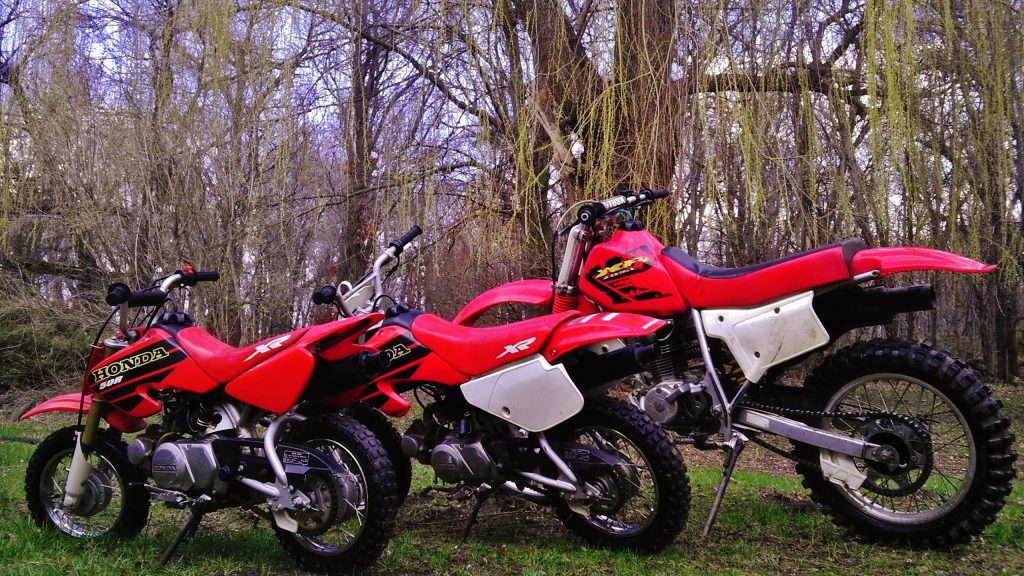 Dirt Bike Size For Kids Age 3, 4 and 5 Years Old
Are you always on the lookout for a bargain? I like buying things for cheap, but I don't like buying cheap things. For that reason, I don't want to advertise cheap Chinese or other foreign made dirt bikes that have very low performance and even lower quality.
Isn't it so frustrating when you buy an expensive product and it proceeds to fall apart after using it once or twice? I can totally relate, and that's why I won't promote any kind of product that has little to no ability to perform. Sorry, my rant is over now…
A dirt bike that your little child starts on needs to be small enough for them to handle, but also function properly and reliably. Below is a simple chart that you can use as a guideline for what the size (seat height) of a dirt bike should be for a certain age boy or girl to ride, as well as adults of all sizes.
Dirt Bike Size Chart (Seat Height):
| | |
| --- | --- |
| Age/Height | Seat Height |
| 3-6 years old | 18-21 inch (45-53cm) |
| 6-8 years old | 21-24 inch (53-61cm) |
| 9-10 years old | 24-27 inch (61-68.5cm) |
| 4'10"-5'0″ (147-152cm) | 27-30 inch (68.5-76cm) |
| 5'0″-5'2″ (152-157.5cm) | 29-31 inch (73.5-79cm) |
| 5'2″-5'4″ (157.5-162.5cm) | 30-33 inch (76-84cm) |
| 5'4″-5'6″ (162.5-168cm) | 33-35 inch (84-89cm) |
| 5'6″-5'8″ (168-173cm) | 34-36 inch (86-91.5cm) |
| 5'8″-5'11" (173-180cm) | 35-38 inch (89-96.5cm) |
| 6'0″+ (183+cm) | 37+ inch (94+cm) |
Dirt Bike Seat Height Size Chart
The Outlier
The only problem with just looking at seat height in relation to rider height is the inseam length. Inseam length is from the crotch to your foot. This chart is based off of an average length inseam for a given height.
If you have a longer than average inseam (long legs in proportion to your upper body length) then you would probably fit better on a taller bike than what is recommended on the chart.
What Is A Medium Size Dirt Bike For Teens & Small Adults?
A medium sized dirt bike is a bike that has larger wheels and a taller seat height than a kids dirt bike, but doesn't have full sized wheels or the tall seat height that a full size dirt bike has.
However, some full-size dirt bikes may be considered medium in size because the seat height is so low. Dirt bikes with a low seat height but still have full size wheels are great for shorter than average riders.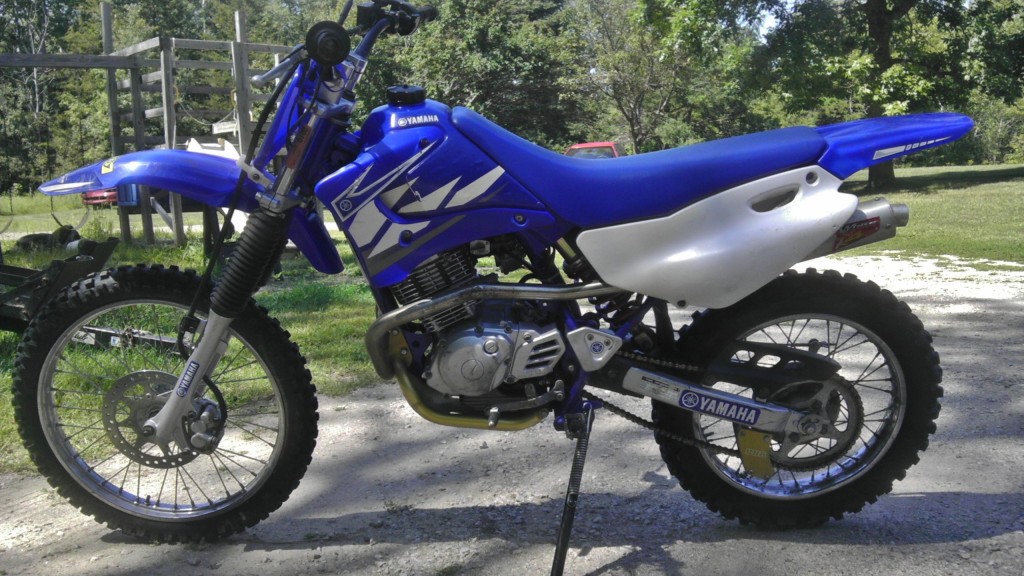 Medium Size Wheels
Most medium size dirt bikes have a 17/14 inch or 19/16 inch wheel and tire size. Except for extreme cases, the front wheel is always larger in diameter than the rear wheel.
So, most medium sized dirt bikes have a 17 inch front wheel with a 14 inch rear wheel combination, or a 19 inch front wheel with a 16 inch rear wheel.
Having larger wheels increases the ability to ride over obstacles with less work. The downside is that with bigger wheels, the seat height is usually higher.
Medium Size Seat Height
A seat height between 30 inches (76cm) and 35 inches (89cm) is considered a medium size for dirt bikes.
Popular Medium Size Dirt Bikes and Their Seat Height
TTR125 – 30.5" (77.5cm)
KLX140L – 31.5″ (80cm)
CRF150F – 32.6″ (83cm)
KLX140G – 33.9″ (86cm)
CRF230F – 34.6″ (88cm)
Smaller men and adult women can still ride a full size dirt bike, but it will require more balance skill. However, there are ways to lower the seat height of a dirt bike.
What Is A Full Size Dirt Bike For Adults & Big Riders?
Full size dirt bikes have wheels that are 21 inch in the front and 18 inch in the rear (motocross bikes have 19 inch rear wheels). Some "full size" dirt bikes may be considered a "medium size" dirt bike because the seat height is lower, even though they have the 21/18" wheel sizes. The seat height is above 35 inches (89cm).
Popular Full Size Dirt Bikes and Their Seat Height:
Yamaha YZ125 – 39.3″ (100cm)
KTM 150XCW – 37.8″ (96cm)
Kawasaki KX250F – 37.0″ (94cm)
Honda CR250R – 37.8″ (96cm)
Husqvarna FC 350 – 37.4″ (95cm)
Yamaha YZ450F – 38.0″ (96.5cm)
Dirt Bike Engine Size
There are so many different engine sizes, so how do I know which one is best for me? If you're new to riding, it's best to start on a dirt bike that has a less powerful engine.
You can follow the chart below for recommended dirt bike engine size, but this is just a general guideline.
3-6 year old: 50cc
6-8 year old: 50-80cc
8-10 year old: 80-110cc
10-12 year old: 110-150cc
12-14 year old: 125-200cc
What Is The Recommended Dirt Bike Size For Me Then?
Every rider is different in what will fit best. If you have zero experience, choose the bike that has a seat height that fits your actual height, and has an engine with moderately low power. The goal is to start on the easiest bike to ride, so choosing one with smooth power that you can handle is very important. This will usually narrow it down to an air-cooled 4-stroke trail bike.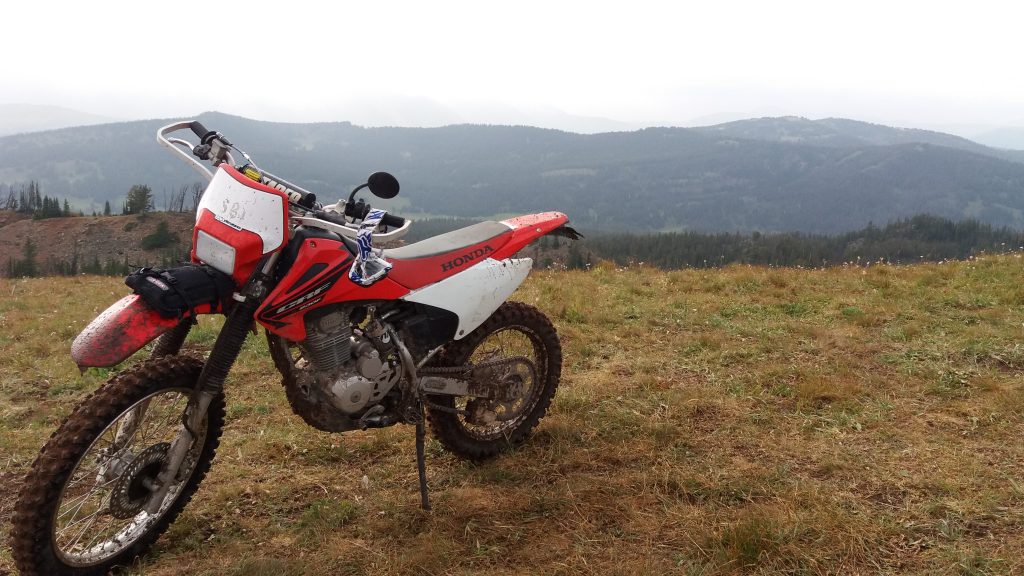 Dirt Bike Seat Heights From Shortest To Tallest:
| Dirt Bike | Engine Size | Seat Height | Type of dirt bike |
| --- | --- | --- | --- |
| Yamaha PW50 | 49cc | 18.7″ | Trail |
| Honda CRF50F | 49cc | 21.6″ | Trail |
| Kawasaki KLX110 | 112cc | 26.8″ | Trail |
| Honda CRF110F | 109cc | 25.9″ | Trail |
| KTM 65 SX | 65cc | 29.5″ | MX |
| Yamaha TTR125 | 124cc | 30.5″ | Trail |
| Honda CRF125FB | 125cc | 30.9″ | Trail |
| Kawasaki KLX140L | 144cc | 31.5″ | Trail |
| Honda CRF150F | 149cc | 32.5″ | Trail |
| Yamaha YZ85 | 85cc | 33.1″ | MX |
| Kawasaki KLX140G | 144cc | 33.9″ | Trail |
| Honda CRF230F | 223cc | 34.6″ | Trail |
| Beta XTrainer | 293cc | 35.8″ | Enduro |
| Beta 200RR | 190cc | 36.6″ | Enduro |
| Honda CRF250X | 249cc | 37.7″ | Enduro |
| KTM 125SX | 125cc | 37.8″ | MX |
| Kawasaki KX250F | 249cc | 37.2″ | MX |
| Suzuki RMZ250 | 249cc | 37.6″ | MX |
| Husqvarna TX300 | 293cc | 37.4″ | Enduro |
| Yamaha YZ250FX | 249cc | 38.2″ | Enduro |
Dirt Bike Sizes from shortest to tallest seat height
Choose The Type Of Dirt Bike First
As you can see, the seat height doesn't always correlate to how big the engine size is. First, you need to narrow down what type of dirt bike you want to ride. This could be a motocross bike, trail bike, enduro bike, or perhaps another kind of off-road bike.
Then A Seat Height Range
Once you decide on what kind of dirt bike you want, pick from the range of seat height that best suits your height. It doesn't have to be perfect, but it should be within 2 inches (5cm). Just remember that the lower the seat height, the easier it will be to ride. This is especially true if this will be your first dirt bike.
Now Choose The Best Dirt Bike To Fit Your Needs
After choosing the type of dirt bike and the approximate size bike you will need, take a look at the specs and what each of the models have to offer. Are they easy to start? Are they reliable? Is the power smooth or abrupt? Will the suspension work for the kind of riding you'll be doing? How much does it cost?
These are all important factors that you will have to figure out before choosing a good dirt bike for you.
With that said, it's better to just pick one than to spend weeks or months trying to decide which is the "Perfect Dirt Bike" for you.
To save you time, I've already narrowed down the best beginner dirt bikes for teens and adults here.
The next step after choosing your bike size to ride safe
Starting on a beginner-friendly dirt bike that's the right size is the best first step, but the next step is even more important if you want to stay safe on a dirt bike. It's where many new riders make mistakes that can cause you to have bad crashes that lead to serious injuries.
It starts with your riding technique, and I want to help you get started with the basics so that you can ride with control rather than letting the bike control you. Tap here to get started.