Are you looking to get a Honda CRF230F? Not sure if it's a good dirt bike for you? Whether you're looking for your first dirt bike or your next bike, you're in the right place!
In this article, I'll show you what the CRF 230 is, how to know if it's right for you, what to expect when buying one, and how to make it better so that you can have more fun for many years to come!
Who Is The Honda CRF230F For?
The Honda CRF230F is the next generation of the XR200, but is it a better dirt bike? There's quite a few differences, including the addition of electric start and major cosmetic changes.
The targeted rider for the CRF230F is quite vast. It's meant for a beginner rider, a farm rancher, a weekend trail rider, as well as a transition bike for teenagers or females.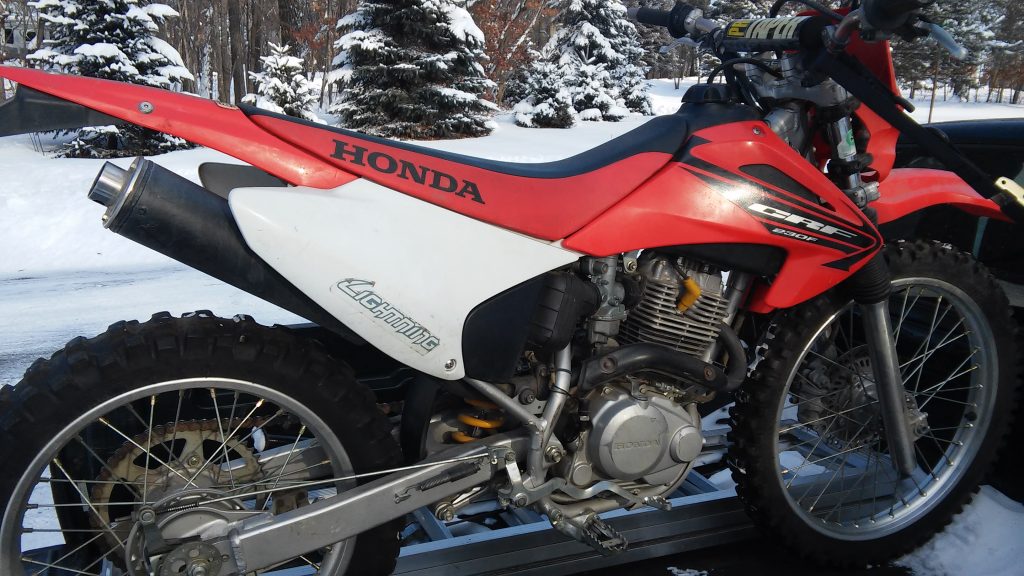 With that said, the Honda 230 dirt bike is a very capable trail bike in the right hands after a few simple mods. The size, suspension, and power are the limiting factors in stock form. It's not meant for motocross or high-speed riding, such as whooped-out desert trails.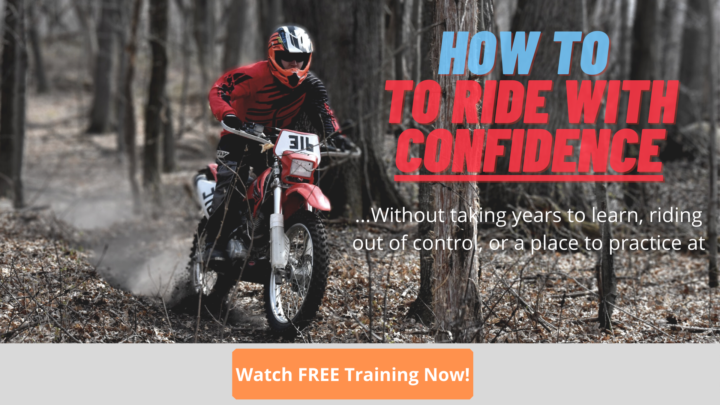 Engine – 223cc putting power to the ground
While the power may be a weakness for some riders, the engine is actually one of the reasons why the CRF 230 is such a great dirt bike.
A smooth and low-end, torque-based engine is perfect for beginner riders. It's one of the reasons why the CRF230F is featured on the best beginner dirt bike guide.
The power delivery is extremely forgiving, and the power dies off after 8k RPM, so there's no point in revving it that high.
Engine Mods
There's plenty of engine mods for the CRF230F if you get bored. Anything from a high compression, big bore kit, to a modified flywheel key to advance the timing.
You can turn your little 'girly bike' into a sleeper trail bike that will make riders with $11k bikes cry in the woods. But, the engine isn't the weakest link – I'll cover that shortly…
CRF230F Jetting
Just like any other dirt bike, tuning the carb jets and needle circuits is paramount to getting it to run its best. It will also help if your dirt bike is hard to start or running poorly.
The CRF230F comes jetted lean from the factory due to EPA/California laws, but that's easy to correct. If you're leaving everything stock, you just need a couple of jets and maybe a needle (for 2006+ models) to get it to run well.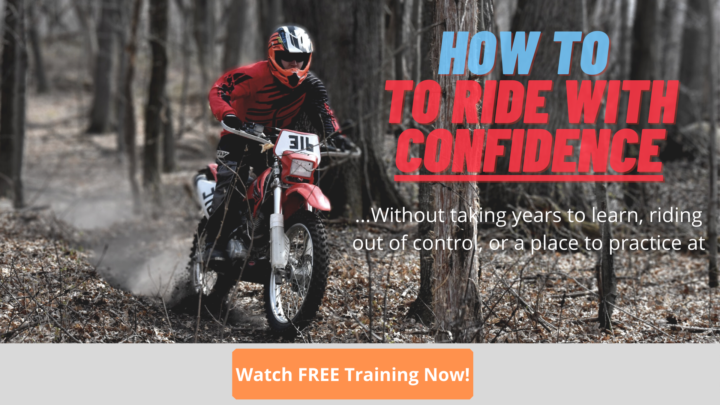 Suspension
The suspension is the biggest downfall of the Honda CRF230F trail bike. It's frustrating that Honda won't do any suspension updates to their off-road trail bikes, but it's no surprise considering their price point compared to a new motocross or enduro bike.
Forks
The forks are subpar, but rideable if you aren't over 150lbs or ride aggressively. They are simply very soft and low-tech.
This is completely fine if you want a plush ride for learning how to ride. It will soak up small bumps and roots on the trails, making it forgiving at low speeds.
Shock
The stock rear shock is not very good.
That is an understatement. The stock shock is fairly soft, but the damping is very slow. This causes "bucking" when you ride faster over bumps and rough terrain.
It's fine if you're a beginner or tame rider. Once you start pushing the pace, however, the shock really starts to show its woes.
The only external adjustment (which you should do!) is the shock pre-load. This will adjust your ride height so that you can get the suspension balanced – If the rear of the bike is too low or high, it will handle poorly and make it feel like the front forks are even worse!
Handling
Although suspension plays a role in handling, the actual geometry of the chassis is the most important factor. The CRF230F handles very well where there's tight turns and obstacles. This is partly because it's in between a midsize and full size dirt bike.
The CRF230 has full size wheels (21/18″), but the seat height is much lower than a typical full-size bike. This creates a low center of gravity, which is great for cornering.
The short wheelbase also makes it turn more easily. Compared to driving a full size truck, the CRF230 handles like a compact car at low speeds.
These handling characteristics are the reasons why the CRF 230 is such a potent trail bike in the woods when properly set up for you.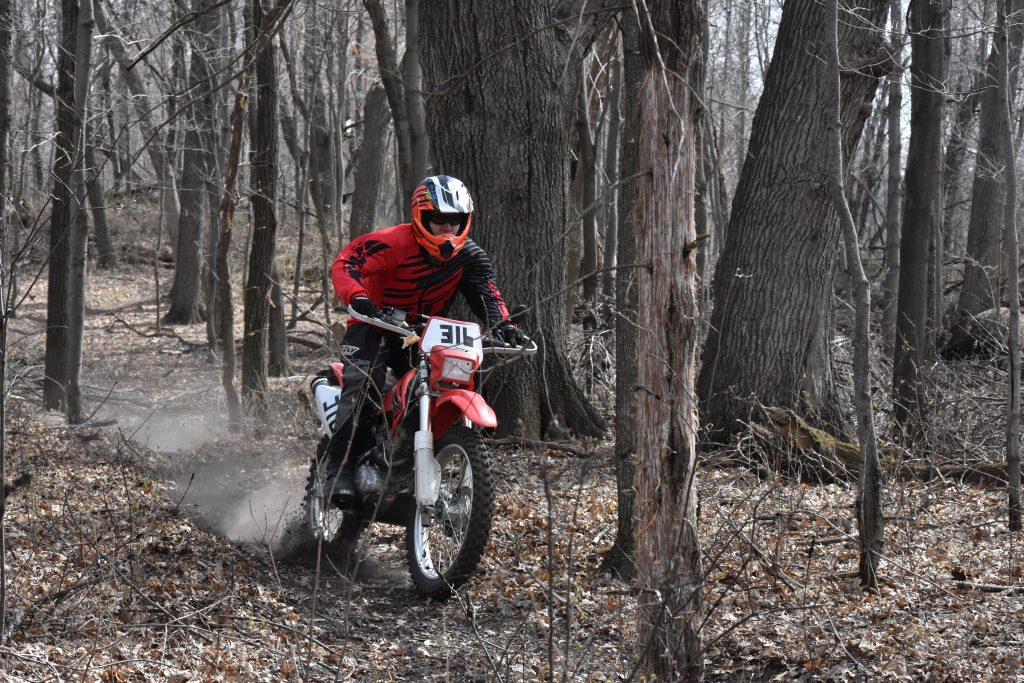 Size
As previously mentioned, the 230F is smaller in size than most full size bikes. The seat height of 34.1″ makes it a very beginner friendly bike for new and shorter riders.
The only major downfall is the lack of ground clearance. Since the suspension travel is less and the chassis is smaller, the frame and pegs will drag more easily in ruts or on logs.
This is only a concern if you're riding technical terrain that has deep ruts or big logs.
Weight
When you see the wet weight of 249lbs, you wonder if that's going to be an issue. Surprisingly, there's really only one time when you will suffer from the CRF230 being rather heavy for its size. This is when you tip over and it's tough to pick it back up.
With that said, it's actually easier to pick up than most full size bikes because of the low center of gravity. A bike with a low CoG will naturally take less work to stand up because its total height is closer to the ground.
Honda CRF230F Specs
| | |
| --- | --- |
| Engine | 223cc air-cooled 4 stroke |
| Compression Ratio | 9.0:1 |
| Transmission | 6-speed, manual clutch |
| Suspension Travel (Front/Rear) | 9.5″/9.0″ |
| Wheel & Tire Size (Front/Rear) | 21/18″ |
| Wheelbase | 54.1″ |
| Seat Height | 34.1″ |
| Curb Weight (Full of fluids) | 249lbs |
| Fuel Capacity ('03-'07/'08+) | 2.2/1/9 gallon (0.4 reserve) |
| Ground Clearance | 11.7″ |
| Horsepower | 18 HP |
| Top Speed | 60 MPH |
Model Year Changes
From 2003 to 2019, there weren't many changes to the CRF230F. In 2006 the carb received a non-adjustable needle.
In 2008 the gas tank got slightly smaller (thanks, Honda!). The seat is also slightly narrower.
Other than bold new graphics each year, the plastics got a complete update in 2015.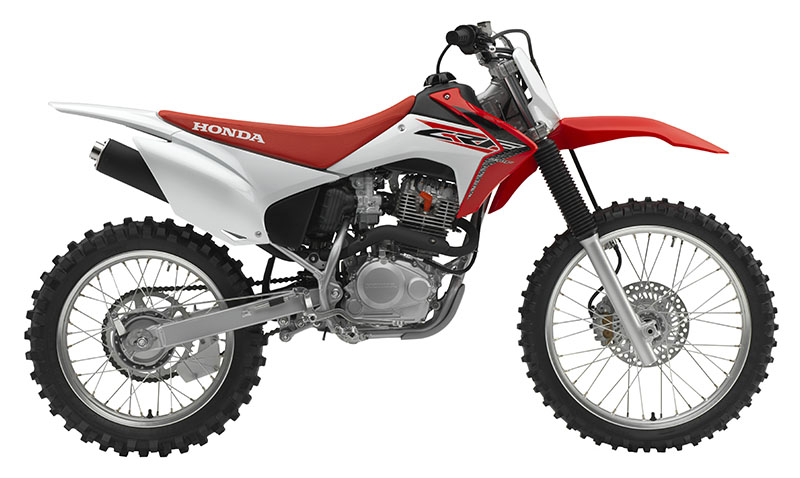 Common CRF230 Issues
Aside from the suspension issues above, the CRF230 doesn't really have that many problems from the factory. The jetting usually needs a little tuning for easier starting and better throttle response, especially if you un-cork it.
The most important factors to keeping your 230 running strong for many years (or decades) is doing routine maintenance. This includes regular oil changes every 10 hours or so, depending on riding conditions, as well as keeping the air filter clean.
Just doing those two things will increase your dirt bike's reliability.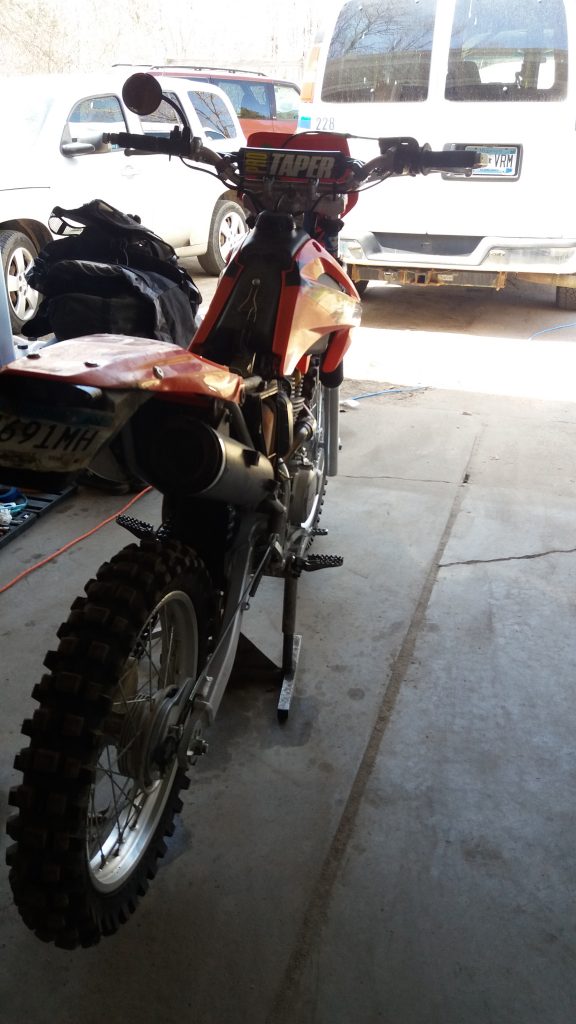 CRF230 won't start
Although it's not a common issue, it can be hard to start due to sitting for too long or a lack of maintenance. These are the most common reasons why your Honda CRF 230 won't start:
Air filter dirty
Jetting too rich or lean
Carburetor jets clogged
Weak or dead battery
Broken wire or bad ground connection
Bottom Line: Is The CRF230F A Good Dirt Bike?
The CRF230F is an amazing trail bike. The CRF230F is a terrible dirt bike.
That doesn't make any sense. But it's true. This bike can be fantastic for specific types of riding. What are you looking for in a dirt bike? Let's look at all the aspects and characteristics of the CRF230F.
If you want to become a better trail rider, then the CRF230F is a great bike to start on to build your confidence.
What's Good?
Low seat height
Smooth, torque-based power
Electric start
Very reliable
Handles well at low speed/tight areas
Plenty of mods available
What's Bad?
Somewhat heavy for a beginner bike
Poor suspension for aggressive riding
No backup kick-starter
Poor high-speed handling
Low ground clearance
Smaller cockpit
The CRF230F Is For:
Teens that want a shorter full-size dirt bike
Girls transitioning from a smaller bike
Adults that want an easy to ride beginner bike
Riders who like modifying underestimated bikes
The CRF230F Is NOT For Riders That Want:
A motocross bike
A high-tech bike
The best suspension and a lot of ground clearance
How To Shorten A CRF230F
Lowering the CRF230 is possible and a good option for shorter riders that want a full-size bike.
The easiest ways to shorten a CRF 230 are shaving the seat foam and installing a lowering link.
A lowering linkage does affect the rear shock geometry, but this change is minimal if the forks are lowered to compensate. You can always go back to the stock height after you gain experience and confidence in your riding.
Lowering The Forks
The seat height can also be shortened by lowering the suspension.
The forks can be lowered by pulling them up in the triple clamps. You can also add an internal spacer to reduce travel, lowering the forks.
Lowering The Shock
The shock preload can be changed to lower the rear of the bike. An internal spacer can be added to the shock as well, but it's a lot more work. That's why a lowering link is much easier to lower the rear.
How To Make A CRF230F Taller
There's plenty of taller riders that enjoy their little 230F. If you're over 5'6″ and are debating whether this bike will fit, here's some mods that will make the cockpit less cramped.
Bar Swap
Tall handlebars are an easy mod to make your CRF230F feel taller. A different bar bend may be more comfortable for you anyway over the stock bars.
Bar Risers
Adding bar risers can make an even bigger difference to the ergonomics. Not only can the bars be taller, but you can move the handlebars forward as well with the right kind of risers.
With this mod you may have to swap out the brake line and clutch cable for longer ones if it's too far of a reach.
Taller Seat
Going to an aftermarket seat will raise the seat height. The stock seat is fairly stiff, so having more foam can make for a plusher ride on your backside.
Footpeg Relocation
The stock footpegs are pretty narrow and close to the seat. This makes it very cramped if you have long legs.
Going to an aftermarket footpeg will increase the width for more stability. Adding or making a relocation bracket to lower and move the pegs rearward makes a big difference in the size of the cockpit.
Can The CRF230F Be Made Street Legal?
A CRF230F can be made street legal in many states, but restrictions vary by state.
The typical requirements to make a CRF230F legal are:
Tail/brake light
Mirror
Horn
DOT legal tires
Turn signals (State dependant)
Legal muffler
Please refer to your state laws and regulations on how to get an off-road dirt bike plated. Read this guide for more in-depth instructions on how to make a dirt bike street legal.
A better dirt bike to ride on the street would be the CRF250L for comparison.
Best CRF230 mods
Want to make your CRF230F faster? There's so many mods available, such as an aftermarket exhaust, piston, and jet kit. But which ones will actually make a difference without spending a fortune?
The best ones for your money are:
Un-corking
Rejetting
Suspension tuning for your weight and skill
Will the CRF230 make you better rider?
Mods are great and all, but there's one thing that will hold you back when it comes to speed and safety. It all starts with your riding technique. It's easy to twist the throttle, but to have control of your dirt bike on the trails is the challenge…
I want to help you get started the right way. Tap here to quickly proper learn riding techniques that will give you better control.