Looking to find the best beginner dirt bike for your 10 year old kid? If so, then this is the most important article you will read before your big purchase.
Whether you need help choosing the right size dirt bike, picking a safe and reliable model, or finding one that's affordable, I'm going to help you.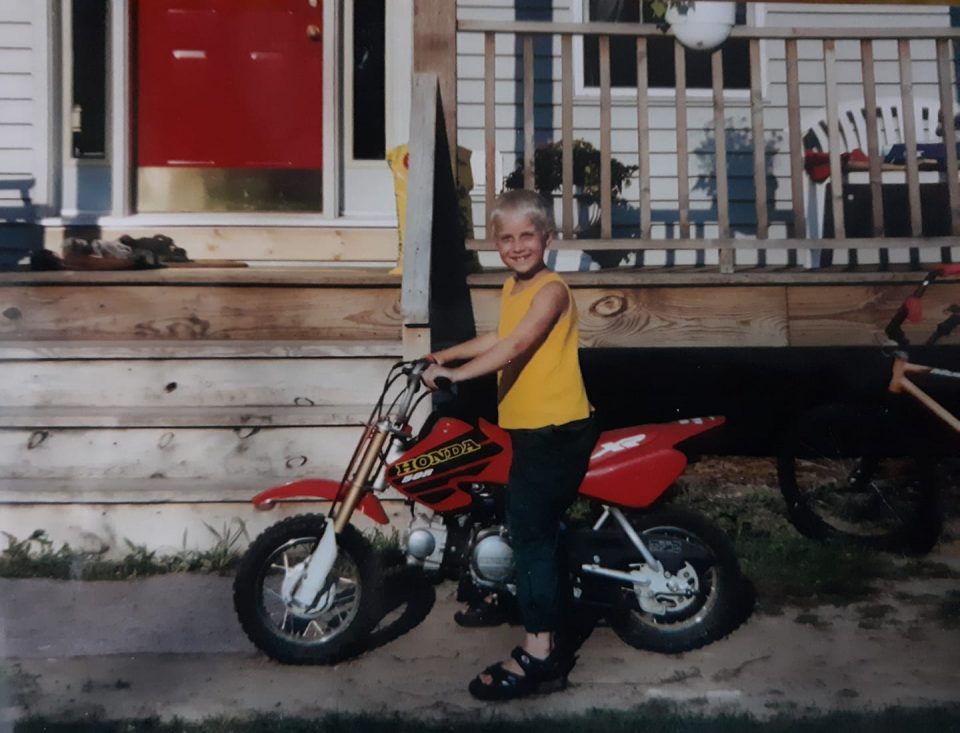 Can a 10 year old ride a dirt bike?
Yes, not only are their many good dirt bikes for a ten-year-old, but it's legal to ride one in basically every state or country (that I know of). You will have to refer to your local regulations to confirm.
With that said, you can't legally ride everywhere on a dirt bike, such as on the street or sidewalk. It must be on private property with permission, or on state land/trails that are designated for off-road motorcycle riding.
What Size Dirt Bike For Your 10 Year Old?
Based on the size chart on this page a 9 or 10 year old should have a dirt bike seat height of 24-27″ (61-68.5cm).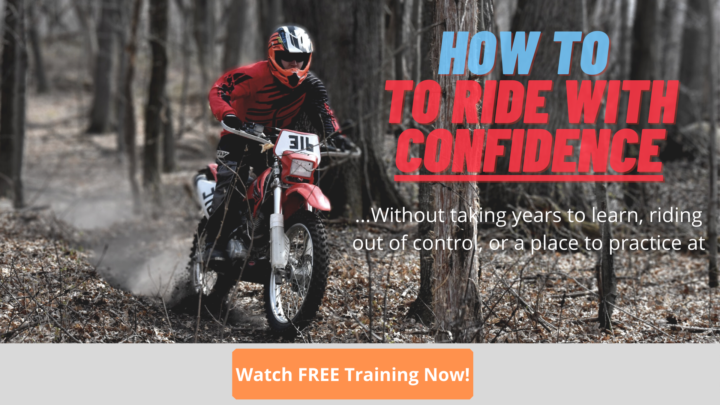 But that's just based on the average. Your child may be taller or shorter than the average, so please be aware.
Now you need to figure out what kind of transmission you want for your 10 year old. Don't worry, I'll guide you through this decision to make it easy.
Clutch or Semi-automatic Transmission?
Deciding what kind of transmission you should get is extremely important if your 10 year old is new to dirt biking. A semi-automatic transmission has multiple gears, so there's still shifting involved if needed, but there is no clutch.
This means that you can just click it into gear and not worry about having to keep the engine going by using the clutch.
Clutch For First Time Rider?
Your kid may not thank you, but starting out on a dirt bike with a clutch for a kid can be very frustrating. There's already so many other things he or she has to learn, such as throttle and brake control, as well as balancing on a motorcycle that weighs a lot more than their bicycle!
So, for a first time rider, an automatic or semi-automatic transmission dirt bike is often the way to go.
I would only recommend a dirt bike with a clutch if your boy or girl already has experience or is extremely ambitious and motivated.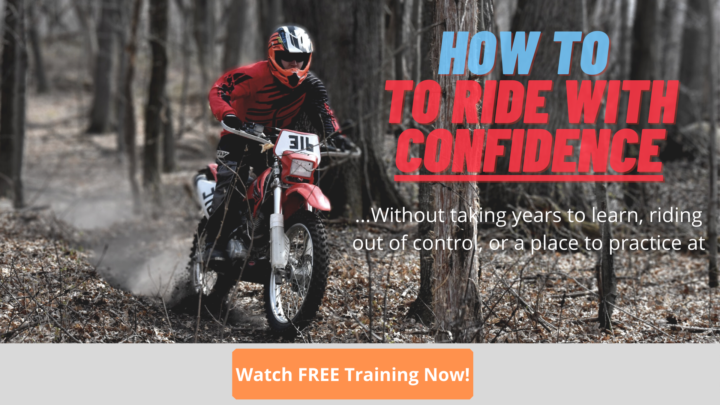 Gas dirt bike or electric dirt bike?
Electric dirt bikes are becoming more and more popular, but are they the better option? It comes down to what your needs are, as well as the models available. Let's look at some pros and cons to each kind of motorcycle
Gas dirt bikes for 10 year olds
Pros:
Quick & easy to fill up on gas
Reliable (name brand bikes)
Durable (can withstand falls/tip overs well)
Makes it easy to transition to a larger gas dirt bike
Learn how to use the clutch (on certain models)
The ability to shift gears and understand how the mechanical side of a motorcycle works
Sounds better
Cons:
Have to deal with gas and oil
Dirtier
More noise (but most kids bikes are fairly quiet)
Electric dirt bikes for 10 year olds
Pros:
No fuel or oil to add or change
Quiet
Less maintenance (short-term)
No clutch to learn
Power is tunable (on some models)
Cons:
Battery takes a long time to charge (several hours on average)
Limited range (30-60 minutes, but it depends on how you ride)
Not all electric dirt bikes are reliable/durable
Batteries are expensive to replace
Some electric dirt bikes don't have replaceable batteries
Best Beginner dirt bike for 10 year old rider
After you decide on what size is best for your son or daughter based on their height, you need to determine their skill level. If they're a beginner, then you want to put them on a safe dirt bike size so they won't crash as easily.
One of the biggest reasons why kids get hurt or quit riding right away is because their parents put them on a dirt bike that's too big or too fast. Yeah, it's cool that your kid can ride a motocross bike, but is that smart for them to ride as a starter dirt bike?
The wisest thing you can do is put them on a simple, reliable, low-powered dirt bike so that they can quickly build their confidence and not get intimidated easily. Even if your kid has "no fear", that doesn't mean they'll know how to ride a dirt bike the right way.
The best way to make dirt biking fun and safe is by starting on a beginner-friendly trail bike that's easy to ride so that you can learn and master the basic techniques.
With that said, these are 3 dirt bikes to avoid if your 10-year-old kid is a beginner:
KTM 65SX
Yamaha YZ65
Kawasaki KX65
These are 2 stroke motocross bikes with a clutch. They're dangerous if your child is looking for their first dirt bike because the power is abrupt and too powerful. This also makes it frustrating to learn how to use the clutch.
So, depending on the size and needs of your kid, here's the best dirt bikes for your 10 year old:
Kawasaki KLX110
Kawasaki KLX110L
Honda CRF110F
Yamaha TTR110E
Honda CRF125F
We'll go into a little more detail of each bike so you can choose the best one out of this list.
KLX110
The Kawasaki KLX110 has been a staple pit bike and kids bike for almost 20 years. Not a lot has changed since 2002.
This is not necessarily bad. There's plenty of new and used parts available, as well as unlimited aftermarket upgrades. It also means that it's a proven dirt bike that is reliable.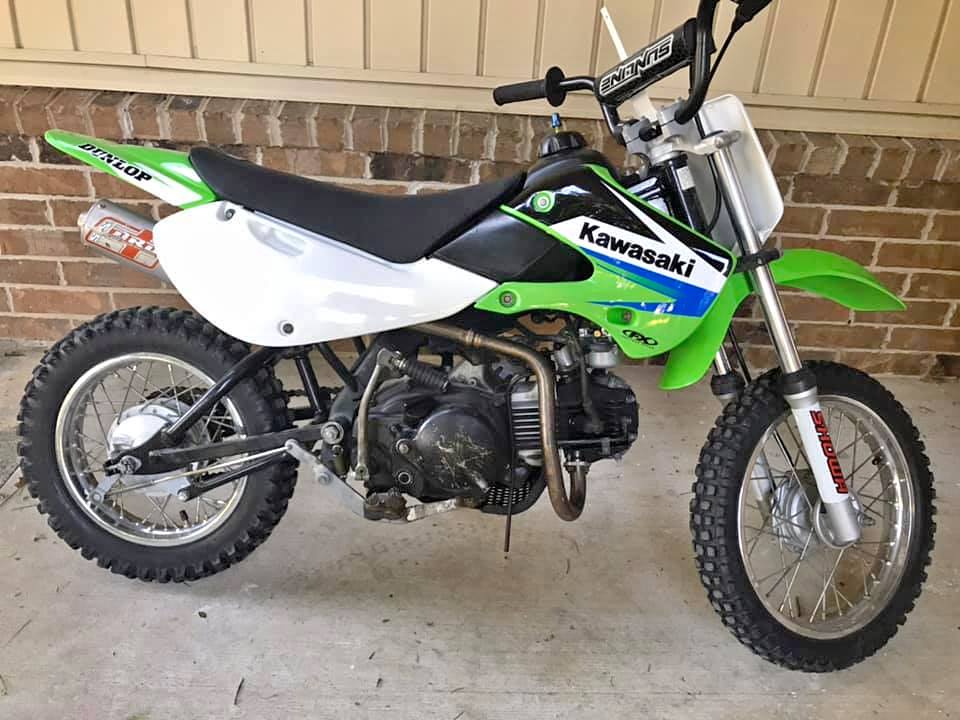 The standard KLX110 has a semi-automatic transmission, so there's no clutch. The earlier models had 3 gears, and 2010 and newer have 4 gears.
It also has electric start on the newer models, where 2009 and older are kick start. That's to keep in mind when deciding on a dirt bike for your kid.
The seat height is 26.8 inches and weight is 167lbs ready to ride.
KLX110L
The KLX110L is almost the same except for a few changes that make a big difference. The biggest change is that it has a clutch. The other is that the suspension is taller and is a little better as far as performance goes.
These upgrades make it a better pit bike, or if your 10 year old boy or girl is taller and wants a dirt bike with a clutch.
Having more suspension travel, the seat height is a little taller at 28.7 inches.
CRF110F
Not coming out until 2013, Honda made it into the 110cc pit bike scene with their CRF110F. This dirt bike replaced their longtime CRF70F.
Since it's been around for several years, it's proven itself to be a comparable contender in the 110 class. Honda actually recently became the leader as far as features go, coming out with EFI (fuel injection) on their CRF110F.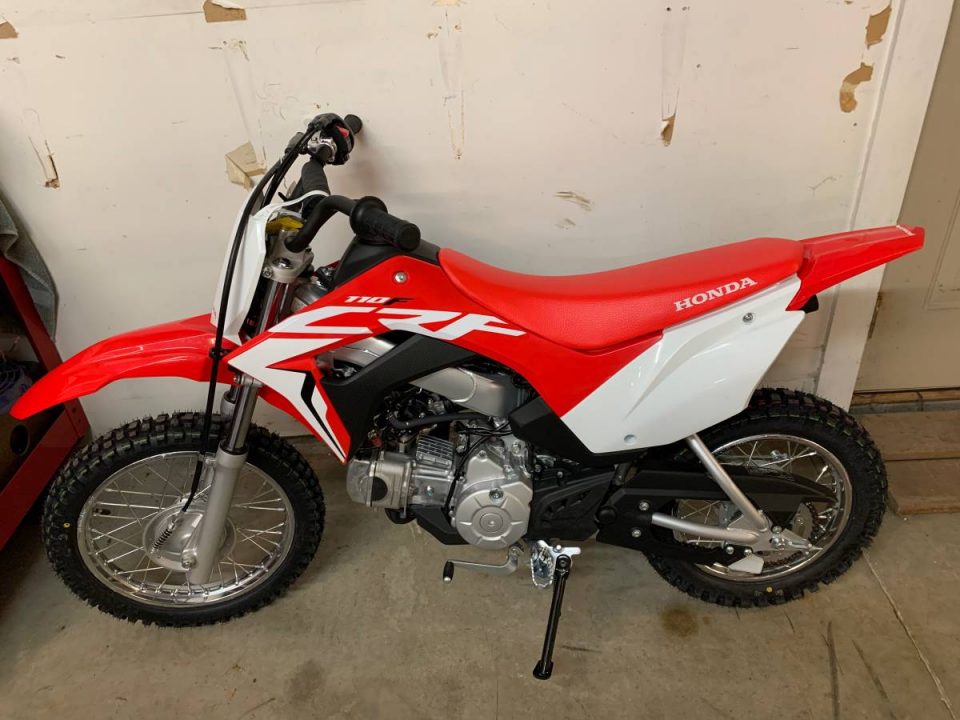 If you hate dealing with carburetors and trying to clean or jet them, this is one major feature to consider.
Other than that, it's pretty comparable to its competition. The seat height is slightly lower at 25.9", and the weight is about 3 pounds more at 170lbs ready to ride.
TTR110E
Yamaha came out with their 110cc dirt bike several years before Honda in 2008. It has a semi-auto 4-speed transmission and comes with electric and kick-start.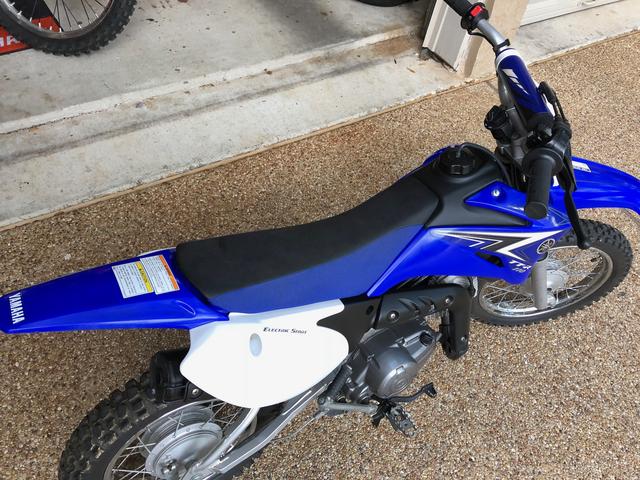 The seat height is 26.4, so right in the middle of the Honda and Kawasaki 110's.
Does your kid like blue??
CRF125F
The Honda CRF125F is the next step up from a 110cc pit bike. It's the new version of the CRF100F and XR100.
Being 30.9″ tall at the seat, it's only good if your 10 yr old is taller than average with long legs.
It's basically a bigger version of the CRF110F, but it has a 5-speed transmission that has a manual clutch.
Deciding Factors
Now it comes down to what you want in a dirt bike for your 9 or 10 year old kid.
Clutch or No Clutch?
Seat Height
Seat height shouldn't be the only factor, but is definitely important, especially if your kid is new to dirt biking.
Being able to touch the ground with at least one foot will boost your riding confidence.
Your best bet is to bring your child to your local motorcycle dealer and have him or her sit on the dirt bike to see how they fit.
E-Start or Old School Kick-start?
Electric start can take a lot of frustration out of learning to ride. However, it's not as big of a deal with a semi auto transmission because the engine won't stall easily.
EFI vs Carb
Carburetors are still proven, simple, and easy to work on when it comes to a 110cc 4 stroke dirt bike.
But, if you want a virtually hands-free setup without having to rejet, the 2019 Honda trail bikes have electronic fuel injection that automatically compensates for air-fuel ratio unless you have power mods.
Color
If you're really not picky and just want something cheap and reliable, just pick your favorite color.
How Much Is A Dirt Bike For A 10 Year Old?
What is your budget? The KLX110 and TTR110E are the cheapest new 110's at $2,299 while the Honda 110 is $2,499 (probably due to the EFI).
Going used, the Kawasaki KLX110 will probably be the cheapest option when looking for a used bike since it's been available from 2002.
Starting on a dirt bike with a clutch?
If your kid is going to be using the clutch, then I want to give you some free training that will help them ride safer with more control. Click here to learn more.