Are you looking for the best mods for your KLX110 or DRZ110? These dirt bikes have been around for years, so there's plenty of aftermarket parts available. The problem is, what upgrades will actually help make the biggest difference?
Whether you're an adult that wants to make the best 110cc pit bike around, or your kid wants a faster bike, this list of modifications is sure to help you reach that result.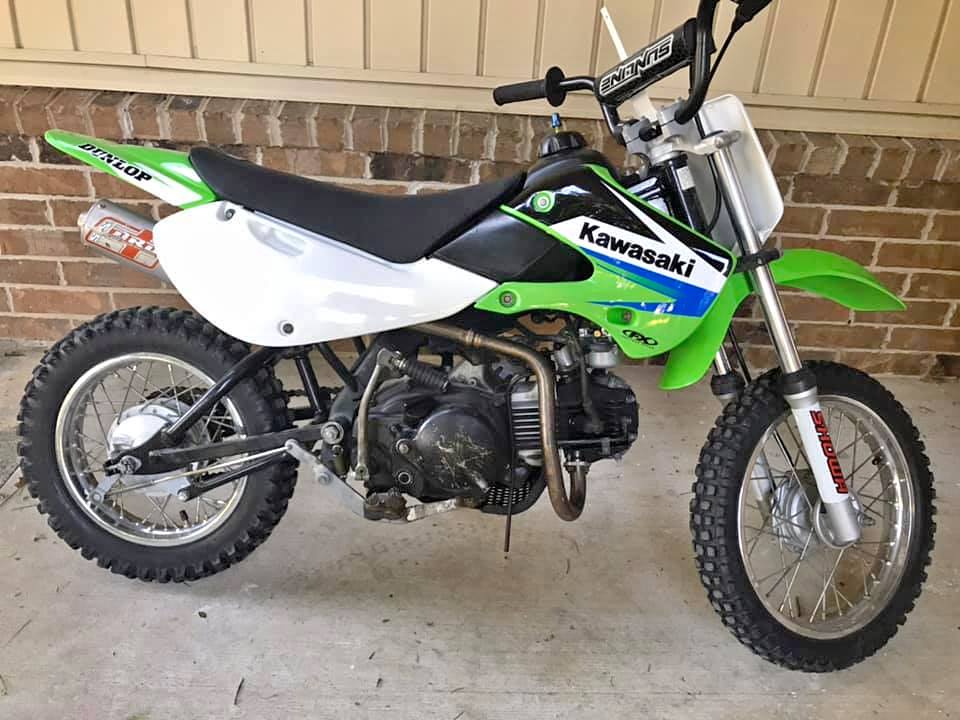 Where Does The KLX110 Need Improvement?
A stock KLX or DRZ 110 (they are the same bike made by Kawasaki and Suzuki with different color plastics) is built for little kids that want to learn how to ride a dirt bike. There is nothing high-tech on it, but they're still fun to ride. Before you make it faster, you'll want to beef up the suspension and chassis.
The most important mods to make your KLX110 are:
Forks
Shock
Chassis
Intake
Exhaust
Engine
Suspension Upgrade
The stock suspension is set up for kids that weigh around 100 lbs (45kg) or less. Depending on how much you can spend, there's a number of options to stiffen up your KLX110.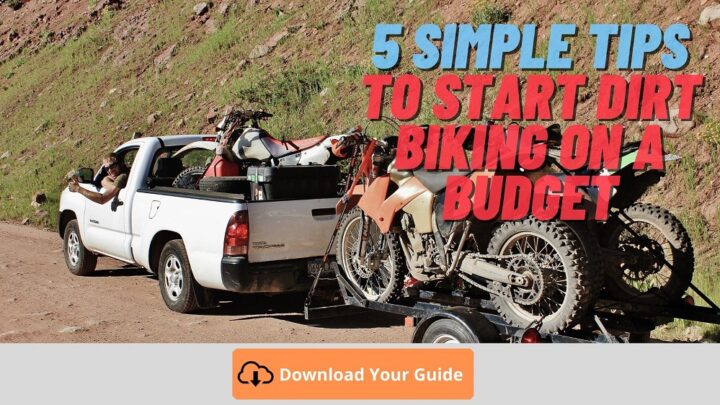 Why do you need stiffer suspension? If you leave the stock suspension on your bike and ride it hard, it will bottom out easily. Bottoming out the suspension puts a lot more stress on the rest of the bike chassis.
Consistent bottoming will eventually crack and break parts, which can be dangerous. The frame or swingarm will usually break at the welds.
Stiffer Fork Springs
Simply adding some heavy duty fork springs (Amazon) in the stock forks will greatly reduce bottoming from hard impacts. It'll ride higher and more comfortably if you're an adult rider.
Swapping both springs out may actually be too stiff, causing a harsh ride. If that's the case, then put one stock fork spring back in one fork leg. This way the spring rate will be in between stock and what the pair of heavy duty springs offer.
You can also use heavier weight fork oil to slow down how fast the forks compress.
Upgraded Forks
Going to a different set of forks is an easy way to get suspension that performs much better than the stock forks. KX65 forks can be swapped onto a KLX 110 with the right parts.
Or complete aftermarket USD forks (Amazon) can be bolted on for motocross and aggressive pit bike riding. Aftermarket triple clamps (Amazon) are needed to convert these forks though. This front-end will be able to take a lot more abuse without breaking as easily.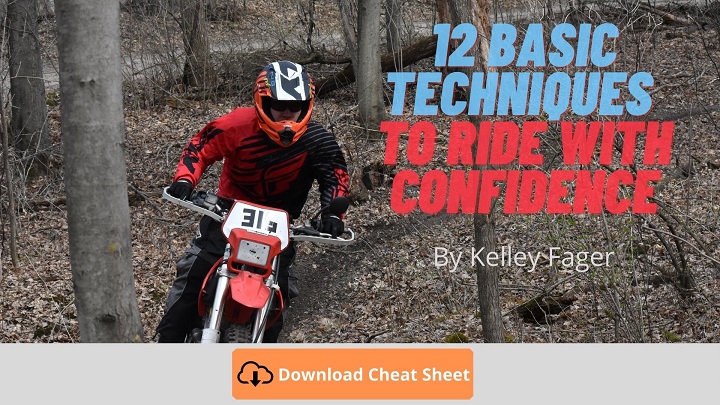 Stiffer Shock Spring
Balanced suspension is crucial to having your bike handle well. If you're upgrading the forks then you'll want to upgrade the rear shock as well. A stiffer shock spring (Amazon) will greatly help if you're a heavier rider.
Upgraded Rear Shock
Upgrading to an aftermarket rear shock will provide even more performance. A better rear shock will have a stiffer, yet more controlled ride because it's purpose-built to be an add-on to a pit bike.
An aftermarket shock is usually more adjustable than the stock shock. Depending on which shock you go with, it may have compression and/rebound damping. These are adjustable via "clickers".
Chassis Parts To Beef It Up
Do you have a hole burning in your wallet? You can go all out for a custom aluminum frame and swingarm. They actually aren't meant to reduce much, if any weight, but rather to strengthen your 110 pit bike.
You can spend thousands of dollars on chassis parts to build the ultimate mini moto bike. But this article is to help you find the most effective modifications for a reasonable price.
Frame Cradle
Adding a frame cradle to your KLX110 will greatly reduce the chances of breaking stuff. The footpegs start sagging with a heavier rider without a frame cradle. The engine cases and motor mounts are susceptible to cracking if you ride hard.
A frame cradle strengthens both of these, making your 110 more durable and reliable.
Tuning The Intake & Carb
To take full advantage of any power mods on your KLX110, you need to tune the carburetor accordingly. Tuning the carb on a stock KLX or DRZ will generally yield better power and throttle response because the standard jetting is not always optimum.
What Engine & Exhaust Mods Do To Jetting
Any time you make an engine, exhaust, or intake (airbox/filter) change, that will affect the air/fuel ratio, whether big or small. A high compression or big bore piston change will suck in more air, making the jetting richer.
Poor throttle response, bogging, and low power are common signs that tell you your dirt bike needs some jet tuning.
Upgraded Air Filter
An aftermarket air filter is an easy and cheap mod to make your KLX110 breathe better. More air getting to the carb means more potential power when other engine mods are made.
Carb Upgrade
A carb swap can really boost the power if there's other supporting mods. The stock carb is a pretty good size if the engine is still a 110cc. Going to a larger carb may increase top-end power, but you will lose low-end torque when nothing else is changed.
A big bore or high compression piston and a better flowing exhaust can help make up the difference. These can add low-end torque, so a bigger carb will work well to keep a smooth power-curve.
You really just have to choose what you want out of your little KLX or DRZ. Is it going to be a screaming race bike, or do you just want more overall power? Deciding this will help you figure out what mods you should go after. More on this later.
KLX110 Performance Exhaust Upgrade
Bolting on an exhaust system is one of the easiest ways to "un-cork" a dirt bike. The stock KLX110 pipe and muffler are economical and underwhelming when it comes to performance and sound.
FMF Powercore 4 Exhaust
It's hard to go wrong with an FMF exhaust system, and it's no different when it comes to their KLX110 exhaust. The Powercore 4 (Amazon) most noticeably makes more noise, but it sounds good for a little pit bike. I wouldn't recommend this if you ride in a noise-conscious area.
That's about the only negative, as this pipe offers quite a bit for how cheap it is. It's super easy to install, so the quality of workmanship is great. You may notice a nice gain in power, but the most power can be had when it's properly re-jetted.
The FMF Powercore 4 for the KLX110 is about the same price as its PC competitor, so it may come down to your preference of sound and looks.
KLX110 Yoshimura RS-2 Mini Exhaust
The Yoshimura RS-2 Mini exhaust (Amazon) for the KLX110 is another quality, yet affordable exhaust system. It's fit and finish are about as good as the FMF. The exhaust tone is much throatier than stock without being too obnoxious because of the larger volume of packing.
The added bonus is that the Yoshimura Carbon muffler comes with a spark arrestor screen that is USFS-approved. This means you can ride on state trails in the U.S. that require a legal spark arrestor.
Best Engine Upgrades
The best KLX110 engine mods will make a big difference in power when done right. Just throwing expensive parts at your bike will probably upset you because of the lack of improvement.
Choosing The Right Mods For Your 110
As you read above in this post, jetting is paramount to having your dirt bike running at its best. However, combining the proper modifications is also just as important if you want to make your KLX110 faster.
Installing a big bore kit and an aftermarket pipe are great mods, but the stock KLX 110 carb is going to be a limiting factor. No matter how many engine mods you throw at it, the top-end horsepower won't go past a certain limit because the stock sized carb can only flow so much air.
You can always shove more gas through the carb by going richer on the jetting, but you need the proper air-to-fuel mixture for it to run well. So if you have too small of a carb, you're never going to get enough air through it to make the most power for your engine mods.
High Compression Piston
Adding a high compression piston is an easy way to add a little more power to your KLX or DRZ 110. Higher compression will give a nice boost to low-end and mid-range torque. Premium pump gas should be all you need if the compression ratio is under 12:1.
Big Bore Kit
A big bore kit is the next step up. Not only will you get more compression, but your KLX110 will have more displacement. There's multiple options for big bore kits in size.
Athena has an affordable 130cc big bore kit (Amazon). It is complete with a new cylinder, piston kit, and gaskets to rebuild your KLX or DRZ. Upgrading to a bit bore is a cheap enough excuse to replace a worn out top-end because it doesn't cost much more.
Performance Camshaft
A hotter camshaft is one of the secret sauces to building a great 4 stroke engine. A Hot Cam in your KLX (Amazon) will improve power from bottom to top because the stock cam is so tame.
A performance cam is one of the easiest and cheapest ways to add real horsepower. Just make sure you don't go too big without building up the rest of your 110.
A camshaft that is really big is meant for racing or if you have a properly upgraded bored/stroked engine. A large cam in a stock engine will lose bottom-end power and move it towards the top-end for a better peak number. It may run good up top, but it will be very weak at lower RPMs.
Cylinder Head Porting
The cylinder head is the other secret sauce to having the best engine KLX110 pit bike around. The head is where all the air and fuel flow, so if the velocity or max airflow is too low, you won't be reaching its full potential.
How To Make Your KLX110 Faster
To make your KLX110 faster for the least amount of money, every mod has to be in unison. This means that if you want more low-end torque with a broad powerband that is easy to ride, you must build every part designed to do that.
A small engine will need a small carb, a cam with low duration, an exhaust with a small diameter head pipe that can step up to a slightly larger diameter, and so on.
More displacement (bigger engine "CC") means that every other part can be bigger to create that same power-curve.
Want to ride faster with more comfort and confidence? Click here for the top 3 mods for any dirt bike.